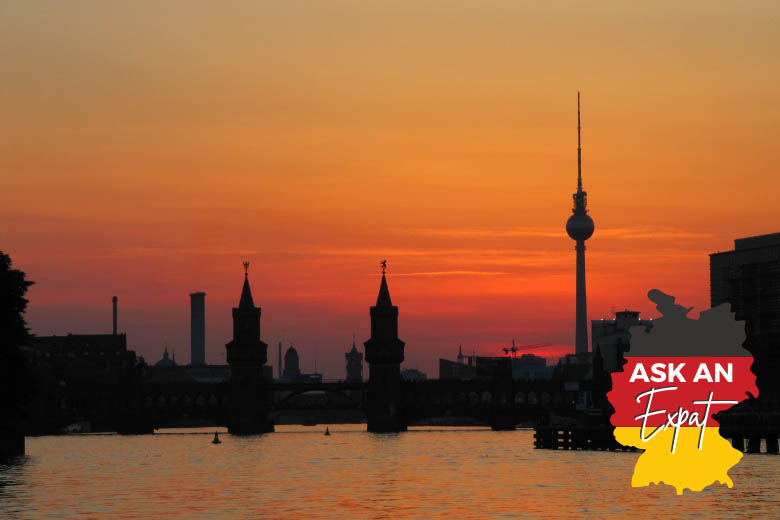 A comprehensive guide on the pros and cons of living in Berlin from an expat's perspective. From the cost of living, ease of renting an apartment, making friends, dating in the city and finding jobs to whether it's family and dog-friendly.
Thinking of moving to Berlin and wondering what's it like to live here? Wonder no more! As expats who have lived in Berlin for 3 years (and counting), we're spilling the beans!
Whilst it's easy to fall in love with the free-spirit mentality and unique vibe of Berlin, living in the city does have its disadvantages.
Moving abroad is a big life decision. It can make or break you (and your bank account) if you haven't researched or planned enough.
But don't worry – that's where we come in. We're sharing our personal experiences on what's life like living in Berlin.
That's right! We're weighing all the pros and cons of living in Berlin as expats. From cost of living, ease of renting an apartment, making friends, dating in the city and finding jobs to whether it's family and dog-friendly.
Living in Berlin: The Pros and Cons
Pro: Lower Cost of Living in Berlin
After living in Berlin for 3 years, we can vouch that this is true.
Not only is the cost of living in Berlin lower compared to other major cities in Germany. But it's also one of the most affordable capital cities to live in, in western Europe.
The biggest living costs in Berlin are renting an apartment, health insurance and electricity. The other expenses like groceries, public transport, entertainment, and dining out are fairly affordable for a major European city.
This is one of the major pros of living in Berlin. But how much more affordable is it exactly?
Check out our Berlin Cost of Living guide. We've listed all the monthly expenses you can expect living in the capital city of Germany.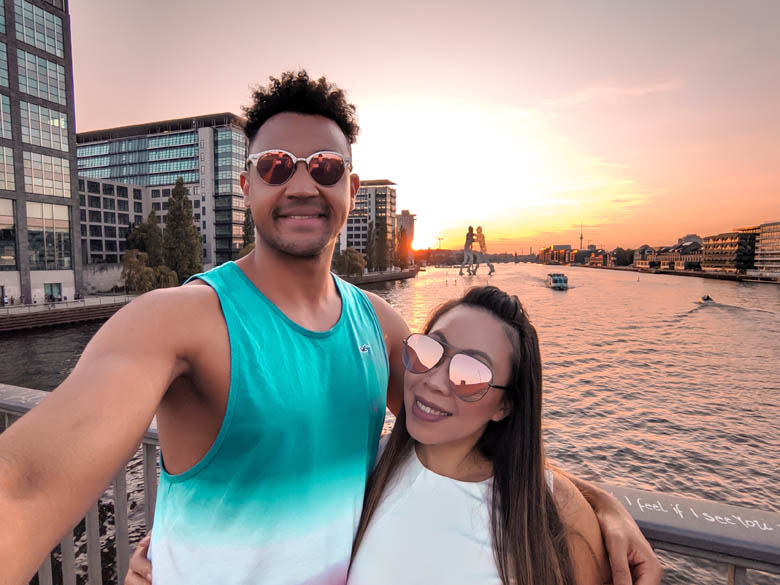 Related Guide: The cost of living in Berlin is relatively lower, but is rising rapidly. But don't worry, there are easy ways you can cut down costs without sacrificing quality of life. Check out our How To Save Money in Germany guide for 14 easy tips to reduce your cost of living.
Con: Lower Average Salaries in Berlin
The flip side to the lower cost of living in Berlin is that average salaries are also lower.
According to Statista, average salaries in Berlin are 10% to 20% lower compared to other major cities in Germany like Düsseldorf, Hamburg, Munich, Stuttgart and Cologne.
High earning jobs are not easy to come by in Berlin. Unless you're working in IT, of course. Otherwise, you can expect to earn less for similar job positions in other cities in Germany.
But don't worry – like we said, the lower cost of living in Berlin does balance it out.
Con: Renting An Apartment in Berlin is Challenging
It's true – renting an apartment in Berlin is notoriously hard!
Not only are there not enough rental apartments to keep up with the ever-increasing demand to live in Berlin. But to navigate all the paperwork and documents you'll need to even start the rental application process, is a big challenge in itself.
And mind you, you'll need to do this all in German. Especially if you want to increase your chances of renting an apartment in Berlin!
We know what you're thinking… Landlords might as well ask you to add a drop of unicorn blood to submit with your rental application while they're at it, right?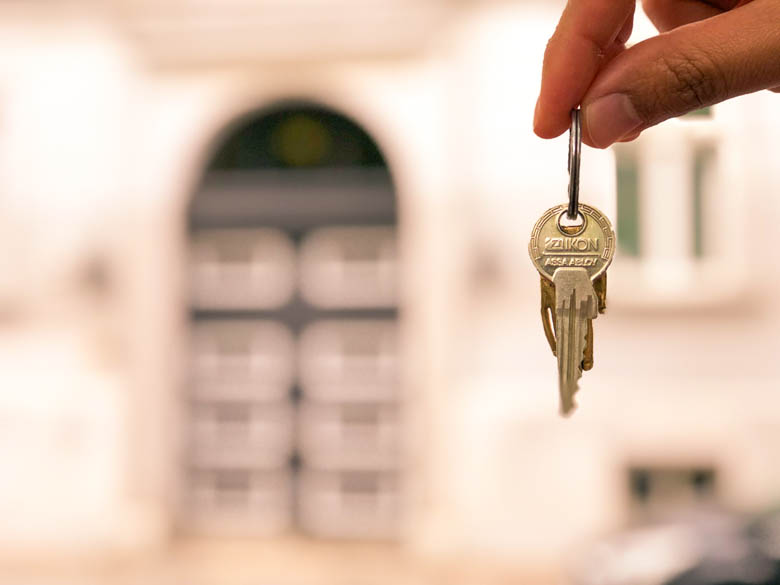 We feel your pain! As expats who've gone through the Berlin apartment rental process twice, we know exactly how painful the process is.
And that's why we've written extensive guides sharing our experiences and tips to help fellow expats moving to Berlin.
From how to rent apartments in Berlin (list of documents required and websites to look at included), tips to avoid Berlin apartment scams, to what you should know to avoid getting culture shock renting in Germany for the first time.
Pro: Lower Rental Prices in Berlin and Strong Tenant Laws
Gone are the days when you can rent a 2-room apartment in Berlin for under €600 per month. The average price to rent an apartment here has been increasing rapidly year after year.
But compared to other European capitals or major cities in Germany, rental prices in Berlin are still cheaper (for now).
The other pros are that there are extensive laws in Berlin that protect you as a tenant. From how much your rent can legally increase by, the maximum rent a landlord can charge you, to getting your deposit back when you vacate.
And the best part? You don't need to be familiar with all the tenant laws in Berlin to enforce them. There are affordable tenant associations you can join so you can get legal help when you need it.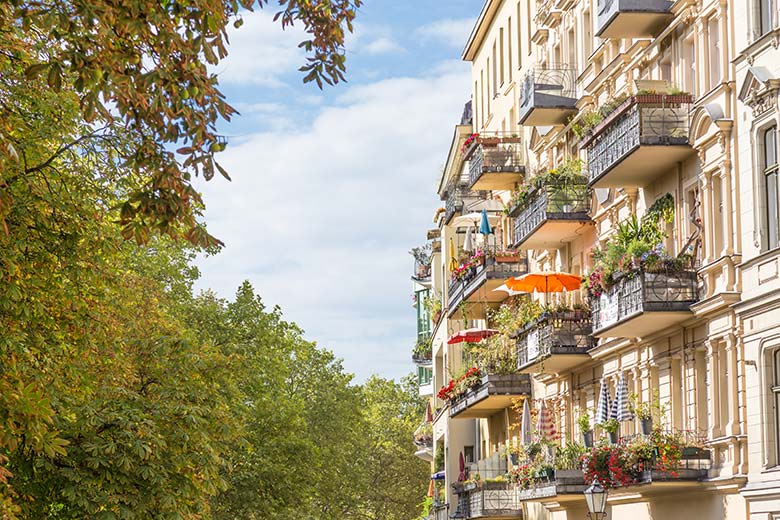 We're personally members of the Berliner Mieterverein (Berlin Tenant Association). It costs a small €9 fee per month. But my, oh my, it's money well spent! Especially when you're renting an apartment in Germany as a foreigner.
Many landlords do take advantage of expats who are unaware of the tenant laws that protect them. That, plus the fact that there's often a language barrier speaking German means that most expats will just let the landlord get away with it.
But by joining any reputable tenant association in Germany, you can get all your tenant-related questions answered once and for all!
As a member, you'll also get legal representation when required. So it's really worth it if you're planning to rent in Berlin for 2 years or more.
Bonus Tip: An alternative to joining the tenant association is to get legal insurance in Germany. For as little as €17 per month, you get insurance cover for any legal matter related to your apartment, employment contract and even disputing traffic fines and tax charges. And the cherry on top? You can do it all in English!
Pro: Each Berlin Neighborhood Has Its Own Unique Character
Berlin may not be the most beautiful city in Europe. But what it lacks in finesse, it more than makes up for in character.
We love that the city has quite an eclectic mix of districts and each neighborhood has its own unique set of characteristics. From the cool, 'hipster' and trendy areas to the more quiet, family-friendly suburbs and everything in between!
If you're planning to move to Berlin but aren't familiar with the city, our Berlin Neighborhoods guide can help you.
Con: Berlin Can Be Dirty and Feel Unsafe At Times
Berlin has a low crime rate and is a pretty safe city to live in. But we won't lie – certain neighborhoods and streets are dirty and can feel unsafe at times.
Berlin has one of the highest unemployment rates in Germany. So it's more common to see homeless people here compared to other German cities.
In comparison to London and Paris, Berlin is rougher around the edges and more alternative. But those who are willing to get to know Berlin will fall in love with its mindset and not necessarily its beauty.
Related Guide: Deciding between moving to London or Berlin? Read our pros and cons of living in London vs Berlin to find out why we chose the Berlin life.
Pro: Easier To Find English Speaking Only Jobs in Berlin
Okay… Let us clarify. It's not easy finding English-speaking only jobs in Berlin. But it's definitely EASIER compared to other cities in Germany.
That's because Berlin attracts many startups. Most of which are in dire need of skilled workers, especially if you work in the IT space.
So if you're a software engineer, programmer, web or app developer, or have experience in e-commerce and biotech, you should have no problem finding an English-speaking only job in Berlin.
Save Me For Later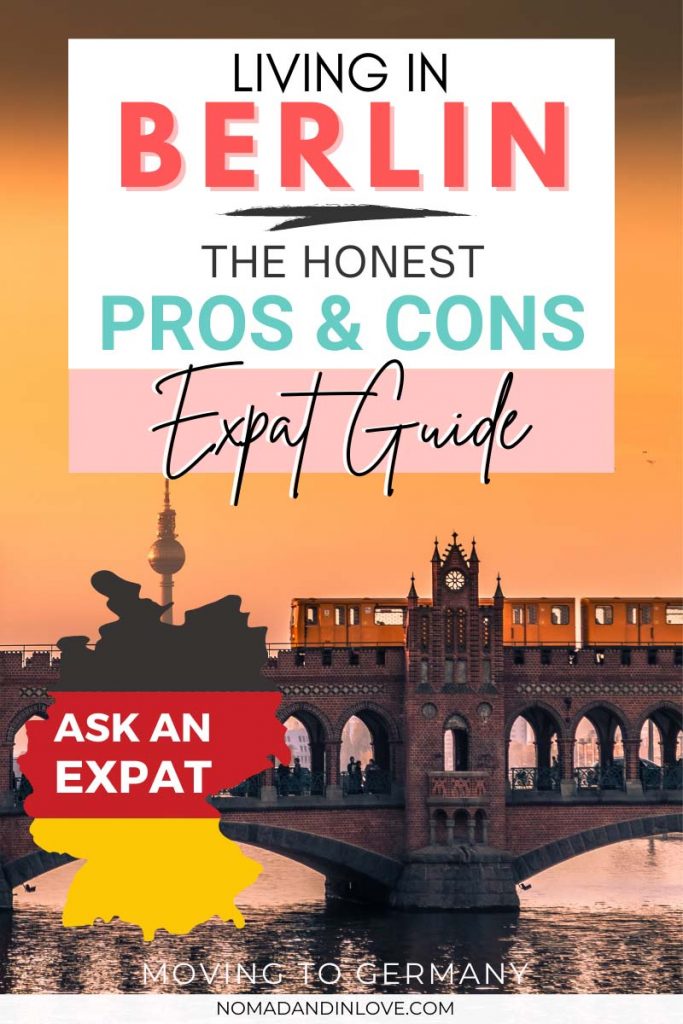 Con: Most Non-IT Jobs Require Strong German Language Skills
But what if you don't work in IT? Is it still possible to find English-speaking jobs in Berlin?
It's possible, of course. But as you can imagine, they're in high demand. So often working conditions aren't great and salaries are lower.
Otherwise, it's pretty hard finding a corporate job in Berlin without German fluency. Most positions require that you speak both English and German to be even considered as a potential candidate.
Being fluent in a language takes a lot of time. So if you're seriously considering moving to Berlin, we'd recommend you start learning German as early as possible.
Not only will it make it easier to find a job in Berlin. But it will also help you better integrate into your new life in Germany.
Use our 22 free ways to learn German online to get a head start. We've also shared our personal experiences and honest reviews on whether Duolingo, Busuu, and Lingoda are effective for learning German.
Pro: Berlin is a Popular Hub For Creatives, Entrepreneurs, and Freelancers
This is personally one of the biggest pros for why we love living in Berlin.
The city attracts many creatives, freelancers, and entrepreneurs. From performers and artists to digital nomads, freelancers and visionaries following their passion and making their dreams a reality.
As digital nomads and freelancers ourselves, Berlin is an incredibly stimulating and inspiring city to live in.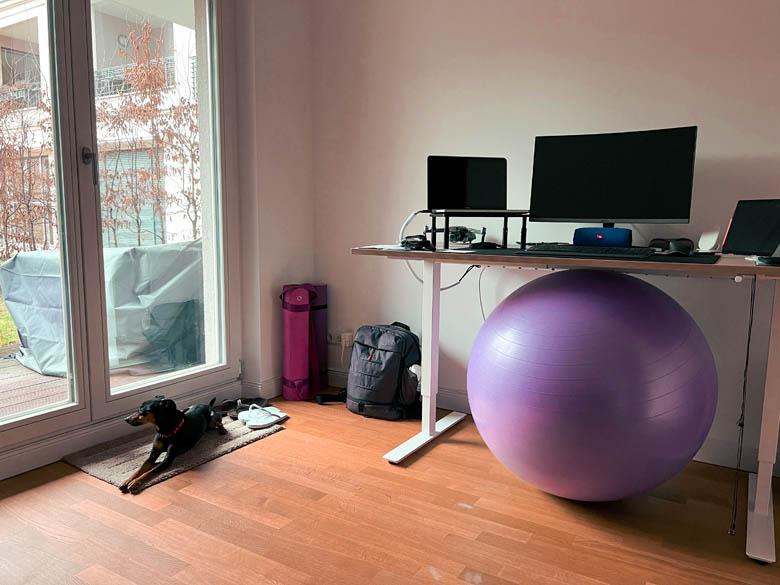 The journey of following your dreams is never easy. There are many ups and downs along the way. But it makes all the difference when you're surrounded by a huge creatives community who are also doing the same.
And the other wonderful thing about Berlin is that people here make an effort to support creatives and small business owners rather than large, established corporates where possible.
Con: It Can Be Hard For Creatives and Freelancers to Get Started in Berlin
Moving abroad is challenging. But it's even harder when you're a creative or freelancer.
This is true even for a creative city like Berlin and one of the biggest disadvantages of moving here.
As a new expat, you'll not only have to figure out how to navigate the ocean of bureaucracy that's pretty common in Germany. But do it all in a foreign language!
Everything from submitting your rental application, signing up with an electricity, gas, or internet provider, converting your foreign driver's license, and filing your taxes in Germany.
The good news though, is that we've been through the same hurdles and can share our personal experiences and tips with you! Here are some guides to get you started:
Pro: Work/Life Balance Is Part of Berlin Life
Work/life balance is part of the very fabric of life in Berlin. It's one of the many pros why expats fall in love with the city.
How many capital cities around the world can you name where this is possible and not frowned upon in a society where burnouts are worn like badges of honor?
As you may have figured by now, Berlin is not your conventional capital city. There's no financial district in Berlin and seeing people strutting about in office suits is quite uncommon here.
Working part-time so you can spend more time with family (or yourself) is the norm rather than the exception. And quitting your job so you can enjoy summer to its fullest is not unheard of either.
Con: Berlin Is Not The Economic Powerhouse of Germany
Berlin is a city that prides itself on being 'poor but sexy'. So many go-getters that love the buzz and high energy of London may find Berlin rather sleepy.
It is odd for a capital city not to be the economic powerhouse of the country. But Berlin is an exception due to the aftermath of World War II and the Berlin Wall.
Berlin has had quite a turbulent past. But in our opinion, these challenges have in some way or form shaped Berlin to be the unique city it is.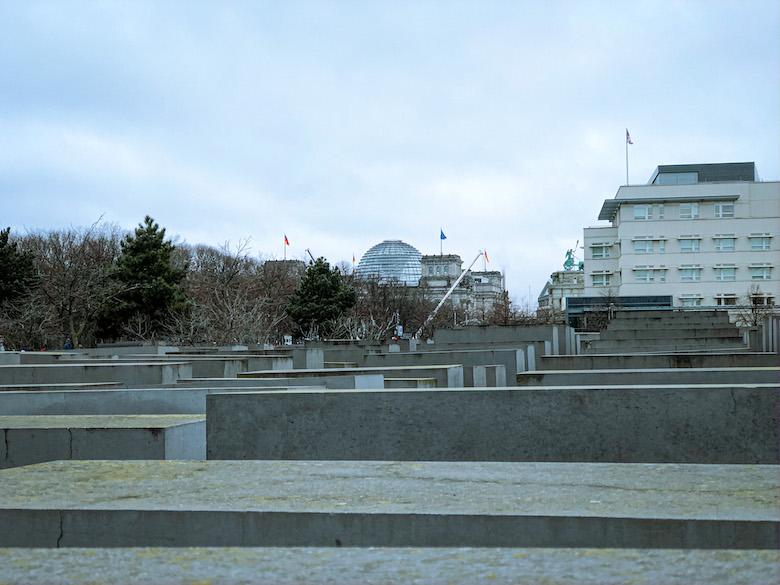 Related Guide: Why was the Berlin Wall such an important part of the city's history? Find out why in our free Berlin Wall Tour guide. It's a self-guided bike tour that will help you learn more about this amazing city.
Pro: Berlin Is A Family-Friendly City
Along with great work/life balance, Berlin is a pretty family-friendly city too. Not only are there tons of green spaces, parks and children's play areas. But you also get financial and social support for having children in Berlin (and the rest of Germany).
Both maternity and paternity leave are officially recognized here. And each parent can take up to 3 years of parental leave per child until that child reaches the age of 3 years old.
That's why it's quite common to see fathers actively involved in raising children in Germany. How cool is that?
Con: Not Enough Kindergartens (or Kitas) in Berlin
One of the main cons of having kids in Berlin: it's hard finding space for your child at kindergarten. Especially if you're looking for bilingual kitas.
Many expats say that you have to start looking and applying for kitas as soon as you find out you're pregnant! Say what?!
Pro: Berlin Is A Popular Destination For Studying Abroad
Yes, it's true – all public colleges and universities are free in Germany! And yes, this includes internationally top-ranked German universities like the Freie Universität Berlin (Free University of Berlin).
This seems crazy and unbelievable. Especially when you compare it to countries like the US, where it's normal to spend years paying off your college tuition.
And this applies to foreign students too! Germany has a tradition of providing free university-level education to anyone who has the entrance qualifications.
Now if that's not one of the biggest pros of living in Berlin (or Germany), I don't know what is.
Con: Many University or College Programs Require German Language Skills
The con, however, is that you may need an acceptable level of German language skills to enroll in most programs offered by the free public colleges and universities in Germany.
This shouldn't be a big program if your children grew up here and speak the language. But if you're planning to study abroad in Berlin, then you better start learning German.
You can learn German from anywhere around the world with Lingoda. They offer CEFR (Common European Framework of Reference) structured language courses in German.
This means that they teach in the same format as traditional language schools and also issue you official language certificates upon completion.
The only difference is that everything is done online! So you can literally learn a language, anytime, anywhere.
Pro: Berlin Is A Dog-Friendly City
We're in no position to give any expert tips on having human babies in Berlin. But we can tell you all about having fur babies (i.e. dogs)!
Meet the newest member of the Nomad And In Love crew – Franky. He's a rescue from North Macedonia and loves his new life in Berlin.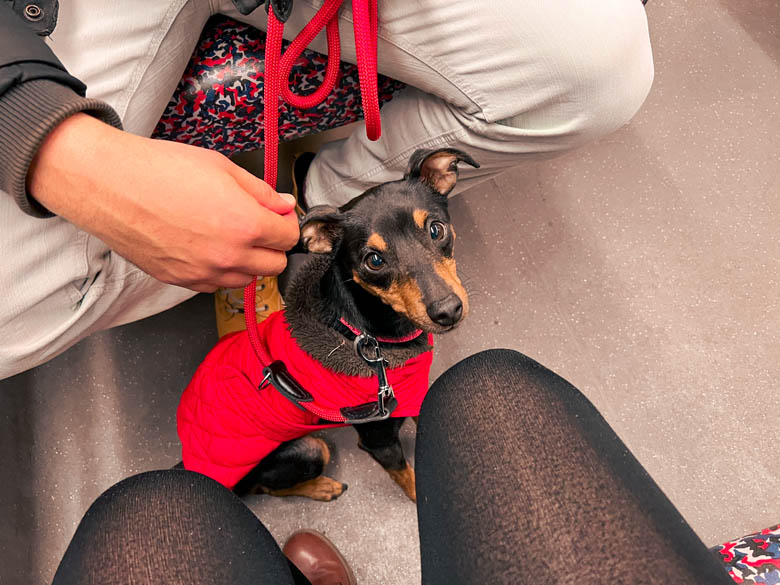 What's there not to love? Dogs are allowed on public transport and regional trains. Lots of cafes and restaurants are dog-friendly and there are plenty of dog parks to meet fellow dog lovers and owners too.
Related Guide: Thinking of adopting a dog in Germany? Read our firsthand experience on adopting a dog in Berlin in our Dog Adoption in Germany guide.
Con: Lots of Dog Laws To Know and Difficulty Renting an Apartment With Pets
Berlin may be a dog-friendly city, but there are some disadvantages. The biggest con is that it's almost impossible renting an apartment when you have pets.
Legally landlords are not allowed to deny tenants from having pets. But since there's such high demand to rent apartments in Berlin, most landlords will simply not consider your rental application at all if you say you have pets.
The other thing you should know about owning a dog in Berlin is that there are dog laws here. And yes – dog tax and mandatory dog liability insurance are a real thing and you need a special license if you want to walk your dog off-leash!
Thinking of owning a dog in Berlin? Make sure to follow us on social media or subscribe to our newsletter so you don't miss our future guides on owning dogs in Germany.
Pro: Berlin Has A Big International Expat Community
In case you haven't noticed, Berlin has a big international community. According to the official website of Berlin, more than a third of the city's population is from outside Germany.
Many expats love this aspect of Berlin. It may not be as multicultural as London or Paris. But you can find a pretty diverse crowd here from different origins, backgrounds and points of view.
Related Guide: Curious to know more about what's it like to live in Berlin? Then you need to watch the Netflix show 'Unorthodox' and find out how the series reveals 10 truths about life living in Berlin.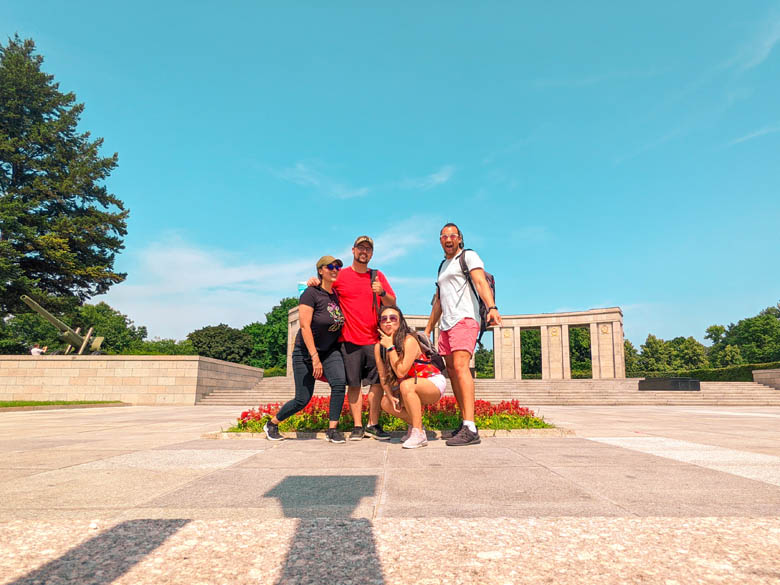 Con: You Need to Learn German to Fully Enjoy Berlin Life
Berlin is very international. But that doesn't mean you can skip learning German altogether and get by on English alone.
Unlike the Netherlands, people are not as accommodating of English speakers in Berlin or the rest of Germany. The locals can, of course, speak English. But can speak and be willing to speak are two completely separate things.
This is one of the disadvantages of living in Berlin. Especially since learning German is tough (we're not gonna lie).
But making the effort to learn the language will really help you enjoy Berlin life to the fullest. Whether that's finding a job, integrating into the city, or making German friends.
We don't speak German well at all. Our German language level is only around A2/B1. But we noticed that locals are more receptive and friendly when we make an effort to speak German even though it's not perfect.
Pro: No Experience Is Too Taboo or Alternative in Berlin
If your life motto is to experience everything at least once in your life. Then you'll absolutely love the Berlin lifestyle.
No experience is too alternative or taboo in Berlin. No matter how unusual or exotic it may be in other countries.
And yes – public nudity (or 'FKK' – 'freikörperkultur) is pretty normal here. It's not unusual to see people tanning or swimming in the nude at parks and lakes in Berlin.
Con: Making Friends and Dating in Berlin is Hard
It's really easy to meet people in Berlin. But to form a deeper, more meaningful relationship – totally different story.
Finding a serious relationship and making friends (especially with Germans) is a common problem expats have moving to Berlin.
Maybe it's just the big city phenomenon. Or the fact that Berlin is a transient city and there are too many distractions here for people to form deeper connections.
Con: Berliners Aren't Known For Their Friendliness
Berlin is many things. But being known for its friendliness, is often not one of them.
In fact, Berliners' blunt and abrasive way of speaking is so famous that there's a name for it – the Berliner Schnauze (i.e the Berlin snout).
Of course, this isn't true for the entire population of Berlin. But if you ever speak to customer service here, you'll probably know what we're talking about.
Pro: Berliners Are Kind and Genuine
The good thing though, is that beyond many Berliners' icy surface is a warm and kind soul. They just need more time and a common topic to warm up to you. Bonus points if you make the effort to speak in German.
And finally, if a Berliner considers you to be a friend or wants to have a serious romantic relationship with you, know that they mean it.
Pro: The Non-Conformist Culture in Berlin
If you asked us what's the biggest pro of living in Berlin – this is it! The non-conformist, free-to-be-who-you-want-to-be culture in Berlin.
It's hard to explain it unless you've experienced it yourself. But as travel and expat bloggers, we've traveled to many places around the world and not found this anywhere else.
Berlin is indeed one of the most LGBT friends cities in the world. But it's also a city where no one cares about what clothes or brands you wear, what your profession is, or how much money you make.
It's incredibly liberating to live in a city where these material and superficial things do not define who you are as a person.
Con: Nonconforming Doesn't Mean Less Bureaucracy
Berlin may be Germany's most 'un-German' city. But that doesn't mean you'll escape the paperwork, bureaucracy, or slow digitalization in Germany.
You'll still need to go through all the usual schelp like you would moving to any other city in Germany.
Like the battle to get Anmeldung in Germany or paying German TV tax (when you don't own a TV). Dealing with slow and intermittent internet connections. Paying by cash because many places won't take cards. And patiently waiting for snail mail to arrive because e-mails aren't 'official' enough.
Yes – things are still pretty old school in Germany and a culture shock to many. But it's a small price to pay to enjoy the freedom that life in Berlin offers.
Germany is slow when it comes to digitalization and technology. But that doesn't mean you have to let these cons hold you back from living a modern life in Berlin.
More and more digital startups like N26, Revolut, bunq (digital banking), and Ostrom (electricity provider) are here to disrupt the market. Plus, they're super expat-friendly too.
Find out what we think in these honest reviews:
Pro: Getting Around in Berlin Is Easy and Affordable
Getting around in Berlin is easy and there are so many options to choose from. From taking regular public transport (trains and buses), bike sharing, and renting e-scooters to hopping on an Uber or Bolt.
The other pro is that it's pretty affordable too. A monthly public transport ticket in Berlin costs €86, which is less than half the price vs London.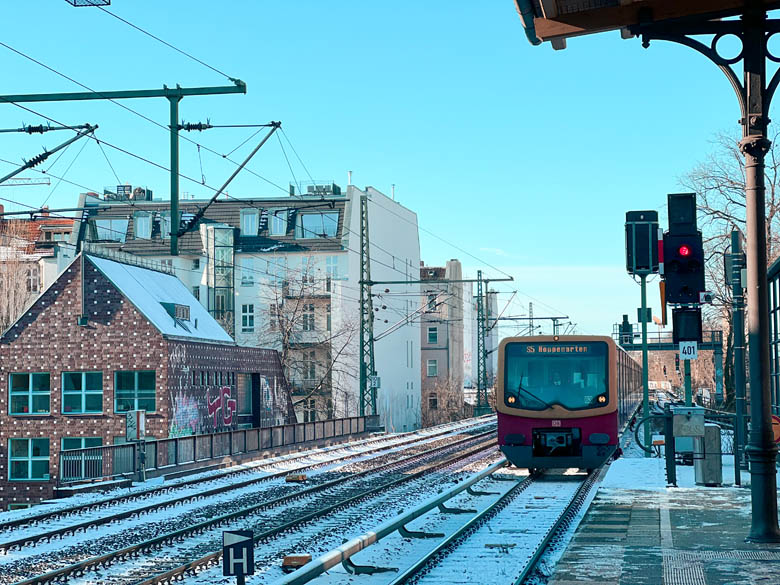 Con: Some Train Stations in Berlin Can Feel Dodgy and Unsafe
There are cons to taking public transport in Berlin though. Some train stations can feel dodgy and unsafe. Especially late at night and you're a woman traveling alone.
There are no barriers or turnstiles in any train station in Germany. So literally anyone can walk onto the train with you whether they have a ticket or not.
But don't worry. Just because it feels dodgy doesn't mean that it's unsafe.
There's a low crime rate in Berlin. And there are many good samaritans here so a kind stranger will always lend a helping hand when needed.
Pro: Berlin Is A Bike-Friendly City
Berlin is a very bike friendly city. There are dedicated cycling paths throughout most of Berlin. And when there isn't, it's safe to cycle on the road. Most motorists are considerate to cyclists and generally give way.
There are other pros to cycling in Berlin. Not only is it one of the most affordable ways to get around the city. But it's also eco-friendly and you'll often get to your destination faster cycling than taking public transport.
Just make sure you're familiar with all the bike road rules for cycling in Germany before hopping on that bike. It will save you money by avoiding fines and keep you safe on the road.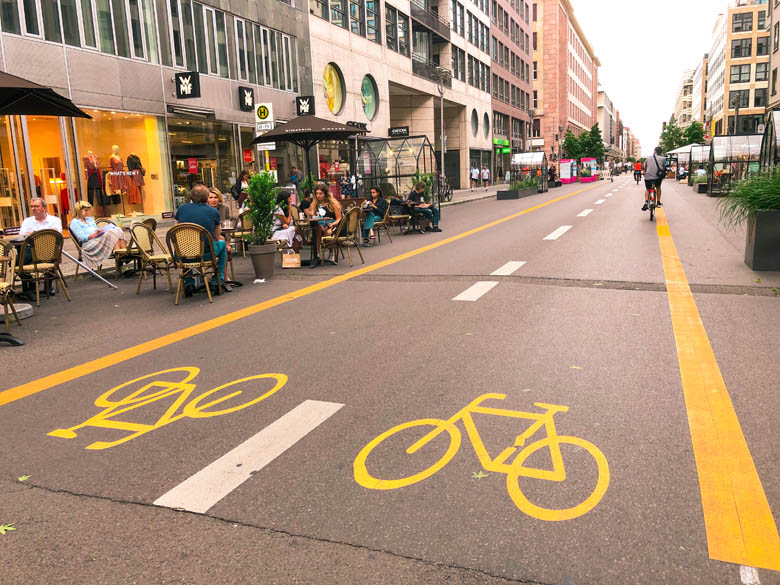 Con: Bike Theft Is Rife in Berlin
Bike theft is rife in Europe and Berlin is no exception.
According to the Berliner Zeitung, more than 28,000 bicycles are stolen every year in Berlin. That's equivalent to an average of 77 bikes stolen every single day! Yikes!
Buying a bike in Berlin isn't cheap either. A basic but quality city bike with gears could easily cost you between €230 to €600 at least.
And let's not forget about the other additional costs like buying at least 2 high quality locks, repairs and maintenance costs, and getting bike theft insurance.
The costs add up quickly. That's why we use a monthly bike sharing company called Swapfiets. For €19.50 per month, we get a high quality, 7-gear city bike that we keep as if it were our own.
Not only do Swapfiets bikes rarely get stolen. But this monthly price includes any repairs or maintenance costs. If something breaks or stops working, Swapfiets will repair your bike within 48 hours or swap it for another one for FREE.
We've listed all the pros and cons in our detailed Swapfiets review. And if you're not sure whether the bike life is for you, use our Berlin Bike Sharing guide to try it out before committing.
Pro: Berlin Summers Are Incredible
Summers in Berlin are unforgettable. It's the time of year when the city really comes alive with plenty of activities and things to do.
From outdoor festivals and dance events, outdoor cinemas (freiluftkinos), weekend flea markets, swimming in Berlin's many lakes, to simply chilling at the park with a couple of beers. You'll never be bored in Berlin during summer.
Related Guide: Keen to explore the lakes around Berlin? Read our Tonsee lake, Flakensee lake guides and find out why Liepnitzsee lake is our favorite!
Con: Berlin Winters Are Cold And Gloomy
If Berlin summers are incredible, then Berlin winters can only be described as the exact opposite.
After the Berlin Christmas markets hype, you pretty much have to endure 3 months of a very short list of things to do in winter.
The weather does get pretty cold in Berlin. Snow is rare but a much-welcomed sight. But it's actually the gloominess and lack of sunshine that gets you down.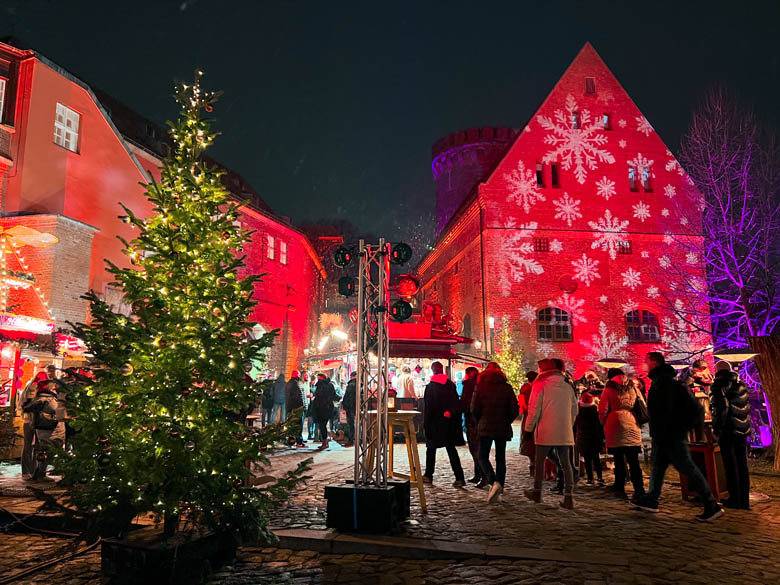 Seasonal affective disorder (SAD) is real in Berlin. We didn't feel it that much the first 2 years of living here. But by the third year, your vitamin D reserves are used up and you really start to feel it.
Luckily, a major pro of living in Berlin is that it's really easy to travel to warmer destinations and escape winter.
Berlin is situated in the center of Europe. So you can easily be in another country in a few hours.
You could plan a quick weekend in Prague, take a 5-hour train ride to Amsterdam to see the world famous Dutch windmills in Kinderdijk, or take a 3-hour flight to explore the most beautiful beaches in Crete.
Related Guide: Winter is tough but manageable with if you know these hacks! Find out what these are in our How To Survive Winter in Germany guide.
Pro: Berlin Has Some of The World's Best Nightlife
Berlin is famous for its wild nightclubs and thriving music scene. If you can imagine it, Berlin has got it.
Most people know Berlin for its renowned techno scene. But did you know that the city has a flourishing international music scene too?
You could dance tango in Berlin as if you were in Argentina. Get hot and sweaty dancing salsa like you would in Cuba. Step to the romantic beats of bachata as though you were in the Dominican Republic. Or groove to the sensual African beats of Kizomba music as if you were in Angola.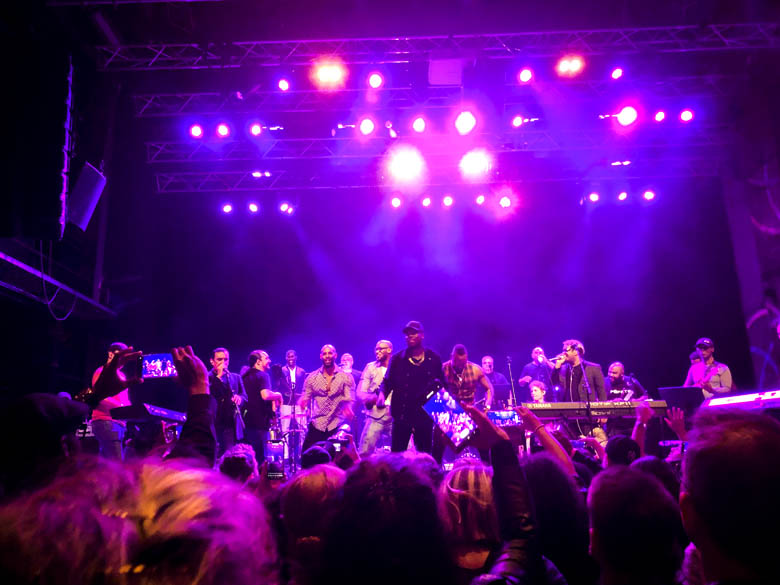 Con: Nightclubs Have Long Queues and Tough Door Policies
If you want to party it up at some of Berlin's most famous nightclubs, you got to be prepared for ridiculously long queues and tough door policies.
It's not unusual to stand 4 to 7 hours (since COVID) in the queue just to TRY to get into Berghain.
We've tried getting in at the famously, elusive club TWICE. Both attempts were unsuccessful after waiting 4+ hours (twice!), standing in the cold in the middle of winter.
We tried everything in the book. Dress casually. Only wear black. Don't look drunk or wasted. Don't laugh, giggle or chat too much. Look emo. Look like you're about to slit your wrists. But it was still mission impossible.
I guess we shouldn't feel too bad. Elon Musk didn't get into Berghain either.
And the other con you should know as a non-smoker living in Berlin. There are very few non-smoking bars here.
Pro: Plenty of Restaurants Options in Berlin
Foodies will love the diverse range of restaurants and cuisines you'll find in Berlin. And trendy and cool places are opening across the city all the time.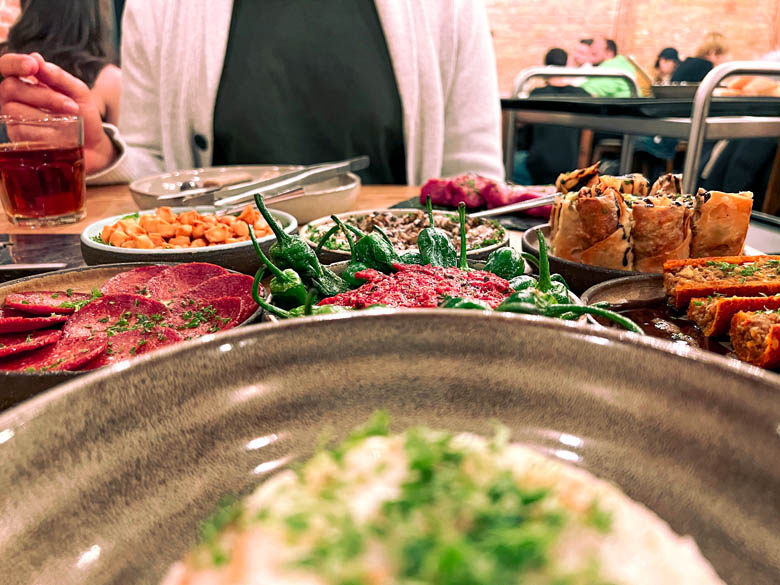 We love that there's something to suit everyone's budget. From cheap eats for meals under €5 to bougie and expensive culinary experiences at Michelin Star restaurants.
Berlin is also incredibly vegan-friendly. Not only are there a huge array of vegan cafes and restaurants in the German capital. But even non-vegan restaurants have vegan options too.
You can even find Berlin's original currywurst (i.e. curry sausage) in a vegan-friendly option! That should say a lot.
Con: Spicy Cuisines are 'Germanized'
Whilst it's a pro that there's a diverse range of restaurants in Berlin. The con is that some traditionally spicy cuisines like Indian, Mexican, and even Asian restaurants are not always authentic.
Most restaurants tend to 'Germanize' and dial down the heat to suit the German palette.
Pro: Lots of Green Spaces and Lakes In and Around Berlin
Berlin is world renowned for its nightlife. But did you know that it's also one of the greenest cities in Europe? Almost half of Berlin is either green parks, forests, canals, rivers or lakes.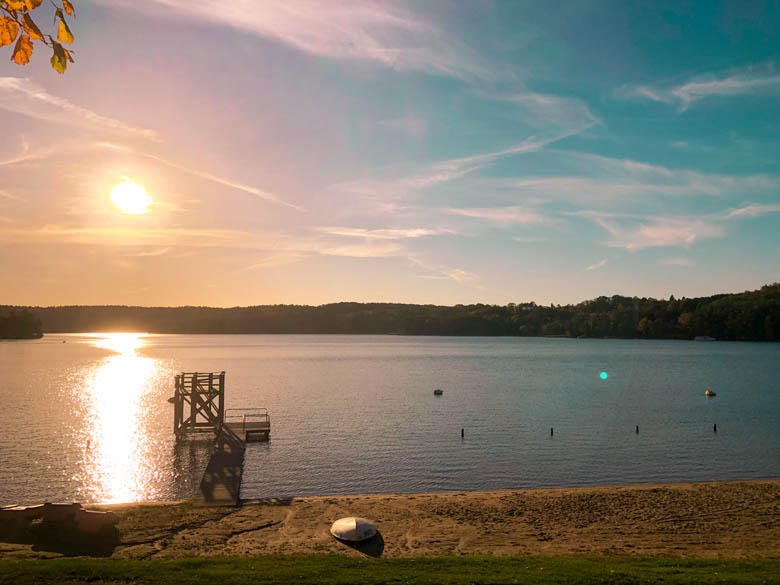 A 30 to 50 minute cycle or train ride will take you to the largest forest on the west side of Berlin. And if you're up for some swimming or stand-up paddling (SUP), there are 3 rivers, 8 canals, and more than 50 lakes in Berlin alone to explore!
The only tricky part? Deciding where to go, of course!
But don't worry – our Berlin Outdoor Things To Do guide for nature lovers will help you out.
Con: Mountain Hiking Is Limited in Berlin
There's plenty of hiking to be done in and around Berlin. But if you're looking for mountain hikes, then you're out of luck.
Berlin is a pretty flat city. There are few hills and no mountains. The highest point in Berlin (Teufelsberg) at 120m above sea level is not even real, it's man-made.
But fear not, mountain lovers. You can always take a weekend trip from Berlin to Saxon Switzerland National Park (Sächsichen Schweiz) or Harz National Park for some mountain hiking.
Pro: Big Focus on Sustainable and Eco-friendly Living in Berlin
This is another one of our favorites pros of living in Berlin. There is a big focus on being more sustainable and environment-friendly in the city.
From creating more dedicated cycling paths and bicycle-only roads to using less plastic and zero waste stores. Plus, all households living in Berlin and Germany are legally required to separate and sort their waste.
Supermarkets in Germany also tend to sell more seasonal produce than imported fruits and vegetables.
We won't lie – it can be inconvenient when you're unable to make your favorite asparagus dish during winter. But we feel that the small sacrifice is worth it to protect the environment.
Con: There's A Learning Curve Recycling in Berlin
Speaking from personal experience as expats who didn't know a word of German before arriving in Berlin. There's a learning curve in figuring out how to separate and sort your trash in Germany.
Firstly, there are at least 6 different bins that you need to separate your trash in. From the usual plastic, paper, organic material, and other trash, to specific bins for white glass and colored glass.
And don't forget that old electronic devices and batteries have to be recycled too. You won't find these bins in your apartment building. But you can take them to your nearest supermarket (like Edeke, Rewe) or drugstore (DM, Rossman) to recycle these.
Secondly, all the signs and instructions are written in German. You can always try to decipher the pictograms, of course. But if you come from a country where recycling is not the norm. It can feel like you're deciphering hieroglyphs instead.
As expats, I'm sure you've also made the mistake of throwing away money because you didn't know what the 'pfand' sign meant, right?
Pro: Great Quality of Life in Berlin
Given all these pros and cons, we feel that the quality of life in Berlin is great.
The cost of living is relatively low, the lifestyle is less stressful and more relaxed, the city has a good mix between urban vs nature, and it's a great city whether you're single or looking to start a family.
It may lack the high-energy, bustling vibe that London or New York has. But Berlin is unique in its own ways and we love the city for it.
Should I Move to Berlin?
If you've gotten this far, you've probably asked yourself, 'Should I move to Berlin?'
Ultimately, the decision is up to you. Moving abroad is a big decision. Every city has its pros and cons and Berlin is no different.
Our biggest advice to you is to take a hard look at the disadvantages of Berlin and ask yourself whether you can accept these once the honeymoon period wears off.
We've met expats who love Berlin and expats who hate it. But rarely does anyone feel indifferent about the city.
The German capital can be a tough city to live in. Especially if you can't accept some of the culture shocks and challenges you'll experience in the city.
But for those who have come to Berlin with an open heart and mind. You'll be rewarded with some of the most life changing experiences you could ever have.
After all, Berlin isn't just a city, it's a mental state of mind.
The Pros and Cons of Living in Berlin, Germany
Now that was one ridiculously long guide, so here's a quick summary:
Relatively low cost of living but also lower salaries
Rental prices are low for a European capital, but rapidly increasing
Notoriously challenging to rent an apartment in Berlin
An eclectic mix of neighborhoods in Berlin with lots of character
Some neighborhoods are dirtier than others and can feel unsafe
Easy to find English-speaking jobs but only in certain industries like IT
Berlin has a big community of creatives, entrepreneurs, and freelancers
Big expat community in Berlin
Berlin is both dog- and family-friendly
Public colleges and universities are free in Berlin but most programs require German
The non-conformist, free-to-be-you culture in Berlin
Public transport is affordable and the city is bike-friendly
Summer is amazing but winter is depressing
You need to have some German language skills to really make the most of life in Berlin