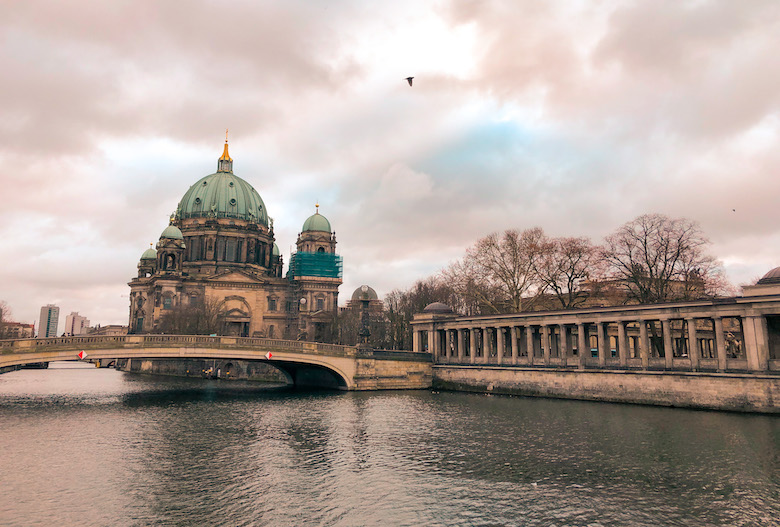 Discover the top Berlin attractions by bike! Follow this self guided bike tour and trace the story of the Berlin Wall by bike with our free Berlin Wall map.
The Berlin Wall is one of the top things to do and must-see attractions in Berlin. Most people (including us when we first moved here) assumed that the East Side Gallery is it. But the East Side Gallery is only a small fragment of the whole Berlin Wall history.
To truly understand the significance behind the Berlin Wall and immerse yourself in its history, you have to follow the trails of the Berlin Wall by bike.
This self guided Berlin Wall tour will follow the remnants of the wall that cut through Berlin and divided it into east and west.
Wondering how travelling in Berlin and Germany has changed since COVID-19? Find out what it's like to visit Berlin during the coronavirus pandemic.
Best Bike Rental in Berlin: Bike Sharing
Don't have a bike? Don't worry! You can easily rent a bike in Berlin with bike sharing. If you're looking for the best and cheapest bike share to use for touring Berlin, make sure to read our Berlin Bike Sharing Guide.
Berlin Wall Map: Cycling the Perimeter of the Berlin Wall
This Berlin Wall tour is around 25 kilometres. Feel free to do it in 1 day or stretch it over a 2 to 3 day itinerary. Besides following the story of the Berlin Wall, you'll also get to see most of the top attractions in Berlin.
What this bike tour won't do, is take you around the entire perimeter of the Berlin Wall. You will need a few days to do that and maybe even some tips from Lance Armstrong (just kidding).
We will start with some Berlin Wall history and why it was important because what is a tour without some interesting, nerdy facts. But if you're just in it for the exercise, then skip straight to the Berlin Wall Bike Route Map.
Related Guide: Make sure you read our 15 best outdoor activities to do in Berlin if you're looking for more awesome cycling routes, hikes and nature walks to do in the city.
A quick disclaimer here! We are not historians. We didn't even enjoy history as a subject at school (just being honest here, it's a disclaimer after all).
So this is a short, summarised version of what we understand of the Berlin Wall history based on tours we've been on and what we've read. If you'd like to delve more into the nitty gritty facts, then we suggest you download the Berlin Wall app (it's free) or go on one of the many Berlin Wall tours in the city.
The Berlin Wall History Simplified
Why Is The Berlin Wall Famous
We asked ourselves the same question when we first visited Berlin. It's actually a really good question to ask. If you look at the map below, you'll see a short black dash. That's the size of the Berlin Wall in comparison to the long 3 lines that represent the Iron Curtain.
If you don't remember what the Iron Curtain was (we didn't), it's the barrier that divided the ENTIRE Europe into east and west after World War II. Eastern Europe was under controlled, communist rule, whereas the west was considered 'free' and democratic.
So why was the Berlin Wall specifically, so important?
Why Was The Berlin Wall Important?
If you look at the above map with the black lines again, you'll notice that Germany at the time, was divided into east and west as well. You can see the division of Germany in the map below, with Berlin located on the East Germany side.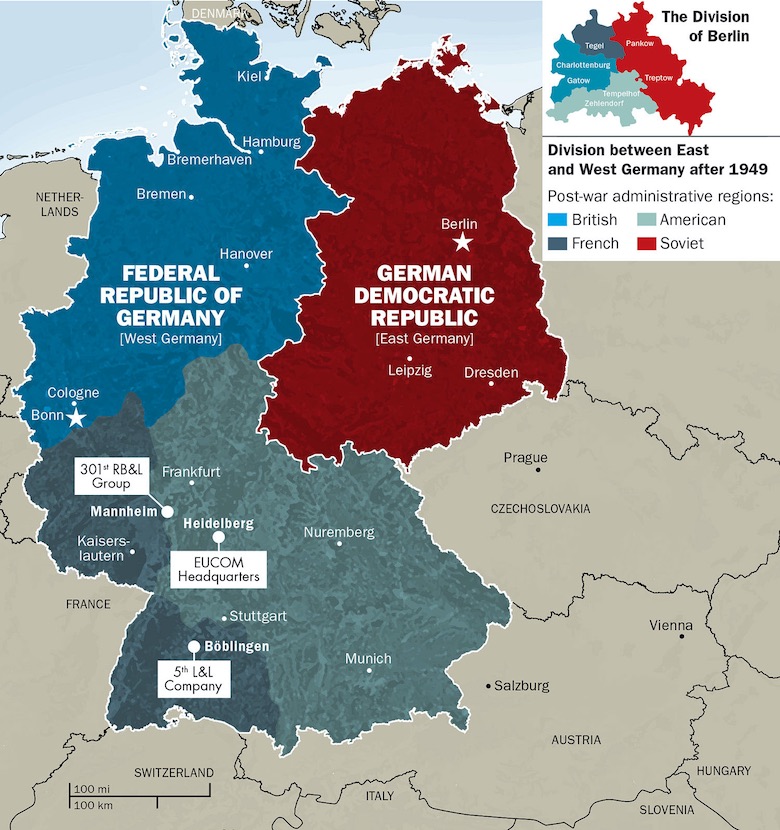 What made Berlin unique was that the city itself was also divided into east and west. Sounds simple? Well in theory, yes. But back then, West Berlin was like a little democratic island floating in the middle of a communist ocean. If you made it to the island, then you would have the freedom of movement into Western Europe as well.
And because of this, Berlin became the 'hole in the wall' for people to cross through to the west and escape communist rule. There was no physical barrier separating east and west Berlin at the time, so escaping was pretty easy.
It was so easy in fact, that in the 10 years between 1949 to 1959, over 2 million people left East Germany. That's equivalent to 57% of Berlin's current population!
Why Was The Berlin Wall Built?
The leaders of East Germany began to worry, of course. So overnight (in August 1961), they built a wall around Berlin to prevent people from leaving. At first, the wall was just a simple barbed wire fence. But over time the Berlin Wall was rebuilt with concrete blocks 3.6 meters high.
The wall was very effective in 'plugging the hole' that was Berlin. But as a consequence, it also ended up separating families, friends and lovers that lived on either side for almost 30 years.
How Long Was The Berlin Wall and Where Was The Berlin Wall?
Many people think that the Berlin Wall was built as a straight line, dissecting east and west. But the wall was in fact built 'around' West Berlin.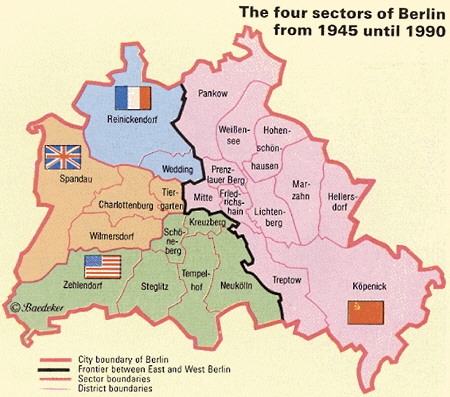 It was 'an island' remember, so the East German leaders had to build around West Berlin to prevent people entering from all sides.
The entire length of the Berlin Wall enclosing the perimeter of West Berlin was 155 kilometres long.
The Berlin Wall Now: Does Any Part Of The Original Berlin Wall Still Exist Today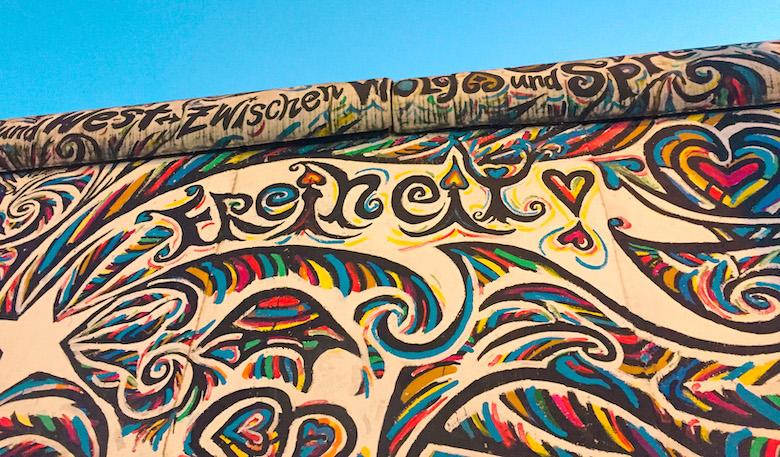 Yes, there are a number of places in the city where you can still see pieces of the original Berlin Wall standing, besides the East Side Gallery:
In the park Schlesischer Busch;
At Schilling Bridge;
At Engelbecken (park with a man-made lake);
In Niederkirchnerstrasse in front of the Topography of Terror;
In Erna-Berger-Strasse next to the DDR Watchtower;
At the Federal Ministry for Environmental, Nature Conservation and Nuclear; Safety building in Potsdamer Platz;
Inside the Marie-Elisabeth-Lüders-Haus close to the Reichstag building.
You'll see some of these original remnants on this self guided bike tour of the Berlin Wall.
To get the full list of locations of the original Berlin Wall, download the Berlin Wall app.
When Did The Berlin Wall Fall?
The wall finally came down on the 9 November 1989 after separating east and west Berlin for 28 years, 2 months and 28 days.
It is estimated that around 5,000 people escaped over, through or under the wall during the 28+ years it stood. Around 200 were killed trying to escape.
Related Guide: If you're doing this self-guided Berlin Wall tour in spring (April and May), then make sure you read our Cherry Blossoms in Berlin guide. After the fall of the Berlin Wall, more than 9,000 cherry blossom trees were planted where the Berlin Wall once stood.
Save Me For Later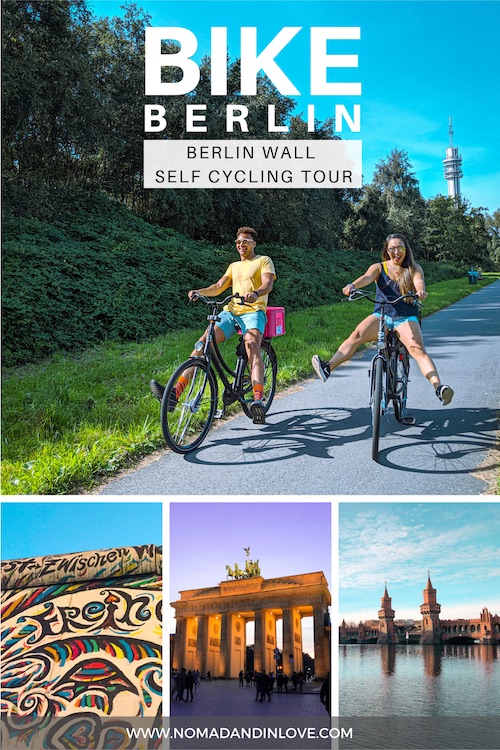 Berlin Wall Underground Tour
If you found the story of the Berlin Wall as fascinating as we did, we highly recommend going on the Berlin Wall Underground Tour. That's how we finally pieced together and understood the story of the Berlin Wall.
You will be literally taken under Berlin and shown how people escaped to West Berlin from underground (Berlin Unterwelten Tour M).
The duration of the tour is 2 hours and costs €15. It was honestly the best €15 we've ever spent on any tour. Not only was it super informative and interesting. It was also explained so well that even history retards like us understood.
Where To Buy Berlin Underground Tour Tickets
The only tricky thing about this tour is buying the tickets. You can't buy them online so you have to rough it old school. But before you run off to buy your tickets, make sure to check which tour you want to go on.
The Berlin Unterwelten offers 5 different underground tours. Each tour has a specific theme and are only available on certain dates.
Make sure that the tour you want to go on is available on the day you buy your tickets. You can only buy tickets from the Berlin Underground ticket office on the day of the tour. That means you can't buy tickets in advance for another day.
It is inconvenient but completely worth it, we promise!
Other Popular Berlin Tours
Self Guided Berlin Wall Tour By Bike
Berlin Bike and Cycling Etiquette
Cycling in Berlin is pretty easy. There are bicycle lanes throughout most of the city. Just follow these simple cycling rules and you'll have a safe and pleasant ride.
'Do' Follow Rules When Cycling in Berlin
Cycle in the bicycle lane and when that is unavailable, on the road as close to the right side as possible.
Obey the bicycle traffic lights and if there aren't any, yield before crossing intersections.
Keep to the right side of the bicycle lane and only move to the left when overtaking (i.e. ride in single file).
Use arm signals to indicate before turning left or right: point left with your left arm or point right with your right arm before turning.
When making an unexpected stop, raise one hand straight up to indicate that you will be stopping.
'Don't' Rules When Cycling in Berlin
Don't use your cellphone while cycling (use a cellphone holder if you need GPS).
Don't wear earphones while cycling. It's a fineable offence.
Don't drink or be under the influence and cycle.
Don't cycle on the Autobahn (Germany's high speed highway). It's illegal.
These are just some of the basic rules for cycling in Germany. Make sure you're also familiar with the 24 bike road rules for cycling in Germany to avoid traffic fines and bike safely.
Berlin Wall Bike Route Map: Mauerweg
Our Berlin Wall tour by bike goes in an anti-clockwise direction, from the south of the city towards the north. Feel free to do it the other way around if it is closer to your location.
1. Spreepark
Our first stop Berlin attraction is Spreepark. Back in the 1960s, it was a theme park called Kulturpark Plänterwald Berlin. It's part of our Berlin Wall tour because it was the only permanent amusement park in East Germany, when it was under communist rule.
It may be slowly rotting away now. But back then it was a major Berlin attraction and a status symbol to visit the amusement park.
It is forbidden to enter the theme park now, but you can cycle around it and see some of the abandoned rides.
2. Soviet Memorial Park
From Spreepark, it's a short 9 minute cycle (2.6km) to the Soviet Memorial Park.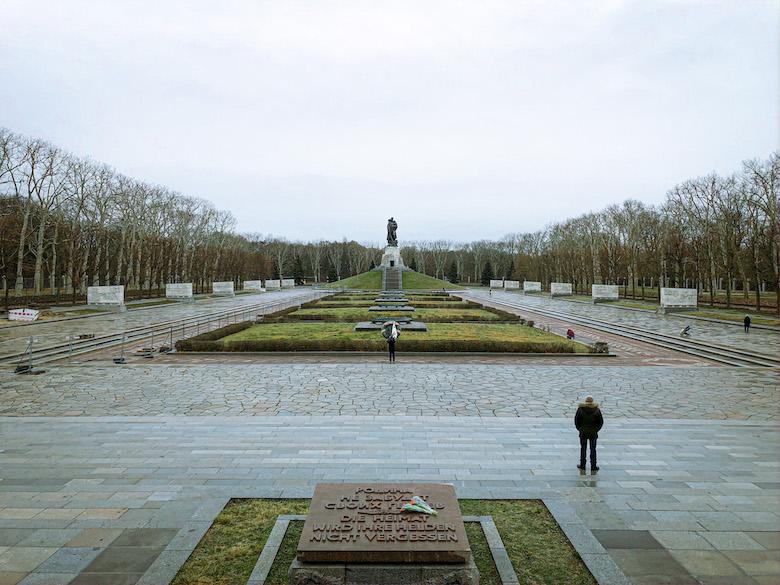 The memorial was built just before East Germany was taken over by communist rule. It was built to commemorate the 80,000 Soviet soldiers who died fighting against the Nazis during World War II.
To this day, politicians and visitors come here to lay wreaths in honour of the fallen soldiers and the liberation of Berlin.
3. DDR Watchtower in Schlesischer Busch
It's another 9 minute cycle (2.4km) to Schlesischer Busch. Here you'll see one of the GDR Watchtowers that manned the borders between east and west Berlin.
Schlesischer Busch is now a popular park for barbecues, but back then it was part of the "death strip".
Tip: You can see the remains of the original Berlin Wall around Schlesischer Busch. Can you spot them?
4. Oberbaum Bridge (Oberbaumbrücke)
From Schlesischer Busch, it's a 7 minute ride (2.1km) to our next Berlin attraction, Oberbaumbrücke.
Oberbaum Bridge is probably one of the most picturesque bridge in Berlin. But back when the Berlin Wall was still up, it was a landmark of division.
This bridge connects the former East Berlin district of Friedrichshain with Kreuzberg. Oberbaumbrücke was always heavily patrolled by armed guards. It was also one of the crossover checkpoints where people could cross from west to east only.
Today, cars and bicycles run on the lower part of this double-decker bridge and U-Bahn trains on the second level.
It's also the home to one of the most popular nightclubs in Berlin, Watergate.
5. East Side Gallery
Our Berlin Wall tour by bike continues a short ride left to the East Side Gallery (3 minute ride, 650 meters).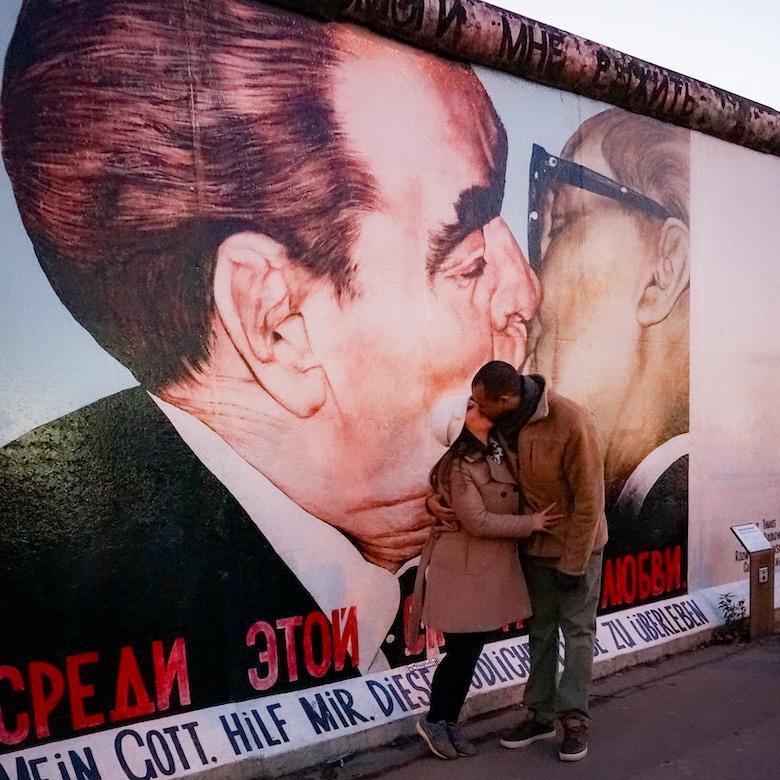 The East Side Gallery is the most famous attraction in Berlin. More than 3 million visitors travel to Berlin every year to see it in person. It's popular because it's the longest part of the Berlin Wall that remains intact. At 1.3 kilometres long, it's also the world's largest open air gallery.
East Side Gallery was created one year after the fall of the Berlin Wall. 118 artists from 21 countries came to Berlin to create more than a 100 murals along the wall.
The artists deliberately painted on the east side of the wall to commemorate the east's newfound freedom of expression.
Tip: Take a break from your bike and walk along the East Side Gallery instead. Enjoy the artwork, take as many photos as you like, but please do not write or paint on the wall. And if you're looking for other instagrammable places in Berlin. Then make sure you read our Best Photo Spots in Berlin guide for photography inspiration and ideas.
6. Checkpoint Charlie
From East Side Gallery, you'll need to cycle for around 20 minutes (5km) to Checkpoint Charlie, one of the most well-known Berlin attractions.
Tip: On your way to Checkpoint Charlie you'll cross Schillingbrücke. This is another place where you can spot the last remaining traces of the original Berlin Wall.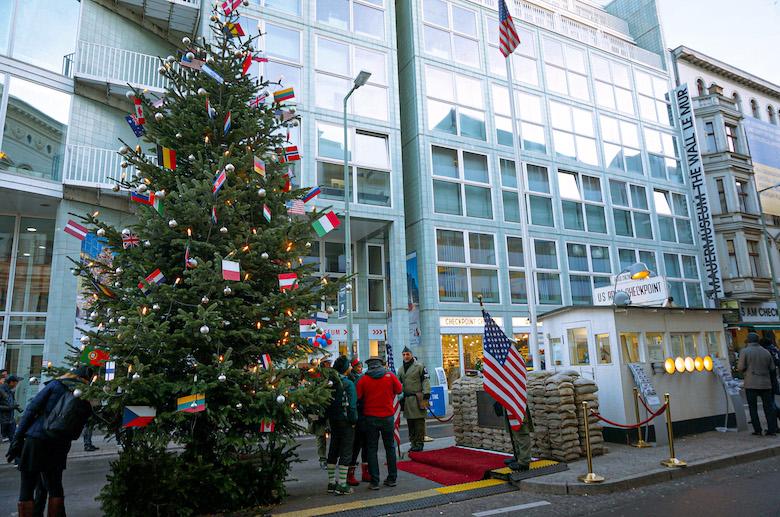 Ever wondered where the name "Checkpoint Charlie" came from?
Checkpoint Charlie was one of 3 checkpoints that belonged to the West. They were simply named Checkpoint A, Checkpoint B and Checkpoint C. Overtime it became Checkpoint Alpha, Checkpoint Bravo and Checkpoint Charlie to avoid confusion.
Interesting facts about Checkpoint Charlie
Checkpoint Charlie was an important part of the Berlin Wall history for a few reasons:
It was the only checkpoint that allowed foreigners, diplomats and military personnel to pass from west to east.
The world thought World War III was about to start when 30 tanks congregated here as tensions rose between America and the Soviet Union.
There were many escape attempts here, some successful others not.
When the fall of the Berlin wall was announced on 9 November 1989, thousands of East Germans flooded through its gates to the west.
The guardhouse you now see at Checkpoint Charlie is only a replica. The original guardhouse was dismantled in 1990. But you can see it if you go to the Allied Museum in Berlin.
For more history on the Berlin Wall, visit the Berlin Wall Museum at Checkpoint Charlie. Buy your tickets online to skip the queue.
Tip: You can see an original piece of the Berlin Wall in Niederkirchnerstrasse in front of the Topography of Terror.
7. DDR Watchtower at Potsdamer Platz
You're more than half way on this Berlin Wall cycle tour! It's a short 5 minute cycle (1.4 km) to our next stop, the DDR Watchtower at Potsdamer Platz.
The DDR Watchtower is probably one of the lesser known, hidden Berlin attractions so make sure to see it.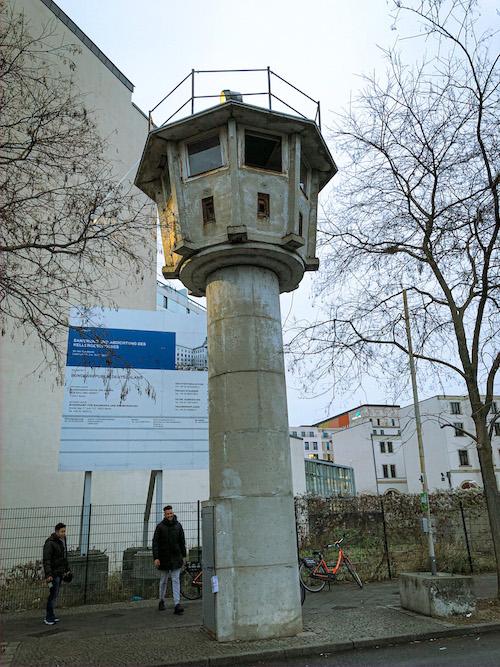 Did you know that there were more than 300 watchtowers on the Berlin Wall border? Now only less than 10 remain. The DDR watchtower at Potsdamer Platz is one of them.
Two border patrol soldiers would man towers like these on 8 hour shifts. They would look through the small windows and if needed, fire through the rifle loopholes from the tower.
The shooting range of this tower in particular, stretched from Tiergarten all the way to Brandenburg Gate. That's over 2 kilometres!
You can travel back in time and go see the inside of this watchtower. The tickets costs €3.50 and the opening hours are everyday between 11:00 to 17:00, except when it rains.
Tip: You can find more traces of the original Berlin Wall around the DDR Watchtower.
8. Holocaust Memorial
The next Berlin attraction is the Holocaust Memorial. It's another 6 minutes 6 minute bike ride (1km) from the DDR Watchtower.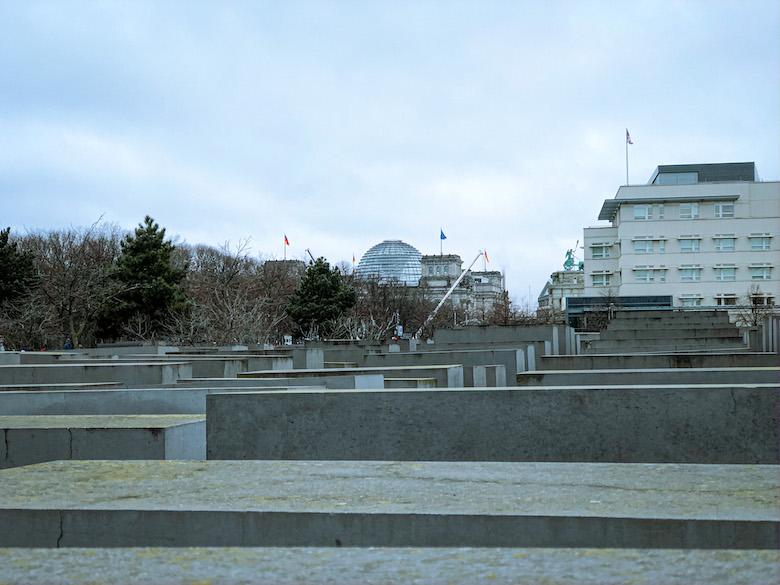 The Memorial to the Murdered Jews of Europe or Holocaust Memorial, commemorates the 6 million Jewish victims who died during the Nazi genocide of World War II.
The memorial is located close to Brandenburg Gate, on a stretch of the former "death strip" where the Berlin Wall once stood. A total of 2,711 rectangular concrete blocks are laid out in a grid formation, resembling tombstones.
Besides walking between the concrete blocks, you can also visit the information centre under the memorial.
Tip: The Holocaust Memorial is a place of contemplation and remembrance. Please be mindful of this by not climbing the blocks and being respectful when taking photos.
9. Brandenburg Gate (Brandenburg Tor)
The most iconic landmark and attraction in Berlin, Brandenburg Gate, is just a short 600 metres (2 minute cycle) from the Holocaust Memorial.
This monument played a big part of the Berlin Wall story. As it was in front of the Brandenburg Tor, that President Ronald Reagan gave his infamous speech to 'Tear down this wall'.
Interesting facts about Brandenburg Gate
In the 18th century, people had to walk through one of Brandenburg Gate's 5 passages according to their status. The central, widest passage was reserved for royalty. The adjacent passages for aristocrats and ordinary citizens could only use the outer passages
The sculpture on top of Brandenburg Tor is called The Quadriga. It represents the Goddess of Victory
Brandenburg Gate was "no man's land" during the years of the Berlin Wall as it was inaccessible by both East and West Germans
10. Reichstag
Just a hop and and a skip away is the next iconic Berlin attraction, the Reichstag Parliamentary Building. Bring your bike along as you'll need it for your last two destinations.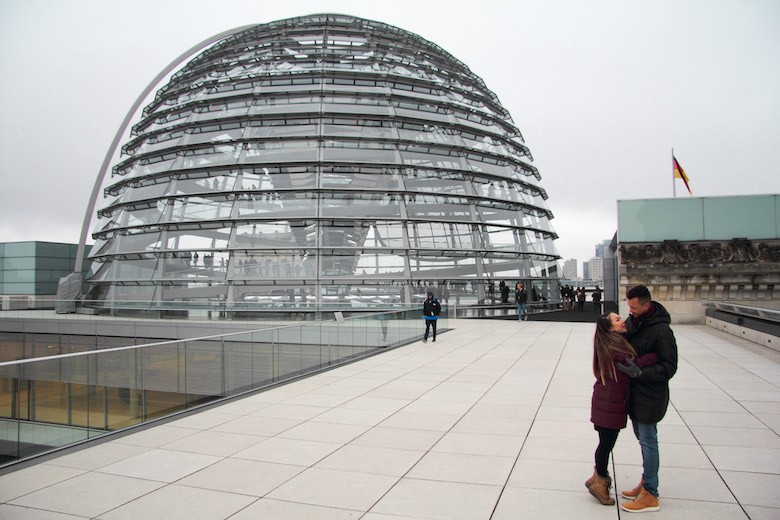 The Reichstag is one of the most important buildings in Berlin today. But during the period of the divided Berlin, it was pretty much a forgotten building.
The parliamentary building was abandoned for almost 70 years before the German parliament returned to the Reichstag 10 years after the fall of the Berlin Wall.
Tip: You can go see the inside of the Reichstag building for yourself and it's completely FREE! We highly recommend it if you have some extra time in Berlin. The tour is free but you have to book your spots in advance.
If it's too late to book a tour for the Reichstag, you can always experience it virtually on this amazing virtual tour of the Reichstag Building in Berlin. This is also free.
11. Visitor Centre Berlin Wall Memorial
Our Berlin Wall tour will not be complete without visiting the Berlin Wall Memorial. It's a short 10 minute cycle (3km) north from the Reichstag Building.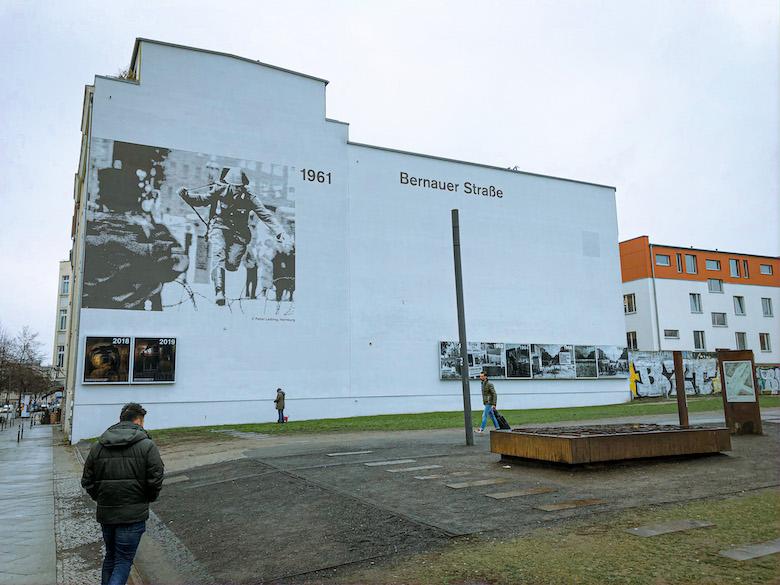 It's a must-visit attraction in Berlin if you're hungry for more Berlin Wall history. It exhibits some of the most comprehensive information about the Berlin Wall. From its construction to how it affected the daily lives of Berliners who lived during those times.
12. Bose Bridge (Bösebrücke)
The last destination of our Berlin Wall tour is Bösebrücke. It's a 15 minute cycle (4km) from the Berlin Wall Memorial.
On the night when the fall of the Berlin Wall was announced, the Bose Bridge border crossing was one of the first places where the Berlin Wall "cracked".
Thousands of people gathered here on 9 November 1989, demanding to cross over to the west. At first only a few were let through. But after the announcement was made, thousands of East Germans flooded through the border crossing, over Bose Bridge and were welcomed enthusiastically on West Berlin.
Tip: The Berlin Wall trail runs below Bösebrücke along what was once the border patrol road.
Exploring Berlin by Bike
We hope you enjoyed exploring all the top attractions in Berlin on our self guided Berlin Wall tour. If you're looking for more things to do in Berlin, consider adding visiting Potsdam to your itinerary.
The charming city of Potsdam is well renowned for being home to the largest UNESCO World Heritage Site in Germany. It's also considered to be one of the most beautiful royal cities in Europe. So if you love wandering through exquisitely manicured gardens and admiring opulent, grand architecture, you'll love this Best Things To Do in Potsdam Germany guide.
If you're visiting Berlin between the end of November to end of December, make sure to visit some of Berlin's Best Christmas Markets.
Trips From Berlin by Train
Trips From Berlin to Prague
Looking for other European destinations after Berlin? Why not take a train trip from Berlin to Prague. It's only a short 4.5 train ride to explore one of the most beautiful cities in Europe.
Or even better yet, rent a car from Berlin to Prague and only pay €1 for car rental.
If you loved this self guided bike tour, you'll love our Prague self guided walking tour too. This guide shares how you can avoid the tourist crowds and discover 10 hidden gems in Prague.
Berlin to Amsterdam by Train
If you loved Berlin, you'll probably LOVE Amsterdam too! And it's only a 6-7 hour train ride from Berlin to Amsterdam.
Experience the best street art in the Netherlands and an amazing day trip from Amsterdam in Rotterdam. You'll love our self guided bike tour to see the top 22 attractions in Rotterdam if you loved this self guided bike tour of Berlin.
From Rotterdam, you can cycle on some of the best cycling routes in the Netherlands and see Kinderdijk, the world famous windmill complex in Holland.