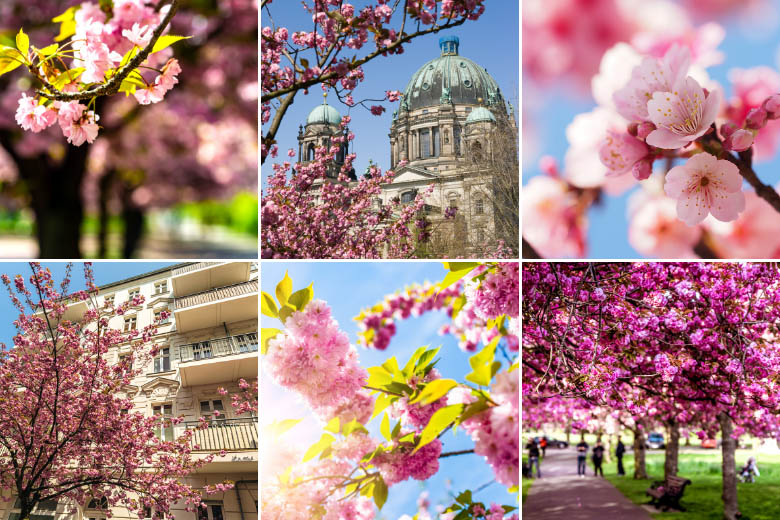 Discover the best places to see cherry blossoms in Berlin. From dreamy, sakura-lined avenues to hidden spots to admire these delicate flowers away from the crowds.
One of the most anticipated spring events in Berlin is cherry blossom season! You probably wouldn't know this if you're new to the city. But there are over 50 locations to enjoy the beautiful 'Kirschbluten' in and around Berlin.
With so many spots to choose from, it can get tricky figuring out which ones worth going to. Especially with cherry blossom season being so short! So here's a list of our 17 favorite places to see cherry blossoms in Berlin.
Make sure you use our free map to easily find these spots. We've also included some useful tips like when's the best time to see cherry blossoms in the city and explain how Japan's national flower ended up here in Berlin.
What Month Do Cherry Blossoms Bloom in Berlin?
The best time to see cherry blossoms in Berlin is during spring of course! Whilst spring may technically begin in the second half of March. In reality, the city only starts to really get that long-lasting spring feel from mid-April onwards. As soon as the weather warms up, cherry blossoms across the city start to sprout and bloom. Therefore the best months to see cherry blossoms in Berlin are usually April and May.
Cherry blossoms typically reach full bloom in 10 days and last up to 3 weeks before they start looking a bit tired and dreary. So make sure you plan carefully if you want to experience the peak of cherry blossom season in Berlin.
Are The Cherry Blossoms in Berlin From Japan?
If you're one of the lucky souls that have experienced cherry blossoms in Kyoto, Japan. You're probably wondering whether the cherry blossoms in Berlin are in fact authentic Japanese cherry blossoms or the original sakura flowers from Japan.
The answer? Yes, they are! And how did the Japanese cherry blossom come to travel halfway around the world to take roots in Germany? The reason may surprise you.
Why Are There Japanese Cherry Blossoms in Berlin Germany
You've probably heard of the famous Berlin Wall. But did you know that Japan had generously gifted Berlin more than 9,000 cherry blossom trees to celebrate the fall of the Berlin Wall and the reunification of Germany?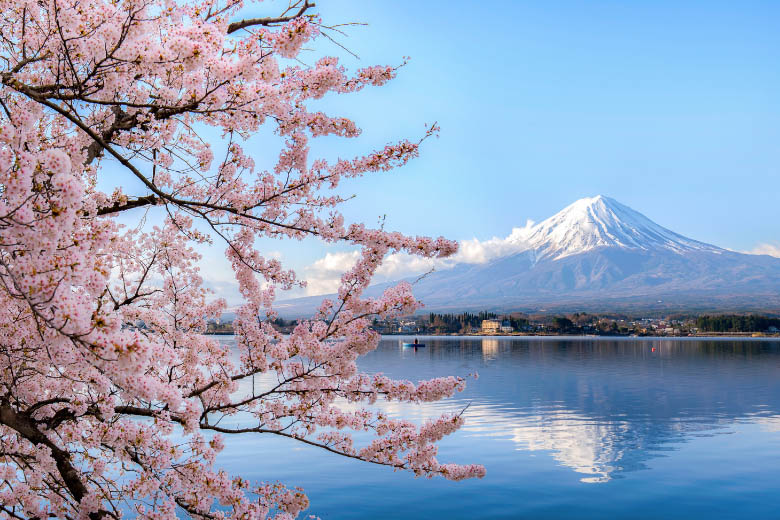 Yup! When the Berlin Wall came down on 9 November 1989. The Japanese television channel, TV Asahi, launched the 'Sakura Campaign' to raise funds to gift Japan's iconic cherry blossom trees to Germany.
More than 20,000 people in Japan donated. Even school kids participated by donating their pocket money to support the campaign. Eventually, TV Asahi collected over 140 million Yen in donations and gifted 9,000+ cherry blossom trees to Berlin.
Why cherry blossoms? Well, that's because in Japanese culture, the cherry blossom or 'sakura' symbolizes transition, renewal and beauty. Plus they're also believed to purify and bring tranquility to a place. Given all the tragedy that had happened with the creation of the Berlin Wall. We think that Japan had sent a very appropriate and thoughtful gift to celebrate the end of a terrible era.
Planting 9,000 trees didn't happen overnight, of course. It took exactly 20 years to plant the cherry blossom trees along the 'Mauerweg' (Berlin Wall route) where the death strip once stood.
And now a place that once brought only sadness and death. Brings joy and wonder to the hundreds of thousands of people that come and admire the delicate cherry blossoms blooming in Berlin every year.
Related Guide: Interested to learn more about the story behind the Berlin Wall? Read our self-guided Berlin Wall Tour By Bike guide where we've shared the simplified version of the history behind the famous wall.
Best Way To See Berlin Cherry Blossoms Spots
You can easily get to any of the cherry blossom spots in Berlin by public transport. But if you're looking for the BEST way to see cherry blossoms in Berlin, then you should definitely explore it by bike. Especially if you're planning to visit the famous cherry blossom lanes in Berlin where there are often huge crowds. That way you can easily reach the further sections that pedestrians don't often get to.
And if you're a photography lover, then you should absolutely consider cycling so that you can visit as many cherry blossom spots on our list whilst the flowers are in full bloom.
Don't have a bike? Don't worry. You can easily rent a bike for cheap using bike share. Read our Berlin Bike Sharing guide to find out which one will work out the cheapest for you with our price comparison table.
Make sure you're also familiar with the 24 bike road rules for cycling in Germany to avoid traffic fines and for bike safety.
Where To See Cherry Blossoms in Berlin
There are over 50 places to see cherry blossoms in and around Berlin, reaching as far as Potsdam. We've listed our top spots which include the two popular cherry blossom lanes in Berlin. As well as 9 other quieter locations if you prefer to avoid the crowds.
Click on our customized interactive map to easily find these Berlin cherry blossom spots from your location.
Berlin Cherry Blossoms Map
1. Kirschblutenweg near Bornholmer Strasse
As the name, 'Kirschblutenweg' (which means Cherry Blossom Road in German) suggests, this is the most famous place in Berlin to admire cherry blossoms. And for good reasons too.
Firstly, because these cherry blossom trees are planted at one of the most historically significant places where the Berlin Wall once stood. Under Bose Bridge (Bosebrucke) which was the first place where East Germans crossed over to West Berlin on the night The Wall fell. And secondly, because 'Kirschblutenweg' is one of only two cherry blossom avenues you'll find in and around Berlin.
Needless to say, it's one of the most spectacular places to admire cherry blossoms in the German capital and why it's almost always crowded.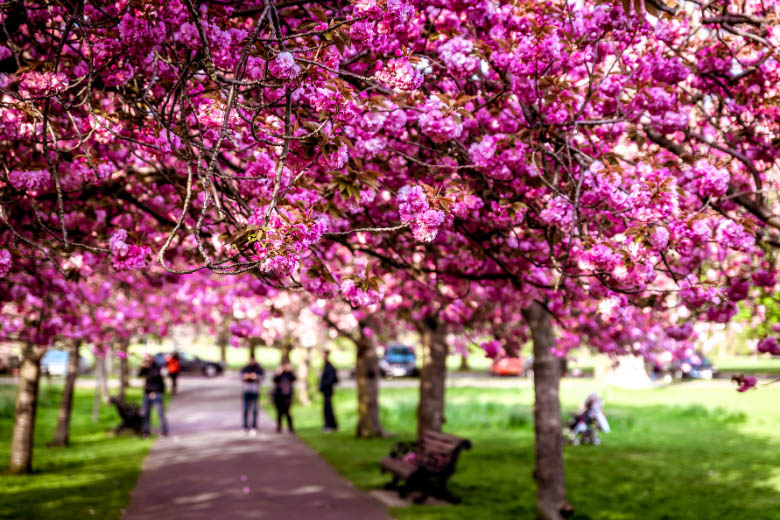 How To Get To Kirschblutenweg Cherry Blossom Lane
Our Berlin Cherry Blossom Map will take you straight to the Norweger Strasse section of Kirschblutenweg. This stretch is often considered the most beautiful section of the cherry blossom lane near Bornholmer Strasse and where most people take their Instagram photos.
But if you want to experience this famous cherry blossom lane to its fullest. We'd recommend you start your walk or cycle from the northern side of Mauerpark, on the corner of Schwedter Strasse and Gleimstrasse. And head north along Schwedter Strasse towards Schwedter Steg.
Then turn right into Behmstrasse and then left onto Norweger Strasse. Continue straight for about 800 meters to finally reach the highlight of Kirschblutenweg at the end.
This way you can see all 215 cherry blossom trees that form Kirschblutenweg and the Sakura campaign memorial. And if you have time, make sure you visit the Berlin Wall Memorial while you're there. The Memorial exhibits some of the most comprehensive information about the Berlin Wall. From its construction to how it affected the daily lives of Berliners who lived during those times.
2. TV Asahi Kirschbaumallee (TV-Asahi Cherry Blossom Tree Lane) in Lichterfelde Sud
The cherry blossom avenue at Bornholmer Strasse may be more well-known and popular. But the TV Asahi Kirschbaumallee in Lichterfelde Sud is arguable more impressive. Here you'll find the longest cherry blossom lane in Berlin that stretches more than 2 kilometers long.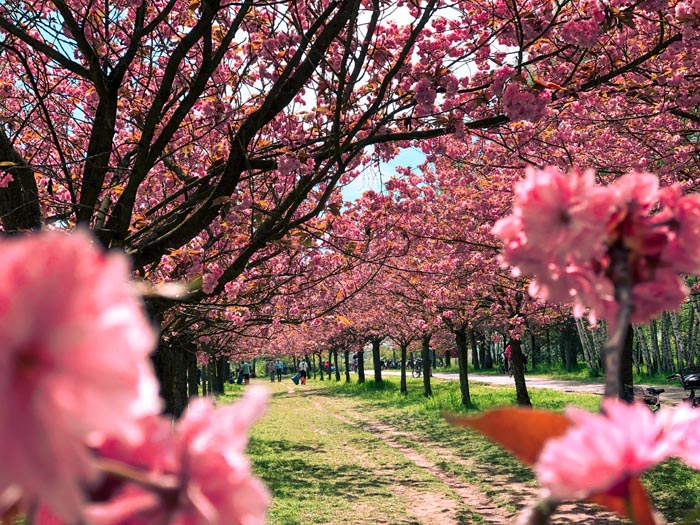 Lichterfelde Sud is located outside the Berlin Ring-Bahn and requires a little longer travel time to get to. But we promise that it's worth it!
If it's too far to cycle there, simply take the train to Lichterfelde Sud S-Bahn station. Once you arrive, exit on Holtheimer Weg and keep going until you're greeted by cherry blossoms that continue as far as the eye can see.
Once you reach the cherry blossom lane. We'd recommend turning left to enjoy a leisurely stroll all the way down to Japaneck (which is German for Japan corner). Make sure you wear comfortable shoes because once you reach Japaneck, you'll go back the same way you came so that you can explore the other half of this majestic cherry blossom lane. By doing it this way, you'll be closer to Lichterfelde Sud S-Bahn train station by the time your legs are tired.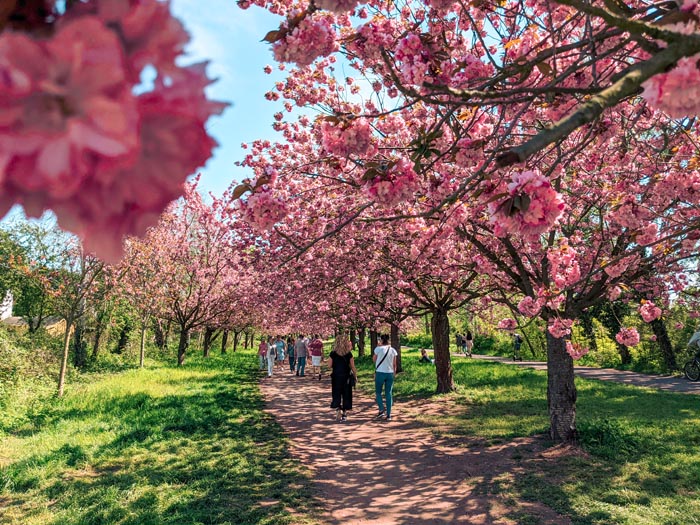 Related Guide: Are you a photography lover? Find out where the most instagrammable places are in the city with our Best Photo Spots in Berlin guide.
3. Lilienthal Park between Lichterfelde and Marienfelde
If it's too crowded at TV Asahi Kirschbaumallee, head over to Lilienthalpark. It's just a short 10 minute cycle (3km) from Japaneck.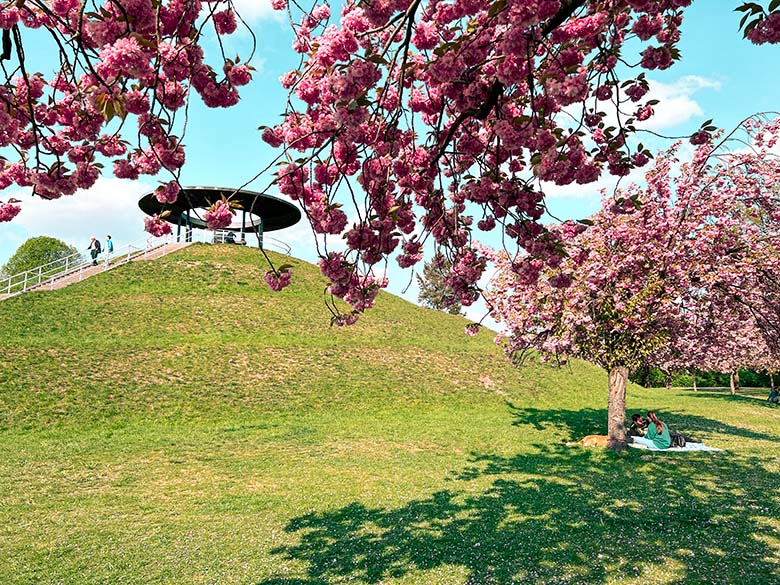 It's less busy and one of the best spots to enjoy cherry blossoms in Berlin for families with kids. Take a stroll around the small lake, visit the Otto Lilienthal Memorial or just enjoy a relaxing picnic under the trees while the kids play in the children's playground.
4. Kollwitzkiez (Rykestrasse) in Prenzlauer Berg
If you're looking for a cherry blossom street in Berlin, then Rykestrasse in Prenzlauerberg is the place to be. Make sure you enjoy a delicious lunch or cup of coffee while you're there. There's plenty of mouth-watering options to choose from in the beautiful neighborhood of Prenzlauerberg.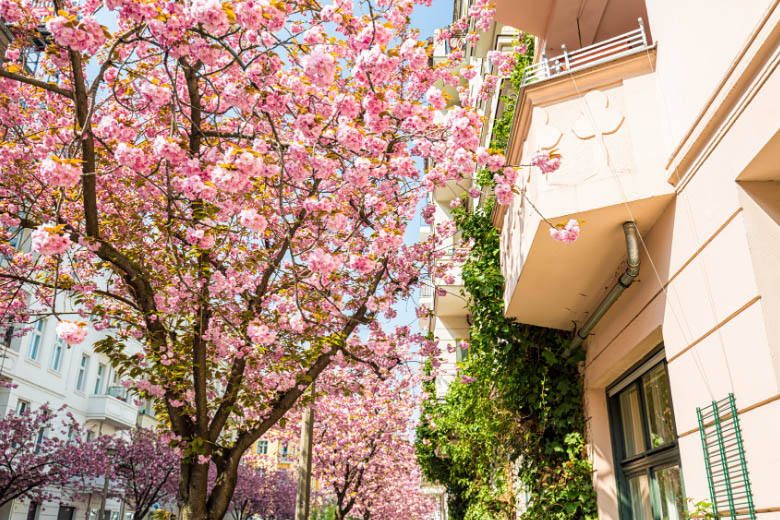 5. Japanese Embassy in Tiergarten
If you're looking for a quiet spot to admire cherry blossoms away from the crowds. Then visiting the Japanese Embassy in Tiergarten will be your best bet. There are a couple of cherry blossom trees planted on the Tiergartenstrasse side of the embassy.
It may not be the best photo spot, since the trees are behind a fence. But it's definitely one of the quieter spots to appreciate cherry blossoms in Berlin if you want some alone time.
6. Lohmuhlenbrucke in Kreuzberg-Neukolln
Lohmühlenbrücke is one of the most central places to appreciate cherry blossoms in the city if you don't want to venture out too far. Here, you'll find 45 cherry blossom trees and another memorial commemorating the Sakura Campaign for the generous gift.
7. Mauerdenkmal an der Kiefholzstrasse
Another great spot to see cherry blossoms in Berlin is just a short 10 minute cycle (3km) from Lohmuhlenbrucke.
These cherry blossoms were planted on Kiefholzstrasse to mark where the Berlin Wall once separated the former districts of Treptow and Neukolln.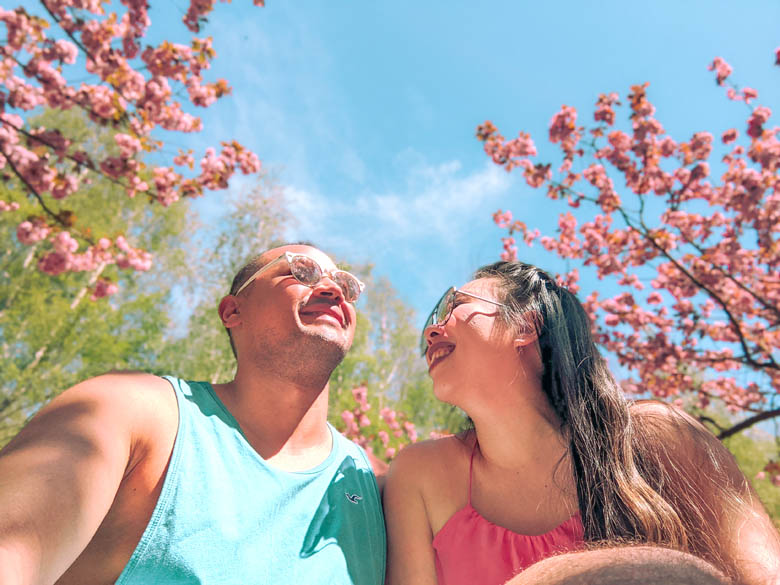 You'll also find the memorial, Mauerdenkmal an der Kiefholzstrasse, here. This memorial is dedicated to the two children who lost their lives trying to escape to West Berlin during the GDR regime.
8. Garten Der Welt in Marzahn
If you've always wanted to visit Gardens of the World (or 'Garten der Welt') in Berlin. Then there's no better time to do it than during sakura season.
'Garten der Welt' is often touted as the most unique park in Berlin. That's because it features 10 international gardens in a park that's the size of 60 football fields. The concept behind these magnificent gardens is to allow visitors to experience the most beautiful gardens around the world. From China, Indonesia, Middle East to England, Korea, and of course, Japan. In spring, the Japanese garden is even more spectacular with its 80+ cherry blossom trees.
Entrance tickets for Gardens of the World Berlin start from €7.00 and upwards. Skip the queues by buying your Garden der Welt tickets online.
Related Guide: Are you a nature and outdoor lover? Then make sure you check out our Best Outdoor Things To Do in Berlin to find the best lakes, forests and parks to explore in the city.
9. Wollankstrasse S-Bahn in Pankow
Another hidden gem to appreciate cherry blossoms away from the crowds is near Wollankstrasse S-Bahn train station in Pankow. The trees are located near the train track, which was part of the former death strip before the Berlin Wall came down.
10. Kollnischer Park in Mitte
Looking for cherry blossoms near Alexanderplatz or Jannowitzbrucke? Then make sure you visit the area around Köllnischer park. You'll find a couple of cherry blossom trees there.
11. Monbijoupark and Berliner Dom near Museum Island
Another great spot to see cherry blossoms is in Mitte near Museum Island. Walk around Monbijoupark and the Berliner Dom to find the most instagrammable spot.
Save Me For Later
12. Hohenzollernplatz in Wilmersdorf
The small park at Hohenzollernplatz is one of the best places to enjoy a cherry blossom avenue in Berlin away from the crowds.
It may not be as extravagant as the cherry blossoms lanes at Bornholmer Strasse or TV-Asahi in Lichterfelde. But it's an awesome hidden gem to enjoy a picnic under sakura trees without wrestling for a spot.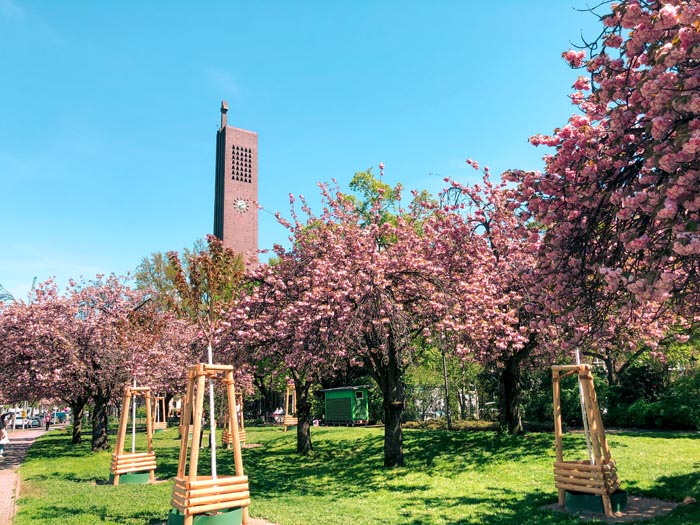 13. Ludwigkirchplatz at Wilmersdorf-Charlottenburg
Another quiet spot to enjoy cherry blossoms in Berlin is at Ludwigkirchplatz in the beautiful neighborhood, Wilmersdorf-Charlottenburg.
You'll love this spot if you're a flora and fauna lover. This charming park is always beautifully manicured and there's an array of flowers to admire here besides cherry blossoms.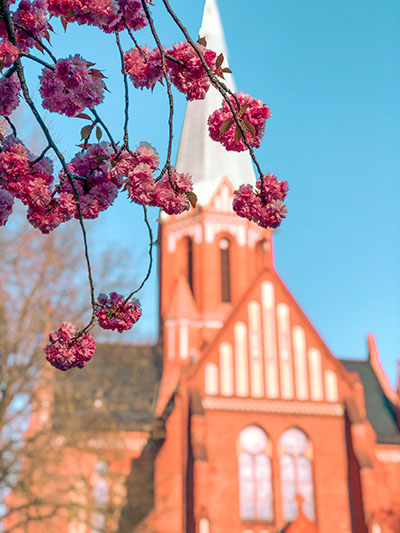 Cherry Blossom Spots Near Berlin
There are also a couple of places to see cherry blossoms near Potsdam. Here are the best 2 spots we found:
14. Glienicker Brücke (Glienicker Bridge)
One of the best places to see cherry blossoms in Potsdam, Germany is at Glienickerbrucke (Glienicke Bridge). Glienicke Bridge may look like an ordinary bridge today. But back in the day when the Berlin Wall was still standing, this was the spot where East and West exchanged secret agents and spies. And that's how it got its other name, The Bridge of Spies.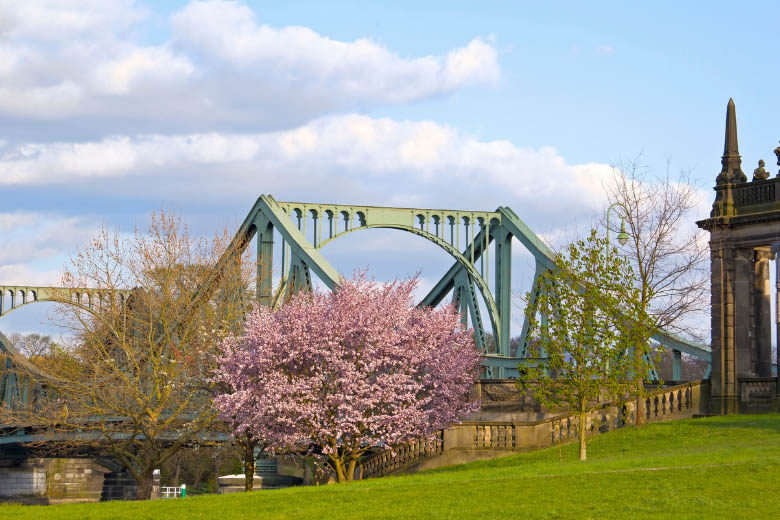 Related Guide: Experience one of the best day trips from Berlin and see the beautiful city of Potsdam! Did you know that it's the largest World Heritage Site in Germany? Follow our Best Things To Do in Potsdam in 1 Day Guide to find out more.
15. Pfaueninsel
'Pfaueninsel' (or Peacock Island in English) – is another great day trip idea that you can easily combine with your cherry blossom hunting adventure.
'Peacock Island' is a nature reserve with plenty of walking trails and peacocks, of course. You can easily spend half the day here exploring the island. Besides appreciating cherry blossoms, make sure you visit Pfaueninsel's other attractions like Fontane, Maschinenhaus, Kavaliershaus auf der Pfaueninsel, Schloss auf der Pfaueninsel and Beelitzer Jagdschirm.
Travel Tip: The little island of Pfaueninsel is located in the middle of the Havel River. So make sure you bring cash to pay for the short ferry to get there.
Cherry Blossom Festivals in Berlin
16. Japanese Cherry Blossom Hanami Festival in Berlin
The most popular cherry blossom festival in Berlin is the Japanisches Kirschblutenfest Hanami Festival. It's usually held in the second half of April every year to coincide with when the cherry blossoms are in full bloom. So the best way to know when the exact dates are is to check out the Japanese Cherry Blossom Hanami Facebook page.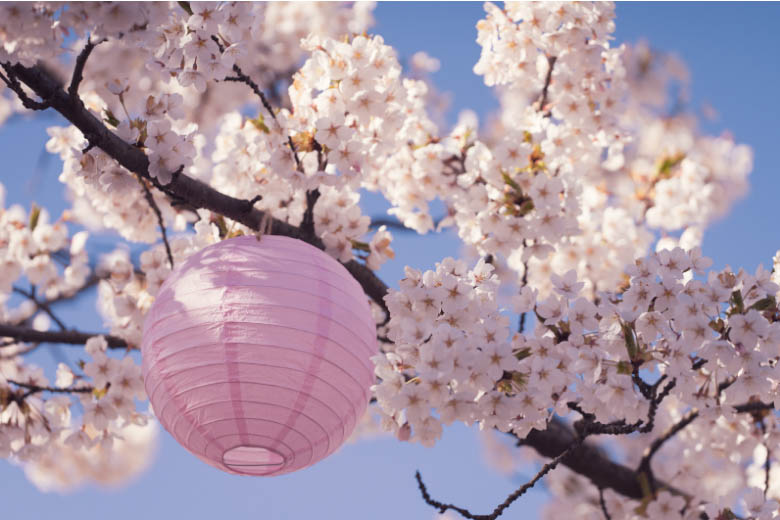 You'll love this festival if you love everything Japanese. From authentic and uber delicious Japanese food and treats, to traditional crafts and art pieces. All this plus the dreamy backdrop of pink cherry blossoms will literally transport you from Berlin to Japan in an instant.
Travel Tip: 'Hanami' is the long-standing Japanese tradition of appreciating the transient beauty of nature. In Japan, people often gather under cherry blossoms trees to enjoy the beauty of the sakura whilst enjoying a meal together.
17. Cherry Blossom Festival at Gardens Of The World Berlin
The Cherry Blossom Festival at Gardens of the World is another awesome spring event to experience in Berlin. It's different from the Hanami Kirschblutenfest in that this festival is more focused on art than food. So if you're interested in seeing traditional Japanese dancing and other performances or even cosplay, then this festival is for you.
Check out the Gardens of the World Berlin Facebook page to keep updated with when this cherry blossom festival will be held each year.
Best Places To See Cherry Blossoms in Berlin
That was a long guide! So here's a quick summary:
Kirschblütenweg in Bornholmerstrasse
TV-Asahi Kirschblütenallee in Lichterfelde Süd
Linienthalpark between Lichterfelde and Marienfelde
Rykestrasse in Prenzlauer Berg
Japanese Embassy in Tiergarten
Lohmühlenbrücke between Kreuzberg and Neukolln
Mauerdenkmal an der Kiefholzstrasse
Garten Der World in Marzahn
Around Wollankstrasse S-Bahn train station in Pankow
Köllnischer Park in Mitte
Monbijoupark and Berliner Dom
Hohenzollernplatz in Wilmersdorf
Ludwigkirchplatz at Wilmersdorf-Charlottenburg
Glienicker Brücke in Potsdam
Pfaueninsel (Peacock Island)
Japanese Cherry Blossom Hanami Festival
Cherry Blossom Festival at Gardens Of The World
Want to share your favorite cherry blossom spots in Berlin with us? Let us know and we'll add it to our list!