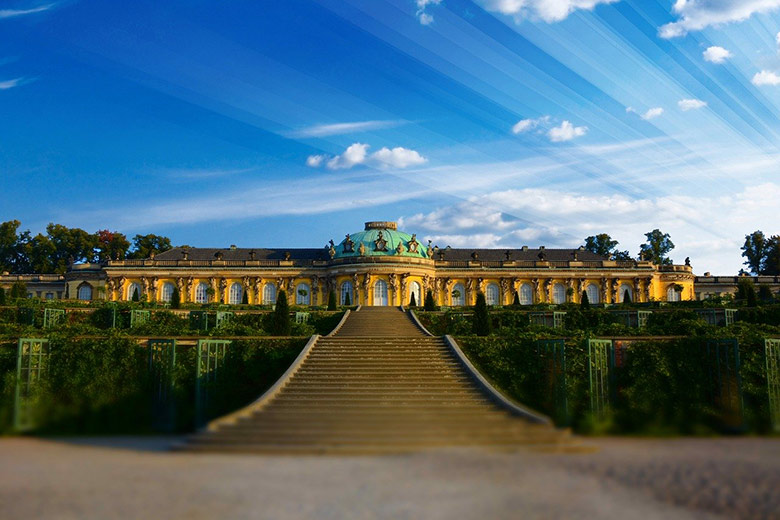 Experience one of the best day trips from Berlin, Germany with this Things To Do in Potsdam Ultimate Guide.
Visit the largest World Heritage Site in Germany and explore the beautiful city of Potsdam. Travel back in time and catch a glimpse of how the Prussian and German Royalty once lived here.
The charming city of Potsdam is only a short 45 – 50 minute train ride from the capital of Germany and is one of the best day trips to experience from Berlin. So make sure you add this to your Berlin itinerary!
Discover the best things to do in Potsdam (along with some interesting historical facts) on this self guided tour. Most of these Potsdam attractions are free things to do too!
If you already know how to get from Berlin to Potsdam by train, skip straight to the Things To Do In Potsdam – Self Guided Tour.
Where Is Potsdam, Germany
The beautiful city of Potsdam lies along the banks of the Havel River, a short 35km distance from the city centre of Berlin, Germany.
The city captures more than 200 years of history and culture dating back from the Prussian Empire. It's also famous for the role it played during World War II and the Cold War that followed.
Today, it is the capital and largest city of Brandenburg and world renowned for being home to the largest UNESCO World Heritage Site in Germany.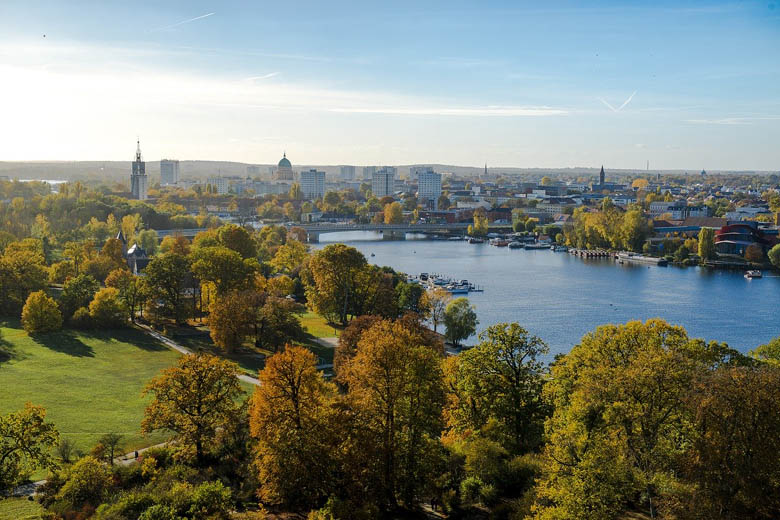 Was Potsdam in East or West Germany
If you've read our Berlin Wall By Bike Tour, you're probably wondering whether Potsdam was part of East or West Germany. Well, the answer may surprise you.
Although Potsdam lies on the western border of Berlin, which was technically West Berlin during the time of the Berlin Wall, the city was actually part of East Germany and therefore a part of the GDR (German Democratic Republic).
Is Potsdam Worth Visiting
If you love visiting fairytale cities in Europe like Prague, that are rich in history and opulent architecture, then Potsdam is definitely worth visiting. It's referred to as 'The Versailles of Germany' and is also considered to be one of the most beautiful royal cities in Europe.
Potsdam is most famous for being the summer home of the Prussian Royalty during the 19th century. So if you love wandering down intricately crafted gardens and admiring extravagant palaces, then you'll love Potsdam.
In addition to the iconic Sanssouci Palace, there's 16 other grand palaces in Potsdam alone to see and explore! We'll take you to see 5 of these palaces on this day trip from Berlin.
Besides palaces and gardens, the city of Potsdam also played a significant role during World War II and the Cold War.
And if all that is not enough to charm you. Then how about the fact that you can visit the largest UNESCO World Heritage Site in Germany for free!? Yes, you can meander through the fairytale gardens of Sanssouci Park for free too. You only need an entrance ticket if you want to go inside the museums and palaces.
With the heritage site covering around 500 hectares and 150 buildings, there's plenty of free things to do in Potsdam on your day trip from Berlin.
Day Trips From Berlin
Berlin to Potsdam
Potsdam is one of the best day trips from Berlin because there's so much to do and see there, plus it's an easy and short 45 – 50 minute train ride from Germany's capital city.
By Train
To get from Berlin to Potsdam by train, buy the BVG ticket for A, B and C zones. You'll need 2 single trip tickets (valid for 2 hours each) for a return trip from Berlin to Potsdam. The return train trip will cost you €7.20 in total.
If you already have the BVG transport ticket for A and B zones, simply buy an extension ticket for Zone C to take the train from Berlin to Potsdam. Extension tickets cost €1.70 each and are also valid for 2 hours. You'll need 2 extension tickets for the return train trip from Berlin to Potsdam (i.e. total cost €3.40).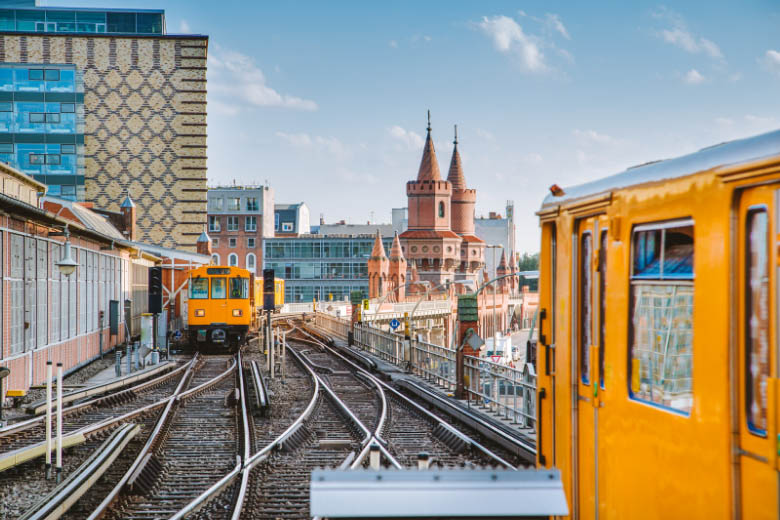 Taking Bikes On Board The Train
Bring your bikes with you if you plan to cover more ground in Potsdam. Just remember to buy train tickets for your bikes (or risk a €60 fine).
BVG Bike Single Trip tickets cost €2.60 each and are valid for 2 hours.
Getting Around in Potsdam, Germany
Once you've arrived in Potsdam, getting around is easy. Use some of the options below or simply walk. Make sure you wear comfortable walking shoes as this Potsdam self guided tour is more than 10km.
Public Transportation in Potsdam
Potsdam, Germany is part of Berlin's zone C. So you can use your BVG train ticket to get around in Potsdam. This way you won't need to walk as much.
If you prefer using public transportation in Potsdam, buy the BVG Berlin ABC Day Ticket instead. It costs €9.60 but is valid until 3AM the next day so you won't need to pay for any other transportation costs for the day.
Potsdam Bike Rental
Another great way to experience the best day trip from Berlin in Potsdam, is by bike. You can easily rent one if you don't already have a bicycle.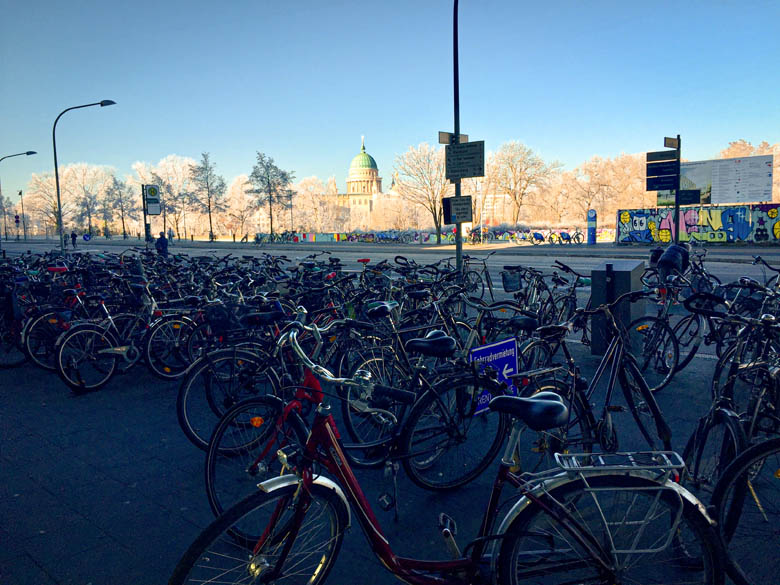 Easily rent a bike in Potsdam via bike sharing. Nextbike bicycles is available in Potsdam. It will cost a maximum of €12 to rent a Nextbike for a 24 hour period if you select the €3 day tariff option.
Simply download the Nextbike app and pick up a bike when you've arrived in Potsdam.
Read our Berlin Bike Sharing Guide if you've never used bike share before and curious to know which one gives you the best value for money.
Another great Potsdam bike rental option (especially if you have kids) is to rent bicycles from Cityrad Rebhan Fahrradverleih. The store is located close to the main train station in Potsdam. They rent bikes for €11 for adults and €8 for kids.
Make sure you're familiar with bike road rules for cycling in Germany before hopping on that bike. You don't want any unexpected traffic fines.
Potsdam Hop-On Hop-Off Bus
If you love exploring new cities from the iconic red Sightseeing Bus, you can combine this walking tour with the Potsdam Hop On Hop Off Bus.
Get live commentary as the bus drives past the main sights and attractions, and hop on and off at any of the 12 stops.
Another popular option is the Potsdam City and Castles Tour. It's a 3 hour bus and walking tour to see the city of Potsdam and the castles that make the city so famous.
Potsdam Things To Do: Self Guided Tour
Well now that all the logistics is out of the way, let's get straight to the best things to do in Potsdam and enjoy the ultimate day trip from Berlin!
Click on the interactive map below to easily find these Potsdam attractions from your location.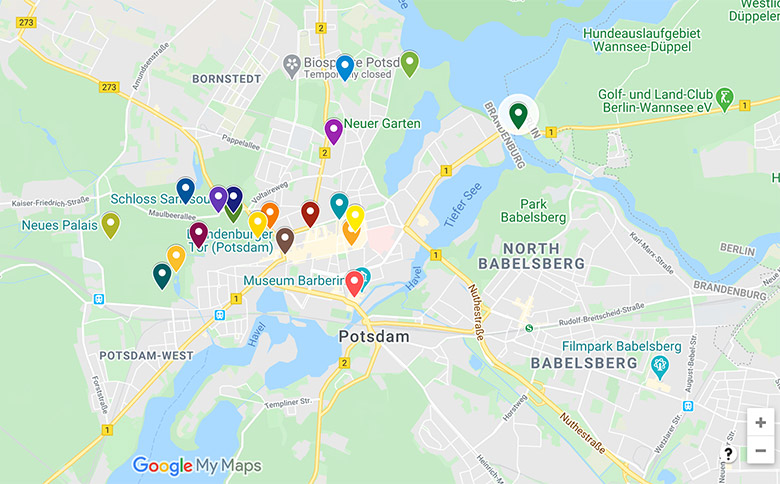 1. Town of Potsdam, Germany
Our first stop is to see the main town square in Potsdam, Germany. It's a short 700m walk or cycle from the main train station. You'll know you've arrived when your eyes can't help but dart back and forth between one architectural masterpiece to another.
The town of Potsdam is filled with fascinating architecture. Most of which were built during the 18th and 19th centuries when the city was the residence of the Prussian Royalty.
The most outstanding landmark in the Old Town Square (or Alter Markt) of Potsdam, is St Nicholas' Church.
St Nicholas' Church (St. Nikolaikirche)
Does St Nicholas' Church look eerily familiar? Well, that's because its large dome was inspired by St Paul's Cathedral in London.
Never seen St Paul's Cathedral before? Visit this iconic landmark in London on a free virtual tour!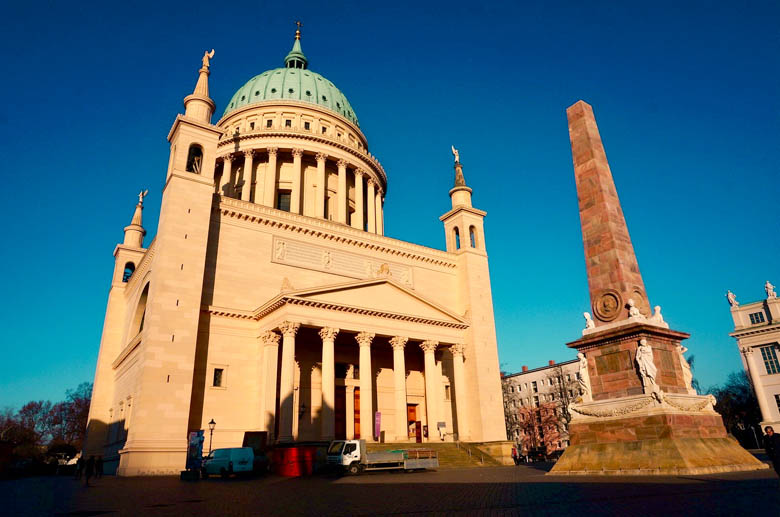 St Nicholas' Church was badly damaged during World War II and was rebuilt to its original state again in the 1970s and 1980s. Today, it's the largest church in Potsdam.
Alter Markt and Neuer Markt, Potsdam
Potsdam has two market squares: The Old Town Square (Alter Markt) and the New Town Square (Neuer Markt). Both exquisitely designed in the intricate and decorative Baroque architecture style that originated in Italy more than 400 years ago.
You can easily tell which market square you're in by looking for the giant 16 meter tall obelisk. If you see the obelisk, it means you're in Alter Markt.
Neuer Markt is tucked away behind a row of houses on the western part of the town of Potsdam. Make sure you see it because Neuer Markt square is one of the best preserved baroque squares in Europe.
Museum Barberini
Before Barberini became a museum, it was actually built as the stately mansion for the King of Prussia, Frederick the Great. Back then it was known as Barberini Palace and its design was modelled on the Palazzo Barberini in Rome – hence the name.
Today Museum Barberini in Potsdam, Germany, is known for exhibiting artworks from the Old Masters to contemporary art.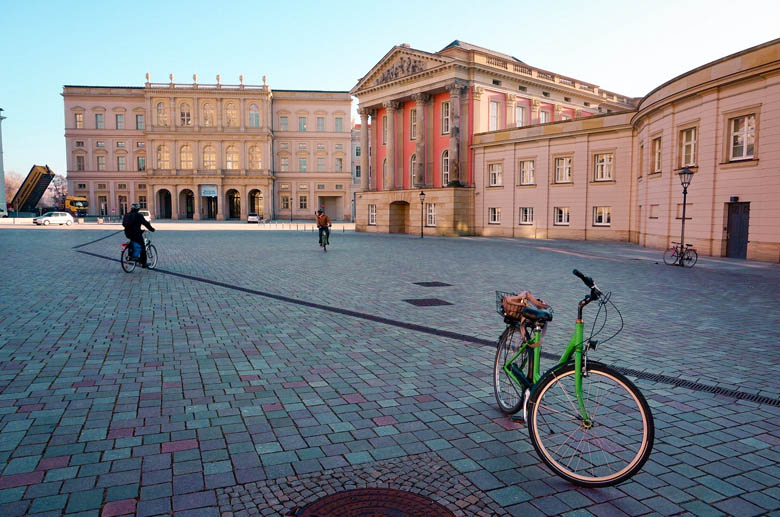 Film Museum Potsdam
If you love film and movies, then you must see The Film Museum in Potsdam. It's located in Stadtschloss Palace (The Potsdam City Palace) and it's the oldest film museum in Germany.
You can spend an entire afternoon in this interactive and immersive museum. Wandering through the rooms learning how movies are made. And if you've always wanted to try your hand at acting, you can even make your own audition tape or digitally insert yourself into famous movie scenes. How cool is that?!
But if you'd rather stick to watching movies instead, the museum also screens films everyday for a reduced price. Check out the Film Museum Potsdam Schedule to see what's on.
2. Bassinplatz
Just outside one of the most famous Potsdam attractions, The Dutch Quarter, lies another one of the city's lesser known town squares, Bassinplatz.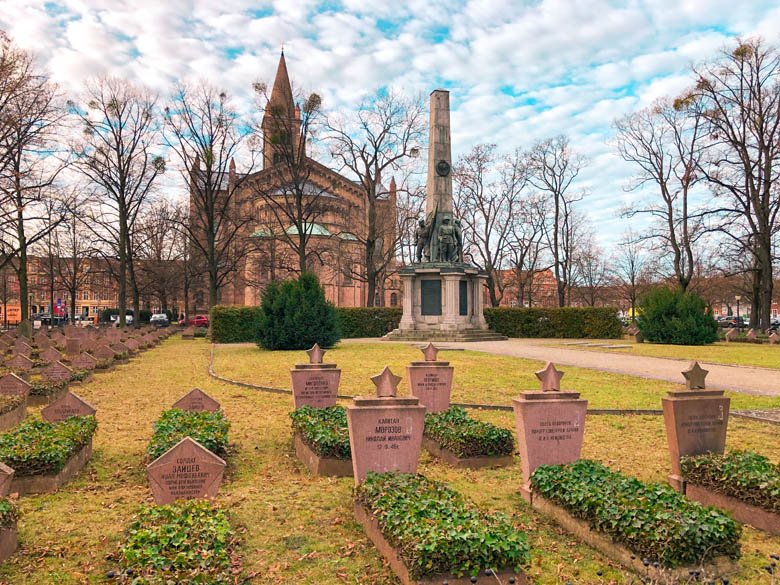 The square was named 'Bassinplatz' (which translates to 'basin place') because it was originally created to drain the surrounding swamp area almost 400 years ago.
Today, it's home to the St Peter and Paul Roman Catholic Church and the Soviet Cemetery of Honor.
3. Dutch Quarter, Potsdam Germany
There's a reason why the Dutch Quarter, or Hollandisches Viertel, is one of the top things to do in Potsdam. It's the only place in the world that has the most Dutch houses outside of the Netherlands and how it earned its name 'Little Amsterdam'.
The Prussian King had 134 red brick, Dutch style houses built here in the middle of the 18th century, to help recruited expert craftsmen from Holland feel more at home in Potsdam.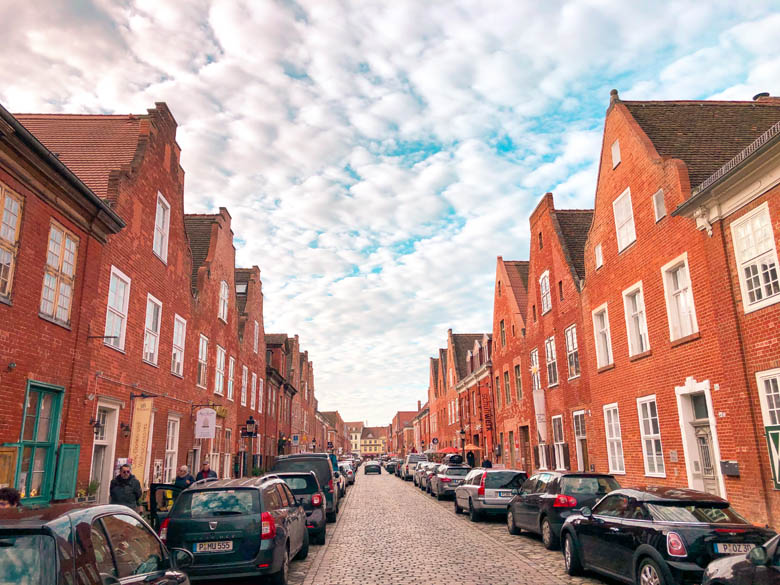 Today, the Dutch Quarter remains the largest Dutch housing development outside of Holland and is home to cute cafes, pubs, boutique shops, galleries and workshops.
Make sure you stop by Poffertjes en Pannekoeken for some traditional Dutch poffertjes! They're delicious, Dutch mini pancakes and they're so yum you won't want to share.
4. Cecilienhof Palace
This unassuming English Tudor manor house was first the royal residence of the Prussian monarchy. And later the meeting place for one of the most important events in history: The Potsdam Conference where the Potsdam Declaration was signed.
Today, it remains a significant site of world politics and a top attraction to visit in Germany.
You can take a guided tour inside Cecilienhof and see the meeting rooms and the infamous conference table used to discuss the Potsdam Declaration.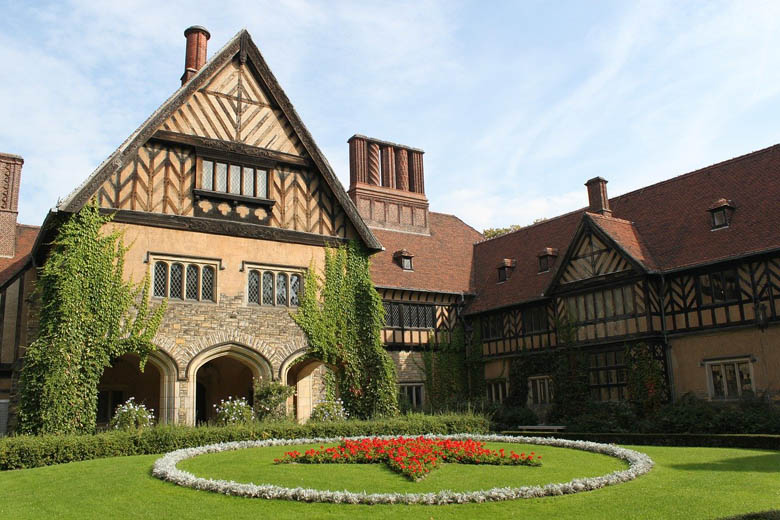 Ever wondered what the giant red star in front of Cecilienhof, Potsdam means?
The red star is crafted out of geranium flowers and was planted by the Soviets to mark the occasion of the Potsdam Conference.
Why was the Potsdam Conference and Potsdam Declaration important?
In short, the Potsdam Conference and the signing of the Potsdam Declaration was significant because of how it shaped world history.
Firstly, it was here at Cecilienhof where US President Truman had authorised (casually over the phone) the use of the world's first weapon of mass destruction (i.e. the atomic bomb) to be used against Japan.
Two atomic bombs and more than 300,000 deaths later, Japan finally surrendered, bringing World War II to an end.
The Potsdam Conference therefore came to symbolise the end of World War II but also the beginning of the Cold War and the division of Germany into 4 different sectors. These events then led up to the division of East and West Berlin and the construction of the world famous, Berlin Wall.
If you loved this simplified explanation of the Potsdam Declaration, make sure you read our simplified version of the Berlin Wall Story too.
Save Me For Later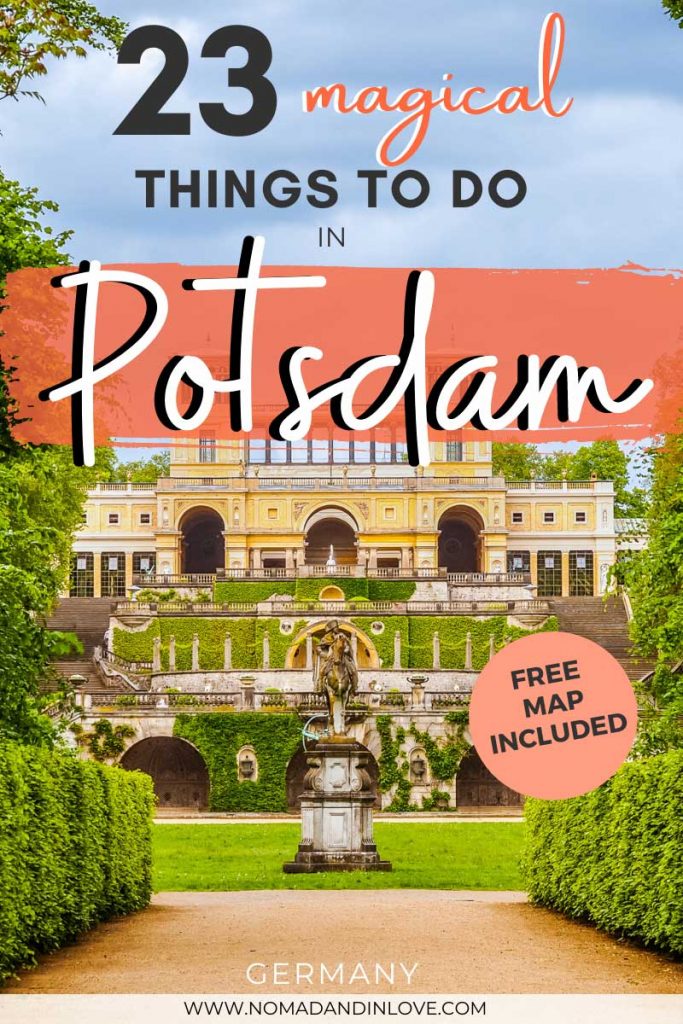 5. Belvedere Castle on Pfingstberg
The next stop on our day trip from Berlin in Potsdam, is to see the fairytale setting of Belvedere Castle on Pfingstberg.
Belvedere Castle is perched on the highest point in Potsdam, at 76 meters above sea level. More than 10,000 visitors visit the castle every year to enjoy the best views over Potsdam from Belvedere's Palace towers.
Looking from the outside, you would never know that this magnificent building remains unfinished. Even in its incomplete form, Belvedere Castle on Pfingstberg is still a sight to behold and listed as a UNESCO World Heritage Site.
You can take a tour inside Belvedere Castle and see the permanent exhibition in the palace. And if you've always dreamt of a fairytale wedding, you can hire the venue out for the special occasion.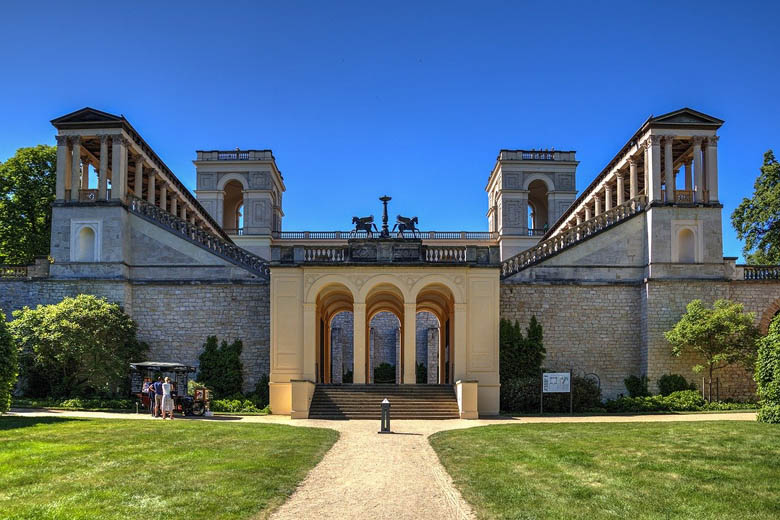 Interesting facts about Belvedere Castle, Pfingstberg
The story goes that the then King of Prussia, Frederick William IV, was inspired to build an Italian style villa after returning from his travels in Italy.
He was inspired by not one, but three Italian Villas. The soaring towers from Villa Medici in Rome, the water fountains and terraces from Villa D'Este in Tivoli and finally, the cascading waterfalls and rounded flights of stairs from Villa Farnese in Caprarola.
You can imagine how massive Belvedere Castle was envisioned to be. But sadly only a part of the original plan was completed. The King ran out of funds and had died before Belvedere was finished.
6. Alexandrowka
The next attraction in Potsdam will transport you to Russia.
Alexandrowka is a Russian colony that was build by the Prussian King, Frederick William III. He built 12 traditional Russian wooden houses, farms as well as a Russian orthodox church for the 12 Russian singers who entertained the Prussian troops during his reign.
King Frederick William III named Potsdam's Russian colony 'Alexandrowka', after the Russian tsar, Alexander I, because of the close friendship they shared.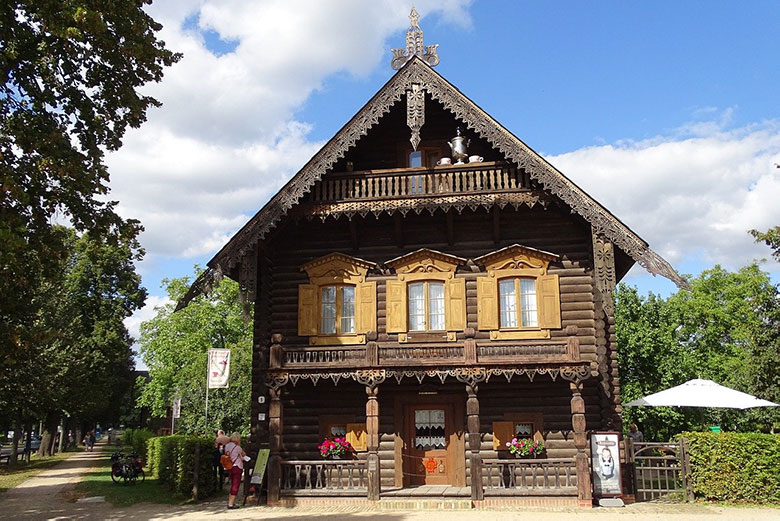 A few descendants of the former inhabitants still live in Alexandrowka today. Make sure to stop by the museum if you want to learn more about the history of the community.
7. Nauener Tor
We are slowly approaching the highlight of Potsdam, but first we must visit the Royal Palace Section Gates that lead you to Sanscoucci.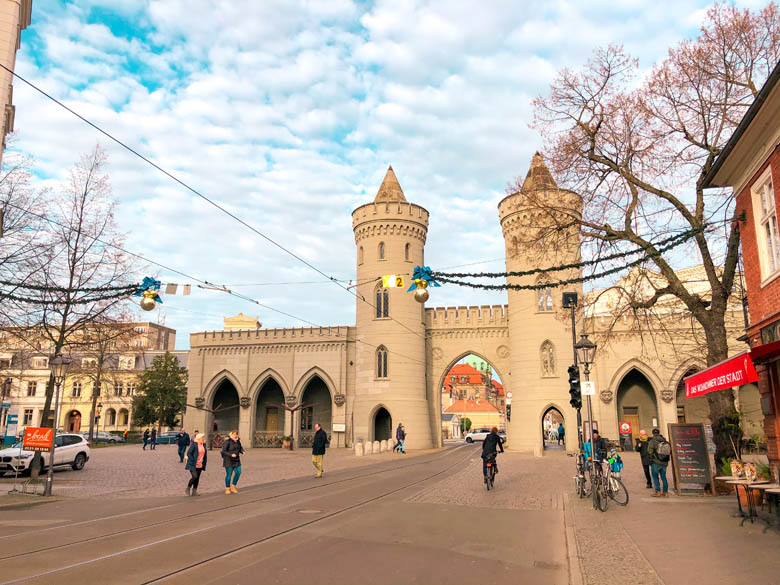 More than 300 years ago, Sansoucci was surrounded by an extended wall where you could only enter via its 7 Royal City Gates. Only 3 of Potsdam's original city gates remain standing today and Nauener Tor is one of the them.
Nauener Tor was mostly used by the military, merchants, craftsmen and administrators back in the day. Today, it is surrounded by lots of cafes, restaurants, bars and is a popular meeting spot for locals.
8. Jagertor Potsdam, Germany
A few steps away from Nauener Tor, takes you to see the oldest of the 7 Royal City Gates in Potsdam – Jagertor.
Jagerstor, or Hunter's Gate, is the only Royal Gate that has been preserved in its original state. The decorative sculpture on top of the gate, encapsulates a hunting scene that was very popular back in those times.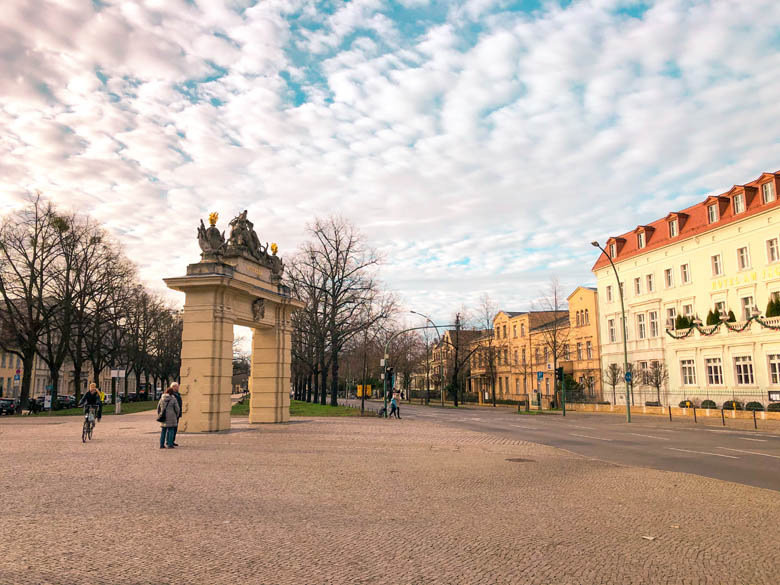 9. Obelisk Hauptallee, Sansoucci East Entrance
Now that you've entered the Royal Gates and breached Sansoucci's walls, it's time to officially enter the Royal Gardens.
It's a short 700 meter walk from Jagertor before you'll come across a mammoth obelisk at Sansoucci's east entrance. The obelisk with what appears to be hieroglyphs seems out of place. And there doesn't seem to be any particular reason why it was built here.
But what's interesting is the fact that the 'hieroglyphs' contain no text or meaning. They were simply decorative and created from the imagination of the artist.
As you enter the garden gates of Sanssouci, you'll see two sculptures on either side: Flora, the goddess of flowers and Pomona, the goddess of fruit.
You'll notice that their backs are facing you as you enter. That's not because they're being rude, but rather that the eastern entrance was initially built to only serve as an exit. So both goddesses are positioned to look into the interior of Sanssouci so that they can bid guests a warm farewell as they leave.
Related Guide: Visiting Potsdam in spring? Then make sure you read our Cherry Blossoms in and around Berlin guide to find out where to see them in Potsdam.
10. Kaiser Friedrich Mausoleum
The first attraction you'll see in Sanssouci to your left is the Kaiser Friedrich Mausoleum and Friedenskirche (Peace Church). The church was built by the same Prussian King who commissioned Belvedere Castle.
His love affair with Italian architecture did not end with Belvedere Castle because he then personally designed Friedenskirche to resemble a High Medieval Italian monastery.
It was only a few decades later, that Kaiser Friedrich Mausoleum was added. And this is where the artistically gifted, Frederick William IV and his family are buried.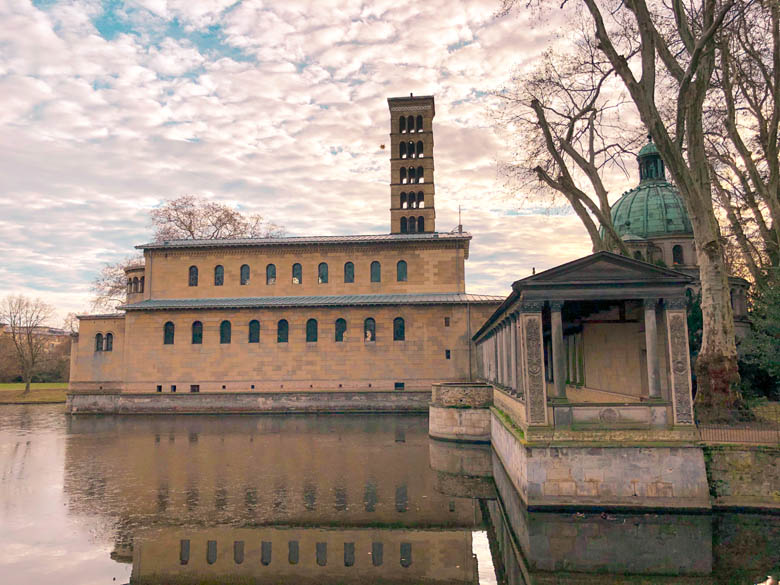 11. Sanssouci
The moment you've been waiting for! The top thing to do in Potsdam and the ultimate highlight on your day trip from Berlin – Sanssouci Palace and the surrounding royal gardens in Sanssouci Park.
Sanssouci may be world famous and a top attraction to visit in Germany, but it's also free. There is no entrance to pay except if you want to visit the museums.
King Frederick the Great named his summer residence 'Sanssouci' for good reason. The word literally translates to 'without a care' in French and it aptly describes it as the sanctuary he could go to escape the neighbouring city of Berlin.
Bonus Tip: Spend a day feeling like royalty and see the majesty interiors of Sanssouci Palace. Skip the queue and book your Sanssouci Palace tickets online or take this guided tour of the Sanssouci Palace and Park Tour.
Sanssouci Park
Most people visit Sanssouci in Potsdam, Germany, mistakingly believing Sanssouci Palace to be the highlight of this world-renowned park. When it is in fact the entire Sanssouci Park and gardens itself, that earned the park its UNESCO World Heritage Site status since 1990.
Beyond its beauty, Sanssouci Park captures 250 years of the highest level of garden design in history. It also united the best landscape designs and artworks by the most competent architects and sculptors of that time.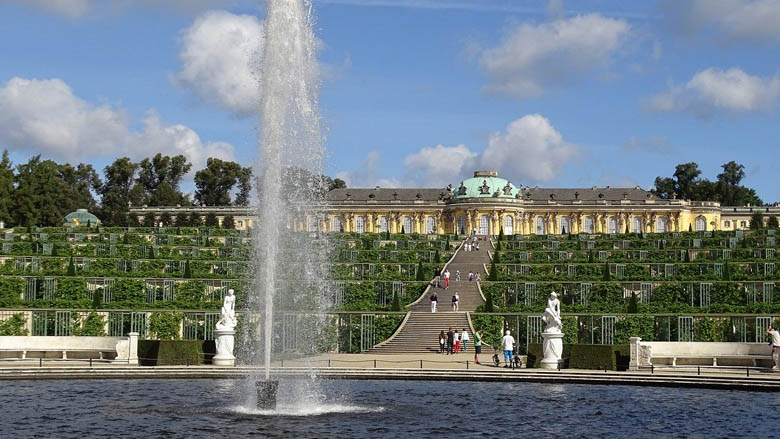 Interesting Facts About Sanssouci Park
Today, visitors can enjoy an entire day just admiring all the sights and attractions in Sanssouci Park alone. The park is as big as 420 soccer fields (300 hectares) and spans more than 2 kilometers from east to west. So make sure you're wearing your most comfortable shoes on this day trip from Berlin in Potsdam.
As you wander around Sanssouci Park, you'll find changing styles of exquisite garden design, buildings from different architectural periods, fountains and more than 1,000 sculptures.
A small army of gardeners (almost 60) are hired to maintain Sanssouci Park's expansive lawns, flowerbeds, hedges, meadows and trees. Just on the landscaped platforms at the foot of Sanssouci Palace alone, there are more than 230,000 plants to maintain and care for.
Sanssouci Palace
Believe it or not, but Sanssouci Palace or Schloss Sanssouci was built to represent the Prussian King's humble and artistic lifestyle. Not as a show of strength. The King never used Sanssouci Palace for state matters or formal meetings, but rather as a retreat and a place of relaxation.
The King had intended for his new palace to be built in the rococo style. This meant that Sanssouci Palace would be built to have a simple looking exterior but an intricate and highly decorative interior.
During its construction, the Prussian King often added new features to the palace. As more of his personal touches were added, Sanssouci came to become a unique piece of architectural style. The new style was named 'Frederican Rococo', named after King Frederick himself.
Today, you can see other buildings built in this unique style at Charlottenburg Palace in Berlin and the Potsdam City Palace (Stadtschloss).
12. Historic Mill of Sanssouci
The next stop on our Potsdam itinerary is to see the Historic Mill of Sanssouci. Walk behind Sanssouci Palace towards the left (west) to find it.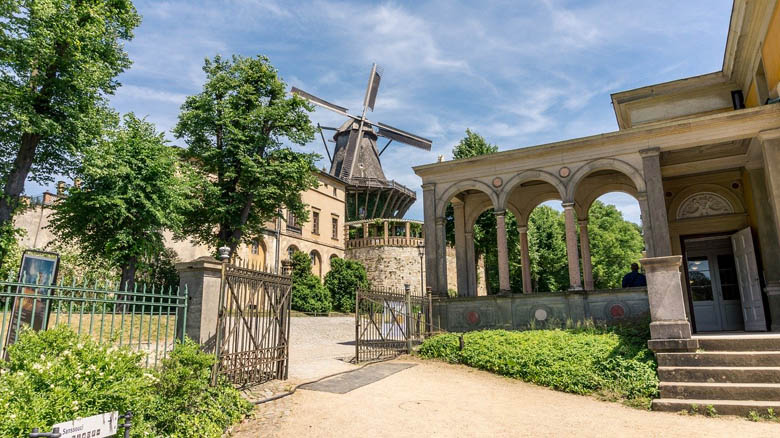 The Historic Mill of Sanssouci has been here for more than 280 years. Residents from the surrounding areas use to come to grind their corn at this mill.
The mill eventually became famous because King Frederick II had tried to get this mill removed and rebuilt elsewhere. The rattling sounds and noise didn't appease his Royal Highness. Luckily one of the millers was brave enough to stand up to the King with a lawsuit, forcing him to reluctantly accept the mill and the noise that comes with it.
Today, the Historic Mill of Sanssouci is a museum and you can head inside to learn more about its history and how corn was milled back in the day.
13. Orangery Palace
Orangery Palace was the last and largest palace built in Sanssouci Park and was another one of King Frederick William IV's (the romantic royal) commissioned designs.
He named it 'Orangery Palace' because it was literally a palace combined with an orangery. To combine what was essentially a greenhouse or plant conservatory with a palace, was quite a challenge for the architects.
But it was finally completed after 13 years and today you can still admire the two huge plant halls that connect the magnificent central building. And standing in the front and centre of Orangery Palace, is the marble statue of King Frederick William IV himself.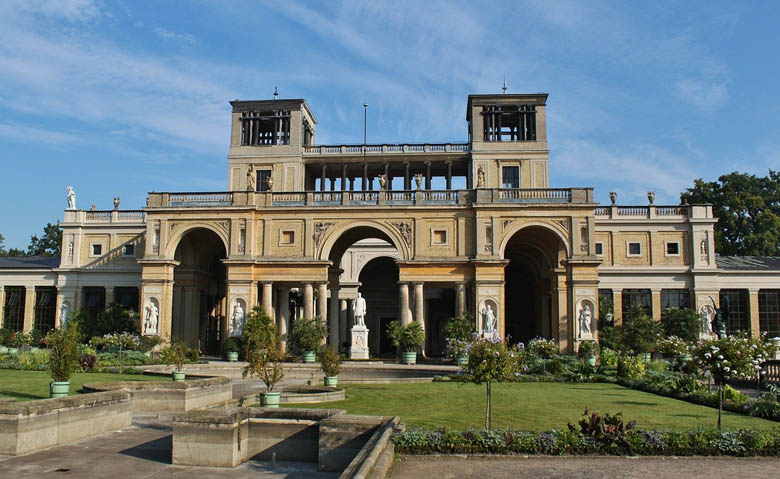 When you're visiting Orangery Palace in Potsdam, make sure you see the Raphael Hall. It's the jewel of Orangery Palace and one of the most important museums in Sanssouci Park and the whole of Germany.
The Raphael Hall houses more than 50 copies of paintings created by the famous Renaissance painter, Raphael. These copies were commissioned by young Prussian painters in Paris and are hung in the two-storey gallery hall.
14. Chinese House in Sanssouci
The Chinese House in Sanssouci (Chinesisches Haus) was built by Frederick the Great as a retreat within a retreat. The exotic garden pavilion of the Chinese House, was his escape to a far off and more cheerful world.
It was also incredibly 'hip' for royals and courtiers to embrace the Chinoiserie fashion during those times. Not only in Germany, but throughout Europe.
Today, you can still see the life-sized gilded figures, playing instruments, smoking tobacco and drinking tea, outside the Chinese House in Sanssouci.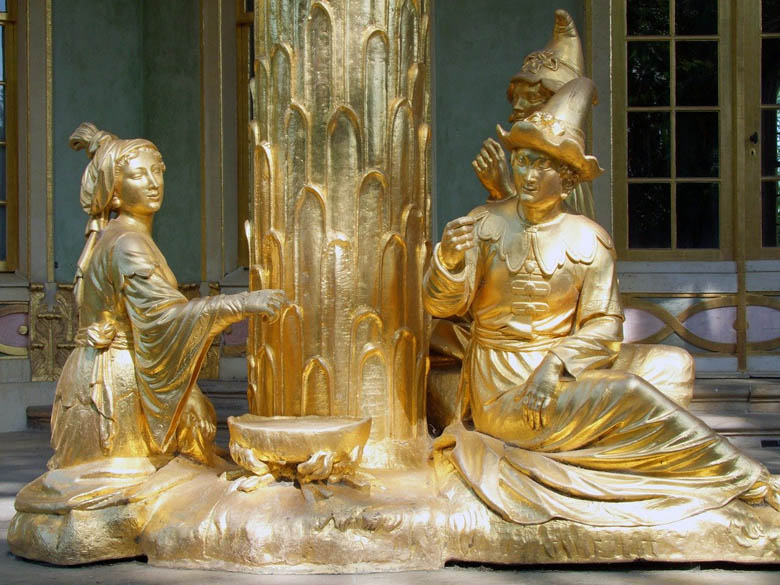 15. Roman Baths, Potsdam Germany
The Roman Baths in Sanssouci, Potsdam is another one of Frederick William IV's creations from his love of all things Italian. But his version of the Roman Baths was more of an inspiration, rather than an accurate representation of the Roman thermae.
These Roman Baths in Potsdam are composed of different elements. The Great Arbour, a tea house, a garden house, a gardener's lodge and assistants' house and finally, the Roman baths.
But these Roman baths were never actually built to be a bathing facility. It was built for the King to have a piece of Italy close to his summer residence in Sanssouci.
16. Neues Palais, Potsdam Germany
Whilst Sanssouci Palace was built to be humble and modest. New Palace or Neues Palais was built to impress and show the Prussian state's undiminished power and wealth following the Seven Years' War.
It was the last royal residence Frederick the Great built in Sanssouci, but he rarely stayed there himself. Instead, New Palace was mostly used to accommodate guests and as a venue to host celebrations.
The palace looks impressive enough from the outside, but did you notice something weird with the red brick facade? Well, that's because it's fake. The red brick facade was a painted imitation to save money.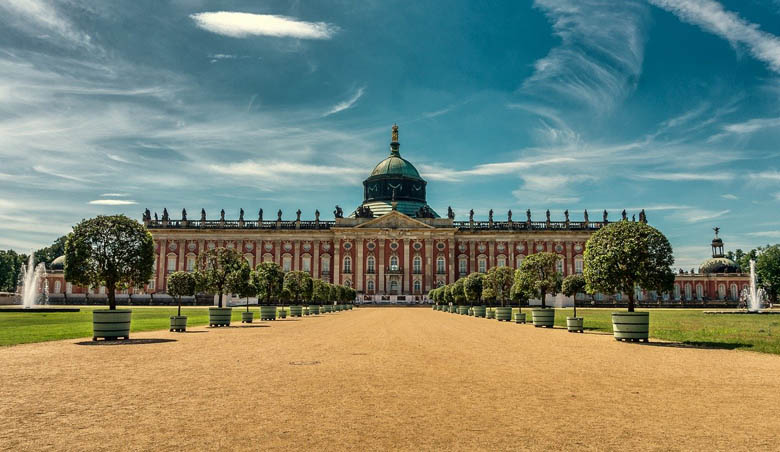 Today, you can go inside Neues Palais and see its exquisitely lavish interiors. The recently restored Lower Royal Suite, with its Braided Room, Concert Room and Oval Cabinet is considered to be the most extravagant interiors in Europe.
Make sure to stop by the Fredersdorf Cafe & Restaurant here if you need a little break and an afternoon pick-me-up.
17. Charlottenhof Palace
Seeing any palace after Neues Palais can be underwhelming. But it's worth visiting Charlottenhof Palace to see its beautiful gardens and its opulent, unique interiors. The interior design of the palace rooms are well preserved and the 'tent room' in particular, is a highlight to see in Potsdam, Germany.
The 'tent room' is the most distinctive room in Charlottenhof Palace because its design was inspired by Roman Caesar's tent. The entire interior from its ceilings, walls, window treatments and even furniture are fashioned in the same blue and white striped draping.
18. Brandenburger Tor Potsdam, Germany
Brandenburger Tor is the last of the Royal City Gates to see as you leave Sanssouci. It's easy to get this royal gate confused with the much bigger and grander Brandenburger Tor in Berlin, but it's actually not the same.
Brandenburger Tor in Potsdam, was built 20 years before the one in Berlin and is therefore the original, not the mock up. This was also the most important gate in Potsdam because it marked the entrance to the city as well as the entrance to the entire Brandenburg region itself.
This gate started out as a more simple wooden gate and was rebuilt to what you see today after the Seven Years' War. It was rebuilt to this grander version to commemorate the Prussian's victory.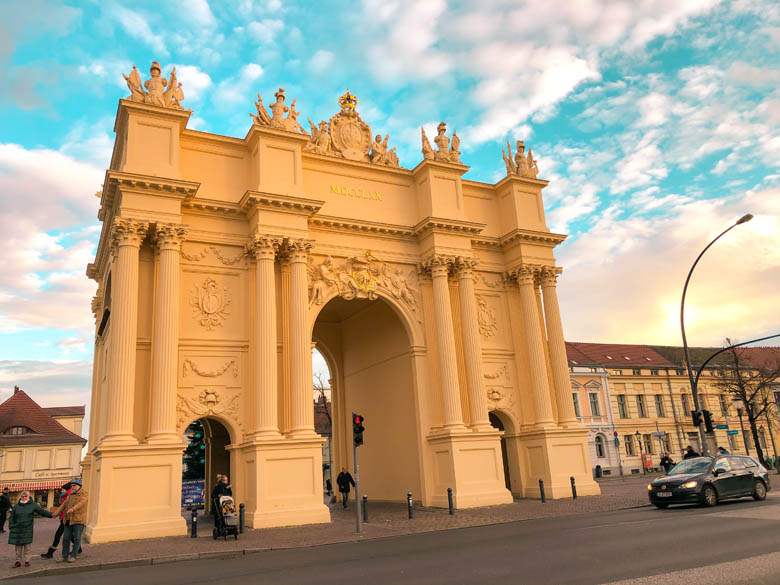 19. Glienicke Bridge, The Bridge of Spies
And your last destination on this Best Things to Do in Potsdam Tour – Glienickebrucke. It's a little bit out of the way to get to from Brandenburger Tor, but it's absolutely worth it.
Glienicke Bridge may look like an ordinary bridge today. But back in the day when the Berlin Wall was still standing, this was the spot where East and West exchanged secret agents and spies. And that's how it got its other name, The Bridge of Spies.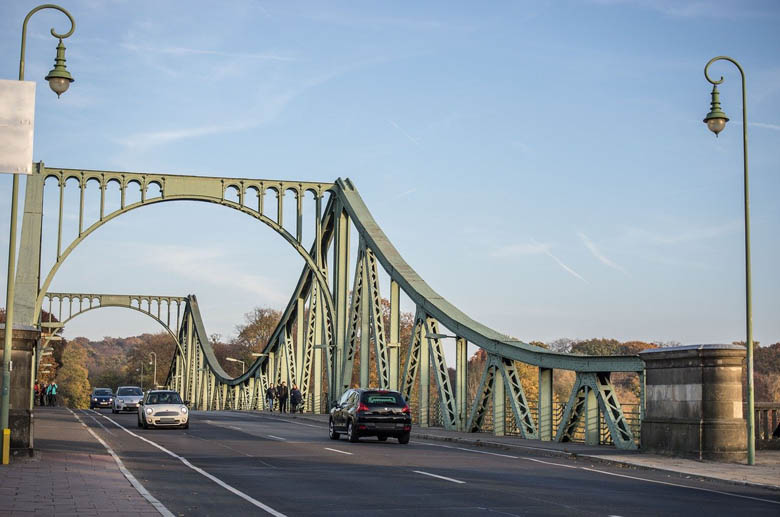 You probably recognise it if you watched the movie with the same name, The Bridge of Spies (2015), that starred Tom Hanks.
It's a must-visit for all the history fanatics out there. But if that's not your thing, you should still see Glienicke Bridge for its views over the Havel River, Glienicke castle grounds, Babelsberg Castle and the Sacrower Heilandskirche church.
Other Things To Do in Potsdam, Germany
If you're looking for more things to do in Potsdam on your day trip from Berlin, here's some ideas:
20. Potsdam Palace Tour Boat Cruise
Admire the countless palaces and beautiful parks from the Hohenzollern Dynasty and see a true piece of history on a 90 minute boat cruise along the Havel.
The Potsdam Palace Tour By Boat is available in both English and German. Book online to avoid the queues.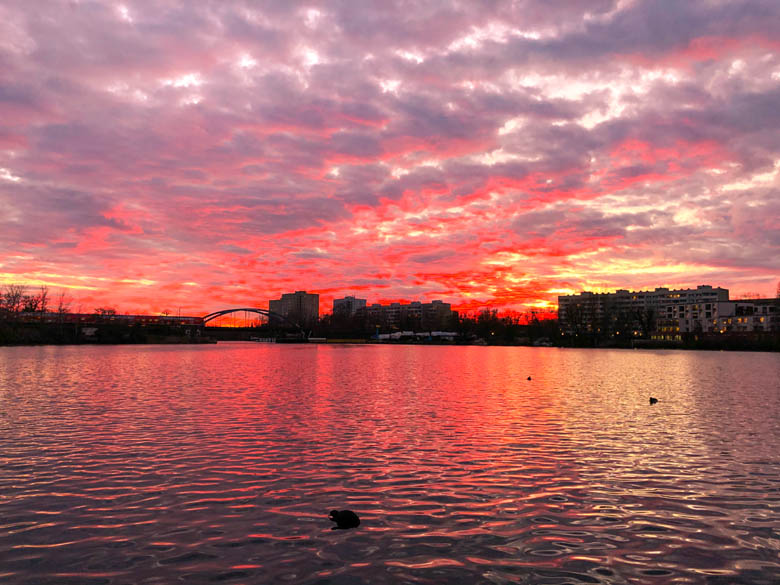 21. Potsdam by Boat: Island Cruise
Enjoy this 4 hour boat cruise along the Havel and discover all of Potsdam and its surrounding villages.
Admire Caputh Castle, Babelsberg Castle, the fishing and vine town of Werder and other beautiful sights on the Potsdam Island Cruise Tour.
22. Potsdam to Wannsee 2 Hour Cruise
Enjoy a well deserved swim at Wannsee Lake after your long walking tour in Potsdam and swim in one of the most beautiful lakes in Berlin.
See the iconic residences of the Prussian Hohenzollerns, mansions of famous film and television stars as well as the residences of President Truman and Winston Churchill during the Potsdam Conference of 1945 on this 7 Lakes Tour from Wannsee Berlin.
Otherwise you can also make another day trip from Berlin to visit Wannsee Lake on your own. Check out our Best Outdoor Activities To Do In Berlin guide to find out how to get there.
23. Babelsberg Film Studio Tour
Last but not least – take a look behind the scenes and visit the famous Babelsberg Film Studio on this 5 hour guided tour from Berlin.
Studio Babelsberg is the world's oldest studio and the largest of its kind in Europe. More than 3,000 productions have been made here. International cinema productions such as Inglorious Basterds, The Pianist, and Cloud Atlas were filmed here!
It was once considered Europe's Hollywood, but after the Nazis came to power, many actors and artists moved to America.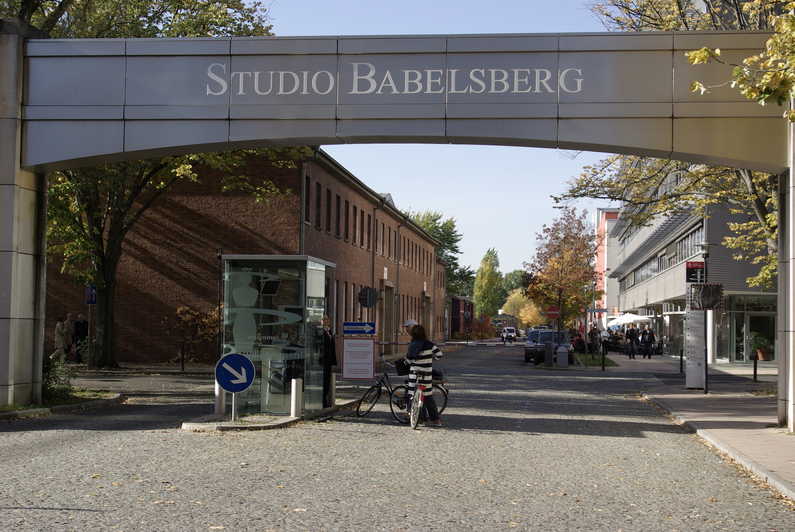 24. Babelsberg Park (UNESCO)
Visit another UNESCO World Heritage Site in Potsdam – Babelsberg Park. Take a guided tour to find out what role Babelsberg played at the end of World War II and how it was once used as a point to escape across the Berlin Wall.
Best Things To Do In Potsdam – Day Trip From Berlin
Town of Potsdam, Germany
Bassinplatz
Dutch Quarter
Cecilienhof Palace
Belvedere Castle on Pfingstberg
Alexandrowka
Nauener Tor
Jagertor
Obelisk Hauptallee
Kaiser Friedrich Mausoleum
Sanssouci
Historic Mill of Sanssouci
Orangery Palace
Chinese House in Sanssouci
Roman Baths, Potsdam Germany
Neues Palais
Charlottenhof Palace
Brandenburger Tor, Potsdam
Glienicke Bridge
Potsdam Palace Tour Boat Cruise
Island Cruise: Potsdam by Boat
Potsdam to Wannsee 2 Hour cruise
Babelsberg Film Studio Tour
Babelsberg Park
So there you have it, 23 awesome and free things to do in Potsdam on your day trip from Berlin! Feel free to do it in 1 day or split it over a 2 to 3 day itinerary.