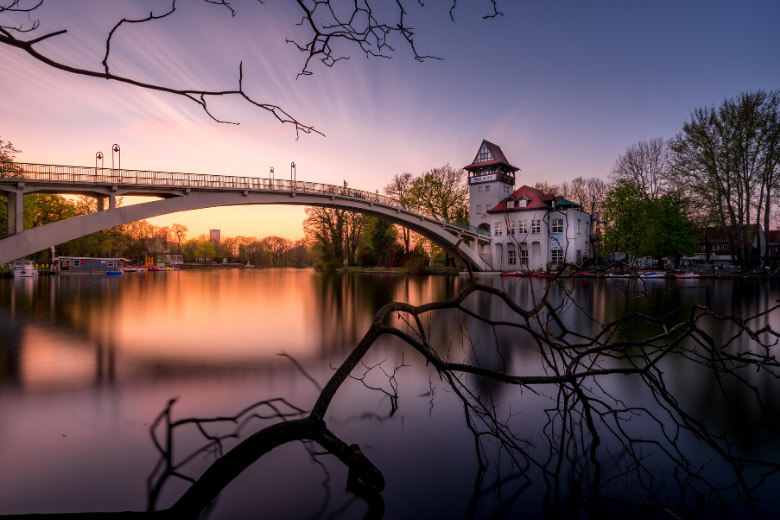 A nature lover's guide to experiencing the best outdoor activities to do in Berlin. Discover the best lakes, forests and nature walks to do in the city and savour the long summer days in this hip and vibrant city.
Berlin is world renowned for its nightlife. But did you know, that it's also one of the greenest cities in Europe? Between green spaces and water, almost half of Berlin is enveloped by Mother Nature.
People literally flock to parks, forests, lakes and canals at the first hint of sunshine.
With 3 rivers, 8 canals and more than 50 lakes in Berlin, it can get tricky deciding where to spend your long summer days in Germany's capital city. So here's a list of some of the best outdoor activities in Berlin.
Most of them are free things to do in Berlin and are great day trips to escape the city.
Want a stress-free way to visit 7 lakes around Berlin without worrying about public transport or how to get there? Take a 2-hour boat tour to see Pohlesee, Stölpchensee, Griebnitzsee, Glienicker Lake, Wannsee, Jungfernsee and the Havel on this Berlin Seven Lakes Boat tour.
Related Guide: Are you a photography lover? Find out where the most instagrammable places are in the city with our Best Photo Spots in Berlin guide.
Berlin Outdoor Activities: Lakes and Forest
You can easily get to all these outdoor Berlin attractions by public transport (normal BVG A+B zone ticket) or by bike.
Don't have a bike? Don't worry. You can easily rent a bike for cheap using bike share. Read our Berlin Bike Sharing guide to find out which one will work out the cheapest for you with our price comparison table.
Make sure you're also familiar with the 24 bike road rules for cycling in Germany to avoid traffic fines and bike safely.
Click on this customised interactive map to easily find these Berlin outdoor activities from your location.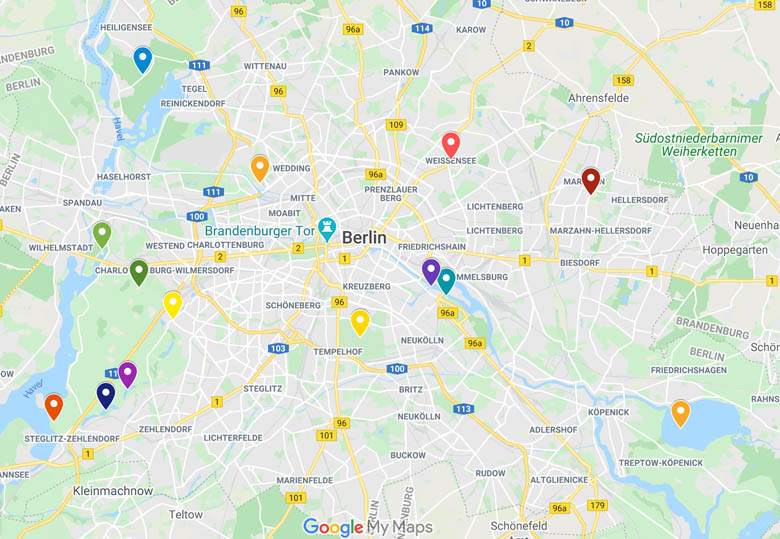 We've listed these outdoor things to do from closest to furtherest from the city centre of Berlin. We've used Alexanderplatz as the reference point since it's a landmark most people know and recognise.
This way you can decide how far you want to explore out of the city.
1. Weissensee
If you're looking to enjoy the tranquil surroundings of a lake without venturing too far out of Berlin, then Weissensee will be your best option.
Weissensee is a small but beautiful lake located just 5km from Alexanderplatz. You can easily get there taking the M4 tram in the Falkenberg direction and getting off at Weiser See stop. Otherwise, you could also get there with a short 20 minute cycle.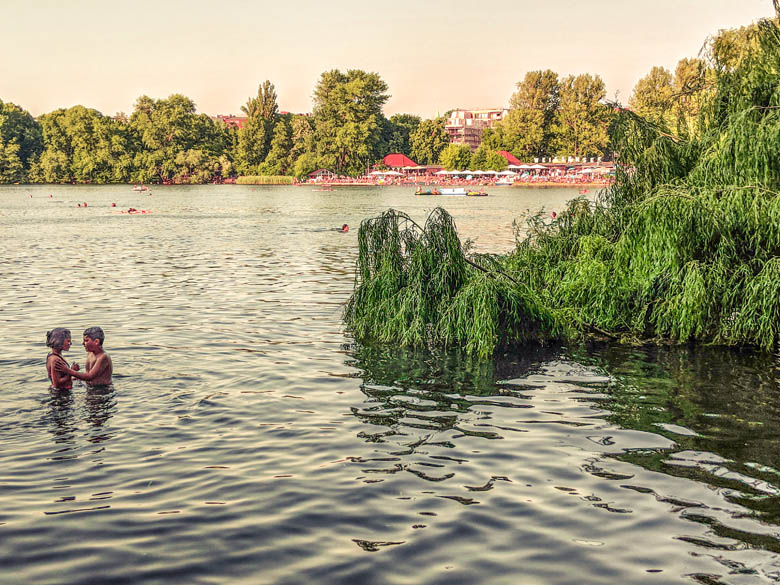 This natural lake is great for swimming. You can access the lake via the surrounding park or by its Caribbean-themed man-made beach. If you decide to go for the sandy beach option, make sure you have cash to pay for the €3.80 entrance ticket.
It's worth it if you're looking to get that 'beach' vibe in Berlin and prefer lounging on deck chairs whilst sipping a cocktail or two. It's also a great option if you have young kids and toddlers as there are lifeguards on the beach. That way both you and your children can relax and enjoy the lake.
Otherwise just go for the natural (and free) route and enjoy the lake from the park side. You can still experience the same relaxing, peaceful atmosphere without an entrance ticket.
Our friend and fellow Berlin expat blogger from France, Elodie says that she loves Weissensee for its nostalgic and serene quality. And the weeping willows kissing the surface of the lake adds a romantic charm.
2. Strandbad Plotzensee
Strandbad Plotzensee is another great option if you're looking for a swimming lake close to Berlin's city centre with a beach vibe.
It's a 8km cycle (35 minutes) from Alexanderplatz. You can also easily get there by train. Simply take the U8 from Alexanderplatz to Osloer Strasse. Change to the M13 tram to get to Virchow-Klinikum and it's a short 10 minute walk to Plotzensee lake.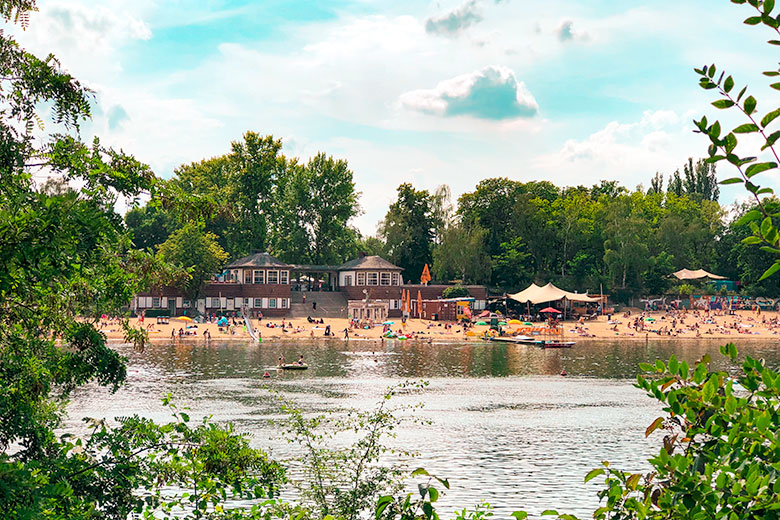 Plotzensee is much bigger than Weissensee, but it's also usually more crowded and busy on a hot summer's day. Besides swimming in this natural lake, you can also play table tennis, basketball or jump on the trampolines.
There are lifeguards at Plotzensee, so it's a great lake if you have kids. And for those who want to experience the German tradition of swimming or sun bathing in the nude, there's a dedicated FKK (Frei-Korper-Kultur or free body culture) area at Plotzensee.
All these bells and whistles do come at a small price though. The entrance fee is €6.00 to spend the day at Plotzensee. It's one of the few lakes in Berlin where you have to pay to access the lake, but worth it for all the additional amenities and entertainment you get at the lake.
If it's too cold to swim, you can also enjoy a stroll or a bike ride in the surrounding parks.
3. Grunewald Forest
If you prefer forests to lakes, you'll love Grunewald forest. It's a nature lovers' paradise in Berlin and there's plenty of outdoor things to do.
Located on the west side of Berlin, it's the largest forest close to the city. The fastest way to get there is by train. Take the S7 from Alexanderplatz to Berlin-Grunewald station. From there it's a 6 minute walk to Grunewald forest. Grunewald is huge, so be prepared to walk a lot.
Alternatively, you can get there by bike. It's a 13km or 45 – 50 minute cycle from the city. This is the best option to take if you plan to explore Grunewald extensively.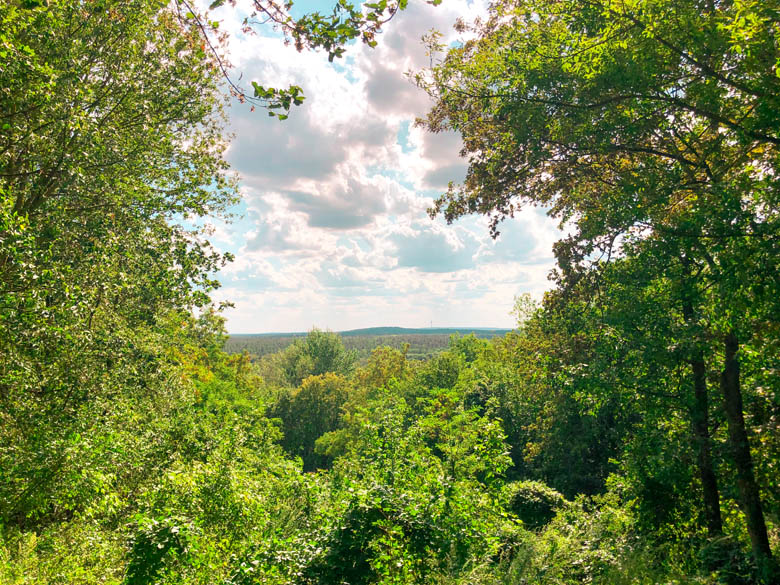 Outdoor activities to do in Grunewald, Berlin
At Grunewald, you can enjoy long nature walks or some easy hiking trails. You can choose to either wander through Grunewald forest to see some of its main attractions like the Grunewald Tower, Jagdschloss Grunewald and Haus am Waldsee.
Or follow specific walking or hiking paths using the outdoor activity app, Komoot. The app lists 20 of the best hikes and walks in Grunewald forest.
Go on the Strand an der Lieper Bucht trail if you're looking to challenge yourself. The hiking trail is 15km and runs through the forest, along the scenic Havel river.
If you prefer to spend a more relaxing day in Grunewald, there's a few lakes to explore.
Teufelsee is a small, scenic lake that is great for swimming. Grunewaldsee is awesome especially if you have a fur baby, as it's a dog friendly lake. Then there's also the popular Krumme Lanke and Schlachtensee lake, which we'll cover in detail later.
To end off a beautiful excursion in Grunewald forest, you can enjoy a few drinks at the beer garden at Die Fischerhutte am Schlachtensee.
Related Guide: Have you (or a friend) dropped your wallet or lost your driver's license in Germany? Don't panic! Our Lost and Found Berlin guide will help you recover your lost keys, phones, bags, residence permits, medical insurance cards, and much more.
4. Tiefenwerder Wiesen
Tiefenwerder Wiesen, which translates to 'deep grasslands' in English, is a protected meadow close to Spandau. It's a charming day trip and outdoor activity to do in Berlin.
The easiest way to get there is by train. Take the S9 from Alexanderplatz in the Spandau direction, getting off at Heerstrasse. Then take bus M49 to Pichelswerder. From there it's a 8 minute walk to enter the forests around the Tiefenwerder Wiesen meadows.
You could also join the crazies and cycle there like we did. It's a 16km or 55 minute cycle. Just bear in mind that you have to cycle back afterwards.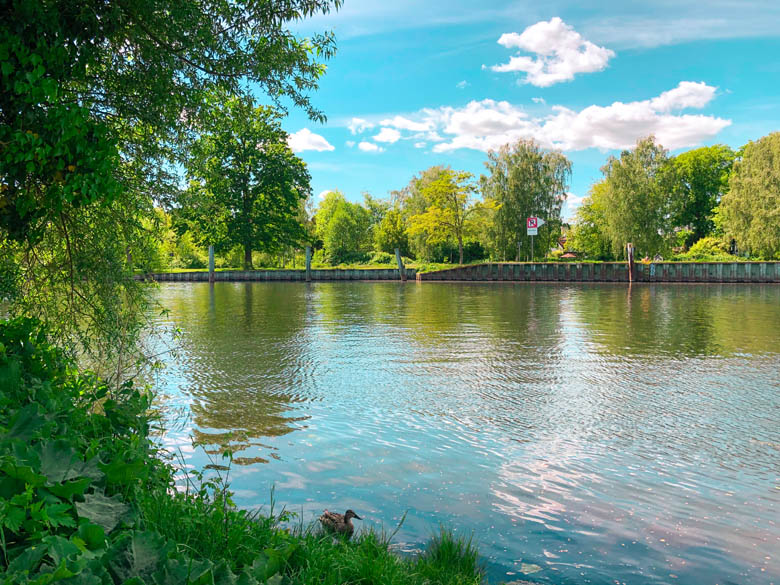 When you arrive at Tiefenwerder Wiesen, you'll need to meander through small, winding paths in the forest before you'll see the vast meadow landscape.
To get there, follow the path leading left when you reach a fork on the gravel road. There's a sign that says 'Privatweg' or private path in English, with a notice for forest visitors. That's the path you should follow to see the Tiefenwerder meadows.
The path on the right leads you down to the residential community that stays there. So be mindful to respect their privacy if you do explore that area.
At the meadows, you may catch a glimpse of water buffalos grazing in the area.
After a relaxing walk through the meadows, you can enjoy a picnic along the edges of the Havel and watch water sport enthusiasts paddling down the river.
Save Me For Later
5. Tegel Forest
North of Berlin Tegel airport lies a large forest called Tegeler Forst or Tegel Forest in English. It's not as big as Grunewald, but it's just as majestic.
You can get there by train taking the U2 from Alexanderplatz to Stadtmitte. Then change to the U6 train to Alt-Tegel. From there, it's a 10 minute walk to Tegel Forest.
The adventurous way to get there is by bike, which is a 16km or 55 minute cycle from the city centre. We promise it's worth the cycling bum ache when you finally reach Tegel Forest's serene and tranquil surrounds.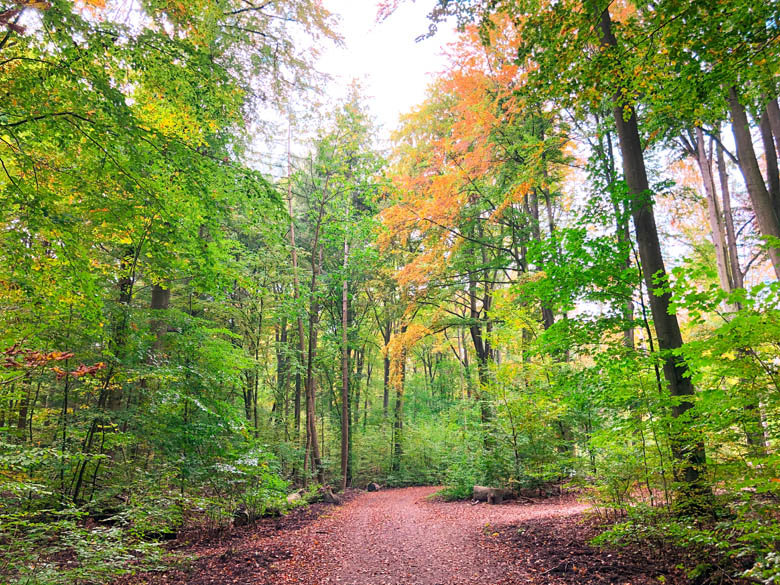 At Tegel Forest, you can enjoy an easy walk in nature through the woods or try forest 'bathing'.
It's one of our favourite outdoor activities to do to escape the hustle and bustle of Berlin.
After that long bike ride and walk in the forest, you can swim at Flughafensee. It's located in Jungfernheide Forest, just south of Tegel Forest.
Make sure you visit Tegel Forest in October if you want to forage wild mushrooms. Go with a friend who's experienced in the art of picking mushrooms before attempting it yourself. Not all the mushrooms grown there are edible and some are poisonous.
6. Krumme Lanke
Krumme Lanke is one of two popular swimming lakes in the south of Grunewald Forest. The name of the lake was inspired by its curved shape. Hence the word 'krumme' which translates to 'crooked' in English. It's the smaller lake next to its sister lake, Schlachtensee.
The easiest way to get there is by train. Take the U8 from Alexanderplatz to Kottbusser Tor. Then change to the U3 train to Krumme Lanke. It's the last station on the U3 line, so you can't miss it. From the station, it's an easy 17 minute walk through a pretty residential suburb to reach the lake.
By bike it's a 18km (about an hour) cycle from the city centre.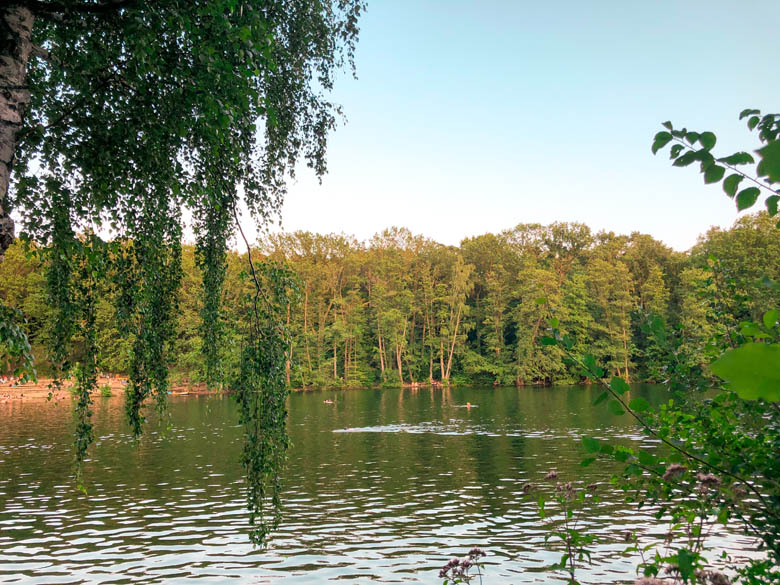 If you're looking for that sandy beach feel in Berlin without the umbrellas, deck chairs and cocktail bars, then you'll love Krumme Lanke. This lake has not one, but two sandy beaches and the best part is that they're both free (i.e. no entrance fee).
They're pretty easy to find. Just type in 'Badestelle Krumme Lanke' on Google Maps to find them. Just make sure you get there early if you want a spot on the beach. Otherwise there's plenty of open spaces along the water's edge between the trees that you can sit and relax on.
And for those of you who fancy skinny dipping, there's an area close to Fischerhuttenstrasse that is open to nudists.
7. Schlachtensee Lake
Schlachtensee is one of the most popular lakes in Berlin and not without reason. It's the cleanest swimming lake in Berlin and one of the largest lakes close to the city.
It's also easy to get to. Simply take the S7 from Alexanderplatz to Berlin-Friedrichstrasse. Then change to the S1 to Berlin-Schlachtensee. It's a short 6 minute walk from the station to the lake.
By bike it's a 70 minute cycle (20km) from the city centre.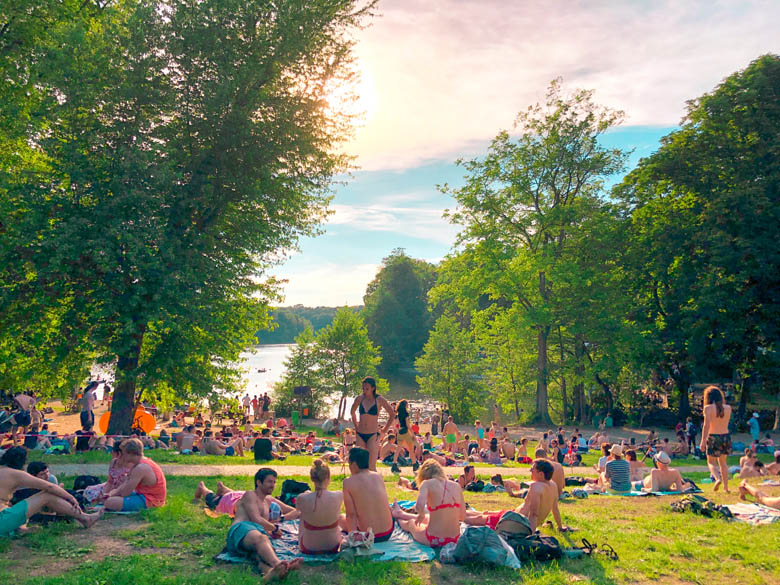 Schlachtensee does get very busy on a hot summer's day. But the lake is huge, so just get there early and be prepared to walk a bit to find a spot by the water's edge before the crowds roll in.
Another tip is to find a secluded spot along the lake between the trees. The grassy areas around the lake usually become packed as more people make their way to Schlachtensee.
If you prefer taking a stroll or jogging, there's a beautiful 7km running path that goes around the lake.
If none of those things tickle your fancy, you can enjoy a meal and a few drinks at the beer garden on the east side of Schlachtensee lake. There's also a children's playground here. So your kids can entertain themselves while you enjoy some much-needed 'me time'.
And if you've always wanted to try stand-up paddling, you can rent the gear from the shop next to the restaurant. It's a popular outdoor activity to do in Berlin, so make sure you try it.
8. Wannsee
You've probably heard of Wannsee lake if you've watched Unorthodox on Netflix. It's the largest inland lake in Europe and considered to be one of the most beautiful lakes in Berlin.
The lake is located on the west side of Berlin, on the southern most tip of Grunewald forest. You can easily get there by train. Simply take the S7 from Alexanderplatz to Stazione di Nikolassee. Then walk 14 minutes to get to Wannsee.
On two wheels, it's a 22km (1 hour and 20 minute cycle) bike ride from the city centre.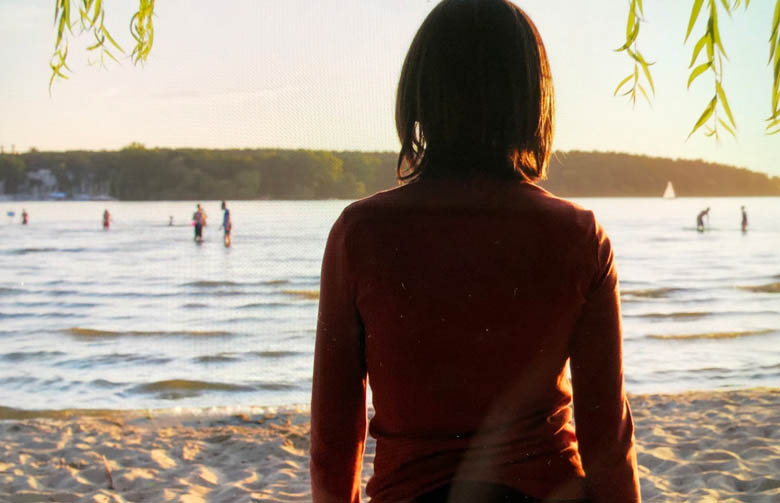 Wannsee is not just another swimming lake in Berlin. It's a bathing tradition that has been around for more than 100 years.
That's why it's the only lake in Berlin where you can do everything from skidding down water slides, playing a game of beach volleyball or soccer and paddling on boats, to eating pizza and taking a nice shower after the day's event.
Wannsee has its own dedicated FKK area of course. It's a family-friendly nudist area too.
And just when you thought that there couldn't be more to Wannsee. The sand from its 1km long beach is directly imported from the Baltic coast. Hence why the beach at Wannsee is one of the most popular places to visit in Berlin during summer!
Similar to Weissensee and Plotzensee, there's a paid beach section (€3.80 entrance) as well as a free option. Buy your Strandbad Wannsee tickets online to skip the queues. You'll get discounts for buying family or group tickets.
Otherwise just enjoy the lake for free away from the paid beach.
If you enjoyed Unorthodox as much as we did, make sure you read the 10 truths the Unorthodox Netflix Series reveals about living in Berlin.
9. Muggelsee
Muggelsee is officially Berlin's largest lake and the equivalent to the 'Wannsee of East Berlin'.
It's the furtherest swimming lake from the city centre, but the longer commute is worth it. We promise.
It's less touristy and less crowded than Wannsee lake. Plus there's three dedicated beach and bathing areas that are FREE. That means you can save the cash for a few beers later.
But first you must decide whether you want to visit Grosser Muggelsee (Bigger Muggelsee) or Kleiner Muggelsee (Smaller Muggelsee). It's a 4km walk (at least) between the two, so it's better to decide on one beforehand unless you want to make a hike out of it.
To get to Grosser Muggelsee by train, take the S3 from Alexanderplatz to Kopenick. Then take bus 169 in the Alt-Muggelheim direction to Rubezahl. From the station, it's a 8 minute walk to Grosser Muggelsee.
If you prefer Kleiner Muggelsee, take the S3 train from Alexanderplatz to Kopenick. Then take bus 169 in the Alt-Muggelheim direction for an extra 7 stops and hop off at Odernheimer Strasse. From the station it's an easy 7 minute walk through the forest before you arrive at the smaller Muggelsee lake.
For those who prefer to sweat it out before earning a well-deserved swim in the lake. It's a 20km (1 hour and 20 minute) cycle to Grosser Muggelsee and a 24km (1 hour and 30 minute) bike ride to Kleiner Muggelsee.
This is probably one of our favourite spots when we're missing the beach in Berlin!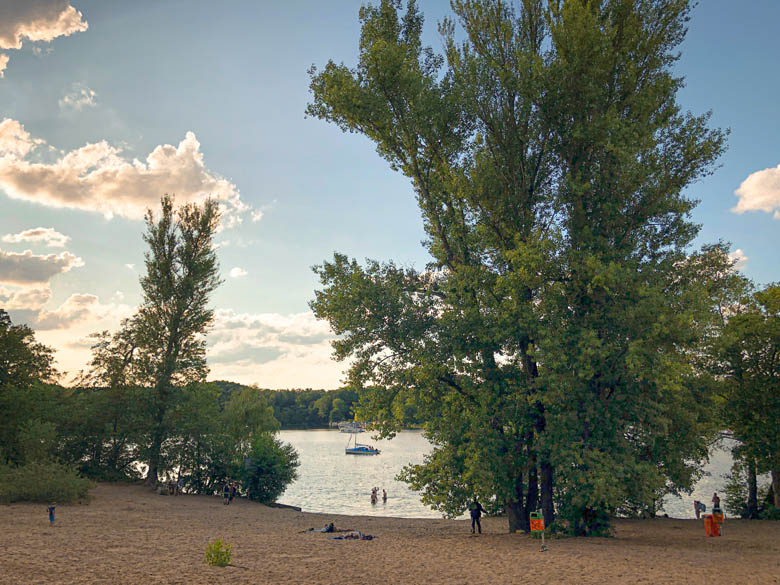 Other Outdoor Activities to do in Muggelsee, Berlin
There's plenty to do around Muggelsee, so it's best to arrive early. Besides the usual outdoor activities like swimming, paddling and hiking, you can also enjoy a fun day trip from Berlin to the idyllic, charming town of Kopenick.
Explore the forests and waterways in Treptower-Kopenick, chill at Strandbad Grunau or rent a canoe and row down the small canals in Neuvenedig (New Venice).
And to take your day trip from Berlin to the next level, you can also go on a 3.5 hour boat tour on the Spree River from Berlin to Muggelsee!
10. Liepnitzsee Lake
We saved some of the best and most unique lakes for last! Liepnitzsee – the only turquoise lake near Berlin. Don't believe us? We didn't believe it either until we went to see it for ourselves.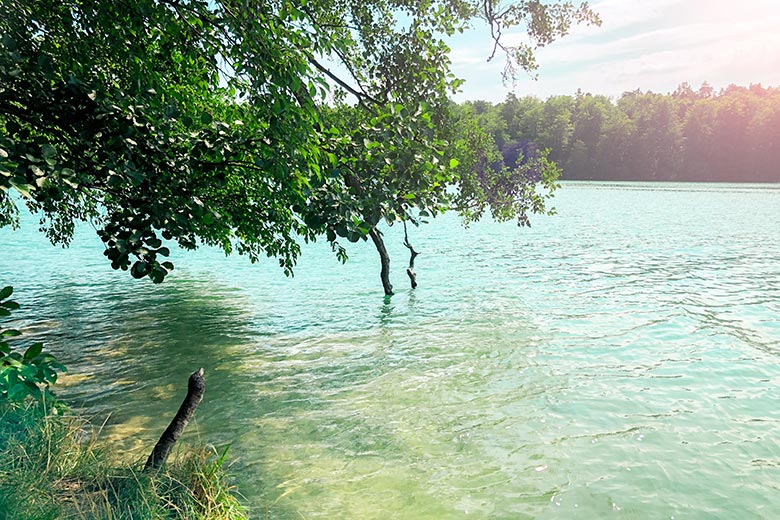 Liepnitzsee is the ultimate day trip from Berlin if you're missing the beach as much as we do. It's much further than the other lakes (about 35km from Berlin) but it's absolutely worth it. A picture says a thousand words, right?
Read our complete Liepnitsee Lake Guide to find out how to get there and best things to do around the lake.
11. Tonsee Lake
Another awesome hidden gem of a lake in the Berlin Brandenburg region is Tonsee. It's a little further than Liepnitzsee (about 55km from Berlin) but it makes for a great day trip from the city if you're a nature and outdoor lover like us!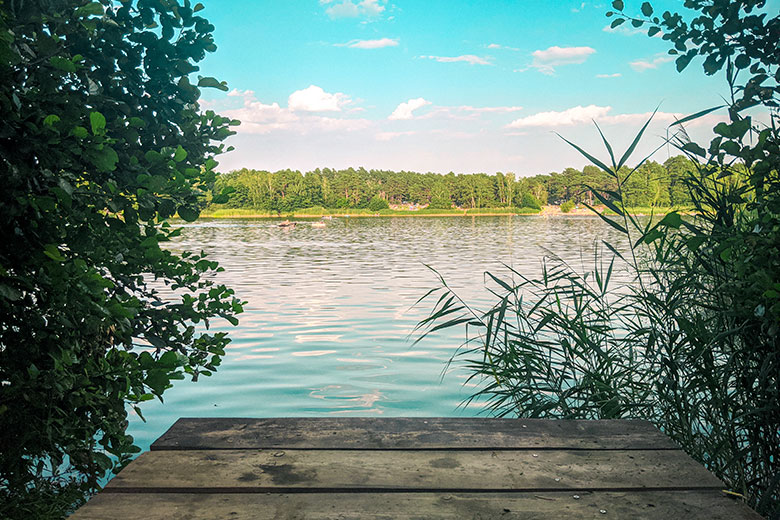 Tonsee is located in the Dahme-Heideseen Nature Park in Brandenburg near Teupitz, past Konig Wusterhausen. Besides swimming in Tonsee's crystal clear waters, there's plenty other things to do.
From hiking and biking trails, camping, having a barbeque (or 'grillen' as the Germans say it) and scuba diving! Plus, Tonsee has a sandy beach area that is FREE for all! No entrance fee is required. So it's a good option if you've explored all the other beaches in Berlin.
Read our day trip from Berlin to Tonsee Lake guide to find out how to get there and more!
12. Flakensee Lake
Flakensee lake is not a hidden gem either. But definitely worth the visit if you're looking to do some unique outdoor activities near Berlin. Like renting a grill boat ('grillboot') or party yacht with a bunch of friends, see the floodgate 'Schleuse Woltersdorf' in action and taking a ride on a historical tram that is 100+ years old.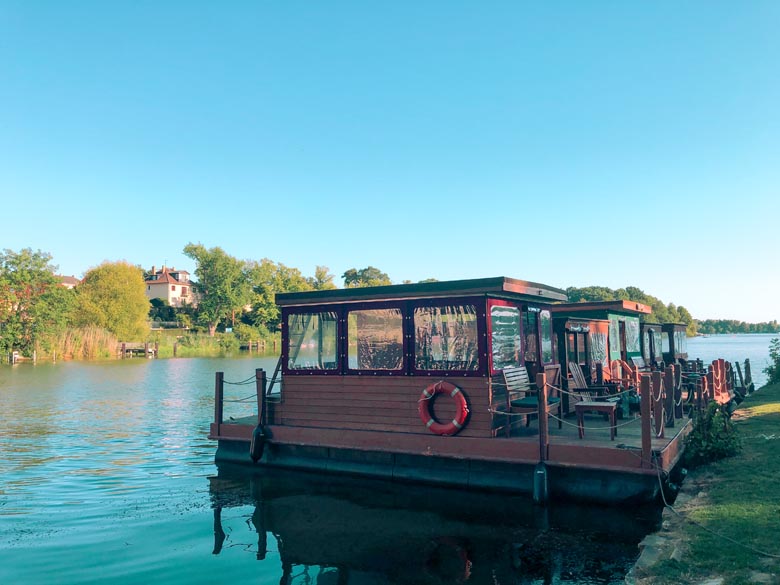 And that's not all! You'll love Flakensee if you're looking for a sandy beach near Berlin that's FREE! Plus, it's a great day trip from Berlin if you're not keen to travel as far as Tonsee or Liepnitzsee.
Find out more in our day trip from Berlin to Flakensee guide.
Other Fun Outdoor Activities in Berlin
13. Tempelhofer Feld
Tempelhofer Feld is one of the most popular local hotspots in Berlin. The former Nazi airport is now one of the largest recreational parks in the city.
Locals frequent Tempelhof to skate, fly their kites, walk their dogs, kite surf (yup, you read that right), practice riding futuristic one-wheel Segways, to playing soccer, cricket, exercising and barbecue-ing with friends.
The list of outdoor activities to do at Tempelhof is endless. If you need to rent a bike, a cart or that futuristic one-wheel Segway, you can find the vendors on the west side of Tempelhofer Feld.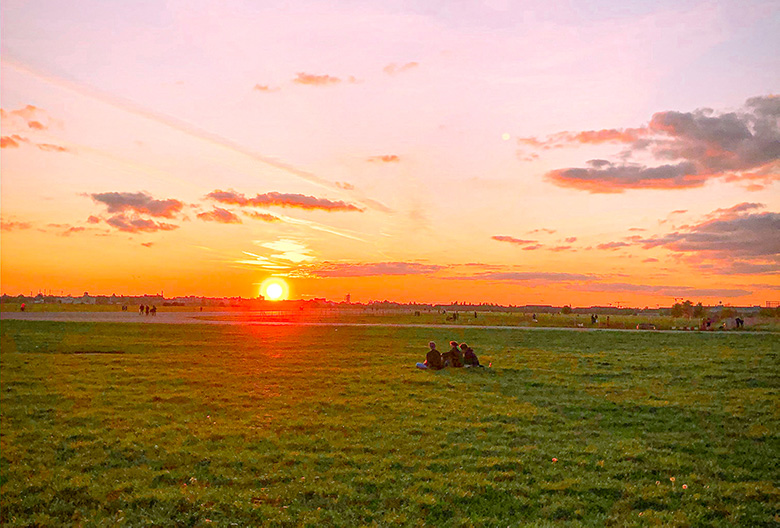 It's also quite a unique experience to walk down the main runway at Tempelhofer Feld. Seeing the old air traffic control towers and even a few planes waiting at departures that look frozen in time.
You can go for a guided tour inside Tempelhof Airport and find out more about its history. Just book it online and make sure you arrive on time.
And for those of you who are interested in doing some volunteering. You can give back to the community by helping out with some urban gardening or volunteering at the refugee centre at Tempelhof.
Related Guide: Taking a walk at Tempelhofer Feld is quite the popular thing to do in Berlin even in winter, especially if the sun makes an appearance. But it can get quite cold. So if you're planning a visit, you could grab a cuppa gluhwein to keep you warm. Read our Berlin Gluhwein Guide to find 60+ places you can buy mulled wine to-go in every district and neighbourhood in Berlin.
14. Cycling The Perimeter of the Berlin Wall
Another awesome, must-do outdoor activity is cycling the perimeter of the Berlin Wall. Otherwise known as the 'Mauerweg' in German.
The entire cycling route is 155km and it follows the remnants of the Berlin Wall that goes all the way around West Berlin. We've only completed 25km of this famous biking route, but we plan to cover more now that we're entering the warmer summer months.
Most people break the 155km route into 3 or 4 trips. If you're keen to ease yourself into the cycling route and completing 25km first, you can follow the route on our self-guided Berlin Wall cycling tour.
It's a 25km route that cuts through the city and shows you the main historical attractions in Berlin and what role they played in the story of the Berlin Wall.
Related Guide: If you're planning to cycle the Mauerweg in spring. Make sure to read our Best Places to See Cherry Blossoms in Berlin guide. After the fall of the Berlin Wall, more than 9,000 cherry blossom trees were planted where the Berlin Wall once stood.
15. Teufelsberg
Teufelsberg translates to 'Devil's Hill' in English and is the highest point of elevation in Berlin. Sitting at 120 meters above sea level, it's a man-made hill that was built to spy on the Soviets during the cold war.
Teufelsberg has become a tourist attraction since the fall of the Berlin Wall. People come to see the abandoned radar tower and to admire the thousands of graffiti and street art that cover every inch of this former Spy Tower.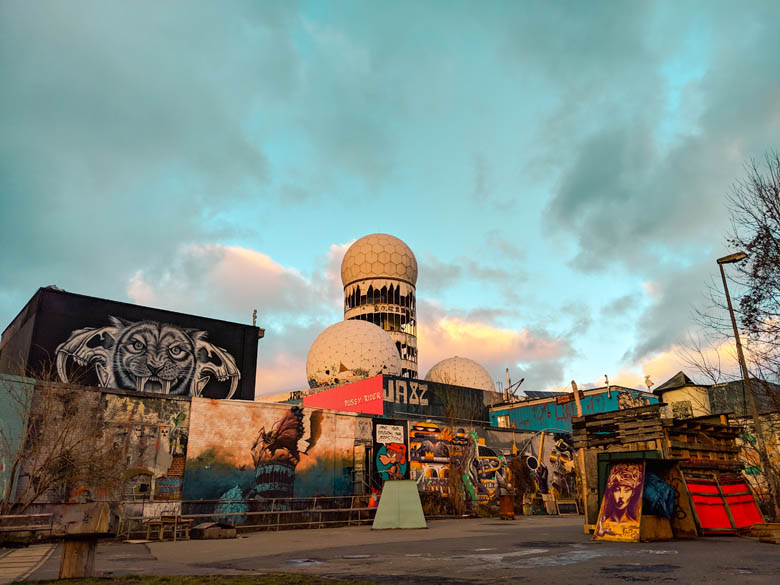 Is Teufelsberg in Berlin Worth Visiting?
There is a €5 entrance fee to visit Teufelsberg. It's worth it if you love street art. But if you're only visiting to go up the viewing platform (i.e. the dome), then it won't be worth it.
The dilapidated viewing platform has been closed by building authorities due to its lack of compliance with fire safety regulations. So entering the building is forbidden and large fines (€5,000 to €500,000 fines) are charged if you're caught trespassing.
It's a pity because some of the best artworks are housed there.
If you do plan to visit Teufelsberg anyway, the opening hours are Wednesday to Sunday (11AM to 8PM) and last entry is at 7PM.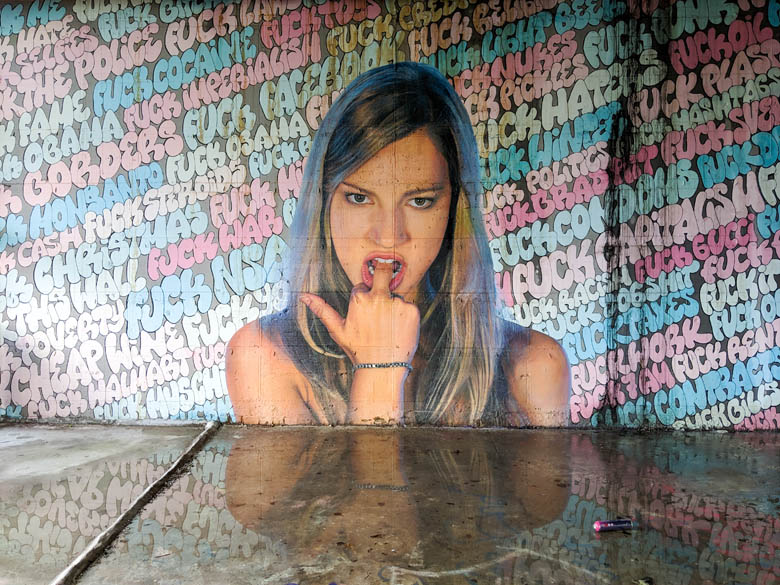 You can still enjoy a beautiful walk in nature and mini-hike to get to Teufelsberg even if you decide not to go inside. It's located inside Grunewald forest, so you can easily add it to your walking itinerary.
16. Stand Up Paddling on the Spree at Treptower
If you love water sports, but not keen to venture too far out of Berlin. You can rent paddle boats and stand up paddling gear at Treptower to paddle on the Spree River.
It's a popular outdoor thing to do in Berlin and a great spot to catch the sunset.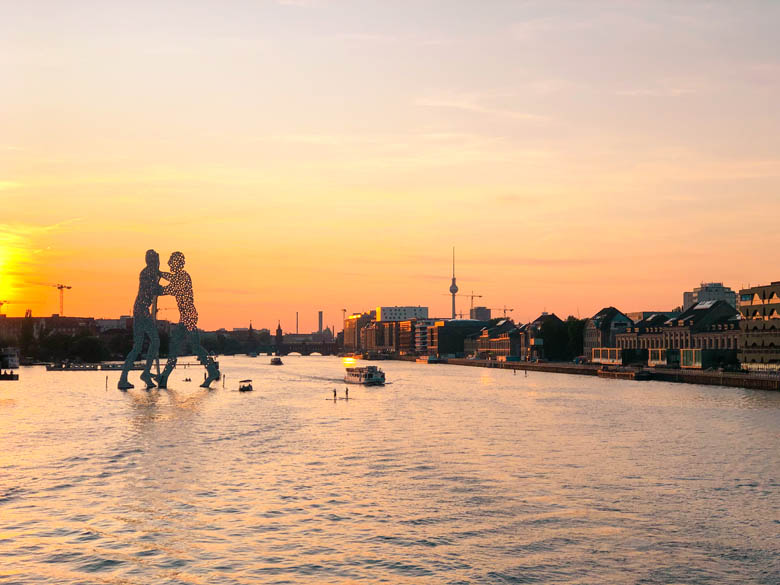 17. Badeschiff, Berlin
'Badeschiff' which literally translates to 'bathing ship' in English, is the coolest public swimming pool in Berlin. The large 30 meter long pool floats on the Spree River and comes complete with its own beach bar (with fine sand, of course) and hammocks. You can even play beach volleyball!
Where else in the world can you enjoy panoramic views of the city centre whilst chilling in a swimming pool that floats in a river? It's a unique thing to do in Berlin, especially during the hot summer months.
Make sure you check the Badeschiff events calendar if you love to party. Many open air events are held there between June and August.
The entrance fee to Badeschiff is €6.50 per adult. Make sure you arrive early because it gets packed very quickly.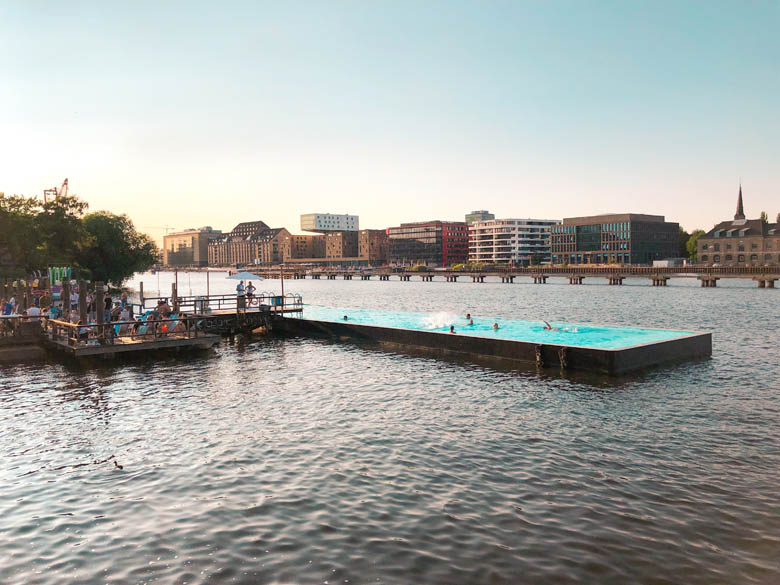 18. Gardens of the World, Berlin
The most unique park in Berlin, 'Garten der Welt' or Gardens of the World, Berlin features 10 international gardens in a park that's the size of 60 football fields.
Experience the most beautiful gardens from China, Japan, Korea, Indonesia to the Middle East, Italy and England. All in a massive green oasis just outside Berlin.
It's a dream for horticulturists and those who love learning about new cultures.
Entrance tickets start from €7.00 and upwards. You can skip the queues by buying your Garden der Welt tickets online.
19. Self Guided Day Tour in Potsdam
If you're looking for a short and easy day trip from Berlin, make sure to visit Potsdam! It's a short 45 – 50 minute train ride from the capital city of Germany.
Follow this Best Things To Do In Potsdam Germany Guide and see some of the most exquisite gardens and extravagant palaces in Europe.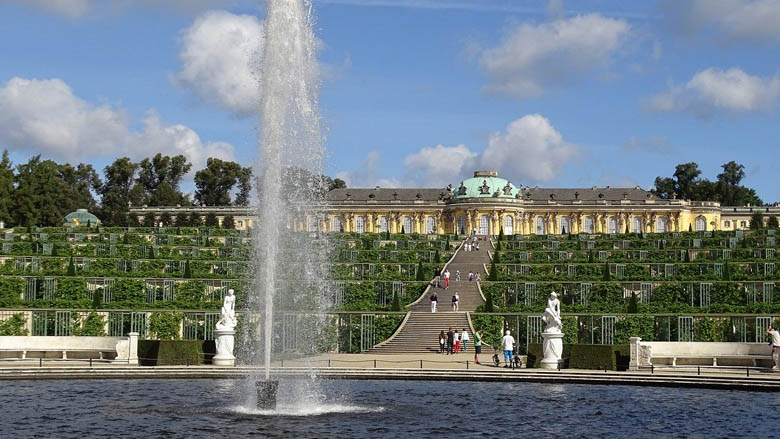 There's plenty of outdoor activities to do in and around Berlin. So make the most of the beautiful, long summer days and enjoy every moment. If you've tried other fun, outdoor activities in Berlin, let us know. We'd love to hear from you.
Best Outdoor Activities To Do in Berlin
Weissensee Lake
Plotzensee Lake
Grunewald Forest
Tiefenwerder Wiesen
Tegel Forest
Krumme Lanke
Schlachtensee Lake
Wannsee Lake
Muggelsee Lake
Liepnitzsee Lake
Tonsee Lake
Flakensee Lake
Tempelhof Field
Cycling the Berlin Wall route
Teufelsberg
Stand Up Paddling in the Spree at Treptower
Swimming in Badeschiff
Visiting The Gardens of the World, Berlin
Day Trip From Berlin in Potsdam, Germany
Want to know what it's like living in Berlin? Check out our Moving to Germany guides. We share useful tips like how to open a German bank account and what costs to budget for living in Berlin.