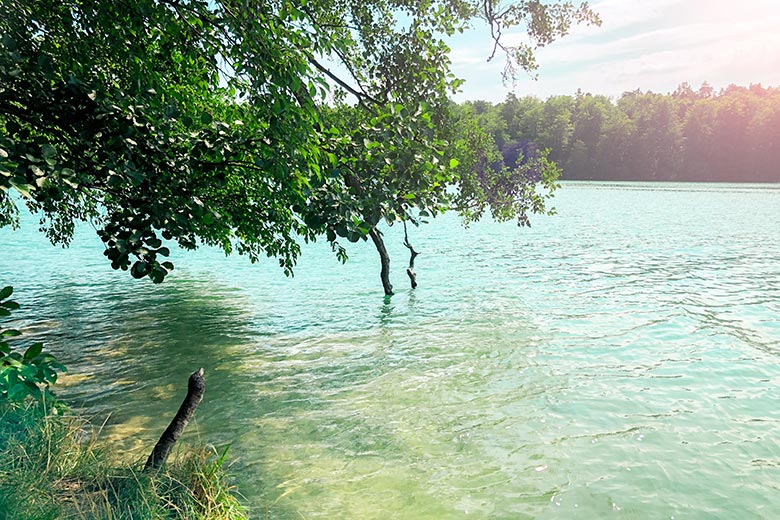 Enjoy one of the best day trips from Berlin and swim in the crystal clear, turquoise waters of Liepnitzsee lake. Find out everything you need to know to experience one of the cleanest and most beautiful lakes in the Berlin and Brandenburg region.
One of the best things to do in Berlin during summer is visiting one of the city's many lakes. And if you've read our Best Outdoor Activities to do in Berlin Guide, you'll know that there are more than 50 lakes to explore in just Berlin alone.
But did you know that there are more than 3,000 lakes in Berlin and the surrounding Brandenburg region?
With so many lakes to explore, you're bound to need some help and guidance to find a favourite.
While we may not have explored all 3,000 lakes, we have managed to find one of the most uniques lakes in and around Berlin.
So if you're looking to explore a lake with turquoise waters and soft white sand, then follow along as we take you on a day trip from Berlin to Liepnitzsee.
Liepnitzsee: The Closest 'Berlin Beach'
Berlin may have many lakes. But if you're missing the soft, white sand and crystal clear, turquoise waters of the ocean, you may find the many 'strandbads', or 'beaches' in Berlin, a little underwhelming.
This is normal of course. Berlin is a landlocked city. So it's only natural that you won't find any real beaches unless you're willing to travel at least 3 to 4 hours by train or car, to reach the beaches in northern Germany.
But don't you worry. As beach lovers ourselves, we've found a temporary solution to fill that void. It may not be the ocean, but it's a pretty good 'Berlin beach' alternative that's only a 1 hour train ride away.
Say 'hello' to Liepnitzsee lake.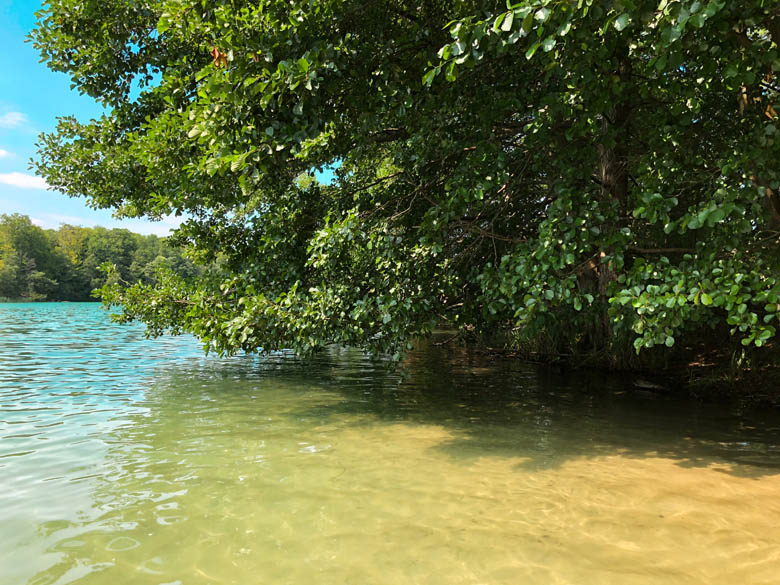 Liepnitzsee lake may not have the same turquoise waters you'd see in Zanzibar or Koh Phangan. But it did remind us of Khao Sok in Thailand, only without the limestone cliffs.
It may not be the ocean, but it's undeniably one of the most beautiful lakes you'll find in and around Berlin.
And if you don't like (or have a fear of) swimming in dark, murky waters, you'll absolutely fall in love with Leipnitzsee.
The Only Turquoise Lake in Berlin
One glance at Leipnitzsee and you'll easily see why it's one of the best lakes in the Berlin and Brandenburg region. Not only is its turquoise glimmer unique, it's also one of the cleanest and most pristine lakes near Berlin.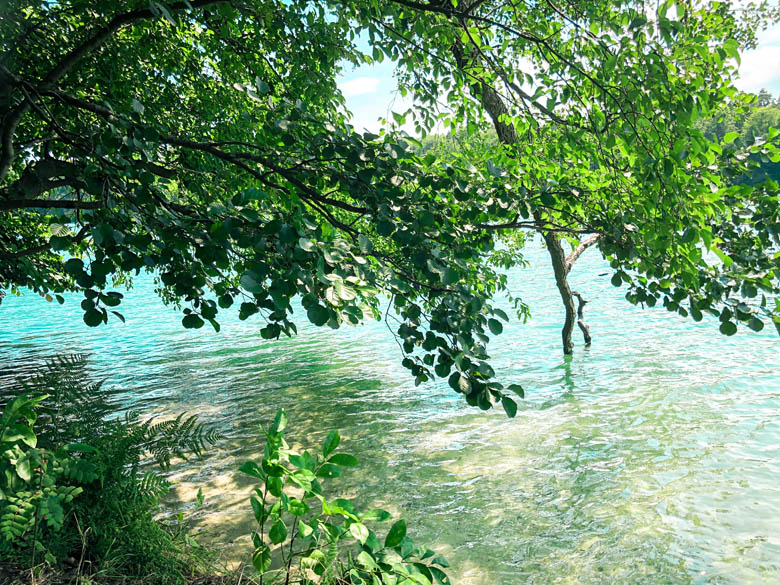 This lake used to be a hidden gem and was only known by a privileged few. But its unique beauty eventually became discovered and it has now become a popular day trip from Berlin.
For this reason, it's always better to visit Liepnitzsee during the week and not the weekend if you want to avoid the crowds.
Alternatively, you should bring your bike so you can cycle to the more remote parts of the lake.
Related Guide: Looking for other awesome lakes to visit around the Berlin Brandenburg region? Read our Tonsee Lake Near Berlin guide! It's more of a hidden gem compared to Liepnitzsee and the waters here are crystal clear too! Plus, unlike Liepnitzsee, the beach area is free and there are barbeque facilities at Tonsee. And for those who want to take it to the next level – rent a grill boat to barbeque AND swim in the lake! Read our Flakensee Lake Near Berlin guide to find out more.
Where is Liepnitzsee?
Liepnitzsee is located around 35km to the north of Berlin. It's situated near Wandlitz, which is a forested area just past Bernau bei Berlin.
There are 9 other lakes in Wandlitz such as Obersee, Wandlitzer See, Stolzenhangener See, Rahmersee, just to name a few. But Liepnitzsee has a very distinct doughnut shape since there's a forested island at its centre.
The island makes the lake look deceivingly small, but it's actually one of the bigger lakes in the Wandlitz area.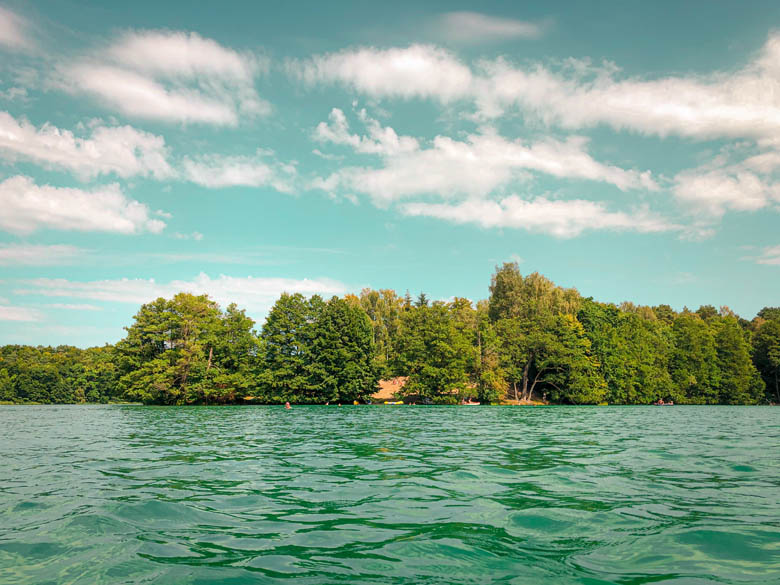 How To Get To Liepnitzsee Lake
Most people think that it's difficult to get to Liepnitzsee from Berlin and that you can only get there by car. But that's only because Google Maps hasn't quite figured out a way to get there by public transportation (yet).
We've been twice by train as well as by bike. So read on to find out how you can get to Liepnitzsee lake without a car.
Berlin to Liepnitzsee by Train
Taking the train from Berlin to Liepnitzsee will probably be the cheapest option. All you need is a BVG ticket for ABC zone which will cost you €7.20 for a return trip.
Take the train from your location in Berlin to Bernau train station (S-bahn). From there, take bus 894 in the Wandlitz, Wandlitzsee Bahnhof direction.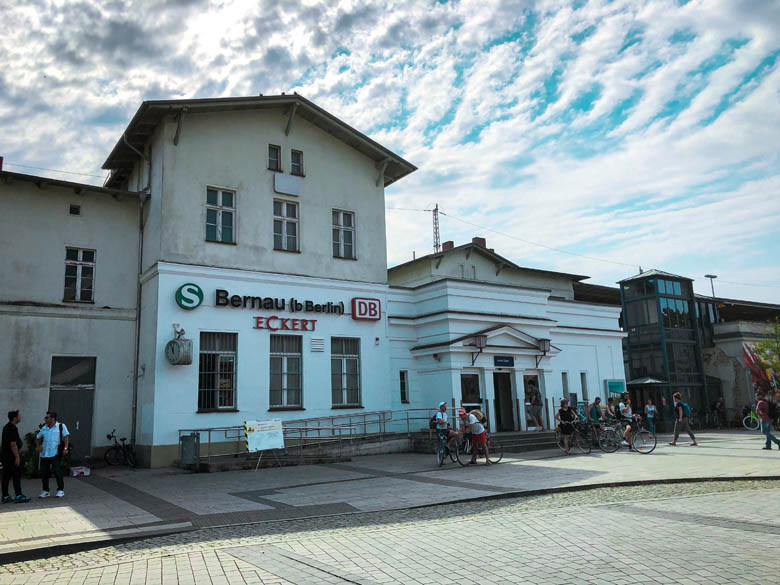 You'll hop off the bus at the Bernau, Brandenburg-Klinik bus stop. From there, it's a short 20 minute (around 2km) walk from the bus station to Liepnitzsee.
Use Google Maps to find your way there. You should walk past the Brandenburg-Klinik parking lot where you'll need to cross the highway over a pedestrian crossing, to get to the beginning of the forest trail leading to the lake.
You'll know you're on the right path when you see the trail below.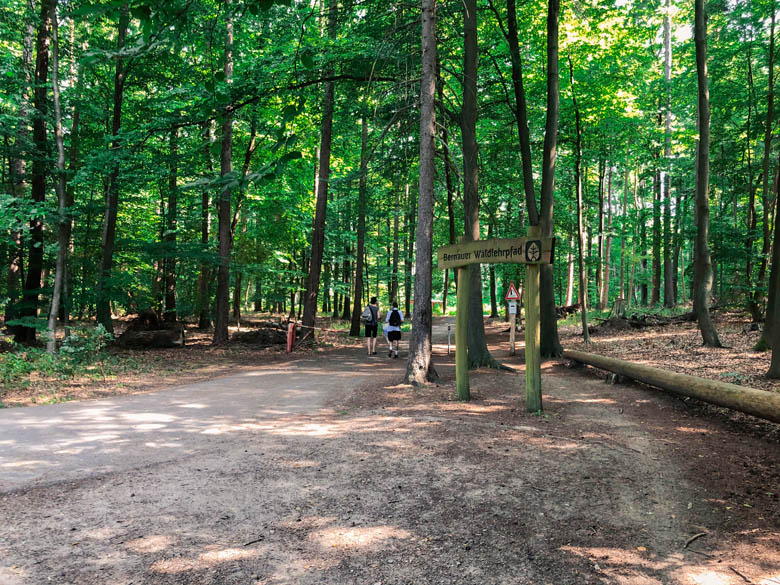 Continue to follow the directions on Google Map. Eventually you'll reach the sign below where you'll turn right to reach your destination.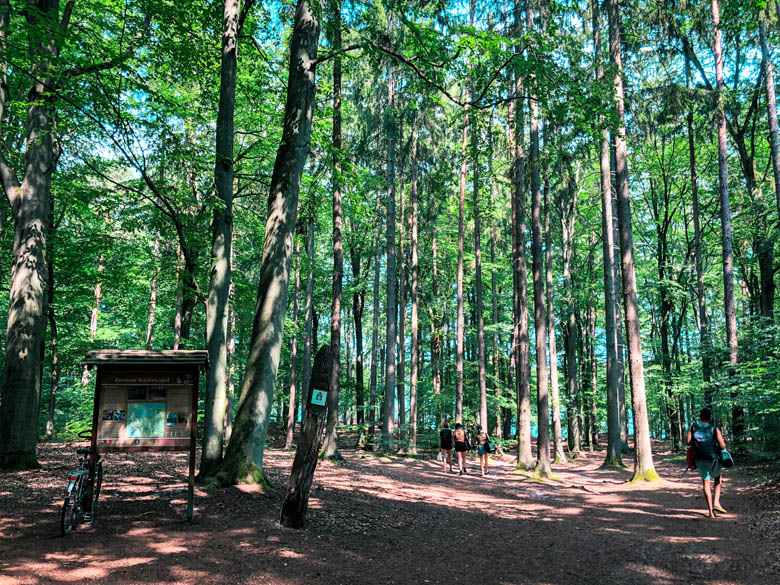 If it's a clear, summer's day, you should already see the turquoise glimmers of Liepnitzsee between the trees on your walk there.
Liepnitzsee Bicycle Route
For those who want to make the journey just as fun as the destination, you could also cycle and bike to Liepnitzsee. It will take around 2 hours (32km) from the centre of Berlin.
And if you want to experience the best of both worlds, you could do the 'half and half' option like we did. This way you can enjoy the fun of cycling there but still leave enough energy to swim across to Grosser Werder island at Liepnitzsee.
Not familiar with the rules for riding a bike in Berlin? Read the essential 24 bike road rules you need to know to legally cycle in Germany.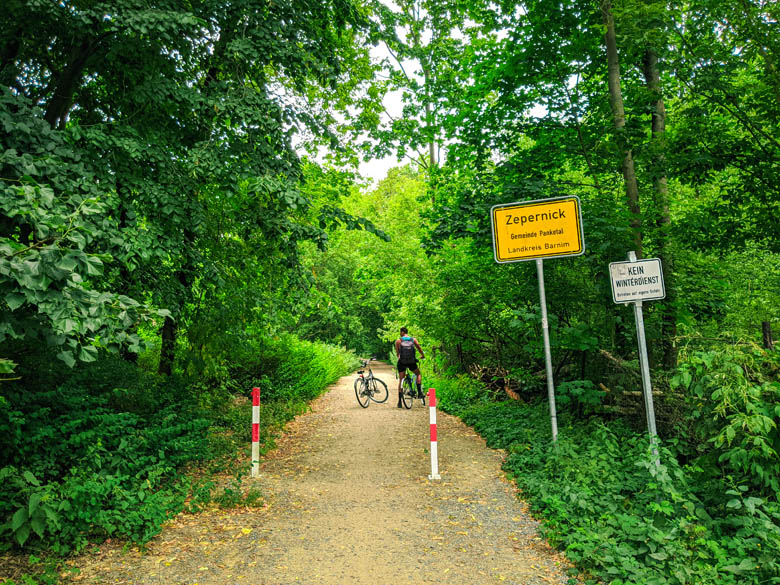 Don't have a bike? Don't worry. You can easily and affordably rent a bike in Berlin with bike sharing. Just bear in mind that these bikes can't be left outside the Berlin Ring-bahn. So you'll need to rent them for the day and bring them back to Berlin before ending your rental. Otherwise you'll get a big fine.
We cycle pretty often, so we use Swapfiets. It costs €19.50 a month and we get to use and keep a high quality 7 gear bike as if it were our own. So we can cycle without worrying about the city limits as you would with bike sharing.
If you want to try Swapfiets out for yourself, use the Swapfiets Discount Code and save €7.50 on your Swapfiets subscription (Discount Code: BEN70328). Read our honest Swapfiets Review to find out more.
If this discount code doesn't work, let us know and we'll find you another one.
Save Me For Later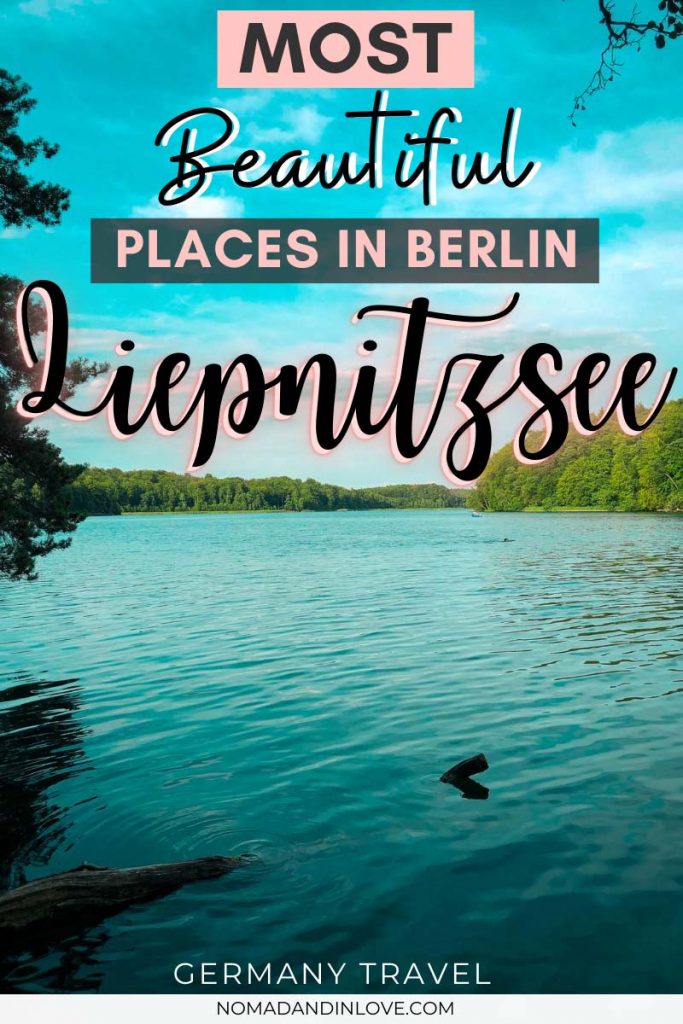 Berlin-Buch to Liepnitzsee Bike Route
For the 'half and half' option, take the train to Berlin-Buch S-Bahn train station. It's the last stop before you enter the Berlin-C zone. So you'll just need to buy the BVG AB ticket which costs €5.80 for a return trip. Remember to buy a AB ticket for your bike too, it costs €2.00 or €4.00 for a return trip.
When you arrive at Berlin-Buch train station, it's a 1 hour cycle (16km) to Liepnitzsee. If you're using Google Maps, we'd recommend taking the route via Wandlitzer Chaussee if you have a city bike. This route will follow the bicycle path alongside the highway, rather than take you on the unpaved paths through the forest.
We really enjoyed cycling to Liepnitzsee and seeing the suburb life outside of the Berlin Ring-bahn.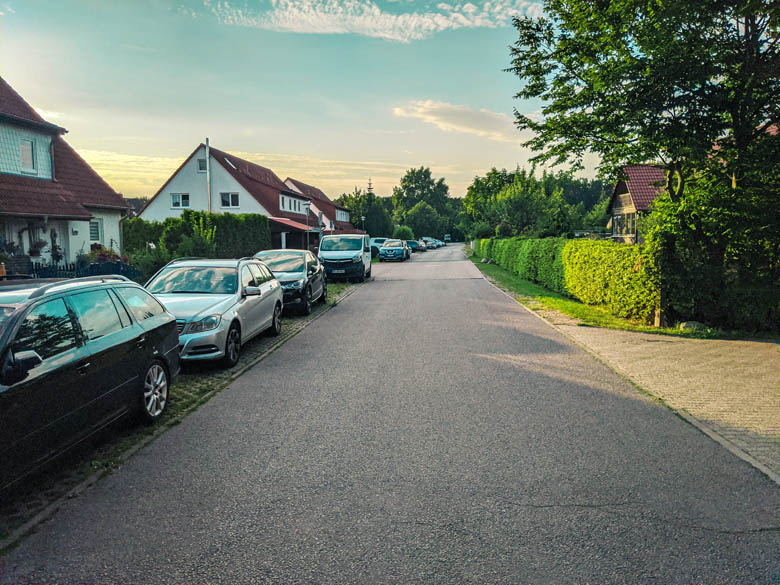 After Buch, you'll cycle alongside the highway on a dedicated bicycle path. Eventually you'll reach the Liepnitzsee forest entrance where you'll turn right to enter.
Continue along this road until there's a fork that splits left and right. Take the left route if you want to go to the official lido Waldbad am Liepnitzsee (paid beach), buy something to eat and drink at the kiosks, rent boats and stand-up paddles or plan to catch the ferry to Grosser Werder island.
Otherwise take the route on your right to explore the southern bank of the lake where it's usually more quiet.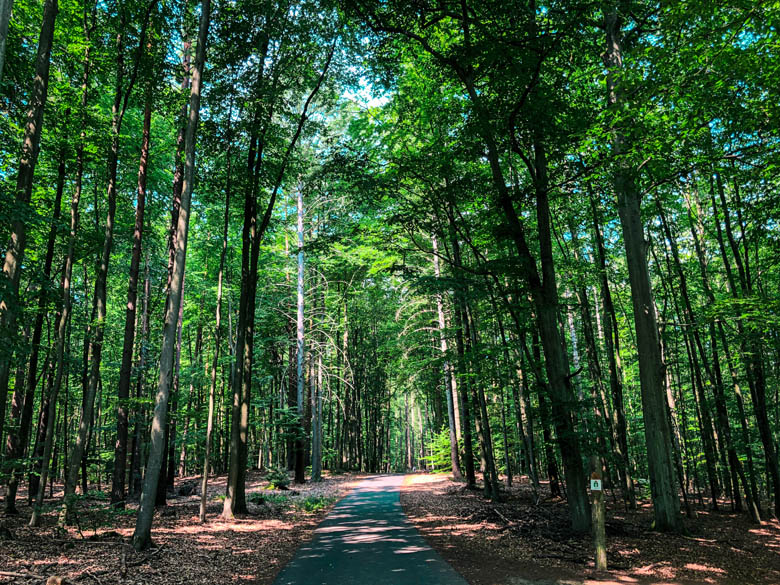 Getting There By Car
Getting from Berlin to Liepnitzsee by car is easy. Simply take the A11 highway and then the Wandlitz exit to get on the B273 motorway (Wandlitzer Chaussee). Continue on this road until you see a sign to turn right for the lake.
Bonus Tip: Don't have a car? Don't worry! You can easily rent a car in Berlin and take day trip with friends to Liepnitzsee lake. It might even work out cheaper than taking public transport. Check out all the carsharing options here and use our codes to get €5 to €10 discount!
Liepnitzsee Parking
As you drive on the B273 motorway to turn right for the lake, you'll see a parallel road where you can park your car. From the parking area, it's another 20 – 30 minute walk through the forest to reach Liepnitzsee.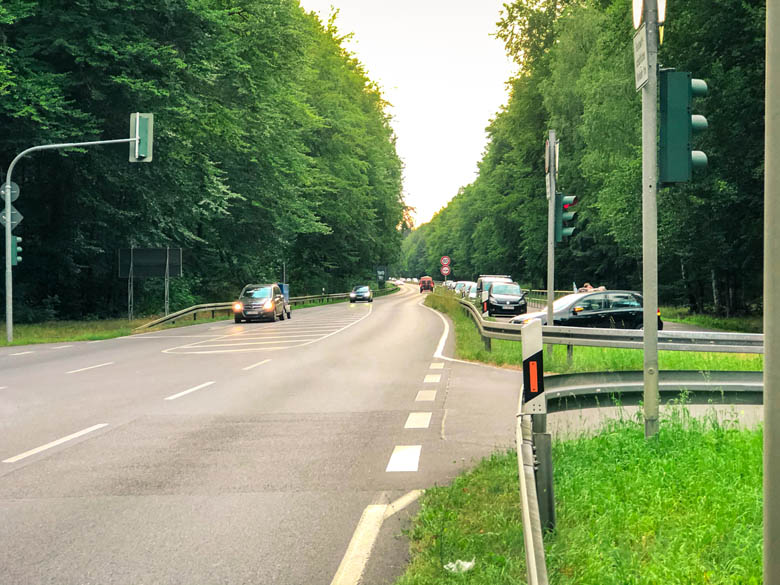 Things To Do in Liepnitzsee Lake
There's plenty of things to do when you finally arrive at Liepnitzsee. From hiking, cycling and camping to stand-up paddling, peddle boats and kayaking. The only activity that isn't allowed is grilling (i.e. barbeques or 'braai' if you're South African).
Liepnitzsee Beach
Liepnitzsee lake is free to visit and swim in. But if you want to visit the official beach or 'badestelle' Waldbad am Liepnitzsee, you'll need to buy an entrance ticket.
Waldbad am Liepnitzsee is open everyday between 10AM to 7PM during the summer season 1 May to 30 September. The entrance tickets cost between €2 for children to €4 for adults.
It's a great option if you have kids because there's a smaller pool area that is perfect for children. Besides that, there's also kiosks where you can buy refreshments and snacks, boat rental facilities and a beach volleyball area.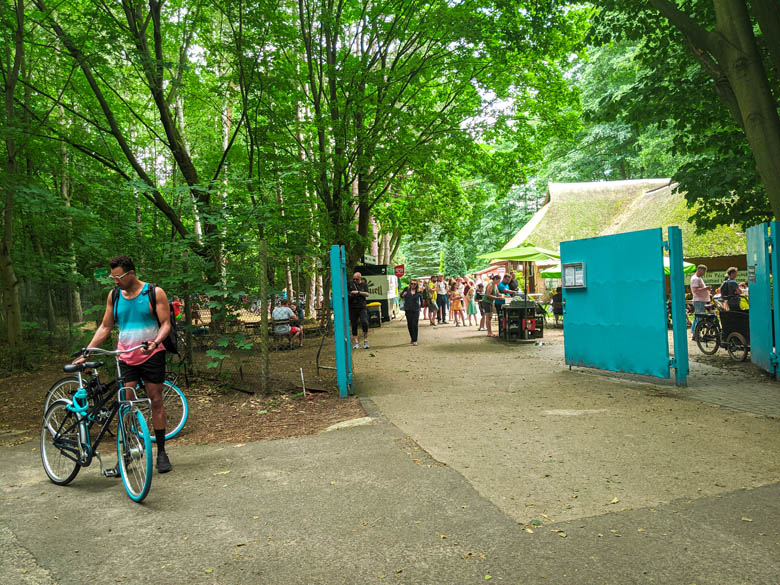 FKK at Liepnitzsee
Liepnitzsee doesn't have a dedicated FKK (Frei-Korper-Kultur or free body culture) area. But you can pretty much sunbathe or swim in the nude anywhere at the lake.
Compared to other lakes in Berlin, we've probably seen the most nudity at Liepnitzsee so be prepared if you're not used to it. We understand that it can be a bit of a culture shock. But it's a long-standing tradition in Germany and seen as being natural rather than sexual.
It's quite a cool concept when you get used to it, we promise.
And be extra careful when taking photos. You don't want to accidentally capture any nudes.
Liepnitzsee Stand-Up Paddling (SUP) and Boat Rental
If you want to rent peddle boats, canoes, row boats or try stand-up paddling (SUP), you can rent them from the Bootsverleih at Strandbad Liepnitzsee.
It costs between €6 to €10 for the first hour. You can check the price list to rent a boat or SUP at Liepnitzsee before your trip.
Ferry To Grosser Werder Island
Another fun thing to do at Liepnitzsee, is visiting Grosser Werder island which sits at the centre of the lake.
On the island, you can enjoy a beer at the Gartenlokal Insulaner Klause beer garden, walk the perimeter of the island and go for a swim, or camp at the Liepnitzinsel Campingplatz.
If you're a strong swimmer, you can easily swim across (around 300 meters). Or if you hire a boat or canoe, you can also row there. Otherwise the most relaxed option is to take the Liepnitzsee ferry to Grosser Werder island.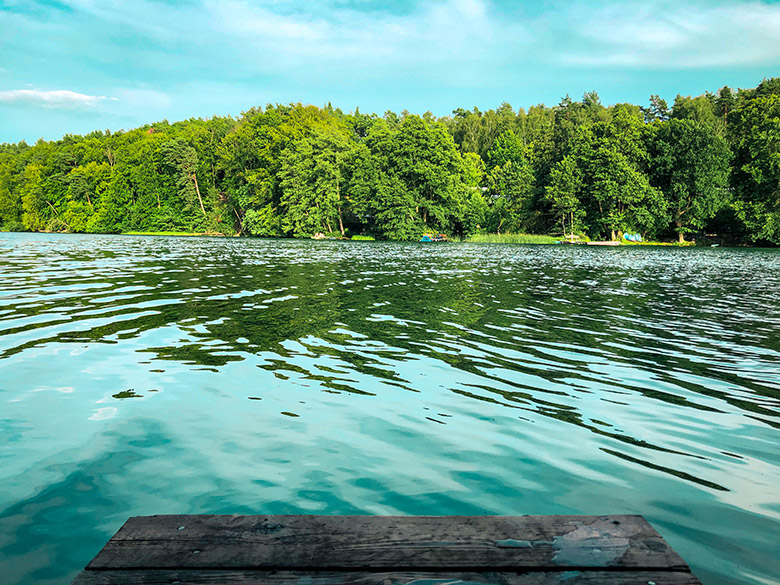 The ferry ticket costs €4 for adults (free for children) and it's for a return trip to and back from the island.
To get to the ferry, you need to walk to Fahre Liepnitzsee. It's a 20 minute walk (around 1.5km) from the entrance of Waldbad am Liepnitzsee.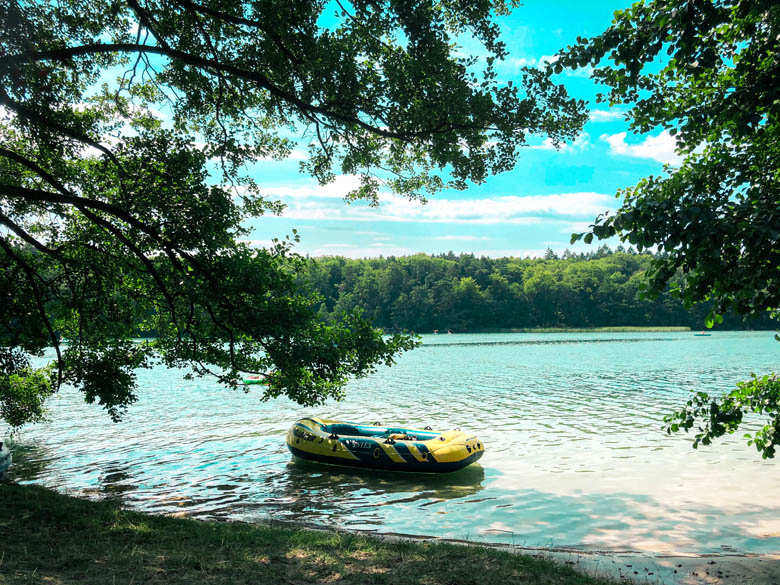 Camping
If you're looking for camping sites near Berlin, Liepnitzsee has two. The one camping ground is on the north bank of the lake, close to Seechen ('little lake') called Camping Am Liepnitzsee.
The second one is on Grosser Werder island itself, called Liepnitzinsel Campingplatz.
Hiking
If you love hiking, there are quite a few hiking trails in the Liepnitzsee area. The trails range between 4km to 15km and are mostly on flat terrain, through beautiful green forests.
We recommend using Komoot to find the best walks and hikes around Liepnitzsee.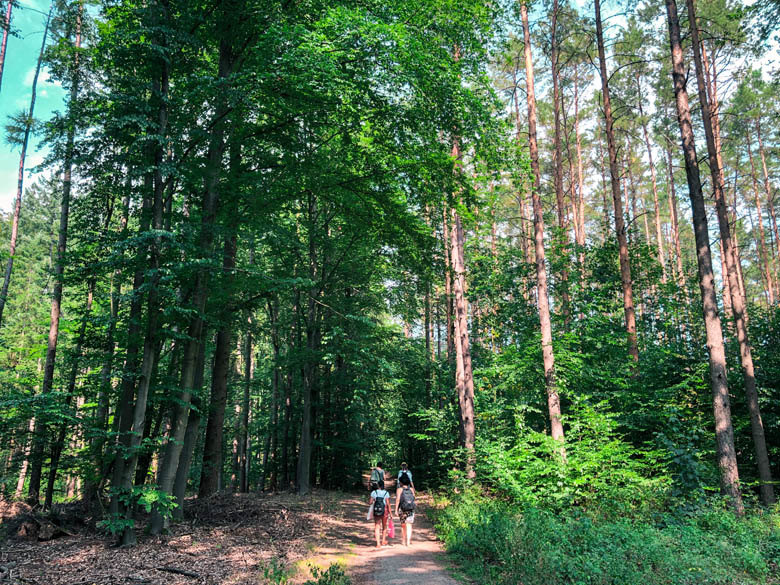 Things To Bring to Liepnitzsee
Our detailed guide would not be complete without a checklist of things to bring on a day trip from Berlin to Liepnitzsee. So here goes:
Cash (cards aren't accepted if you want to buy food, take the ferry, etc)
Food if you plan to picnic at the lake
Drinks (alcoholic beverages are allowed)
Sun screen
Floaty or inflatable (optional)
Towel
Waterproof bag like the Ocean Pack 25 litre dry bag (if you want to swim across to Grosser Werder island)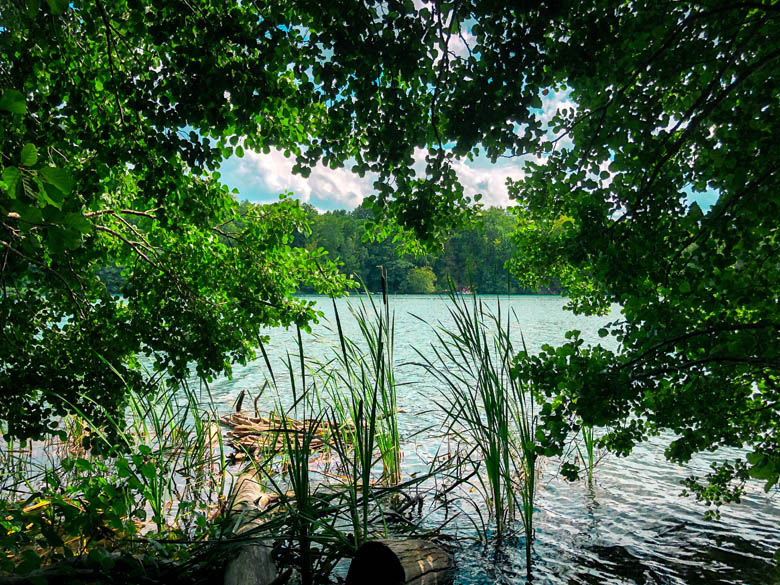 Day Trip From Berlin to Liepnitzsee
We hope you'll enjoy Liepnitzsee as much as we did. It's become a summer favourite for us since it's only a short 60 minute day trip from Berlin.
Have you explored other amazing lakes in the Berlin and Brandenburg region? We'd love to hear your recommendations! Share your favourite lakes and outdoor things to do with us on Facebook.