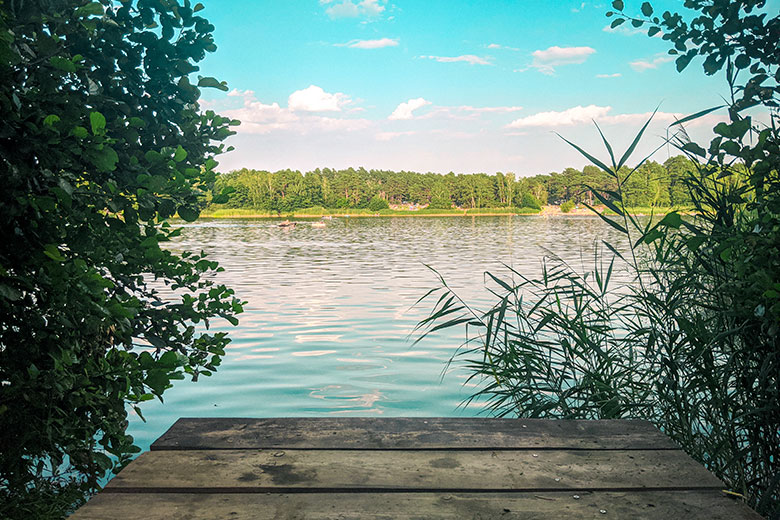 Enjoy one of the best day trips from Berlin and swim in the crystal clear waters of Tonsee lake. Discover the best things to do there from camping to scuba diving, directions to get to Tonsee lake from Berlin, and other essential travel tips.
Summer in Berlin is synonymous with lake season! Oh yes – if you've been living in the city for a while. You'll know that there are more than 50 lakes to explore in just Berlin alone.
Not all of them are ideal for swimming of course. Some lakes are better than others. That's why lakes like Schlachtensee, Krumme Lanke, Plotzensee, Wannsee, and Muggelsee are often considered some of the best lakes for swimming in Berlin.
While this is all good and well. These popular lakes can become a bit too busy and crowded on weekends when the whole city flocks there to enjoy swimming in Berlin's most well-known lakes. Hence why we've been traveling a little further out of the German capital, to find the best lakes near Berlin in the beautiful region of Brandenburg.
In case you didn't know – there are more than 3,000 lakes to explore in Brandenburg! And the region is renowned for having the highest concentration of lakes in Germany!
Whilst it may not be humanly possible to discover all 3,000+ lakes in the wider Berlin Brandenburg area. We've made it our mission to visit as many of them as possible and sharing the best ones!
So if you want to know whether Tonsee lake is worth visiting, the best things to do at Tonsee (besides swimming), how to get there on a day trip from Berlin, and other useful tips, keep reading.
Where is Tonsee Lake?
Tonsee lake is located south of Berlin, around 55km from the city center. It's a small lake nestled in the Dahme-Heideseen Nature Park in Brandenburg near Teupitz, past Konig Wusterhausen.
It's an absolute nature lovers' paradise here. There's plenty of lakes, both big and small, to explore and there's plenty of gorgeous nature walks, hikes, and biking trails to find and discover.
It's easy to miss Tonsee lake on Google Maps. Since it's so small compared to the many large lakes in the surrounding area.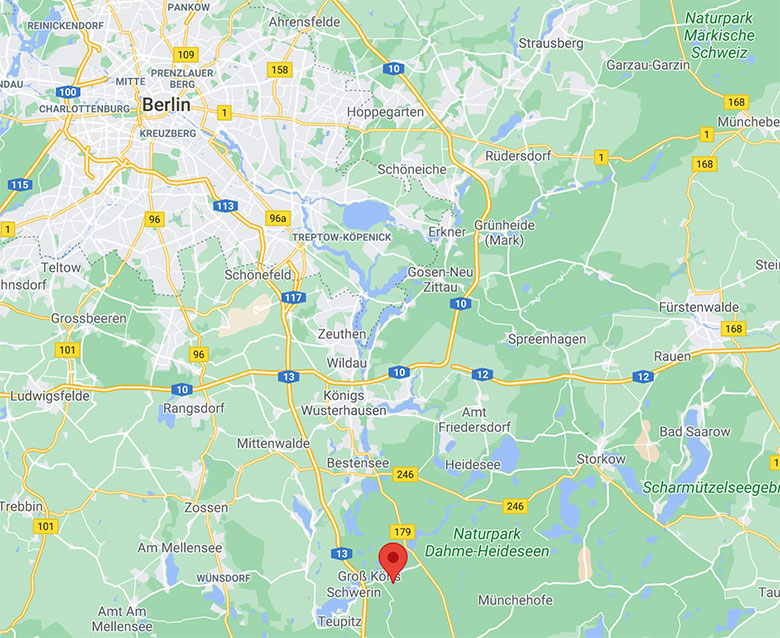 Is Tonsee Lake Worth Visiting?
It takes around 60 minutes by car and 80 minutes by public transport to get to Tonsee Lake from the city center. But it's completely worth it if you're looking for quieter, lesser-known lakes near Berlin.
The cherry on top? Tonsee lake has its own sandy beach and unlike Wannsee, Liepnitzsee, and Plotzensee, it's free! There's no entrance fee to enjoy Strandbad am Tonsee.
It's a great lake near Berlin to visit whether you're a group of friends or a family with kids. We love that Tonsee lake has both shallow entry points for kids to swim in, as well as deeper sections that are safe for adults to dive in. And there's plenty of things to do at Tonsee lake besides swimming too (which we've included later in this guide).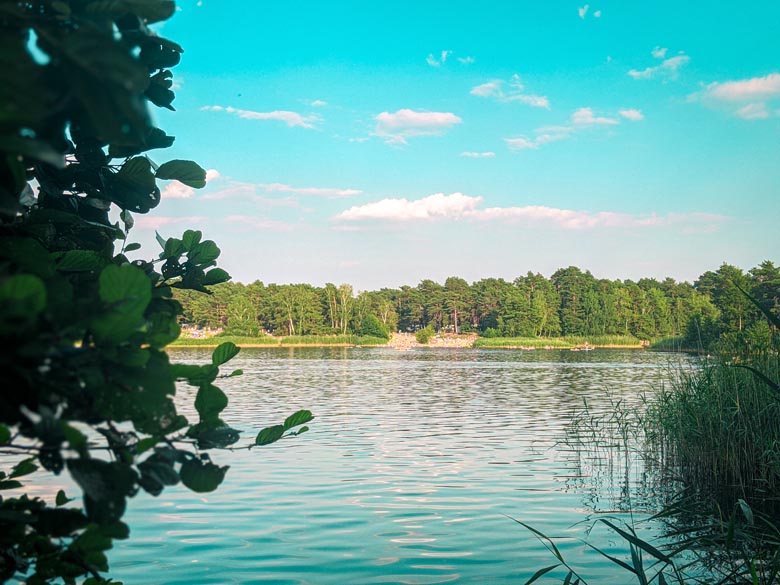 Tonsee may be a small lake. But what it lacks in size, it makes up for with its crystal clear waters. It's true that Tonsee doesn't have the same turquoise sheen as Liepnitzsee. But that's due to the fact that the clay at the bottom of Tonsee is dark.
The water quality is just as pristine (if not better) since the clay sandy bottom and surrounding reed system naturally filters the water at Tonsee. Brandenburg's district health department also regularly monitors the water quality at Tonsee to make sure that it's safe for both humans and dogs to swim in.
Related Guide: Never been to Liepnitzsee lake? It's the only turquoise lake near the city and one of our absolute favorite lakes in the Berlin Brandenburg region! Find out how to plan a day trip from Berlin to this epic lake with our Liepnitzsee Lake guide.
How To Get To Tonsee Lake Near Berlin?
You can easily get to Tonsee lake from Berlin by train, bike or by car! We've explained how to get there using each of these modes of transport. So all you gotta do is pick which one you prefer.
Berlin to Tonsee Lake by Train
You'll need a BVG ticket for zones ABC to take the train from Berlin to Tonsee. We find that it's easiest to buy your train ticket on the DB Navigator app.
Unlike the BVG app, DB Navigator allows you to buy train tickets for more than one person. So it's much easier to take advantage of group discounts if you're going to Tonsee lake in a group of 5 or less. Plus, another advantage of the DB Navigator app, is that it shows you what time to depart if you want to minimize connection times between trains and buses. Less time on the train means more time in the lake! Who can argue with that?
A return train ticket from Berlin to Tonsee will cost you €12.20 per person. It's not cheap – that's why we recommend making a day trip out of it. But if you're able to go as a group of 5, you can easily get a 50% discount by buying a 24-hour group ticket (price: €30.50) so you each pay €6.10 for a return trip instead.
Directions to Tonsee Lake From Berlin
Once you've got your train ticket, take the train from your location to Berlin Ostkreuz train station (S-bahn). Then the regional train RB24 to Gross Koris train station. From there, take Bus 727 to the Klein Koris Schmiede bus stop and walk 8 minutes (700 meters) to get to Tonsee lake.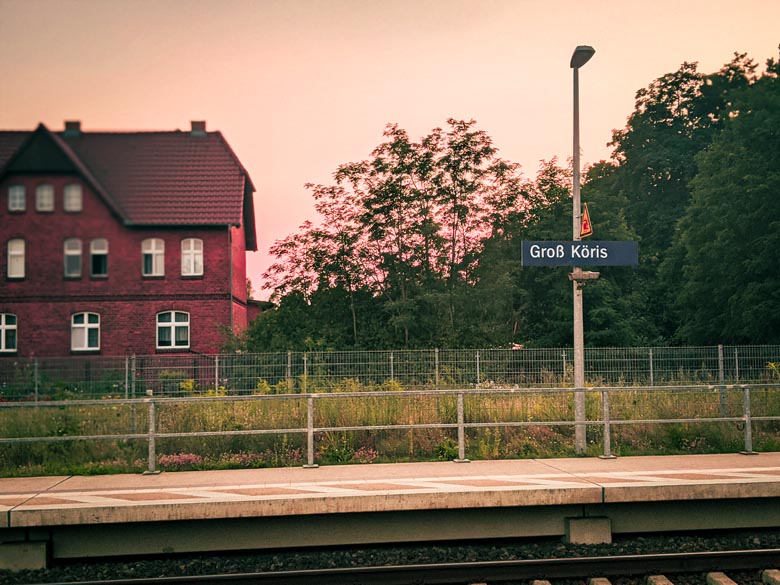 Berlin to Tonsee Lake Cycling Route
For those who want to make the journey just as fun as the destination, you could also cycle and bike to Tonsee. It will take around 3 to 3.5 hours (57km) from the centre of Berlin. So it's definitely not for the faint of heart!
If that's too much cycling for you, you can also do the 'half and half' option by taking the train to the edge of zone B and cycling the rest of the way to Tonsee.
To do this, you just have to buy the BVG ticket for Zones AB which will cost you €6.00 for a return trip. Remember to buy a AB ticket for your bike too, it costs €2.10 or €4.20 for a return ticket. Then all you gotta do is take the train from your location to Berlin-Grunau S-bahn station and cycle 2 hours (35km) to get to Tonsee lake.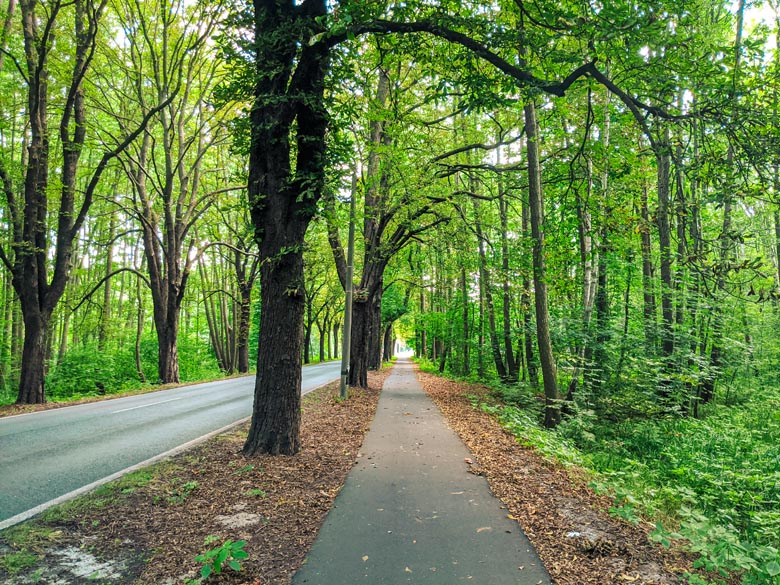 We personally haven't done the cycle route to Tonsee ourselves. But it should be quite scenic as this biking trail will take you past many lakes on your way to your destination. Before you jump on that bike, make sure you're familiar with the rules for riding a bike in Germany.
Don't have a bike? Don't worry. You can easily rent a bike in Berlin with bike sharing. Just bear in mind that these bikes can't be left outside the Berlin Ring-bahn. So you'll need to rent them for the day and bring them back to Berlin before ending your rental. Otherwise you'll get a big fine. Find out which bikeshare is the cheapest in our Berlin Bike Sharing Ultimate Guide.
Getting to Tonsee by Car
Getting from Berlin to Tonsee lake by car is easy. Simply take the A13 highway towards Dresden. Continue driving for around 19km then take the Groß Köris exit. At the T-junction, turn right into Berliner Strasse and stay on this road until it becomes L724. Then continue along this road until you reach Bergstrasse, where you'll turn right then right again onto a road named Am Hang.
You're almost there! Just a few more minutes on Am Hang road and you'll find paid parking facilities here. Then you'll just need to walk a few hundred meters on a small foot path to get to Tonsee. And voila!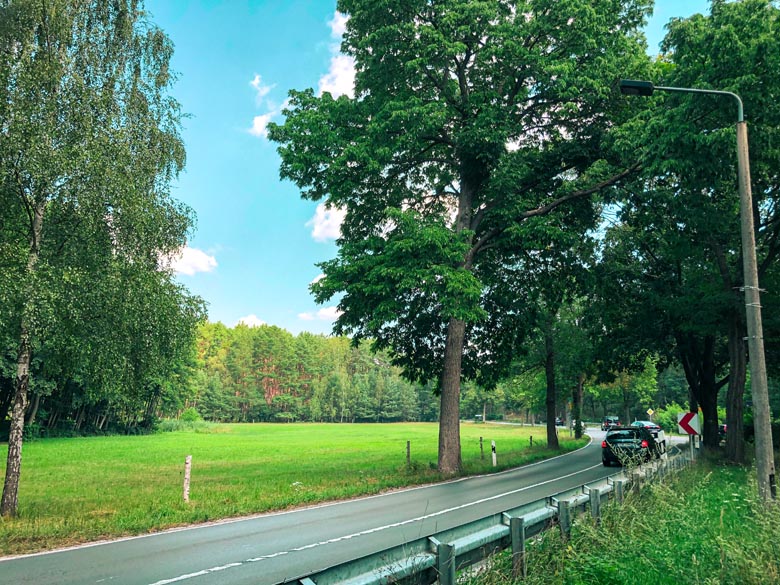 Bonus Tip: Don't have a car? Don't worry! You can easily rent a car in Berlin and take day trip with friends to Tonsee lake. It might even work out cheaper than taking public transport. Check out all the carsharing options here and use our codes to get €5 to €10 discount!
Things To Do at Tonsee Lake Near Berlin
There's plenty of things to do when you finally arrive at Tonsee. From hiking, cycling and camping, to having a BBQ (or 'grillen' as the Germans say it), stand-up paddling, and scuba diving.
We didn't see a 'Bootverleih' (boat rental place) at Tonsee. So you'll have to bring your own if you want to stand-up paddle at Tonsee lake.
Related Guide: Love swimming in lakes and BBQ? Why not combine both and rent a grill boat?! Yes, it's exactly what it says it is – a boat that you can enjoy a barbeque on! We kid you not! Check out our Flakensee lake near Berlin guide to find out how you can do that.
Beach at Tonsee
Like we mentioned earlier, Tonsee lake is free to visit and swim in. This includes access to 'Strand am Tonsee' which is the soft, sandy beach area at the lake. So if you're going for the beach vibe, this is the place to be at Tonsee.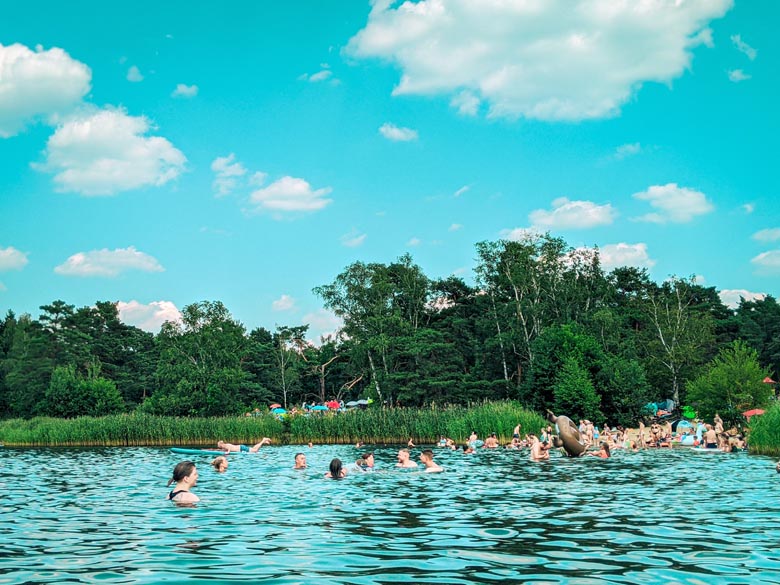 Make sure you arrive early though because most people gun for the beach area (as you can expect). The beach is especially great for families with young kids since the shallower part of the lake is around the beach area. Plus the kids' playground is also on this side of the lake.
Otherwise, if the beach becomes too busy. You can also find a spot amongst the beautiful pine trees around the lake and enjoy one of the best swimming lakes near Berlin from there. If you're early enough, you can even find a spot around one of the picturesque, wooden decks around Tonsee lake. The little wooden deck you see in our feature image was found on the north-western part of the lake.
FKK At Tonsee
Tonsee lake doesn't have a dedicated FKK (Frei-Korper-Kultur or free body culture) area. But you can pretty much sunbathe or swim in the nude anywhere at Tonsee (much like any other lake in Berlin).
We understand that it can be a bit of a culture shock. But it's a long-standing tradition in Germany and seen as being natural rather than sexual. Like many other expats living in Germany, it took us some time to get used to this cultural phenomenon. But once you do, you'll find it to be quite liberating, we promise.
As always, be extra careful when taking photos. You don't want to accidentally capture any nudes.
Camping at Tonsee
If you're looking for camping sites near Berlin, Tonsee lake has two. The one camping ground is on the east bank of the lake, closest to the beach at Tonsee called Dürings Campingplatz Am Tonsee.
The second one is on the south bank of the lake, called Wald und Naturcampingplatz am Tonsee Sud & Yoga.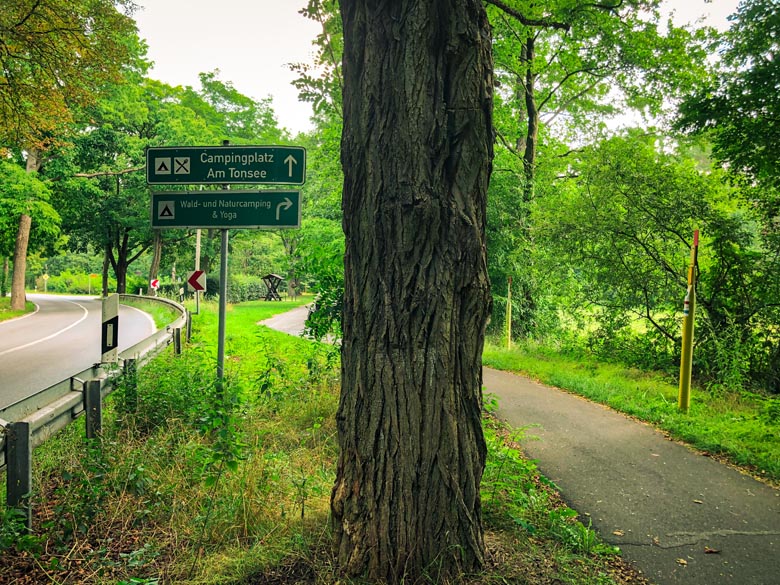 Scuba Diving at Tonsee
Berlin and Brandenburg may be landlocked. But that doesn't mean you can't scuba dive. Yup – scuba diving is possible at Tonsee lake! We haven't personally scuba dived in this lake near Berlin. But apparently divers love this lake because its crystal clear waters allows for great visibility.
There may not be a huge variety of fish to see in Tonsee. But if you scuba here, you'll get to see all the sunken wagons and relics people used to use for quarrying clay.
Tonsee has an average depth of 8.8 meters and maximum depth of 19 meters. So it's a great place to scuba if you're learning how to dive and doing your Open Waters Certification. The closest dive center is AST Divers near Mittenwalde. So check them out if you're keen to learn.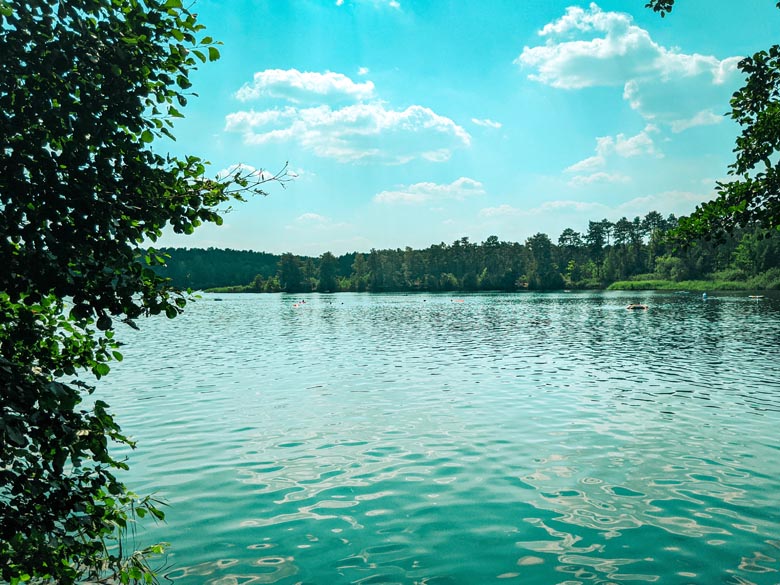 Related Guide: Are you an avid scuba diver like us? Check out our Scuba Diving Guides to plan your next underwater adventure.
Restaurants and BBQ
You're bound to need a bite to eat if you're spending the day at Tonsee. If you didn't bring your own picnic, don't worry. You can easily grab a bite at Bistro Am Tonsee. The restaurant is on the east bank of the lake, just behind the beach area. Toilets are available here too.
And if you're missing the smell of a good barbeque. You'll be happy to know that you can BBQ at Tonsee too! The grill facilities are on the same side as the bistro.
Hiking and Cycling Trails around Tonsee
There are plenty of hiking and cycling trails around Tonsee. Like we mentioned earlier, Tonsee is just a teeny tiny lake in the wider Dahme-Heideseen Nature Park area. So feel free to hike or bike around the other lakes in the area like Teupitzer See, Schweriner See, Gross Koris and Holzerner See, to as far as Wolziger See.
And if you prefer following a more structured hiking or cycling trail, then head over to Komoot to find the best hikes and nature walks around Tonsee and Klein Koris.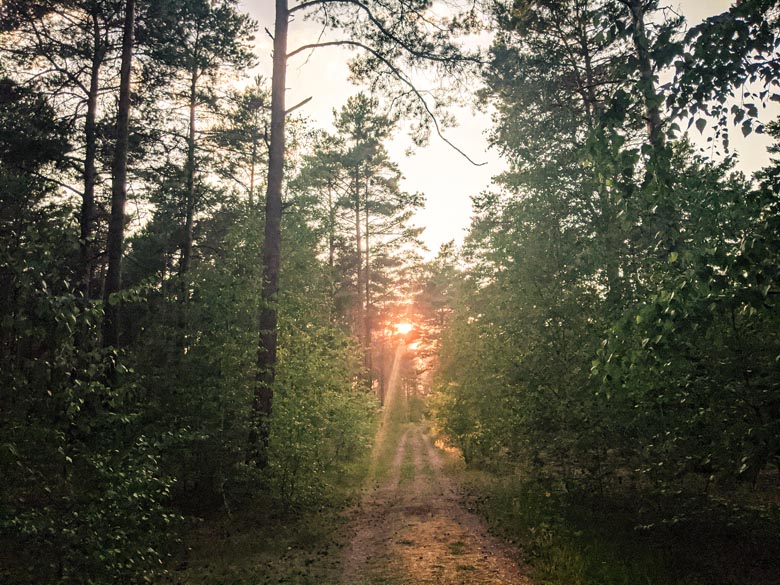 Day Trip From Berlin to Tonsee Lake
We hope you'll enjoy a day trip from Berlin to Tonsee as much as we did! If you're looking for other outdoor things to do in Berlin, make sure you read our Berlin Outdoor Lakes and Forests guide.
Have you explored other amazing lakes in the Berlin and Brandenburg region? We'd love to hear your recommendations! Share your favourite lakes and outdoor things to do with us on Facebook.