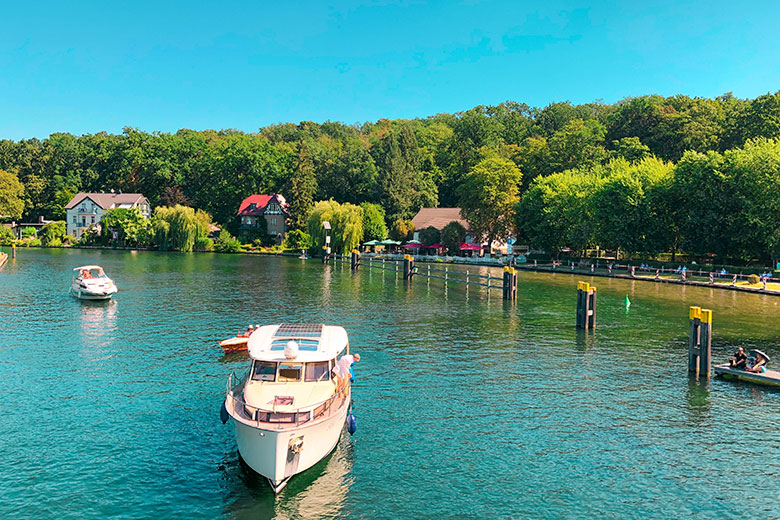 Enjoy one of the best day trips from Berlin and spend a day at Flakensee lake in the Berlin Brandenburg region. Discover the best things to do there from camping, stand-up paddling, hiking and cycling trails, to how you can rent a grill boat ('grillboot').
Summer in Berlin is not complete without making a couple of day trips to a lake. But with over 50 lakes to explore in Berlin and 3,000+ lakes in the surrounding Brandenburg region. How do you go about picking the best lake to go to?
Whilst we may not be able to give you one definitive answer to that question. We can summarize the highlights and top things to do at the lakes that we've visited so you can decide which is the best lake in and around Berlin for you!
So if you want to know whether Flakensee lake is worth visiting, the best things to do at Flakensee (besides swimming), how to get there on a day trip from Berlin with a historical tram that is more than 100 years old, keep reading.
Where is Flakensee Lake?
Flakensee lake is located east of Berlin past Muggelsee, around 35km from the city center. It's one of many lakes nestled in the Müggelspree-Löcknitzer Forest and Lake Area in Brandenburg.
It's an absolute nature lovers' paradise especially if you love hiking, cycling, kayaking or stand-up paddling. You could easily spend weeks exploring the many winding canal systems that connect the lakes in this forest area just outside of Berlin.
Besides Flakensee, the other major lakes to explore are Dameritzsee and Kalksee. And for the uber adventurous, you can meander through Stolpkanal and Strausberger Muhlen River to go as far north as Stienitzsee. Head south via the Gosener Kanal to reach Seddinsee. Or set sail along the Locknitzkanal to explore all the small lakes around Grunheide.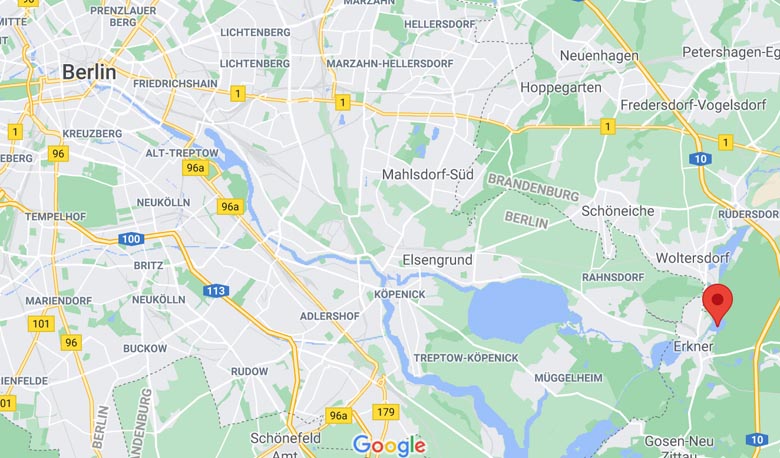 Is Flakensee Worth Visiting?
It takes around 60 minutes by car or train to get to Flakensee Lake from Berlin. It's a great swimming lake to explore if you've already been to all the popular lakes in Berlin like Wannsee, Schlachtensee, Krumme Lanke or Muggelsee, and you're looking for a change in scenery. And the best part? It's FREE to visit the sandy beach at Flakensee!
Plus, there are several highlights that make Flakensee a day trip to remember. Like taking a historical tram that is more than 100 years old, seeing how the old Schleuse Woltersdorfer (floodgate) in action, and renting a grill boat or party yacht with a bunch of friends. And there's more! But we'll cover that in-depth later in the guide.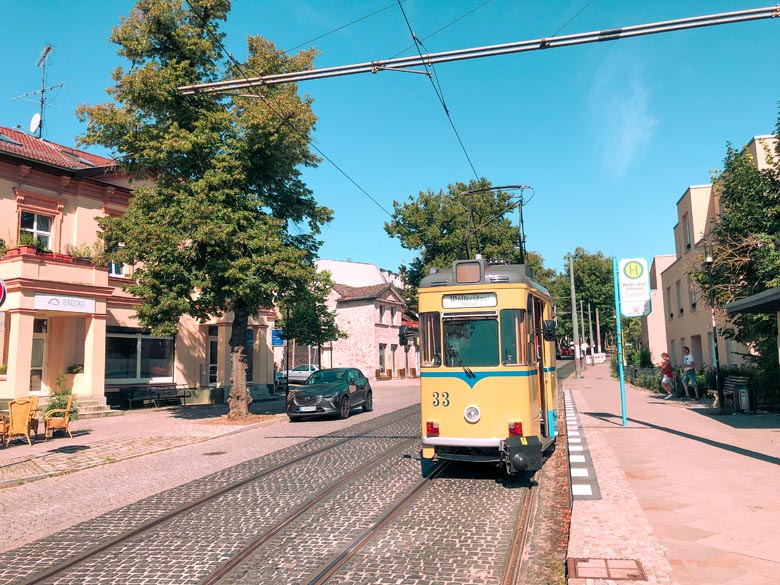 It's a great lake near Berlin to visit whether you're a group of friends or a family with kids. So if you're living in Berlin and missing the beach, you'll love this lake!
Flakensee has been a popular day trip for Berliners for more than 140 years since the early 1880s. And after visiting this lake ourselves, we can surely understand why this is so.
How To Get To Flakensee Lake Near Berlin?
You can easily get to Flakensee lake from Berlin by train, bike or by car! We've explained how to get there using each of these modes of transport. So all you gotta do is pick which one you prefer.
Related Guide: Want to explore the many Berlin lakes by car by don't have a German driver's license? Find out how you can convert a foreign driver's license in Germany and get a German driving license with our comprehensive guide.
Berlin to Flakensee Lake by Train
Taking a trip from Berlin to Flakensee proves that the journey can be just as fun as the destination. But first, you'll need to buy a BVG ticket for zones ABC to take the train from Berlin to Flakensee lake. A train ticket from Berlin to Flakensee will cost you €3.80 per person each way.
We find that it's easiest to buy your train ticket on the DB Navigator app. Unlike the BVG app, the DB Navigator app shows you what time to depart if you want to minimize connection times between trains and buses. Less time on the train means more time at the lake! Who can argue with that?
Directions to Flakensee Lake From Berlin
Once you've got your train ticket, take the train from your location to Rahndorf train station (S-bahn). Then this is where the real adventure begins!
Head out of Rahndorf train station and you should see a huge sign saying 'Strassenbahn nach Woltersdorf-Schleuse'. This is where you'll take the historic Woltersdorf Tramway (Tram 87) to get to Flakensee lake.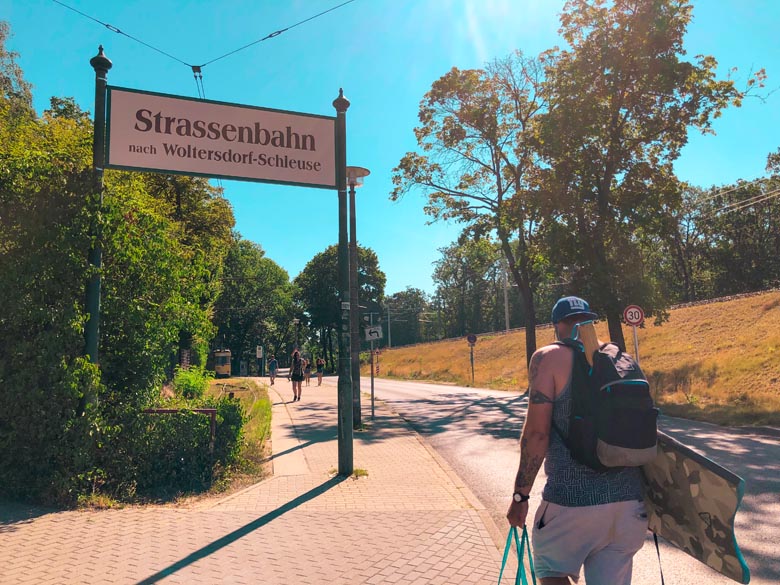 Bonus Tip: Your BVG ABC ticket includes the train fare for Tram 87 – so there's no need to buy another ticket.
Historic Woltersdorf Tramway
Google Maps will probably show you a quicker way to get to Flakensee lake from Berlin. But you'll miss out on the adventure and cultural experience if you don't take this route.
What makes the Woltersdorf Tramway special, is that this line was built way back in 1913 to connect the small village of Woltersdorf to Berlin. This line has not been expanded since then. So it's the closest thing to time travel and catching a glimpse of what it was like more than 100 years ago.
The 4-wheeled trams you'll be taking were built in the 1960s. So they're probably older than you are. But don't worry – they may rattle and shake more than modern trams but they're regularly maintained and safe to take.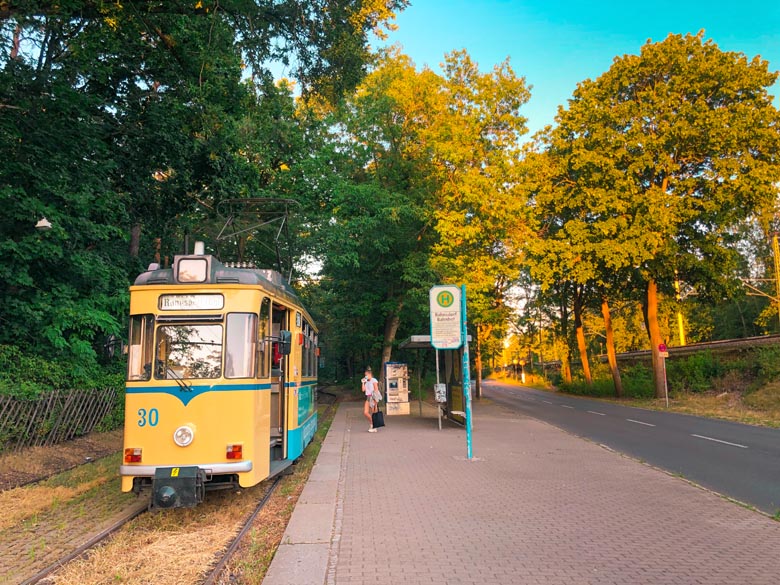 The ride from Rahnsdorf to Schleuse Woltersdorf is around 10 minutes (5.6km) long. So sit back, relax and enjoy the experience as the tram takes you through the forest. You'll hop out at the last stop which is Woltersdorf Schleuse.
Once you arrive at Woltersdorf Schleuse, it's a short 5-minute walk to reach Flakensee lake.
Bonus Tip: The Woltersdorf Tramway line to Flakensee operates on a 20-minute service interval. So make sure to check the schedule to see what time the last tram departs so you can get back to Berlin.
Berlin to Flakensee Lake Cycling Route
For those who want to explore Flakensee by bike, you could also cycle there. It will take around 2 hours (31km) from the centre of Berlin. So it's definitely not for the faint of heart!
If that's too much cycling for you, you can also do the 'half and half' option by taking the train to the edge of zone B and cycling the rest of the way to Flakensee.
To do this, you just have to buy the BVG ticket for Zones AB which will cost you €6.00 for a return trip. Remember to buy an AB ticket for your bike too, it costs €2.10 or €4.20 for a return ticket. Then all you gotta do is take the S-bahn from your location to Wilhelmshagen train station and cycle 2 hours (6km) to get to Flakensee lake.
We personally haven't done the cycle route to Flakensee ourselves. But it's a great idea to take a bike there since the lake is quite big. That way you can cycle to the more remote parts of the lake to find a quiet spot. Before you jump on that bike, make sure you're familiar with the rules for riding a bike in Germany.
Don't have a bike? Don't worry. You can easily rent a bike in Berlin with bike sharing. Just bear in mind that these bikes can't be left outside the Berlin Ring-bahn. So you'll need to rent them for the day and bring them back to Berlin before ending your rental. Otherwise you'll get a big fine. Find out which bike share is the cheapest in our Berlin Bike Sharing Ultimate Guide.
Save Me For Later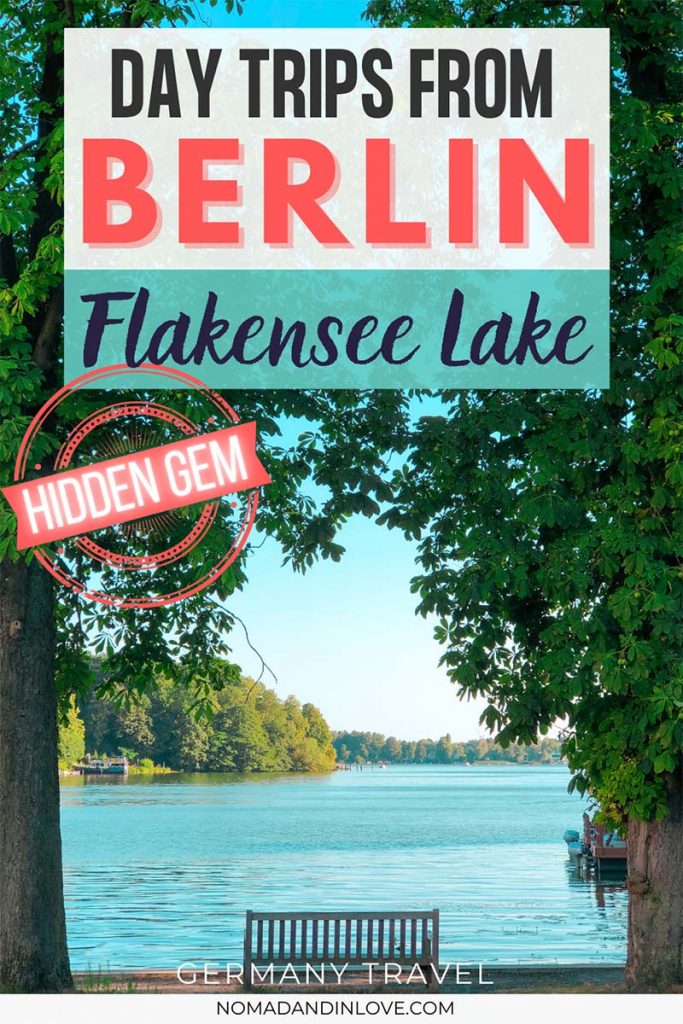 Getting to Flakensee by Car
Getting from Berlin to Flakensee lake by car is easy. Simply get onto the A10 highway towards Erkner.
Find parking around Flakensee lake is another story though. But you can try these 3 main parking areas closest to the lake:
Bonus Tip: Don't have a car? Don't worry! You can easily rent a car in Berlin and take day trip with friends to Flakensee lake. It might even work out cheaper than taking public transport. Check out all the carsharing options here and use our codes to get €5 to €10 discount!
Things To Do at Flakensee Lake Near Berlin
Besides swimming, there's plenty of things to do when you arrive at Flakensee lake. From camping, hiking and cycling, stand-up paddling to renting a grill boat (for BBQ) or yacht, and enjoying a meal and a couple of beers at the beer garden.
See Schleuse Woltersdorf
Remember how we said that the journey to the lake is as fun as the destination? Well, if you took our train directions from Berlin to Flakensee via the Woltersdorf Tramway. You'll get to see yet another cultural highlight and a floodgate system in action.
Say 'hello' to Schleuse Woltersdorf.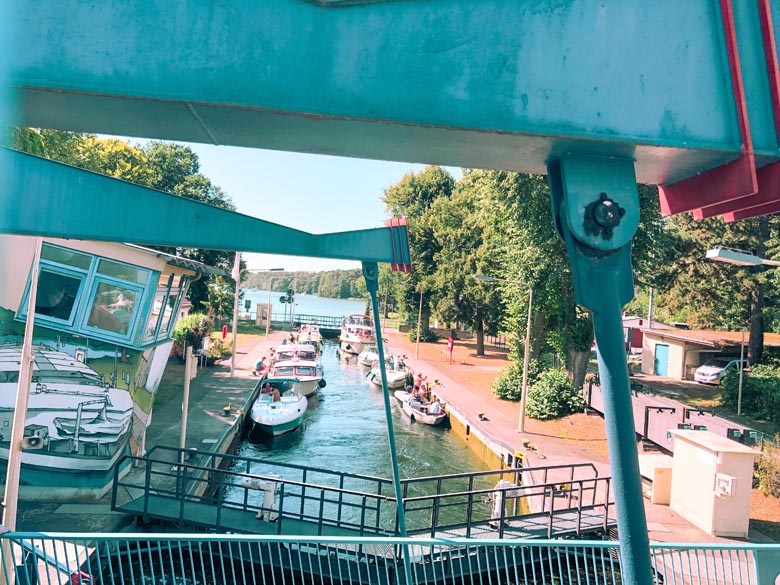 It's probably nothing new to you if you're from Europe. But for those of us who are not, it was incredibly fascinating to see Schleuse Woltersdorf in action.
The word 'schleuse' directly translates to 'lock' in English. But the better word for it is 'floodgate'. It's basically a system that has been designed to control the flow of water between two bodies of water that have different water levels.
This is done so that boats and yachts can directly sail from one body of water to another by equalizing the water levels. So basically, a 'schleuse' works like an elevator of a building.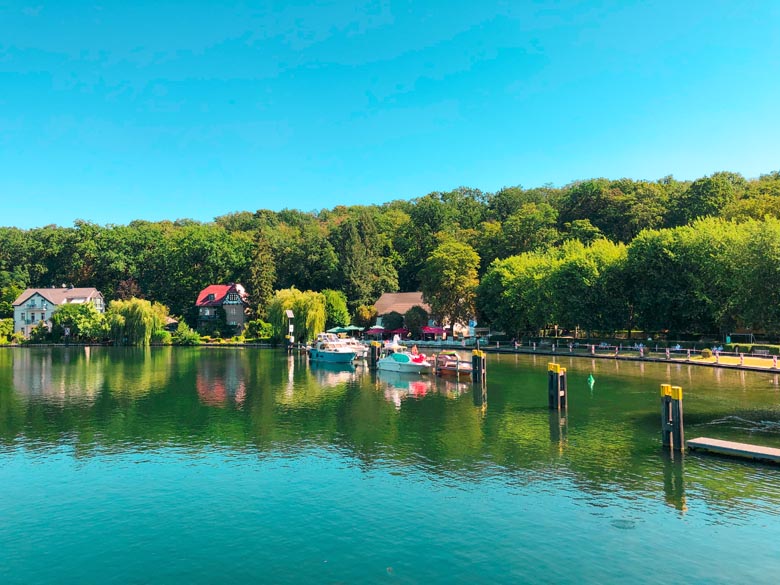 Historically, Schleuse Woltersdorf was used by companies for the transportation of limestone. But today, it's more frequently used for leisure boats.
If you want to experience this first-hand, you can rent your own raft or boat at Spree Safari Bootsverleih and sail from Flakensee to Kalksee.
Bonus Tip: Make a stop at Cafe Knappe if you want to try some traditional German pastries. It's located a hop and a skip away from Schleuse Woltersdorf.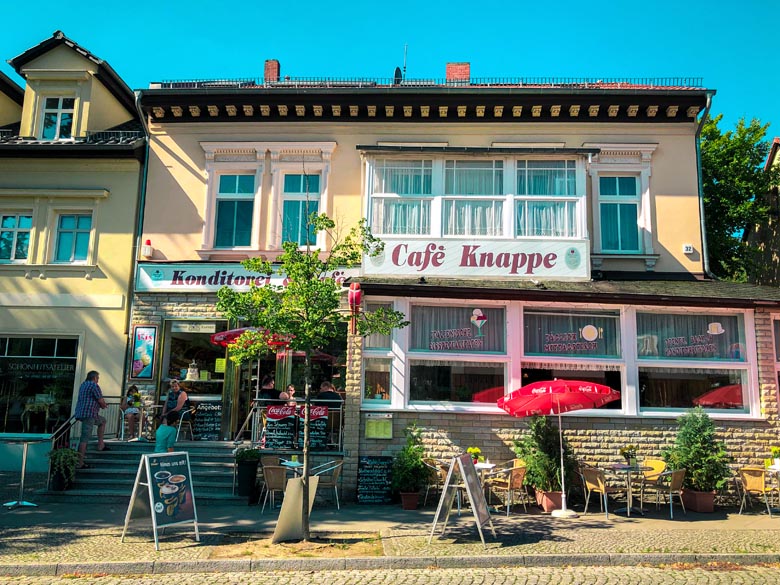 Beach at Flakensee
Unlike some of the lakes in Berlin, where you have to pay to enjoy the sandy beach. It's FREE to visit the official beach area at Flakensee (Weisser Strand Flakensee).
You'll love this lake if you enjoy Wannsee in Berlin. The beach at Flakensee has a similar gentle slope into the lake. So it's great if you have kids, fur kids (dogs), or prefer to swim in shallower waters.
The water at Flakensee is not as clear as Tonsee or as blue as Liepnitzsee because motorized boats and yachts are allowed at the lake. But the water quality is frequently monitored and is safe for both humans and dogs alike.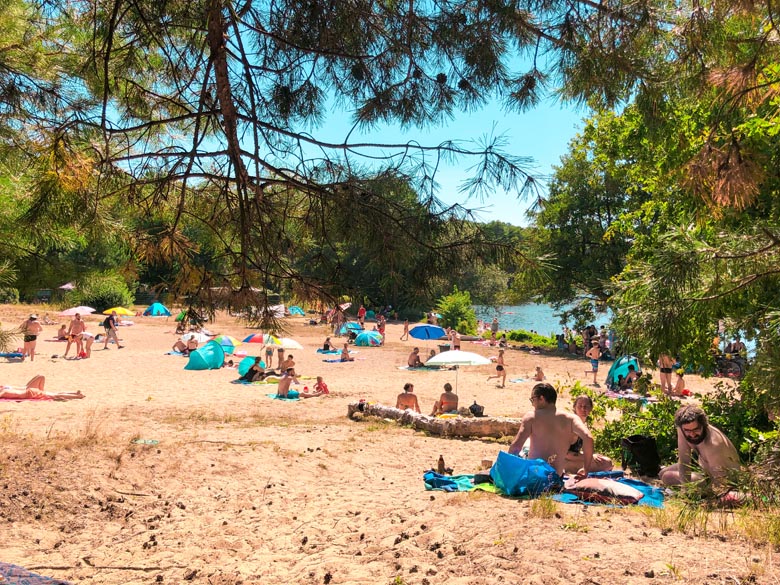 Rent a Grill Boat at Flakensee
This is definitely something to add to your bucket list of things to do. Not only at Flakensee, but in Berlin in general – renting a grill boat (or 'grillboot' in German)!
And it's exactly what it says it is – a boat that you can sail AND have a barbeque on. How cool is that?!
The experience isn't cheap, but it's certainly worth it! So make sure to organize it with a group of friends to double the fun and half the costs. You won't need a skipper or boat license if you rent a boat with less than 15HP engine power.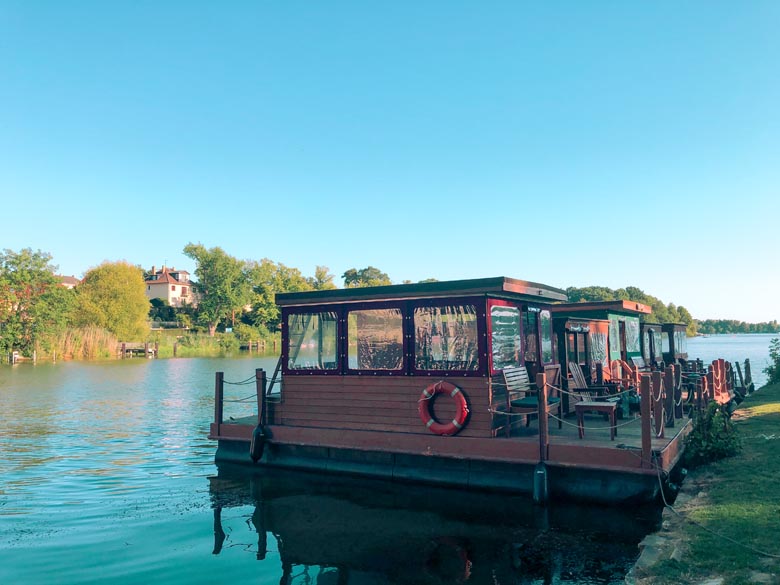 Check out Berlin Bootsverleih or Seenland-Oderspree to see how you can rent a yacht or grill boat in Berlin.
Stand-up Paddling Near Berlin
If you're looking for awesome spots to do some stand-up paddling (SUP) in and around Berlin, then you got to make a trip to Flakensee lake.
Not only are there a number of lakes to explore in the area. But these lakes are often connected by a system of canals. So you could literally explore one lake to another without getting on land.
Hiking and Cycling Trails around Flakensee
If you love hiking, there are quite a few hiking trails around Flakensee lake. The trails range between 3km to 12km and are mostly on flat terrain through beautiful green forests.
We recommend using Komoot to find the best walks and hikes around Flakensee.
And for those who prefer life on two wheels, Komoot has a great list of cycling routes around Flakensee too.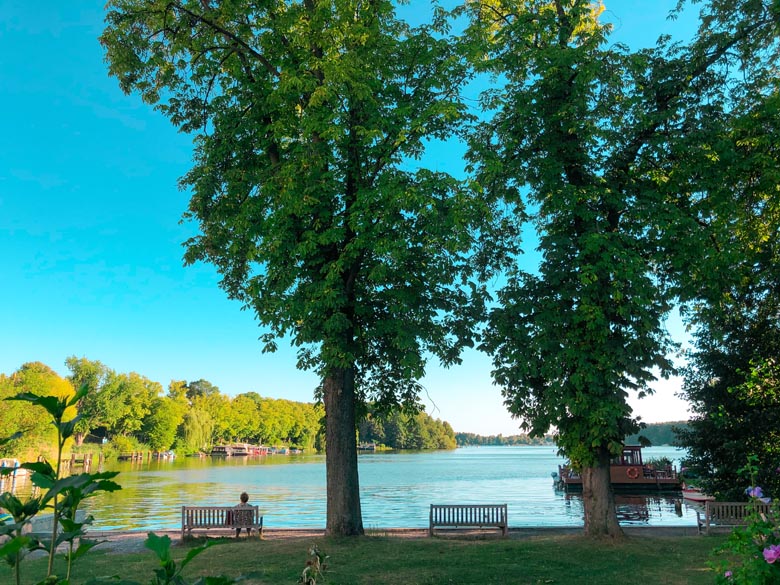 Camping at Flakensee
If you're looking for camping sites near Berlin, Flakensee lake has two. The one camping ground is on the east bank of the lake, closest to the beach at Flakensee called Camping Flakensee in Berlin.
The second one is on the west bank of the lake, called Naturfreunde Springeberg.
Rent a 'Ferienwohnung' or Vacation Rental at Flakensee
And for those who want to extend your day trip from Berlin and spend a weekend at Flakensee lake. You can also rent a 'Ferienwohnung' or vacation home in the area.
Check out these Airbnb rentals at Flakensee.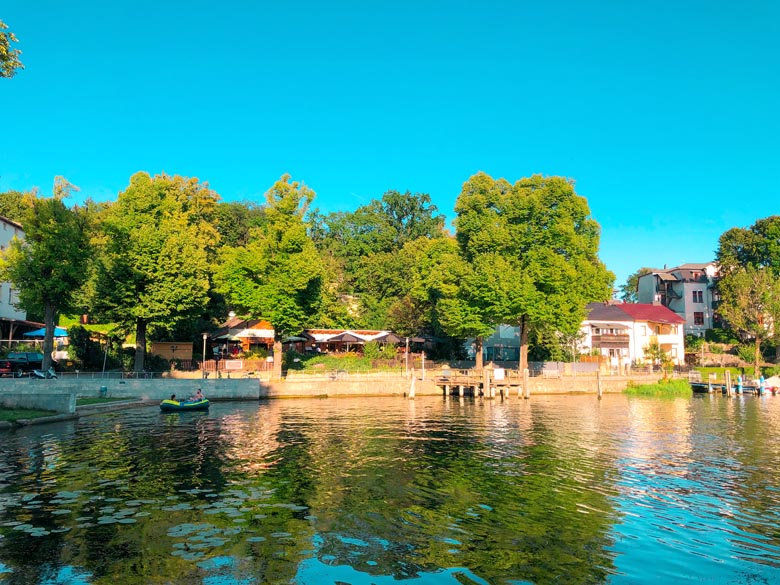 Restaurants and Beer Gardens at Flakensee
You're bound to need a bite to eat if you're spending the day at Flakensee lake. If you didn't bring your own picnic, don't worry. You can easily grab a bite at Restaurant & Café Flakenseeterrassen.
You would have walked past it if you took the Woltersdorf Tram. It's also a great place to stop for a couple of beers and enjoy the sunset before heading back to Berlin.
Day Trip From Berlin to Flakensee
We hope you'll enjoy a day trip from Berlin to Flakensee lake as much as we did! If you're looking for other outdoor things to do in Berlin, make sure you read our Berlin Outdoor Lakes and Forests guide.
Have you explored other amazing lakes in the Berlin and Brandenburg region? We'd love to hear your recommendations! Share your favourite lakes and outdoor things to do with us on Facebook.