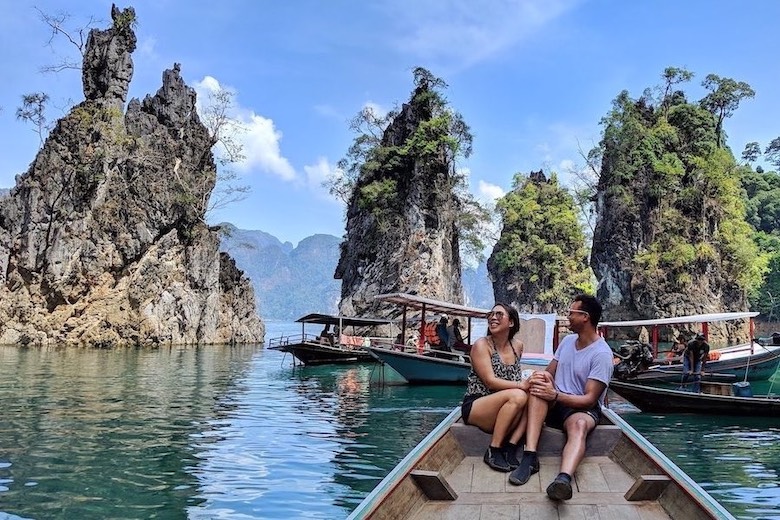 The ultimate destination for nature lovers who want to disconnect from technology and immerse themselves in one of the most unique natural surroundings in the world. You'll feel like you traveled back through time as you experience one of the most majestic places in Thailand at Khao Sok National Park.
Not so long ago, we mentioned that jungle trekking in Indonesia and coming face-to-face with orangutans in the wild was THE most unforgettable experience we've had. Now we can add another to the list: witnessing the otherworldly beauty of Khao Sok and hiking through a water cave. Read on to find out how you can experience this once-in-a-lifetime adventure for yourself.
If it's your first time travelling to Thailand, make sure you read our 7 Krabi travel tips. We may have written it specifically for Krabi, but most of the tips are applicable for travelling anywhere in Thailand.
We share useful tips like how much to budget daily, whether it is card friendly and even how to rent a scooter in Thailand.
Why Khao Sok National Park
Khao Sok National Park is one of Thailand's most beautiful national parks and a magical hidden gem destination. The locals often compare its landscapes to Guilin in China and Halong Bay in Vietnam, but for those like us who love our fantasy movies, it is better known for its Jurassic Park/Avatar-like scenery.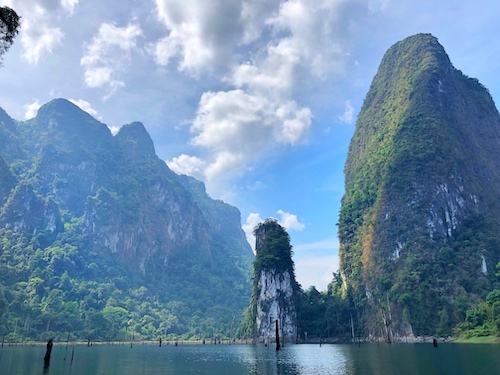 And the cherry on top? A fraction of the tourists compared to Guilin and Halong Bay. And you don't need a tourist visa to visit Thailand for most nationalities.
That means no more photos with tourists holding giant iPads in your photo's background, and no queuing for tourists visas at the airport.
Now that's what we call a win-win situation.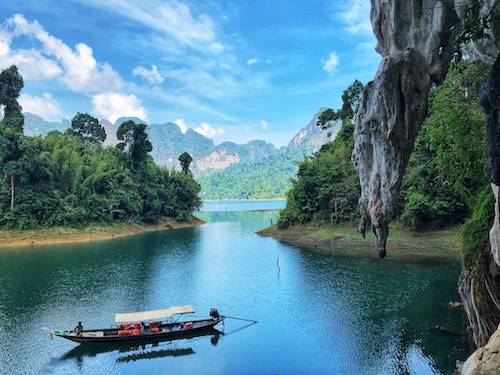 Top Things To Do in Khao Sok National Park
There are plenty of outdoor activities to do and explore in Khao Sok. From jungle trekking (guided and non-guided), visiting elephant sanctuaries to relaxing in natural hot springs and tubing down the river.
However the top, 'not-to-be-missed' attraction is the Khao Sok Lake Tour. Why? Because this is where you will be transported to Jurassic Park (without the dinosaurs), and for the more adventurous types, experience hiking through a water cave!
This was definitely the highlight of our trip and an experience we would do again!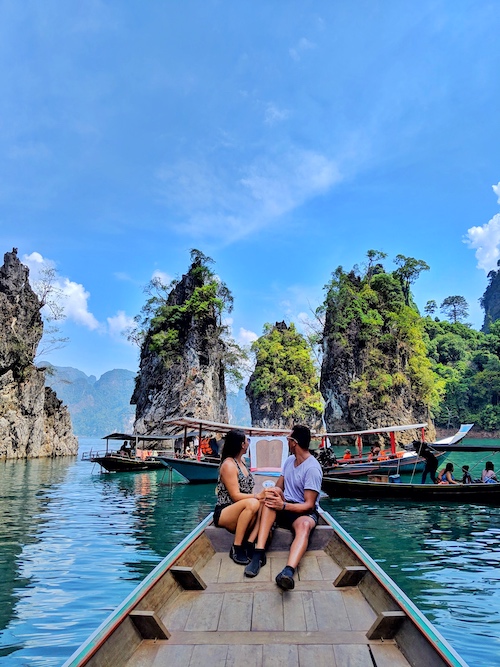 How to Get to Khao Sok National Park
There are 3 ways to get to Khao Sok National Park. The easiest, but most expensive way is by private taxi transfer. This costs around €80 in total (max 4 people) and includes pick-up and drop-off from your hotel in Phuket to Khao Sok.
The second option is to share a bus transfer from Phuket town to Khao Sok. This option costs €24 per person in a comfortable, air-conditioned van.
The last option to get to Khao Sok is by public transport. It's the cheapest but also most adventurous option (mostly because of the language barrier). This costs a fraction of the price at around 220 Thai Baht per person or €6.50.
Make sure you read our Thailand Transportation guide if it's your first time. Otherwise, here's how you get from Phuket to Khao Sok via public transport.
Getting from Phuket to Khao Sok by Public Bus
Head to the central bus station in Phuket town (refer to map)
Go to the ticket desk and purchase a bus ticket from Phuket to Khao Sok
Buses leave every hour from 7AM to 3PM so make sure you arrive at least 40 minutes before the hour to purchase your ticket (tickets can't be purchased online and space is given on a first-come-first serve basis)
Depending on the bus, you may need to change buses at Takua Pa (just ask the desk to double check)
The entire trip should take 4 hours and you will arrive at the main bus station at Khao Sok town and VOILA!
Getting from Phuket or Khao Lak to Khao Sok
Want to head straight from the beach to the rain forests but it's too much of a mission? Don't worry, there is an easy way to get to Khao Sok from Khao Lak and Phuket!
It will take a few hours hours to get there, but we promise it is worth it. Book a day trip from Phuket to Khao Sok or a transfer from Khao Lak to Khao Sok online and save yourself time and hassle later.
Khao Sok National Park Tours: Overnight Tour vs Day Tour
The absolute must-do Khao Sok National Park tour, is the Cheow Lan Lake Tour. You can just do the day tour or stay overnight on a floating bungalow for 1 or 2 nights.
We highly recommend staying over for at least one night to make the most out of this unique experience. That way, your tours won't be as rushed, you have a higher chance at spotting wildlife and you can enjoy kayaking or swimming in the lake with many toothless fish.
We actually opted to stay over for an extra night (2 nights, 3 days) so we could have an entire day to ourselves, kayaking from island to island, swimming in the lake and have time to appreciate the lake and its beautiful surroundings.
If you're short on time, then a day tour is better than nothing. If you're arriving by bus from Phuket, stay the night in Khao Sok village and book your day tour for the following day. Find out how much it costs and what it includes below.
Cost of Khao Sok Lake Day Tour
1500 Thai Baht (€42) per person and 750 Thai Baht (€21) for children under 120cm tall.
What Does the Day Tour Include
Jungle trekking through Tham Nam Ta Lu (Water Cave) or coral cave (depends on the season and water level) with an expert guide
Round trip transfer (from hotel in Khao Sok)
Thai set lunch
Drinking water
Local Travel guide (English speaking)
Long tail boat
Excluded items:
Khao Sok National Park fee (300 Thai Baht per person)
Other drinks (i.e. soda, beer, happy buckets, etc.)
Save Me For Later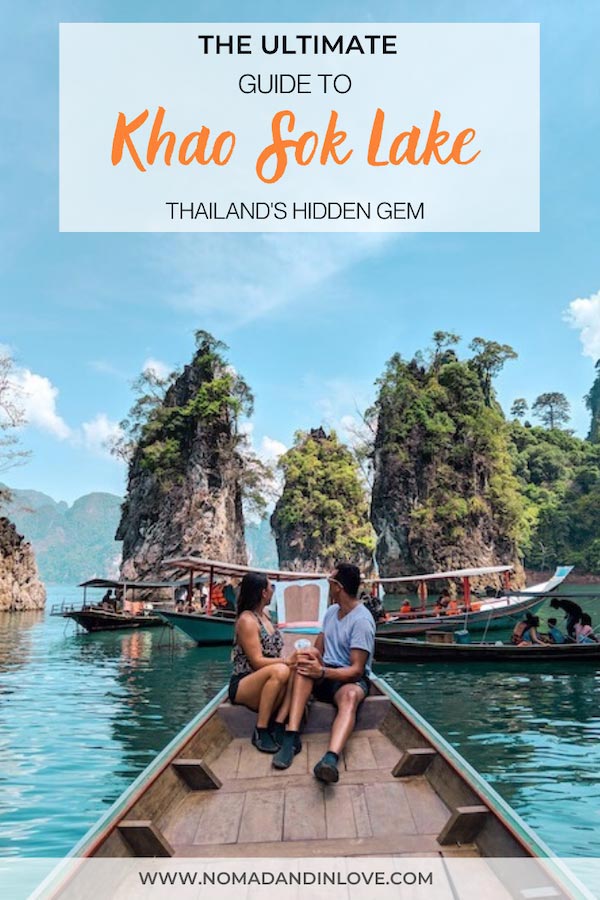 Price of Khao Sok Lake Overnight Tour
2500 Thai Baht (€70) per person and 1250 Thai Baht (€35) for children under 120cm tall – this is for 1 night and 2 days and includes the floating bungalows accommodation and all meals.
The kayaks and tubes are free to use. Sounds like a great deal but don't be fooled by these innocent boats. They can end friendships and relationships.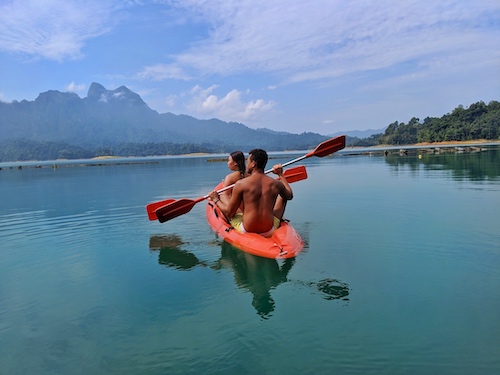 If you want to extend your stay by an extra night like we did, it costs an extra 1500 Thai Baht per person and includes all meals for the extra day.
What Does the Overnight Tour Include
Jungle trekking through Tham Nam Ta Lu (Water Cave) or coral cave (depends on the season and water level) with an expert guide
Morning jungle safari tour by long tail boat
Visit Pra Kay Petch Cave (dry cave)
Round trip transfer (from hotel in Khao Sok)
Drinking water
All meals
1 night's accommodation on raft house (2 person/room)
Local Travel guide (English speaking)
Long tail boat
Free use of kayaks and tubes
A towel each
Excluded items:
Khao Sok National Park fee (300 Thai Baht per person)
Other drinks (i.e. soda, beer, happy buckets, etc.)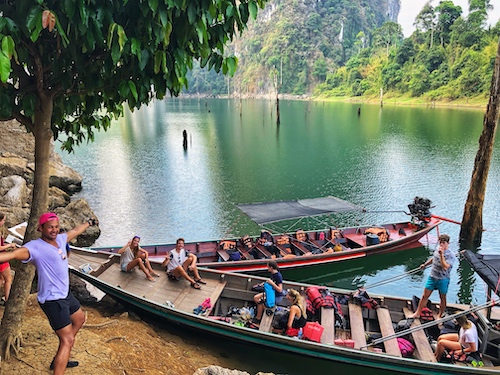 Khao Sok Floating Bungalows
The price for the Khao Sok Lake tours are standardized, whether you book from a tour operator or from your hotel. But there may be differences in the type of hotel you get and whether or not the tour operator provides water shoes, head lamps and water bags so you don't need to buy them yourself.
Make sure to ask which hotel it is, especially if you want your own bathroom. The bamboo bungalows look very pretty and romantic, but none of them have their own bathrooms, so you'll need a torch to get to the loo at night.
If you don't want to hike to the bathroom (ok, maybe 'hike is over exaggerating) then make sure your tour operator books you to stay at Smiley Bungalows. The accommodation is also very basic, but each bungalow has its own bathroom attached to each unit.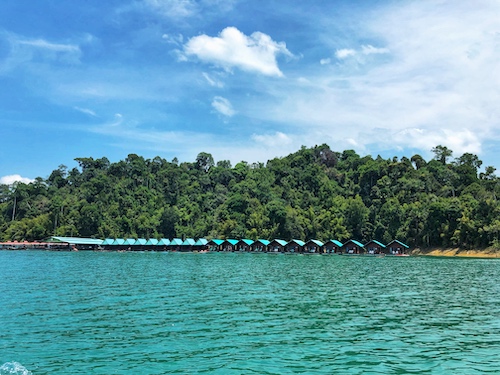 If it's a special occasion and you don't mind paying more, there are also some luxurious options available: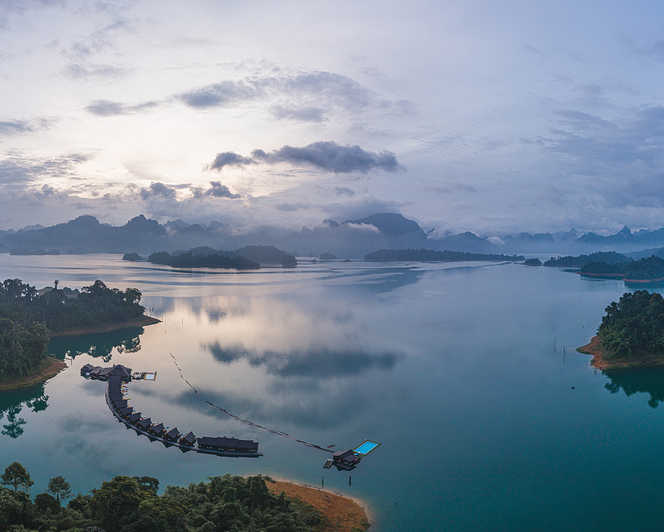 Before making those hotel bookings, read our Travel For Cheap Guide to find out how we save up to 53% booking flights, hotels and car rental.
Khao Sok Floating Bungalows Review
This part is more for managing expectations rather than a review. The floating bungalow on the lake is very basic. You're on a lake after all, surrounded by one of the most ancient rainforests in the world. At least you don't need to set up your own camp and dig a hole to handle your business right?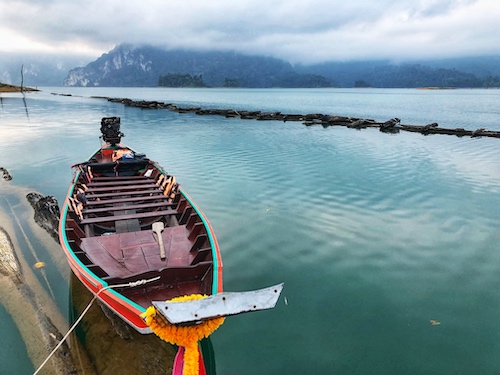 At Smiley Bungalows, each unit can sleep up to 3-4 people but the minimum is 2 in each unit. So you may be paired with someone if you're travelling solo.There is no A/C, but there is a fan in the room. The shower is cold to lukewarm at best.
We found the accommodation to be more than sufficient. The only thing that can be improved is cleanliness. The bed sheets and pillow cases are not changed on a daily basis even though new people arrive every day (we're only slightly OCD…).
If you're addicted to the internet, you going to have to detox here as there is no cellphone signal or wi-fi. As internet addicts ourselves, we can tell you that it wasn't so bad and was actually quite liberating. To conserve electricity, the rooms only have electricity between 6PM and 6AM, but you can charge your phones and cameras at the dining/bar area anytime of the day.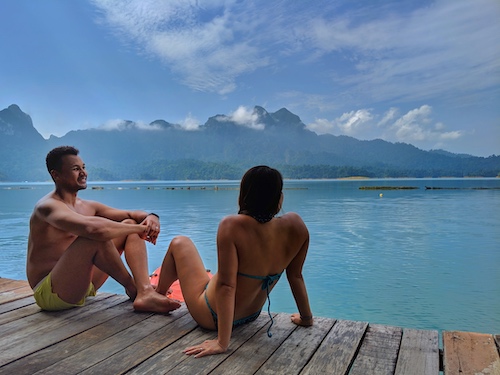 What to Pack for the Khao Sok National Park Tour
Water shoes/comfortable walking shoes that you don't mind getting wet and muddy
Headlamps (if your tour operator doesn't provide them)
Costume/bikini/speedo (whatever you fancy)
A set of dry clothes for the second day
Sun block
Mosquito spray
Leech spray (only necessary when you go during monsoon season)
Toiletries (shampoo, soap)
Extra toilet paper
Dry bag (25 litre is the most versatile size)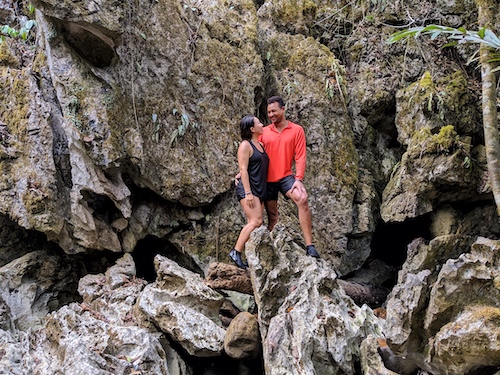 We would recommend you pack everything into your dry bag and leave the rest of your luggage at your accommodation's reception or storage area. Some tour operators will even store your luggage for you. It is important that you only take what you need.
We recommend getting the Ocean Pack 25 litre dry bag, as it is the most versatile. If you love adventure, particularly ones that involve water, this bag will come very handy for all your future trips.
In Khao Sok town, they cost around 400 Thai Baht (€11) but you can also buy it on Amazon. There are cheaper dry bags, but the quality is not great and won't last as long as Ocean Pack. We've had ours for 9 years and it's still in perfect condition.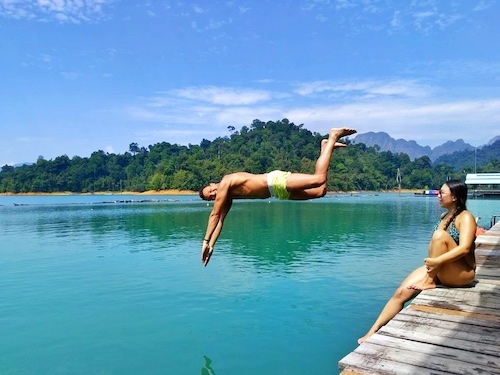 What Shoes to Wear For Khao Sok Lake Tour
If you don't want to ruin your trainers, you can rent rubber shoes for the jungle trek for 50 Thai Baht (€1.40) at Smiley Bungalows. They will give you more grip than trainers, so we would recommend you rent these rather than wear your trainers.
We wore our usual Mares Dive Booties for the entire hike. They are meant for diving, but we use them for all our water sport activities and even hike with them when the terrain is muddy and slippery. We absolutely love that they are super lightweight, versatile and very resilient. We've have had ours for over 6 years and besides a small hole in the front, they work perfectly and are easy to clean.
Don't Forget Travel Insurance
Travel insurance will protect you against injury, illness, theft and even trip cancellation. It's comprehensive cover in case anything goes wrong. We never go on a trip without it as we've had to use it many times in the past. Here are our favourite companies that offer the best value and service:
Khao Sok National Park Itinerary
Hiking through Water Cave
This was no doubt the highlight of the trip and one that shouldn't be missed. Your tour operator will take you for a short, long tail boat ride to the start of the hiking trail through the rainforest, to get to the entrance of the cave. It's a short 3km walk to the entrance of the cave, which was not difficult at all and mostly flat.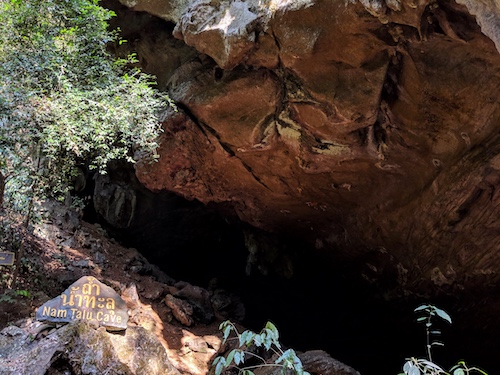 When you get to the cave, that's when the real adventure and fun begins. It was our first experience hiking through a pitch black cave, with only our headlamps to guide us, amongst bats, frogs, spiders and who knows what else (eeek!).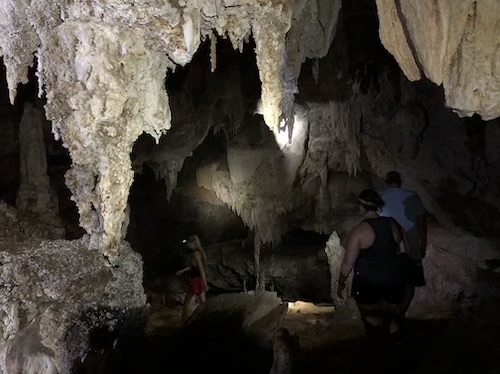 And to add to the adventure, the water in some parts of the cave are over 2 meters deep, which means we had to muster all the doggy paddling skills we had to manoeuvre ourselves through some very narrow sections of the cave.
It was one of the most exhilarating experiences we've had to date and we would do it again in a heartbeat!
Morning Jungle Safari Tour in Khao Sok National Park
Early morning wake up at 5:30AM to start your morning safari around the lake. If you're lucky and the sky is clear, you'll get to see the most magnificent sunrise, peeking out between the majestic limestone cliffs.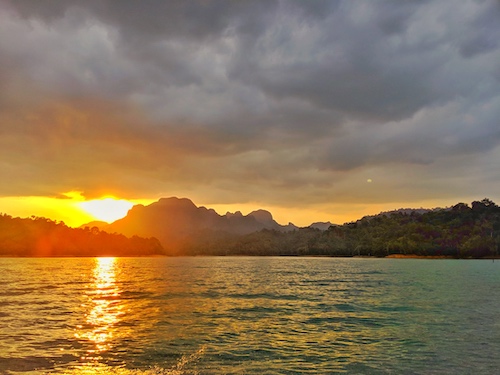 Thereafter, it's a 90 minute lake safari tour with the chance of spotting some wildlife. We saw monkeys, a large monitor lizard, a variety of birds and a family of river otters. If you're lucky, you'll see gibbons, elephants and cobras that often hang in the tree branches.
Pra Kay Petch Cave Hike in Khao Sok
A small cave you will visit on your way back to the Ratchaprapha Marina. This cave is dry and much easier to navigate through than Water Cave, but also less exciting. The highlight of this cave is seeing coral rocks that are thousands of years old, spotting snake eggs and even a live snake! Don't worry, they'll be long gone by the time your brain figures out what you just saw.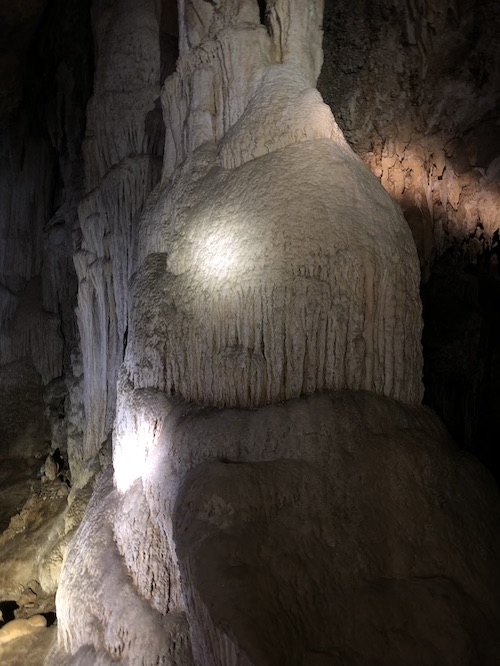 Where To Book Khao Sok National Park Tours
The price of the tour is pretty much standardised but what the type of experience you'll get will differ. Some tour operators are only able to book the bamboo hut floating bungalows, which has a communal bathroom to share amongst all the units.
Other tour operators will be able to book you into floating bungalows like Smiley's where you can have a bit more privacy with your own bathroom. With or without bathroom, both tour packages will cost exactly the same. So take your pick based on your personal preference.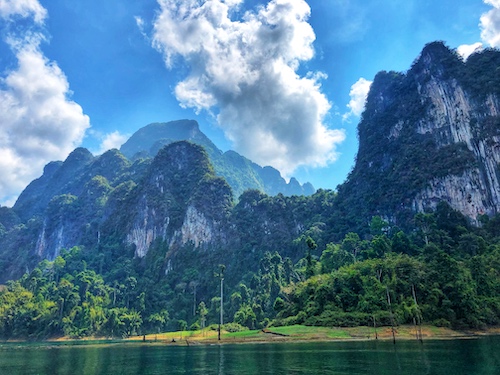 Khao Sok National Park Hotels
We booked our tour at the Montania Lifestyle Hotel (renamed from Khao Sok Royal Cliff Resort and Spa) where we stayed overnight before going on the Khao Sok Lake Tour.
The price of the tour cost exactly the same as what the tour operators were selling. The difference was that the hotel had kindly arrange to pack toiletries and extra toilet paper for us to take with, so that we didn't have to buy.
The hotel also kept our luggage safe in their storage room while we were on the Lake Tour so we didn't have to pay for accommodation we wouldn't use.
If you would like to stay at the Bamboo Huts, you can book directly with Sunny from Khao Sok Jungle Hostel. When you book with him, he includes the rubber shoes that you can use for the cave as well as a dry bag. He is also an amazing guy to speak to and ask for recommendations on the best places to visit in Thailand.
Besides being super friendly, he is also very honest and will tell you which tours you should or shouldn't go on, even if it means you don't book the tour with him.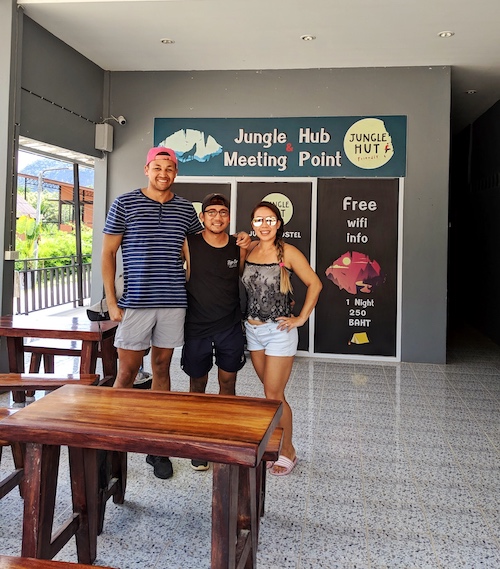 It was honestly so refreshing to meet and befriend him. Someone who wants travellers to come and enjoy every moment in his home country, rather than just trying to make a quick buck off tourists. If it weren't for him, we wouldn't have enjoyed Khao Sok as much as we did and be able to share all these travel tips with you.
How Many Days Should You Stay in Khao Sok National Park
We stayed for 4 days and were only able to visit the Monkey Temple (actual name Wat Tham Phanthurat), explore Khao Sok town and do the 2 night, 3 day Khao Sok Lake Tour. If you want to jungle trek in Khao Sok National Park or visit an elephant sanctuary, then you'll need an extra day or two.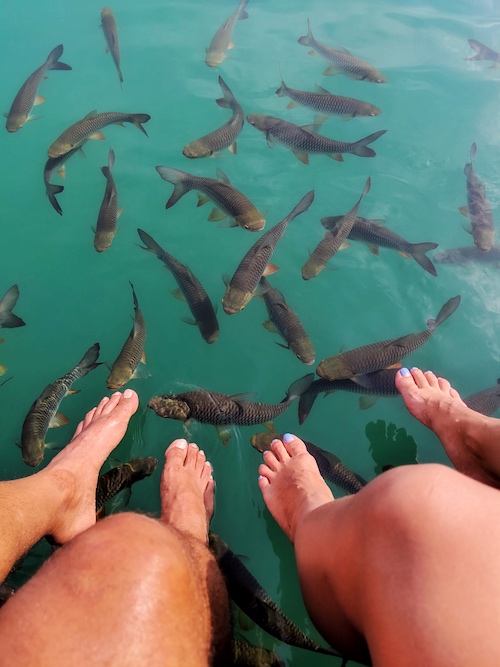 We stayed at the Montania Lifestyle Hotel, which we enjoyed thoroughly. It's a great option for couples or families as they have a big garden and a lovely pool too.
If you're travelling alone or looking for a more budget friendly option, check out Khao Sok Jungle Hostel. It's very affordable and you get great value for money.
Is there Malaria in Khao Sok National Park
No, but there are mosquitoes, so make sure you get some bug spray. But don't worry, you'll get a good night's rest at the floating bungalows as there are no mosquitoes there.
Is Khao Sok A Family Vacation Destination?
All the activities on the lake tour are kid friendly except for the water cave. There are several points in the water cave where it is more than a meter deep and the deepest section is around 2 meters deep, so children (and adults) need to be strong swimmers.
Best Time of Year to Visit Khao Sok National Park
The best time of the year to visit Khao Sok is outside the rainy season, between November and April. But with that being said, it may rain even in the dry season since the province receives some of the highest rainfall in Thailand.
You'll need some luck with the weather because some of the activities are weather dependent, like hiking through the water cave.
If it looks like it will rain or is raining, then that leg of the trip will either have to be cancelled or postponed. No one wants a repeat of the Thai soccer team cave rescue mission (unless you want to sign a deal with Netflix).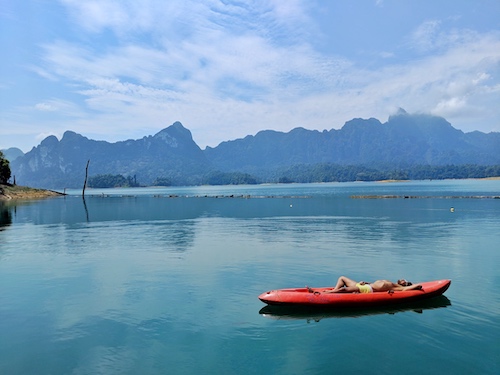 Best Places To Visit In Thailand
We loved every moment in Khao Sok, from its friendly people to its unique, mystical natural scenery. If you're on an extended trip in Thailand, why not explore more of its beautiful landscapes and other hidden gems? We have a complete guide on how to get around Thailand using its extensive public transport system. This is how we got to some of the most beautiful beaches in Thailand on the island of Koh Phangan.
If you like a bit more adventure and want to experience some of the most exciting hiking adventures in Thailand, then check out our 3 day itinerary in Krabi. If you're more of a water baby, why not scuba dive around the Similan and Surin Islands? It is voted as one of the top 10 scuba diving sites in the world.
Make sure to read our first scuba dive liveaboard experience in Thailand before chartering on your own adventure.