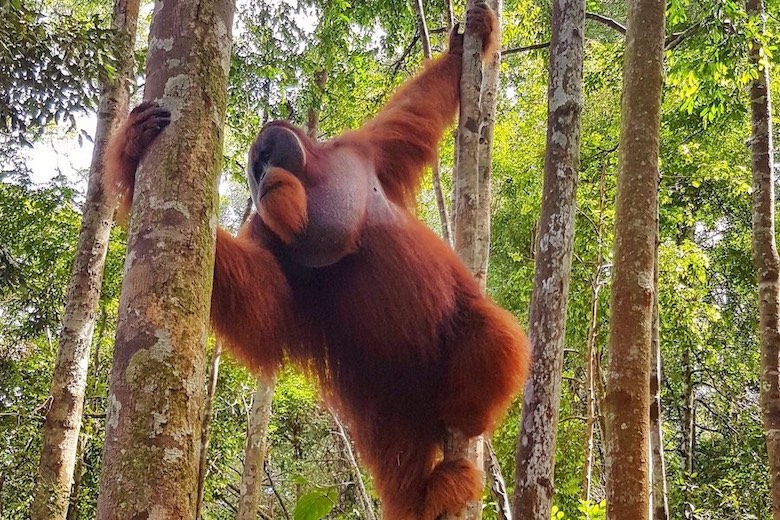 Jungle trekking in Bukit Lawang is the ultimate experience for those who love the outdoors, hiking and most importantly, animal lovers who want to help keep these beautiful creatures safe, yet free and wild in their natural habitat.
We often get asked what our most unforgettable adventure has been, and this experience tops our list! Jungle trekking in Bukit Lawang and coming face-to-face with orangutans in their wild habitat is an experience we will never forget.
It's an absolute bucket list travel experience that everyone should do at least once in their lifetime.
Find out everything you need to know before travelling to Bukit Lawang.
We'll cover everything from costs and budgeting, what to wear, hiking difficulty level, whether it is family-friendly and whether it is a truly ethical and sustainable travel experience.
If you're not a reader, check out our short, cinematic trekking in Bukit Lawang video!
Where is the Gunung Leuser National Park
The Gunung Leuser National Park is located in northern Sumatra on the west side of Indonesia. The park is a UNESCO World Heritage site and it is one of two places in the world where you can see wild orangutans in their natural habitat.
The other place you can see orangutans in the wild is in Borneo, Malaysia.
This national park is one of the last remaining sanctuaries for the critically endangered orangutan species. Besides wild orangutans, you will also find rehabilitated orangutans that have been rescued from the illegal pet trade, living in these rainforests.
Is there malaria in Bukit Lawang?
No, there isn't. We bought malaria tablets with just in case. Only to realise that there is no malaria in Bukit Lawang. Of course, this doesn't mean there aren't mosquitoes, so bring mosquito repellant especially if you're like me, and mosquitoes love to feast on you.
Where to book orangutan jungle trekking tour in Bukit Lawang
We booked the tour with our accommodation, Hotel Orangutan, where we stayed at for the 4 days. We could have probably bargained for lower prices with other vendors, but we decided to go with our hotel because of their mission and values.
Hotel Orangutan is an eco-friendly hotel that aims to raise awareness while protecting its environment, wildlife and local community. We whole-heartedly support their cause and also wanted to make sure we were going with guides that had the same respect for the environment.
Bukit Lawang Budget and Cost Guidelines
Accommodation and Hotels in Bukit Lawang
Accommodation is really affordable in Bukit Lawang. The cheapest we found was for less than €3/night. We decided to go a little more luxury as it was our honeymoon. Here are other affordable accommodation options in Bukit Lawang.
Save Me For Later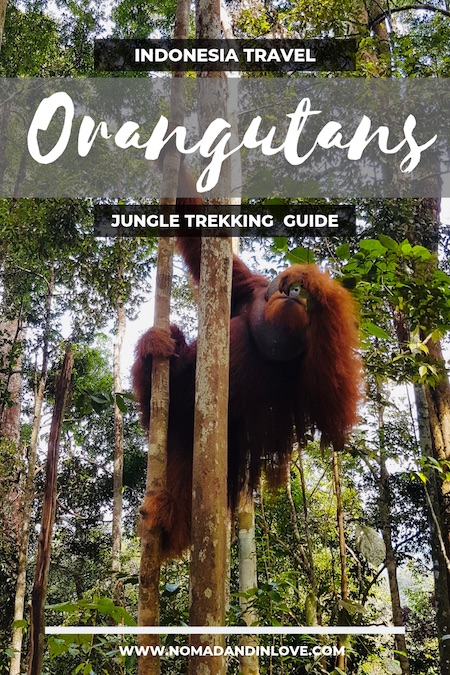 How much does jungle trekking in Bukit Lawang cost?
The jungle trekking prices vary on the number of individuals and how many days you plan to trek. For the two of us, it was €100 per person for the 2 day trek. To reduce the price per person to €90, you need to go as a group of 5-6 individuals. Check the full orangutan trekking price list here.
Although €100 per person seems steep, this price is inclusive of everything. We had 2 local guides just to ourselves and a third individual (the cook and tube 'driver') who went ahead to set up and prepare our meals at base camp.
That means that 3 individuals personally took care of us for 2 full days. The only thing we had to bring was water to drink during the hike, mosquito repellant, swim wear, flip flops and dry clothes.
What is included in the jungle trekking price?
All your meals are included and there is more than enough to eat. On the first day, it included a mid-morning snack which consisted of a delicious array of fresh fruit. There were mandarins, watermelons, granadillas and mangosteens, which we tasted for the first time.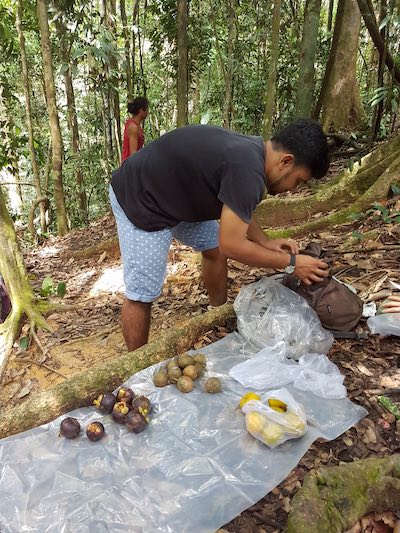 Lunch was a once in a lifetime experience. We had lunch with orangutans! Well, we had to actually eat our lunch with our backs facing the orangutans, so we don't tempt them with our food.
This is really important as the only time an orangutan will come in close contact with humans is for food. For the safety of both yourselves and the orangutans, please do not tempt them with food.
There are pictures and videos online where you see orangutans holding onto people's arm. This is caused by people purposely tempting them with food. Don't do it and always keep all food you have concealed in your backpacks when you're not eating.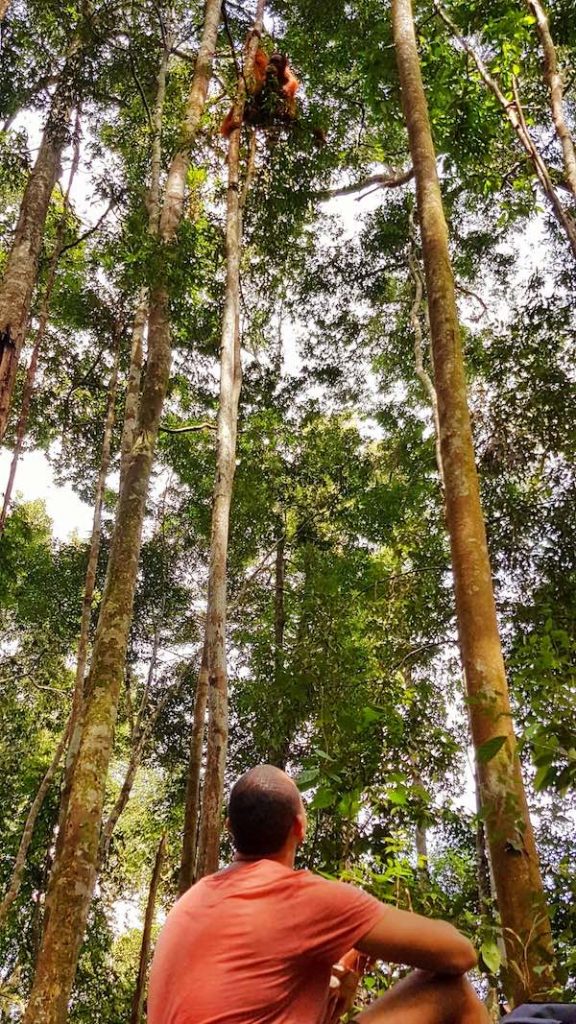 For lunch, we had the most amazing nasi goreng (Indonesian egg fried rice with vegetables) with fried chicken. The meal was absolutely delicious and it was all ecologically wrapped in banana leaves. There is a vegetarian option as well but you should let them know beforehand when you book the trip.
We hiked for another 2 hours after lunch before arriving at base camp. Everything was set up for us and all we had to do was go relax by the Bohorok river. Our mid-afternoon snack included cookies and coffee/tea.
Your swim doubles as a shower/bath (you're in the wild remember?) so it was both recreational and practical.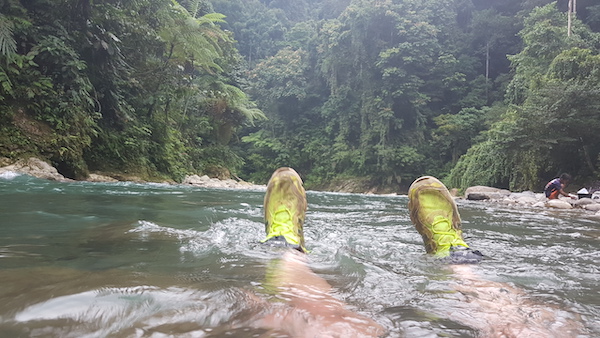 Dinner is served a few hours later and it was lovely sharing the meal with our guides and getting to know them better. The meal was warm, freshly prepared and consisted of a variety of local Indonesian dishes.
How was the accommodation on the Sumatran Jungle Trekking tour?
A basic covered shelter is provided. Inside you can sleep up to four individuals and there is a thin mattress on a raised cement platform that you sleep on.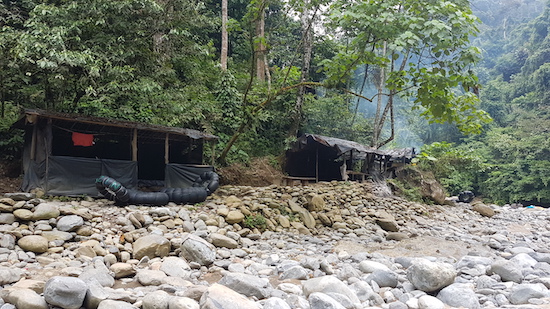 As it was only the two of us, we had the entire enclosure to ourselves. The bed was obviously not as comfortable as our own bed, but we would consider this quite luxurious for camping terms. Hanging mosquito nets are also provided (YAY for not becoming mosquito buffet).
When we spoke to other travellers who were on cheaper packages with other vendors. It seemed they were really camping in tents and sleeping on the floor. They also didn't have toilets and had to do their business in the bush. We had basic lavatory facilities being a long drop with a bucket of water on the side for flushing.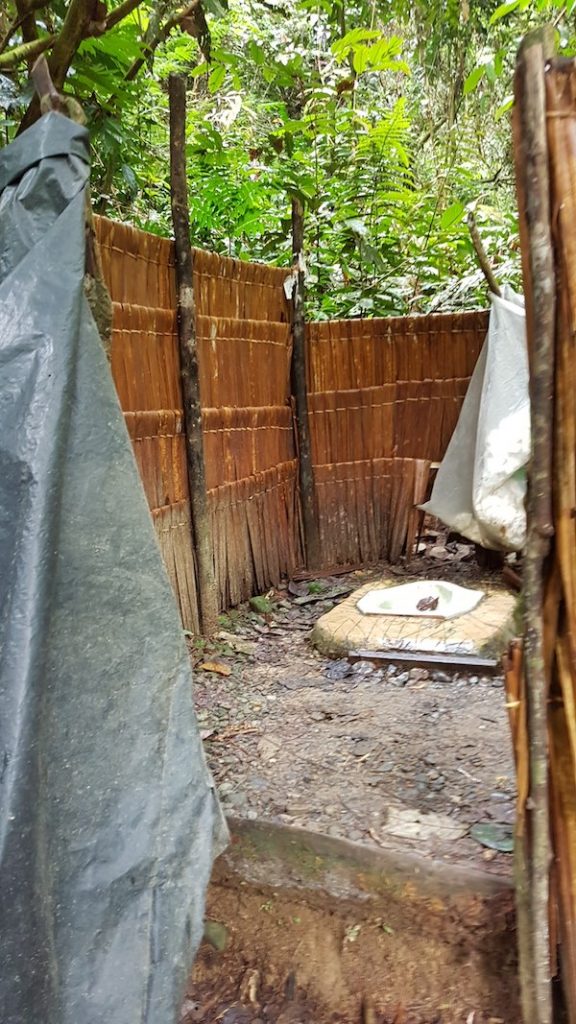 What other wildlife do you see besides orangutans?
Although the main attraction is seeing orangutans on the jungle trek, there are other wildlife that inhabit the rainforest. On our trek, we saw adorable black gibbons, huge monitor lizards, lemon ants and a variety of birds.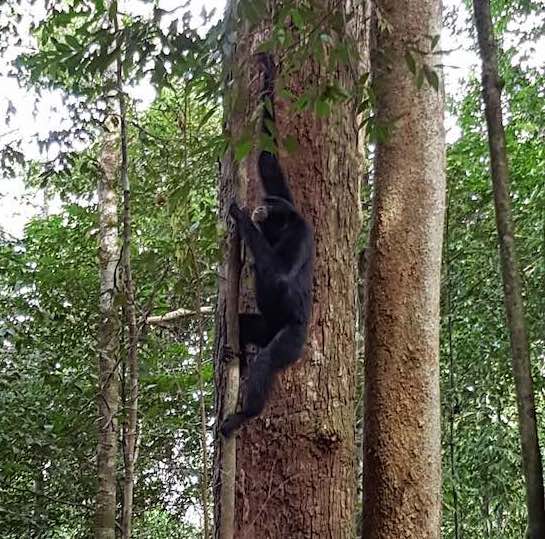 If you're lucky and hike further into the forest, you may even see Asian rhinos, elephants or tigers. The guides mentioned that you usually have to trek more than 2 days to see the bigger mammals as they live deeper in the jungle.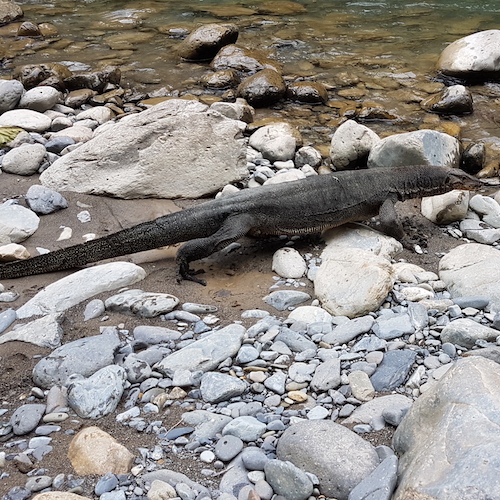 Besides wildlife, another key feature is seeing the biggest flower in the world, the Rafflesia. We were unfortunately not in the right season to see it so if you want to see this, make sure to come when it's in season (March/April).
What should you wear for the jungle trekking tour in Bukit Lawang?
You will be hiking for 4-5 hours depending on the weather and your speed, so it is important that you are dressed appropriately when jungle trekking in Bukit Lawang.
It can get quite hot and humid in the rainforest and therefore it is most practical to wear light, comfortable and breathable clothing. Michael wore shorts (mosquitoes only bite me…) but I wore long gym pants to reduce insect bites and scratches. If you wear gym clothes, you're good to go.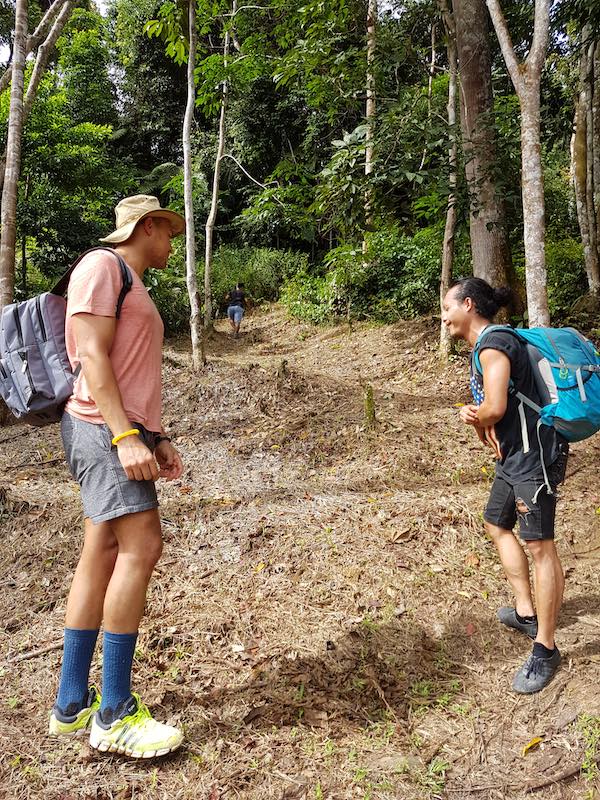 For footwear, we wore our normal trainers, but you should wear hiking shoes if you have. Otherwise, the best alternative is to buy these cheap rubber shoes from the local market in Bukit Lawang (what the guide is wearing in the photo).
We would have bought these shoes if we had known prior to the hike as they are less slippery when trekking through muddy terrain. Another benefit is that they are really easy to clean with water. Our trainers were filthy after the trek and it was a mission to clean after.
How difficult was the jungle trekking tour in Bukit Lawang?
The difficulty level depends on the terrain and the weather, but the guides will usually adapt to your fitness level. As long as you are able to walk at a leisurely pace for a few hours, you should be fine. We saw some elderly individuals as well as children on the hike so it isn't too strenuous if you have the correct footwear.
How many days should you jungle trek for?
Hotel Orangutan provides guided jungle trekking for up to 7 days, but we've heard that you can go for longer than that if you wish. You just need to arrange it with the tour operator. If you hike for longer and deeper in the forest, you will increase your chances of seeing the bigger mammals such as the Asian rhinos, elephants and tigers.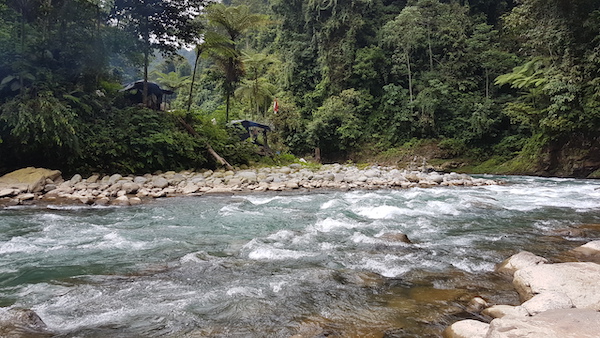 Is it absolutely necessary to have guides for the jungle trek in Bukit Lawang? Can you trek alone?
The simple answer is no. It is absolutely essential that you have guides unless you know the jungle like the back of your hands. There are no painted footprints or flags in the forest so you will need professionals to guide you. Besides not finding your way, you may also struggle tracking down the orangutans.
Orangutans make new nests, sometimes several times a day so unless you're an expert orangutan tracker, you won't see any orangutans without a guide.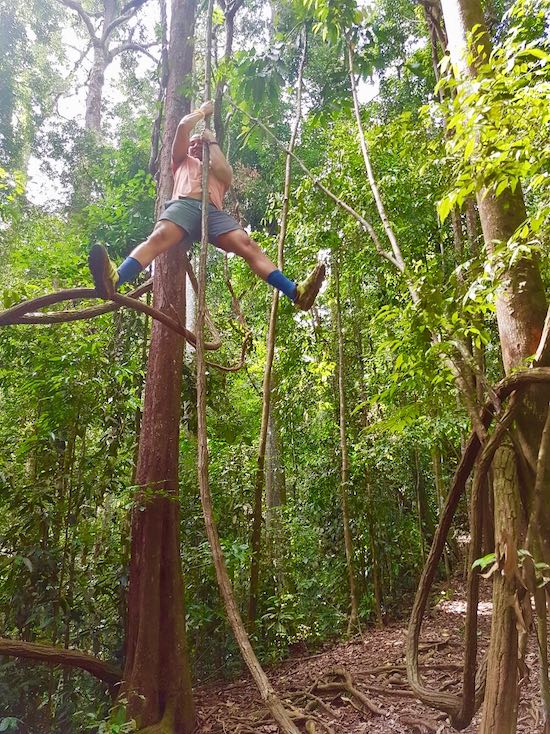 We always try our best to save money where we can, but trust us when we say that having a guide is imperative. We'd even go as far as to say that the guides made our experience.
We were privileged enough to have Iruel and Balu guiding us. They both spoke fairly good English and were extremely knowledgeable about the forest. Besides showing us orangutans, they were knowledgeable about plants and fauna, and were great company to be around.
Madi (the best cook on the planet) worked hard behind the scenes trekking ahead of us so he could get to camp to prepare all our delicious meals. If you plan to lose weight on this trek, you probably won't with all the amazing food you're going to eat! His food is absolutely heavenly!
What other activities are there besides trekking?
On the last day of our jungle trekking expedition, our guides took us to a small waterfall to relax and get our faces painted. Face painting is optional but being the adventurers that we are, of course we wanted our faces painted!
The 'paint' used comes from grinding the different coloured clay stones on rock, creating a paste that is then used as paint on your face.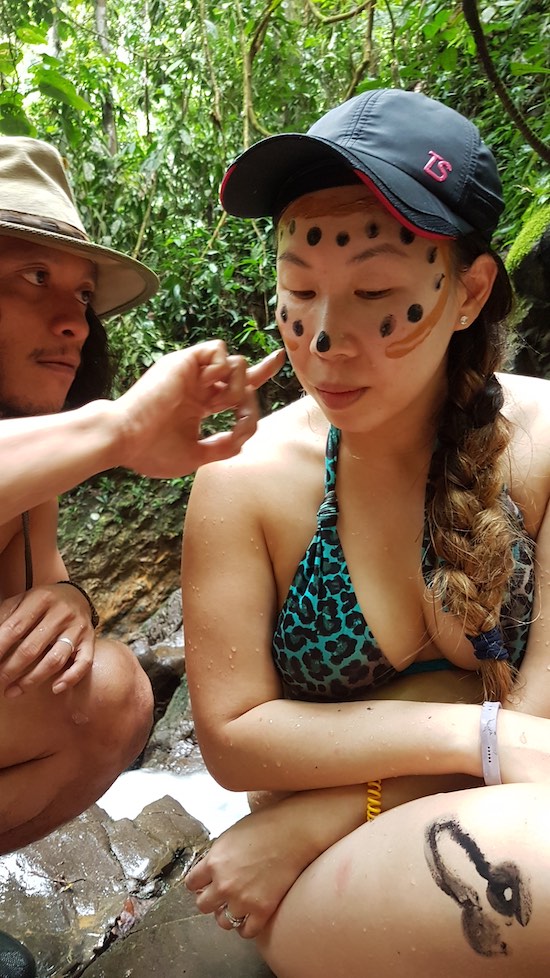 It is completely organic, natural and good for your skin. We both have sensitive skin and we did not experience any negative reaction from the clay.
Ecotravel Day Tour from Bukit Lawang
Another popular activity to do when you're in Bukit Lawang is washing elephants at the Tangkahan Elephant Sanctuary. We have mixed reviews on this one. You can read more on why we feel it wasn't a 100% eco-friendly experience.
To find an ethical elephant sanctuary to visit in South East Asia (or anywhere in the world), make sure the read our comprehensive guide on 7 ways to tell whether it is an ethical elephant sanctuary before your visit.
Is tubing safe in Bukit Lawang?
Tubing back to Bukit Lawang was SOOOOO much fun and absolutely safe if you're with experienced guides. Tubing is the fastest (and most fun) mode of transport to get back to the village without hiking back.
If you are not keen, you can choose to opt out and save €10 per person. Don't worry about your things getting wet. The guides are very prepared and have waterproof bags for you to put your valuables in.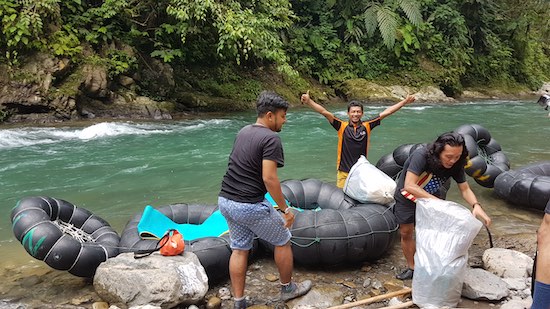 Is the jungle trekking tour in Bukit Lawang family-friendly?
We don't currently have children, but if we did, this is an experience we would take them on. It is safe and will teach them the importance of protecting wildlife and our environment.
We would recommend confirming with the tour operator of your choice whether they have an age restriction. We didn't see any in the guidelines. But in our opinion if your children are older than 14 years and have the patience and discipline to hike with you, then it is an incredible experience to take them on.
Just be mindful to not let them wander into the Bohorok River unattended. The current is quite strong and can sweep an adult away if you are not careful.
How close can you get to the orangutans in Bukit Lawang?
With a bit of luck, you can get really close to the orangutans. We were really lucky and got within 3 meters of the alpha of the jungle. Always remember to listen to your guides' instructions and do not tease and taunt the animals.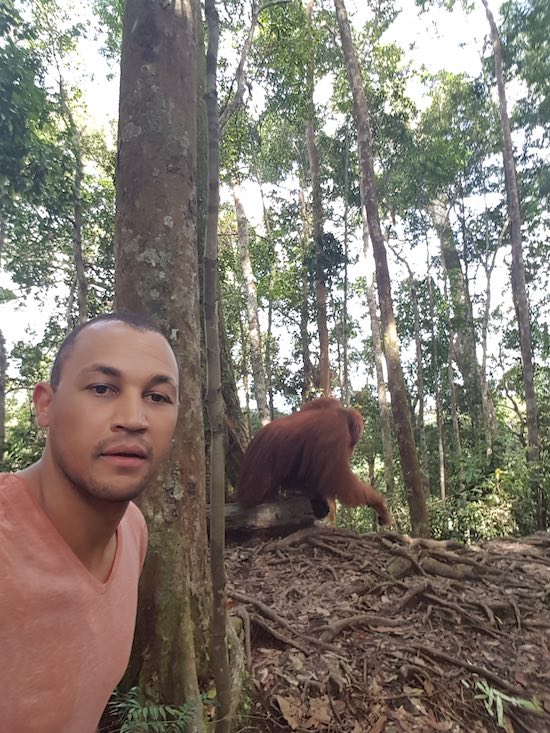 Another important issue we would like to address is please don't touch the orangutans. We've seen videos and pictures of people touching the orangutans and it breaks our hearts.
As humans, we could unintentionally pass on our germs and illnesses to the orangutans via physical contact or by giving them our food. Admire and enjoy their presence, but please do not touch them under any circumstances.
Is the jungle trekking tour truly eco-friendly?
We can only comment on the tour we went on with Hotel Orangutan. Yes, we do believe it was a truly eco-friendly tour experience. We could tell from our interaction with the guides that they genuinely love and respect the rainforest beyond its monetary benefit.
They understand the importance of being ambassadors of the jungle and it was easy to see the pride they have for the home they share with the wildlife. We particularly loved the fact that no guns or knives were taken with us for the hike. Only a bunch of bananas in the unlikely event an orangutan grabs us by the arm.
If you would like to read up more on ecotourism in Bukit Lawang and how you can help preserve and protect our beautiful wildlife, check out the Sumatran Orangutan Society.
The Best Adventure Tour in Indonesia
If you're looking for a once-in-a-lifetime, bucket list experience, jungle trekking and seeing orangutans in the wilderness of Bukit Lawang is definitely one for the books!
If you love adventurous experiences like these, you'll also love hiking through a water cave in Thailand at Khao Sok National Park. Khao Sok has some of the most unique natural surroundings we've seen. It's absolutely breathtaking and hiking (and swimming) through the water cave was an unforgettable adventure.
This is another absolute, must-do experience that you will remember forever.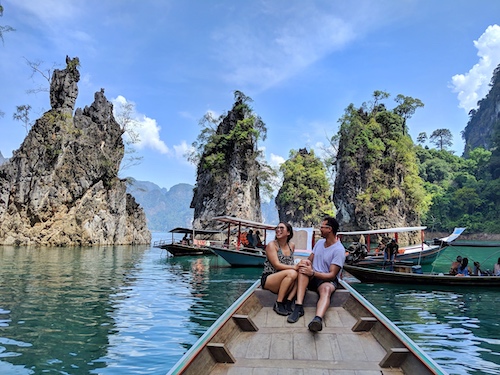 If you love hiking as much as we do, check out our other adventure travel hiking guides:
Love animals above and below the ocean's surface? Then make sure to embark on a scuba diving liveaboard experience when you're in South East Asia. We share our maiden liveaboard voyage scuba diving around the Similan and Surin Islands in Thailand and explain why it has ruined scuba diving for us forever.
Still need to get scuba diving certified? Find out how you can save money getting certified for scuba diving in our How To Get Your Scuba Diving Certification Guide.