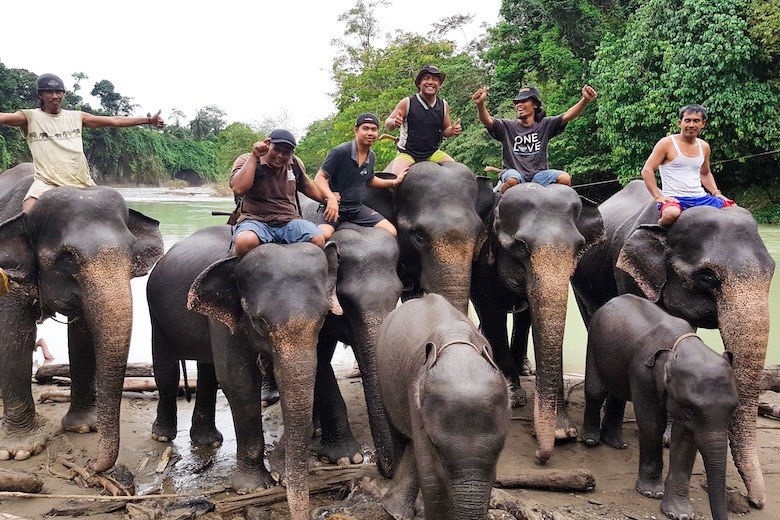 Is Tangkahan Elephant Sanctuary the safe haven it claims to be? A must-read for all animal lovers who want to travel more ethically and sustainably.
Following on our 7 ways to know you're visiting an ethical elephant sanctuary guide, we wanted to share our personal experience on the Tangkahan Elephant Sanctuary in Sumatra, Indonesia.
Just google 'Tangkahan Elephant Sanctuary' and you'll find a long list of mixed reviews on TripAdvisor. These reviews range from the most incredible elephant encounters, all the way to a stern warning to never visit the place.
As animal lovers ourselves, we felt that it was important for us to share our experience and hopefully set the record straight. Our intention here, is to educate and pay it forward. Not to shame and blame.
We hope that by guiding future travellers in the right direction, we can influence a positive change in the wildlife tourism industry.
Before we jump straight into the review itself, it's important to understand the history behind Tangkahan and how the elephant sanctuary was formed.
History of Tangkahan Elephant Sanctuary
Where is Tangkahan
Tangkahan is a remote village nestled inside the Gunung Leuser National Park, in northern Sumatra on the west side of Indonesia. The national park is declared an ecotourism area and a UNESCO World Heritage site. It is most renowned for being one of the two places in the world, where you can see wild orangutans in their natural habitat.
Tangkahan Elephant Sanctuary itself is located at the junction of two rivers, the Buluh River and the Batang River.
History of Tangkahan and How it Evolved into an Ecotourism Destination
The remote village of Tangkahan was built on the logging trade in the 1980s – 1990s. When the locals became aware of the damage that logging caused on their environment and home, they stopped illegal logging and transformed the area into an ecotourism destination.
The end of logging in 2003 was only possible with the help of local mahouts and the Sumatran elephants. Till this day, their primary roles are to patrol and protect the forests from illegal logging and animal poaching.
The introduction of elephants patrolling the jungle started attracting a flurry of tourists to Tangkahan. As a result, elephant-centered tourism developed in the area and the elephant sanctuary was formed.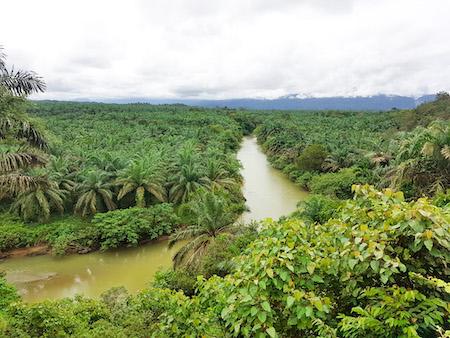 Tangkahan Elephant Sanctuary Review
Only by understanding the history of Tangkahan and the origins of the elephant sanctuary, it becomes clear that it all started based on good intentions. Good intentions may not always lead to the best outcomes, but it's a good start.
We hope that in time, as more travellers become aware about ethical elephant tourism, that this will encourage more wildlife operators to change their approach and treat animals ethically.
Save Me For Later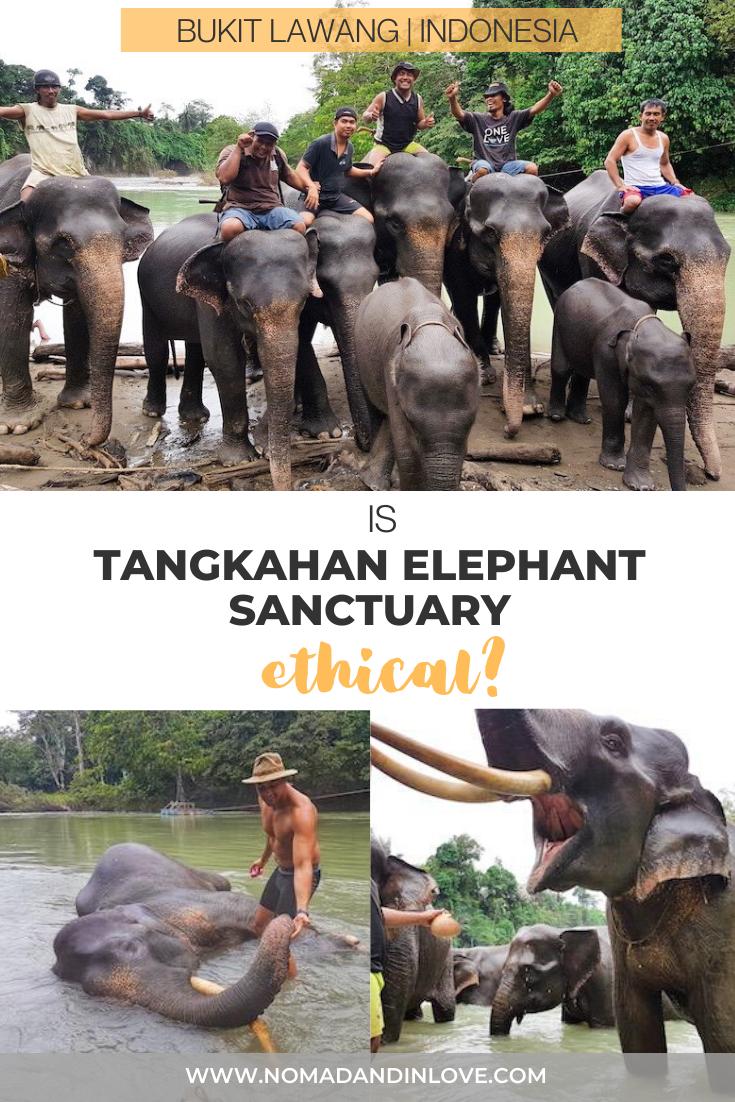 Ecotravel Day Tour from Bukit Lawang
Tangkahan Elephant Sanctuary is marketed as an ecotravel day tour from Bukit Lawang. The tour is available twice a day. The first one starts in the morning at 9am and the second session starts in the afternoon at 2pm.
In total, you spend around 90 minutes with the elephants but the tour itself can take an entire day when you include travelling from and back to Bukit Lawang.
Tangkahan may only be around 20 kilometers outside of Bukit Lawang, but it can take anywhere between 2.5 to 3 hours to get there. Yes, that's just for one-way. The drive is long and very bumpy as the "roads" are more like muddy pathways meandering between the jungle and the palm tree plantations.
On arrival, you'll be taken to a local restaurant where you can grab a bite or a drink. Thereafter, you'll be led to the riverbank where you'll wait for the elephants to approach from across the river.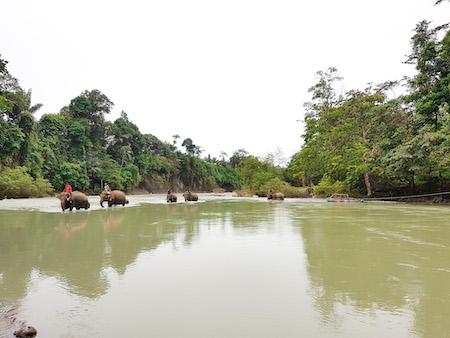 Elephant Washing and Feeding in Tangkahan, Indonesia
In total, there were 7 adult elephants along with two young calves. Each adult was accompanied by one mahout. None of the mahouts appeared to be using any sticks, chains or weapons to control the elephants. But they were riding the elephants bareback, which we learnt is also harmful to elephants.
There were 8 other travellers with us, so we were in total, a group of ten. We were all given a bag of fruit and vegetables, which contained bamboo, pumpkin and bananas. We were also given brushes for the elephant washing.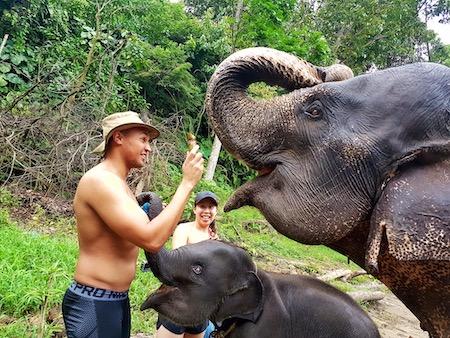 Pros of Tangkahan Elephant Sanctuary
Let's start with what we liked about the experience.
All the elephants seemed to be happy and well-looked after. They didn't appear to be scared of their mahouts or humans, tranquillised, abused or under-nourished. That for us, was a big positive.
Although we only learnt after-the-fact, that bathing elephants is not ethically ideal. We do believe that being able to observe the magnificence of these majestic creatures up close, can help heighten our understanding of the fragility of our ecosystem and the importance of environmental and wildlife sustainability.
Lastly, we like that this initiative supports the local village and protects the jungle from illegal logging and animal poaching. We just hope that the elephants are treated more ethically by addressing the negatives we highlight below.
By doing this, we believe that this will create a mutually symbiotic triangle that benefits the local community, the environment and its wildlife.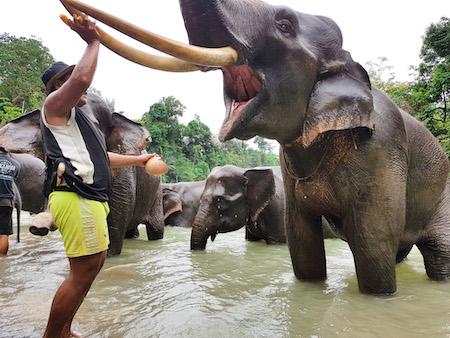 Cons of Tangkahan Elephant Sanctuary
These are the things we felt were unethical and should be changed.
Before we could interact with the elephants, they were herded to one side by their mahouts for "cleaning". What do we mean by this? Well, we hope you aren't eating while reading this.
The mahouts 'cleaned' the elephants by manually removing their faeces. It sounds horrible because it is horrible. We are not sure why this is done. But in our opinion, elephants would not naturally need 'help' to relieve themselves. So we are not sure if this is done to prevent elephants from pooping in the river and scaring tourists away.
Some say that the elephants must be on a poor diet if the mahouts have to 'help' them. We honestly don't know, but it just feels wrong and unethical.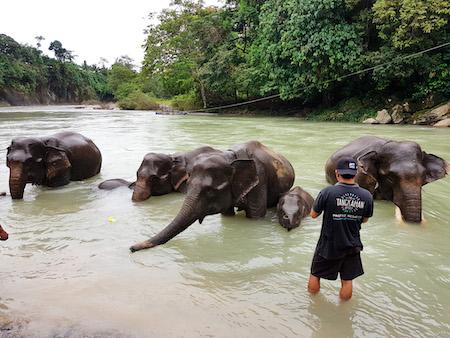 Some reviews mention that the mahouts had bull hooks. We didn't see any when we were there, which is good. But we saw the mahouts pulling on the ears of the elephants when directing them. This is also unethical and should not be done.
Lastly, towards the end of the bathing and feeding session with the elephants, we were offered to ride the elephants. We were surprised as we had explicitly supported this 'sanctuary' because it didn't include elephant riding. Or so we thought. We were quite disappointed when we were told that the price of the tour had already included it.
The operator refunded us that portion of the tour after we explained that we don't support elephant riding. But we feel it is best if this practice is eliminated completely.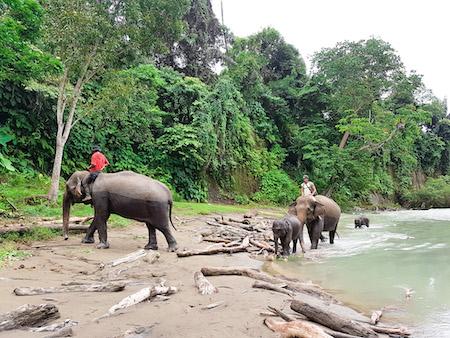 Do the Locals in Indonesia Care about Wildlife
Are The Locals Evil?
Absolutely not. We don't believe that our inherent nature as human beings is to enjoy deliberately hurting any living being. We believe it comes down to a lack of education and resources.
In many third world countries, where your primary goal every day is to get enough money to put food on the table, being an ethical and responsible human being may not be the first thing that comes to mind.
It's also not fair to blame it on the locals alone. If we as travellers did not demand and participate in these unethical activities, they would not be incentivised to create them.
This is why it is so incredibly important that as travellers, we educate ourselves and are aware of these unethical practices. That is the only way we can make a positive change. By changing ourselves and how we respond to environmental and wildlife sustainability.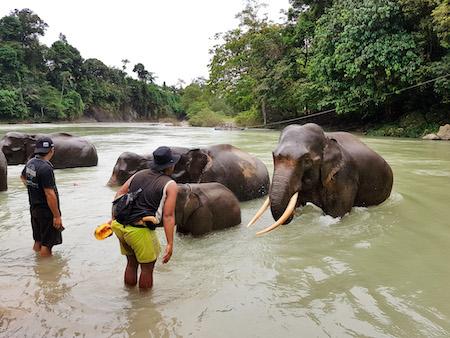 Responsible Wildlife Tourism
Tourism is a double-edged sword. On the one hand, high tourist demand is the main reason why elephants or any other wildlife is captured and often exploited to entertain travellers.
On the other, it can be used positively to help people understand and appreciate the beauty of this planet we share with the animal kingdom.
But together, we can wield it in the right direction. We hope in the future the world will be a safe place for all creatures large and small. And perhaps one day, we will no longer need sanctuaries to protect these beautiful souls.
Do you have an ethical or unethical wildlife experience you would like to share with us? We'd love to hear from you.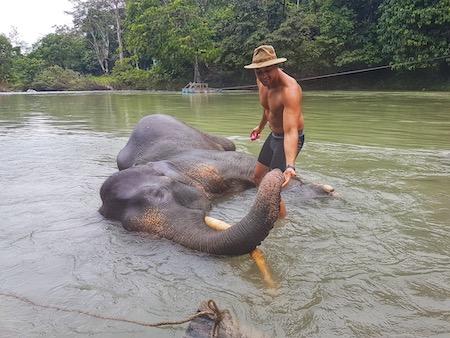 Ethical Ecotourism Destination in Indonesia
We often get asked what our most unforgettable adventure has been. Jungle trekking in Bukit Lawang and coming face-to-face with orangutans in their wild habitat is an experience we will never forget.
Not only was it incredibly memorable, it is also 100% ethical. Make sure you read our Jungle Trekking in Bukit Lawang Guide to find out why this experience tops our list.