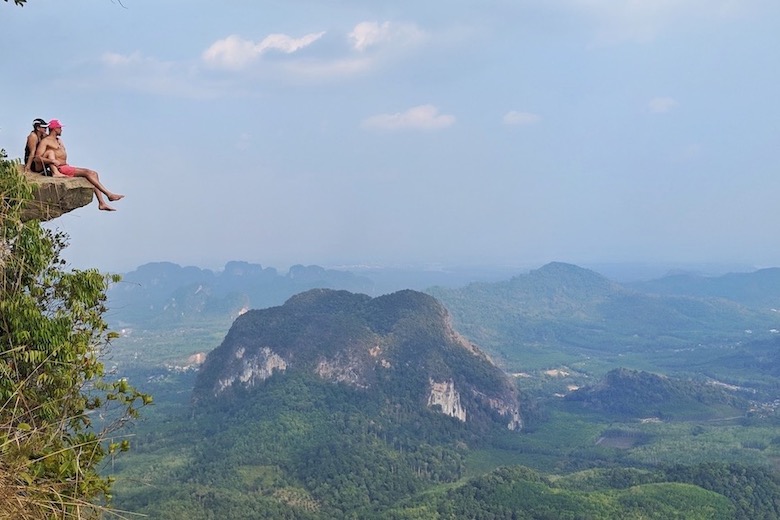 Whether you love hiking, mountain climbing, scuba diving or just island hopping and chilling on the beach, Krabi has something for everyone.
When our Thai friend, Mote recommended his home province as a must-do travel destination when visiting Thailand, we didn't hesitate and booked our next flight to Krabi. It's the perfect travel destination for those who love adventure, hiking and exploring the great outdoors.
Here is our comprehensive 3 day travel itinerary on the top things to do when in Krabi. It is the ideal itinerary for those who love the great outdoors, exploring beaches and doing a hike or two.
We cover everything from how to get to these attractions, how much to budget, what to expect and how to avoid the crowds.
Things to Know Before You Go
If you've never been to Thailand or Krabi before, then make sure to read our top travel tips for Krabi before you go. It may not be as sexy as a travel itinerary, but it answers many insightful questions like whether you should bring forex along, how to rent a scooter, daily budget guidelines, what SIM card to buy and when it is the best time to travel to Krabi.
Before booking your flights and hotels to Krabi, read our Travel For Cheap Guide to find out how you can save up to 53% on flight and hotel bookings.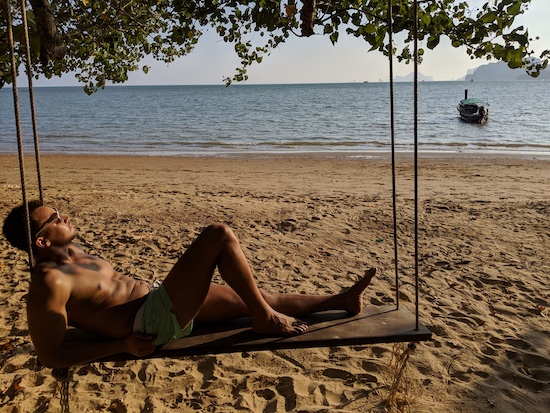 3 Days in Krabi Itinerary
What To Do in Krabi: Day 1
Railay Beach
Day 1 of this Krabi Itinerary takes us to the beach – of course! Our first stop is Railay Beach, famous for its majestic beach surrounded by Thailand's signature limestone cliffs.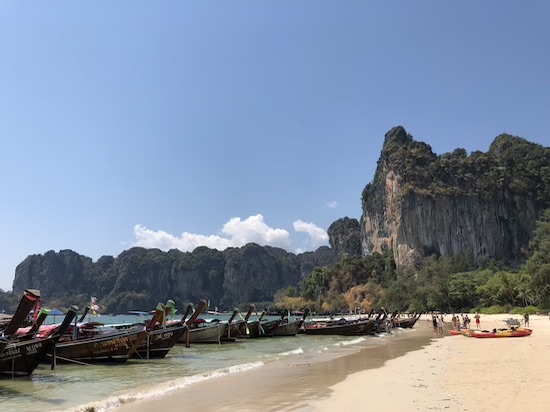 There's plenty of things to do at Railay beach besides swimming at the beach. Spend the day exploring Railay town, hiking and even rock climbing.
Railay beach is particularly famous for its rock climbing because of its many limestone cliffs. Don't know how to rock climb? Don't worry! Take this 4 hour rock climbing class and learn how to scale the limestone cliffs of Railay Beach.
But before heading there. We'd suggest grabbing coffee and breakfast from Owl Coffee (or Doi Chaang Coffee on google maps). Their coffees are delicious and much better priced than The Coffee Club (which is also nice but expensive).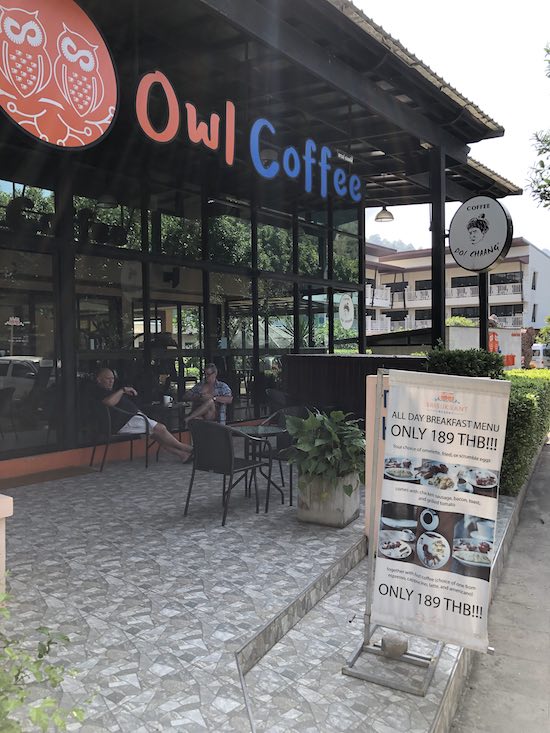 They also serve up a great English breakfast with eggs, bacon, ham and sausage (Michael's favourite) if you're tired of having rice for breakfast (for Chloe, rice is life!).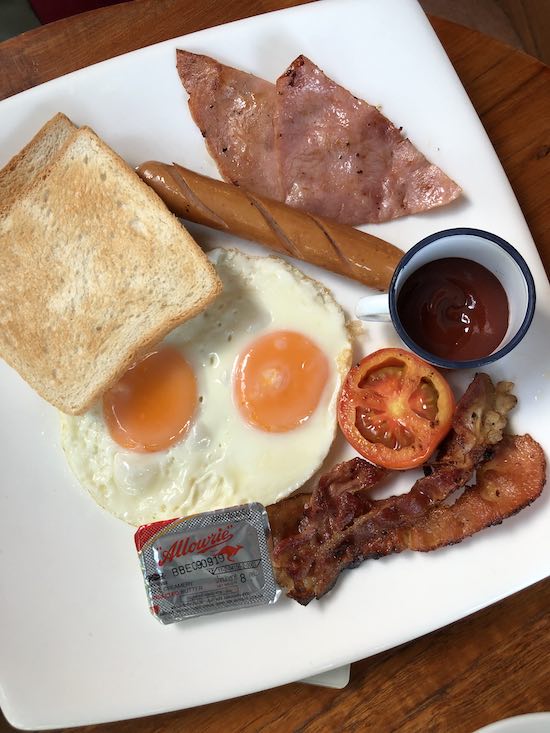 How to get from Aonang to Railay Beach
Getting from Aonang to Railay beach is easy. Simply head over to the Aonang Traffic Police Box corner where you'll find a kiosk selling tickets to Railay Beach.
It costs 200 Thai baht for a return ticket with the taxi boat to and from Aonang Beach.
The last boat leaves Railay Beach at 6pm so we would recommend heading there by the latest 12PM so you have enough time to experience all the attractions there.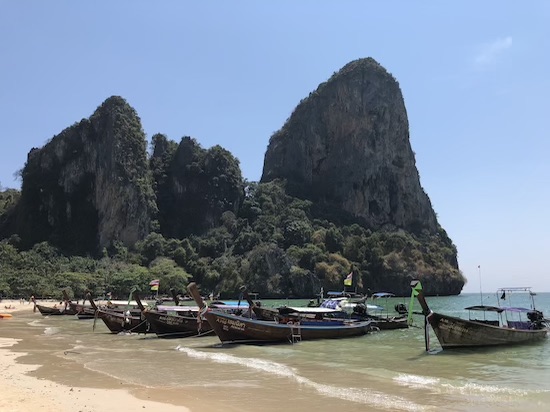 At Railay Beach, you will be dropped off on Railay West Beach. You can either enjoy the long stretch of beach or head into Railay Village to grab a drink or a bite.
Compared to Aonang, food and drinks cost around 50-100 Thai Baht (€2-€3) more, so if you're on a budget you may want to bring your own snacks and drinks because there isn't a 7 Eleven there.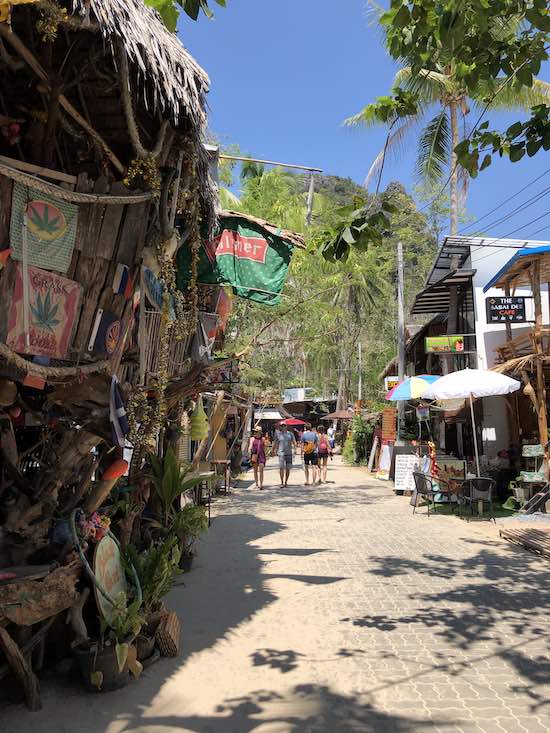 Once you're done and keen for some adventure, walk to the end of the village where you will see a blue sign directing you to Railay Beach East, the view point and lagoon.
Follow the signs and continue walking towards the view point. On this side, the main attractions are the view point, Princess Lagoon, Ao Phra Nang Beach and Princess Cave.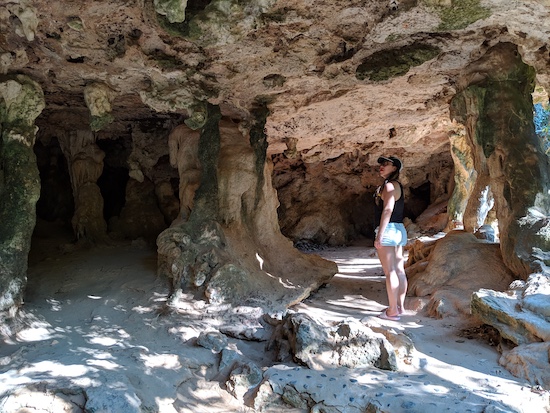 We enjoyed swimming on the beach a bit too much, so we only had enough time to climb up to the view point before we had to rush back to catch the last taxi boat back to Aonang (don't make the same mistake as we did).
Railay Beach Viewpoint Hike
For avid hikers like us, we love a good challenge. But even we were surprised when we saw the path to get to the Railay Beach view point. We were so confused when we saw the sign pointing towards a rugged, vertical wall with a rope that camouflaged too well against its tan facade.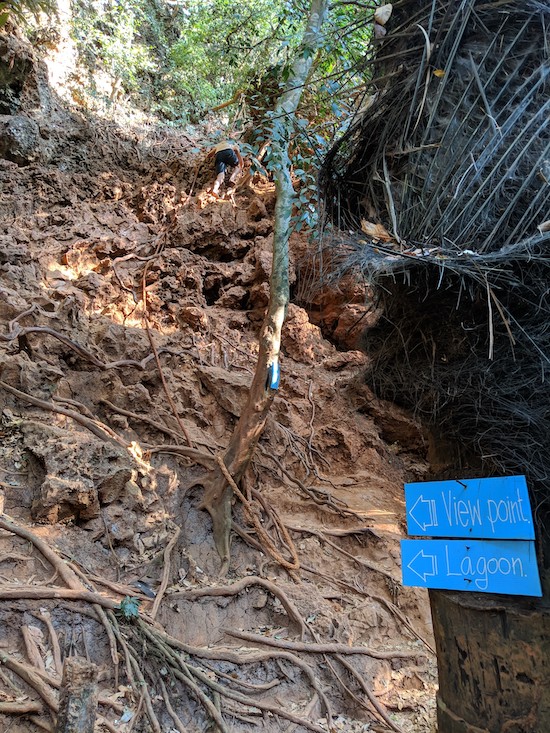 Let's just say that it was more a climb than a hike. It was definitely challenging, but super fun as well (except the part where Michael stepped on my thumb…) It's also a great way to get away from the crowds, as many people turn back when they see the climb.
​This is the same path you'll need to take if you want to see Princess Lagoon. When you get to the top and continue walking you will see a sign directing you to the lagoon and the viewpoint.
The hike (or rather climb) up is only 15-20 minutes long, so not too hectic in terms of duration. But be prepared to use both lower and upper body strength and get muddy by the time you get to the top. After you've reached the top, there is another 10-20 minute walk on relatively flat terrain to get to each of the attractions.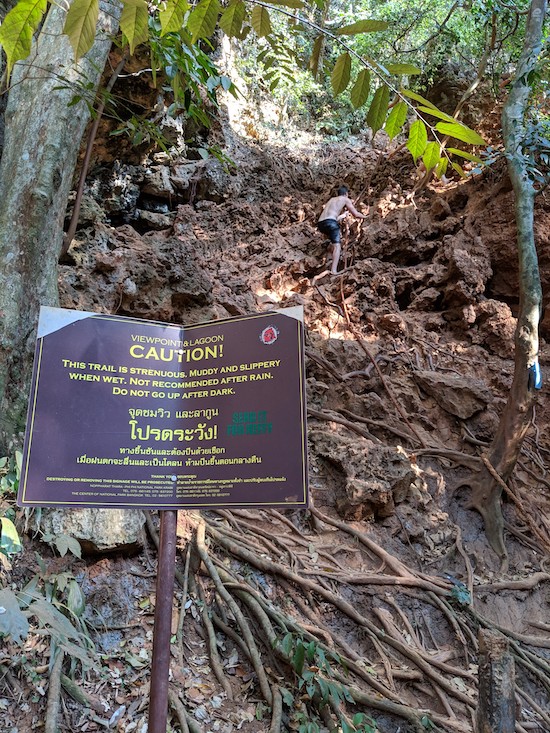 As always, we wore our trusty Mares dive booties (yes, we use ours for hiking as well if the terrain is slippery). They were perfect for this hike because its rubber soles gave us more grip and we were able to wedge our feet into whatever crevices we could find. We saw a lot of people go barefoot because slip slops will definitely not cut it on this hike.
When you get to the view point, you will be rewarded with this amazing view over Railay Beach East.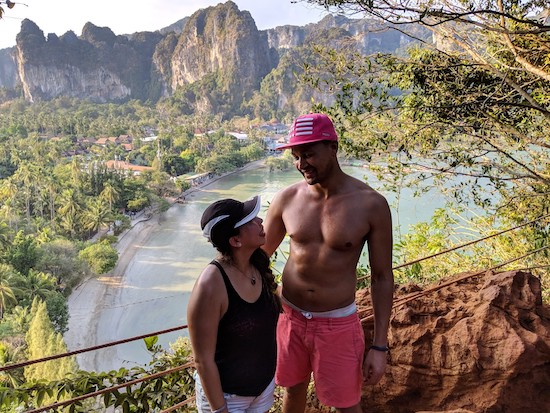 Don't Forget Travel Insurance
Travel insurance will protect you against injury, illness, theft and even trip cancellation. It's comprehensive cover in case anything goes wrong. We never go on a trip without it as we've had to use it many times in the past. Here are our favourite companies that offer the best value and service:
Aonang Beach
When you're done exploring Railay Beach, make sure to get to the last taxi boat that leaves at 6PM (get there 10 minutes before to avoid being left behind). It's a short 10-15 minute boat ride back to Aonang beach and you get to admire the beautiful sun, which should be setting at that time.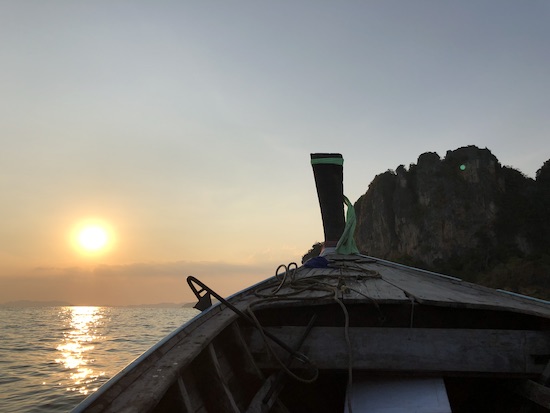 When you arrive at Aonang Beach, it's a great time to take a dip in the ocean. It's not the best beach in Krabi because of all the taxi boat traffic, but by this time there are no more boat trips to Railay so it is more pleasant to swim in. It will also feel amazing washing off all that sweat and mud from your viewpoint climb.
Bonus Tip: Looking for other top things to do in Krabi? Why not try stand up paddling (SUP)? Rent a stand up paddle board for 1, 4 or 8 hours and explore Krabi's stunning coastline.
What To Do in Krabi: Day 2
Emerald Pool Krabi
After the previous day's hike up to Railay Beach viewpoint, it's a good idea to take it a bit easy and head to Emerald Pool for a swim.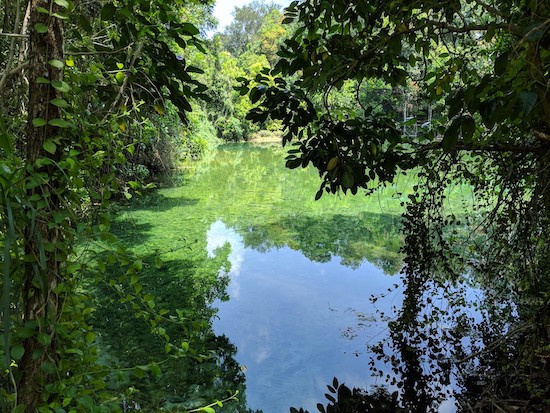 Emerald Pool is a must-see if you're a nature lover because you'll be able to witness first-hand, the intense and other-worldly colour of these natural pools.
You are able to swim in the main pool in the national park. Just keep walking and you'll come across a large rock pool (you can't miss it).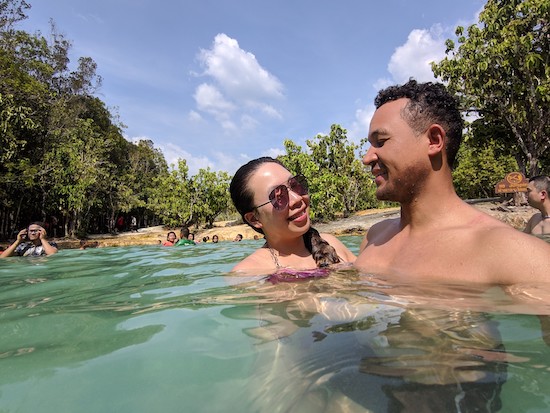 Getting from Aonang or Krabi to Emerald Pool
There are many options to get to Emerald Pool, but the experience and how much you pay will differ. The most expensive option is taking the taxi or tuk tuk to Emerald Pool as it is between 30-40 minute car drive from Krabi Town and 60-90 minutes from Aonang.
Another option is a guided tour to Emerald Pool. It will be more affordable than taking a taxi, but it will likely be very crowded and dampen your experience.
We opted for the scooter option. It was the most affordable option for us and we could get there before the crowds. BUT (literally) it was a very long motorcycle ride and our butts were pretty sore when we arrived.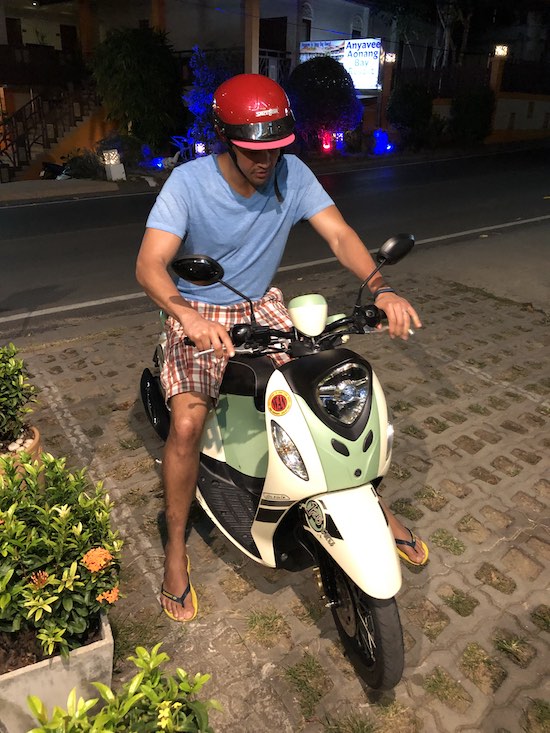 If you opt for the adventurous option, make sure to wear a lot of sun lotion (reef friendly ones of course) because 2 hours on motorbike per way from Aonang is no joke.
We recommend leaving 6AM-7AM in the morning so you arrive shortly after it opens at 8AM. It is also best to go during the week and not on public holidays or weekends because it is less crowded.
Emerald Pool Krabi Entrance Fee
Entrance costs 200 Thai Baht (€5.50) for foreigners and 20 Thai Baht for locals. If you're going by scooter, you will need to budget another 10 Thai Baht (€0.30) for parking your scooter.
Blue Pool Krabi
If you think the emerald colour of the pools are beautiful, wait till you see Blue Pool. It literally looks like someone poured blue gatorade into the pool.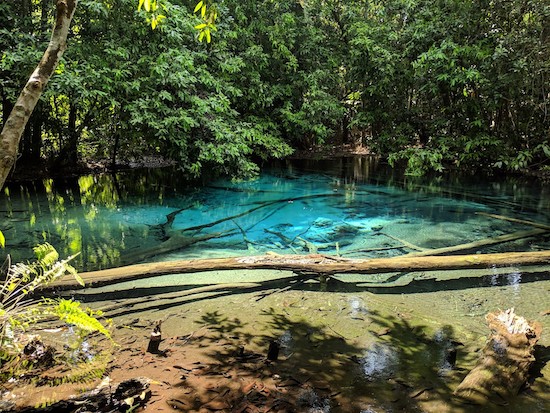 It's an amazing sight to see because the intense blue colour of its water is uncommon to see in nature. Look closely and you will see bubbles coming up from the ground. ​
As beautiful as it is, it's only a sight to behold because swimming is prohibited in this pool.
Access to Blue Pool is closed for 6 months of the year between May and October (low season) to protect this natural gem, so make sure to go between November and April if you want to see the Blue Pool.
Bonus Tip: Save time and see Emerald Pool, Blue Pool and Tiger Cave Temple in Krabi on a guided tour. It includes hotel pick-up and drop-off so you won't need to worry about how to get there.
Save Me For Later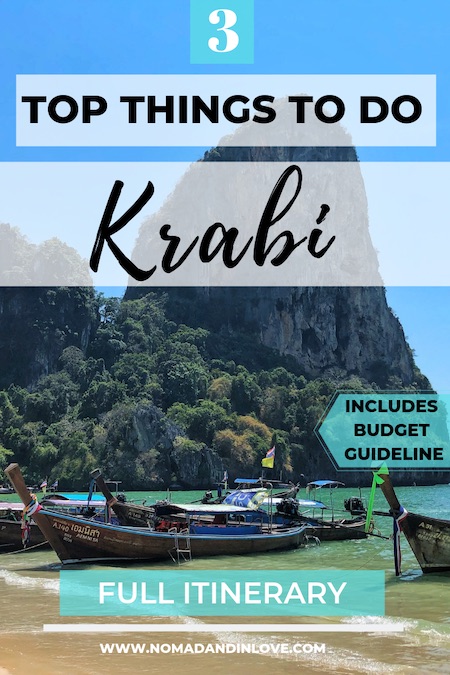 What To Do in Krabi: Day 3
Hiking in Krabi | Tab Kak Hang Nak Nature Trail
It's your last day in Krabi, so go BIG or go HOME. Go for an amazing hiking adventure at the Tab Kak Hang Nak Nature Trail and see some of the most beautiful views in Krabi. If you're an avid Instagrammer, this hike will take you to this incredible viewpoint where you can take this photo: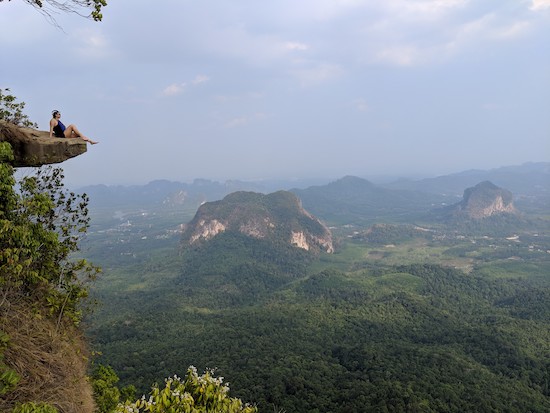 Entrance fee for Tab Kak Hang Nak Nature Trail
It is free (YAY!) but you can offer a tip at the sign-in desk after you have completed the hike.
Getting to Tab Kak Hang Nak Nature Trail
The entrance to the hike is a 30 minute drive from Aonang Beach. By scooter, it was a lovely 40 minute ride there and free parking is available for your scooter at the entrance.
We recommend starting your hike no later than 2PM so you have enough time to complete the hike before dark. The last entry time for the hike is at 3PM. After that, the rangers won't allow visitors entrance, so be sure to arrive earlier to avoid being disappointed.
Make sure to sign in at the ranger's desk before your hike. Write your time in and time out and get the rangers number in case of any emergencies.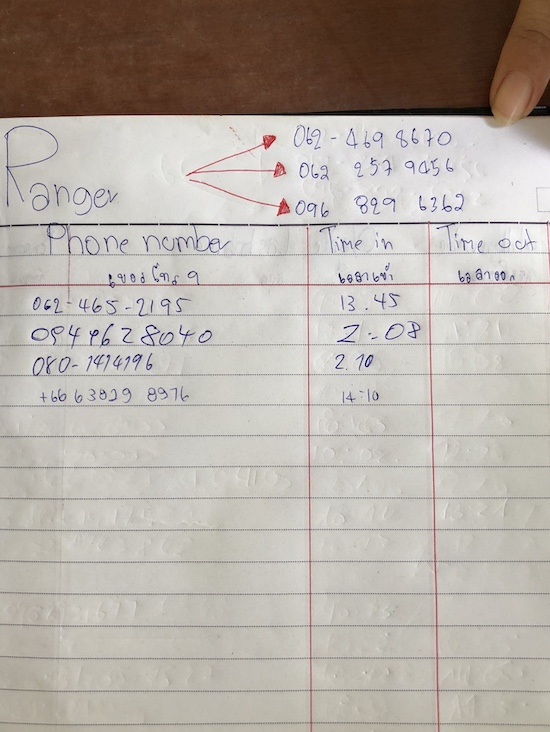 How difficult was the hike?
​In our opinion, the hike was moderate to moderately strenuous. The hike takes around 4-5 hours for a return trip and involves a lot of uphill climb (don't worry, it's not a vertical wall climb like at Railey Beach) for the first half of the hike to reach the various viewing points at the top. You don't need to be extremely fit to complete the hike, maybe just budget a bit more time.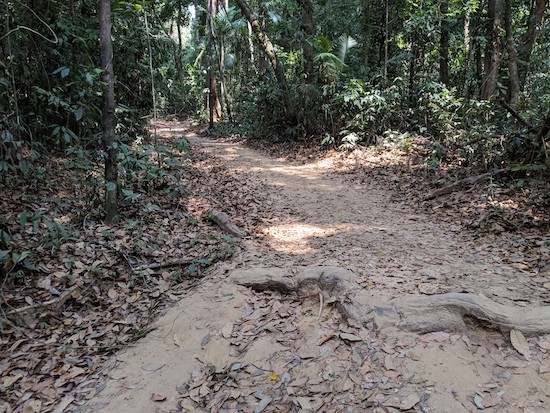 Most of the pathway is covered by trees so risk of sun burn is low. We recommend wearing trainers or hiking shoes for this trail. The terrain is mostly clay-like soil and dead leaves. There are some areas where you need to stick your feet into the crevices created by tree roots to reach the top, so wearing appropriate shoes is important. Again, we hiked in our Mares dive booties.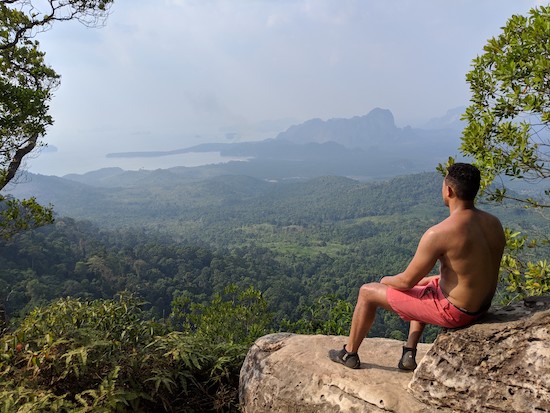 What to Bring for the Hike
At least 1.5 litres of water per person
Snacks (you going to get hungry)
Sweat towel or wet wipes
Our savvy travel tip: Buy your water at a 7 Eleven before you head to Tab Kak Hang Nak Nature Trail. You can buy 1.5 litres of water from 7 Eleven for 13 Thai Baht instead of paying 30 Thai Baht at the entrance of the hike.
Another tip, use the toilets at the entrance before you head in. Otherwise you going to have to do your business while the monitor lizards watch you.
How to find the Instagram Photo Spot in Krabi?
Besides seeing the amazing views on the way, you can't leave the nature trail without taking a photo at this incredible outlook point in Krabi!
On the Tab Kak Hang Nak Nature Trail, keep walking till you see a huge round sign close to the end of the hiking trail. Walk past it and follow the path. In a few meters you should come across a fenced area on your left. Walk towards the fence, on the left side of the fence there is an opening which allows you to walk to the rock where this amazing photo spot is.
Just be careful when approaching the rock as there is no fencing here at all. There is a short rope to help you get onto the rock though. Approach very slowly and very carefully.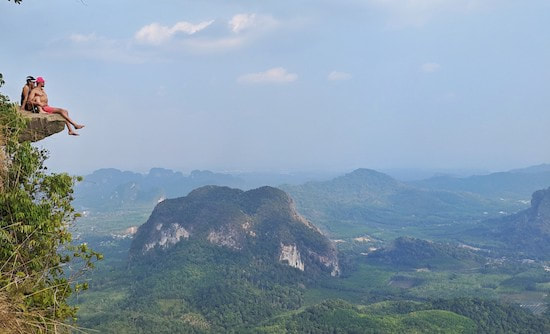 ​Next, the person taking the photo needs to walk straight past the fenced area around the huge boulder (on the right) and get on the other side to take your photo, and VOILA! A masterpiece and a memory to treasure forever.
Things To Do in Aonang at Night
Bar Hopping in Krabi
On one of your 3 nights in Krabi, why not experience the night life a bit? If you're looking for a vibey place to have a few drinks, there is an area along the main road of Aonang Beach (road 4203) where you can bar hop.
Head to the Burger King along the main road and you will see a pathway down to an area which opens up to a few vibey bars and places to party. On some nights there is a beautiful "lady" standing there directing people to this popular bar hopping spot.
Night Markets in Aonang and Krabi
If partying isn't your thing, then why not visit some of the night markets in Aonang? There are two large night markets along the 4203 main road. You can either walk there or jump on your scooter.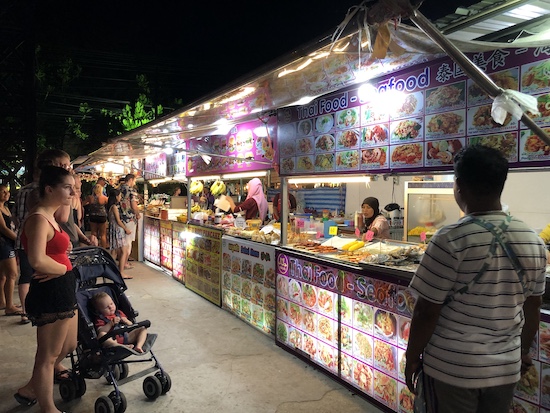 The night markets aren't as big as the ones in Krabi, but its a great place to shop and get some delicious local grub. If you're in Aonang for the weekend, take your scooter or a public bus to the main night market in Krabi instead.
Bonus Tip: Experience Krabi's night market with a local on a private tour. Learn about Krabi province, the history of its local cuisine, and taste typical southern Thailand dishes on this 3 hour guided tour. Hotel pick-up and drop-off are included so you won't need to worry about transport!
Other Top Things To Do in Krabi
The Best Beach in Krabi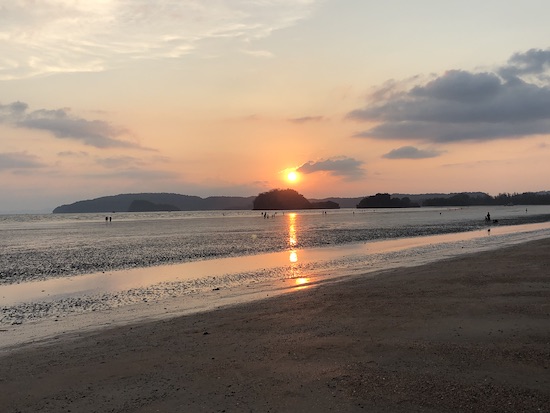 The closest beaches to Krabi town is in Aonang, which is a 20-25 minute drive away. The main beach is Aonang Beach, but there are often too many long tail boats hogging its shoreline which can become unpleasant.
For us, Noppharat Thara Beach is the best beach in Krabi because it is much quieter and more pristine compared to Aonang Beach. It's a short 5 minute scooter ride or 15 minute walk from Aonang beach to Noppharat Thara Beach and often less crowded. So definitely head to this beach for the best sunsets in Krabi.
Island Day Trips from Krabi and Aonang
There are plenty of island day trips from Krabi and Aonang to explore the surrounding islands around its shores. From Phi Phi Island, Hong Island, Bamboo Island, to the Four Islands (Pranang Beach, Tup Island, Chicken Island and Poda Island), you can see them all by going on different island day trips.
It's really easy to book these trips as well, since all the tour operators on the main road sell these tour packages.
We skipped these island hopping tours because we've experienced these before in Thailand and the Philippines, and it was just too touristy for us to enjoy. Often the operators pack you all tightly into the boat and you are only able to spend 30 minutes at each destination.
The best would be to hire an entire boat privately and split it amongst a group of friends so you can see these beautiful islands at your own pace.
Other Things To Do in Krabi (Besides The Beach)
Where To Go after Krabi?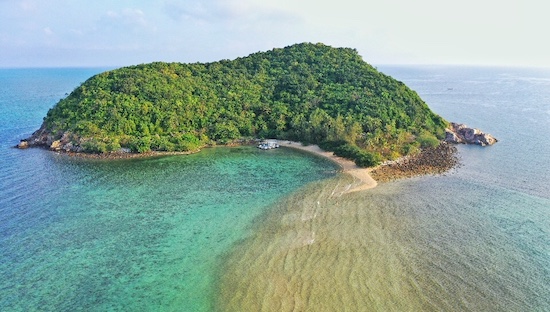 Where next after Krabi? The options are endless, it all depends on what you're looking for. Personally, we had a craving for a quiet island with amazing beaches that have soft, white sand and turquoise, crystal clear waters. Sounds like heaven to you too? Then head to some of the islands north of Krabi province. We went to Koh Phangan and it is a beach bum's paradise! Check out our guide on the top beaches in Koh Phangan to see what we mean.
If you're planning to travel to Indonesia while you're on this side of the continent, check out our Indonesia travel guides:
Getting from Krabi to Koh Samui, Koh Khangan, Koh Tao
Getting from Krabi to Koh Samui, Koh Khangan or Koh Tao is super easy. We booked our entire transfer for only 700 Thai Baht (€20) on the fast ferry which included hotel transfer pick-up. Check out our getting around in Thailand on the cheap guide to book your trips online or compare prices.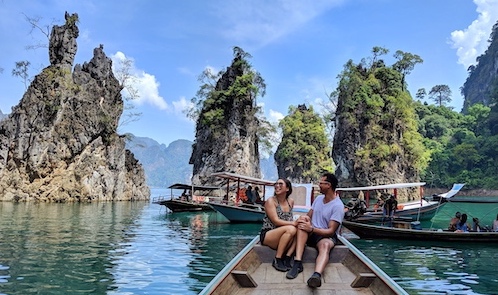 If beaches aren't your thing and you prefer the serenity of lakes and being surrounded by Thailand's signature limestone cliffs, check out our Khao Sok Lake Tour Guide. It's one of Thailand's best kept secrets and an absolute hidden gem destination.
Best Scuba Diving in Southern Thailand
If you're an ocean lover and avid scuba divers like us, then you must include diving around Similan and Surin Islands as part of your Thailand itinerary. It is voted as one of the top 10 scuba diving sites around the world and an absolute bucket list item for adventure lovers.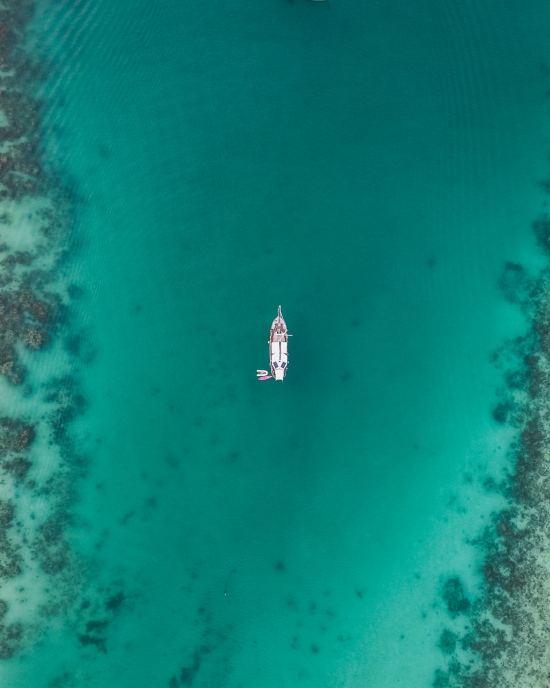 Instead of going for a scuba diving day trip, take your adventure to the next level and do a liveaboard instead. This is particularly a must, if you want to scuba dive around the famous Richelieu Rock, as it is very remote and only accessible via liveaboards.
Read all about our first liveaboard experience and why it has ruined scuba diving for us forever to find out everything you should consider before embarking on this new experience.
Enjoyed this guide? Watch our funny moments in our first vlog in Krabi.