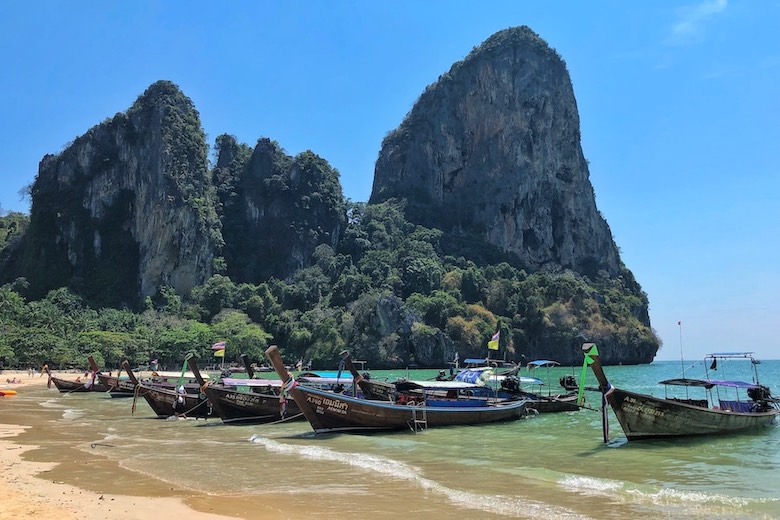 The top Krabi travel tips you need before jetting off to Thailand. From daily budgets and getting a SIM card, to tips for renting a scooter and whether it's cheaper to purchase your forex beforehand.
Thailand is one of the most popular travel destinations in the world – and also one of our favourites! There's so much to discover in this beautiful part of South East Asia, that we could easily spend an entire year in Thailand to try see it all!
So if you're planning a trip to explore the relatively lesser known province of Krabi (or visiting Thailand for the first time), you've come to the right place! We're sharing some essential and useful travel tips you should know before visiting. Not only will these tips save you time and money, but they'll also take the stress out of planning your trip!
Find out how much money to budget for Krabi daily, how to take local transportation in Thailand, to where to stay in Krabi and more in this guide!
Things to Know Before You Travel to Krabi
Is Krabi Worth Visiting?
If you've always wanted to travel to Thailand, but weren't too keen on battling the sea of tourists in Bangkok and Phuket, then Krabi is a great travel option. It may not be as serene and peaceful as Khao Sok National Park or the beautiful beaches of Koh Phangan.
But it does strike a great balance between experiencing the hustle and bustle of Thai culture, whilst also having the option of escaping to more tranquil natural surroundings. So if this is what you're looking for, Krabi is oh-so worth visiting!
Related Guide: If you love adventure, hiking and exploring the great outdoors like us, then you'll really love Krabi. In that case, after reading our top travel tips, make sure to check out our Krabi 3 day itinerary to find the best hikes and beaches to explore.
What is Krabi Most Well-Known For?
Krabi is most well-known for its majestic limestone cliffs, attracting rock climbers from all over the world attempting to conquer the cliffs of Ton Sai Beach and Railay Beach.
It's also popular for island hopping. From Krabi, you can easily find day trips to see Phi Phi Island, Hong Island, Bamboo Island and the Four Islands (Pranang Beach, Tup Island, Chicken Island and Poda Island).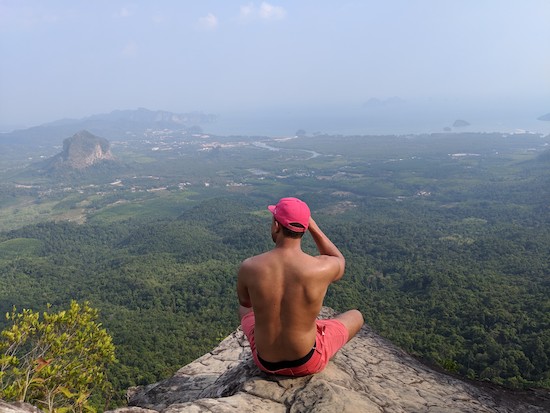 Island Day Trips from Krabi
You can do scuba diving around Krabi. If you want to learn how to get scuba diving certified, find out what to expect in our Best Way to Get your Scuba Diving Certification guide.
7 Top Travel Tips for Krabi, Thailand
1. Daily Budget for Krabi
Our Krabi travel tips guide would be incomplete without providing a daily budget guideline. Excluding accommodation and flights to Krabi, we estimate:
Western cuisine: Around €40 per person for 3 meals, snacks and drinks
Thai cuisine: Around €20 per person for 3 meals, snacks and drinks
Like we mentioned in our Hong Kong budget travel tips and culture guide, eating local food will save you a lot of money when travelling to most countries. But we understand that some of you may have food allergies or particular dietary requirements, so we thought it would be helpful to share with you the budget for eating western cuisine too.
We are both lucky in that we don't have any food allergies, so we generally just follow the "see food" diet.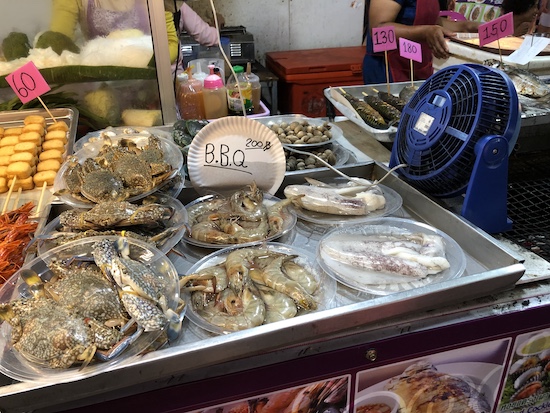 If you love massages like us (or a pedicure if you're Michael), budget another €7 – €9 for a 60 minute massage.
2. Money and Banking Travel Tips in Krabi
Should you buy forex before travelling to Thailand?
The Thai Baht is the official currency of Thailand. You get a lot of bang for your buck if you're holding American Dollars, the British Pound or the Euro (which gets you around 35 Thai Baht per Euro depending on the exchange rate).
Although Thailand is extremely tourist friendly, it is not card friendly at all. It is best to always have cash on you as most places (including some hotels) will charge you an extra 3% fee on your bill if you pay by card.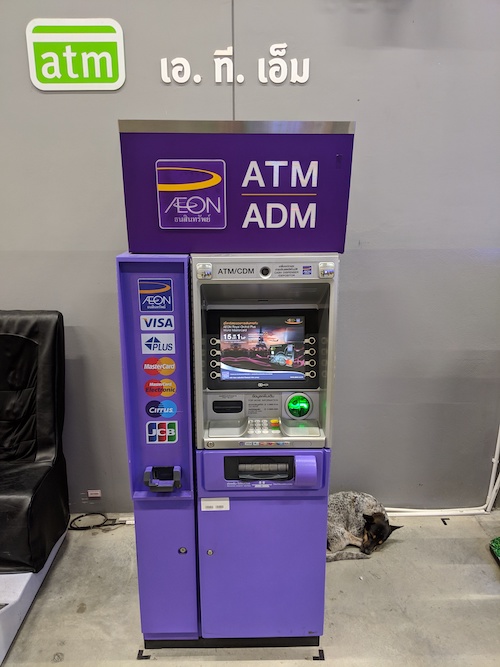 You can also draw cash when you're in Thailand, but the withdrawal fees are not cheap. The withdrawal fee is 220 Thai Baht (or €6) per withdrawal. All the ATM's charge the same withdrawal fee except AEON, which is slightly cheaper at 150 Thai Baht (or €4).
The only downside is that there aren't many AEON ATM's around. They're normally located at a local mall outside the main town area. Draw as much as you feel comfortable carrying (put some in your hotel safe) since you pay per withdrawal and NOT per amount.
If you're interested in how we always get the best exchange rate buying foreign currency for our travels, read our best travel card guide.
3. Getting a SIM Card in Thailand
How much do SIM cards cost in Thailand?
Another top money saving travel tip for Krabi is to avoid high roaming charges. We highly recommend buying a tourist SIM card when you arrive in Thailand. Internet is super fast and reliable in Thailand, so you won't be disappointed.
You can easily buy one at any 7 Eleven, network operator's store or even at the airport. If you are able to delay that post-flight internet craving, you can save some money by NOT buying your SIM card at the airport. Vendors usually add a premium at the airports to take advantage of internet-deprived travellers. So hold off just a little longer if possible.
We bought the TrueMove Tourist SIM card for 599 Thai Baht (under €18). You get 8GB of data with this SIM and it is valid for 15 days. If you're not staying so long, there is also an 8 day option that costs 299 Thai Baht (under €9). If you're not sure how long you're staying, you can always buy the cheaper option and top up later. Topping up will extend your SIM's "expiry date".
Besides money, make sure you bring your passport or identity card when buying your SIM card in Thailand. The store or vendor will need it for the mandatory SIM card registration.
Save Me For Later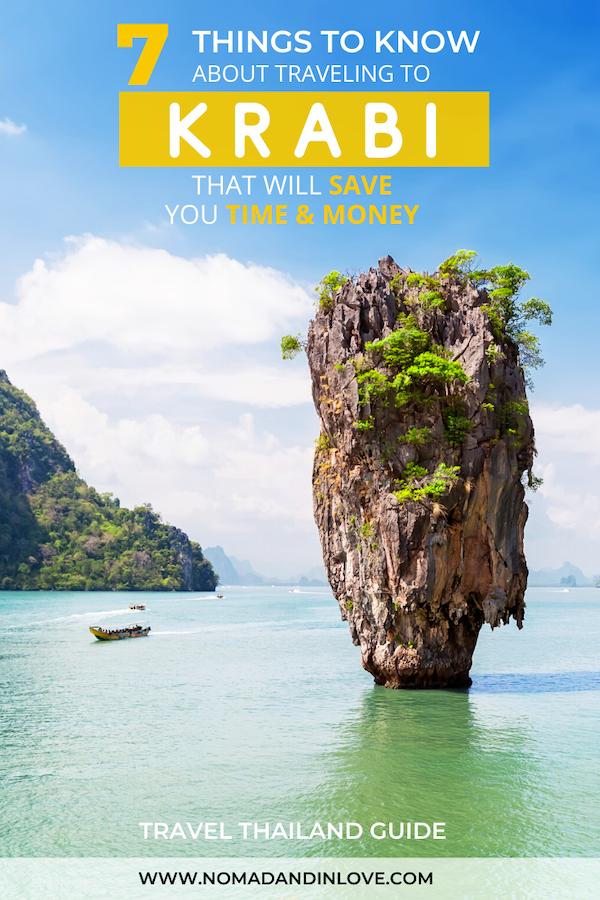 4. Health and Hygiene
Is tap water safe to drink in Thailand?
No, don't attempt it even if you think you have an invincible stomach. Always drink boiled or treated water.
As people who promote eco-travel and environmental sustainability, it is very hard for us to recommend buying bottled water. But there are just some places that you travel to, where tap water is not drinkable and bottled water is the only option.
In this case, we recommend that if you do buy bottled water, keep the bottle and ask for a refill when you go to restaurants or hotels where they provide safe drinking water. This will significantly help minimise the amount of plastic waste created.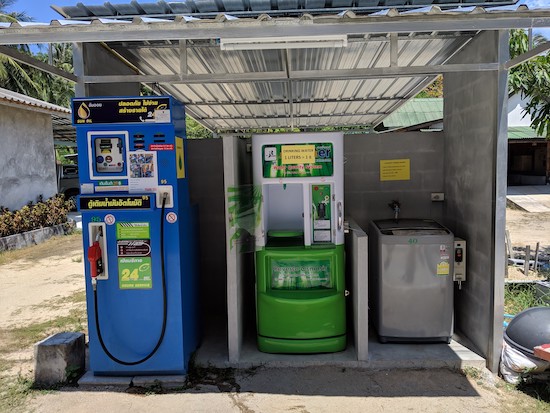 In Koh Phangan, we found these green Reverse Osmosis Water Filtration machines where you can refill your bottles for just 1 Thai Baht per litre (basically free). This was the best discovery on our trip. Not only do you reduce tons of plastic waste, it is also super affordable.
For us personally, it was encouraging to see developing countries like Thailand implementing environmentally friendly initiatives in an effort to protect their country's natural beauty. The bad news is that we didn't find any of these machines in Krabi.
5. Transport in Krabi
It is really easy to get around in Krabi. The main town area is usually small enough that everything is within walking distance. But if you want to venture out a bit, there are public buses, taxis and tuk tuks available.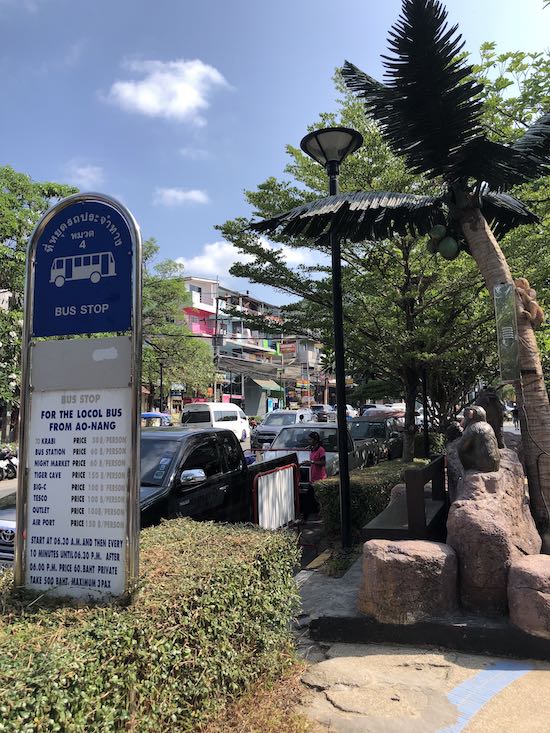 You could also opt for the more adventurous mode of transport and rent a scooter. This is usually our most preferred mode of transport as we like to feel the wind in our hair and wander around at a leisurely pace.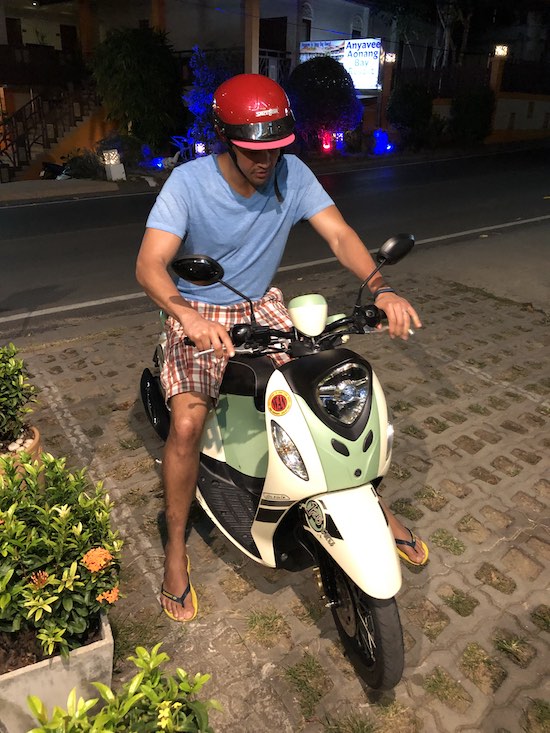 Don't Forget Travel Insurance
Travel insurance will protect you against injury, illness, theft and even trip cancellation. It's comprehensive cover in case anything goes wrong. We never go on a trip without it as we've had to use it many times in the past. Here are our favourite companies that offer the best value and service:
How To Get To Krabi, Thailand
Thailand may be a developing country, but its public transport system is extensive and really affordable too. You can easily get from Bangkok or Phuket to Krabi by bus, train or even by ferry. You can literally pick and choose depending on your budget and how much time you have.
Here are some of the most popular ways to get to Krabi:
If it's your first time in Thailand, make sure to read our Thailand Public Transportation guide so you know what to expect. If you're flying directly into Krabi Airport, here are some airport transfer options for you:
Motorcycle rental in Thailand | Is it safe?
We've heard our fair share of horrible scooter accidents in South East Asia, but we still believe it is an amazing and affordable way to travel and experience the country like a local.
We are not regular motorcycle riders (we don't even have a motorcycle licence), but we do have a driver's licence, wear helmets and make sure to always drive at a safe speed (don't drink and drive). We've rode scooters in Indonesia, Philippines and Thailand and have had a great experience in all those countries.
Tips for motorcycle rentals in South East Asia
Our top travel tips for renting scooters in Krabi is to test drive the bike around the vicinity of the shop you rented from for a bit to check if everything works. Lights, brakes, diesel gauge, basically all the important stuff before you get on your way.
Also, wear sunnies during your ride so the wind doesn't dry your eye balls out. Not only will you look extra cool, but you'll have a much better riding experience when you don't have to squint your way through it.
In Krabi or Aonang, you can rent a scooter for 200 Thai Baht (under €6) per day. Prices are pretty standardized so don't worry about "being taken for a ride" with inflated prices. It costs around 100 (under €3) Thai Baht to refill the scooter from empty to full.
Save Me For Later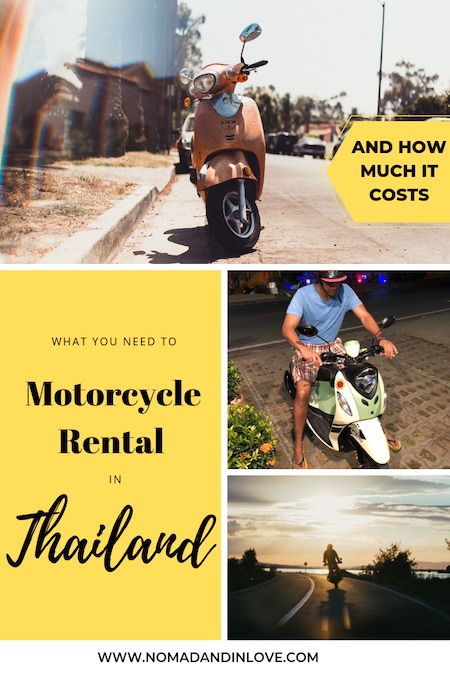 What You Need to Rent a Motorcycle or Scooter in Thailand
Your passport (they will keep this until you return the bike)
Show them your drivers or motorbike licence
No cash deposit required
Don't Forget Travel Insurance
Travel insurance will protect you against injury, illness, theft and even trip cancellation. It's comprehensive cover in case anything goes wrong. We never go on a trip without it as we've had to use it many times in the past. Here are our favourite companies that offer the best value and service:
6. Where to Stay in Krabi
We chose to stay at Aonang Beach because we are complete beach bums and ocean lovers. It's a short 20 minute scooter ride from Krabi town. We preferred it because it was closer to Railay Beach and the Tab Kak Hang Nak Nature Trail, which we planned to explore on our 3 day Krabi itinerary.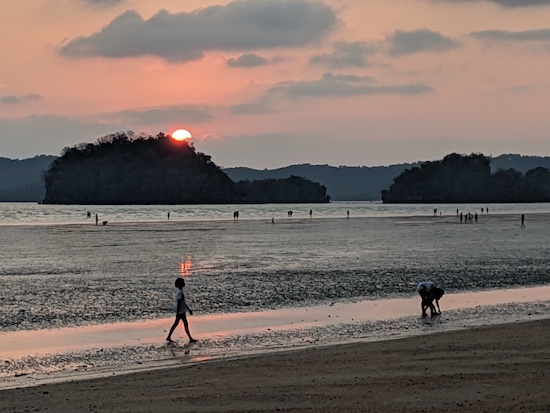 For accommodation, anywhere within walking distance to the main road 4203 (parallel to the beach) is central. We wouldn't recommend wandering too far off beyond Nemo2 Resort because tour transfers (which are usually included in tour or ferry packages) will not venture beyond that hotel to come collect you. If you aren't a light packer, that means you may need to drag your luggage along the side of the road under the blazing sun and risk a T-shirt tan.
Avani Aonang Cliff Krabi Resort
In Aonang, we stayed at the Avani Aonang Cliff Krabi Resort. We loved it because it is a heavenly sanctuary from all the hustle and bustle on the streets.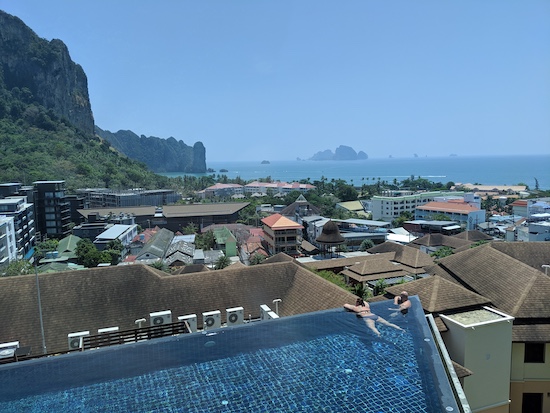 The hotel also has the most amazing views in Aonang because it is embedded into the cliffside facing the ocean. The cherry on top is that you can enjoy this view from their magnificent infinity pool while enjoying a cocktail or two.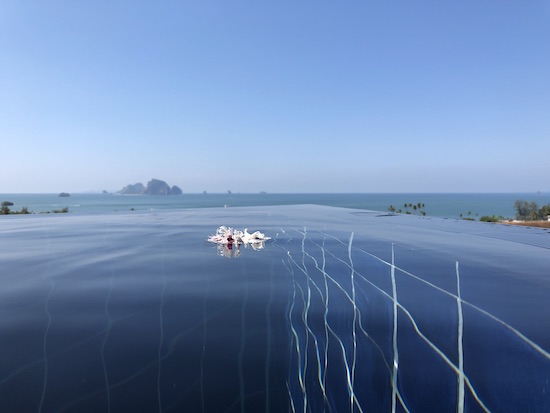 Overall, it's a great accommodation option whether you are a couple, a family or just looking to celebrate a special occasion. For families with young toddlers, there is a dedicated play area in the hotel so the parents can go get a well-deserved break at the spa. There's also a gym if you've indulged too much on delicious Thai cuisine.
7. Best Time to Travel to Krabi
The best time to travel to Krabi is between November and April, outside of the monsoon season. Bear in mind that it will be more expensive travelling during this period, as this is typically their high peak season, and for good reason. Some activities such as visiting the Blue Pool (part of Emerald Pool) and diving around the Similan Islands are not open for tourists from May to the end of October.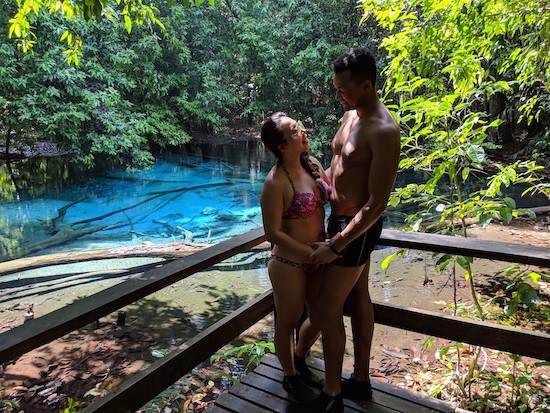 Although it may be an inconvenience for tourists, it's good that these unique, natural ecosystems are given a 6 month break from thousands of visiting tourists so that they can remain healthy.
Avoid the Tourist Crowds in Thailand
Thailand is one of our favourite countries to travel to. We love how friendly the locals are, their delicious food and it is an absolute paradise for outdoor enthusiasts like ourselves.
The only downside to Thailand is that some places are incredibly touristy, which can dampen the travel experience. That's why we always search for less touristy, hidden gems to explore.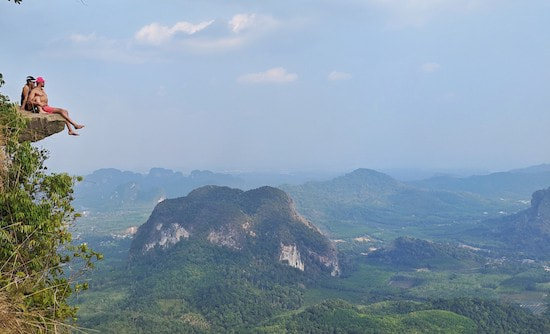 If you have the same travel style, then you should make a stop at Khao Sok National Park. This little gem gets compared to Ha Long Bay in Vietnam, but without the tourist hordes. It is one of the most majestic and unique landscapes we've seen in Thailand.
If you're more about that beach life, then find the best beaches in Koh Phangan with our guide.
Did you find our travel tips for Krabi useful? If so, we'd love to hear from you.
Where to Travel From Krabi
Looking for other affordable, hidden gem destinations to travel to in South East Asia? Then make sure to check out our Asia Travel Guides:
Want to know our secret to travelling so frequently? Find out in our How to Travel for Cheap guide.