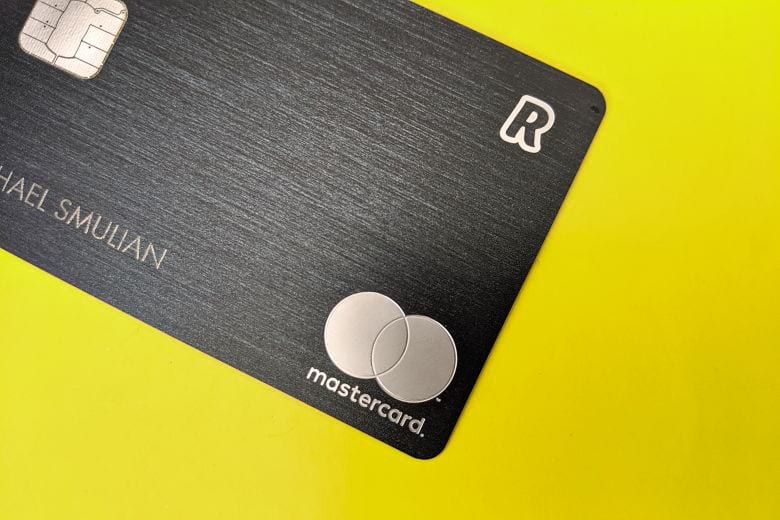 If you're looking for the best bank card to travel with in 2023, Revolut has it all, and more! Get FREE ATM withdrawals around the world and buy foreign exchange at the cheapest rates.
It feels like an eternity ago since our first Revolut card was delivered in the post. To be honest, we tried several other mobile bank cards including Starling, Monzo, N26 and Monese. We simply couldn't be sure which one was the best. We had to try them all.
Since then, we've travelled the world and used this time to try every nook and cranny of the Revolut App. And after a year, we've come to the conclusion that Revolut is simply the best travel card we've ever used.
This review covers why the Revolut card is better than it's competitors. It also lists 7 honest reasons why you should never travel again without ordering your free Revolut card today.
We'll also throw in 3 months of Revolut Premium for free. So you can try out the best travel card for yourself.
What is Revolut and How Does the Travel Card Work
If you've heard of Revolut, you can move right along. Your time should be spent in the next sections finding out why you should get the best travel card.
But if you've never heard of it or you're wondering how does Revolut work, we'll be happy to enlighten you.
Revolut claim to be a Fintech company that offers banking services in several countries across the world.
We figured they don't call themselves a bank because they don't actually have any branches where you can walk into. The magic happens in the Revolut mobile app which is how you manage your money.
We'd personally like to think of Revolut as a mobile bank that truly is, as they claim, radically better.
They offer a prepaid debit card jam packed with amazing features, which we can't wait to fill you in on. You'll receive a Visa or Mastercard and get to manage everything from spending to withdrawals all from the app.
Let's jump straight into what you get with the Revolut card.
Note: You can access the full list of countries where you can get a Revolut card here.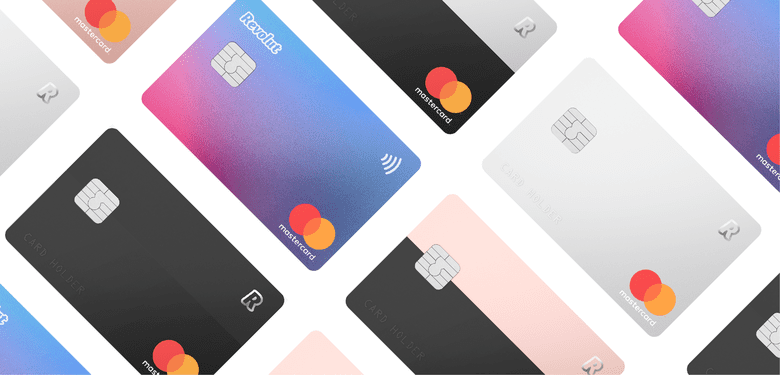 Revolut Review: Why You Need To Get The Best Travel Card
The moment of truth has finally arrived! Here's why you should get the best travel card today. You can thank us later.
Why pay bank fees when you don't have to?
You get a free card with Revolut's transparent standard pricing plan. It's not the first mobile bank to offer free stuff and certainly won't be the last. This is simply how they attract customers.
But what really sets Revolut apart vs mobile banks such as N26, is that you're getting a lot more value. And it's absolutely free!
Here's what you'll get for FREE with a Revolut card on the standard plan:
Free US or UK Bank Account
Free Euro IBAN Bank Account
Spend in over 140 currencies at the interbank exchange rate
Exchange in 31 currencies up to £5,000 / €6,000 / $6,500 per month with no commission
Free International ATM withdrawals up to £200 / €200 / $300 per month
Just stick to these limits when you travel and you'll never have to pay any bank fees again.
The best way to stick to these limits is to budget. We always estimate our travel costs to make sure we don't over spend and pay any fees.
Tip: If you're travelling in a group or as a couple, you should each consider getting a Revolut travel card. You'll increase your limits if you spend collectively.
Note: The interbank exchange rate is what banks use to swap or exchange currencies. It's a real-time or live rate, which is why it is constantly changing in the Revolut app.
2. Get the Best Exchange Rate and Pay Zero Commission
If you're travelling abroad, you'll likely need foreign currency to fund those excursions and new experiences.
With Revolut you can now exchange currencies in the Revolut app at the real interbank exchange rate. That's like getting the same rate you see on Google or on apps such as XE.
Yeah, you read that right! Don't believe us? See for yourself!
If you need foreign currency (Forex) for your travels, simply exchange currency in the app to lock in the best rate. Just bear in mind that Revolut charges fixed rates and adds a mark-up outside working hours. Keep reading to learn how to buy Forex on the app.
Useful Tip: To guarantee the best rates, only exchange currencies weekdays (Mon-Fri UTC) during working hours (8am-5pm). Avoid exchanging currencies on weekends or you'll pay a fixed rate and a mark-up on top of that.
Note: Certain exchanges rates such as Thai Baht include an extra mark-up (1%) and a fee (0.5%). But we can assure you that these are still the best rates you'll find anywhere. You can find more information about Revolut exchange rates here.
3. Free and Easy to Top Up Your Revolut Card
Saving money with Revolut sounds awesome, but how exactly do you buy Forex for travel with your local currency?
You get a free prepaid debit card with your Revolut account. Depending on where you live, you may either get a Mastercard or a Visa card.
As Revolut doesn't have any branches (remember, it's a mobile bank), you'll have to load your Revolut card using your existing bank account. Luckily, there are several ways you can add money to your Revolut account.
The easiest way to top up your Revolut card is by using a credit card or a debit card. Simply add your card details in the Revolut app, insert an amount, submit and your funds will appear instantly.
You can top up your Revolut account using a credit or debit card in 18 different currencies. Revolut adds new currencies from time to time, but here is the list of currencies they currently support:
AUD – Australia
BGN – Bulgaria
CAD – Canada
CHF – Switzerland
CZK – Czech Republic
DKK – Denmark
EUR – Euro
GBP – United Kingdom
HKD – Hong Kong
HRK – Croatia
HUF – Hungaria
JPY – Japan
NOK – Norway
PLN – Poland
RON – Romania
SEK – Sweden
USD – USA
ZAR – South Africa
To get the most out of your Revolut account, top up with your debit card as it is usually free. If you top up with your credit card, they add a fee of about 2%.
Revolut fees are always displayed in the app before you top up, so you always know what you're paying.
💡 Bonus Tip: To avoid paying conversion fees on your credit or debit card, top up in your local currency. In other words, if your credit card is in USD, load your Revolut card in USD.
Note: You can also add money using bank transfer, with cash or cheque, and with Apple Pay or Google Pay. You can find more information about how to top up to your Revolut card here.
Save Me For Later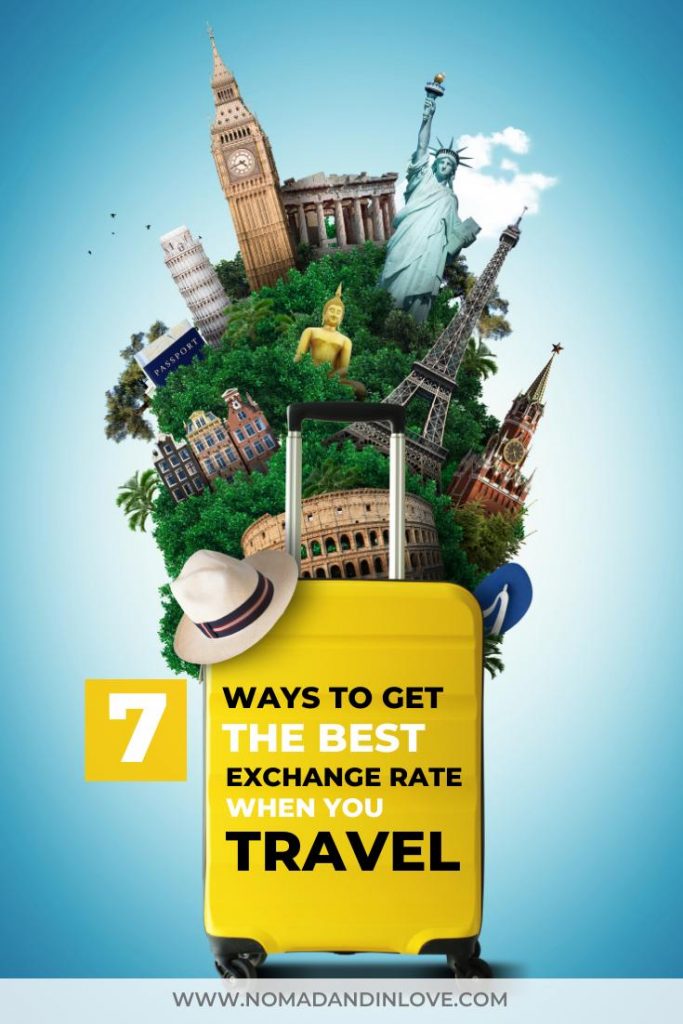 4. Free Worldwide ATM Withdrawals with Your Travel Card
If you're loving the top 3 tips, tip #4 is the cherry on top. Free cash withdrawals!
Revolut gives you free ATM withdrawals up to the equivalent of £200 per month. It's €200 if you live in Europe and $300 for Revolut card holders living in the USA.
These limits seem to be the same compared to what other mobile banks offer with their free cards. So it's not quite enough to classify it as the best travel card.
But Revolut makes their deal a whole lot sweeter. Their travel card includes worldwide withdrawals in their ATM limit, giving you access to your money abroad.
This means that you can also withdraw foreign currency to the equivalent of the monthly ATM withdrawal limit (£200).
And what's really cool is that you can monitor your monthly ATM withdrawal limit balance all in the Revolut app. It's really a great way to stay on top of your limits.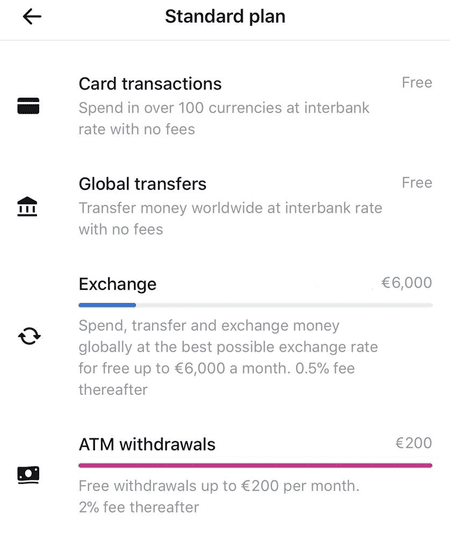 Just be wary of cash machine operators. Some of them may charge you an extra withdrawal fee on top of the normal fees. Luckily, these charges are usually displayed on the screen before you accept.
Knowing which ATM to use will certainly save you a ton of money on your travels. Simply check out the Revolut Community to search for a list of ATMs that don't charge any fees.
Useful Tip: If you're withdrawing Forex, make sure you calculate the amount in your local currency before heading to the ATM. Or you may go over your free limit and pay 2% above this amount.
5. Exchange and Hold up to 31 Currencies with No Commission
While we love travelling the world, we hate the thought of having to buy Forex before our trips. But with Revolut, you can exchange and hold 31 different currencies all in one card.
And the best thing is that there aren't any hidden fees or commissions if you stay within your limit. You get £5,000 / €6,000 / $6,500 per month with your free card. But you'll have to pay a 0.5% fee if you exceed this limit.
The Revolut card removes all of the stress of carrying all your Forex with you on your trips. What's even better is that you'll never have to walk into a 'bureau de change' ever again.
Here's the full list of currencies you can exchange and hold on your card:
AED – United Arab Emirates
AUD – Australia
BGN – Bulgaria
CAD – Canada
CHF – Switzerland
CZK – Czech Republic
DKK – Denmark
EUR – Euro
GBP – Great Britain
HKD – Hong Kong
HRK – Croatia
HUF – Hungaria
ILS – Israel
ISK – Iceland
JPY – Japan
MAD – Morocco
MXN – Mexico
NOK – Norway
NZD – New Zealand
PLN – Poland
QAR – Qatar
RON – Romania
RSD – Serbia
RUB – Russia
SAR – Saudi Arabia
SEK – Sweden
SGD – Singapore
THB – Thailand
TRY – Turkey
USD – USA
ZAR – South Africa
Tip: Exchanging currencies back to your local currency also uses up your limit. So monitor your limits in the app so you don't exceed them. You may also want to consider waiting for your limits to reset in the next month to avoid paying fees.
6. Use Your Travel Card to Spend in Over 140 Currencies
If like us, you love exploring hidden gems and you find that you can't hold the currency of the country you want to travel to, don't despair. Revolut has you covered! There's almost no place on earth where you can't use your Revolut card.
You can use your card to make payments in more than 140 currencies. So pretty much any where Mastercard and Visa is accepted.
Revolut simply uses the interbank exchange rate to process your payment. In other words, they use the available currency on your travel card and exchange it using this exchange rate. And that's how you're able to pay for your stuff abroad.
The real game changer here, is this exchange rate. It's the live rate you see on Google or in your Forex app. And it's yet another reason why Revolut is the best travel card on the market.
Useful Tip: If you can't hold the currency you want to pay with on your Revolut card, always pay in USD. The USD is the most traded currency on the planet. This means that you're most likely to get the best conversion rate if you pay using USD.
Note: You can access the full list of currencies not supported by Revolut card here.
7. Your Money is Safe with the Revolut App
Revolut doesn't have any physical branches, so you won't need to worry about bank heists (just kidding). The app is your bank and because of that, you get card security like no other.
You'll get an instant notification the second you make a payment with your card. You'll also have full control of all your cards, allowing you to freeze, adjust limits and even change your pin.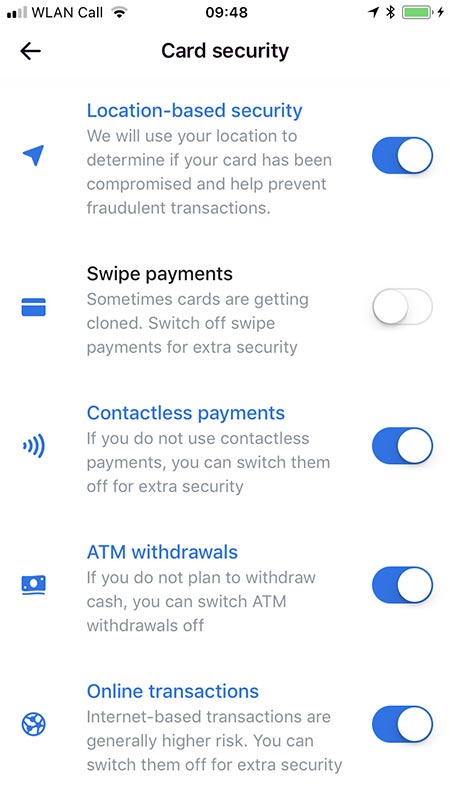 And if you really need to speak to someone, you get chat support 24/7 to resolve any issue you encounter. It's like having a bank round the clock at your fingertips.
💡 Bonus Tip: For extra security, use the Revolut virtual card to safely pay for your travel adventures. You can freeze it as soon as you've complete the transaction. You can also use your virtual card for those 30 day trials we always forget to cancel and end up paying for.
More Reasons to Get the Best Travel Card
Revolut offers you a whole lot more than just the best travel card on the market. We've only told you why the card is great for travel.
To be honest, we've just scratched the surface because there are many more reasons to use Revolut.
With Revolut's paid plans, you can get insurance, buy cryptocurrency, invest in shares, transfer money abroad, get rewards and more. The list just goes on.
Revolut has changed the way people bank and that's the reason why we've made the best travel card our only card.
Related Guide: Revolut is not only the best travel card. It's also great for trading and investment too! Find out how we use Revolut to deposit money to the crypto trading app, Binance for FREE and use the savings to grow our investment portfolio.
Things Revolut Can Improve
If you've read this far, you're either sold and can't wait to get your hands on the card. Or, you're starting to suspect that we work for Revolut. We don't blame you, we would too!
Honestly, what Revolut offers is just brilliant! And there's simply nothing else out there we've tried that even comes close.
But not everything is perfect. There are certain things Revolut can improve, and it's only fair that we share them with you.
1. Live Chat Support Response Time
Although their live chat support is extremely helpful, we find that they sometimes take a little too long to respond.
On some days you may wait 5 minutes for a live agent, but on another day it can take up to an hour.
Their response time is simply inconsistent but we hope they improve this by connecting us to a live agent faster.
2. Credit Card Top Up Fee
We absolutely love the fact that you can top up your Revolut account using a credit card.
Sometimes you just can't wait to go on holiday or maybe you get great rewards for using your credit card. But we feel the fees Revolut charge to top up using a credit card is just too high.
We understand that they need to cover their costs but at 1.84%, we feel there's room for improvement.
3. How to Contact Revolut
As you already know, Revolut offer its services only via their app. That means they don't have any branches you can walk into if things go pear shaped.
So if your mobile phone is lost, you won't be able to contact Revolut without installing the mobile app on another device.
We hope they address this by offering email support or a website based chat support in the future.
Get the Best Travel Card for Free Now
We've given you more than 7 reasons why Revolut is the only travel card you'll need in 2023. But don't take our word for it. Order your free card today and try it for yourself.
Are you planning a scuba diving trip? Or maybe you're planning to spend the summer in Europe? Whatever your plans are, make sure you take your Revolut travel card with you on your next adventure.
If you need any more money saving tips on how to get the most out of your Revolut card, we'd love to hear from you so we can share all our secrets with you.