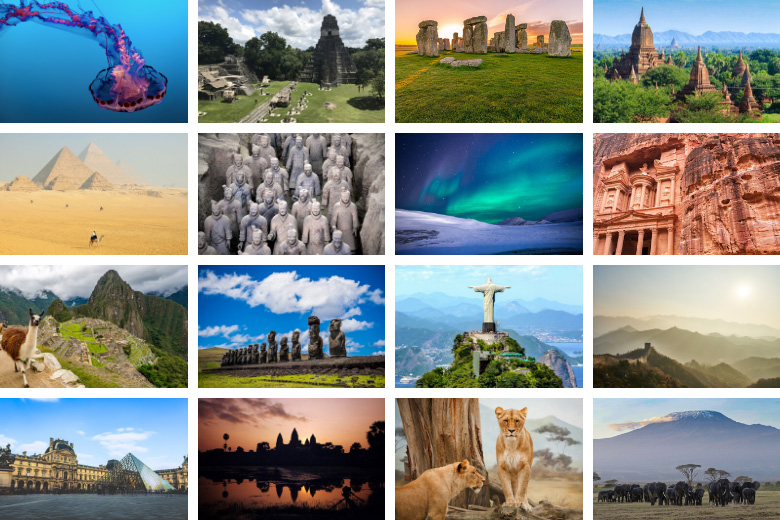 A comprehensive list of free virtual tours that will intrigue and delight all types of travel lovers. Discover the Seven Wonders of the World, visit UNESCO World Heritage Sites and iconic landmarks around the world from the comfort of your home! Experience your first virtual travel experience with us.
With extensive travel bans, citywide lockdowns and strict social distancing measures, it's hard not to eventually let cabin fever weigh you down. This is especially true if you've got a healthy addiction to travel like us. So we've found a way around the problem – virtual travel!
Obviously it doesn't replace the real thing, but it's better than nothing. It's also a great way to get travel inspiration and learn some interesting facts about the destination until we can travel again.
It will give you something positive to look forward to while we all do the responsible thing and #stayhome. Treat it like Facetiming the world!
It's also a great thing to do with kids at home. They'll especially love the wildlife live webcam feeds! This list is guaranteed to keep them occupied for days if not weeks!
So whether you love city escapes, exploring museums or learning interesting facts about the natural and man-made wonders around the world, there's something for everyone.
Make sure you share this with your friends and family who love travelling too.
What Do You Need To Virtual Travel The World
Virtual touring the world is easy. All you need is a laptop, cellphone or tablet and an internet connection. You don't need a VR set (virtual reality set), but if you have one it's a bonus.
We recommend using Google Chrome web browser because some of these virtual tour websites are not in English. Chrome makes it really easy translating foreign languages to English or whatever language you prefer.
Lastly, have a little patience as some of these virtual tours take a bit longer to load.
New Seven Wonders Of The World Virtual Tour
Everyone's heard of the Seven Wonders of the World. But did you know that there are two different lists for the 7 Wonders of the World?
No? We didn't either. The list most people know is the New Seven Wonders of the World. But there's also the Ancient Seven Wonders of the World.
Are you one of the those rare humans that can list all New 7 Wonders of the World?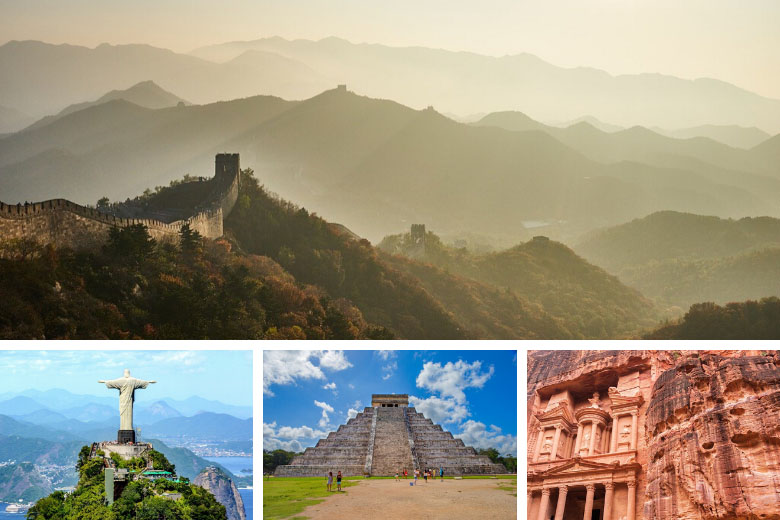 1. Great Wall of China
Often cited as the only human-made structure that is visible from space. The Great Wall of China is probably the most well known Wonder of the World. It captures over 2,000 years of history and stretches more than 21,000 km across several provinces in China. That's as long as 5 times the length of Australia!
This iconic landmark is usually teemed with tourists all year round. But you can visit it crowd-free on this Great Wall of China virtual tour.
2. Chichen Itza, Mexico
The ancient city of Chichen Itza is one of the most well restored Mayan sites in Mexico and also its biggest tourist attraction. El Castillo may be the most famous pyramid of Chichen Itza, but there are many other ancient ruins to explore.
If you love astronomy, you'll love learning how each structure was intricately designed to align with specific planets and stars. Sounds fascinating?
You can virtually tour Chichen Itza and explore some of its most popular sites and facts right from the comfort of your own home.
3. Christ The Redeemer, Brazil
The cultural icon of Rio de Janeiro, Brazil and a symbol of Christianity across the world. The Christ The Redeemer statue is the largest art deco statue in the world. It stands 38 meters tall (around 13 storeys high) and stretches 28 meters wide.
It was built by the Roman Catholic community of Brazil following the end of World War I. The community was concerned about the growing 'godlessness' when Brazil officially became a republic and the church was officially separated from the state.
You can skip the 200+ step climb to the top on this stunning virtual tour of Cristo Redentor.
4. Petra, Jordan
Also known as the 'Carved City' or the 'Lost City', Petra is known as one of the oldest cities in the world. It is estimated that the city was established in the 4th century (312 BC) but was only discovered by Western civilisation in the 1800s.
Only 15% of Petra has been explored by archaeologists, so not much is known besides it being home to about 800 tombs.
It's simply one of those places that you have to see to believe that it exists in real life. Petra is still on our travel bucket list, but this virtual tour is probably one of our favourites!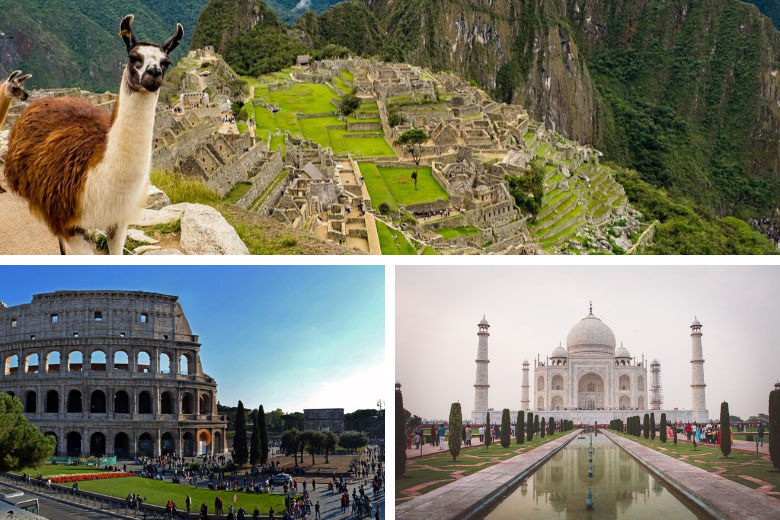 5. Taj Mahal, India
One look at the Taj Mahal and it's easy to see why it's a wonder. It's considered to be one of the most magnificent masterpieces of architecture in the world. Besides that, it's also a symbol of love. Don't believe us? See the Taj Mahal in VR for yourself.
The emperor built it in remembrance of his third wife who passed away giving birth to their 14th child. Today the couple remains buried together beneath the main inner chamber of the Taj Mahal.
It took more than 22,000 workers, 1,000 elephants and 22 years to build this incredible structure. Now there are concerns that it will crumble into pieces as its wooden foundations are rotting away.
6. Rome Colosseum, Italy
Did you know that Italy has the most number of UNESCO World Heritage Sites in the world? There are a total of 51 World Heritage sites within Italy of which the Colosseum is the most famous.
Historically, the Colosseum was a place where gladiator fights and executions took place in Ancient Rome. Today it stands as a symbol of power and majesty of the Roman Empire. It's also one of the most popular tourists attraction in the world.
7. Machu Picchu, Peru
Machu Picchu is famous for being the Lost City of the Incas. It is believed that this is where the Incas escaped to when the Spanish conquistadors arrived in the 16th century.
Besides its historical significance, Machu Picchu also showcases the Incas' incredible mastery of stone. The stones used to construct some of the most beautiful structures in Machu Picchu were cut so precisely and wedged so closely together, that a credit card cannot be inserted between them.
Not only was this more aesthetically pleasing, it also has engineering advantages. The stones were designed to bounce through earthquake tremors and fall back into place. This was only possible because no mortar (or cement) was used and the reason why Machu Picchu still stands today.
Virtual Tours of Top UNESCO World Heritage Sites
Top UNESCO Sites in Africa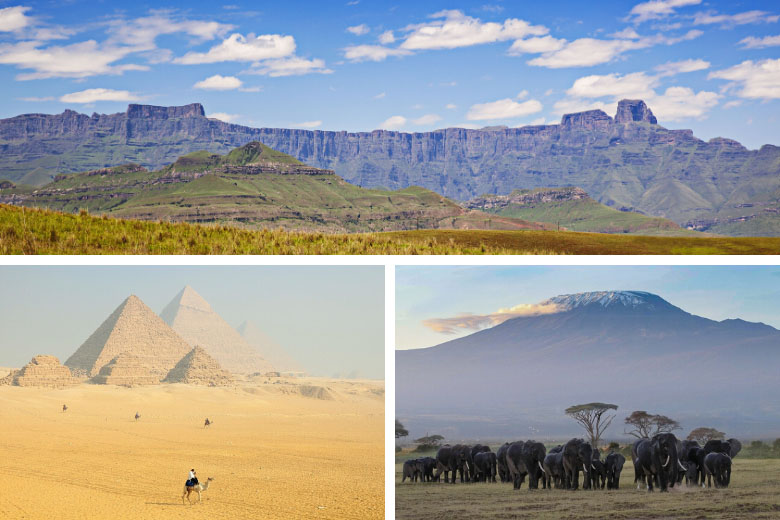 8. The Great Pyramid of Giza, Egypt
The Great Pyramid of Giza is one of the most famous landmarks around the world. Its sheer colossal size and perfect symmetry makes you wonder how this world icon was constructed more than 4,500 years ago.
Today, the Pyramids of Giza are the only surviving members of the Ancient Seven Wonders of the World.
9. Kilimanjaro National Park, Tanzania
Kilimanjaro is one of the largest volcanoes in the world and also home to Africa's highest mountain.
If you love hiking as much as we do, then Kilimanjaro is probably on your bucket list too. Close to 35,000 people attempt to hike Mount Kilimanjaro every year. But only 40% of them successfully reach the summit and around 5 to 15 people die every year attempting it.
There isn't a proper virtual tour of Kilimanjaro, but you can get some awesome 360 panoramic views using Google Map street views. Just drag the little yellow man to the circles on the map to 'explore' the area.
Save Me For Later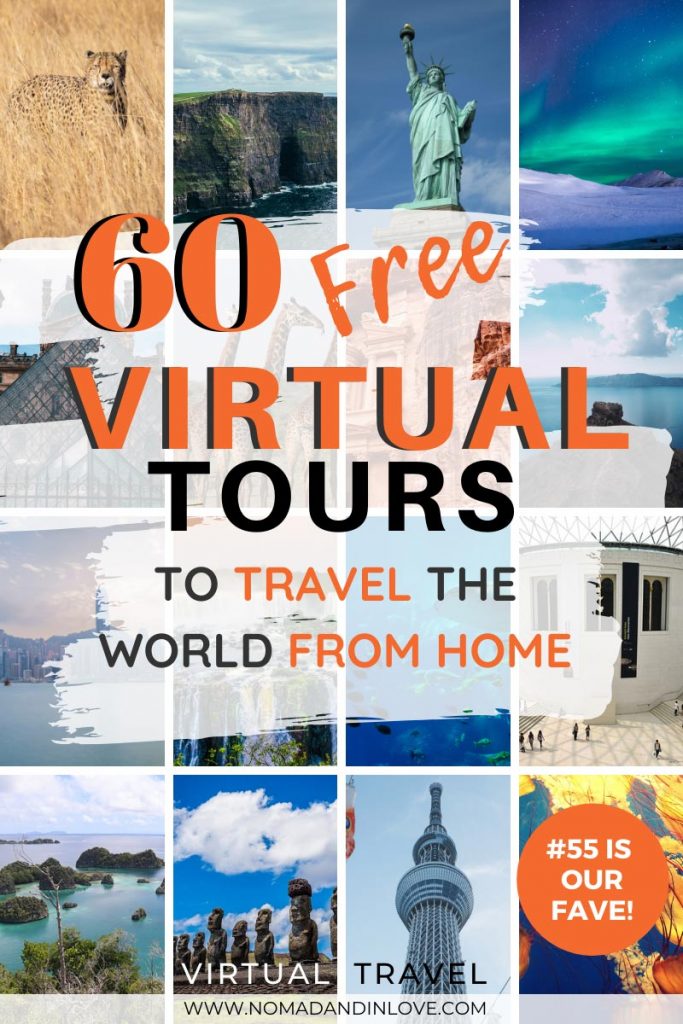 10. Drakensberg Mountains, South Africa
Not only is the Drakensberg Mountains a UNESCO Natural World Heritage Site, it's also a UNESCO Cultural World Heritage Site. Drakensberg is culturally significant because it hides more than 20,000 San rock paintings inside its nooks and crevices.
These rock paintings are important because they represent the earliest form of human creativity. They also symbolise the beginning of art in the world today.
We've had the privilege of hiking the Drakensberg Mountains when we lived in South Africa. If you plan to hike it too, make sure you read our top Drakensberg hiking trails of the Royal Natal National Park. We also share tips on how you can hike the Drakensberg with children.
Since that's not possible right now, you can enjoy the magnificence of the Drakensberg on this beautiful virtual tour.
Top UNESCO Sites in Asia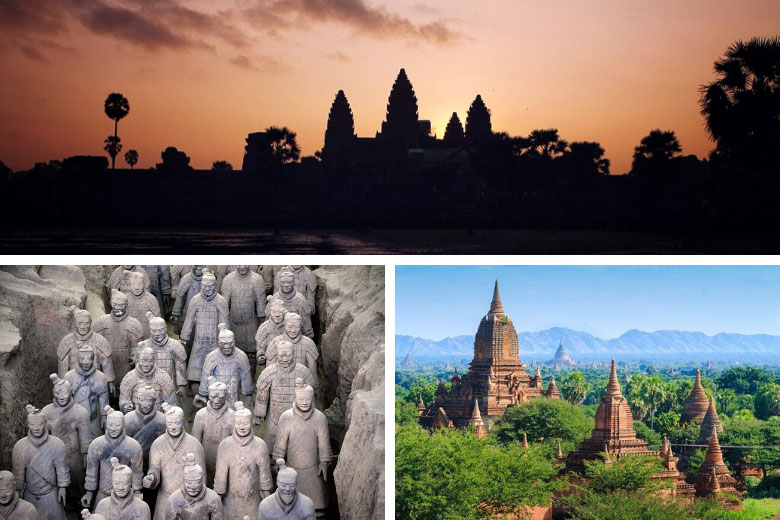 11. Bagan, Myanmar
Bagan is known as the 'sea of temples' because it has the largest concentration of Buddhist temples in the world. There were originally 10,000 Buddhist temples, pagodas and monasteries built here in the 1000s and 1100s. But only 2,000 of them still exist today.
Needless to say that the entire Bagan Archaeological zone is too vast to explore by foot alone. You can compliment your walk with a ride on old rickety bicycles, hot balloon rides or on this mind blowing virtual tour of Bagan.
12. Angkor Wat, Cambodia
Angkor Wat is famous for being the largest religious monument in the world. Yes, it's even bigger than Bagan! Before the fall of Angkor Wat in the 15th century, it was actually the largest city in the world.
Unlike Bagan, most of Angkor Wat still exists today. It was built with durability in mind because it was designed and dedicated to the immortal gods.
13. Terracotta Army, China
This World Heritage Site isn't a temple, but a mass grave. It's the burial ground for the First Emperor of China and his world renowned Terracotta Army.
No one knows exactly how many terracotta warriors were made. But it's been estimated that more than 8,000 soldiers, 130 chariots with 520 horses and 150 cavalry horses were sculpted. And if that wasn't amazing enough, each soldier has its own distinct facial features and were all built to life-size.
It took around 40 years to 'build' the entire army and its sole purpose was for protecting the emperor in his afterlife.
You can wander between these soldiers yourselves on this Terracotta Warrior virtual tour.
Top UNESCO Sites in Europe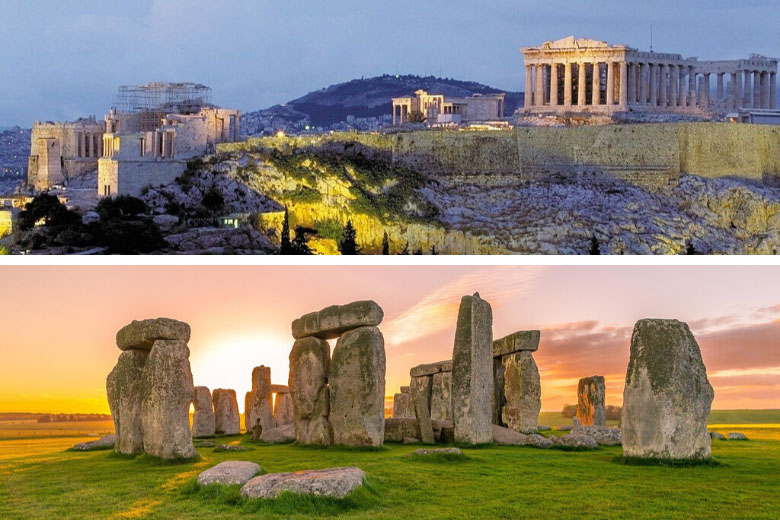 14. Acropolis of Athens, Greece
'Acropolis' translates into 'high city' in Greek. Most cities in ancient Greece had their city centres built on a mound or a hill. This is where they would build their important temples and where citizens could retreat to if under attack.
The most famous acropolis of Greece is, of course, the one in Athens with the iconic Pantheon dominating its skyline. The Acropolis of Athens has withstood the test of time, including bombardments, earthquakes and vandalism. Yet it still stands today as a reminder of the rich history of Greece.
15. Stonehenge, United Kingdom
Also known as the Bronze Age Ring of Standing Stones, Stonehenge is one of the UK's most unique sites and visited attractions. It's a prehistoric monument steeped in all kinds of myth and speculation because no one knows its true origin or purpose.
Some believe that Stonehenge was a Druid temple, built by ancient Celtic pagans as a centre for their religious worship. Others believe it to have astronomical significance as the light from sunrise and sunset aligns with the stones during summer and winter solstice.
Why don't you decide for yourself based on the interesting facts you'll learn on this Stonehenge virtual tour.
Top UNESCO Sites in North and South America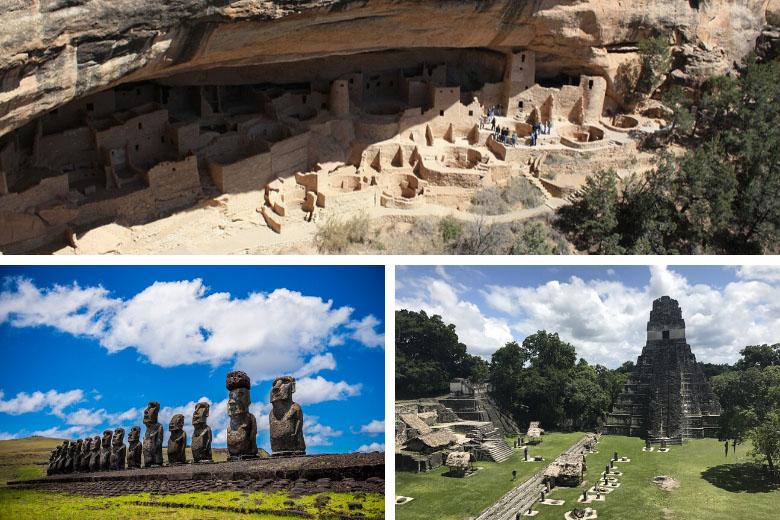 16. Mesa Verde National Park, USA
Mesa Verde is the largest and one of the most spectacular archeological sites in the USA. It was named a UNESCO World Heritage Site because it encapsulates how Native Americans once lived by carving their homes into the cliff.
It's one of the most well preserved ruins of the Ancestral Pueblo people in North America and you can virtually explore Mesa Verde right from the comfort of your own home.
17. Mayan Ruins of Tikal, Guatemala
At first glance, the Mayan Ruins of Tikal appears to be quite similar to the ruins of Chichen Itza. They were both major cities in the history of the Mayan civilisation and are both declared UNESCO World Heritage Sites.
The biggest difference between the two is that Tikal is less visited and often less crowded compared to the more popular Chichen Itza. That's because Tikal is located in the remote Guatemalan forests whereas Chichen Itza is much easier to access.
Some areas of Tikal remain unmapped or excavated too. So if you love hidden gems, make sure you visit the Mayan Ruins of Tikal, even if it's only by virtual tour for now.
18. Easter Island, Chile
Easter Island is a Chilean island in the south Pacific Ocean. It's famous for its 900+ giant statues known as Moais, which are scattered around the entire island.
It is believed that the Rapa Nui natives built these Moais to honour chieftains and important individuals from their village. They believed that by doing this, the spirit of the person would forever watch over the tribe and bring good fortune.
Today, Easter Island is believed to be the most remote inhabited island in the world. That's why it's also very expensive to get to. But have no fear, you can admire Easter Island virtually until then.
Iconic Landmarks and Buildings Around the World
Some of the most iconic and recognised landmarks and buildings around the world that you can explore for free from home.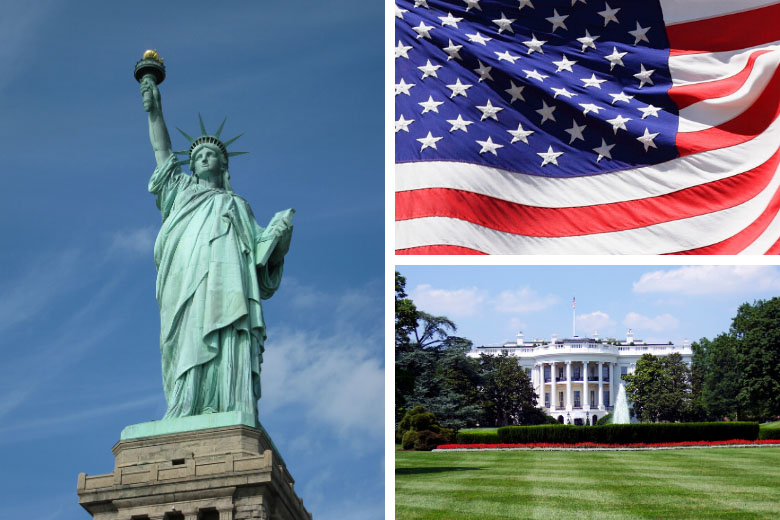 Iconic Landmarks and Buildings in USA
19. The White House, United States
Anyone can visit the White House free of charge. But you have to register and request a tour online and wait between 3 weeks to 3 months to visit. Skip the wait on this White House virtual tour.
20. Statue of Liberty, USA
More than 130 years ago, France gifted the Statue of Liberty to the United States to celebrate the friendship the two endured during the American Revolution. Today it represents freedom and democracy in the USA.
Iconic Landmarks and Buildings in the United Kingdom
21. Buckingham Palace, United Kingdom
The official residence of The Queen and a must-visit when in London. Skip the long 3 month wait and the €30 entrance ticket and see Buckingham Palace virtually.
Iconic Landmarks and Buildings in Italy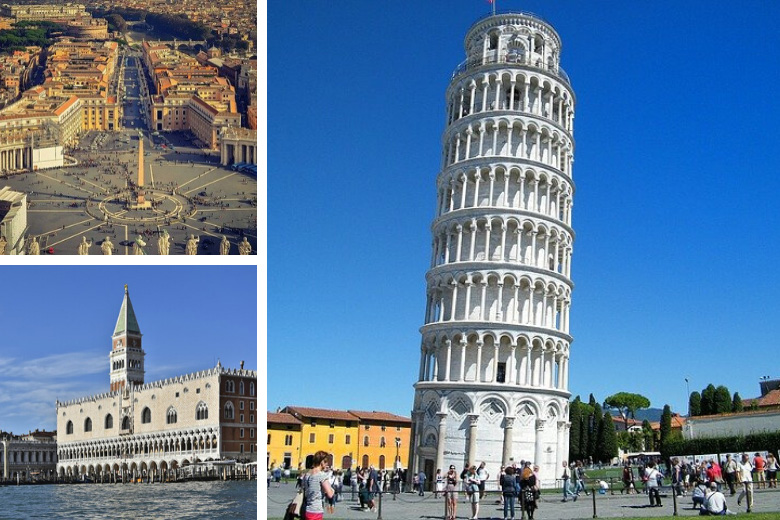 22. The Vatican, Italy
Vatican City is the headquarters of the Roman Catholic Church and the seat of government. More than 5 million people come to Rome every year to feast their eyes on the prized paintings and sculptures of the Vatican and to experience the most religious and cultural site in the world. Check out youvisit.com/tour/vatican for the tour.
23. Leaning Tower of Pisa
The Leaning Tower of Pisa is one of the most recognised landmarks in the world. The intention was to build the tallest bell tower for that era in order to show off Pisa's growing wealthy and prosperity. The 'leaning' part of the equation was actually an engineering mistake.
24. Doge's Palace, Venice
More than a 1,000 years ago, Doge's Palace was the home to the ruler of Venice and the seat of power for the Venetian Republic. Today it is one of Venice's must-see museums. Wander around the corridors of the Doge's Palace or along one of its many surrounding canals on this beautiful virtual tour.
Iconic Landmarks and Buildings in Germany
25. Reichstag Parliamentary Building, Berlin
The Reichstag is one of the most important buildings in Berlin today. Built to symbolise the reunification of Germany. It's one of the few parliamentary buildings in the world that allows the public to watch over government processions. Similar to the White House, it's free to visit but you have to book months in advance for a tour. Wait no more as this virtual tour of the Reichstag is pretty awesome.
Wondering how travelling in Berlin and Germany has changed since COVID? Find out what it's like to visit Berlin during the coronavirus pandemic.
Iconic Landmarks and Buildings in France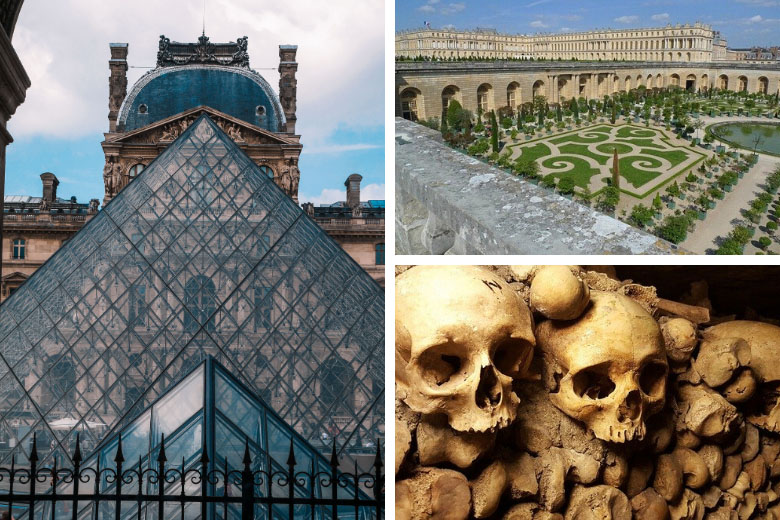 26. Palace of Versailles, France
Did you know that the Palace of Versailles was a mere hunting lodge before it became the world's largest palace? It's one of the most important landmarks in French history because it symbolises the power and downfall of the French monarchy.
Explore its opulent, regal interior and admire its intricate details on this Palace of Versailles virtual tour.
27. The Louvre Museum, Paris
The Louvre use to serve as the royal palace for the French monarchy. It only became an art museum after the royal family moved their residence to Versailles. Today it is the world's largest art museum and an iconic historical monument in Paris.
28. The Catacombs of Paris, France
It's no coincidence that the word 'catacombs' rhymes with 'tombs'. The Catacombs of Paris is the world's largest underground burial site. The city was growing too fast for its cemeteries to handle the bodies of the dead. The solution was to move the bodies and bury them underground. Archaeologists estimate that around 6 to 7 million bodies were buried down there. Creepy…
Iconic Landmarks and Buildings in Israel
29. The Holyland, Bethlehem and Jerusalem
Also known as the most sacred place on earth. It is here at The Holyland that the main religious faiths believe that God first entered into a relationship with the human race.
Virtual Tours of Top Natural Wonders and Attractions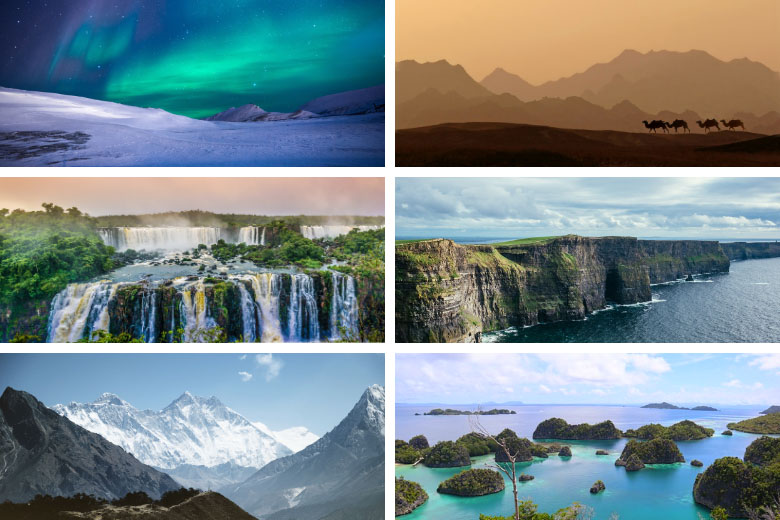 30. Niagara Falls, Canada – see live video feeds of these world famous falls on EarthCam.
31. The Northern Lights, Canada – another great live webcam to catch a glimpse of the Northern Lights. Remember to watch this in the evening Canadian time.
32. Victoria Falls, Zambia – a magnificent virtual tour of the world's largest waterfall.
33. Sahara Desert, Africa – explore the world's largest desert without getting sand in your eyes.
34. Mount St Helens, USA – travel back in time and witness the day Mount St Helens erupted back in 1980.
35. Mount Everest, Himalayas – the only way to trek the world's highest mountain without training is going on this virtual tour. Remember to click on the arrows to explore around.
36. Cliffs of Moher, Ireland – discover the most beautiful natural landscapes of Ireland on this gorgeous virtual tour.
37. Hawaii Volcanoes National Park, USA – one of our favourite virtual tours from the whole list. Not only is it mesmerising, but you can also learn so many interesting facts on this tour.
38. Grand Canyon, USA – enjoy a virtual hike and explore one of the most famous national parks in the USA.
39. Yellowstone National Park, USA – a nature lover's paradise. Make sure you use Google Chrome for this tour.
40. Zhangjiajie National Forest Park, China – otherwise known as 'Avatar Mountain'. The mesmerising, otherworldly landscapes that inspired the 'floating mountains' in one of our favourite movies, Avatar.
41. Galapagos Islands, Ecuador – A scuba diver and nature lover's idea of paradise! This is right on the top of our travel bucket list.
42. Raja Ampat, Indonesia – The epitome of utopia. Hundreds of jungle-covered islands as far as the eye can see and some of the best beaches, coral reefs and scuba diving spots in the world.
Virtual Tours From The Top: City Skylines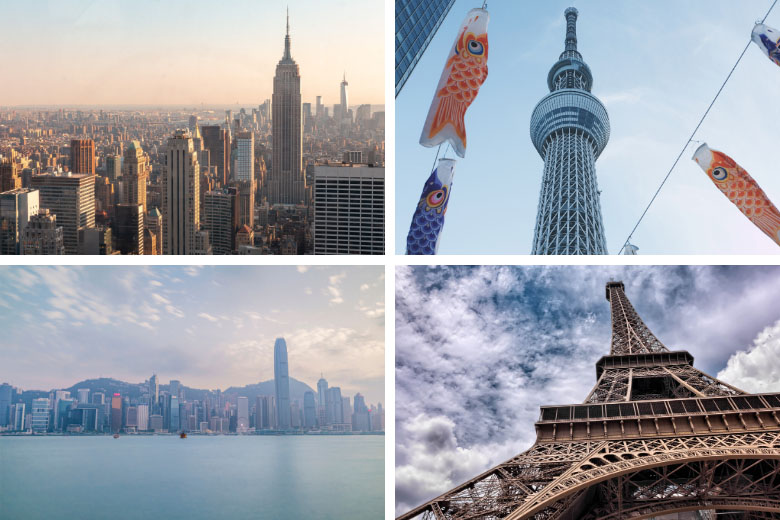 43. New York Skyline – New York, New York! Head up to the 102th floor of the Empire State Building on this virtual tour and admire the city that never sleeps from above.
44. Tokyo Skytree, Japan – Teleport yourself to the highest structure in Tokyo and admire the vibrant capital city of Japan from the top. We hope you aren't afraid of heights because the Tokyo Skytree is 634 meters tall which is more than double the height of the Eiffel Tower.
45. The Eiffel Tower, Paris – Head to the top deck of the Eiffel Tower and marvel at the City of Love on this breathtaking virtual tour.
46. The Peak, Hong Kong – Ever heard the phrase 'A New York minute is a Hong Kong second' before? Discover one of the most populous and expensive cities in the world from its highest peak. When you're ready to visit Hong Kong in person, make sure you read our 7 tips to travel Hong Kong on a budget before you go.
47. St Paul's Cathedral, London – Admire London's epic skyline from the top of St Paul's Cathedral.
Free Virtual Museum Tours
You should download the Google Arts and Culture app to your phone if you're a museum lover. You'll find tons of stunning virtual tours and interesting things to learn from the arts and culture world. Here are some of our favourite free virtual museum tours.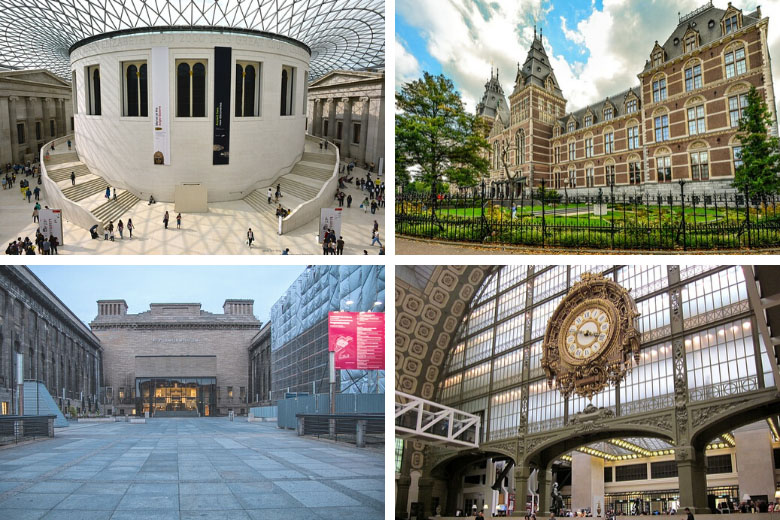 48. The British Museum, London – The famous British Museum is dedicated to human history, art and culture. Their permanent collection consists of more than 8 million pieces of artwork. Making it one of the largest and most comprehensive compilations in the world.
49. Musée d'Orsay, Paris – If you love French art whether that's paintings, sculptures, furniture or photography, you'll love the Musée d'Orsay Museum.
50. Pergamon Museum, Berlin – Explore one of the largest and most visited museums in Germany. The Pergamon Museum is known for its antiquity collection and Islamic and Middle Eastern artworks.
If you love history and want to learn more about the story behind the Berlin Wall like why it was famous and so important. We've explained it simply (i.e. Story of the Berlin Wall for dummies) in our Berlin Wall by Bike guide.
51. Rijksmuseum, Amsterdam – The national museum of the Netherlands that holds some of the world's most famous artworks from artists like Vermeer and Rembrandt.
52. Van Gogh Museum, Amsterdam – Another jewel from Amsterdam. The Van Gogh Museum needs no introduction.
53. The Metropolitan Museum of Art, New York – Also known as The Met. This is one of the largest museums in the world. You can easily spend days if not weeks here admiring everything from antiquities, paintings, sculptures to modern art and fashion. A museum that has something for everyone.
Live Webcam Feeds for Wildlife Watching and Scuba Diving
We saved the best for last. Watch wildlife and underwater sea life from home via live webcam feeds! If you didn't know you could do that, now you know.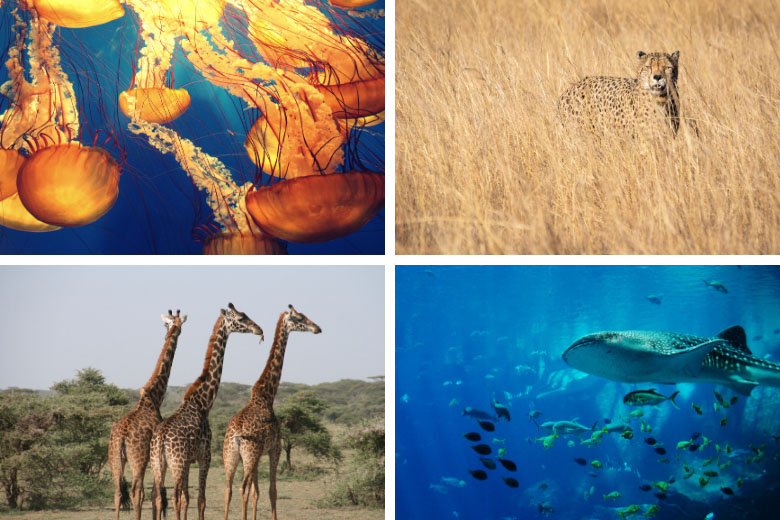 54. Tau Game Lodge in Madikwe, South Africa – The beautiful Madikwe Game Reserve is located on the edge of the South African border close to Gaborone, Botswana. They have a 24 hour live webcam looking over one of the water reservoirs where the animals come to drink.
55. Kruger National Park, South Africa – Have you always dreamt of going on safari? Wait no more! WildEarth is hosting daily safari rides, twice a day so you can see some of South Africa's most beautiful wildlife live with their awesome rangers! This is definitely one of our favourite wildlife webcam feeds! Support WildEarth with a donation if you can during these difficult times.
56. African River Wildlife, Kenya – There are more than 10 live webcam feeds here so you're spoilt for choice. Head over to Explore.org and enjoy 'Facetiming' these amazing creatures.
57. Virtual Dives with National Marine Sanctuaries – Discover the underwater world with virtual scuba diving! There's a host of coral reefs waiting for you to explore. Just click on the video and use your mouse or VR set to look around.
58. Underwater Cave Diving – Even certified scuba divers like us are not allowed to explore underwater caves without the right technical qualifications and training. So whether you're a scuba diver or not, you'll most definitely enjoy this cave scuba diving virtual tour.
Want to learn how to scuba dive? Check out our Beginners Scuba Diving guide where we share how you can save time and money getting certified.
59. Georgia Aquarium – 'FaceTime' with the residents of Georgia Aquarium via their live webcams. See sea lions, puffer fish and even the elusive beluga whale.
60. Monterey Bay Aquarium – Another amazing aquarium with an array of live webcams. Spy on sea otters, jellyfish, penguins and even turtles and sharks.
Virtual Tours: How To Travel For Free From Home
We had a lot of fun looking for different ways to 'travel' the world from home. We hope you enjoyed your first experience of 'armchair travel'. We'd love to hear which one was your favourite.