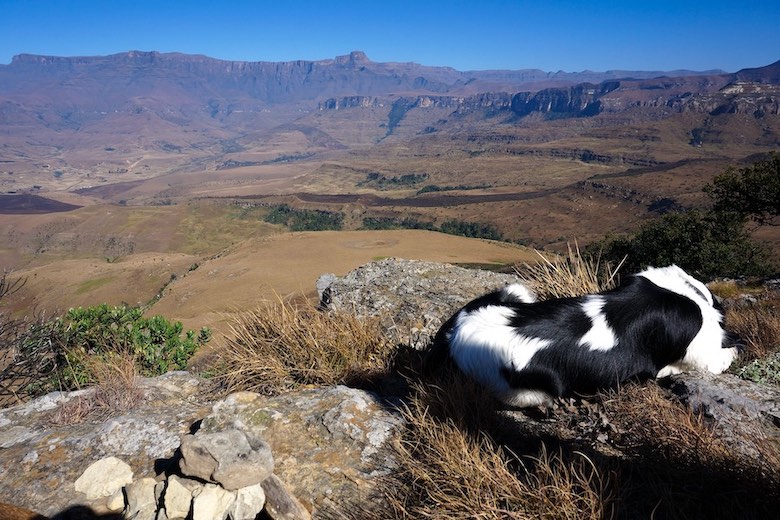 A family and children-friendly guide to hiking the Drakensberg in South Africa. Experience the adventure of a lifetime with the whole family.
Whether you're a traveller or South African local, hiking the Drakensberg Mountains is one of the top activities to experience when you're in the beautiful country of South Africa. Not only does it feature some of the most grandeur landscapes and dramatic rock formations in the world. It's also known for some of the best hiking and cycling adventures in South Africa.
A must-do, once in a lifetime experience if you're a nature lover and outdoor enthusiasts like ourselves. True, being in the remote outdoors isn't always the easiest choice when you have a family with young toddlers. But in this travel guide, we're sharing how you can have your cake and eat it!
Yes, you can hike the Drakensberg AND share this experience with the whole family. This is the ultimate non-camping and children-friendly Drakensberg hiking guide.
Things to Know Before Hiking Drakensberg
What is Drakensberg Famous for?
In Zulu (one of 11 official languages in South Africa), Drakensberg roughly translates to 'the mountain of dragons'. It is one of the most notable, natural features on the African continent and declared both a UNESCO natural and cultural world heritage site. It's easy to see why the Drakensberg is a natural heritage site, but why cultural? It is estimated that there are more than 20,000 San rock paintings hidden across the Drakensberg Mountains.
Want to catch a glimpse of how the 'mountain of dragons' looks like right from home? You can on this virtual tour of the Drakensberg Mountains.
How High is the Drakensberg Mountains?
It is the highest mountain range in South Africa at a maximum height of 3,482 metres above sea level. Just to give some context, this is more than 3 times higher than Table Mountain in Cape Town. The entire mountain range spans more than 1,100 kilometers long. That's roughly the distance from London to Berlin!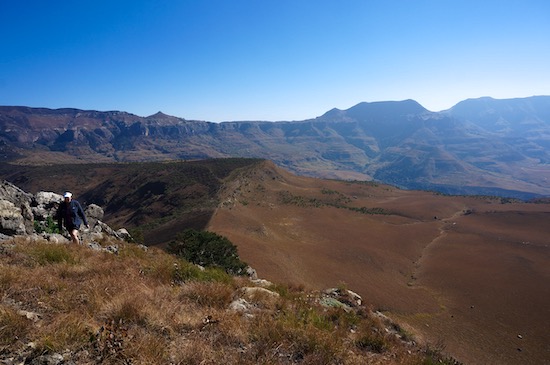 Best Drakensberg Hiking Trails
There are an unlimited number of hiking trails in the Drakensberg. The most popular trails are located on its northeasterly section. This part of the mountain borders and stretches into Lesotho. Now Lesotho may look like a province of South Africa, but is actually an entirely separate country on its own. But don't worry, many nationalities do not require a tourist visa to enter its borders. Just double check whether you require a visa for Lesotho (evisalesotho.com) if you intend on hiking Drakensberg's highest peak, Thabana Ntlenyana.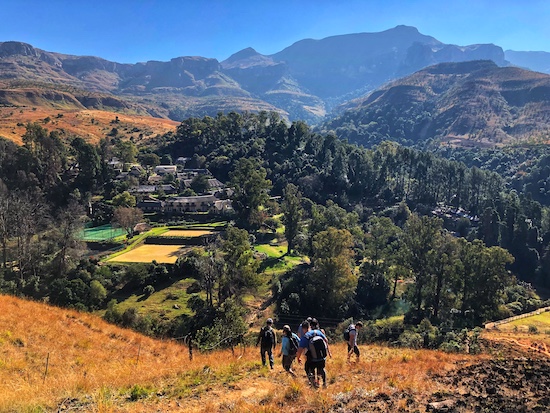 Besides Thabana Ntlenyana, Drakensberg's highest peak, these are 7 of the most famous hiking trails in the Drakensberg region.
Most Famous Drakensberg Hiking Trails
Amphitheatre Hiking Trail
Rainbow Gorge Hiking Trail
Chain Ladders Hike
Cathedral Peak
Giant's Cup Hiking Trail
Tugela Falls
Ploughman's Kop
Make sure to read our most epic day hikes in the Royal Natal National Park guide if you're short on time. The guide covers 3 out of the 7 most famous hiking trails. They are also all close to each other so you won't need to drive too far.
Best Time of Year for Drakensberg Hiking
You can hike the Drakensberg all year round. However, the best time to visit the Drakensberg is during Spring (September to November) and Autumn (March to May). The temperature is more moderate during these months. If you love flowers and plants, November is the best month to see South Africa's indigenous fauna growth.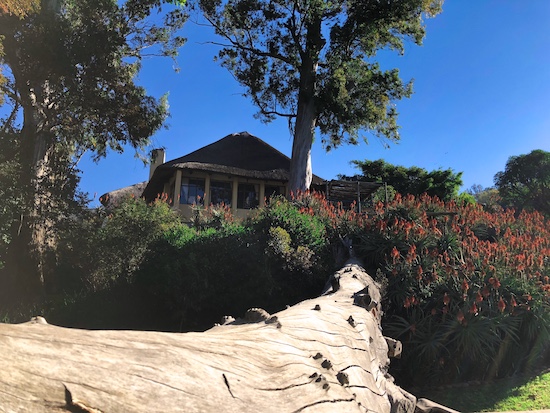 Summer (December to February) is great if you fancy swimming after your hikes. The rivers are usually full this time of the year and wonderful for swimming. Just be wary that summer is the rainy season and afternoon thunder storms may interrupt your activities.
In the winter months (June to August) you'll be able to enjoy hiking under clear, sunny days. If you're lucky, you may even see some snow capped peaks at higher altitudes. The views will be incredible but the hike will be more challenging.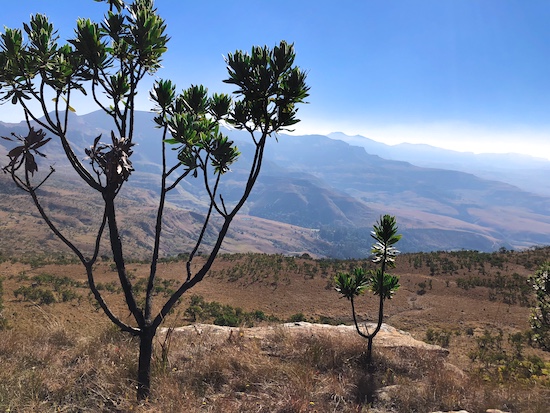 We hiked the Drakensberg in the beginning of winter and were greeted with blue, sunny skies everyday. It was only on one of the four days where we felt really cold because of strong winds. Otherwise that we had great moderate weather to hike in.
How to Get to Drakensberg Mountains
Unfortunately there are no direct flights to the Drakensberg. The best option will be to fly into either Johannesburg or Durban and rent a car. That will likely be the cheapest option for a family or group larger than 3 people to get to the Drakensberg.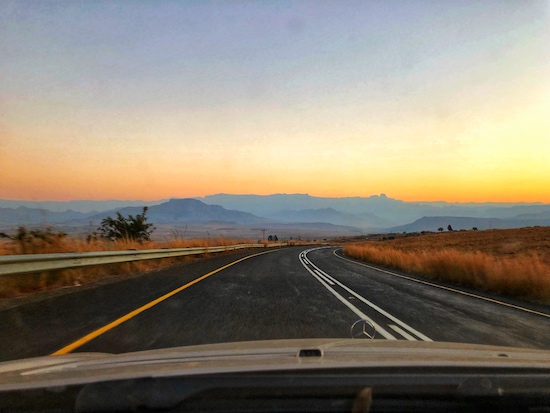 Depending on which part of the Drakensberg you're heading to, it will take 3.5 hours to 5 hours to drive there.The drive should be pleasant and pretty easy to do. The roads are generally well maintained so you won't need a 4X4 or 4 wheel drive to get to the Drakensberg. Just be prepared to drive on the left hand side of the road.
Do You Need an International Driver's Licence to Drive in South Africa
You only require an International Driver's Licence to drive in South Africa if your driver's licence is not in English. If you have a UK driver's licence or any other driver's licence that is printed in English, you won't need one. Just make sure that your driver's licence has a photograph of you and your signature for it to be valid in South Africa.
Bus Transport to Drakensberg
Bus or public transport from Johannesburg and Durban to the Drakensberg is very limited. The closest we found was taking the Greyhound bus from Johannesburg to the small towns of Harrismith, Ladysmith or Howick. Once you get there, you'll still need to take a taxi for another 1 to 2 hour journey. Uber may not be available in these small towns so you may have to negotiate the fee with one of the local taxi drivers in the area.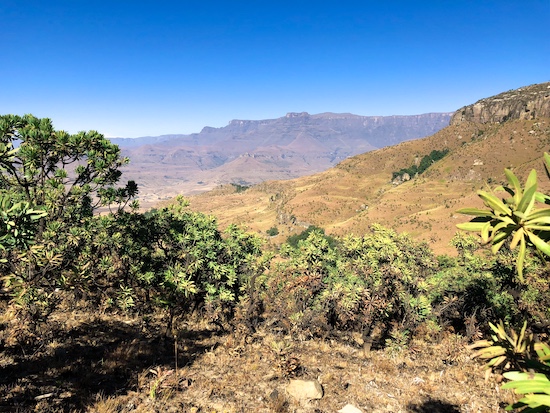 We don't recommend this option to solo travellers because it may end up costing the same as hiring your own car and may not be the safest option either.
Day Trips to Drakensberg from Durban
If you not able to stay overnight in the Drakensberg but keen to experience some day hikes, you can join full day hikes from Durban. This is a great option if you're travelling solo because the tour includes transfers from Durban to the start of the hiking trail. Another plus is that these hikes are guided.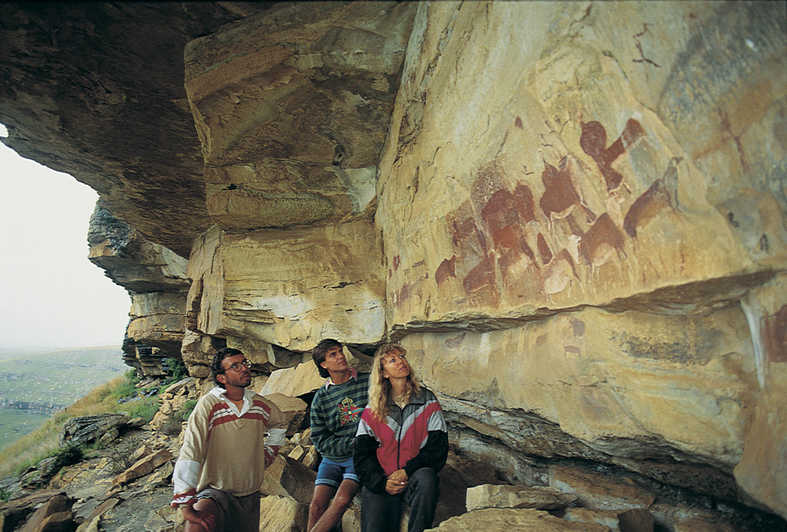 Is it Safe to Hike in the Drakensberg?
As South African locals, this is probably the most frequently asked question we get from travellers who are interested in travelling to South Africa. You can read our comprehensive safety travel tips for South Africa, but the short answer is yes if you exercise basic streetwise tactics. And no, we don't mean that you need a black belt in karate.
Simply don't create temptation by wearing flashy and expensive jewellery, hang your camera or smartphone around your neck, carry large wads of cash on you, wander around alone at night or pick up random hitch hikers along the side of the road. Drakensberg is relatively safe because it is quite remote and far away from big cities and towns, but it may still be helpful to exercise normal caution anyway.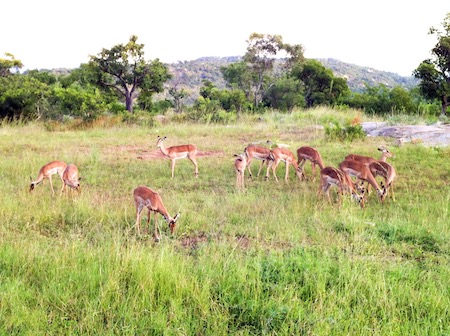 We recommend going on guided hiking tours if you're extra cautious. You will naturally be joined by a guide and other hikers to form a bigger group. There is safety in numbers – something worth learning from the native springboks and elands you'll likely see on your hikes.
Is Drakensberg Safe for Solo Travellers?
Yes, South Africa's got a bad rap, especially for female solo travelling. But don't be disheartened. You can still experience South Africa and the beautiful Drakensberg region. We recommend staying at a hostel or backpackers (definitely don't camp solo) and meet up with other solo travellers to hike together.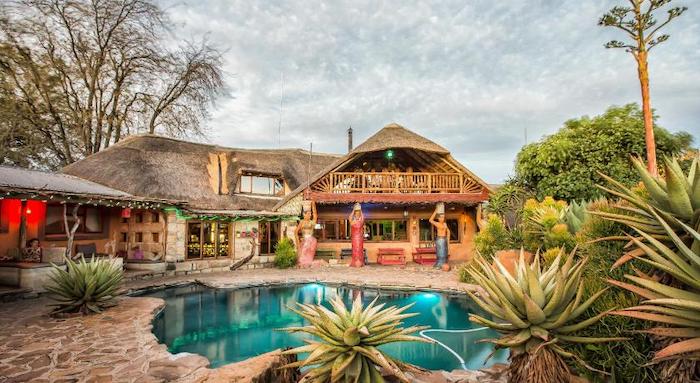 We don't usually recommend places we've never personally experienced ourselves, but here's a short list of backpacker accommodation options to get you started:
Transport may be the only issue if you're on a tight budget and can't rent a car or don't have a driver's licence. Our advice is to contact your accommodation to find out which buses you can take and whether they will fetch you from the bus stop for a fee.
Before booking your accommodation, read our How To Travel For Cheap Guide and find out how you can save up to 53% booking flights, accommodation and car rental.
Budgeting for Your Drakensberg Trip
Budget anywhere between €45 – €130 per person per day for adults and less for children under the age of 13. Some hotels offer large discounts for children under this age. The budget will vary depending on the type of accommodation and whether meals are included.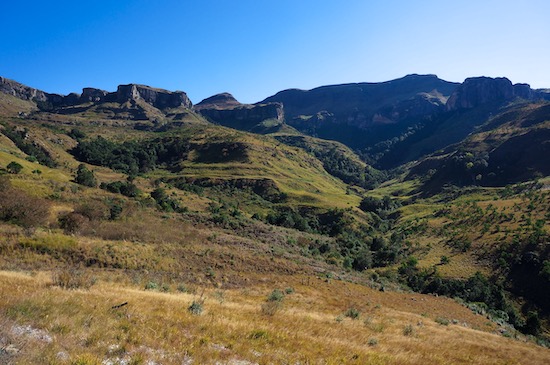 For a family-friendly option, we recommend staying at full-board accommodation, where all your meals are taken care of and included in the price. That way you'll have less stress trying to find grocery stores in the area, which may be quite a far drive away depending on where you stay. This is the best option for maximising your time and exploring the beautiful mountains instead of arguing over who's cooking and washing up.
Money and Banking in South Africa
South Africa is pretty card friendly at most places, so leaves your ZARs on your plastic for safekeeping and just keep R500 (€30) cash for tipping.
We never travel without our Revolut card because we can easily buy foreign exchange at the best prices AND get free cash withdrawals. If your travel card doesn't offer this, then maybe you should consider switching after reading our Why Revolut Is The Best Travel Card guide.
Tipping at Restaurants in South Africa
It is customary to tip 10% of the bill at restaurants where you are served your meals. At most restaurants, you can add the tip directly to your bill, pay for it using your credit or debit card and your lovely waiter will receive the tip.
Save Me For Later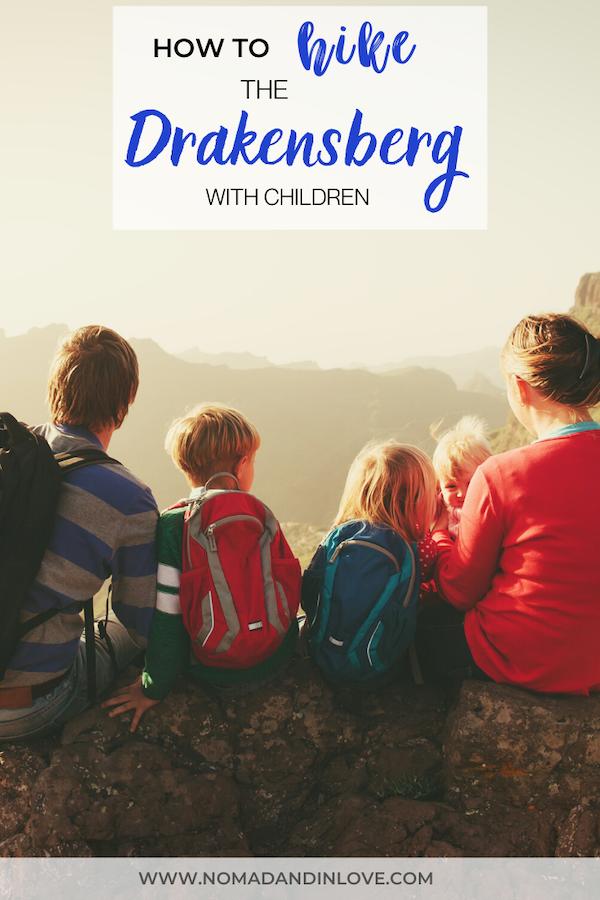 Family-friendly Drakensberg Accommodation Options
The best way to decide where to stay with your family, is to start off by deciding which hiking trails you would like to explore and finding accommodation around that area.
The Drakensberg region is huge, so if you plan on doing hiking trails that are far apart from each other, then plan a route and book short stays at hotels close to these trails. Some hiking trails will be directly accessible from your accommodation, whilst others will require a short drive. Make sure that these hiking trails can be completed in a day unless you want to brave camping in the wilderness.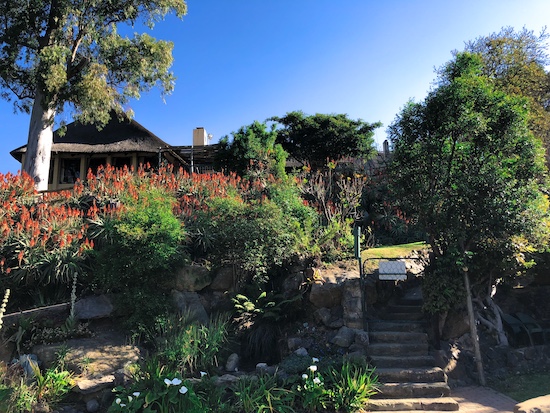 Hiking in the Royal Natal National Park, Drakensberg
We decided to hike in the Royal Natal National Park, which is the most northerly tip of the Drakensberg Mountain range. It is a short drive (3.5 hours) from Johannesburg and gives you access to 3 of the 7 best hikes in the Drakensberg region: the Chain Ladders Hike, Tugela Falls and Amphitheatre hiking trail.
Bonus Tip: Hiking the Drakensberg isn't a walk in the park! You'll need proper hiking shoes and gear for the journey. And that includes high-quality hiking shorts! We love the hiking shorts from KÜHL! Not only are they lightweight, quick drying and offer sun protection of UPF 50+, but also durable and super comfortable to wear. Check out KÜHL women's hiking shorts and men's hiking shorts before embarking on your adventure in South Africa!
The Cavern Resort & Spa Review
We stayed at The Cavern Resort & Spa, which is located just outside the Royal Natal National Park. It's a great accommodation option for families as well as couples.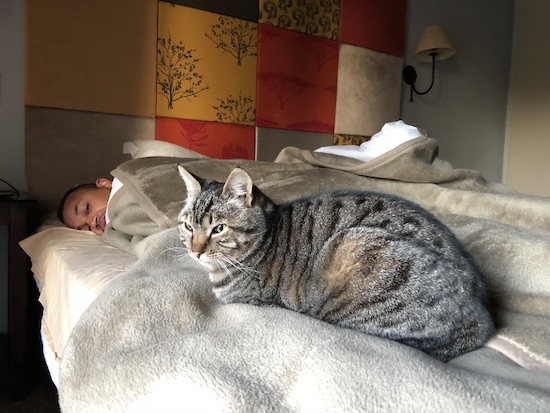 The room rate includes everything from all your meals, snacks, daily guided hikes to evening entertainment. This is a great option for family trips as they'll be something for every member of the family, including kids to do. Tennis courts, horse riding, fly fishing, mountain biking, a spa and even nannies and a children's playroom!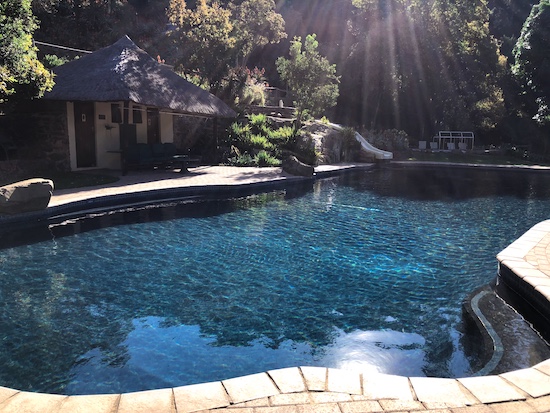 If the weather is not great, you can try your hand at the pool table, table tennis or play some board games. One things for sure, there's plenty to do besides hiking and soaking up the majestic natural beauty of the Drakensberg. You can finally go on that date with your partner whilst the kids entertain themselves.
Alcohol is one of the few things excluded from the room rate, but you can easily resolve that by visiting their awesome cave bar. They have an amazing range of delicious South African and international wines to pick from, and at reasonable prices too.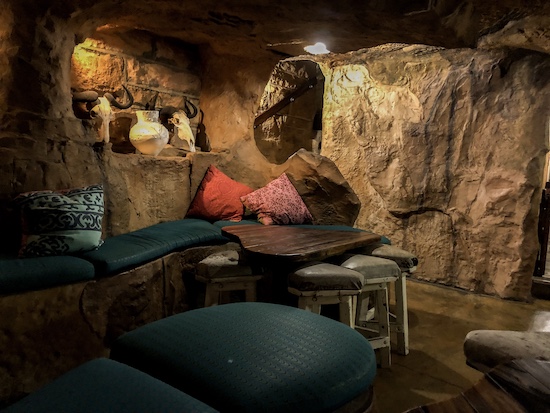 If you're a gin lover, make sure to try the Six Dogs Blue Gin. It's a proudly South African made product. Keep an eye out on the bar man while he makes this drink, as the gin changes colour when tonic water is added to it.
Family-friendly Day Hikes in the Drakensberg
With all the wonderful things to do at The Cavern Resort and the amazing food, it's easy to forget that the whole aim of heading to the Drakensberg in the first place, is for the world-famous hiking.
The Cavern offers two daily guided hikes: A short, easy hike that takes approximately 1.5 hours to complete and a longer hike that takes around 3.5 hours to complete. In our opinion, children from the age of 5-14 will be fine on the short hikes whilst children older than 15 years of age should manage the longer hikes better. This will of course depend on the hiking trail so check with the hotel beforehand to make sure.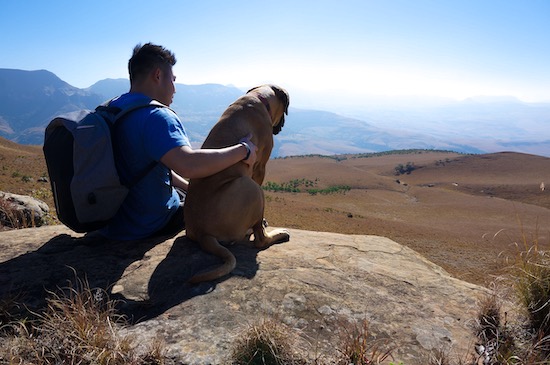 The upcoming hikes for the following week is shown on their notice board with names of the hike, expected duration as well as difficulty level so you can pick and choose what suits you and your family best.
All these hikes are led by very knowledgeable and friendly guides who are very familiar with the trails and the surroundings, so you are sure to be in good hands. If you're lucky, you may be joined by some of The Cavern's fur babies: Moya, Zinga and Gusto on your daily hikes. As animal lovers, this was something we looked forward to everyday and was the cherry on top of our hikes.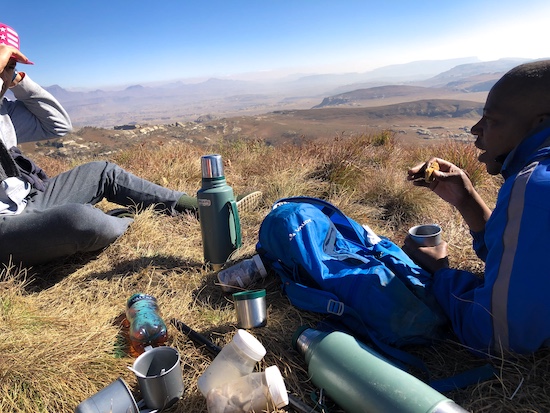 Unguided Drakensberg Hiking Trails
​If you prefer going on your own hiking adventures, you can do that too. The paths are pretty well marked and there are plenty of hikes you can do directly from The Cavern without driving out. But if you want the benefit of a guide on your own private outing with your family, you can also easily arrange one with the resort at an additional charge.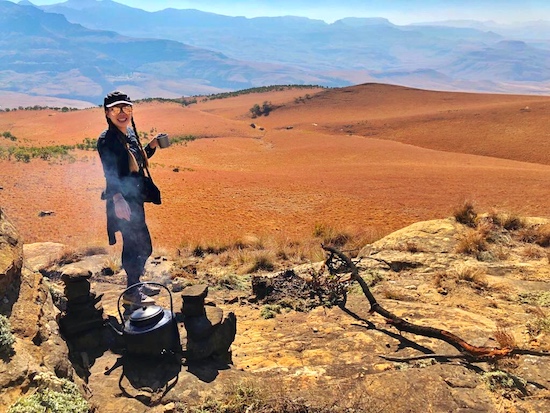 Hikes around The Amphitheatre in Drakensberg
There are different hiking trails every day of the week. We did the longer, guided day hikes Sugar Loaf, Maya Falls and Camel's Hump on our 3 night, 4 day stay.
Out of the three, Maya Falls was probably the easiest for the whole family. Sugar Loaf was particularly difficult for us as we had very strong winds on the day, which made ascent a lot harder and colder too. But once we got to the top we were greeted by the most spectacular views while enjoying our tea, coffee and biscuits.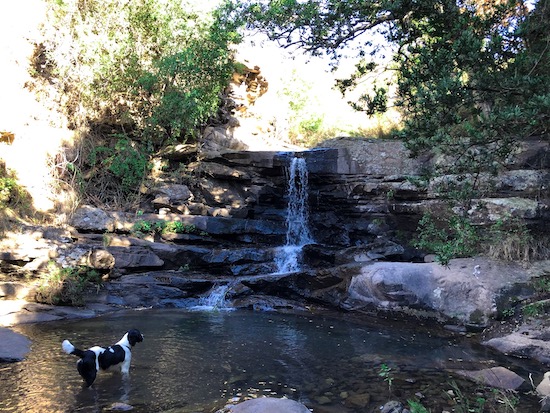 Camel's Hump was probably our favourite hike out of the three. We loved the change in terrain between grassy hills to the last section, a rock formation that is shaped like a camel's hump (hence the name). From the top of the hump, you'll be able to feast your eyes on the world famous heritage site, The Amphitheatre.
This is a great hike to do with the family if you'd like to catch a glimpse of The Amphitheatre and aren't able to do The Amphitheatre Ascent hike. This hike is not normally included as one of the longer daily hikes from The Cavern. This hike usually takes an entire day to complete the 2,930m summit. It is however possible to hike this trail if you make a prior arrangement with the hotel.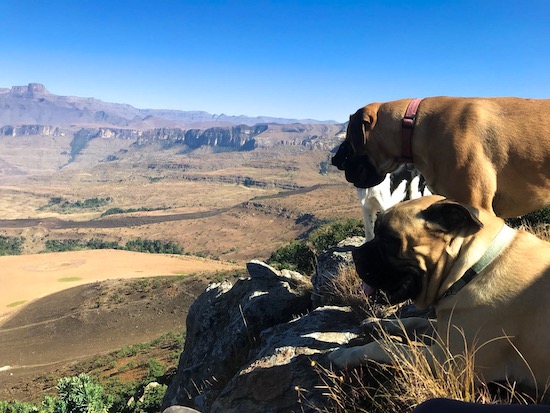 Tugela Falls Hike, Drakensberg
Another hike you should try your best to do from The Cavern is Tugela Falls. It's famous for being the highest waterfall in Africa and the second highest in the world at 948m! This hike is a short 25 minute drive from The Cavern and can be done without a guide because the route is relatively easy and well marked. We were unfortunately not able to hike Tugela Falls because Michael had twisted his ankle on one of the hikes, so we will definitely have to return to do this hike.
A video is worth more than a gazillion words. Check out our cinematic video taken on our Drakensberg hiking trip!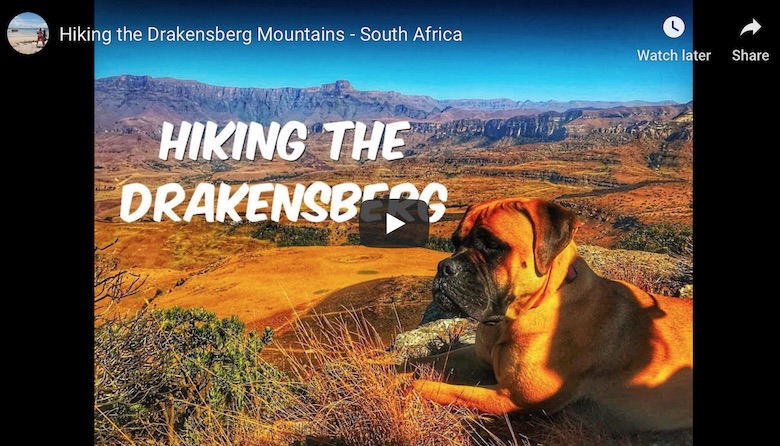 Do You Need Hiking Shoes for Drakensberg?
This is not an absolute necessity, meaning you will be able to complete the hikes wearing comfortable, sport shoes. Hiking shoes are a plus if you tend to have weak ankles and aren't used to rocky terrain. We managed to complete all our day hikes wearing our normal sport shoes, but now that we're pretty serious into hiking, we'll likely invest in some proper hiking shoes for our next trips.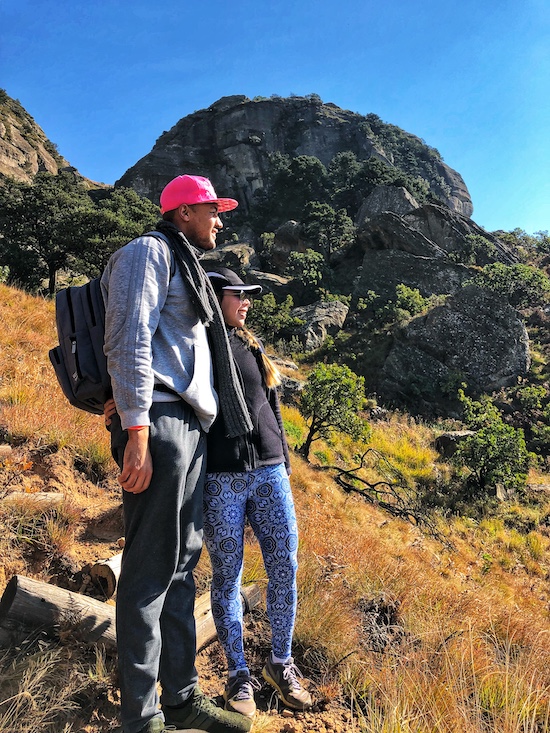 Where to Travel Next After the Drakensberg
If you're exploring the Africa continent, make sure you read our other African Travel Guides:
Other Great Hiking Adventure Destinations
We love hiking because it gives us an intimate way to experience the unique, natural environment of every country we visit. If you feel the same way, then make sure to check out some of our other exciting hiking travel guides.
Like hiking through a water cave in Thailand, in our Khao Sok Lake Tour travel guide. Climbing the Railey viewpoint and getting a bird eye's view over Krabi in our Ultimate Krabi Outdoor Itinerary. Or meet orangutans in the wild in Indonesia and hike through the rainforests to see these magnificent creatures in their natural habitat.