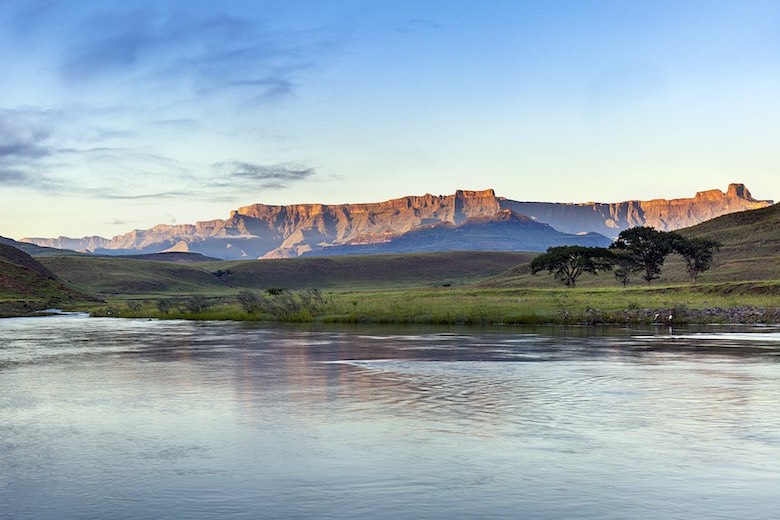 An ultimate guide for enjoying some of the best hiking trails the Drakensberg has to offer. We share 5 of the most epic day hikes you can experience in the Royal Natal National Park and categorised these by difficulty level, from the easiest to the most challenging hiking trails.
There are an infinite number of hiking trails in the Drakensberg. But arguably some of the most beautiful hikes that are also easy to get to by car, are in the Royal Natal National Park.
Situated around 3 hours drive from both Johannesburg and Durban. It's a short and easy drive to experience some of the best hikes South Africa has to offer when you're short on time or only have a long weekend to spare.
This comprehensive guide covers everything from how to get there, how much to budget, trail maps and hiking trail difficulty levels, to whether you need a guide or not.
Where is the Royal Natal National Park
The Royal Natal National Park is the most northerly tip of the Drakensberg Mountain range. The national park is most famous for its Amphitheatre rock formation, a rock wall that is approximately 5km in length and around 500m high, shaped like a Greek amphitheatre.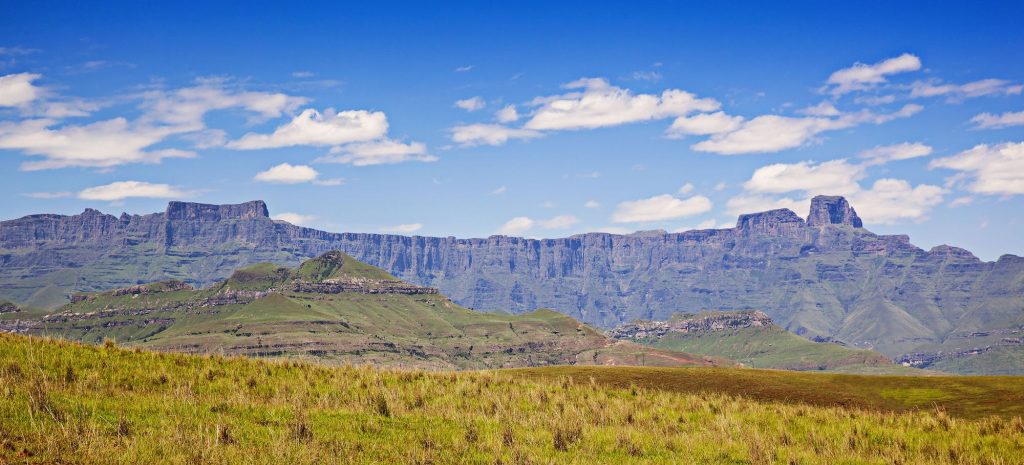 Besides its striking shape, the top of the Amphitheatre is also where the longest river in South Africa, the Orange River, originates. This river is 2,200km long and extends through South Africa, Namibia and Botswana in a westerly direction before it joins the Atlantic Ocean.
If that doesn't give you some idea on how long this river is, then it's equivalent to driving from London to Belgrade in Serbia. Incredible, right?
How to Get to Royal Natal National Park
We've covered how to get to the Drakensberg in great detail in our previous Drakensberg guide, but the short answer is that the best way is to hire a car and drive there.
Make sure you read our Drakensberg family-friendly guide to find other important tips and advice like whether an international driver's licence is required to drive in South Africa, bus transport to the Drakensberg, some general safety travel tips and how to budget for your trip.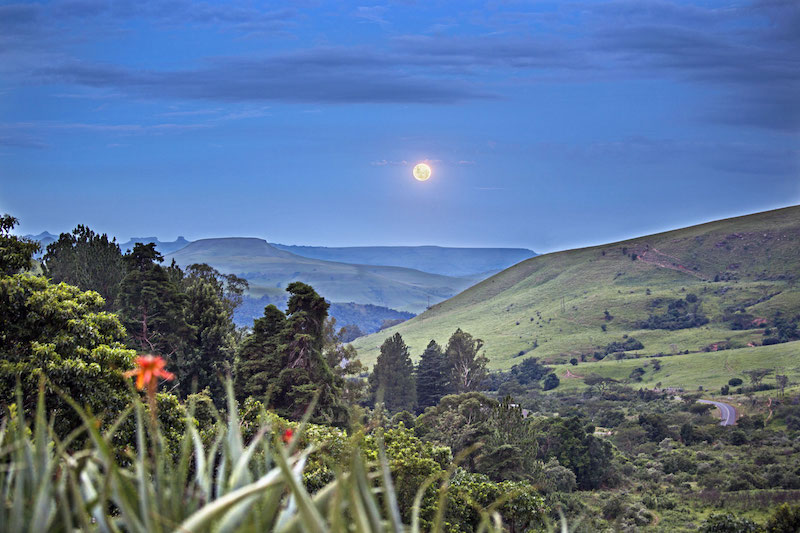 Just a short disclaimer before we continue. If you've read our previous Drakensberg guide, you will know that we only managed to hike Sugar Loaf, Maya Falls and Camel's Hump when we were in the Royal Natal National Park.
Michael twisted his ankle during one of the hikes so we weren't able to personally experience the other hikes listed in this guide. All the information in this guide including the images were provided by The Cavern Resort & Spa, where we stayed during our trip.
We've provided you with as much information on the hiking trails as possible, so you can better plan your Drakensberg adventure. We are planning to make a trip back to the Berg (as South African's lovingly call it) and will update the guide with our first hand experience once we've conquered them ourselves.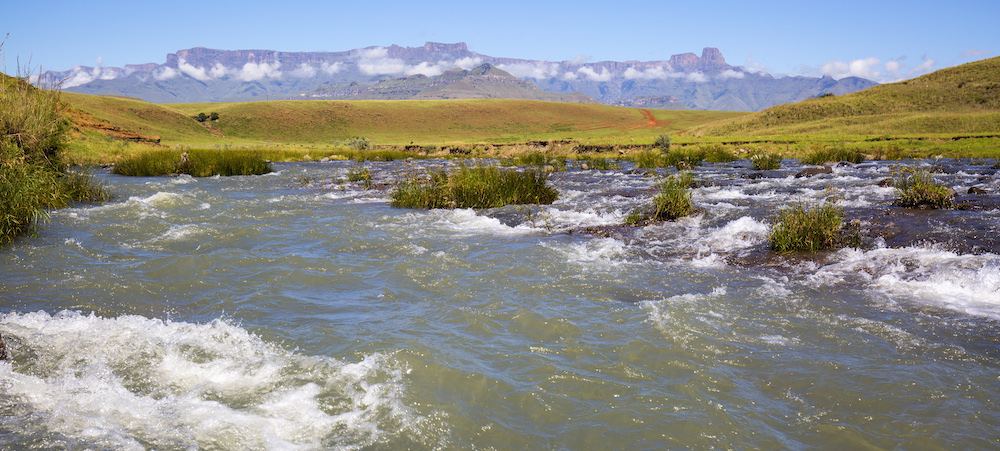 Entrance Fee to Royal Natal National Park
The Royal Natal National Park entrance fee costs R40 (€2.30) per person, per day payable at the gate. Closing times are listed on the signpost at the entrance gate. If you're going for a day hike in the Royal Natal National Park, make sure you leave enough time to drive back to the gate after your hike. If you're staying the night in the Royal Natal National Park, then you won't have to worry about this. At the entrance, we recommend you take down any emergency contact numbers provided in case of any mishaps.
If you've booked self-catering accommodation, we recommend that you stock up on food and supplies on your way in, either at Bergville or Harrismith, as there are no large shops nearby. There are some basic supplies available at the visitor centre and Thendele Camp, but the range is small and will be sold at a premium.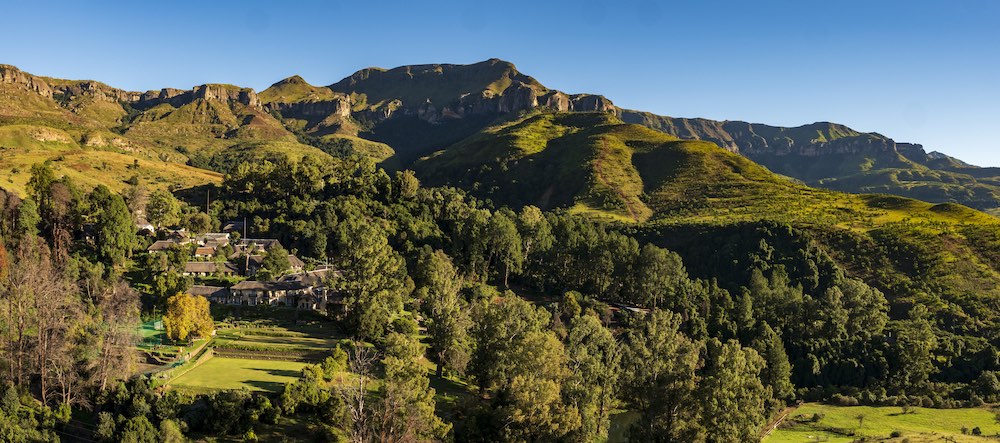 If you prefer a hassle-free experience during your stay in the Drakensberg or you're travelling with children, then read our previous Drakensberg Hiking guide where we share details about a great fully-catered accommodation option that is only a 30 minute drive from the Royal Natal National Park hikes.
Before booking your flights and accommodation, read our How To Travel Cheap Guide to find out how you can save up to 53% on your booking.
Royal Natal National Park Hiking Trail Map
The visitor centre has a miniature model of the park showing all the Royal Natal National Park hikes. You can also buy a brochure here for R3 each (€0.18) that maps out all the trails. If you are doing one of the hikes listed in this guide, we've included maps for each of the trails below so you can rather spend that money on a post-hiking treat of your choice.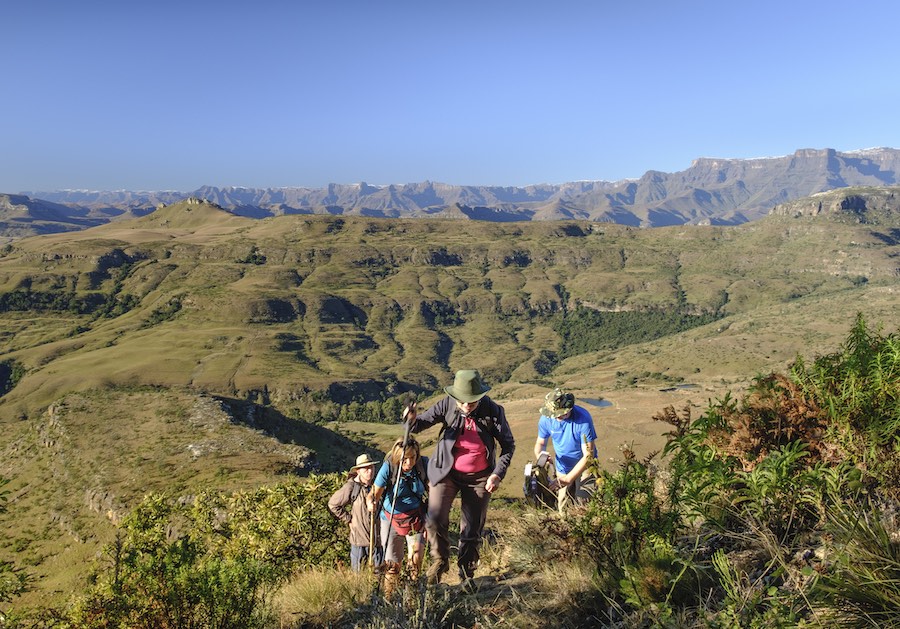 Things To Consider Before Hiking the Drakensberg
Make sure to check the weather forecast for thunderstorms before you head off as heavy rain can cause very dangerous flash floods. There are no emergency mountain rescue procedures in the Drakensberg so if you're hiking without a guide, it is important that you notify the hotel staff or someone before heading out and your expected time of return.
Besides thunderstorms, the Drakensberg weather can change quickly so always take waterproof clothing and something warm, even if it seems hot on the day. There have been occasions where there was hail and snow during summer at high altitudes.
Remember to apply sun lotion frequently to avoid sunburn and sunstroke, and hydrating sufficiently. We don't mean to sound like your mother, but sunstroke is no joke! We experienced it hiking up Table Mountain and let's just say that it's not something we'd like to experience again.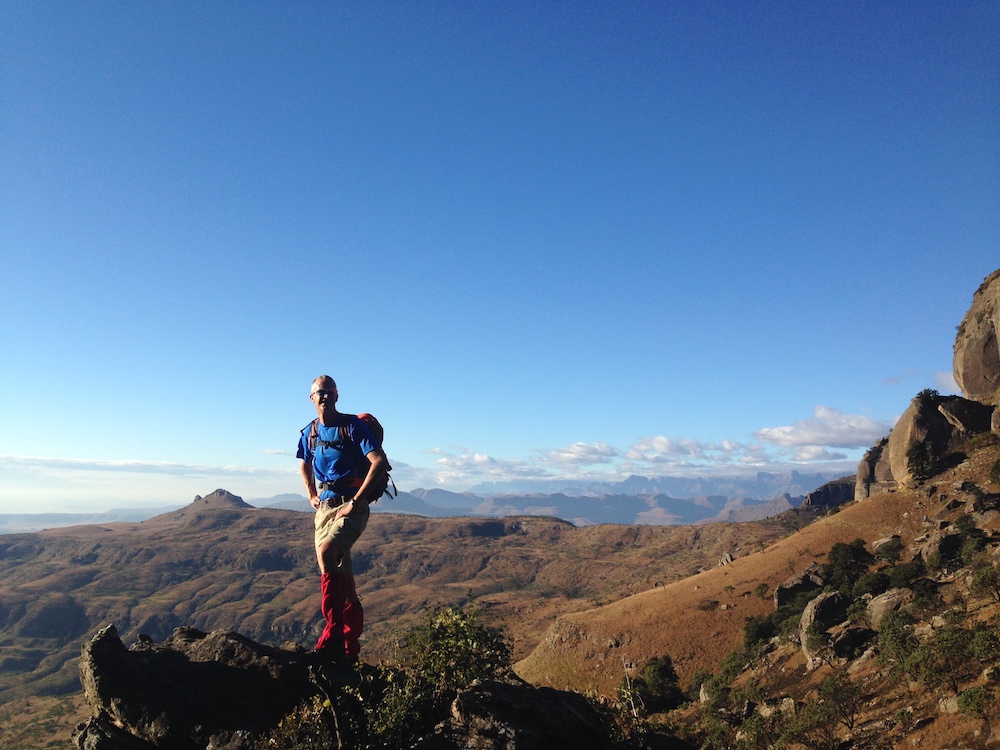 Fitness Level Required to Hike the Drakensberg
We really love adventure and hike every chance we get. But we're not professionals. We just really love the outdoors. So don't fret. You don't need to be a professional athlete to hike the Royal Natal National Park. Well at least for the hikes listed in this guide. Average fitness, meaning if you are able to walk 4 to 5 hours at a moderate pace will be more than sufficient for you to tick these trails off your bucket list.
If you're unsure about your fitness abilities, just start your hike as early as possible so you have more time to complete the hike. We highly recommend starting early especially for some of the more challenging hikes. The air is much thinner at higher altitudes and you're therefore more likely to feel out of breath. But don't worry, it's nothing like Mount Everest.
Bonus Tip: Hiking the Drakensberg isn't a walk in the park! You'll need proper hiking shoes and gear for the journey. And that includes high-quality hiking shorts! We love the hiking shorts from KÜHL! Not only are they lightweight, quick drying and offer sun protection of UPF 50+, but also durable and super comfortable to wear. Check out KÜHL women's hiking shorts and men's hiking shorts before embarking on your adventure in South Africa!
Save Me For Later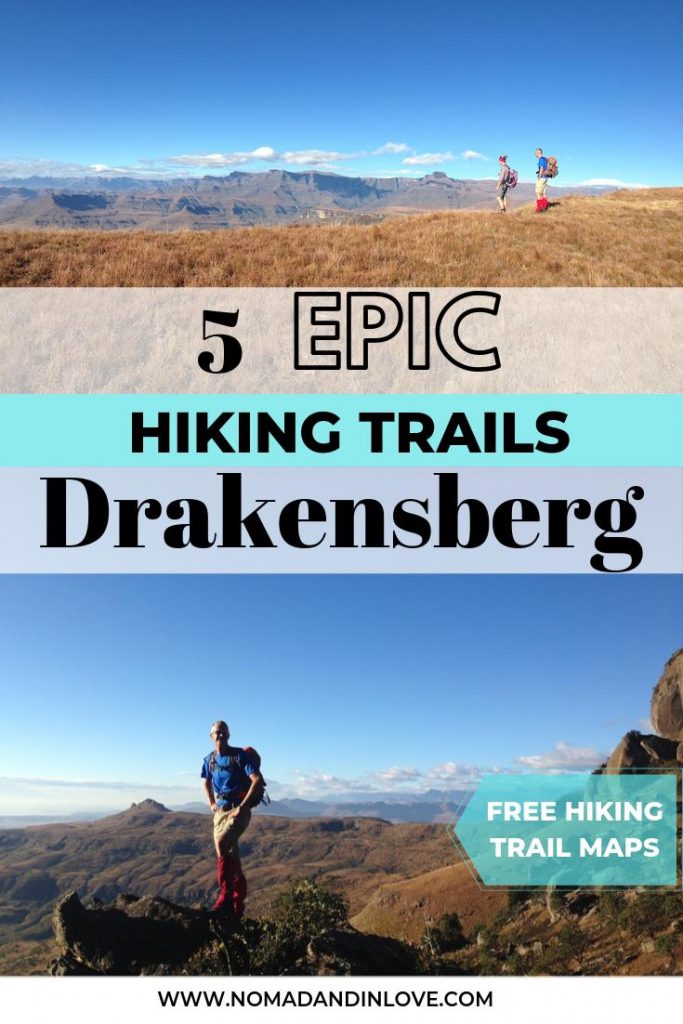 Day Hikes in Royal Natal National Park from Easy to Hard
Chain Ladders Hike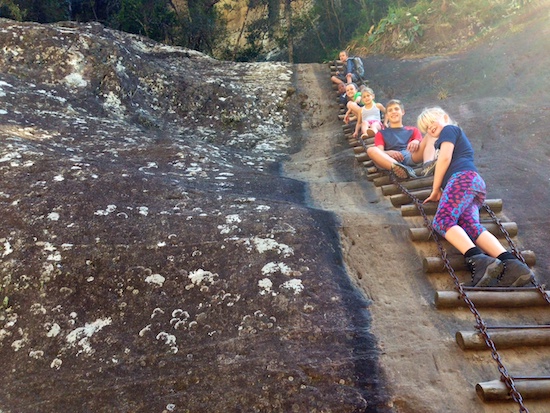 Hiking difficulty level: Easy to moderate
Total Hike Distance: 8.4km
Total hiking time: 4 hours
Hiking guide required: No
Terrain:
​This is a relatively easy hike but you'll have to pluck up your courage to climb chain ladders to the top for the final 60 meters.
There are two sets of chain ladders, one with large grabbing handles, and the other without. Pick your poison, take it nice and easy, and savour the moments climbing to the top. 60 meters height is roughly equivalent to 20 storeys.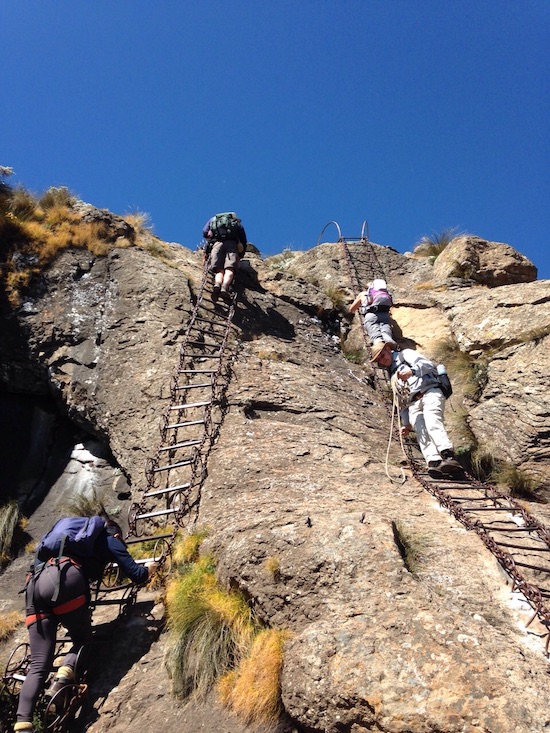 If you are terrified of heights, then the difficulty level of this hike may quickly become reclassified as strenuous. If you'd still like to try it, just remember to keep looking up, take it slow and just focus on getting from rung to rung.
This hike can be done to experience the Chain Ladders hiking trail itself or if you hunger for more adventure and captivating views of the Drakensberg, you can continue from this trail to the Amphitheatre or Tugela Falls once you've reached the top.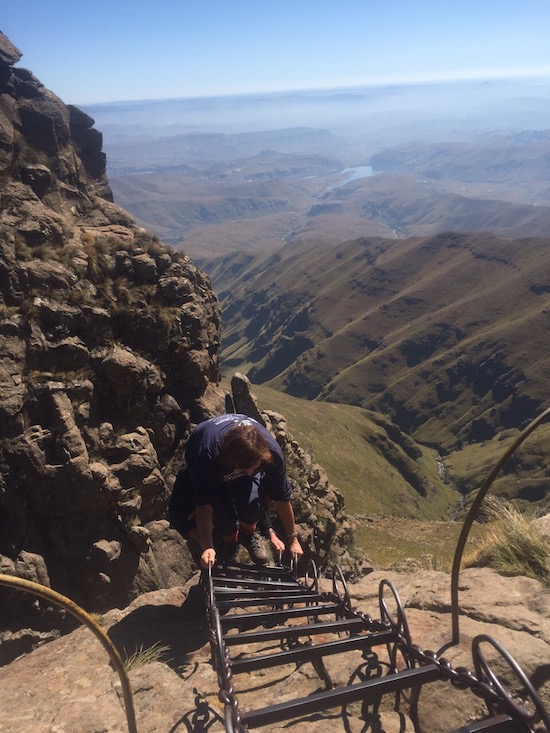 In that case, use the information above as a guide if you're continuing towards Tugela Falls or the Amphitheater as the hiking distance and time will become longer.
The start of the Chain Ladders hike is from Sentinel Car Park (interactive Google map below).
Tugela Falls Hike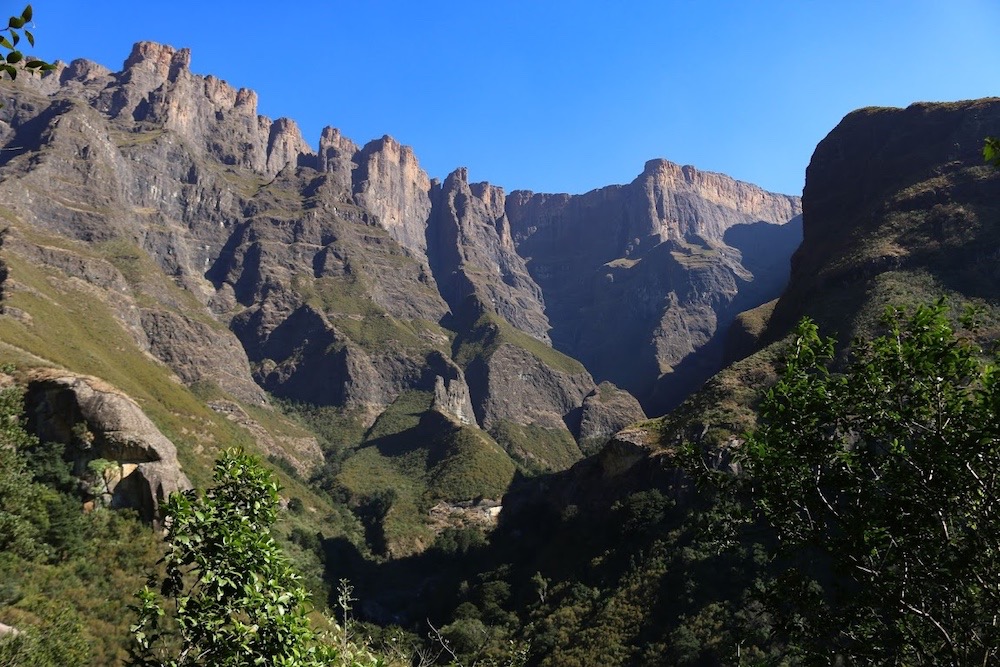 Hiking difficulty level: Easy to moderate
Total Hike Distance: 14km
Total hiking time: 5 hours
Total ascent: 418 meters
Maximum elevation: 1,925 meters
Hiking guide required: No
Terrain:
The path is very well marked and easy to follow. Most of the climb is gradual except for the last two kilometres in the Gorge itself, which involves some adventurous boulder hopping and wading in knee-deep water. Just take it nice and slow and you'll be fine.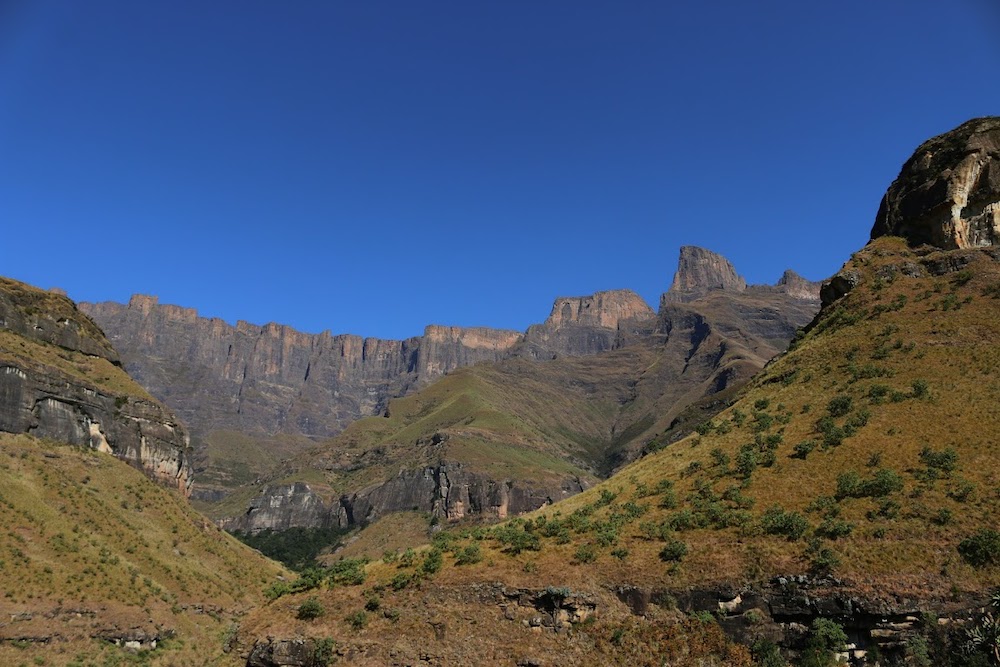 Best Time to Hike
Tugela Gorge can be summited all year round, but February to April, after the summer rainy period, is the best time to hike Tugela Falls. This is when the river is usually the fullest, which means you'll get to see Tugela Falls in all its glory. Make sure you bring swimwear so you can enjoy a refreshing swim after the hike.
Hiking Path for Tugela Falls Trail
From the Gorge car park, follow the signs directing you to "The Gorge".
After 15 minutes you will come to a bridge over the stream from Devil's Hoek.
Cross the bridge and follow the path to the left.
Not long after crossing the intersecting stream from Devil's Hoek, look to the right for Policeman's Helmet. It's a rock shaped, well… like a British police officer's helmet.
Initially the trail is almost flat but gradually rises as you approach the Gorge. Views of the Amphitheatre wall gets increasingly more spectacular as you make the climb.
The path eventually disappears just before the Gorge.
The last kilometre of the hike is through the Gorge itself. Be prepared to boulder hop across the river. This is relatively easy unless it's flooded.
After crossing the Gorge, look out for the Devil's Tooth, a peak that literally looks like a lonely tooth jutting out between two flat mountain tops.
Continue walking until you see a tunnel and chain ladders. You should also see crystal clear white sandstone rock pools where you can take a dip and enjoy some lunch before continuing.
At this point of the trail, you'll need to decide whether you want to take the tunnel or chain ladders to reach Tugela Falls. For the more adventurous and height-loving daredevils, take the chain ladders route. You'll be rewarded with even more magnificent views of the Drakensberg.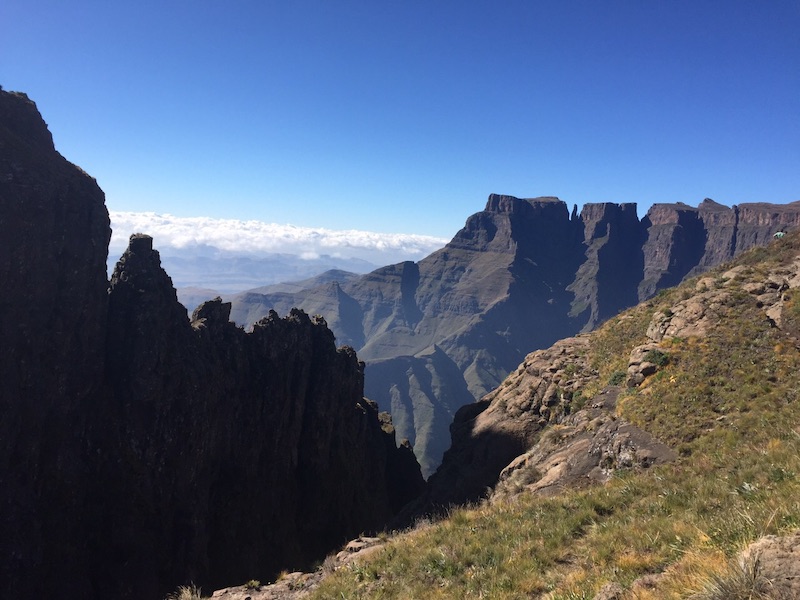 Best Views of Tugela Falls Drakensberg
Tugela Falls is the highest waterfall in Africa and the second highest in the world at 948m! The best place to appreciate the magnificent views is some way south of the waterfall itself at a place called the Window Crevice.
From the top of the chain ladders follow the path along the stream for 500 meters. Then turn to the southeast and follow the rising slope to the top of Crow's Nest ridge. Continue on to the edge of the escarpment and you'll arrive at Window Crevice. Please be very careful here. There are no barriers to prevent you from falling over so keep a good distance away from the edge. If it is windy, sit down and shuffle slowly across to get a glimpse before heading for firmer ground.
Gudu Falls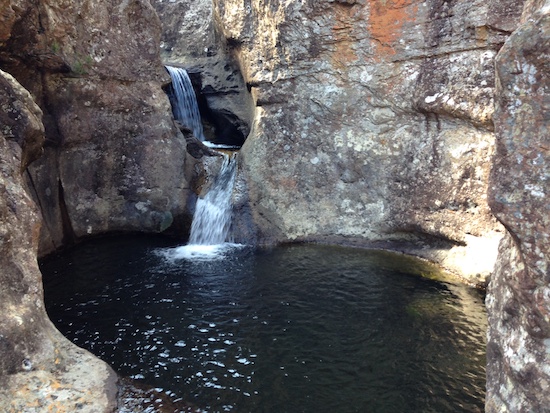 Hiking difficulty level: Moderate to hard
Total Hike Distance: 18km
Total hiking time: 8 hours
Total ascent: 1,332 meters
Maximum elevation: 2,172 meters
Hiking guide required: Yes
Terrain:
Very steep at times and recommended to go with a guide as the paths are not well marked.
Hiking Path for Gudu Falls Trail
The beginning of the hiking trail starts from The Cavern Resort & Spa.
Hike from the top gate at The Cavern, up through the Sugar Loaf gap.
Part way up the Sugar Loaf itself, take a right-hand track that goes behind the peak. This leads to Cold Hill, ascending about 500 meters.
Follow the line of the fence and around Broome Hill.
Cross the fence and proceed down the slope of Plowman's Kop for about 2 km, where the stream is seen on the right.
Towards the end of Plowman's Kop slopes, ease right, dropping gently into the valley, and pick up the path to the lip of Gudu Falls.
Swim in the pools and have lunch at the top of the falls.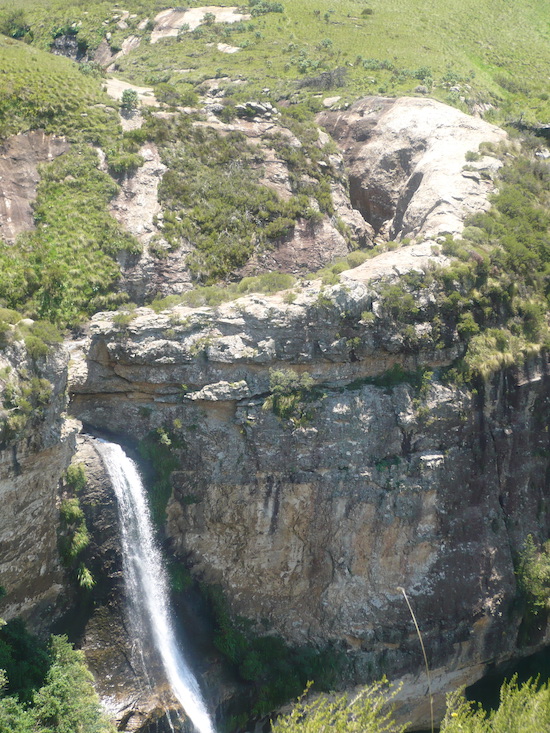 The Amphitheatre Ascent Hike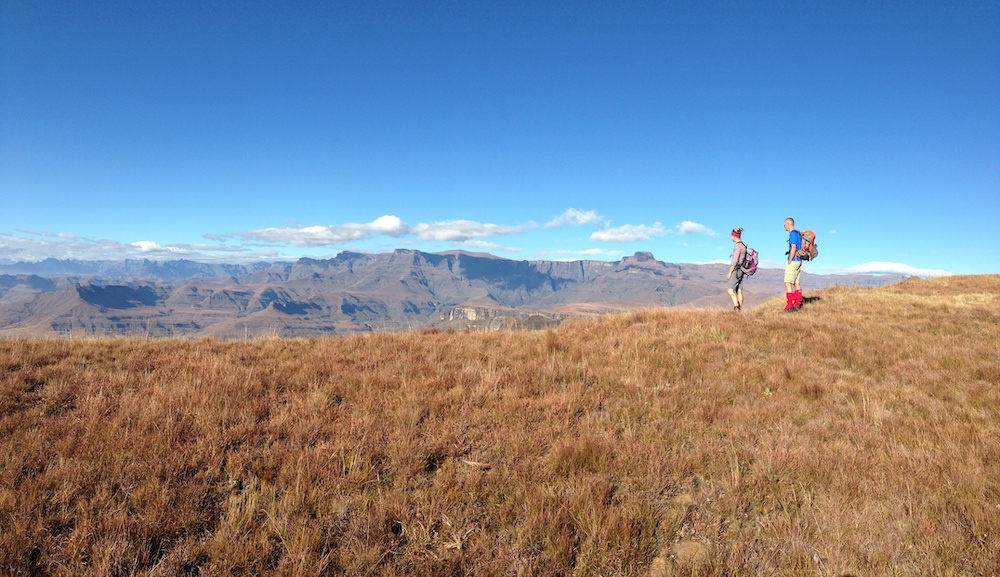 Hiking difficulty level: Hard to severe
Total Hike Distance: 6-8km
Total hiking time: 6 hours
Total ascent: 564 meters
Maximum elevation: 3,107 meters
Hiking guide required: No
Terrain:
Steep at times but on a gradual path. There are some narrow ledges you'll need to cross and you'll also have to climb chain ladders to reach the summit. So you'll need to have a head for heights for this trail.
Hiking Path for The Amphitheatre Ascent Hiking Trail
The start of the trail begins from the Sentinel Car Park.
From the car park, a broad path leads up the looming northern flank of the Sentinel which is 3,165 meters high.
On the left side of the path, see if you can identify the aptly named Witches Peaks.
As the path leads to the base of the Sentinel, peer over the edge to the left and see Tugela Gorge in the Royal Natal National Park far below.
On the east lies the Devil's Tooth, a lonesome pinnacle between two flat mountain tops, the Eastern Buttress and the Inner Tower.
Enjoy this spectacular view before the path follows a contour to the right around the back of the Sentinel and Beacon Buttress to the famous chain ladders.
Climb the 60 meter high chain ladders to get to the Amphitheatre plateau above.
If the height is too much for you, you can also get to the top via the tunnel. It's a steep gully between the Sentinel and Beacon Buttress. It may not have the height factor that the chain ladders have, but this doesn't mean that this is an easy route. The tunnel is very steep and full of small loose rocks, so don't attempt this during wet conditions.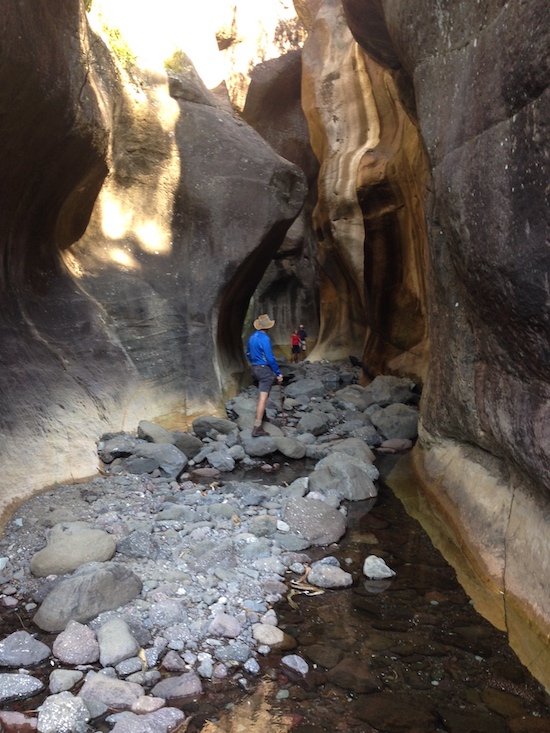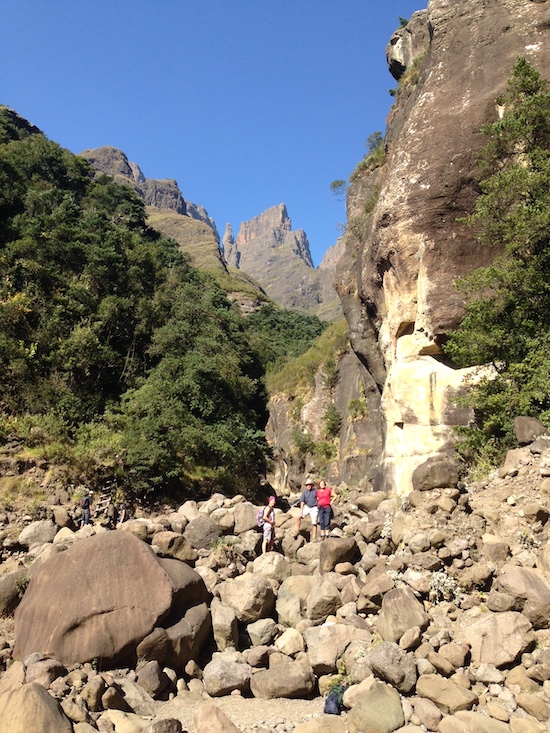 Big 5 Hike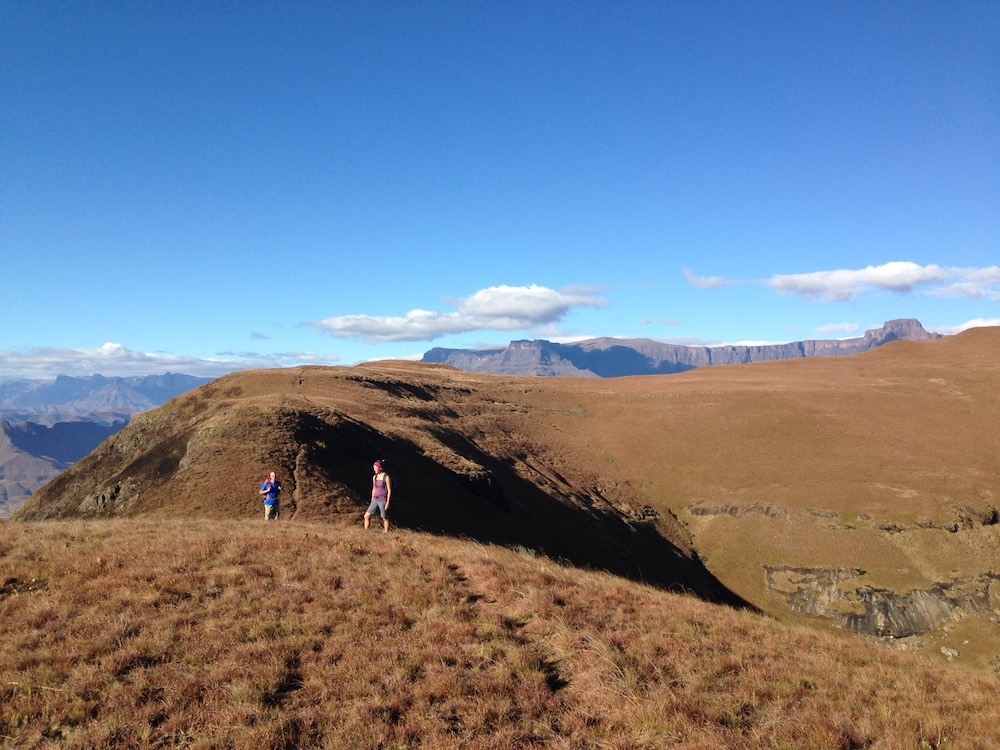 Hiking difficulty level: Hard to severe
Total Hike Distance: 18km
Total hiking time: 8 hours
Total ascent: 629 meters
Maximum elevation: 2,137 meters
Hiking guide required: Yes
Terrain:
Very steep at times and should only be attempted with an experienced guide. You'll need to have a head for heights for this trail, as you'll have to climb over boulders and the descent to Cannibal Cave is rather steep.
Hiking Path for The Big Five Hiking Trail
This hiking trail lies just outside the Royal Natal National Park and is a hidden gem for those who want to enjoy hiking in solitude. You may come across elands, indigenous antelopes of South Africa, but otherwise there shouldn't be another human in sight.
This trail basically takes you up 5 different viewpoints: Hlolela, the Bridge of the Battleship, Sugar Loaf, Cold Hill and Camel's Hump.
Five viewpoints mean there's going to be a lot of climbing and descending. But don't worry! There are escape routes back down to the Cavern at several points along the route so you can always head back to civilisation when you've had enough alone time. Since we recommend experiencing this hike with a guide given its difficulty level, we won't list the entire hike path here.
If that was too much to take in, here's a quick recap.
5 Best Hiking Trails of Drakensberg Mountains South Africa
Chain Ladders Hike
Tugela Falls Hike
Gudu Falls Hike
Amphitheatre Hike
Big 5 Hike
Best Hiking Trails in South Africa
If you love the outdoors and adventure, then hiking in the Drakensberg is simply something you have to add to your itinerary when visiting South Africa.
We've been lucky to have hiked the jungles of Indonesia, through water caves in Khao Sok and up to viewpoints in Krabi, Thailand, and we can attest that very few places can compare to the dynamic and vast landscape of the Drakensberg.
We've just listed our top 5 hiking trails here, but you can also find a complete list of all the trails available in the Royal Natal National Park on their website.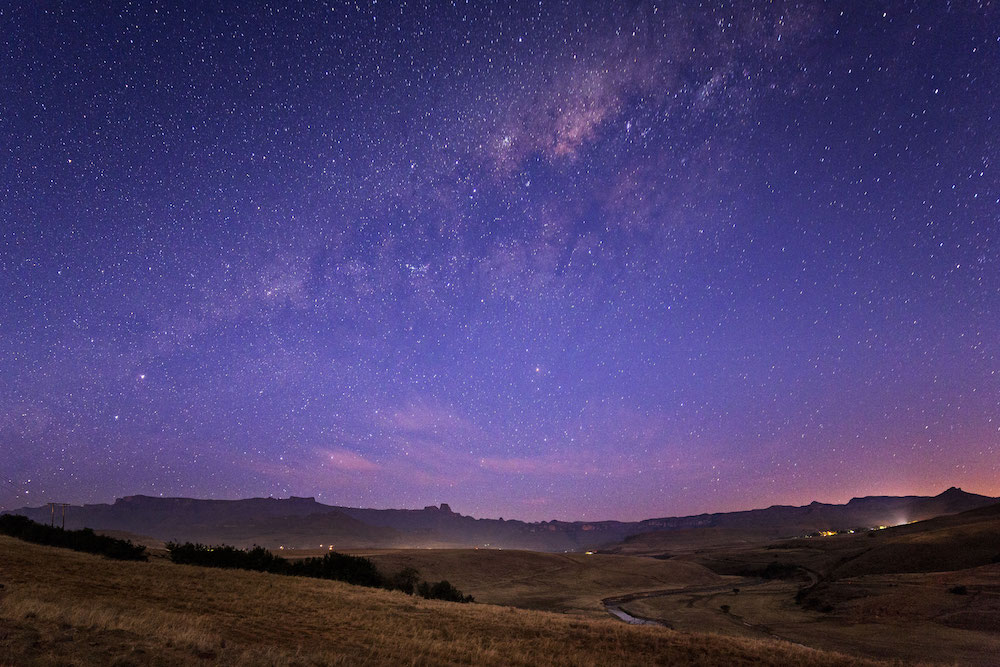 If you're exploring the Africa continent, make sure to read our other African Travel Guides:
Get a glimpse on what to expect on some Royal Natal National Park hikes with our video below:
Have you conquered any of the hikes in the Royal Natal National Park? Which ones did you do or would like to do next? We'd really love to hear from you.