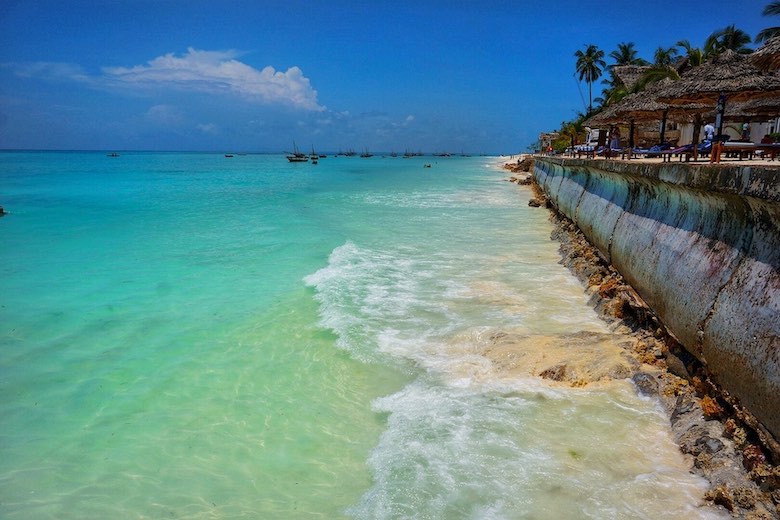 Searching for a slice of heaven on earth? Look no further than Zanzibar Island, one of Africa's most mesmerising gems. Discover the best Zanzibar beaches, the top things to do on Zanzibar Island and useful budget travel tips.
Zanzibar Island is one of our favourite tropical destinations. It has all the ingredients for paradise. Long stretches of soft, white sandy beaches, crystal clear turquoise waters and beautiful sunny rays.
But where should you stay if you want to experience the best Zanzibar beaches?
This guide will help you decide and tell you why Zanzibar North, and in particular, Nungwi Beach is the best slice of paradise on Zanzibar Island.
Zanzibar Hotels To Stay At For the Best Beaches On The Island
Zanzibar Island has everything from backpackers to 5 star luxury hotels scattered along its coastline. We picked the northern tip of Zanzibar because it has some of the best beaches on the entire island.
Hotels in the north is generally more expensive than accommodation options on the east or southern part of the island. But there are good reasons for that being so, which we will explain later in this guide.
In Zanzibar north, you will find hotels to suit every budget. They are generally within walking distance from each other, which is great if you want the flexibility to change hotels.
If you don't want to opt for an all-inclusive package (includes all meals and beverages) at your hotel in Zanzibar, this will be the best area to stay in. This will allow you to try some local cuisine at bars and restaurants, and also save you money.
Zanzibar Hotels: Budget to Luxury Options
We stayed at the DoubleTree by Hilton Resort Zanzibar in Nungwi which we absolutely loved. If you want to know how our experience was, you can read our honest review of the Doubletree Zanzibar Hotel.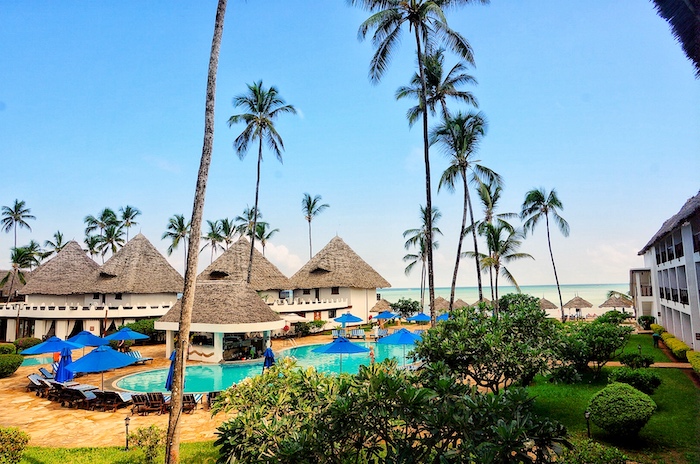 For a more budget-friendly option, we would recommend Paradise Beach Bungalows. It costs around €55 per room/night, which equates to around €27 if you're sharing. If you're looking for a budget accommodation option that is on one the best beaches in Zanzibar. This is it.
If it's a special occasion like a honeymoon or wedding anniversary, there are also some luxury hotel options available. Our favourite is the Diamonds La Gemma hotel. The price is steep but it is all inclusive and you will be staying in a paradise within a paradise.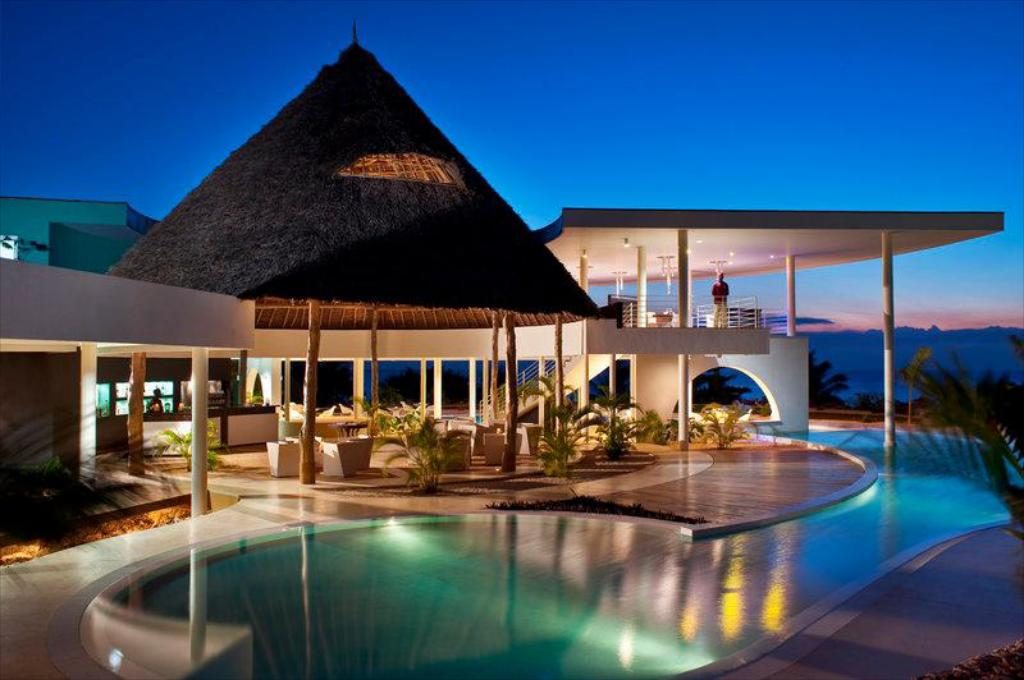 If none of the above tickles your fancy, you can also compare prices for hotels in the area for yourself.
If you want to know how we save up to 53% on booking flights, hotels and car rental when we travel, find out our secret on our How To Travel Cheap Guide.
Things To Do on Zanzibar Island
There are many hotels on Zanzibar Island, but not all of them are within walking distance to local shops, bars and restaurants. That's another reason why travellers are attracted to the beaches in the Nungwi and Kendwa area. There's a stretch of beach bars, local restaurants and mini shops to explore.
This is great if like us, you enjoy trying local food and meeting other travellers. One of our favourite spots is Cholos Bar. We love that it is located right on Nungwi beach. It has an awesome reggae vibe and on some nights, they even have a big bonfire on the beach.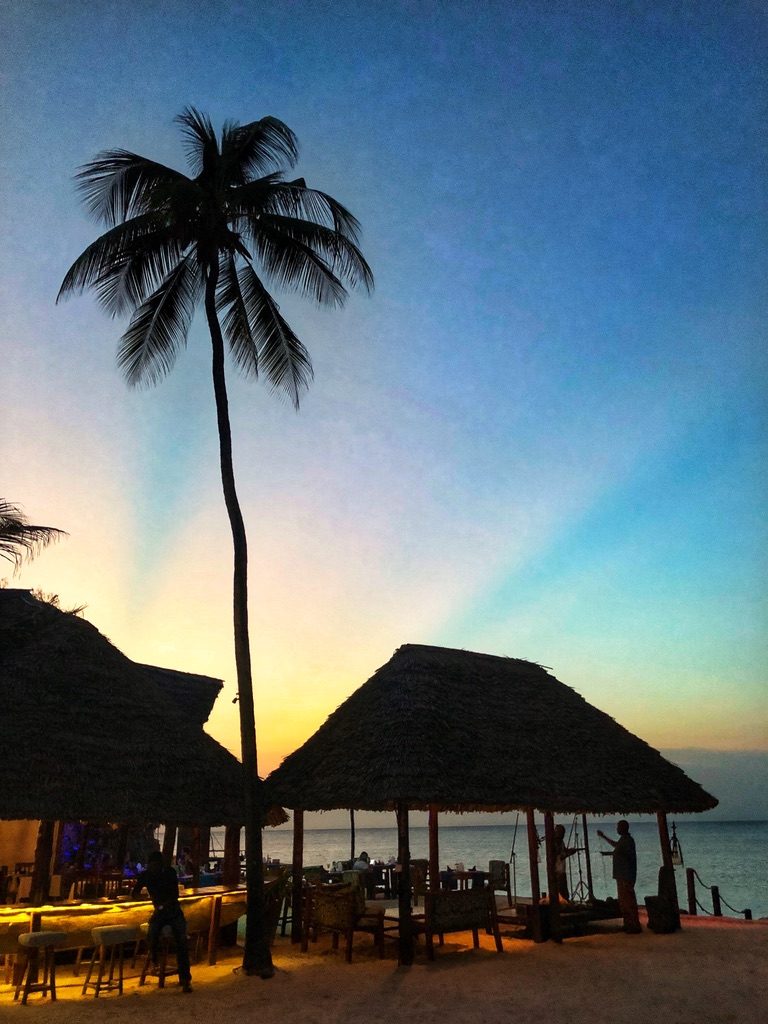 Besides food and drinks, you'll also have more price options to pick from when booking excursions. There's a number of local operators that can take you to surrounding islands like Tumbatu, Mafia and Mnemba island for snorkeling, scuba diving or even fishing.
Booking with a local operator will often be more affordable than booking your excursion from the hotel. You'll also help the local community by directly supporting them.
Best Currency To Use in Zanzibar, Tanzania
The official currency used in Zanzibar is the Tanzanian Shilling. To save money and time, it's best to buy your foreign currency at the airport before you leave for your hotel.
The hotels charge a ridiculously expensive rate to exchange foreign currency to Tanzanian Shillings and there are only 2 ATMs on Zanzibar Island. So make sure you exchange enough foreign currency for your trip.
Most local tour operators, shops and restaurants only accept Tanzanian Shillings. Most hotels in Zanzibar, on the other hand, only accept US Dollars and Euros as payment. You can pay by credit or debit card, but expect a bank fee to be added.
A daily budget of $60 per person (exchanged to Tanzanian Shillings) should be more than sufficient for 3 meals. But if you plan to do some excursions and tours, shopping, snorkeling or scuba diving, bring more.
Check the Zanzibar tour and excursion prices online, so you know how much additional money to exchange beforehand.
Best Scuba Diving Spots in Zanzibar
If you're scuba divers like us, then staying in Zanzibar north will be your best option. Not only do you have a number of dive shops to choose from, but you'll also be located much closer to some of the best dive spots around Zanzibar.
That means less time on the boat and more time underwater. In the north, you will be able to scuba dive around Tumbatu, Mafia and Mnemba island.
Our favourite dive spot was Magic Reef. If you want to get a glimpse of diving in Zanzibar north, check out our video.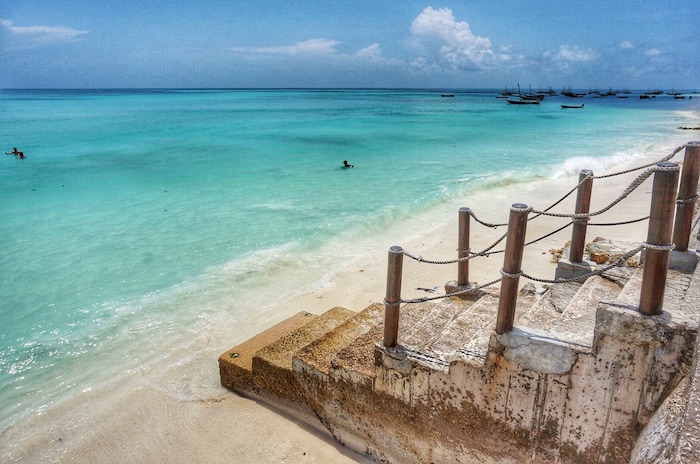 Haven't got your scuba diving certification yet? Then check out our best way to get scuba diving certified guide to find out how you can save time and money when getting certified.
If you're not a scuba diver, but love snorkelling and keen to try a discover scuba course first before taking the big leap, you can try these activities: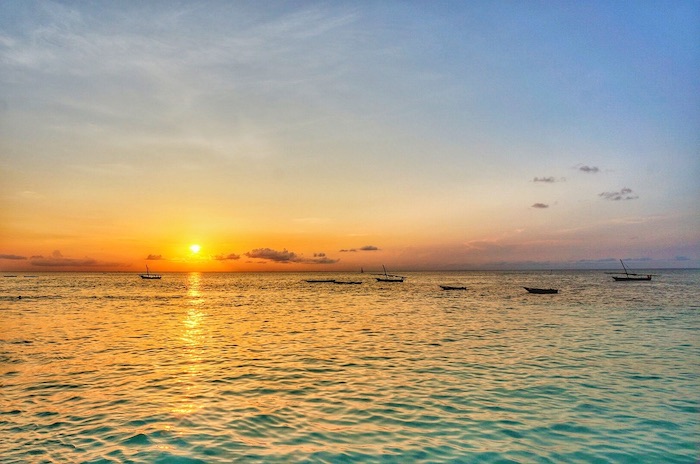 PADI Certified Dive Shops in Zanzibar
We dived with Spanish Divers. They are PADI accredited and based on our research, offered the best value for money. They are one of the few operators that transport you to Mnemba island with a speed boat instead of a traditional dhow boat.
Although we love sailing on dhow boats, the journey to Mnemba island can take 1-2 hours instead of 40 minutes via a speed boat. A much better option if you're sensitive to motion sickness. You can read our detailed review on Diving in Zanzibar for more tips and information.
Related Guide: If you feel nervous, fearful or anxious about scuba diving, we've got 11 Scuba Diving Tips To Help Overcome Diving Anxiety. We also share our own diving anxiety story and some practical strategies we've used to help face our fears.
Save Me For Later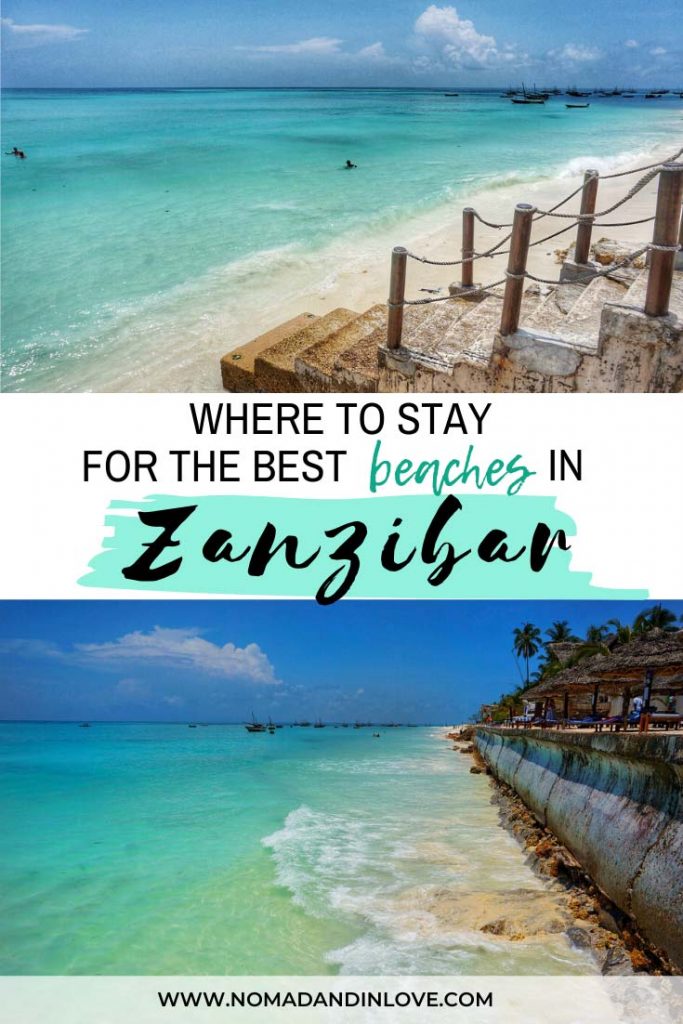 Best Side of the Island For The Best Beaches in Zanzibar
This may seem like a weird topic, but if you want to maximize your time swimming in the ocean, then it is an important factor to consider. The tide on the northern tip and west coast of Zanzibar island does not recede as far as the east coast.
We discovered this on one of our long walks on the beach. The tide on the east coast can recede up to a kilometer or more at times, in comparison to a few hundred meters on the north and west coast.
Although a kilometer isn't far, it can get quite uncomfortable when you're walking under a blazing sun. And when you finally reach the water, it feels more like a bath than the ocean.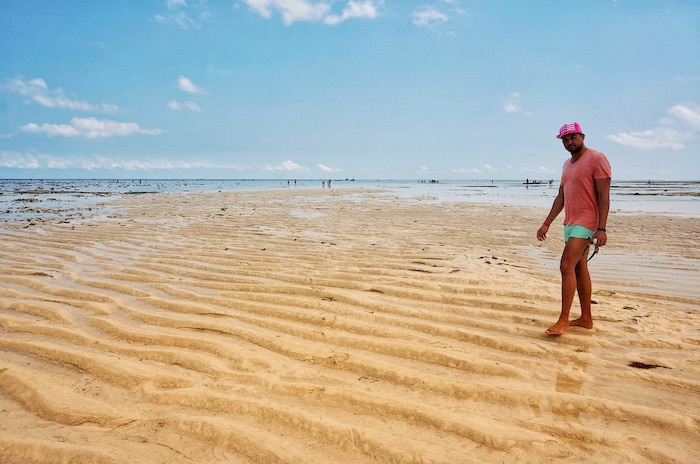 If you do want to stay on the east coast though, just check the tide schedule for that area before you book your accommodation. That way you're not limited to only swimming during high tide.
This is the main reason why Nungwi is prized for having some of the best beaches in Zanzibar and why hotels in the north and west side are more expensive.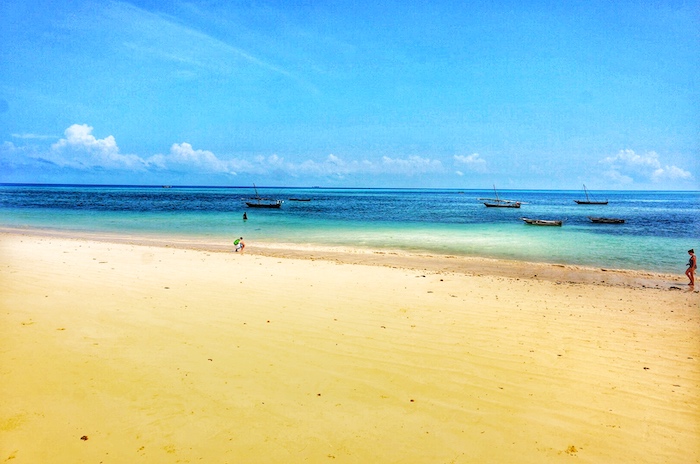 Getting Around Zanzibar Island
Zanzibar isn't a big island, but it can be difficult to get around with public transportation being so limited. For this reason, most hotels include transfers to and from the airport and hotel.
Most excursion operators do the same if the destination isn't within walking distance. That means you can still get the authentic cultural experience of Stone Town, even if you're staying in the north.
If you love markets, there are some local markets just behind Nungwi beach. These are great for some last minute shopping. But they don't have the same hustle and bustle as Stone Town.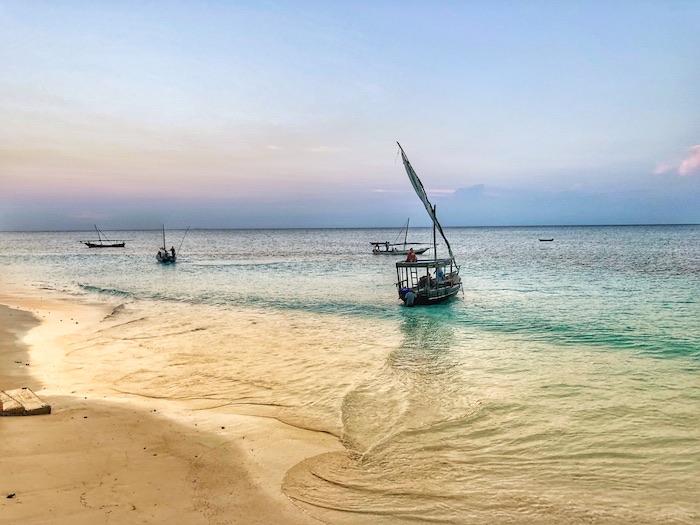 Things To Do in Stone Town, Zanzibar Besides Beaches
Go for a day trip in Stone Town from Nungwi and get an authentic experience of the day-to-day life of the locals. Go see the local produce and smell the exotic spices, it's called Spice Island for a reason. Make sure to try some local coffee too if you're a coffee addict like us!
Here are some of the other activities you can do while you're in Stone Town: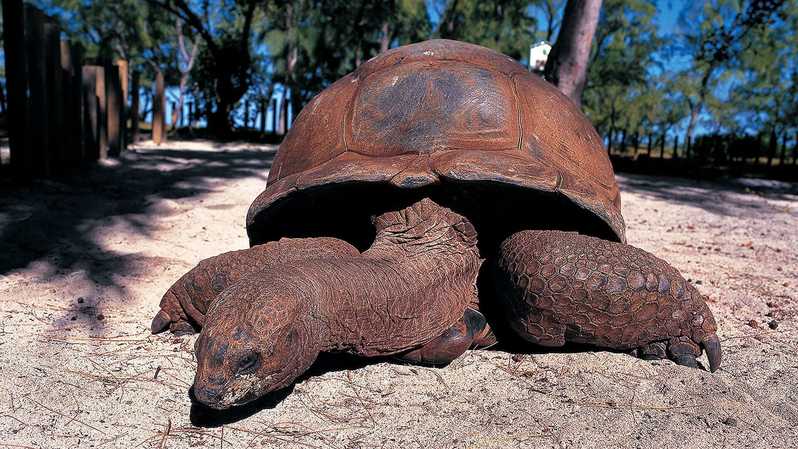 Is Zanzibar Safe For Tourists and Solo Travel?
Yes, absolutely! We never felt unsafe at all during our stay in Zanzibar. Locals are very friendly and helpful. Just make sure to dress appropriately when you leave the hotel and beaches. Make sure to cover yourself by wearing a T-shirt and covering your knees.
A sarong is a great option for both men and women. You can buy these from the locals. They sell exquisite sarongs that are not only practical, but beautiful too. It is a predominantly Muslim island so it is important to dress appropriately and respect their culture and religion.
Vaccinations For Zanzibar, Tanzania
There is a risk of contracting malaria in Zanzibar. So make sure to visit a travel clinic before you travel to Tanzania. If you are planning to scuba dive in Zanzibar, let the clinic know so they can prescribe a malaria tablet that is suitable for diving.
You may also need to get a yellow fever vaccination and certificate depending on which country you're travelling from.
Best Time To Visit Zanzibar
The best time to go to Zanzibar is between November and March as April to October is typically their rainy season. Going during the rainy season will obviously be cheaper if you don't mind taking a chance. But many restaurants and bars may also be closed then.
Some hotels also do renovations or close during the rainy season so make sure to double check before booking.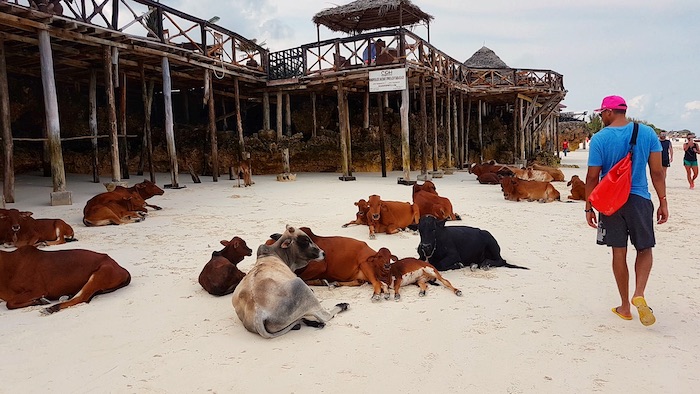 Other Things To Do in Zanzibar Besides Beaches
If you're beach bums like us, then it may be challenging for you to tear yourselves away from the beach. Especially when they are this beautiful and pristine. But if you do want to take the odd day off from beach bumming, then try some of these outdoor activities.
You'll love these especially if you're an animal lover! We were quite unsuccessful at breaking away from the beach, but these were on our lists of things to do in Zanzibar when we planned our trip:
Most Beautiful Beaches in Africa
Zanzibar will always have a special place in our hearts. Not only is the beach one of the most beautiful we have experienced through our travels, it's also very accessible.
South East Asia has many beautiful beaches as well. But if you're searching for pristine and quiet beaches, you'll usually need a boat trip to get there.
We don't usually go to the same place twice, as our travel to-do list is long. But we would return to Zanzibar again for another glimpse of paradise.
Are you planning to see other countries in Africa while you're here? Then make sure to read our other African Travel Guides.
Do you love beach holidays too? If you do, check out our best beaches in southern Thailand guide and find your slice of paradise on Koh Phangan island.
Watch the Video: The Best Beaches on Zanzibar Island