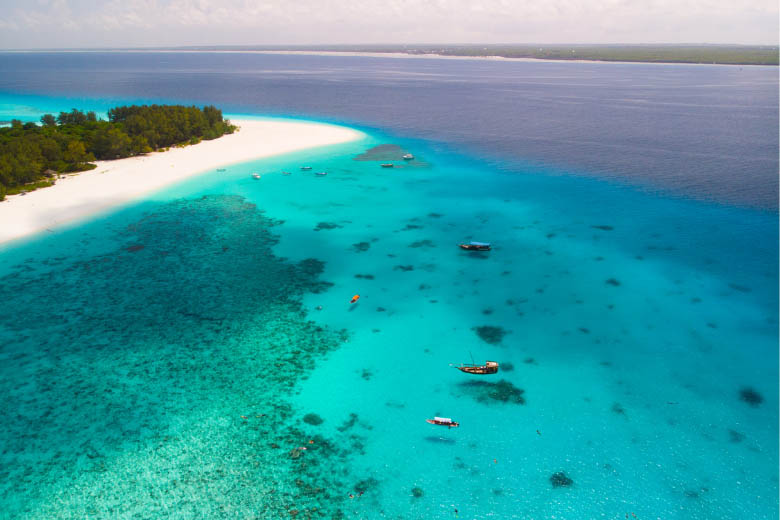 The essential scuba tips you need to know for diving in Zanzibar. From scuba diving conditions, best dive sites, diving prices, to an honest review of the dive center we dived with in Zanzibar.
Anyone who has seen pictures of Zanzibar knows that the island has some of the world's best beaches. But is Zanzibar mesmerising both above and below the surface of the ocean?
As passionate scuba divers ourselves, we're revealing it all in this dedicated diving in Zanzibar guide!
We spill the beans on what diving conditions to expect, the best Zanzibar dive sites for beginners and advanced scuba divers, what diving prices to budget for, the best season for diving in Zanzibar, as well as an honest review on the Zanzibar dive center we dived with, Spanish Dancer Divers.
So make sure you read this before you 'back roll' and explore the depths of Zanzibar's oceans for yourselves.
Need proof that Zanzibar has some of the most beautiful beaches in the world? Then check out photos from our Best Beaches in Zanzibar travel guide.
The guide also includes useful travel tips like where to stay for the best beaches, whether Zanzibar is safe for female solo travellers and what vaccinations you need to travel to Zanzibar.
Related Guide: Want to learn how to scuba dive but not sure where to begin? Read our Scuba Diving for Beginners guide to find out how to save money and time getting certified.
Zanzibar Diving Conditions
The diving conditions in Zanzibar are great whether you're a scuba diving beginner or a seasoned advanced diver. We're both advanced divers who have logged 100+ dives each and thoroughly enjoyed the diving experience we had in Zanzibar.
The dive conditions were near perfect when we dived during the end of March, early April. There wasn't too much current and visibility was quite good. We could easily see 8 to 12 meters ahead and all our dives were pretty easy and relaxing.
We weren't lucky enough to spot the large residents Zanzibar is famous for like the common dolphins, whale sharks, humpback whales, turtles, manta rays or hammerhead sharks. But we did enjoy the company of many exquisite small and medium-sized inhabitants like blue-spotted stingrays, giant moral eels, smashing mantis shrimps to exotic nudibranchs.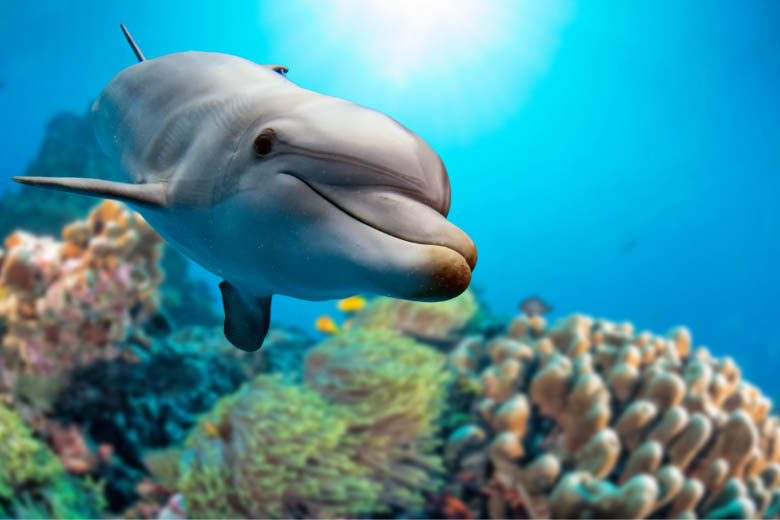 Related Guide: Do you love scuba diving? Then make sure you read our Best Liveaboard Boats guide! We've rank the best scuba liveaboards around the world by price so you can easily pick your next diving destination according to your budget!
Water Temperature
Like most tropical islands around the world, Zanzibar has relatively warm water temperatures for scuba diving throughout most of the year.
The water temperature is around 27 to 29 degrees between November and April, and slightly lower (24 to 26 degrees) between May and October.
We wore our rash vests for our 3 day Zanzibar diving trip in March and April. That was more than sufficient in keeping us warm and we enjoyed the added bonus of not having to wrestle with our wetsuits.
If you don't have rash vests and are looking for some suggestions. We highly recommend the rash vests we use. They're lightweight, easy to put on and remarkably durable. We've been diving with ours for the past 7 years and they're still good as new.
Chloe wears the Cressi ladies' rash guard with long sleeves and Michael wears the Cressi men's rash guard with long sleeves.
Related Guide: Looking for more travel-friendly and useful scuba gear and accessories that cost less than $60? Check out our Gifts for Scuba Divers guide.
Best Dive Sites in Zanzibar
There are plenty of dive sites around Zanzibar island. We only had enough time to scuba dive the northern tip of the island and the famous marine conservation area around Mnemba Island. So we'll focus on the best dive sites we explored in the north of Zanzibar island (around Nungwi and Kendwa) in this guide.
Note: You don't need to dive with Nitrox tanks on any of the dives we did in Zanzibar.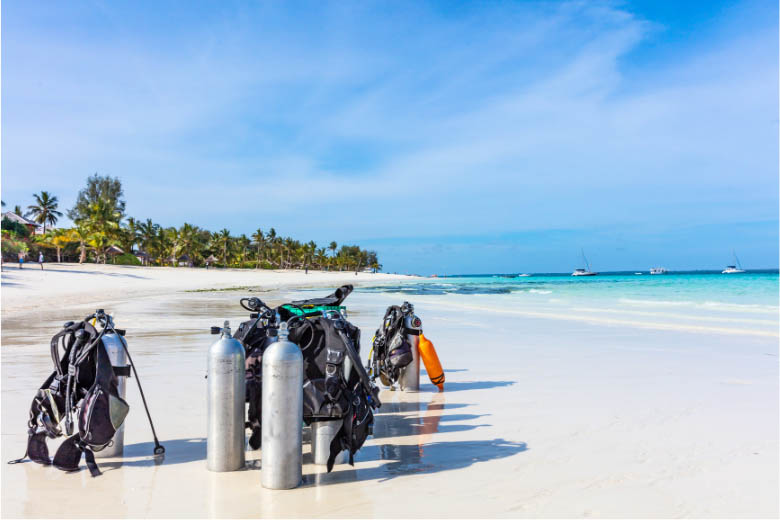 We completed a total of 6 dives. All of which we had to take a boat ride to reach.
Most of the dive sites in the north of Zanzibar require an average boat time of 30 to 40 minutes to get to. The furthest dive site is Mnemba Atoll (around Mnemba Island), which can take 1 to 2 hours to reach depending on the boat and the sea conditions.
Most Zanzibar dive centers take you out for 2 dives per trip, which means that you'll have to do your surface interval on the boat.
Floating on a boat in the middle of the ocean sounds like a dream for most people. But if you're prone to motion sickness (like me), it can easily turn into your worst nightmare.
The sea conditions were relatively calm when we went in March and April. But we'd recommend you take a motion sickness tablet beforehand if you're sensitive.
Related Guide: If you've ever felt nervous, fearful, or anxious about scuba diving and want to learn how to conquer your fears, read our 11 Scuba Diving Tips For Overcoming Diving Anxiety.
Mnemba Atoll
You can't go to Zanzibar without scuba diving Mnemba Atoll. You just can't! Mnemba Atoll is one of the most famous marine conservation areas in Zanzibar. Besides the fantastic marine life and gorgeous coral reefs, it's also known for being one of the most luxurious, private islands in the world.
Say hello to Mnemba Island.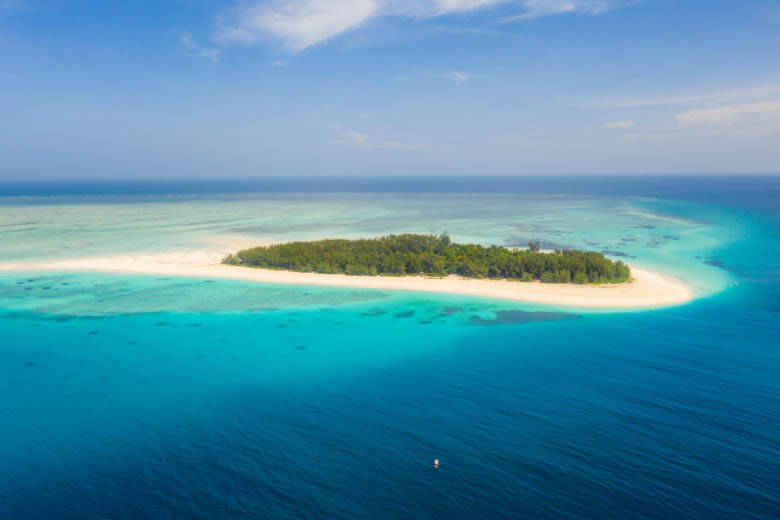 Mnemba Atoll is popular for dolphin encounters. We weren't lucky enough to meet them whilst scuba diving, but we did see a smiley pod of dolphins from the surface.
Visibility at Mnemba Atoll is usually great. We could easily see 15 to 20 meters ahead of us on the day we dived.
There are a few dive sites at Mnemba Atoll. Most of them are suitable for scuba diving beginners, but there are a few dive sites like Big Wall where only experienced, advanced divers are qualified to do.
Zanzibar Diving Tip: Dive centers charge an additional $30 to dive at Mnemba Island. This is the fee to enter the Mnemba Atoll marine conservation area where only a limited number of visitors and divers can visit per day.
Snorkeling in Mnemba Island, Zanzibar
Traveling with friends, family or a partner who isn't a scuba diver? Don't worry – they don't have to miss out on the fun! Take them on this snorkeling tour in the Mnemba Atoll Marine Reserve to give them a sneak peak of what scuba diving is like.
Wattabomi Dive Site
Wattabomi is one of the most popular dive sites in Zanzibar. It's located at Mnemba Atoll, so you have to patiently endure 1 to 2 hours of boat time to get to this dive site from the northern tip of Zanzibar.
This sensational dive site slopes gently from the shallows at about 6 meters deep, up to a depth of 30 meters. It was probably one of the deeper dives we did on our Zanzibar trip.
The deeper section consists mostly of a white, sandy bottom with patches of coral here and there. So you'll probably be looking out into the blue most of the time, hoping to spot some turtles, dolphins or even better, whale sharks or humpback whales!
But make sure you don't forget to look at the sandy bottom as well. You'll often find blue-spotted stingrays and if you have a good eye, you'll see garden eels poking out from the sand.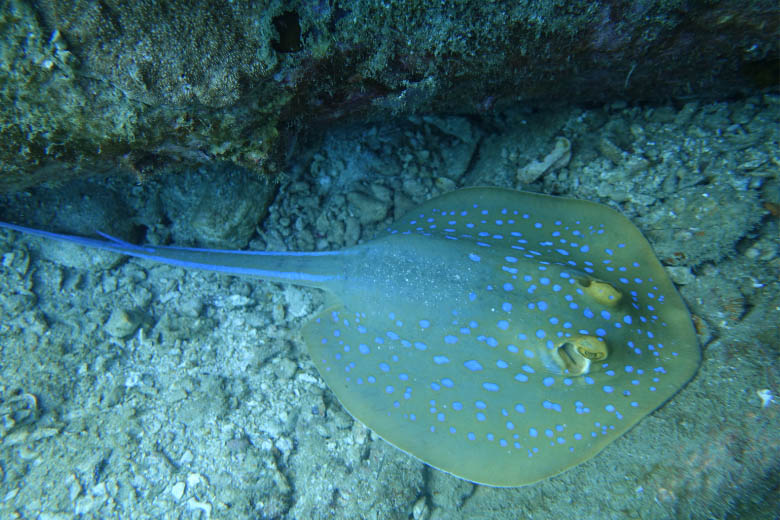 The magic happens on the shallower sections of the Wattabomi dive site. This is where you'll find beautiful reef gardens with thousands of plate corals.
Expect to see tons of blue stripe snappers, juicy-lip groupers, a variety of triggerfish, bluefish trevallies and even barracudas amongst thousands of reef fish.
We thoroughly enjoyed Wattabomi. It was a relaxing, easy dive that is great for scuba diving beginners as well as experienced divers.
Aquarium Dive Site
The next dive site is a short boat ride from Wattabomi and is named Aquarium for a reason. There are tons of reef fish here that you'll feel like you're diving in an aquarium!
The marine life is very diverse here. So expect to see everything from butterfly fish, scorpion fish, lion fish, the zombie-looking black-spotted puffer fish, trumpet fish, smashing mantis shrimps to tiny macros like banded pipefish and nudibranchs.
We were lucky enough to see the entire length of a giant moray eel as it swam from one hole to another!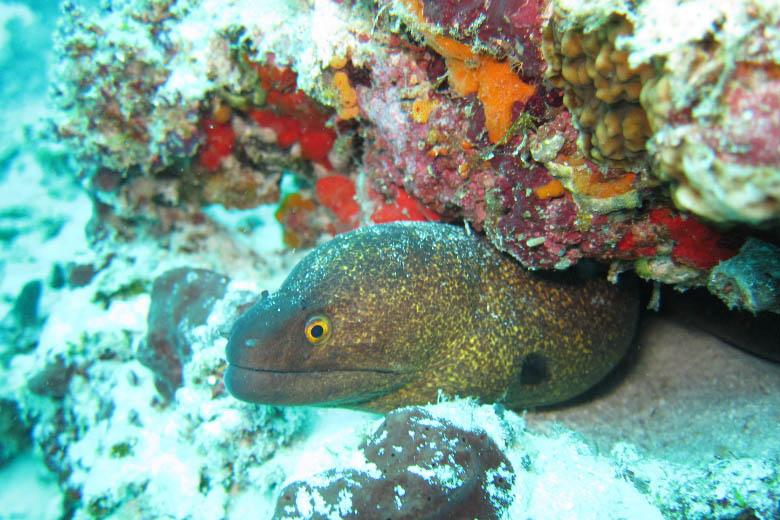 The Aquarium dive site is known for its amazing reef dives and is perfect for beginners scuba divers.
Magic Reef Dive Site
Magic Reef was probably our favourite dive site in Zanzibar! It truly looks like an underwater wonderland with the colourful reef and all the exotic-looking residents who live there.
You'll love this too if you love macro hunting. Keep an eye out for camouflage ninjas like leaf fish, crocodile fish, octopuses and frog fish too. It was here where we witnessed how the frog fish 'walks' around on those cute looking feet.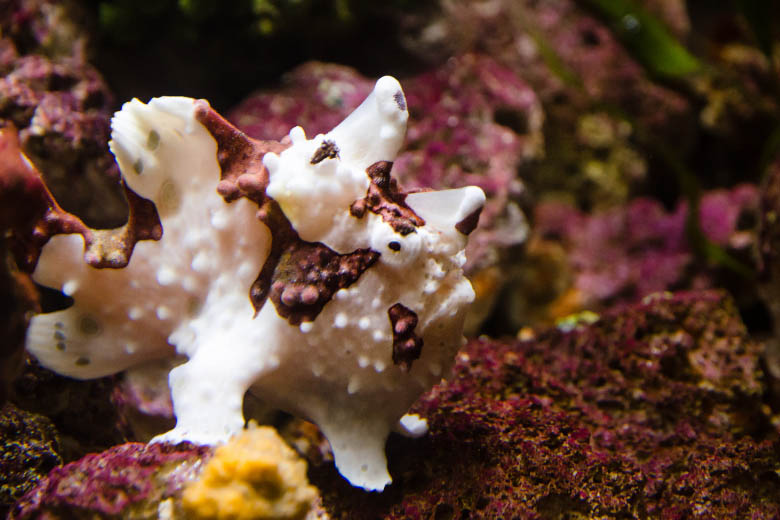 And of course, you'll find the usual suspects like angel fish, black snappers, trigger fish, flounders and anemone fish (Nemo) here too.
Magic Reef is only 15 to 20 meters deep and is a fun dive for both beginners and advanced scuba divers.
Tumbatu Island
If you love reef dives, you'll love the dive sites around Tumbatu Island. Most of the dive sites here are between 10 to 12 meters deep. The perfect depth for both soft and hard corals to grow and flourish.
We can't remember the exact name of the dive site we went to, but we remember seeing lots of brain corals and soft, delicate anemones too.
It's quite common to spot green turtles chilling on the reef here, so keep an eye out for them.
We weren't lucky enough to see turtles, but we did see our very first Persian carpet flatworm whilst it was swimming and 'fluttering its skirt' in all its beauty. Our minds were blown!
Haven't heard of a Persian carpet flatworm before? Then check our Zanzibar travel video and jump to 2:20 to see it in action.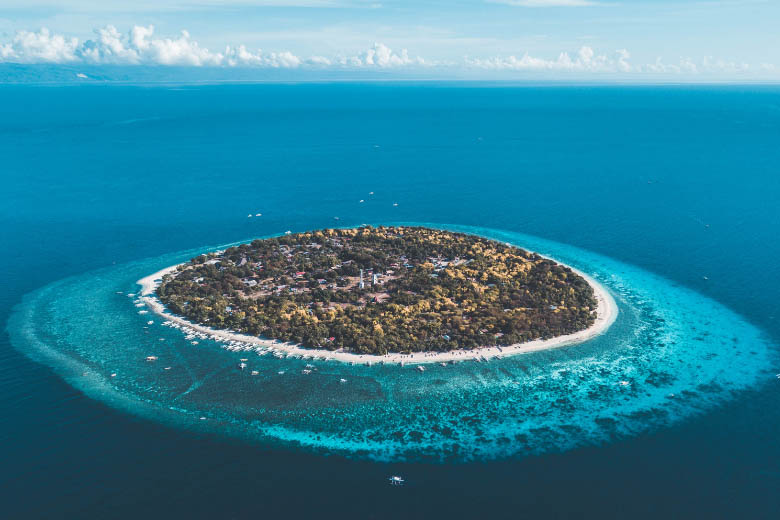 If you're planning to get your scuba diving certification in Zanzibar, Tumbatu Island will probably have the best dive sites for you. It's not too deep, the sites are protected from strong currents and there's plenty of pretty reef fish to see.
It's also a great spot for snorkeling in Zanzibar if you're travelling with family or friends who don't scuba dive.
Related Guide: Love all things turtles? Then you'll love these wildlife conservation bracelets from Wildlife Collections! Not only do 10% of all sale proceeds go to conservation organisations. But you can track a turtle, polar bear or elephant's journey and learn more about them. It's the ultimate gift to buy scuba divers who are also animal lovers!
Zanzibar Dive Sites for Advanced Divers
If you're looking for more challenging dive sites in Zanzibar, you should consider going to Leven Bank or the Big Wall. The ocean currents are strong here so there's a high chance of spotting large game fish like tuna, kingfish and trevally.
Make sure to ask the Zanzibar dive center of your choice whether there's enough demand from experienced divers to go to these dive sites. You may have to adjust your schedule so that you're available on a certain day to dive these challenging but exciting scuba diving spots.
Here are some more Zanzibar dive sites to consider for planning your scuba diving adventure.
Zanzibar Dive Center Review
There are quite a few dive centers in Zanzibar to choose from. So we thought it would be useful to share our personal experience and review the dive center we went with for our diving excursions.
We always do tons of research before a diving trip to make sure that we choose a dive center that prioritizes safety. After considering many factors, we finally decided to go with a dive center called Spanish Dancer Divers.
Spanish Dancer Divers Dive Center Review
We chose Spanish Dancer Divers as our dive center of choice for a few reasons.
It's one of the few PADI accredited dive centers based in Nungwi, Zanzibar that was within walking distance from our hotel. And as you'd expect with PADI accredited dive centers, safety always comes first.
We liked that this Zanzibar dive center limited their groups to a maximum of 4 divers per divemaster. Plus they were probably the only dive center that we found in Zanzibar, that offered a free refresher course if you haven't scuba dived in more than 6 months.
Dive Boat to Mnemba Island
Another reason why we picked Spanish Dancer Divers was for their dive boat. They're one of the few dive centers (maybe even the only one) that is able to get to Mnemba Island from the northern tip of Zanzibar in just 40 minutes. That's compared to a boat time of 1 to 2 hours to get there with other dive centers that use boats with lower engine power.
Now we don't know about you, but we prefer to spend more time underwater and less time on the boat.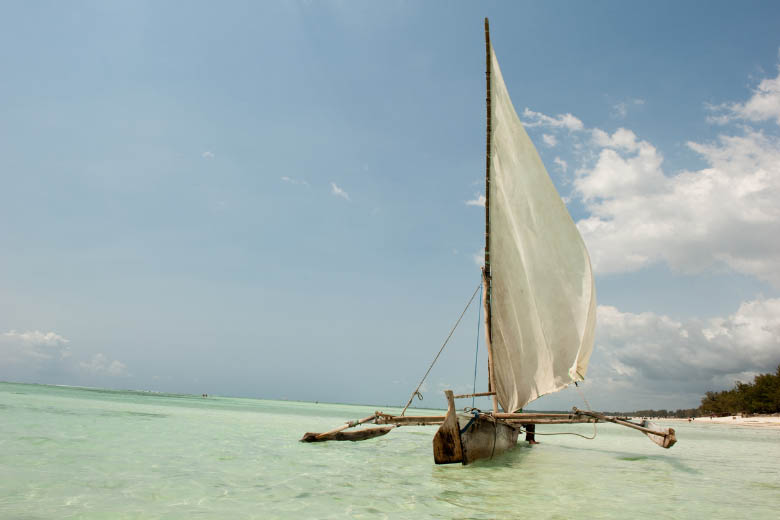 Quality of Scuba Diving Gear
We prefer to travel light, so we usually have to rent heavy diving gear like BCDs, regulators, and weight belts. That's why it's essential for us to pick a dive center that maintains their scuba equipment in great condition.
We had read in a few reviews from other divers that this Zanzibar dive center had good quality equipment. And after experiencing it for ourselves, we can confirm that this is true.
They also bring spares on the boat in case you have any hiccups with your diving gear.
Diving Prices
At first glance, it may seem that Spanish Dancer Divers is one of the more expensive dive centers in Zanzibar.
Their diving price is $110 for 2 dives (you do 2 dives per day) which equates to $55 per dive. The more days you dive with them, the lower the price per dive. So if you're planning to do 6 dives in Zanzibar over 3 days like we did, it will work out to about $49 per dive.
Their diving price includes the cost of hiring scuba gear as well as snacks and water for your trip. So it probably wouldn't be worth your while if you have your own diving equipment. But if you need to rent diving gear like we do, it's really worth it.
The other Zanzibar dive centers we looked at had cheaper diving prices. But if you rent scuba equipment, then it pretty much makes up for the difference that you'd pay at Spanish Dancer Divers.
Plus you get 10% off the diving price if you book in advance (at least 3 days ahead) with Spanish Dancer Divers. So it actually works out cheaper if you need to hire diving gear anyway.
And the cherry on top? You don't need to pay a deposit to reserve your diving spot and qualify for the 10% discount. All you need to do is confirm your dives before 2 PM the day before so they can make sure they have the right size BCDs for you. That's it!
Save Me For Later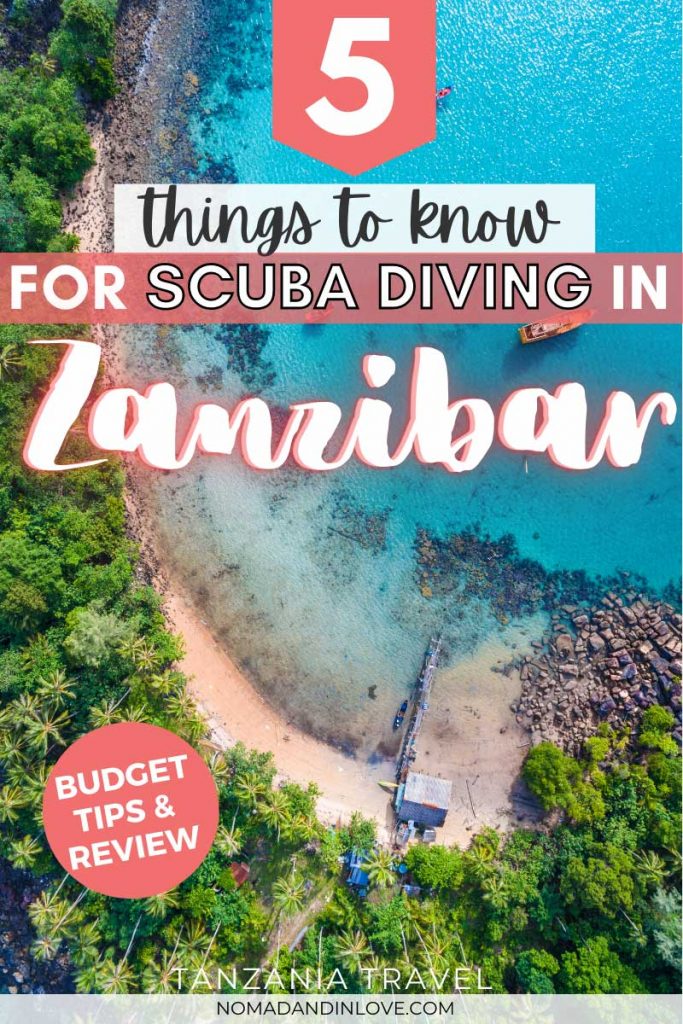 You only settle your bill at the end of your Zanzibar diving vacation. You can choose to pay in US dollars, Euros or even in the local Tanzanian Shilling too.
We're not sure what exchange rate they use, so to be on the safer side we'd recommend paying in US dollars.
Make sure you bring this in cash if you want to avoid additional bank fees. In Tanzania, it's custom to add a 4% bank charge for any card payment.
Other Dive Center Benefits
There are some extra perks diving with Spanish Dancer Divers. Firstly, we liked the fact that the 2 dives are done in the morning, which allows us to relax and enjoy the other half of the day on the gorgeous Zanzibar beaches.
Secondly, the service is great. You can easily contact them via e-mail or even Whatsapp to make your reservation or ask questions if you have any. And if you don't speak English, they can speak Spanish, French and German too.
If you love scuba diving but hate lifting heavy dive gear before your dives, they've got you covered. Their all-inclusive service means that they will have all your scuba equipment loaded on the boat so you can save your energy for those dives.
And lastly, they have delicious surface interval snacks. On most days it's fresh fruit from the local market. But on some days, the snacks are these round Zanzibar donuts. My oh my! These should come with a warning because you won't be able to stop after you have one.
Related Guide: Don't know where to stay in Zanzibar? Get some ideas and tips from our Doubletree by Hilton Zanzibar Hotel review. We explain the pros and cons of the resort as well as whether it's worth the money.
Overall, we had a lovely time with Spanish Dancer Divers and highly recommend them for diving in Zanzibar.
Diving Prices in Zanzibar
Diving prices in Zanzibar range between $45 to $65 per dive, depending on how many dives you do, which dive center you go with, and whether it's a day or night dive.
Make sure you look at what's included in the diving price before booking. Some dive centers in Zanzibar include the hiring of scuba gear, whilst others not.
There may also be an additional surcharge to pay if you're diving at certain dive sites in Zanzibar like Mnemba Island, Leven Bank, or for night dives.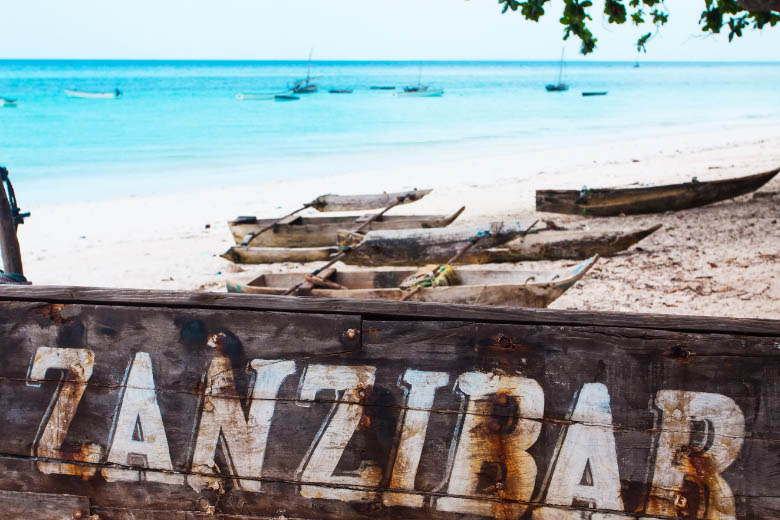 Where To Stay in Zanzibar for Diving?
The best place to stay in Zanzibar for scuba diving is in the northern part of the island. That's where you'll find 90% of the dive sites and where most PADI-accredited dive centers are based.
If you only plan to scuba dive at Mnemba Atoll (the marine conservation around Mnemba Island), then it's best to stay near Muyuni Beach or Matemwe. It's a closer boat ride from this side of the island.
Best Places To Stay For Diving Mnemba Island
There are lots of hotel and accommodation options near Muyuni Beach. But these hotels and resorts are the closest:
If you prefer staying in Matemwe, then check out these accommodation options:
Check out hotel reviews on TripAdvisor or compare hotel prices here.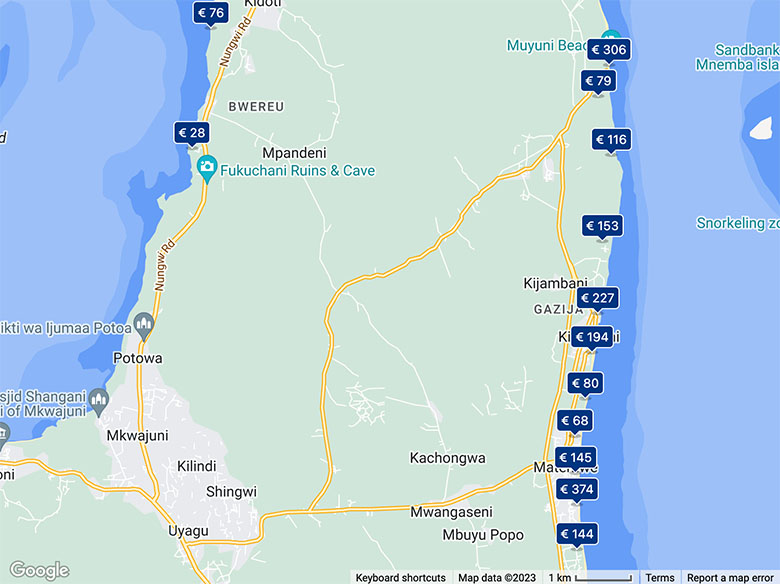 Best Places To Stay For Scuba Diving Zanzibar North
Otherwise, if you want to do a variety of different dives (like we did), then we'd recommend staying in Nungwi or Kendwa. That way you have the option to scuba dive around Tumbatu Island, some of the more challenging dive sites like Leven Bank and The Big Wall, as well as Mnemba Island.
We stayed in Nungwi when we dived in Zanzibar. We loved it because the beach is absolutely gorgeous and the restaurants and cafes around the beach give it a lovely vibe.
There are plenty of hotels and places to stay in Nungwi. Here are some recommendations to get you started:
If you prefer a quieter beach, then check out these accommodation options in Kendwa:
Bonus Tip: Make sure to check how far your hotel or accommodation is from your dive center. Public transport is very limited on Zanzibar island so it's important that it's within walking distance. Some dive centers do offer free transport to and from your hotel depending on where you're staying.
Best Time For Diving in Zanzibar
You can dive in Zanzibar all year round. But the best time for diving in Zanzibar are during the months July to October. During this time of the year, there's hardly any wind, the ocean is calm and you get the best visibility for diving.
The months of September and October are particularly great for seeing turtles, dolphins and whale sharks on dives. And if you're REALLY lucky, you may even see humpback whales on their annual migration (between late July till November).
Diving conditions are a bit more unpredictable during December and January. This is usually Zanzibar's windy season where the ocean gets choppy and visibility drops. Depending on how strong the winds are, you may be limited to only exploring the dive sites closer to the shore. Or in the worst case, have to cancel your diving altogether.
Travel Tip: Zanzibar's rainy season is typically between March and May. Some hotels and restaurants do renovations or close during these months, so bear that in mind before booking your Zanzibar diving vacation.
Snorkeling in Zanzibar
There's plenty of awesome snorkeling spots in Zanzibar if you or your loved ones don't scuba dive. Ideally, you would need to take a boat out to the reefs to see as much life as possible. If you snorkel straight from the beach (we tried this), you'll only see white sand and maybe one fish here and there.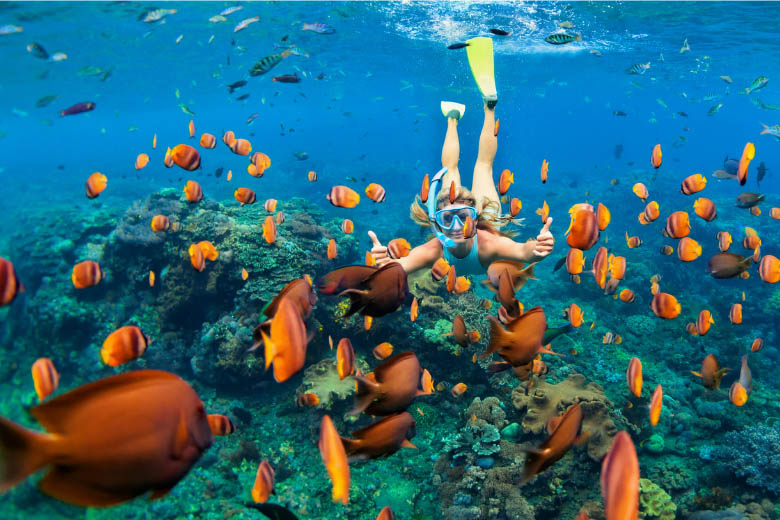 Here are some popular Zanzibar snorkeling tours that you can go on with the family:
Get a sneak peak of what traveling and diving in Zanzibar is like by watching our Zanzibar vlog! And if you love everything scuba diving, make sure you read why our first diving liveaboard experience ruined scuba diving forever.
Frequently Asked Questions (FAQ)
Is there good diving in Zanzibar?
Diving in Zanzibar is not just good – it's GREAT! It's one of the few dive destinations around the world where there's something for everyone, whether that's snorkeling, macro hunting, or deep diving.
What can you expect to see diving in Zanzibar?
Zanzibar is a scuba diving paradise to see marine life both big and small. For the macro lovers out there, you can expect to see everything from banded pipefish, nudibranchs, leaf fish, crocodile fish, octopuses, and frogfish to the mesmerizing Persian carpet flatworm.

You'll also find some of the ocean's biggest fish around Zanzibar island. From turtles, dolphins, tuna, moral eels, kingfish, and stingrays, to whale sharks and humpback whales.
What are the best months for diving in Zanzibar?
You can dive in Zanzibar all year round. But the best months for diving in Zanzibar are July, August, September, and October. During this time of the year, there's hardly any wind, the ocean is calm and you get the best visibility for diving.

The months of September and October are particularly great for seeing turtles, dolphins, whale sharks, and humpback whales on dives.
Where is the best scuba diving in Zanzibar
The best scuba diving in Zanzibar is found in the northern part of the island. You'll find a variety of dive sites here, from shallow reef dives that are great for scuba beginners, to wall and drift dives for more advanced divers.
Do you need a wetsuit in Zanzibar?
Zanzibar has relatively warm water temperatures (on average 26 to 28 degrees Celsius or 79 to 82 Fahrenheit) throughout most of the year. This means that you won't necessarily need a wetsuit for scuba diving unless you're someone who gets cold easily.
Wrapping Things Up
Zanzibar Island is not only a beach paradise but a haven for scuba diving too. The diving conditions are great outside of the short rainy season and there are plenty of marine life and colorful coral gardens to see. The months of September and October are especially popular for scuba divers because there's a higher chance of seeing whale sharks and humpback whales. Overall, Zanzibar has great diving whether you're a scuba beginner or an advanced diver.