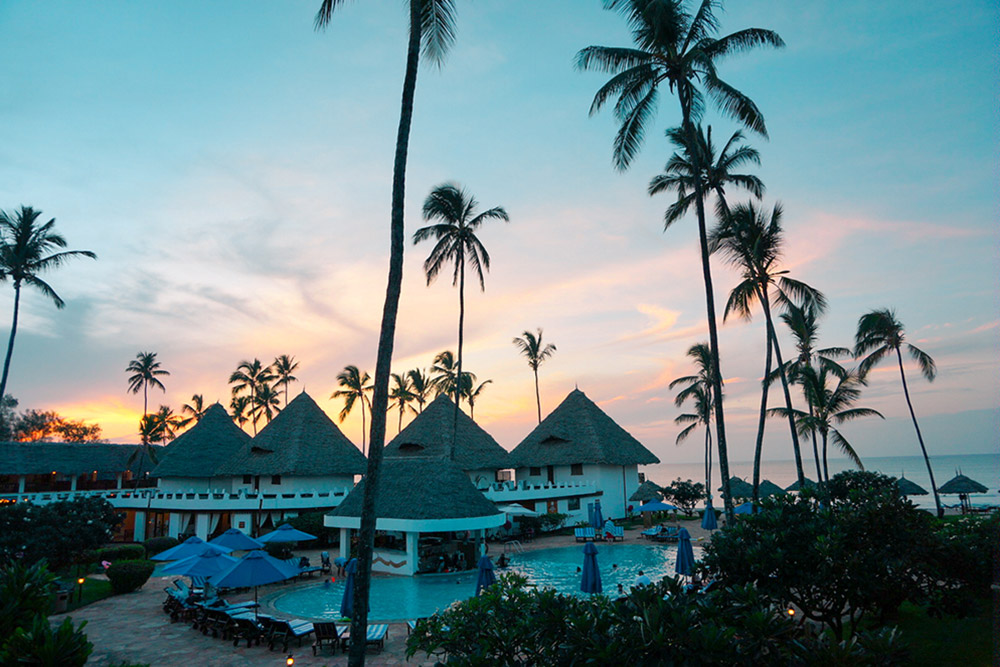 Wondering if the Doubletree by Hilton Hotel in Zanzibar is the resort for you? Find out what we think and whether it's worth the splurge in this honest review.
Zanzibar is one of our favourite tropical island destinations of all time. It's got the dreamy, crystal clear, turquoise blue waters. The soft, white sand that just melts between your toes. And the most magnificent, coral sunsets that simply take your breath away.
It's a beach lovers' paradise and what makes it even more amazing, is the fact that it's a more affordable alternative to the Maldives, Seychelles and Mauritius.
That depends on where you stay, of course. So we're sharing our honest review on how it was to stay at the Doubletree by Hilton Zanzibar Hotel. And most importantly, whether it's worth spending extra to experience this luxury resort on the beach at Zanzibar Island.
There are 2 Doubletree by Hilton hotels on Zanzibar Island. One in Stone Town in the south and the other in Nungwi which is on the northern tip of the island. This review is on the Doubletree by Hilton hotel in Zanzibar, Nungwi.
Disclosure: This review of DoubleTree Resort by Hilton Zanzibar – Nungwi is not sponsored. But whether a guide is sponsored or not, we always share our honest opinion.
Hotel Location on Zanzibar Island
The location of the Doubletree by Hilton Nungwi hotel is probably one of its best features. The resort is nestled on the northernmost tip of Zanzibar Island, not too far from the Nungwi Mnarani Aquarium.
It's a long 90 minute drive from Zanzibar's Karume International Airport and Stone Town, but it's absolutely worth it.
Especially when you'll be staying at a resort where the most breathtaking beach in Zanzibar is only a coconut's throw away.
The tide so far up in the north also doesn't recede as far as it would on the east coast of Zanzibar. So you can easily reach the ocean on most days in just a few steps rather than walking more than a kilometre.
Related Guide: We explain this tide phenomenon and other essential travel tips to know in more detail in our Best Beaches on Zanzibar Island travel guide.
Distance of Resort from Main Nungwi Beach
And the best part? The beach is never crowded. The Doubletree by Hilton Zanzibar hotel is located on the quieter side of Nungwi beach. Around a 10 minute walk from Nungwi's main beach area.
We loved it because it meant that we had the best of both worlds. We could enjoy the serene turquoise waters and soft white sand all to ourselves at the resort. Or take a walk down to the main beach when we were looking for a bit more hustle and bustle.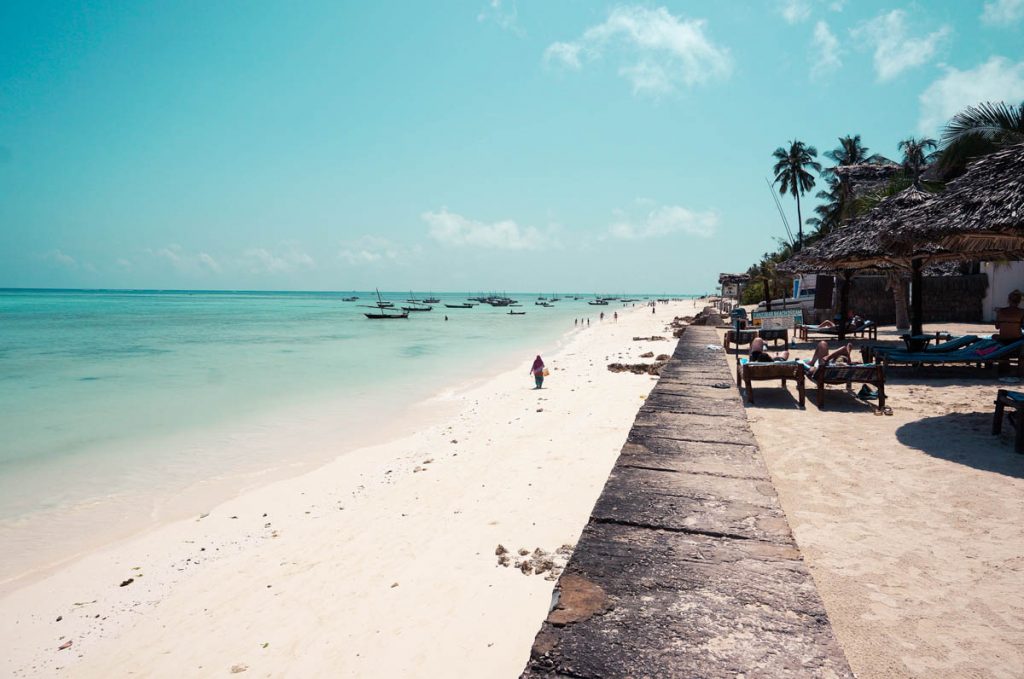 We spent most of the 7 days lying on the sun loungers at the resort. Enjoying the sun and admiring the glittering turquoise waters. You'd think we'd be bored by day 4. But we felt like we couldn't get enough of this beautiful paradise even by day 7! We even considered never leaving!
And if that is not enough to charm you, wait till you see the sunset. It will be the most magnificent sunset you've ever laid your eyes on.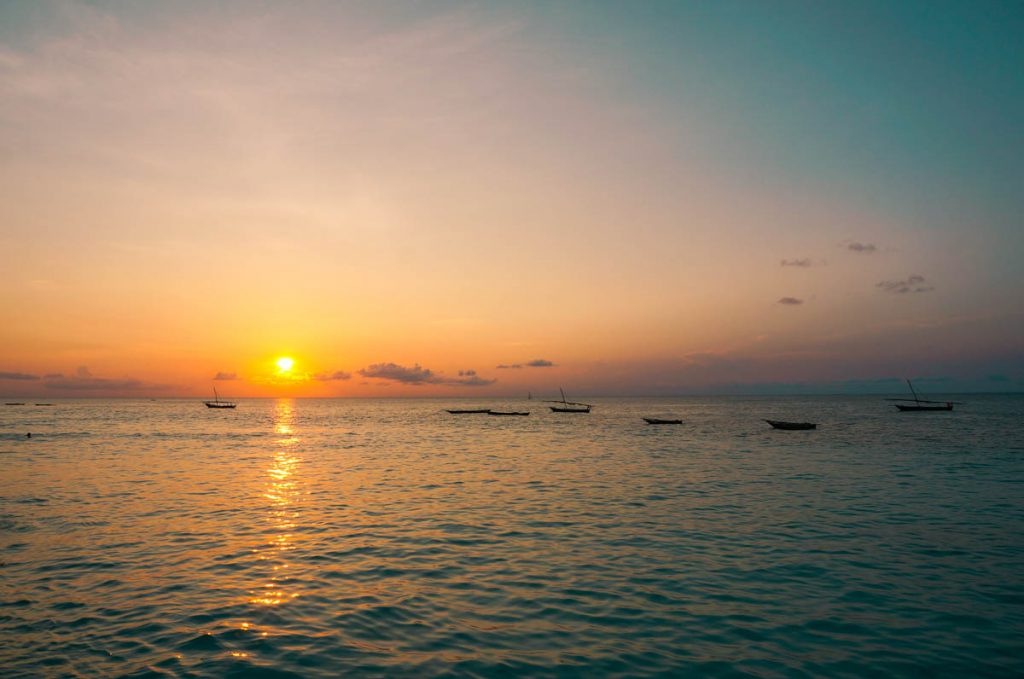 Related Guide: Want to add scuba diving to your Zanzibar itinerary? Read our Diving in Zanzibar guide for tips on how to budget and prepare for your trip.
Airport Transfers for Resorts in Zanzibar
Most hotels in Zanzibar (Doubletree by Hilton Hotel included) offer free transfers to and from the airport. So you shouldn't let the 90 minute drive to the north of Zanzibar island put you off.
And if you plan to tour Stone Town, go on the Zanzibar spice tour or explore the jungles of Jozani National Park, most tour operators include transfers to and from your hotel too.
Doubletree by Hilton Zanzibar Hotel Facilities
As you'd expect with any Hilton hotel, the Doubletree Zanzibar resort comes with all the bells and whistles.
This luxury Zanzibar hotel is no different. It has 2 restaurants, 3 bars (yay to more G&Ts), a beach volleyball court, a spa, a gym and even a small business centre.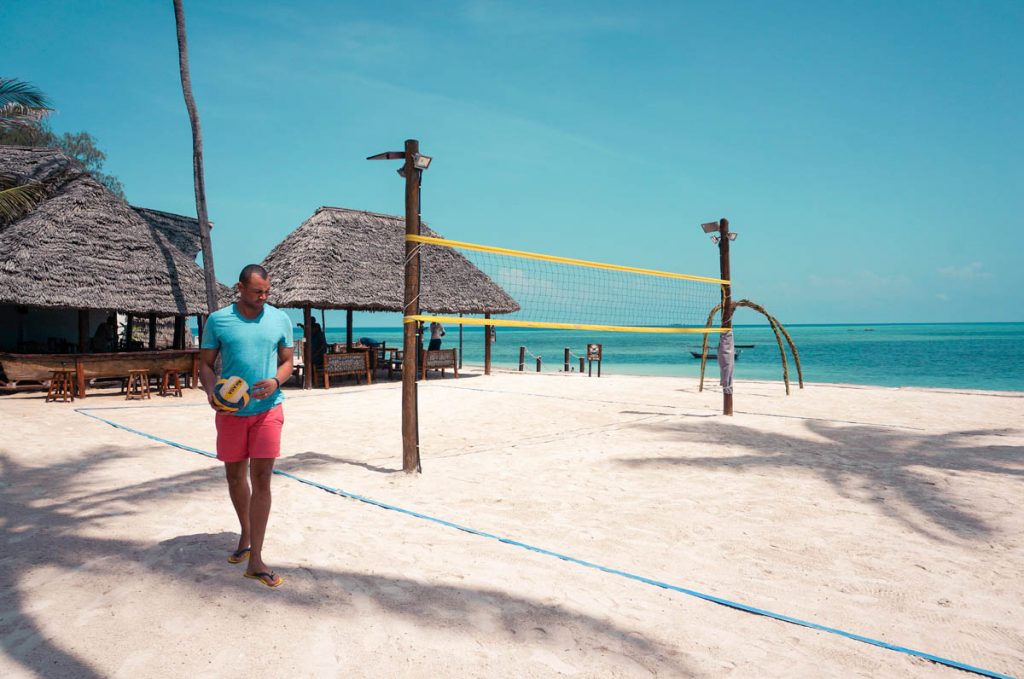 Swimming Pool Area
We didn't use the gym or business centre. But we did spend a lot of time at the pool and the beach. You would too when it's 35 degrees out, the sun is shining and you're just a breaststroke away from ordering a cold gin and tonic from the pool's own built-in bar.
Oh yes, you read that right! You can order and enjoy your drink of choice, without leaving the pool at all. The bar is literally built into the pool and there are even underwater bar stools to sit on. And if you have little ones, there's a small kids' pool close by.
Private Resort Area on the Beach
The ultimate gem of the resort? The beach area of course! And if you're a beach lover like us, you'll probably spend most of your time here, as we did.
There's really no reason to leave this private beach area. There are comfy beach recliners, thatched umbrellas to lie under, tall palm trees to admire and of course, the beach bar. Besides ordering drinks, you could also order snacks after taking a dip in the ocean.
Just make sure to get a sun lounger as early as possible. They're in high demand as you can imagine.
From the private beach area, it's literally a few steps down to reach the pristine sandy beaches that make Zanzibar one of the most beautiful islands around the world.
Beach in front of Doubletree by Hilton Zanzibar
The beach on the doorstep of the Doubletree by Hilton Zanzibar in Nungwi will honestly be the most memorable part of your stay. Besides the crystal clear, turquoise waters, it's also pretty amazing watching how the landscape changes between high and low tide.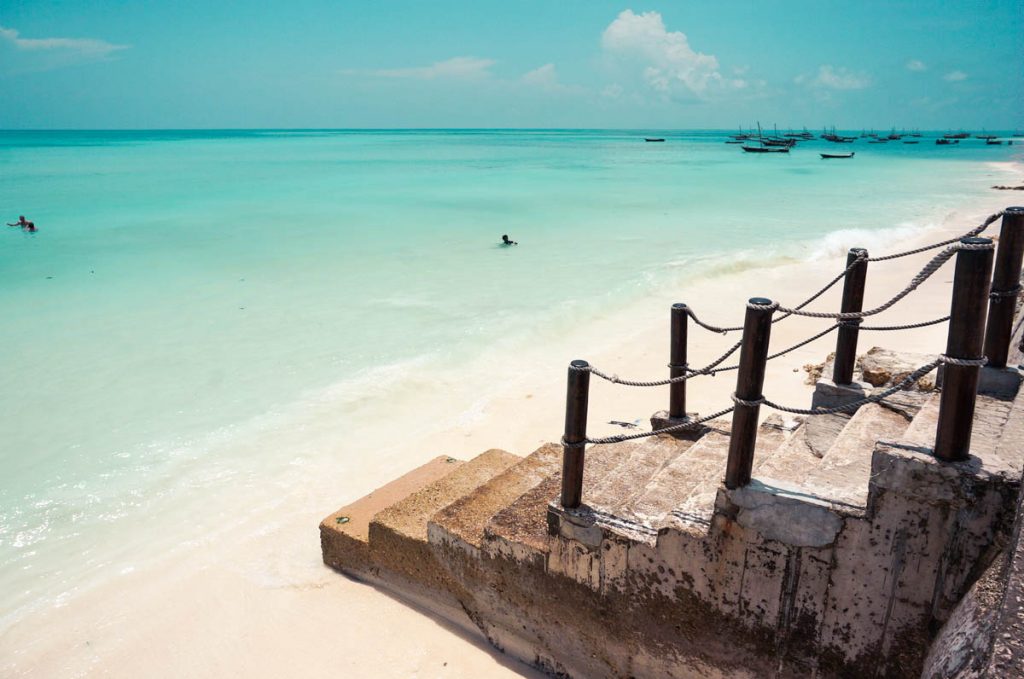 At high tide, the ocean comes halfway up these stairs, covers the sandy beach completely and forms a natural swimming pool against the retaining wall.
And at low tide, the ocean recedes a couple of meters to reveal the softest white sand you'll ever walk on.
It literally is a slice of heaven on earth.
Friendly merchants often come by at low tide to sell you their goods and crafts. You can support the local community by buying a couple of souvenirs. Otherwise, just greet them and respond with a friendly 'no thanks'. Some can be quite insistent, but Zanzibar is a pretty safe country so there's no need to worry about safety.
Useful Tip: If you do want to stay on the east coast, make sure to check the Zanzibar tide schedule before booking your hotel stay. That way you're not limited to only swimming during high tide.
Rooms at Doubletree Zanzibar Hotel
The Doubletree by Hilton Zanzibar in Nungwi has 5 different hotel rooms. We stayed in the queen guest room with the pool view.
We liked that the room was spacious and clean. The wooden furniture and finishes may seem a bit old-fashioned for a Hilton hotel. But we find that the rustic decor suits the island vibe atmosphere of the resort.
The room comes fully kitted with aircon, LED TV, a mini-fridge, Wi-fi, a safe, hairdryer, a kettle and most importantly, mosquito nets. Soap, shampoos, coffee, tea and drinking water are also provided. And on top of all of that, there's also a small balcony for you to enjoy.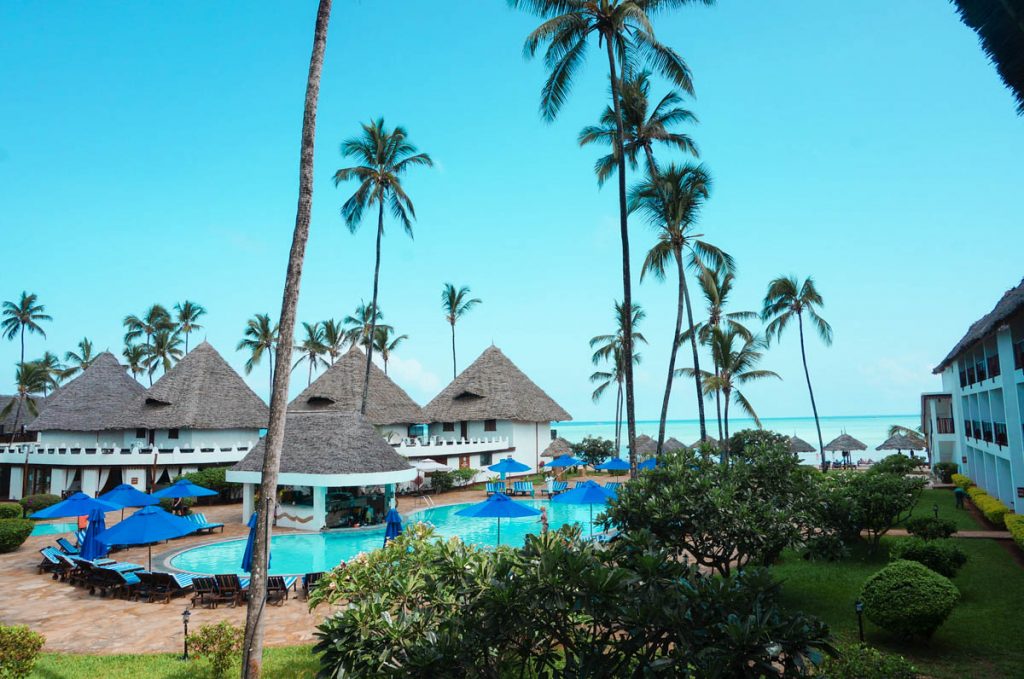 There's really nothing to complain except for one thing – the bottled water. All the bottled water in the resort uses plastic bottles. Tap water in Zanzibar is not safe to drink. So the resort provides 4 complimentary bottles of water in your room every day for brushing your teeth and for drinking.
Whilst drinking water is absolutely necessary and it's awesome that the resort provides a certain number of complimentary bottles of water a day. We would expect that a luxury hotel group like the Hilton, to find a more sustainable and eco-friendly alternative like using refillable glass bottles instead.
Food and Beverage at Doubletree by Hilton Zanzibar Hotel
Most of the luxury resorts in Zanzibar offer a half-board or all-inclusive (full-board) option for including meals and drinks in your hotel room rate.
The half-board option means that only breakfast and dinner are included, whereas all-inclusive includes all meals and beverages (including alcohol).
If you're planning to enjoy most of your time and meals at the resort, we'd highly suggest you pay for the half-board or all-inclusive option. Otherwise, it will quickly become very expensive if you order meals and drinks at the resort a la carte (or separately), as everything is priced in US Dollars.
Save Me For Later
All-Inclusive at The Doubletree Zanzibar Hotel
We opted for the all-inclusive option so we could enjoy unlimited G&Ts during our stay. If you're going to paradise, you might as well enjoy it to the max right?
But besides the awesome (and much-needed) G&Ts, the food and meals at the Doubletree by Hilton Zanzibar hotel was great.
Breakfast
For the breakfast buffet, you can expect everything hot and cold from a traditional English breakfast. Fresh coffee, soft croissants, a selection of cold meats and cheese, freshly squeezed juices, baked beans, mushrooms and much, much more.
A dedicated chef is there every morning to prepare your eggs just the way you like them. And there's a huge array of fresh local fruits to choose from like fresh coconuts, Zanzibar's pink bananas, watermelon, papayas and pineapples.
The breakfast buffet may be similar every day, but there's a big variety to choose from.
Lunch
Lunch is another delicious affair. It's also served as a buffet and is different every day. There's enough variety for you to choose to have a light lunch after that big breakfast or indulge to your heart's delight.
You're on holiday after all! Just don't come here with the intention of losing weight. You'll need some serious willpower being surrounded by all the delights served at this Zanzibar hotel.
Themed-Dinners
The themed dinners were by far our favourite! Each evening had its own unique theme. Our favourite was the African and Arabic night. The food was amazing and the atmosphere was superb.
Some of the themed dinners are set-up on the resort's private beach area. So you can enjoy feeling the soft, white sand between your toes while you enjoying your candlelit dinner under the stars.
There's also a live band playing on some evenings for those who want to dance the night away.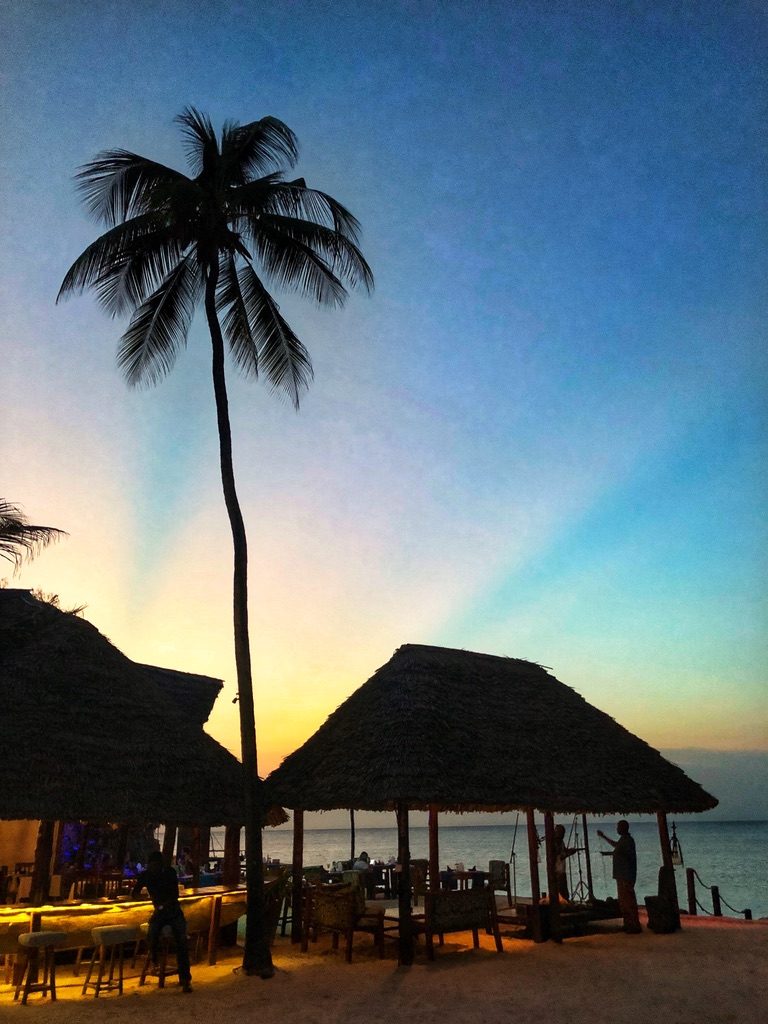 Restaurants and Bars in Nungwi, Zanzibar
If you don't want to do the half-board or all-inclusive option, you can easily find other restaurants and bars not too far away from the Doubletree by Hilton Zanzibar hotel.
Just walk 10 to 15 minutes along the beach towards the main beach area in Nungwi on the west. You'll find restaurants, bars and even a few local shops.
Service at the Zanzibar Hotel
The service at the Doubletree by Hilton Zanzibar hotel in Nungwi is incredible. We can't say enough how hospitable and friendly the staff are. Nothing was too much to ask for.
Whether it was at the Dolphin's Pool bar, the restaurant or the beach bar, the service was simply outstanding.
A special mention to Jane, Chriphord and Paul who made our stay extra special. They made us feel so welcome that we felt like we were leaving life-long friends at the end of our 7 night stay.
The Doubletree Zanzibar Resort Spa
If you're missing the amazing massages you get in Thailand, you're in luck. The masseuses at the Doubletree by Hilton Zanzibar spa are professionally trained by an Indonesian lady in the art of massage. So if your muscles are in dire need of some deep relaxation and therapy, you're in the right place.
We did the couples deep tissue massage for 60 minutes. It was quite pricey, but for the facility and quality of the massage we got, it was worth it.
Related Guide: Looking for unforgettable beach destinations in Thailand? Then make sure you check out our 10 Best Beaches in Koh Phangan and Krabi Top Things To Do 3 Day Itinerary travel guides.
Doubletree Zanzibar Price vs Value: Is it worth the money?
Staying at the Doubletree by Hilton Zanzibar hotel is certainly not a budget-friendly option. You can easily spend $110 to $130 per person, per night here. But given everything they offer, is it worth the splurge?
We think so. But to get the best value for money, it's best to choose the all-inclusive option at this Zanzibar resort. The difference between the room rate for breakfast only versus the all-inclusive option is only around $20 per night.
So it makes sense to have all 3 meals plus drinks (including most alcoholic drinks) included in your hotel room rate.
Cons of the Doubletree Zanzibar Hotel
Overall, we were pretty happy with our stay at the Doubletree by Hilton Zanzibar resort. There are, however, 2 things we feel the hotel could improve on.
Firstly, we feel that the hotel should better clarify whether it's best to pay in US Dollars or the local Tanzanian Shillings. The problem we had was that all the food, drinks and spa packages were all quoted in US Dollars. However, when you settle the bill at the end of your stay, the hotel charges you in Tanzanian Shillings.
This means that when you settled your check in US Dollars, the hotel will convert the Tanzanian Shilling amount to US Dollars at the hotel's foreign exchange rate. This is usually done at a big premium compared to the actual forex rate, so we ended up paying 10% more than the actual US Dollar amount than we should have paid.
We don't believe that this is fair and should be better disclosed to future hotel guests.
The second thing is that we wished the hotel was more environmentally friendly. We believe that a big hotel brand like the Hilton could easily go plastic-free by putting water dispensers in bedrooms and restaurant areas instead of using bottled water.
In addition, they should only use eco-friendly, bio-degradable straws and not use any plastic straws at all. There are no plastic recycling facilities on Zanzibar island, so this will make a big difference in preserving the environment.
Review of Doubletree by Hilton Zanzibar in Nungwi
We enjoyed our stay at the Doubletree by Hilton Zanzibar resort. The hotel facilities were excellent, the food and drinks were great, the service incredibly hospitable and the beach, of course, was unforgettable.
We would stay here again if and when the hotel becomes more environmentally-friendly and plastic-free.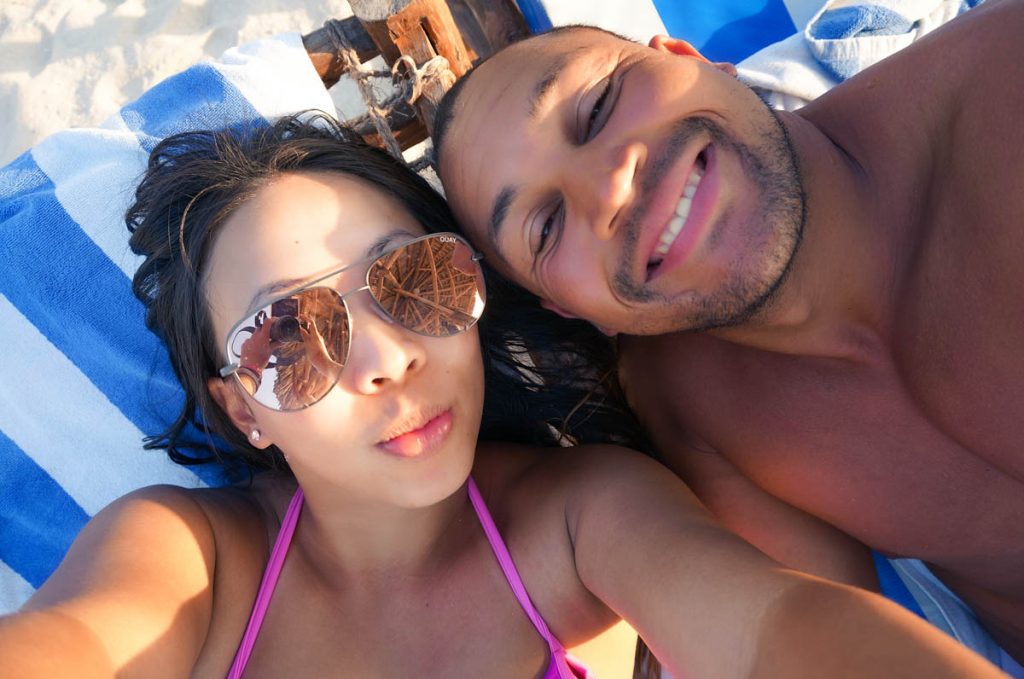 Other Zanzibar Hotels
The hotels in the north part of Zanzibar (including the Doubletree by Hilton Nungwi) are generally more expensive than those located on the east and southern part of the island.
That's because the tide on the northern tip and west coast of Zanzibar island does not recede as far as the east coast.
But if the Doubletree Zanzibar resort is not what you're looking for, you can easily find other Zanzibar hotels and compare prices by clicking on the map below.