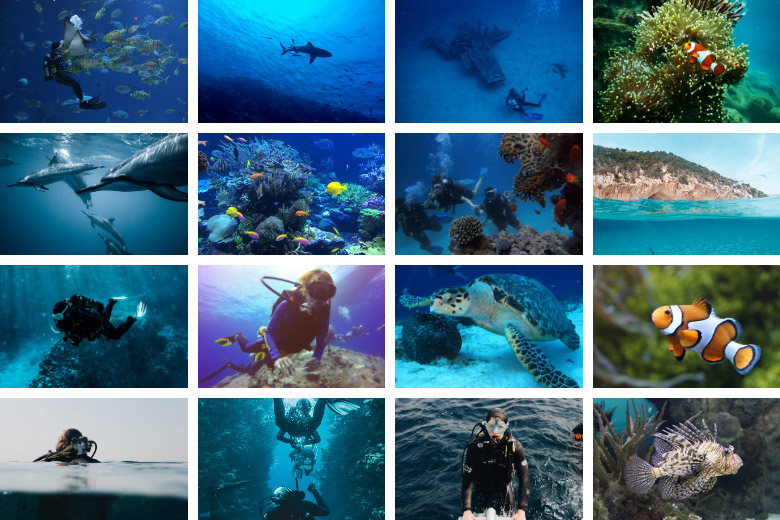 Looking for the ultimate scuba gifts to spoil your family and friends? This guide lists 40+ gift ideas that every scuba diver will love! From cool diving gadgets, must-have scuba gear to fun accessories that will suit every budget.
Buying gifts for scuba divers can be intimidating, especially if you're not into scuba diving yourself. And the fact that most scuba gear and accessories are expensive makes the task even more challenging!
But don't worry – we're here to help.
As scuba divers ourselves, we've listed 40+ awesome scuba gifts that any diver will love. We've filtered out all the super pricey scuba gear and narrowed it down to a list that is not only budget-friendly and affordable, but also sustainable and eco-friendly!
So whether you're looking for funny scuba gift ideas for birthdays, scuba diving stocking stuffers for Christmas or cool diving gadgets and scuba accessories for him or her, we've got you covered.
Gifts For Scuba Divers To Suit Every Budget
Scuba Gifts For Under $10
These super budget-friendly and affordable scuba gifts are perfect as Christmas stocking stuffers or for creating a custom scuba diving survival kit for him or her.
1. JOTO Universal Waterproof Phone Pouch
We love this Joto Universal Waterproof Phone Pouch. This super handy waterproof phone pouch is a must-have for any scuba diver or beach lover. It'll protect your smartphone from salty ocean water as well as sand particles that can cause rust and damage your device.
Each pouch can fit any smartphone within a 6.9 inch (17.5 cm) diagonal. We love that it's clear on both sides so you can easily take photos, videos, or simply check your messages. Plus, you get 2 waterproof pouches in this set so you can use one for storing your device and the other for storing cash, credit cards, keys, and other personal items.
It's a practical yet affordable gift that any diver would appreciate.
2. Silicone Shark Fin Ice Cube Tray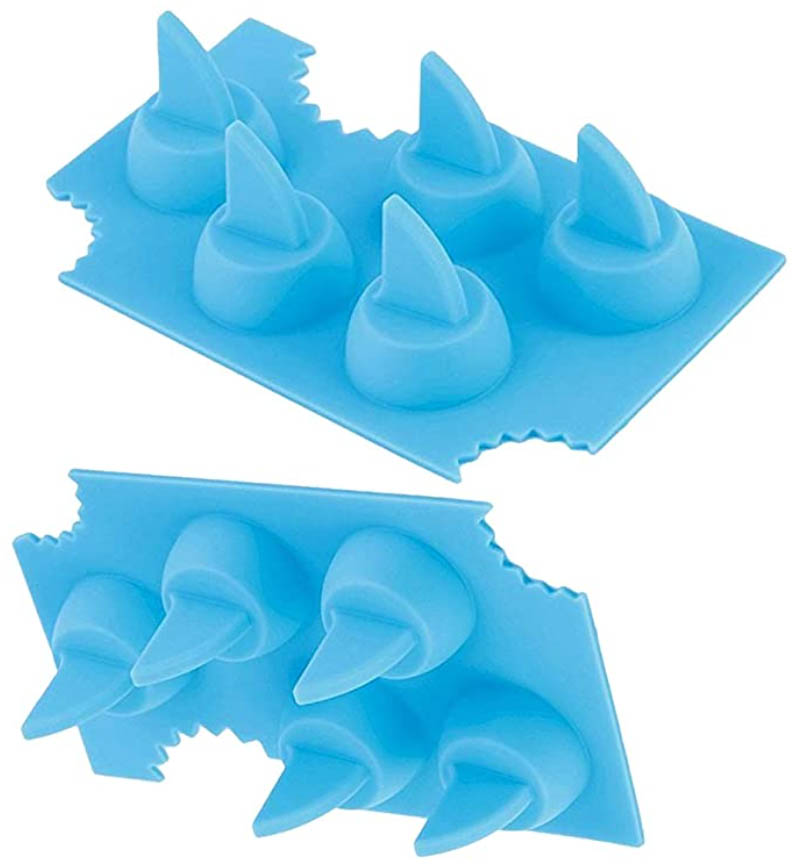 The perfect funny scuba gift for a family or friend with a good sense of humor – a shark fin ice cube tray.
Oh yes! Make your drinks and add these cool and funny shark tail-shaped ice cubes to make it look like there is a shark swimming around your favourite beverage.
This set comes in a pack of 2 so there's enough 'sharks' to go around.
3. Floating Buoyancy Straps For Underwater Cameras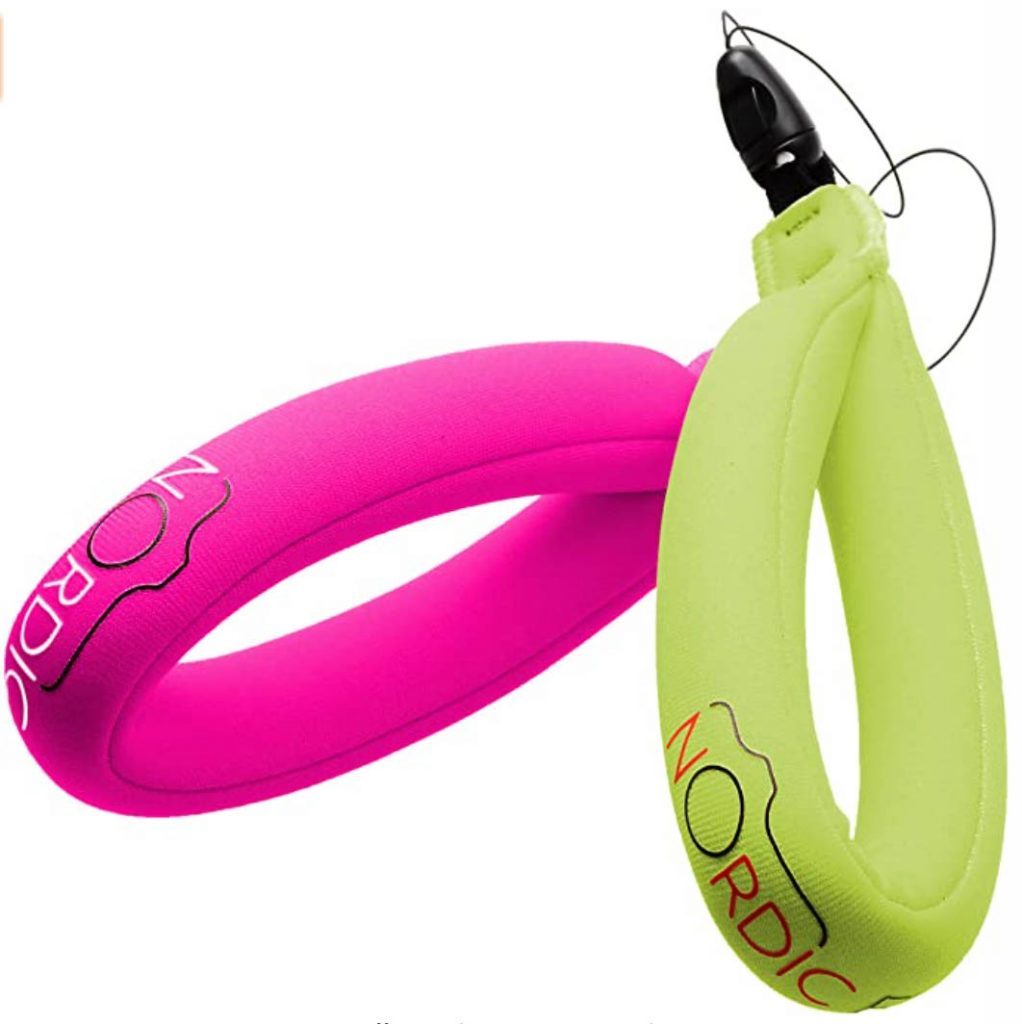 What exactly are these neon-bright, party looking straps? We asked ourselves the same question until our big 'aha' moment arrived.
These neon floating straps are basically 'insurance' for your expensive underwater camera and photography equipment (or anything you don't want to lose).
These straps will float your valuables to the surface in the event you lose your grip on them whilst scuba diving. Smart right?
4. Cressi Diving Mask Strap
This is a thoughtful scuba accessories gift for divers with thick or long hair. A neoprene diving mask strap to wrap around those pesky silicone mask straps so your hair doesn't get tangled or damaged whilst diving.
We love the fact that it's universal (i.e. one size fits all) and that it comes in 6 different colors.
5. Dirtbusters Coco Loco Wetsuit Shampoo in Eucalyptus
A practical and eco-friendly gift for any diver that owns a wetsuit.
We love that the ingredients of this wetsuit shampoo are environmentally-friendly, hypoallergenic and leaves your wetsuit smelling fresh.
6. Reusable Metal Straws 12 Piece Set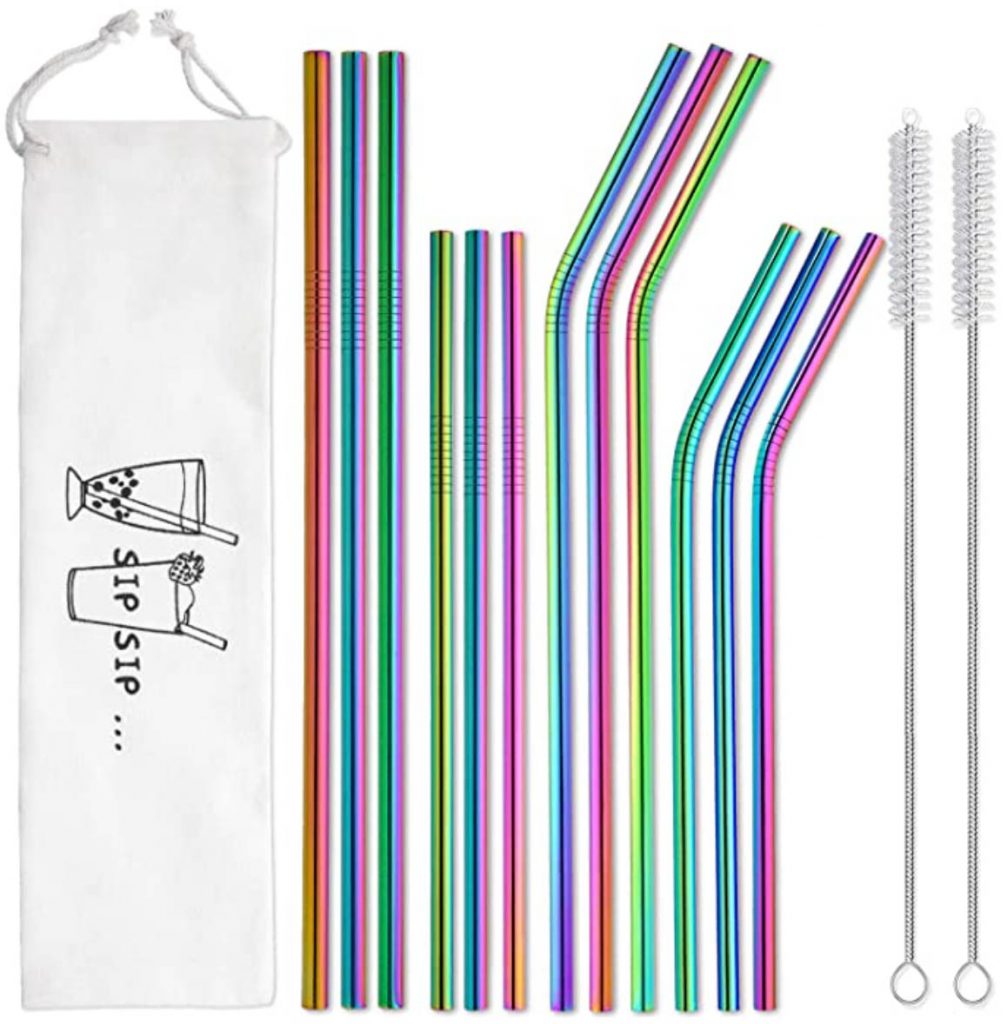 A great Christmas stocking stuffer gift idea whether you scuba dive or not. These reusable metal straws are sustainable, eco-friendly and cute!
Say no to plastic and use reusable straws to help save our planet.
We love that each set comes with 12 stainless steel drinking straws, a carrying pouch and 2 cleaning brushes. And the best part? These reusable metal straws are dishwasher safe and come in 4 gorgeous sets of colours: black, gold, silver and rose gold.
7. Scubapro Gear Marker
Love scuba diving but hate losing your gear? We know exactly how you feel! It's easy to get your scuba gear mixed up or in the worst case, losing it when you're diving in large groups or on a liveaboard.
That's when these scuba gear marker pens come in handy! These permanent marking pens are specifically designed for scuba gear. So you can happily customize your gear with names, sayings or drawings so you'll never lose or get your scuba gear mixed up again.
Related Guide: Planning your next scuba diving vacation? Then make sure you read our Best Liveaboard Boats guide! We've rank the best scuba liveaboards around the world by price so you can easily pick your next diving destination according to your budget!
8. Anti-Fog Spray
You can never go wrong buying anti-fog spray as a gift for your scuba diving family or friend. These little sprays come in handy every single dive, especially if you experience a bit of diving anxiety.
We love that this anti-fog spray is non-toxic, long-lasting and effective.
And if you really want to spoil your scuba diver friend, we'd recommend getting these anti fogging dive masks by Tidal Sports. These diving masks are designed with anti-fog films so they'll never have to worry about their masks fogging again!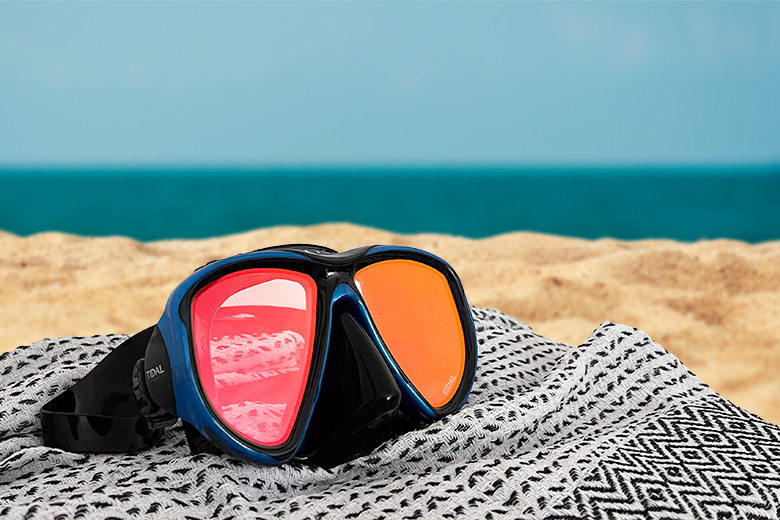 We also love that these unique diving masks come with red tinted lens. This helps balance out the blue color underwater so you can see how vibrant and colorful corals and other marine life are.
Tidal Sports offers a huge range of anti fog scuba and snorkel masks (swimming goggles too!). If you're unsure which one to buy as a gift, read our Tidal Sports Anti Fog Dive Mask Review to help you decide.
Use the code NOMADPRO20 to get 20% off your Tidal Sports Masks purchase!
Related Guide: If you or a friend has ever felt nervous, fearful or anxious about scuba diving and want to learn how to conquer your fears, read our 11 Scuba Diving Tips For Overcoming Diving Anxiety.
9. 'The Soul of An Octopus' Book by Sy Montgomery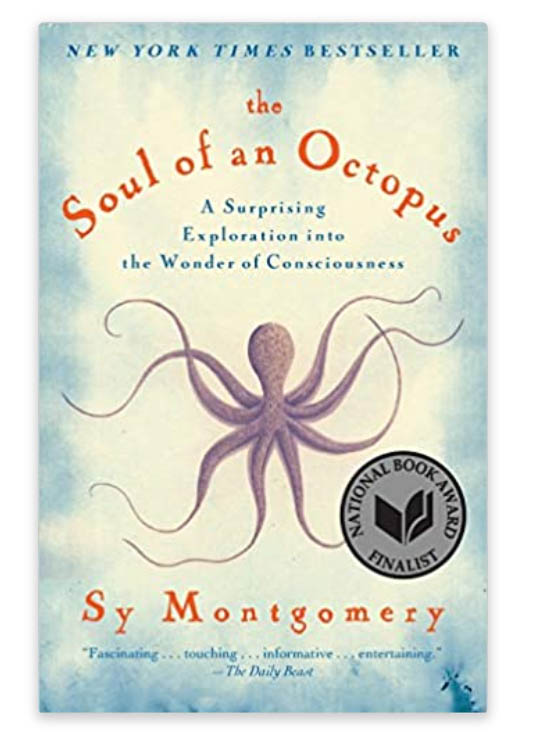 An awesome Christmas gift for divers who loved the Netflix documentary 'My Octopus Teacher'. 'The Soul of An Octopus' book is a beautifully written non-fiction book that explores the emotional and physical world of the octopus and the remarkable connection it made with humans.
We loved that this book is informative, entertaining and incredibly touching.
Related Guide: Prefer buying a scuba gift that a beginners scuba diver will use? Read our Scuba Diving Gear for Beginners guide for inspiration.
Gifts for Scuba Divers Under $20
10. Ocean Pack Dry Bag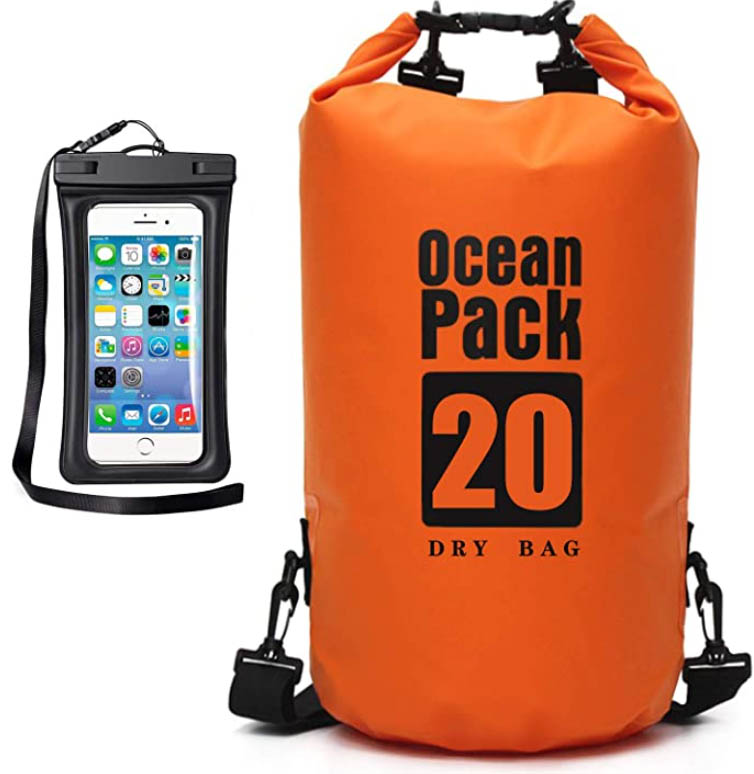 We bought our first Ocean Pack dry bag in Thailand 9 years ago and still take it on every vacation today! Yup – it's that durable.
Not only is it an awesome gift for scuba divers. It's also great for anyone who loves water and adventure sports, from kayaking, rafting, fishing to hiking and going to the beach.
We love it so much that we bought 2 more Ocean Pack dry bags to make a family of 3.
These bags are compact, lightweight and most importantly, waterproof! We've taken these to keep our valuables dry hiking in a water cave in Khao Sok, jungle trekking in the rainforests of Bukit Lawang to swimming across Liepnitzsee Lake near Berlin.
For the best versatility, we recommend buying the 20 litre pack.
11. My Fahlo Animal Tracking Bracelet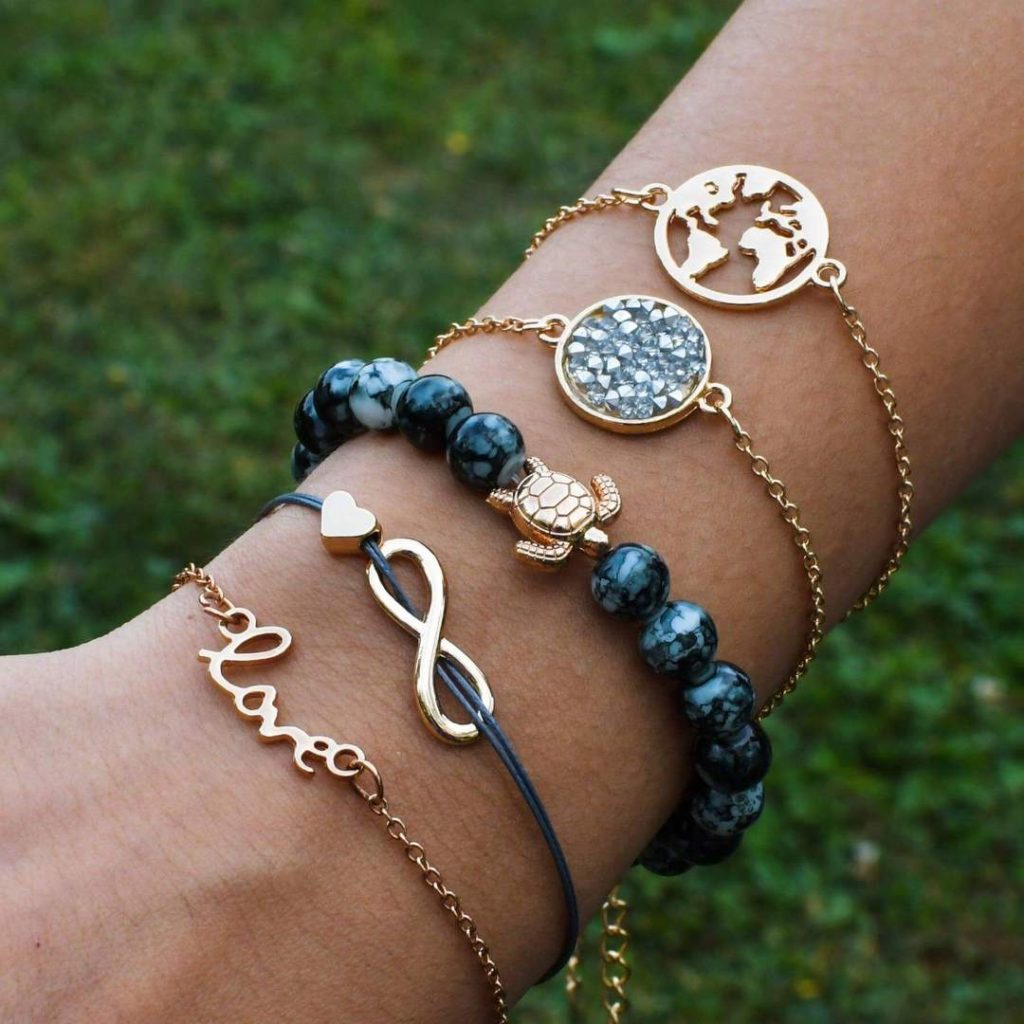 The best scuba accessories to buy for divers who are also big ANIMAL lovers! Not only are these bracelets from Wildlife Collections beautifully crafted. But 10% of all sale proceeds are donated to wildlife conservation organisations like the Orca Research Trust, Sea Turtle Conservancy, Save the Elephants, Polar Bears International and more!
And the cherry on top? Each bracelet allows you to track an animal (turtle, elephant or polar bear) that the conservation organisation is following for research purposes. And you can follow these beautiful creatures' journey too via satellite tracking!
Yup – you can literally follow their journey around the world to see where they are on a map and where they've been wandering. Plus, you can learn more about the animals' name, age, gender, size and get to know their habitats better.
This is the ultimate scuba diving gift that keeps giving! Use our Wildlife Collections discount code NOMAD20 to get 10% off these beautiful accessories for scuba divers and animal lovers!
12. GoPro Hero Waterproof Case with 3 Colour Correcting Lens Filters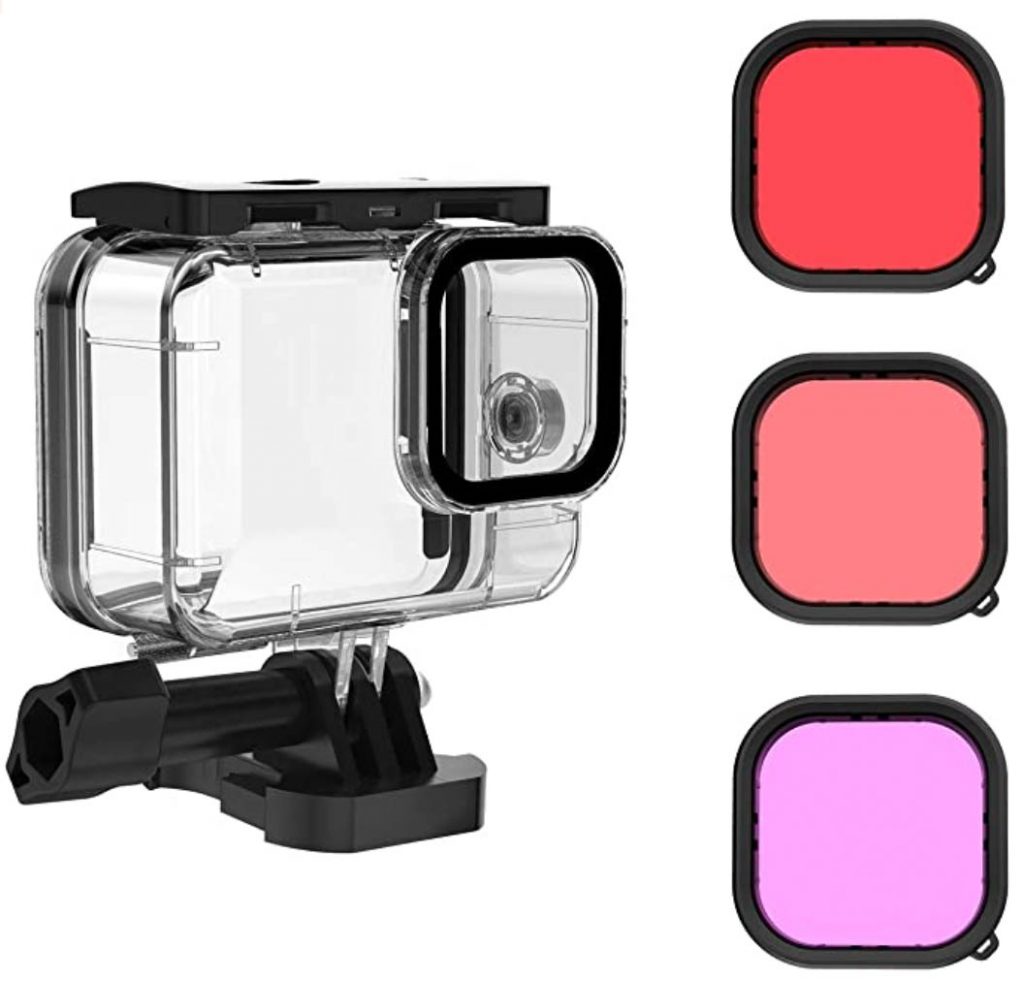 This is a great, yet affordable scuba diving accessory to buy for a family or friend who already has a GoPro, but not a waterproof case suitable for scuba diving.
This GoPro Hero waterproof case can go up to 60 meters deep. It's perfect to use for deep water diving, surfing, snorkeling or any other extreme outdoor activities.
We love that this set comes with the 3 colour correcting lens filters that come in handy for capturing quality underwater videos and photos.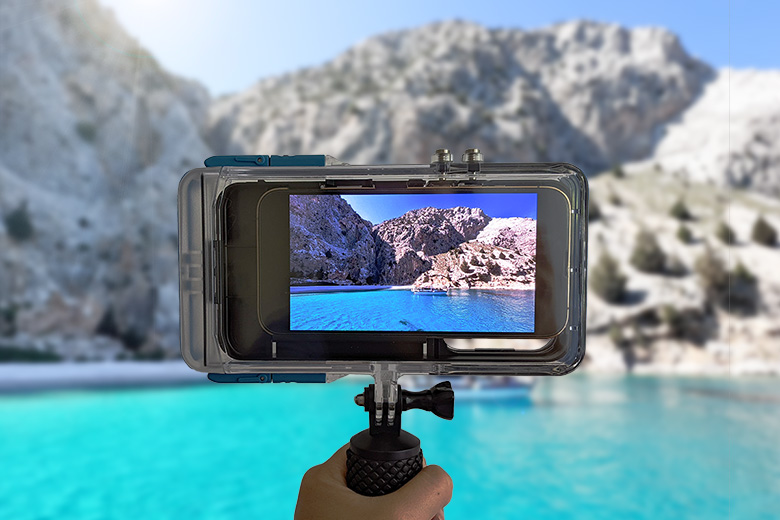 If your scuba diver friend or family doesn't have a GoPro (but has an iPhone), then get them the ProShot Dive Case.
It's a waterproof case that will allow him or her to dive with their iPhone down to 40 meters AND take photos, videos or selfies! All they'll need is their iPhone and the free ProShotCase app!
We love that the ProShot Dive Case is one of the few waterproof diving cases that comes with a 12 month iPhone Protection Guarantee. Plus, it comes with its own floating hand grip and protective travel case.
And to really take your scuba photography up a notch, you can buy colour correcting lens filters and an underwater dive light for your ProShot Dive Case too!
Get a firsthand overview of how it works in our ProShot Waterproof iPhone Case Review. We share how easy it is to use, the photo and video quality, how waterproof it is, as well as its pros and cons.
Bonus Tip: Use the code NOMADPRO20 to get 20% off your ProShot Dive Case!
13. Suntribe Organic Sun Cream (Reef Friendly)
This is the perfect gift that is both practical and luxurious. An organic, eco-friendly, water-resistant and most importantly, reef-safe sunscreen that every scuba diver, surfer or beach bum will love.
This reef-friendly sun lotion is made from 7 ingredients: organic beeswax, organic shea butter, organic sunflower seed oil, organic cocoa butter, organic coconut oil, vitamin E and zinc oxide without nano particles.
This means that it does not contain the harmful oxybenzone chemical that destroys marine and aquatic life.
14. Dive Skin Leggings
Every scuba diver knows the pain of wrestling with their wetsuit. Well, wrestle no more! This is the perfect scuba accessory to add to your family or friend's scuba gear collection (for both him and her) – dive skin leggings.
They're like rash guards, but for the legs. We love that these are easy to put on, comfortable, lightweight and quick to dry.
It's the perfect gift for scuba divers who love warm, tropical diving destinations like Zanzibar, Thailand or Indonesia.
15. Neoprene Wetsuit Hood
This scuba accessory is the best gift for divers who easily feel cold whilst diving.
Meet the 3mm neoprene wetsuit hood.
Not only will this wetsuit hood keep you warm, but it also has the added benefit of keeping your hair back and give you that super cool ninja look.
Save Me For Later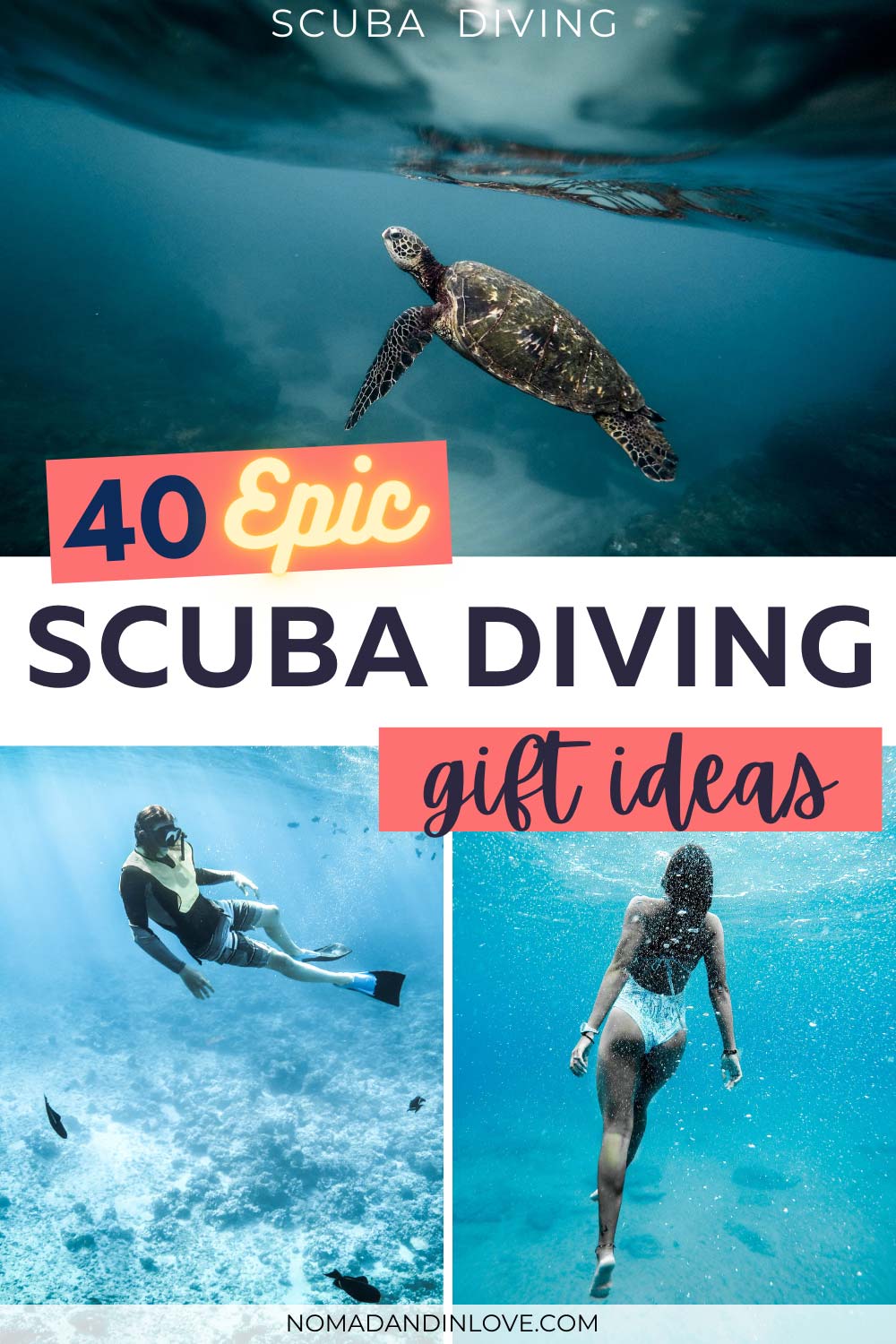 16. 4Ocean Bracelet
Price: $15
The ultimate sustainable and eco-friendly gift! Every 4Ocean Bracelet purchased goes to removing one pound of trash from the ocean, rivers and coastlines around the world.
It's the ideal gift for scuba divers who are passionate about spreading environmental awareness and the importance of the clean ocean movement.
17. Ethique Eco-Friendly Hair Conditioner Bar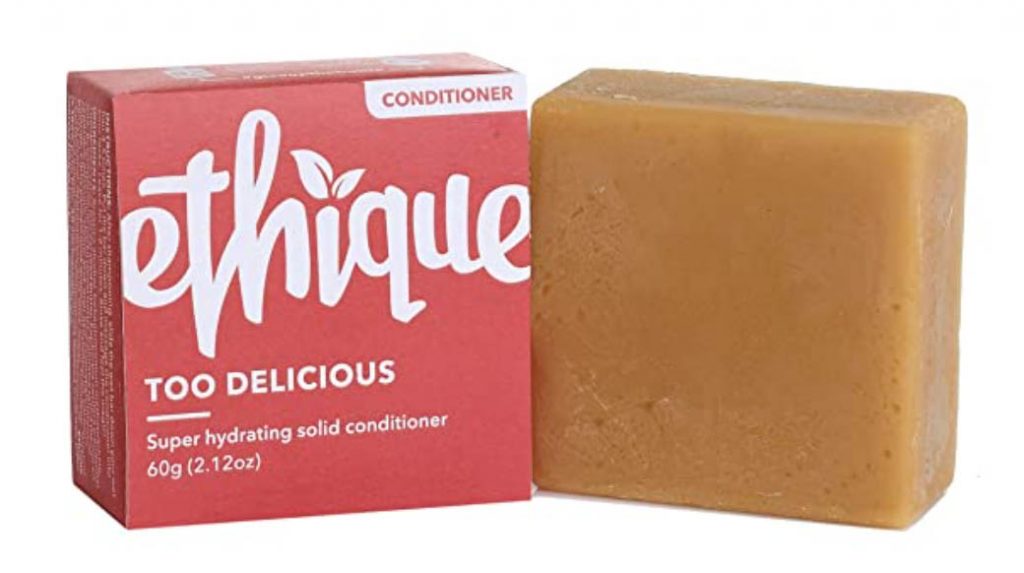 Scuba diving is great for the mind, body and soul, but not so great for your hair. But don't worry! You can easily treat dry hair with Ethique's eco-friendly hair conditioner bar.
We love that all the ingredients in this hair conditioner are sustainable, ethically sourced, 100% natural, and therefore biodegradable.
That means you can leave it in your hair and hop straight into the ocean without worrying that the ingredients will harm the ocean or marine life. This makes it the perfect beauty product to bring with you on any diving liveaboard or just any scuba trip!
Looking for other eco-friendly toiletries and beauty products? Then make sure you check out the Ethique online shop.
Related Guide: Planning your first liveaboard experience? Make sure you read our Diving Liveaboard Guide for some useful travel tips and tricks.
18. 'Adventures of A Young Naturalist': Book by Sir David Attenborough
A great gift idea for an avid scuba diver and book lover.
The 'Adventures of A Young Naturalist' book follows the adventures of young David Attenborough. It shows a glimpse of his travels around the world to find rare and exotic animals and how it shaped him to become the most influential natural conservationist today.
19. 'Shadow Divers': Book by Robert Kurson
If you love the idea of scuba diving book ideas but prefer fiction to non-fiction, then this is the book. It's an absolute page-turner too!
The 'Shadow Divers' book by Robert Kurson is a thrilling adventure about two scuba divers who explore the underwater world to solve a great historical mystery from World War II.
Scuba Gear and Accessory Gifts Under $40
20. LED Scuba Dive Torch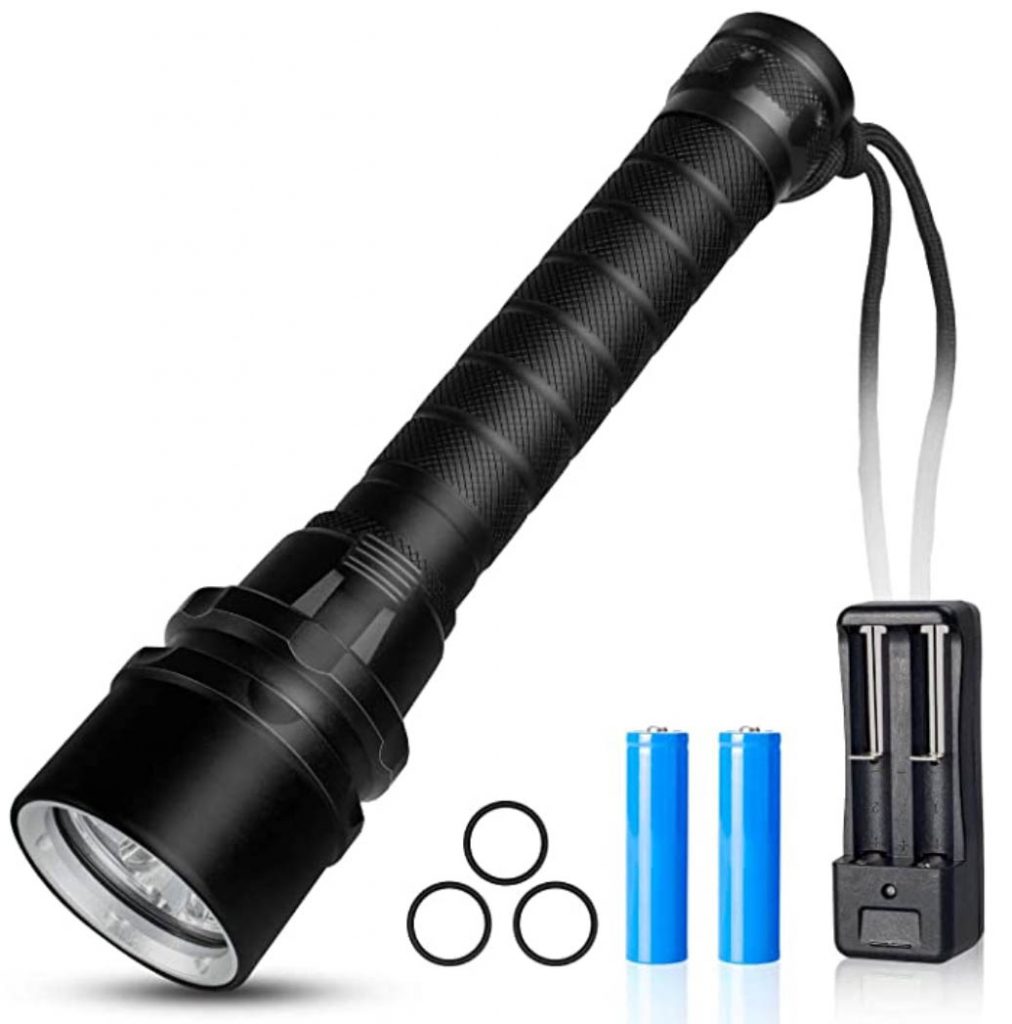 You can't go wrong buying this handy scuba accessory as a gift! It's incredibly useful to have on every dive so you can easily reveal what exotic marine life is lurking in the shadows.
We love that this underwater scuba diving flashlight can go up to 100 meters deep and has a powerful 2000 lumens. This scuba dive torch is also dimmable so you can easily adjust it based on diving conditions.
21. Waterproof Diving Light for Underwater Photography
A cool diving gadget for a family or friend who loves night dives and underwater photography.
The Suptig Waterproof diving light is compatible with the GoPro action camera. It has a high power 300 lumen LED light. It's also dimmable, lightweight and waterproof up to 30 meters.
It's the ideal gift for recreational scuba divers who are getting started with underwater photography.
22. Mares 2mm Neoprene Dive Booties
This is another scuba gear item that we've taken on every adventure vacation for the past 6 years! Our Mares 2mm neoprene dive booties.
It's the perfect scuba diver gift for both him and her because they're so versatile. Not only are they great to wear for slipping on those scuba fins. They're also a must-have for any water sport activity or walking and hiking on wet, slippery terrain.
We used these to hike and climb up the vertical, muddy cliff to reach the Railey Beach viewpoint on our 3 day Krabi Thailand itinerary.
We love that these dive booties are super travel-friendly. They're lightweight, super durable, and easy to wash and pack too.
23. Waterproof Power Bank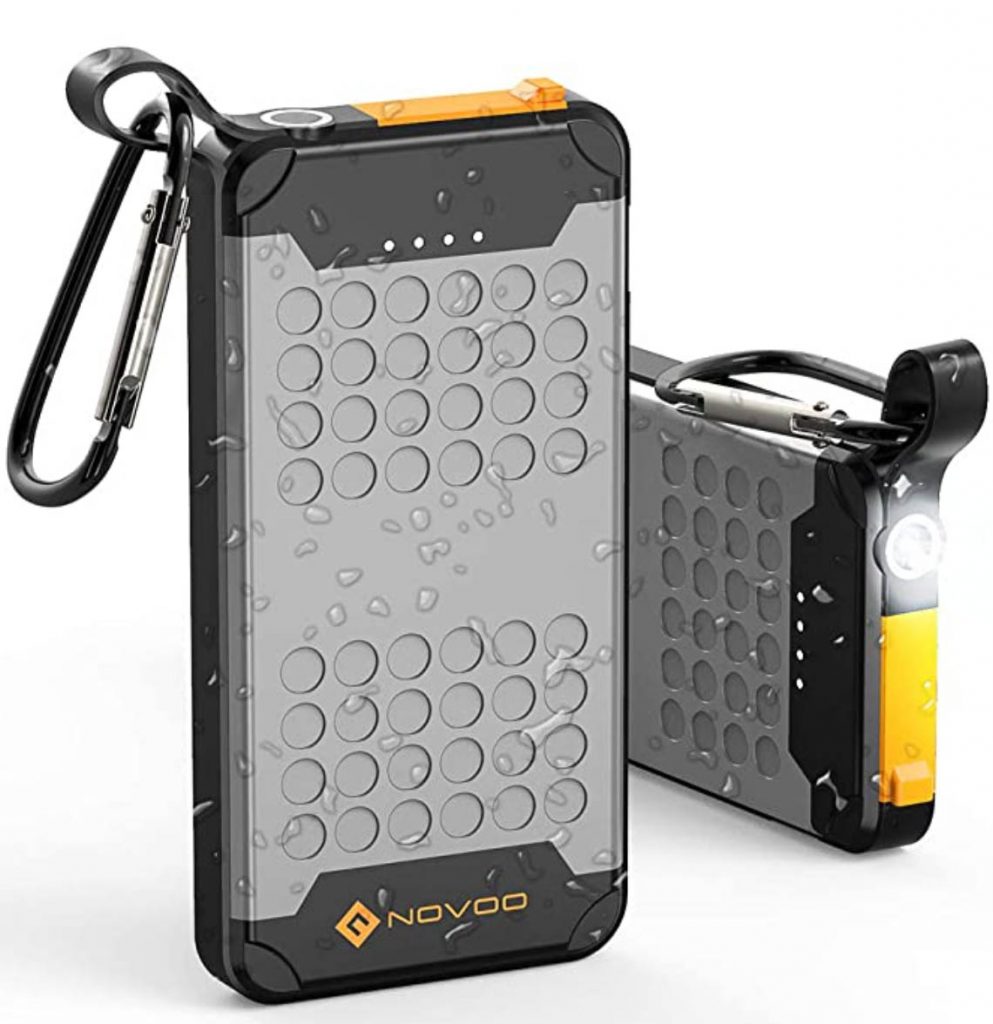 The ultimate gift for scuba divers addicted to diving and devices (guilty as charged!) – a waterproof power bank that doubles up as a torch!
This comes in handy when you simply can't wait to see the GoPro footage you've captured of your most recent dives. Especially if you've just witnessed your first manta rays or whale shark.
We love that this power bank is compatible with most devices, from iPhones, Samsungs, Google Pixels to iPads. And can we say again that it has a built-in torch and a 12-month warranty guarantee?!
24. SANDMARC Waterproof Selfie Stick for GoPro with Remote
Another awesome scuba diving accessory for avid divers who loves underwater photography and videography. An extendable waterproof selfie stick that is suitable for scuba diving.
This super cool diving gadget is made from waterproof aluminum materials with a rubber hand grip and adjustable wrist straps so it can't 'swim away' underwater.
And what's even more awesome is that this stick has a built-in remote. So it's much easier to switch the GoPro on and off without having to reach for the camera every time.
We've personally tried the very short handgrips and the extendable longer GoPro sticks and find it much easier to take smooth and less shaky videos with the longer sticks.
25. TankH20 Scuba Tank Water Bottle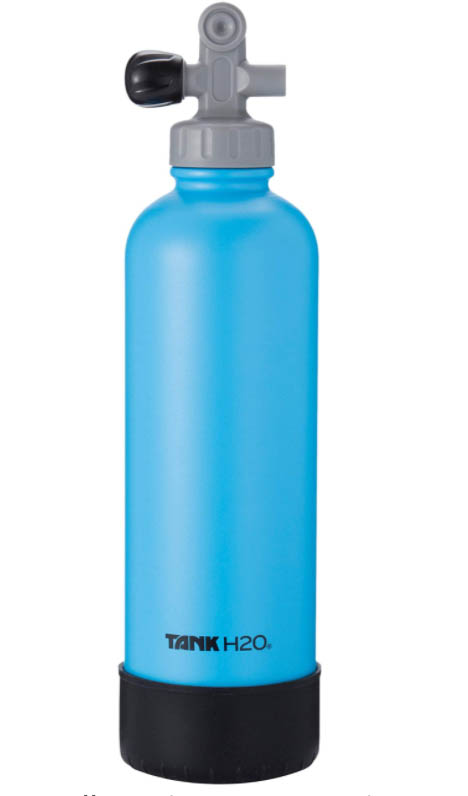 The perfect, funny scuba gift for a friend who has a good sense of humor. An 700ml stainless steel water bottle in the shape of an air tank! It's durable, lightweight, and most importantly 100% recyclable.
We also love the fact that 1% of the revenues made on this bottle are donated to environmental organizations around the world.
26. SCUBAPRO Waterproof Dive Log Book
Any scuba diver who has ever written in a dive logbook is familiar with this problem – unintentionally wetting your logbook until it eventually looks like a dog's chew toy and becomes unwritable.
That's what makes this the ideal gift for scuba divers. Say hello to ScubaPro's WATERPROOF dive logbook!
This is the perfect scuba gift for anyone (him or her) who needs to log their dives so that they are eligible to complete more advanced, technical diving certifications like Dive Masters or cave diving.
27. 'My Father My Captain – My Life with Jacques Cousteau' Book by Jean-Michel Cousteau
Another awesome scuba diving book to gift a diver! 'My Father My Captain' is a non-fiction book based on the life of the human who pioneered scuba gear and made diving possible today – the world-renowned Jacques Cousteau.
This memoir is written by his son, Jean-Michel Cousteau. So it shares an intimate look of the famous conservationist's life when the cameras are not rolling.
28. Reef Fish Identification Book – Florida Caribbean Bahama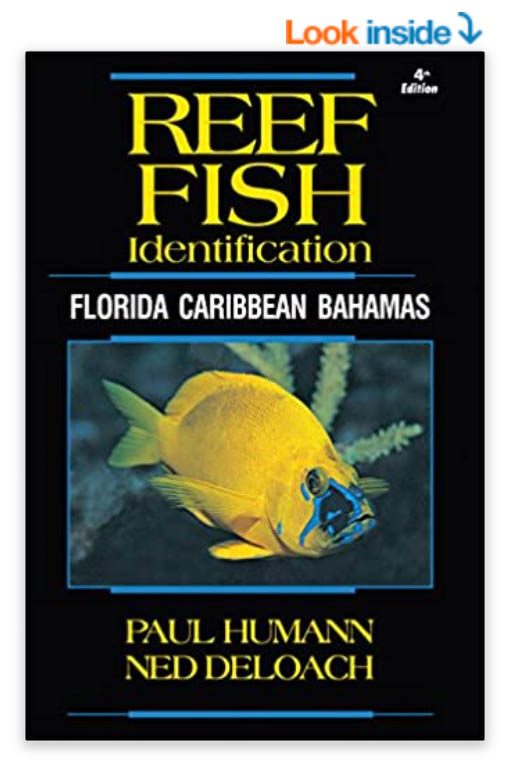 What do serious scuba divers do during their surface intervals? Scour fish identification books to find the names of the incredible creatures they saw below the surface!
The 4th edition of the Reef Fish Identification book is filled with exquisite photographs of more than 650+ species of marine life.
This makes it the perfect gift for any scuba diver looking to explore dive sites in Florida, the Caribbean and the Bahamas.
Scuba Diving Accessories Gifts for Under $60
29. Mares Scuba Gear Travel Bag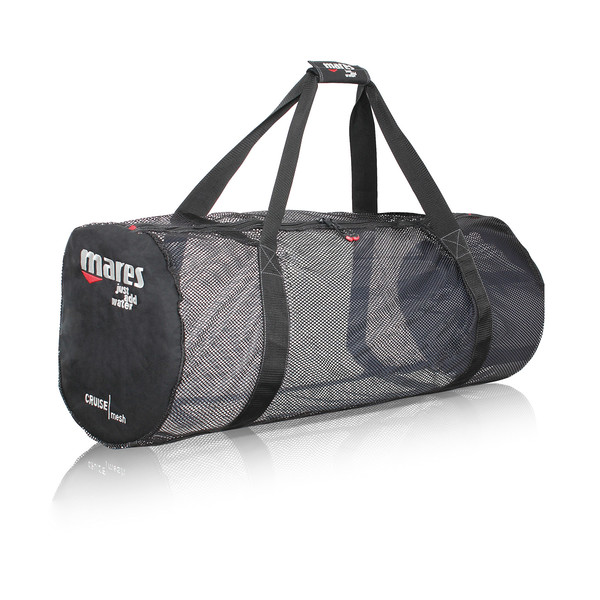 You've seen this bag before if you've read our Scuba Diving for Beginners guide. We've had this exact bag for 6 years and absolutely love it!
The Mares Scuba Gear Bag is super lightweight and compact, yet big enough to fit all the scuba gear needed for two divers. This bag alone fits both our wetsuits, rash vests, 2 sets of fins, snorkels and masks as well as our dive booties. Plus, we love that it has a small zip compartment on the side for our smaller items like our anti-fog spray, PADI dive cards, keys and cellphones.
We also love that its durable mesh fabric makes it easy to rinse our gear in the bag whilst allowing wet items to drip dry.
30. Sand Cloud Beach Towel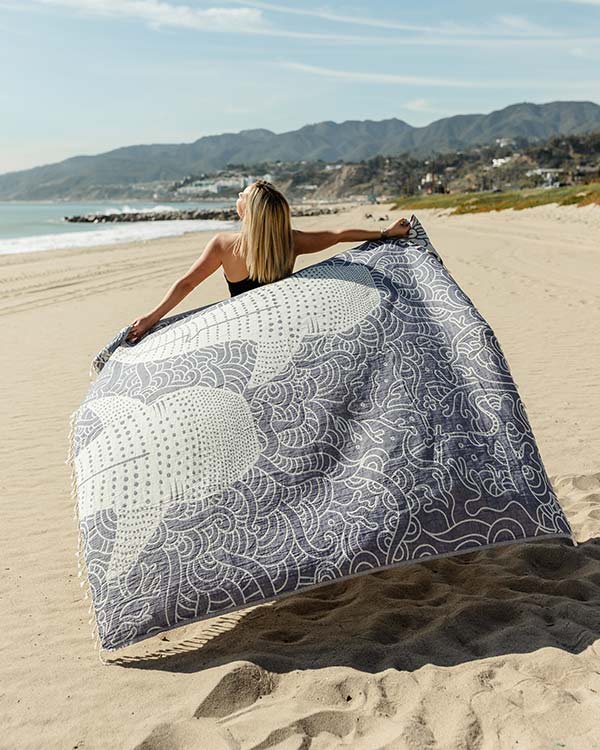 This is the perfect accessory and gift to add to any diver's collection – the Sand Cloud beach towel.
It's a sustainable, eco-friendly beach towel with a large range of beautiful designs. So whether you love soft pastel colours or a design with your favourite marine animal, you'll probably find it in the Sand Cloud beach towel collection.
Sand Cloud donates 10% of the profits earned to marine conservation projects, so happy shopping!
31. Awesome Maps Dive Map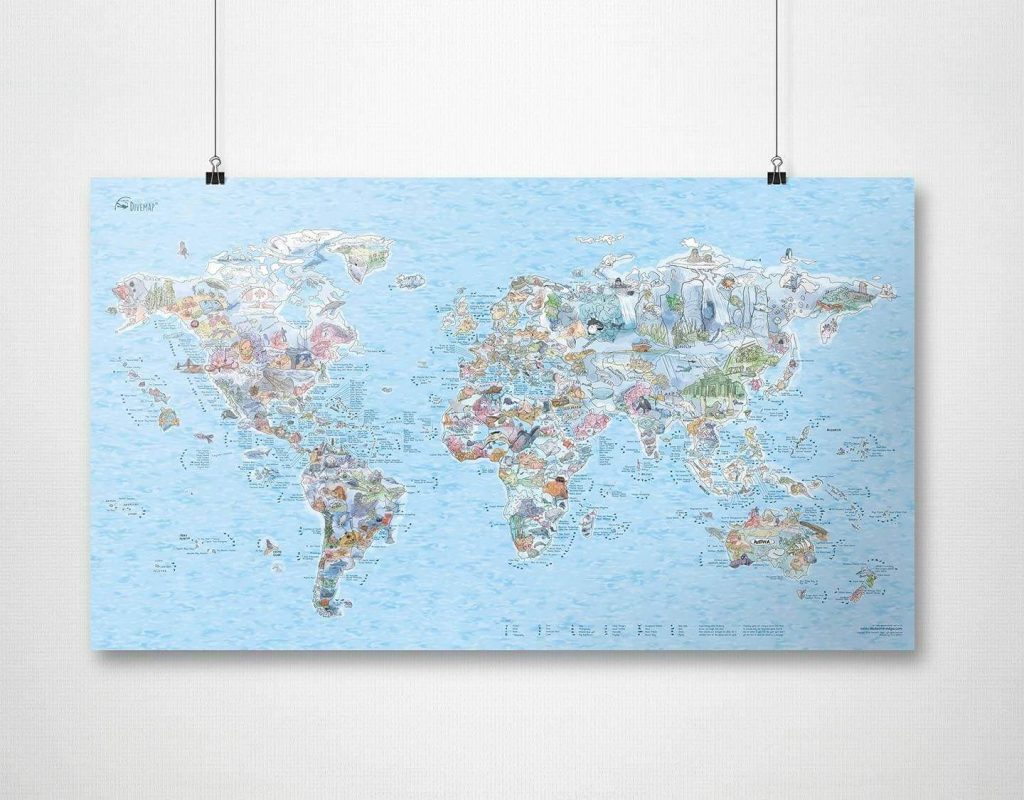 Be the ultimate romantic and gift someone the world of diving – literally!
These Awesome Maps dive map features more than 500 diving destinations around the world, along with useful snippets of information on the type of dive and underwater features you can expect.
Not only is it a great way to keep track of the dive spots you've been to. It's also great for getting inspiration for future scuba diving vacations!
We love that these maps come in different formats. From high quality, silk coated art paper, to a durable canvas and even a towel!
All proudly sourced and handmade in Germany!
32. Dive+ App 12 Month Subscription
Price: Around $50 a year depending on your region
The ultimate gift to give if you prefer buying experiences rather than things. A 12-month subscription to join the world's largest diving community with the Dive+ App.
The Dive+ App connects scuba divers from more than 200 countries and allows you to easily share diving experiences and information on different dive sites around the world.
This is an especially great gift to buy solo divers who are looking for scuba buddies to adventure with.
We love the Dive+ App's underwater colour correction function for both photos and videos! It really takes your diving captures to the next level.
The Dive+ App is available on both Google Play and Apple iStore.
33. Donate to Project Aware
Price: Donation based
The best gift for a family or friend who already has everything they need. Make a donation in his or her name to Project Aware! It's a wonderful organisation dedicated to preserving the ocean and marine life.
Scuba Gifts for Him
Great Christmas, birthday or wedding anniversary scuba gifts to spoil him on a special occasion.
34. Cressi Men's Rash Guard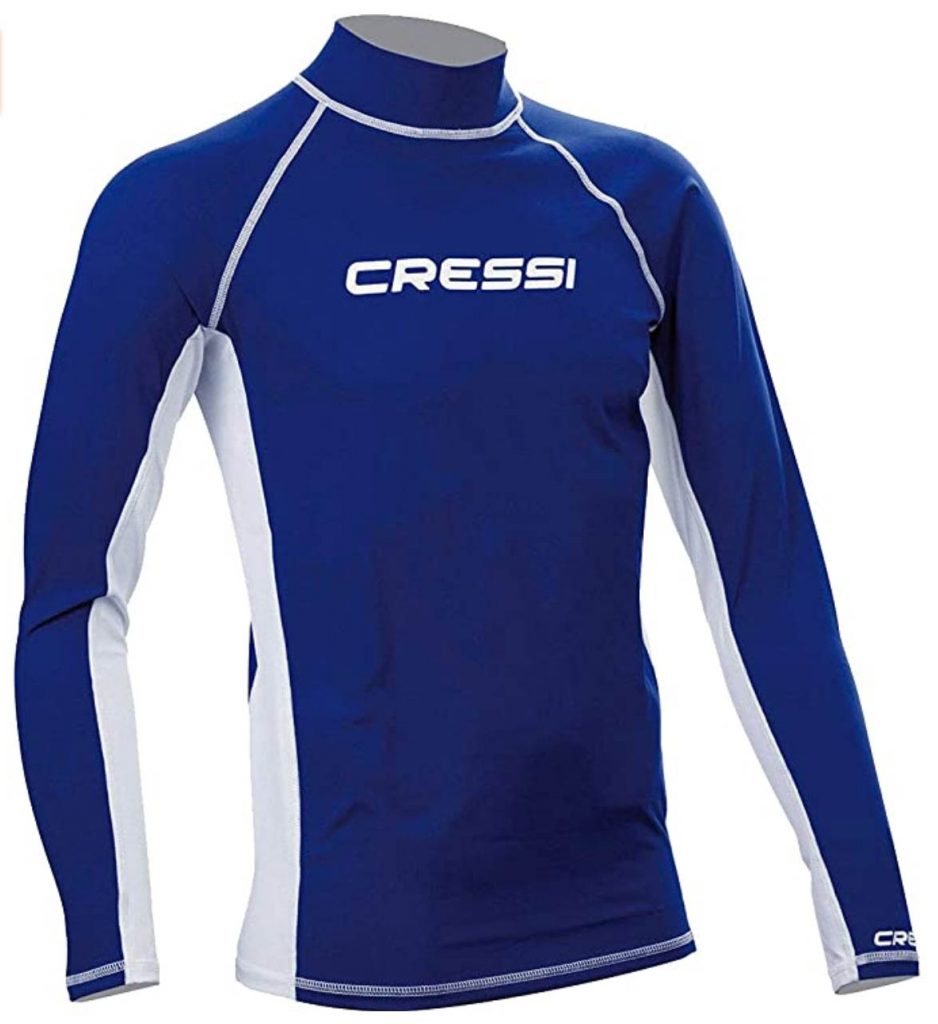 A must-have scuba accessory for those who prefer diving in warm tropical waters!
Feel free to buy a rash guard from your favourite brand. We're just recommending the Cressi one because this is the one we use.
Just bear in mind to get one that is made from a durable, but lightweight material. And make sure it's machine washable if you want to skip the manual work of handwashing.
35. United By Blue Men's Swimwear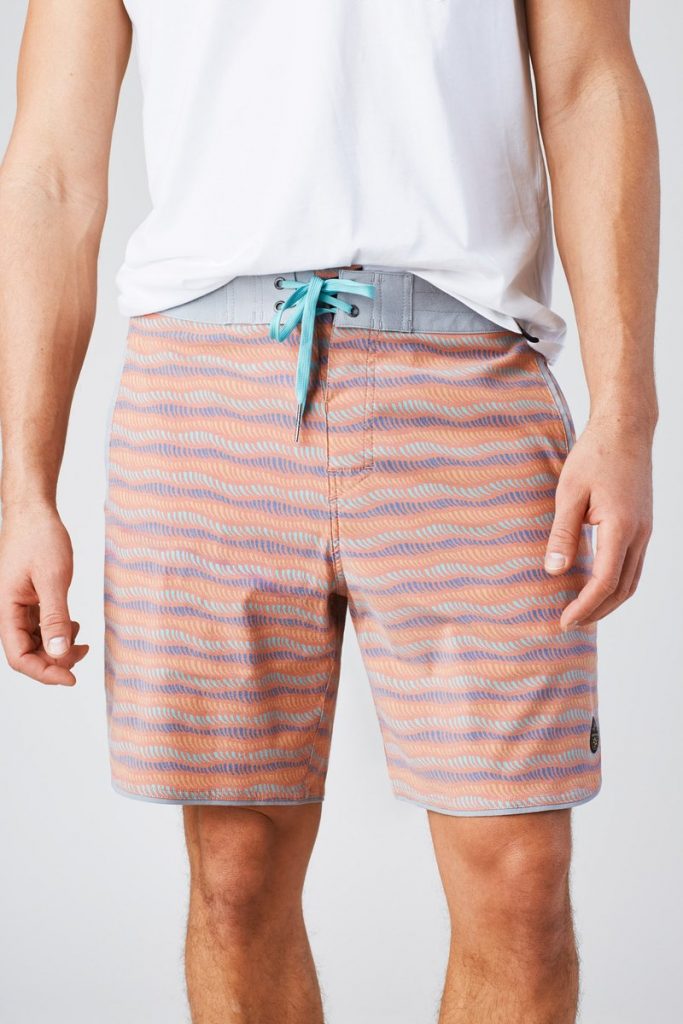 Looking to buy sustainable and eco-friendly swim shorts as a gift for your dad, brother, boyfriend or husband? Then make sure you check out the United by Blue Men's swimwear collection.
Not only are these swim shorts ethically manufactured and made from sustainable materials. They're also highly durable and created to last because the brand understands that the best way to be a conscious consumer is to consume less.
We also love the fact that every product purchased from United by Blue is contributed towards removing one pound of trash from the ocean and waterways around the world.
Scuba Gifts for Her
Thoughtful scuba gifts and accessories for female divers that she will love for Christmas, birthdays or anniversaries.
36. Women's Swimwear Cover-Ups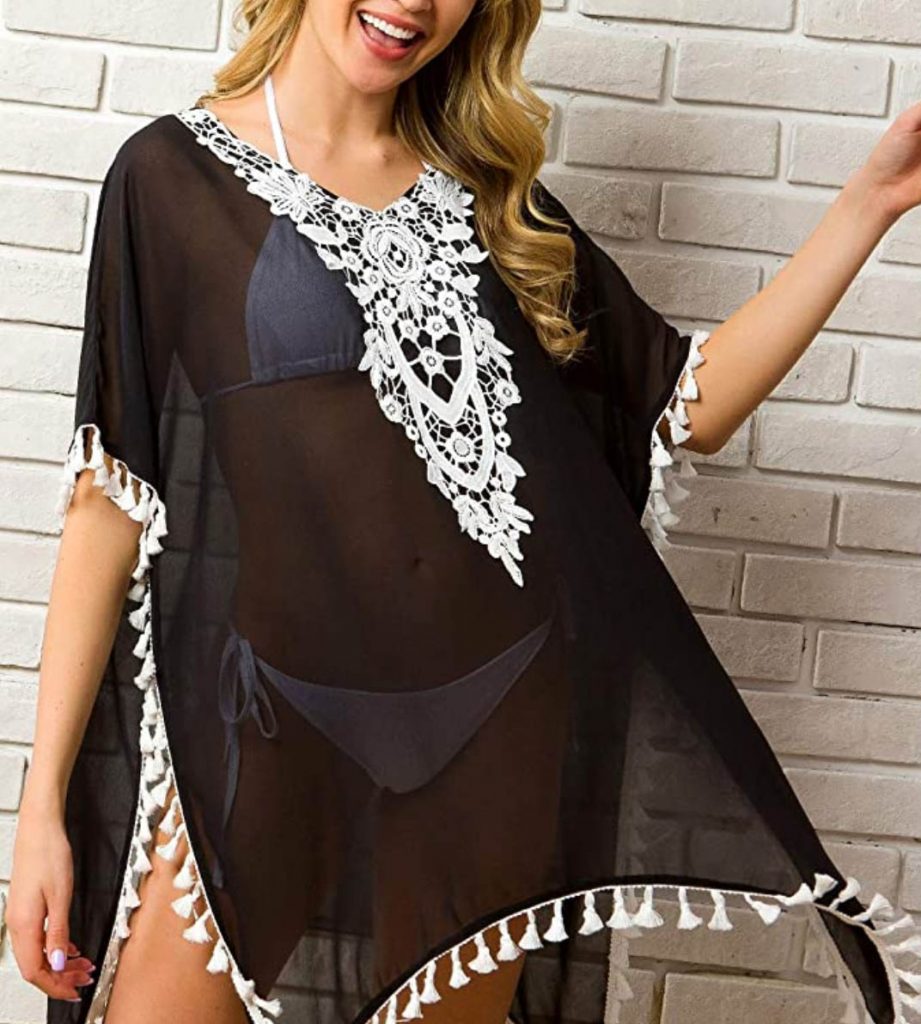 These ladies cover-ups come in 32 beautiful styles and colours. We love that these are easy to pull over your swimsuit between dives, are super comfortable, and also dries quickly.
37. OrganiCup Menstrual Cup
This is probably one of the trickier gifts to buy a female scuba diver. So make sure you know her very well and that she is open to trying it before buying it.
It's the most eco-friendly hygiene product that any woman can own – the menstrual cup.
It does take some time to mentally and physically get use to the idea of using a menstrual cup. But once you figure it out, it will literally change your life. Not only that, but it will also go a long way in eliminating the hundreds of plastic and cotton pads and tampons you'll use in your lifetime.
I personally made the switch 2 years ago and I would never use anything else again.
It's 100% safe to use whilst scuba diving and I love that it's discreet. Even more so than a tampon!
Plus it's super easy to clean. Simply boil it for 10 to 15 minutes before using it again. You literally just need one menstrual cup in your lifetime.
38. Barletta Eco-friendly Beach Sarong
This is a great scuba gift for her and an awesome scuba diving hack – using a sarong instead of a towel to dry yourself between dives.
Why? Well, sarongs dry a hell of a lot faster than towels. That means you can say goodbye to rubbing yourself down with moist, damp and smelly towels between dives!
Any sarong will do. But if you're planning to buy one as a gift (or for yourself), there are eco-friendly sarong options out there.
We like Barletta beach sarongs because they're silky soft, lightweight and most importantly, made from 100% eco-friendly materials.
Not only are they awesome for drying yourself, but it doubles up as a trendy cover-up too.
39. OceanChild Sustainable and Eco-friendly Swimwear
A woman can never have too many shoes or swimwear! So you might as well spoil her with the ultimate scuba gift – a sustainable and eco-friendly swimsuit!
We love the fact that all the bikinis and swimwear from OceanChild are made from 100% recycled polyamide fabric. You would never guess that by how gorgeous each piece looks.
Plus, if you send your old bikini to them, they'll reuse the material for their new products and you'll get 5% off your next purchase. It's a win-win situation!
40. Cressi Women's Rash Guard
This scuba accessory is a must-have if wetsuits are too much trouble. I've been using my Cressi women's rash guard for the past 3 years and it's still as good as new.
41. Mermaid Tail Blanket For Adults
This is a funny scuba gift to buy a diver girlfriend, mom or wife – a mermaid tail blanket for adults!
This super cute knitted blanket is machine washable, tumble dryer-safe and suitable to use for all seasons.
We love how you can use this scuba gift for staying cosy at home or enjoying it out diving on a scuba liveaboard!
We hope you got some great inspiration on what gifts to buy your scuba diver family and friends no matter what your budget is.