Learn from our mistakes! Find out what scuba diving gear you should buy vs rent as beginners, and how much it will cost.
Scuba diving is FUN! But buying scuba diving gear is EXPENSIVE and not so fun on your bank account.
Don't get us wrong – certain diving equipment is totally worth the investment (especially since your life is at stake). But for other scuba gear, it's best to rent them instead.
Not only will this save you tons of money. But it will make traveling with your diving equipment a whole lot easier.
Unless you're willing to wear all your scuba diving gear on flights. Taking a scuba tank, regulator, BCD, depth and pressure gauge, diving fins, scuba mask, AND weight belt is not practical for flying.
And that's why we've written this detailed Scuba Diving Gear Guide For Beginners!
Learn from our rookie mistakes and find out what scuba diving gear you should buy vs rent as beginners. We've shared exactly what scuba equipment you should buy first, what to save up for to buy later, which scuba gear you should rent, and how much it will all cost.
Related Guide: Keen to learn how to scuba dive but not sure if you should take the plunge? Read our Scuba Diving for Beginners Guide to find out what to expect. From which diver certifications you should do to whether you should do your certification on vacation.
What Scuba Diving Gear Should Beginners Buy First
This is the essential scuba diving gear we'd recommend all beginners buy first. They're relatively cheap, durable enough to last years, and versatile for most outdoor vacations.
Whether it's snorkeling, hiking muddy and wet terrain, or chasing waterfalls, you'll be able to use this gear even if you decide that the scuba diving life isn't for you.
We bought this exact list of scuba equipment 10 years ago (and counting), and they're still good to use today!
Diving Mask
Having your own scuba diving mask is a MUST for any beginner.
It will literally be your window to admire all the wonderful creatures you'll see underwater. That's why you shouldn't go too cheap.
Diving masks can cost anywhere between €30 – €80+. We'd recommend budgeting at least €40 to €60 for a high-quality diving mask so that it's durable enough to last you years.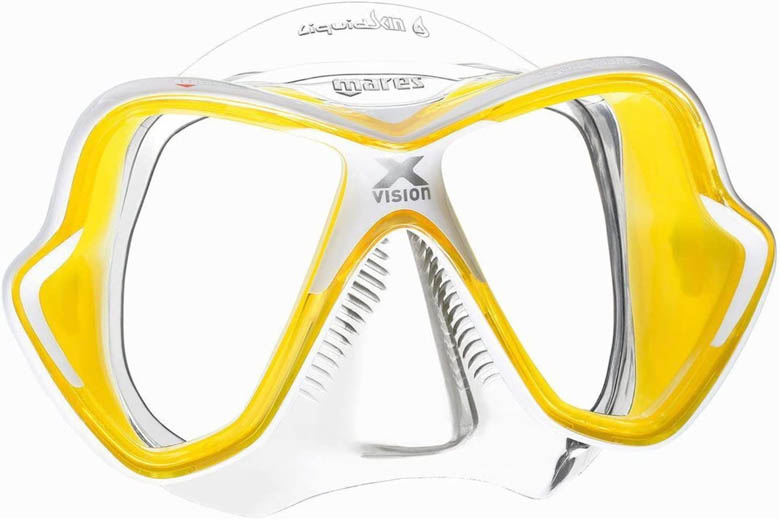 We've been scuba diving for 10+ years and have 2 dive masks each: A clear lens diving mask and an anti-fog scuba mask with red tinted lenses.
For the clear lens diving mask, we have these ones by Mares and Cressi. We've had them since we got our PADI Open Water Diver Certification in 2013 and still use them today.
We like that both Mares and Cressi are reputable scuba diving gear brands. They're known for making high-quality diving equipment. So much so that they offer two-year product warranties on all their products.
We love our deep dives, so we also have these red tinted anti fog dive masks by Tidal Masks.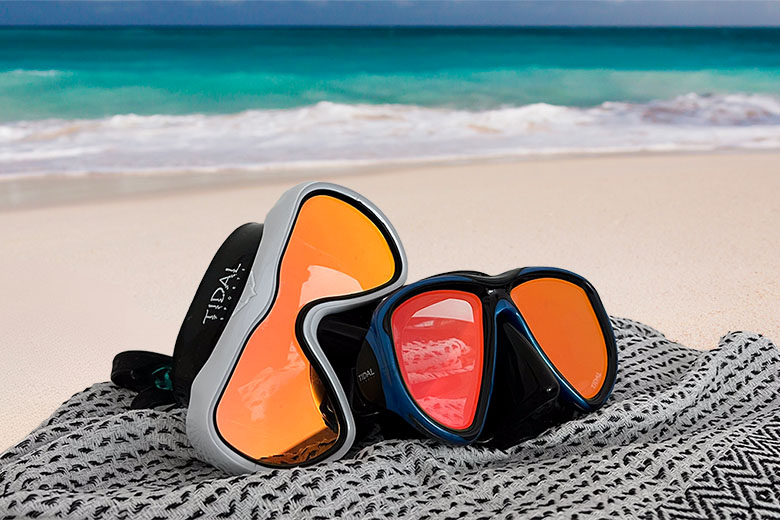 Not only do they balance out the blue hues underwater so that corals and other marine life look more sharp, vibrant and colorful. They don't fog up either!
Yup! These diving masks are specifically designed with anti-fog technology on the inner lenses. That way you never have to worry about your masks fogging up again!
Sounds too good to be true? Read our Tidal Sports Anti Fog Diving Mask Review to find out whether they honestly work as well as other pros and cons you should know before buying.
Bonus Tip: Don't buy a full face snorkel mask if you're planning to learn how to scuba dive. These masks are not versatile and can only be used for snorkeling, not scuba diving.
Snorkel
Next on the beginners' scuba diving gear checklist is a snorkel.
This is a must-have when you're doing your diver certifications. But once you've qualified, wearing a snorkel on dives becomes optional on most recreational dives.
That's why we don't recommend you buy an expensive snorkel for scuba diving. Save that money and spend it on other splurge-worthy scuba gear!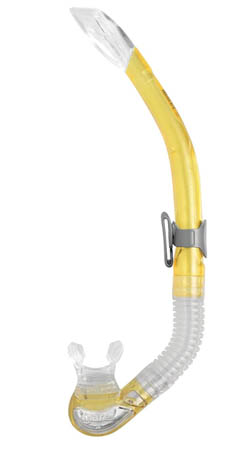 The average cost of snorkels varies between €15 to €30+. We'd recommend budgeting around €20 for a decent quality snorkel.
The most important things to look out for in a snorkel are that it fits into the clip of your diving mask and that it has a splash-proof tip.
We have the Mares and Cressi snorkel which we've been using for years.
If you're buying diving gear online, we'd recommend you buy the scuba mask and snorkel from the same brand to ensure it fits. Like this Cressi Diving Mask and Snorkel set.
Bonus Tip: Getting the Anti-Fog Tidal Diving Masks? Match it with the Tidal Dry Snorkel.
Scuba Diving Fins
Now, this is scuba gear worth splurging on: diving fins. Getting a high-quality pair of scuba diving fins will make it easier to dive and channel your inner mermaid (or merman).
Diving fins can cost anywhere between €100 to €200+. We'd recommend budgeting at least €150 to €180 for high-quality fins.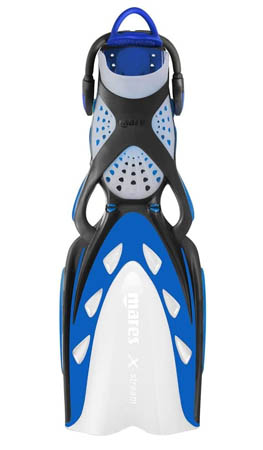 If possible, go into a store to try them on before buying. Ask a professional which type of diving fins would suit you best based on your body type and diving experience.
For most beginner scuba divers, medium-length diving fins will be the best option. They're easier to kick and maneuver through the water compared to long diving fins.
The other thing to look out for is how they will fit your feet. Most diving fins are designed with a silicon slip-on (closed) or an open-heel design.
Open-heel fins are generally better for scuba diving compared to closed-heel fins. They're easier to adjust and more versatile for diving in both warm and cold water.
We personally use the Mares Diving Fins (Michael) and Cressi Diving Fins (Chloe) which are both open-heel fins. We find them more comfortable to dive in, especially when we wear them with our diving booties.
Diving Booties
In our opinion, diving booties are a MUST whether you scuba dive or not. Not only are they affordable, but they're versatile enough to use as water shoes too.
We've used our diving booties on almost all our outdoor travel adventures. From climbing up the muddy cliffs in Krabi (Thailand), chasing waterfalls in Greece (Kourtaliotiko Waterfall), to scuba diving in Zanzibar. They're THAT versatile!
Plus, they're super lightweight and easy to travel with too. These neoprene diving booties fold up nicely and take up minimal space in your luggage. That's why we never travel without them.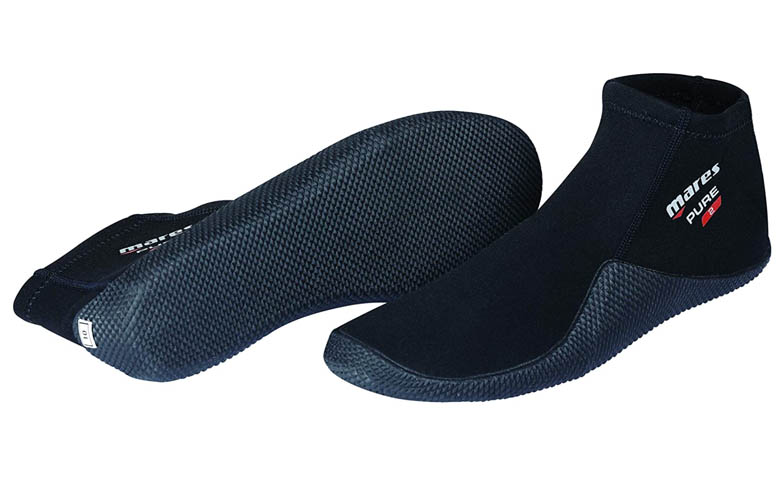 Diving booties cost anywhere between €20 to €40. We'd recommend picking ones that fit your diving fins and are made of neoprene (the same material as your wetsuit).
We both use Mares Diving Boots. They're made from 2mm thick neoprene and have thin rubber soles on the bottom for that extra grip.
Our diving boots are ankle length. But you can get longer and thicker diving boots if you get cold easily.
Diving Rash Guard
Another scuba gear all beginners should have is a rash guard. They're great for diving, snorkeling, and even surfing.
Rash guards won't keep you warm as a wetsuit would. But they make wearing a fully-loaded BCD more comfortable. And they're A LOT easier to put on.
So if you (or a loved one) prefer diving in warm, tropical waters, then having your very own rash guard is a must!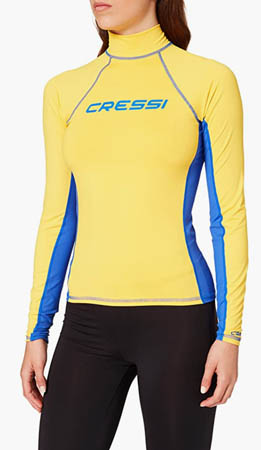 The average price of rash guards is between €20 to €80+. Feel free to buy a rash guard from your favorite brand. As long as it's durable, lightweight, and machine washable, then any rash guard will do.
We use the Mares Thermo Guard and Cressi Rash Guard (both long sleeves).
Optional Scuba Diving Gear To Buy As Beginners
These items are not exactly scuba diving gear. But they'll make learning how to scuba dive a tad bit easier.
Scuba Mask Defogger (Anti-Fog Spray)
Having anti-fog spray (or scuba mask defogger) is a must in our books. But we've listed it as optional here because every diver has their own way of preventing their mask from fogging up.
From burning the inner lens of the scuba masks, to rubbing toothpaste, baby shampoo, and even saliva to prevent their masks from fogging up. It's totally up to your personal preference and what works best for you.
Chloe experiences scuba diving anxiety at times. So we always use the toothpaste method as well as a scuba mask defogger to make sure our masks don't become foggy.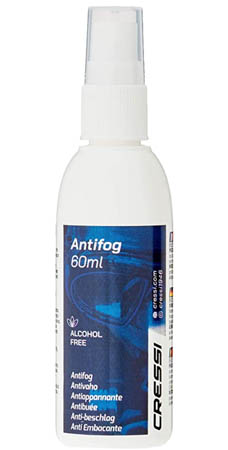 Anti-fog sprays cost around €5 to €20. We personally use this anti-fog spray because it is non-toxic, long-lasting, and effective.
Related Guide: If you or a friend has ever felt nervous, fearful, or anxious about scuba diving and want to learn how to conquer your fears, read our 11 Scuba Diving Tips For Overcoming Diving Anxiety.
Dry Bag
Another optional but incredibly versatile scuba diving gear to own as beginners is a dry bag.
We bought our first Ocean Pack dry bag in Thailand 9 years ago and still take it on every vacation today! Yup – it's that durable.
Not only is it a super useful accessory for scuba divers. It's also great for anyone who loves water and adventure sports. From kayaking, rafting, and fishing, to hiking and going to the beach.
We love it so much that we bought 2 more Ocean Pack dry bags in different sizes to make a family of 3.
These bags are compact, lightweight, and most importantly, waterproof!
Use them to carry your wet or dry scuba diving gear. Alternatively, they can be used onboard to keep your valuables and towels dry whilst you explore underwater.
Dry bags cost on average €13 to €25 depending on the size. For the best versatility, we recommend buying the 20-liter pack.
Beginners Scuba Diving Gear To Save Up For and Buy Later
The next list of scuba diving gear is also essential for beginners. The only reason we didn't include them earlier is that they're expensive and can only be used for scuba diving.
It's an investment, alright. That's why we only recommend you buy these items once you've officially become addicted to scuba diving and committed to the mermaid life.
Diving Wetsuit
Your wetsuit literally becomes your second skin when scuba diving. Not only does it keep you warm. But it also protects your skin in case you come in contact with jellyfish, fire coral, or other stinging creatures you may find underwater.
There are 2 reasons why we recommend buying rather than renting a wetsuit.
The first one is getting the right fit. If a wetsuit is too small or too big for you, it can make diving uncomfortable and difficult to keep the right buoyancy.
The second reason is hygiene. Most dive centers wash and rinse their wetsuits. But you never know how thoroughly it's been cleaned. The best you can hope for is that no one has peed in the rental you're wearing… Need I say more?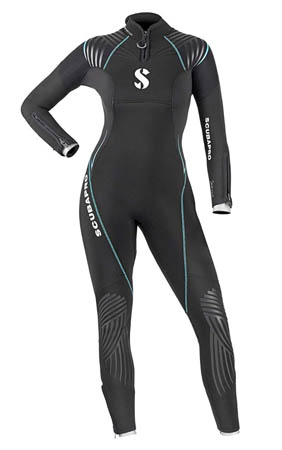 Diving wetsuits can cost anywhere between €70 to €300+. Again, we don't recommend going too cheap. You'll likely keep your wetsuit for a long time so it's worth getting a good one.
We'd recommend budgeting at least €200 for a high-quality wetsuit. A custom-made wetsuit will be even more comfortable but will cost you a lot more.
If possible, go into a store to try your wetsuit on before buying. It's important that it's comfortable and fits you like a glove.
Wetsuits are made in different thicknesses, typically between 3mm and 7mm thick. We'd recommend buying a 5mm wetsuit as it's the most versatile.
If you get cold easily, feel free to buy a 7mm wetsuit or pair your 5mm wetsuit with a diving hood.
Michael wears the Mares Pioneer 5mm Wetsuit (can you tell he's a big Mares fan?). And Chloe wears the ScubaPro 5mm Diving Wetsuit.
Bonus Tip: Wear your diving rash guard under your wetsuit for added warmth and comfort.
Dive Computer
This will probably be the most expensive scuba diving equipment you'll ever buy. But also one of the most essential because your life literally depends on it – a dive computer.
A dive computer measures basic functions like time underwater, depth, and water temperature. But also performs more sophisticated tasks like calculating your surface intervals and decompression time based on your personal dive profile.
This may all sound like Greek for beginners scuba divers. But trust us when we say that it's better to buy than rent your dive computer. It's essential for diving safely and will help reduce the risk of getting decompression sickness (also known as the bends).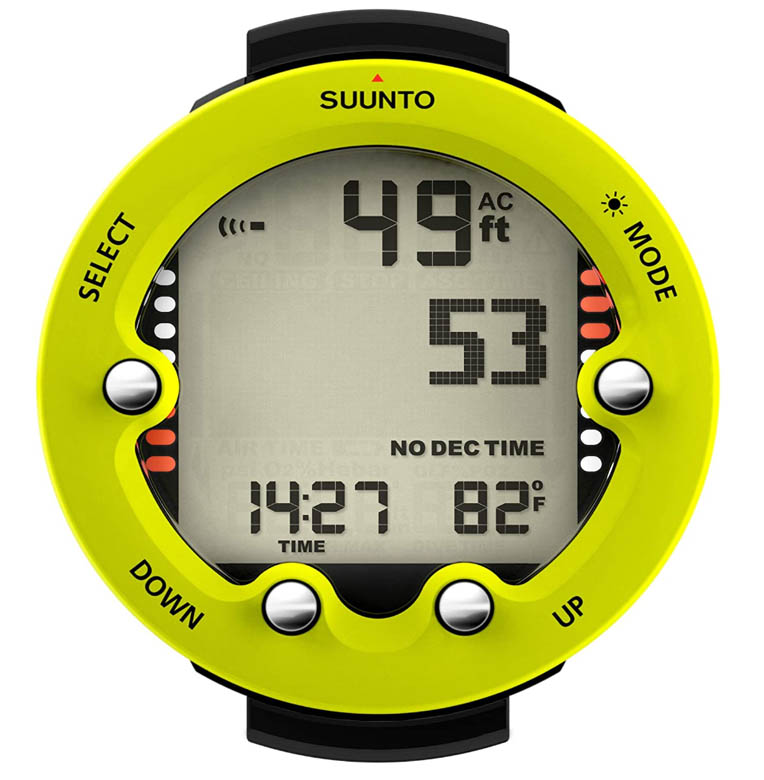 The average cost of dive computers ranges between €250 to €1,000+! We're not going to sugarcoat it – it costs an arm and a leg. But if you plan to scuba dive long-term it will also save you both arms and legs.
We both used the Suunto Zoop Dive Computer. It's an entry-level dive computer but sufficient for diving recreationally.
We love that the Suunto Zoop is durable, easy to use, and has long battery life. It also has memory space to save your dive information so you can log your dives later.
If you're looking to splurge for a better dive computer, we'd recommend the Suunto D5 Dive Watch.
Scuba Diving Gear Bag
If you've gone as far as to buy all this scuba diving equipment, you'll eventually need a gear bag to carry it all in.
There are many scuba diving gear bag options. Most of which cost anywhere between €40 to €200+. What you buy is up to your personal preference and needs.
We use the Mares Cruise Mesh Bag. We've had this diving gear bag for 9 years and absolutely love it! It's super lightweight and compact. Yet big enough to fit all the scuba gear needed for two divers.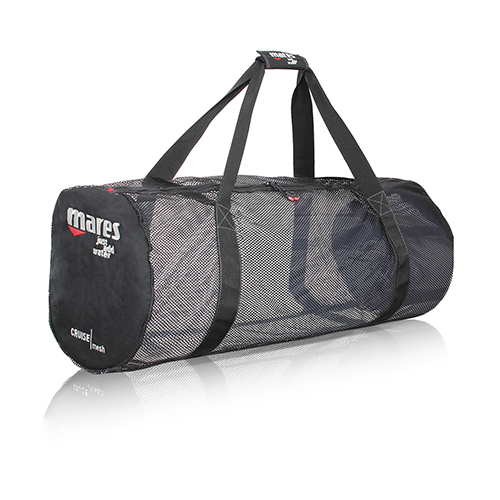 This gear bag alone fits both our wetsuits, rash vests, 2 sets of diving fins, snorkels, scuba masks as well as our dive booties. Plus, we love that it has a small zip compartment on the side for our smaller items like our anti-fog spray, PADI dive cards, keys, and cellphones.
We also love that its durable mesh fabric makes it easy to wash and clean.
Optional Scuba Equipment To Buy Later
These scuba diving gear are not an absolute necessity for beginners, but rather nice-to-haves. They make diving more fun and are great gifts and accessories for scuba divers.
Diving Torch
Dive torches are great for discovering what exotic marine life is lurking in the shadows, whether that's under rocks or between coral.
This scuba accessory is especially handy for finding camouflage ninjas like frogfish, crocodile fish, mimic octopus, seahorses, and other interesting critters. So if you or your buddy loves muck diving, then a dive torch is a must.
The average cost of diving torches ranges between €35 to €150+. We'd recommend budgeting at least €60 for a good quality dive torch.
Whichever dive torch you buy, make sure to check how bright it is (how many lumens), what material it is made from (so it doesn't rust), how easy it is to use underwater, and whether it has different light settings.
Ideally, we'd recommend picking a rechargeable diving torch. They're more eco-friendly and sustainable for the environment.
For a mid-range dive torch, we'd recommend the Wurkkos Diving Torch. If you're keen to spend more, the ORCATORCH D710 Diving Torch is worth buying.
Diving Pointer Stick
Diving pointer sticks are generally used by divemasters to get the group's attention underwater or for pointing out marine life. But they can also come in handy for the average recreational diver like you and me.
On drift dives (diving in strong currents), pointer sticks can be used to anchor yourself to a rock or seabed. This will give you a moment to catch your breath if needed.
Some avid underwater photographers also use diving pointer sticks to minimize their contact with the reef when taking macro photography.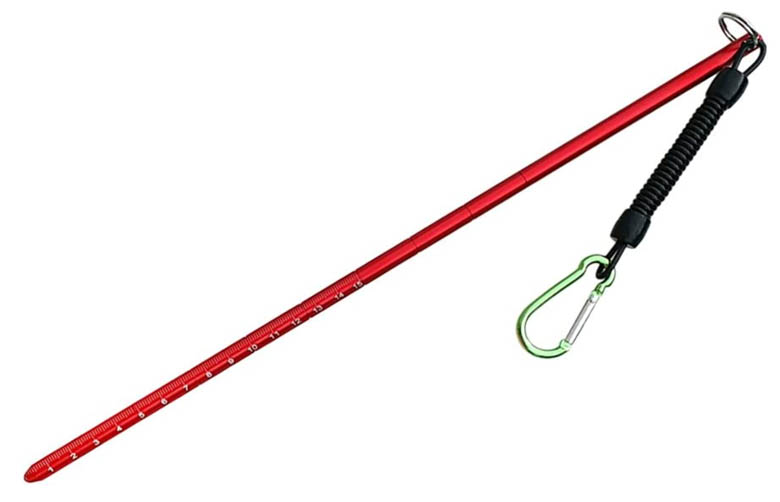 Pointer sticks are no doubt a versatile accessory to have. But if you get one, you need to make sure to use it ethically.
This means that you should never use your diving pointer stick to poke, tease or aggravate any marine life. Always check that there is nothing on the sand or rocks by waving your hand at it before putting your pointer stick on it.
Diving pointer sticks are pretty cheap to buy. They cost on average €10 to €20. It doesn't really matter what brand you get as long as it is made from aluminum alloy or any other material that won't rust after coming in contact with ocean water.
This scuba accessory is nice to have. But we don't recommend beginner scuba divers buy pointer sticks until they've racked up at least 60 to 80 dives.
Diving Gloves
Diving gloves are nice to have, but not necessary for scuba diving beginners (or even more advanced divers).
Diving gloves have the same function as a wetsuit. They insulate the hands and offer some protection if you happen to touch something underwater.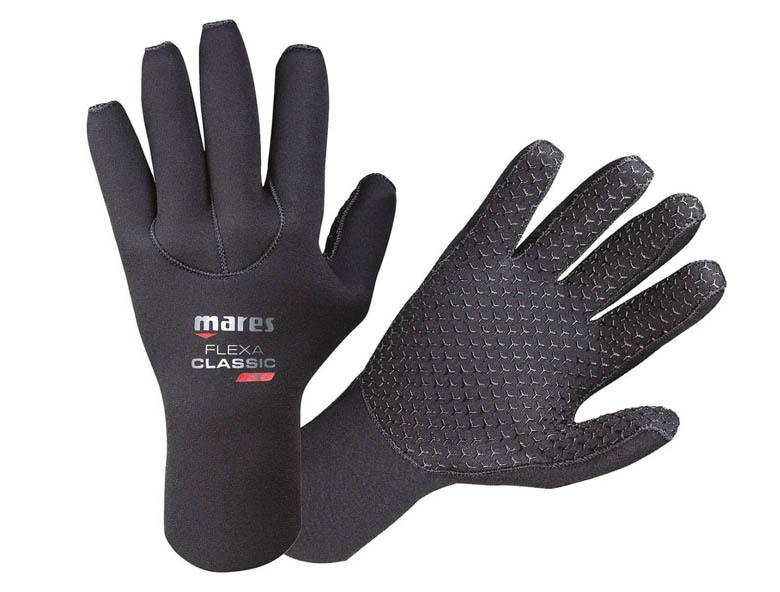 If you've started your Open Water Diver Certification, you'll know that it's best to avoid touching anything underwater. Not only can it harm marine life, but you could also endanger yourself too.
Some dive sites and operators take it so seriously, that they won't allow you to dive with gloves on. This is why we don't believe that diving gloves are necessary scuba diving gear to have unless you get cold easily.
Diving gloves cost on average between €20 to €35. Like wetsuits, they are made from neoprene and come in different thicknesses. We both use the Mares 3mm Diving Gloves on our colder dives.
Underwater Dive Camera
An underwater camera is not exactly scuba diving gear. But it sure does help capture the experience and share it with your friends and family.
There are many dive cameras on the market. The cheapest start from €350. But the more professional underwater cameras can easily cost €1,000 and more. Yup – they don't come cheap!
And don't forget that you'll need accessories for your dive camera. From the camera housing, diving lights, and lens filters, to hand grips and tray stabilizers.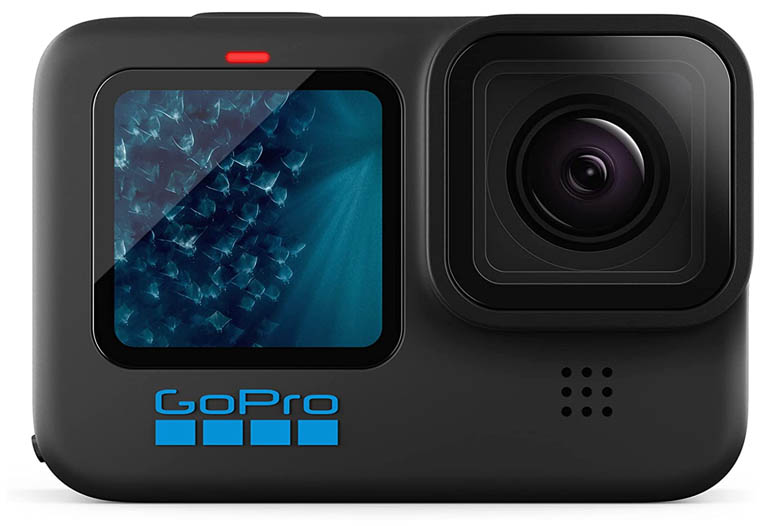 We love using GoPro as our dive camera. It's compact, versatile for almost every outdoor vacation, and more affordable than most underwater cameras.
If you do get a GoPro, make sure to buy the latest version (GoPro Hero 11). The picture and video quality are really great. And most importantly, the camera stabilizer function is superb for filming underwater.
Related Guide: What other accessories can you buy for scuba diver lovers? Check out our Gifts For Scuba Divers guide.
Waterproof iPhone Case For Diving
Don't have a GoPro? Don't worry! You can also capture beautiful photos, videos and selfies underwater on your iPhone with the ProShot Dive Case. It's a specially designed, waterproof case that will allow you to dive with their iPhone down to a maximum depth of 40 meters. Incredible, right?!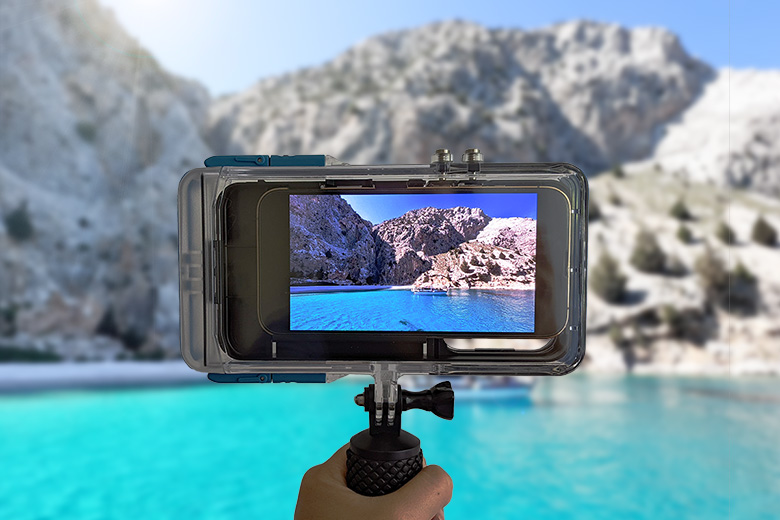 We love that the ProShot Dive Case is one of the few waterproof diving cases that comes with a 12 month iPhone Protection Guarantee. Plus, it comes with its own floating hand grip and protective travel case.
And to really take your scuba photography up a notch, you can buy colour correcting lens filters and an underwater dive light for your ProShot Dive Case too!
Get a firsthand overview of how it works in our ProShot Waterproof iPhone Case Review. We share how easy it is to use, the photo and video quality, how waterproof it is, as well as its pros and cons.
Bonus Tip: When you're ready to make the purchase, use the code NOMADPRO20 to get 20% off your ProShot Dive Case!
Scuba Diving Gear Beginners Should Rent
We've been diving for 9 years and don't personally own the gear listed below. You're better off renting this scuba equipment from an accredited dive center because they're either too expensive, too heavy and impractical for travel, or requires regular maintenance from a professional.
Scuba Diving Regulator
Is it better to buy or rent a diving regulator? Now, that's a controversial one!
We personally prefer to rent our diving regulator. Not only are they expensive and heavy to travel with. But they also need to be regularly cleaned and maintained so that it continues to work properly.
We prefer to let the pros take care of this.
To ensure that we are indeed renting high-quality, well-maintained scuba gear, we always pick a 5-star PADI dive center where possible. We also make sure to read reviews before choosing a dive center so we don't end up disappointed.
Save Me For Later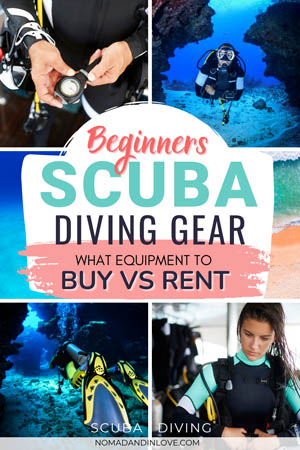 Diving BCD
This is another controversial one. We prefer to rent our diving BCD for the same reasons that we rent our regulators.
BCDs are an expensive investment. They cost on average between €450 to €900+ and they need to be cleaned and maintained properly.
Traveling with your BCD also means that you'll have to give up some precious luggage space. Not so practical when you're flying off to your next scuba diving destination, is it now?
You could always buy a travel BCD. They're designed to be lighter and less bulky than your normal BCD. But since we usually travel far and for long periods of time, renting a BCD from a reputable dive center makes more sense for us.
Scuba Diving Weight Belt
Our biggest scuba diving mistake as beginners was buying weight belts. They're relatively cheap scuba equipment to buy. But they're not practical for traveling unless you plan to drive to every scuba diving destination on your bucket list.
We used our weight belts once on our first self-drive scuba trip. But after we started venturing to faraway destinations that required air travel. We quickly realized how silly it would be to fly anywhere with weight belts in our check-in luggage.
Our weight belts eventually became doorstops and paperweights… Don't make the same mistake we did. Make sure to rent rather than buy this scuba diving gear instead.
Related Guide: Where are the best scuba diving destinations around the world? Find out in our Best Scuba Liveaboard Boats Around The World guide.
Scuba Diving Air Tank (Cylinder)
This one is a no-brainer. But we thought we would mention it anyway.
Most scuba diving air tanks (or cylinders) weigh an average of 15kg. So unless you're planning to wear it along with your BCD before boarding a flight, you're better off renting rather than buying this scuba gear.
Other Scuba Diving Gear and Accessories
Your dive master will likely carry the other essential scuba diving equipment such as a surface marker buoy (SMB), dive knife, and compass during dives. So you don't need to invest in any of these items.
Scuba Diving Gear Beginners Should Buy and How Much It Costs
That was one long guide! Here's a quick summary:
Diving Mask (€30 – €70+)
Snorkel (€15 to €30+)
Scuba Diving Fins (€100 to €200+)
Diving Booties (€20 to €40)
Rash Guard (€20 to €80+)
Anti-fog Spray (€5 to €20)
Dry Bag (€13 to €25)
Wetsuit (€70 to €300+)
Diving Computer (€250 to €1,000+)
Scuba Diving Gear Bag (€40 to €200+)