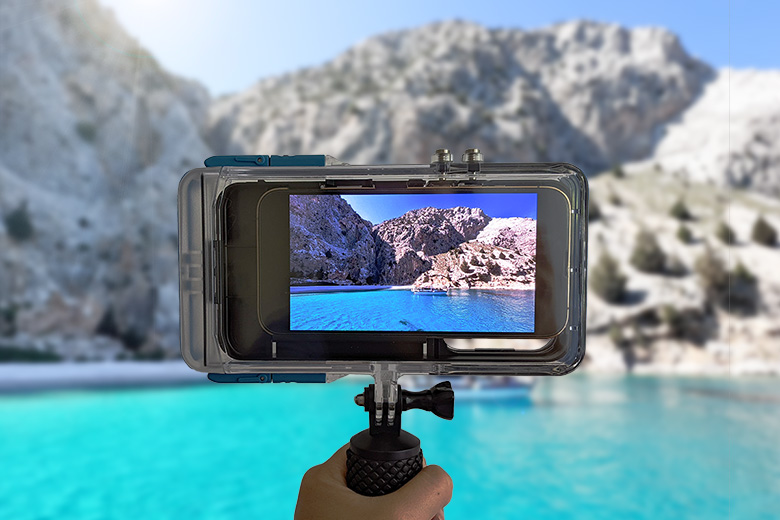 An honest review of the ProShot Dive Case and whether it keeps your iPhone waterproof underwater when swimming, snorkeling, or scuba diving.
The days of exclusively relying on a GoPro (or other action cameras) to take pictures underwater are long gone. Now you can do it with your iPhone. All you need is a professionally designed waterproof case.
Yup! Thanks to ever-evolving technology, we can now take our phones literally EVERYWHERE – even 40 meters underwater!
We can't promise you'll have phone reception to reply to texts. But underwater photography? No problem!
Not all underwater cases are created equal though. Some aren't as waterproof as they claim to be.
That's why we're sharing our review of the ProShot Dive Case. From how easy it is to use, the photo and video quality, how waterproof it is, as well as its pros and cons.
Disclosure: This review is sponsored. But whether a guide is sponsored or not, we always share our honest opinion.
Can I Take Pictures Underwater with My iPhone?
Before we 'dive' straight into the review (excuse the pun). Let's answer one of the most popular questions people have about their iPhones. And that question is: 'Can I take pictures underwater with it?'.
Great question, by the way! We asked ourselves the same question when we upgraded to the iPhone 14 Pro.
The latest Apple iPhone models are marketed as waterproof after all. But exactly how waterproof is it really and can you take pictures underwater without causing irreversible damage to your phone?
How Waterproof is the iPhone?
According to the official Apple website, all models from the iPhone 7 up to the iPhone 14 Pro Max are splash, water, and dust resistant. They have an IP67 rating which means that these iPhones can go underwater to a maximum depth of 1 meter for up to 30 minutes.
Some newer iPhone models have a higher waterproof rating and can go deeper and longer underwater.
For example, the iPhone 11 and XS models are waterproof up to an IP68 rating. This means that they can be submerged underwater for a maximum depth of 2 to 4 meters for up to 30 minutes (depending on the model).
The iPhone 12 up to the newest iPhone 14 Pro also have an IP68 rating. But the newer iPhones are waterproof up to a maximum depth of 6 meters for up to 30 minutes.
So does this mean that you should take your iPhone underwater on your swimming, snorkeling, or diving trips?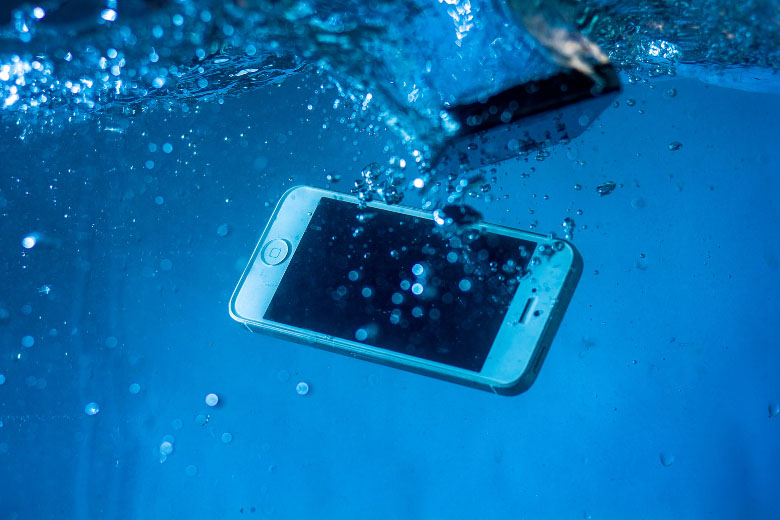 In our honest opinion, we wouldn't.
We'd prefer to err on the side of caution for many reasons. Not only do the latest iPhones cost an arm and a leg. But most importantly, your iPhone (or any other smartphone) has become a necessity in everyday life.
We need our phones for almost everything. From banking, navigation, entertainment, and staying organized, to taking photos and videos, and of course, communicating.
It's simply not a risk we're willing to take no matter how waterproof the iPhones may be.
There's a reason why Apple says that they do not recommend swimming with your iPhone or intentionally submerging it underwater. Liquid damage is also specifically not covered under their warranty.
Useful Tip: Apple charges $600+ for water damage repair.
Can I Take My iPhone 13 Snorkeling or Diving?
Whether you heed our advice or not – that's up to you. But whatever you do, do NOT take your iPhone snorkeling or scuba diving. Well, not a 'naked' iPhone anyway.
Salt water from the sea or ocean is corrosive. This means that it will cause irreversible damage to your phone over time no matter what the waterproof rating is.
The best way to take pictures underwater whilst snorkeling or diving is to get a waterproof phone case.
Related Guide: Want to learn how to scuba dive? Make sure you read our Scuba Diving For Beginners guide so you know what to expect.
Why You Need a Waterproof Phone Case
It may seem counterintuitive to get a waterproof phone case for an iPhone that's supposedly waterproof. But take a minute to hear us out.
You need a waterproof phone case – and by that, we don't mean those cheap, flimsy, plastic pouches.
If you want to take beautiful photos or videos underwater without damaging your phone, you'll need a high-quality waterproof case or underwater housing for your iPhone.
These cases are specially designed for long-term underwater use. They're airtight and leak-proof, and depending on the brand, you could even take your iPhone scuba diving.
That's right! Gone are the days when you have to buy a GoPro or action camera to take pictures underwater. Now you can do it with your iPhone. All you need is a professionally designed waterproof case and voila!
How Deep Underwater Can You Go With ProShot Dive Case
As you may have guessed, we have the ProShot Dive Case. It's specially designed for iPhones. Not only is it great for swimming and snorkeling but for scuba diving too!
The Proshot Dive Case can go underwater up to a maximum depth of 40 meters (130 feet). That's more than sufficient given that you can only dive up to a maximum depth of 30 meters (100 feet) if you have a PADI Advanced Open Water Diver (AOWD) Certification.
Plus, there is no time limit on how long this waterproof iPhone case can stay underwater. Your only limit is how much air you have in your scuba tank or how long you can hold your breath!
This waterproof iPhone case can go deep underwater, but does it work well? Find out what we honestly think after using the ProShot Dive Case ourselves.
ProShot Dive Case Review
Quality and Design
Let's talk about first impressions. The ProShot Dive Case comes with its very own, protective travel case. Inside you'll find a floating hand grip, wrist strap, attachment screw, microfibre cloth, two foam adjustment pieces, and the ProShot Dive Case, of course.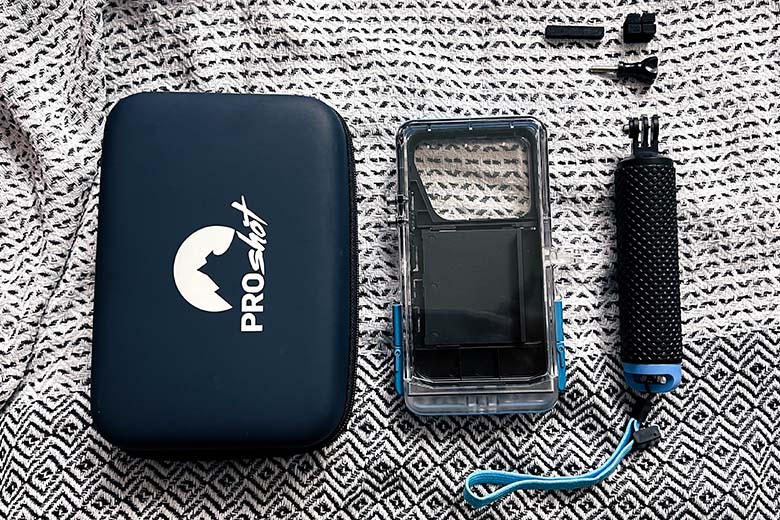 The quality and design of this waterproof iPhone case is superb. Its hard shell is made from the same durable material that's used in many professional underwater camera cases.
To insert your iPhone, you simply release the two clips on the side to slide out the inner compartment.
The phone holder in the inner compartment has a spring design. It's designed to hold everything from the older iPhone 6 and SE smartphones to the newer iPhone 12 Mini to 14 Pro Max models.
And for the avid underwater photography enthusiasts, you'll find a slot to insert colored lens filters (red, pink, and magenta) in the inner compartment as well.
Ease of Use
Taking pictures underwater with your iPhone is easy with the ProShot Dive Case. All you need to do is open the ProShotCase app (free to download), slide your phone in, securely fasten the two clips, and head into the water to snap away.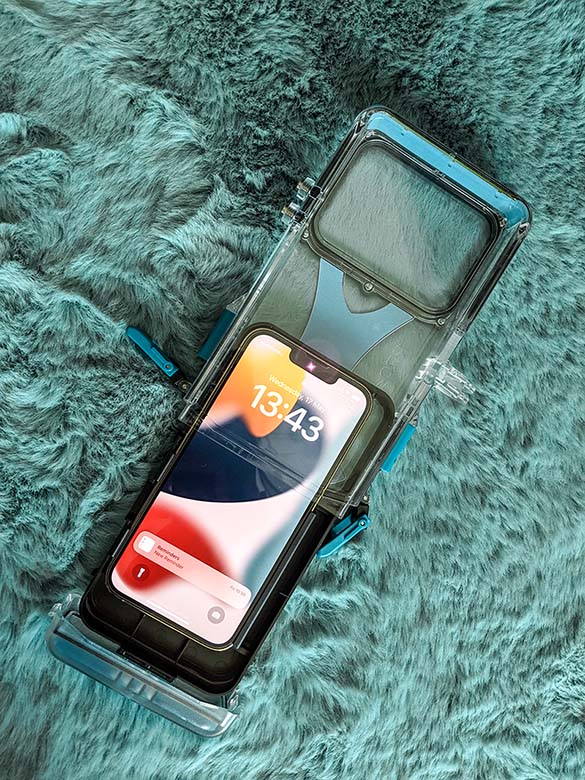 You could use the waterproof case as is. But we prefer to attach the floating hand grip and wrist strap to it so we don't drop and lose our iPhone underwater.
If that does happen though – don't worry. The sponge on both ends of the ProShot Dive case will help it float to the surface if the unimaginable happens.
The floating hand grip also floats (hence the name) for added safety.
Taking Pictures and Videos Underwater
Taking pictures and videos underwater is easy but a little different from what you'd normally do on land.
The ProShot Dive Case is designed to completely seal off your phone. This means that you won't be able to use the touchscreen like you usually would.
Instead, you'll use the volume buttons for taking pictures and videos underwater. To do this, you'll need the ProShotCase app which is free to download.
With the app, you can take pictures or videos using the volume up button and toggle between the various camera modes (photos, videos, selfie mode, wide angle, zoom, slow motion, sleep, etc.) with the volume down button.
We'd highly recommend using the app, adjusting the settings, and taking some practice pictures and videos with this waterproof iPhone case at home before taking it underwater.
It's pretty simple to use once you get the hang of it. But it does take some getting used to.
Photo and Video Quality
The photo and video quality will largely depend on what iPhone model you have.
The ProShot Dive Case only provides a protective, waterproof housing for your iPhone and a clear window to capture images with. Like any other waterproof camera housing or case, it will not affect picture quality in any way.
That being said, there are a couple of things you won't be able to do when you're using the ProShot Case to take pictures underwater.
Firstly, you'll only be able to use autofocus for photos and videos. The touchscreen won't be accessible so you won't be able to manually focus on a certain subject underwater like you could on land.
Secondly, you won't be able to take pictures in portrait or panoramic mode. These camera modes are not currently available on the ProShotCase app.
And lastly, the video quality will depend on how stable you can hold your iPhone underwater. iPhones don't have the advanced HyperSmooth Stabilization function that the latest GoPro cameras have. So don't expect your underwater videos to be as smooth unless you've mastered your buoyancy.
What we love about the ProShot Dive Case vs the GoPro though, is that photos and videos are immediately available on your phone. Unlike the GoPro, you won't need to wait or download anything to your iPhone later.
The ProShot app also allows you to color-correct (neutralize the blue) and edit pictures and videos, which is a great bonus!
Bonus Tip: When you download the ProShotCase app, make sure you allow the app to access your photos and camera. Otherwise, your pictures and videos will be saved on the app and not in your camera roll.
Waterproof Test
Now for the ultimate question – is the ProShot Dive Case as waterproof as it says it is?
After trying it out for ourselves, we can confirm YES – it's definitely waterproof! The ProShot Dive Case kept our phone dry and secure.
We love the fact that our iPhone 14 Pro fits perfectly in the case. It didn't move or shift whilst we were swimming or snorkeling. Nor did the phone rattle in the case either.
We haven't had the chance to test this waterproof iPhone case for scuba diving yet.
But given the fact that ProShot is one of the few companies that give you a warranty on the iPhone itself (not just on their product) if their case leaks due to a defect, we're quite confident that it will remain waterproof underwater up to 40 meters as promised.
If you still feel unsure, you could always test the waterproof case in a bathtub before taking it on vacation.
Size and Weight for Travelling
The waterproof iPhone case itself is pretty lightweight and compact for traveling. The protective travel case it comes with is light but bulky.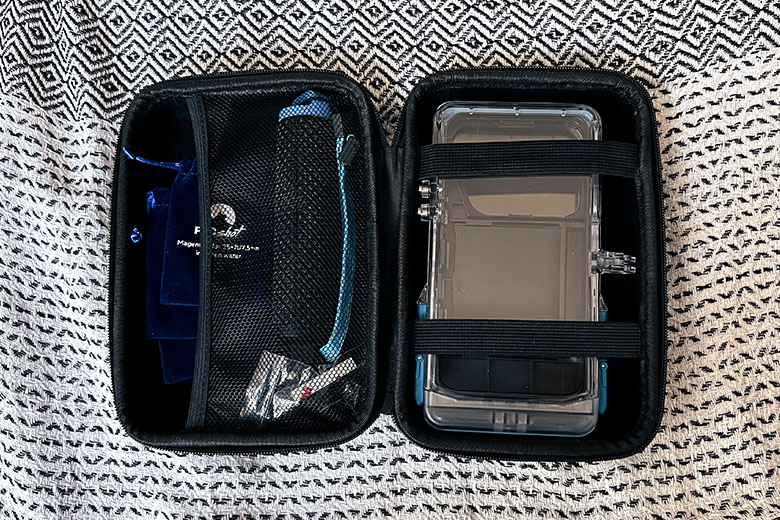 If you're tight on luggage space, you could always just wrap the phone case and floating hand grip in some clothes instead. It should be adequate protection given the quality and durability of the case.
But of course, we always bring the travel case with us when possible. We love that it keeps our underwater phone case and accessories all in one place, including the red lens filters.
If you're wondering how big and heavy the ProShot Dive Case is, here are the dimensions:
Waterproof case: 10.5cm x 19cm x 3.5cm (or 4 x 7 x 1 inches) – around 298 grams in weight
Floating hand grip: 17.5cm long (7 inches) with a diameter of 3.5cm (1.5 inches) – weighing around 67 grams
Protective travel case: 15.5cm x 22cm x 7.5cm (6 x 8.5 x 3 inches) – around 151 grams
In total, you can expect the ProShot Dive Case to weigh around 540 grams in the travel case with accompanying accessories.
What's Included With ProShot Dive Case
These items are included with the ProShot Dive Case:
The waterproof iPhone case (of course)
Floating hand grip
Attachment screw
Wrist strap
Two foam adjustment pieces (for Mini or smaller iPhones)
Protective ProShot travel case
The ProShotCase app (free to download)
The ProShot 12-Month iPhone Protection Plan
This is one of the pros of getting a ProShot Dive Case vs a GoPro. It comes with everything you need to take your iPhone underwater whether that's for swimming, snorkeling, or scuba diving.
There's no need to buy any other accessories unless you really wanted to.
Accessories
What makes the ProShot Dive Case versatile is that it is designed with a standard mounting bracket. This means that all accessories that are compatible with the GoPro mount will fit on your ProShot Dive Case too.
So if you need to switch out the floating hand grip for a longer selfie stick or a floating tripod for better underwater selfie action? No problem! It's interchangeable with any of the GoPro sticks and even its chest mount harness.
If you love underwater photography, you could also buy red lens filters and an underwater dive light for your waterproof iPhone case.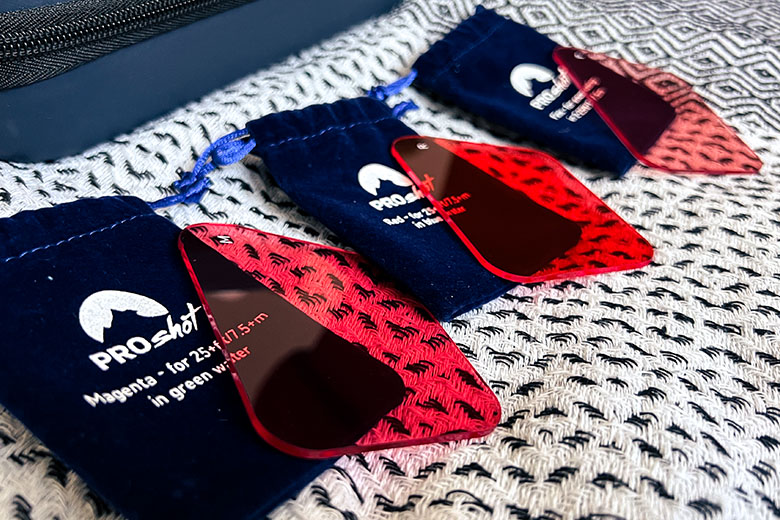 We have the red lens filters. They come in really handy for taking pictures underwater when scuba diving or snorkeling.
The various red filters (red, magenta, and pink) help to neutralize the blue and green colors underwater so that your photos and videos are sharper and more colorful.
Related Guide: Looking for more underwater photography accessories? Check out our Gifts for Scuba Divers guide for inspiration.
Price
This review would not be complete without a price comparison. So how does the price of the ProShot Dive Case fair against the GoPro or other waterproof phone cases?
ProShot Dive Case vs GoPro
One of the biggest pros of the ProShot Dive Case is that you don't need to buy a GoPro. All you need is an iPhone – which you probably already have if you're reading this review.
GoPro action cameras can cost anywhere between $350 to $500 depending on which model you buy. And let's not forget about the accessories you'll need if you plan on taking it snorkeling or diving.
The GoPro underwater housing – $50
Floating hand grip – $30
Red lens filters – $50
This means you'll easily spend between $500 to $630+ to buy a GoPro and the required accessories to take pictures and film underwater.
In contrast, the ProShot Dive Case costs $160 and an optional $25 if you want to get the red lens filters. That's a total of $185 in comparison!
Save Me For Later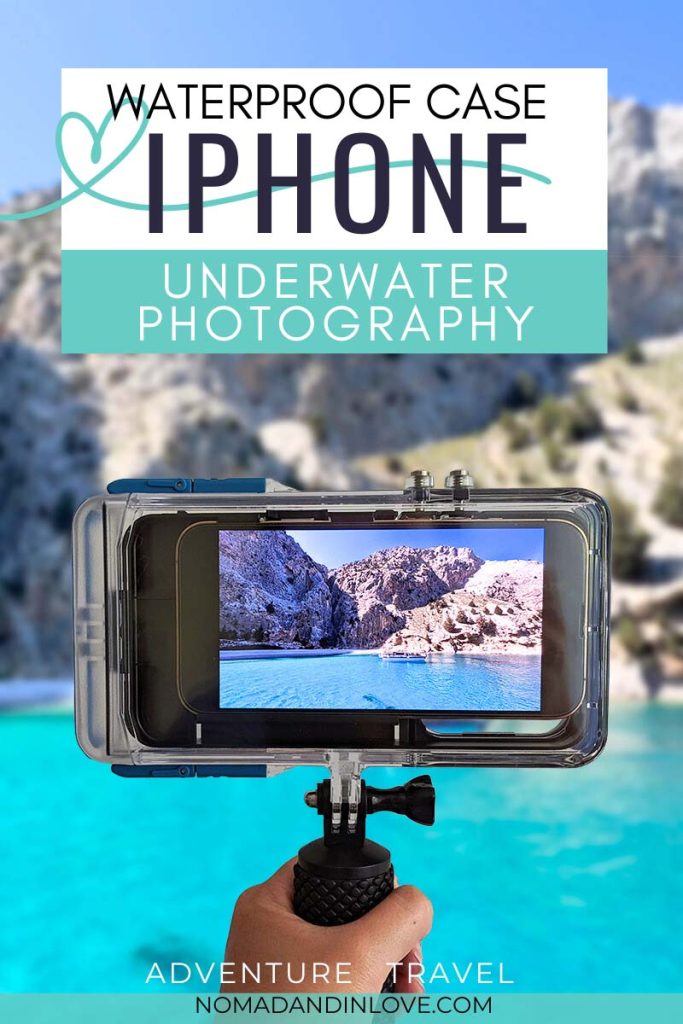 ProShot vs Other Waterproof iPhone Cases
A waterproof iPhone case can cost anywhere between $70 to $300+. This puts the ProShot Dive Case in the 'Goldilocks' range – not too cheap nor too expensive.
Which waterproof phone case to buy is ultimately up to you. But we honestly feel that the ProShot Dive Case offers the best value for the price.
Many of the cheaper waterproof iPhone cases can only go to a maximum depth of 15m underwater and for only 30 to 60 minutes underwater. The more expensive cases have more advanced functions, but they often need their own batteries to work.
Most importantly, ProShot is one of the only companies that offer a 12-month protection plan. This means that if your iPhone is damaged due to a defective ProShot Case, they will replace or reimburse you for a new iPhone. They're that confident!
Bonus Tip: Use the code NOMADPRO20 to get 20% discount off your ProShot Dive Case.
Which iPhones are Capatible with ProShot Dive Case?
ProShot offers 4 types of waterproof iPhone cases:
If you plan to buy a waterproof case for your iPhone, we'd highly recommend getting the ProShot Dive Universal Case.
Not only can this case go deeper than the ProShot Touch Cases (waterproof up to 40 meters instead of 15 meters). But it's more versatile because you can still use it if you upgrade your iPhone to a newer model.
Here are all the iPhone models that will fit in the ProShot Dive Universal Case:
iPhone 14 (Pro, Pro Max, Plus)
iPhone 13 (Pro, Pro Max, Mini)
iPhone 12 (Pro, Pro Max, Mini)
iPhone 11 (Pro and Pro Max)
iPhone XR, XS Max, XS, X)
iPhone 8 and iPhone 8 Plus
iPhone 7 and iPhone 7 Plus
iPhone 6 (Plus and S)
iPhone SE (2022, 2020, and 2016 model)
How To Maintain Waterproof iPhone Case
The ProShot Dive Case is really easy to maintain. Just like any other underwater housing or accessory, you'll need to rinse it under clean water after using it. Especially after it's been in salt water from the sea or ocean.
What we always do is detach all the accessories. Then soak them in a bucket or bath of clean water for a few hours before laying them on a towel to dry.
If you're taking your waterproof iPhone case to the beach, make sure no sand gets in the clasps so that it can seal properly. Be careful not to scratch the clear window of the case (in front of the camera).
What is the Best iPhone Waterproof Case
The best iPhone waterproof case will depend on what you're planning to use it for.
The cheap waterproof phone pouches are sufficient if you're just visiting the beach. But if you want to take pictures underwater whilst snorkeling or diving, then you'll need a high-quality waterproof case.
The ProShot Dive is the best iPhone waterproof case we've used. But if you're still undecided, here's a list of pros and cons to help you make up your mind:
Pros of ProShot Dive Case
You don't need to buy a GoPro action camera or a ridiculously expensive underwater camera
The case is universal for all iPhones so you won't need to replace it when you upgrade to a newer model
It comes with all the accessories you need to take pictures underwater
It's versatile – use it on the beach, whilst swimming, snorkeling, or even scuba diving
It's compact and lightweight for travel
It comes with a 12-month iPhone protection plan
Pictures and videos are immediately available on your phone
It's easy to use and maintain
ProShot ships internationally – our phone case was safely delivered to Germany
Cons of ProShot Dive Case
You won't be able to use your touchscreen so you need to set up the settings and have the ProShotCase app open beforehand
Only autofocus will work because you can't manually focus on a subject using the app
Depending on which iPhone model you have, the battery may be used up faster
Bonus Tip: If you plan to go snorkeling or diving with your iPhone, make sure you bring a portable battery to charge your phone between dives.
Wrapping Things Up
The ProShot Dive Case is one of the best waterproof iPhone cases we've used. It works great, does exactly as promised and the quality is superb.
Like everything in life, this waterproof case has its pros and cons. But overall, the pros far outweigh the cons. Get the ProShot Dive Case, you won't regret it! Use the code NOMADPRO20 to get 20% discount off.