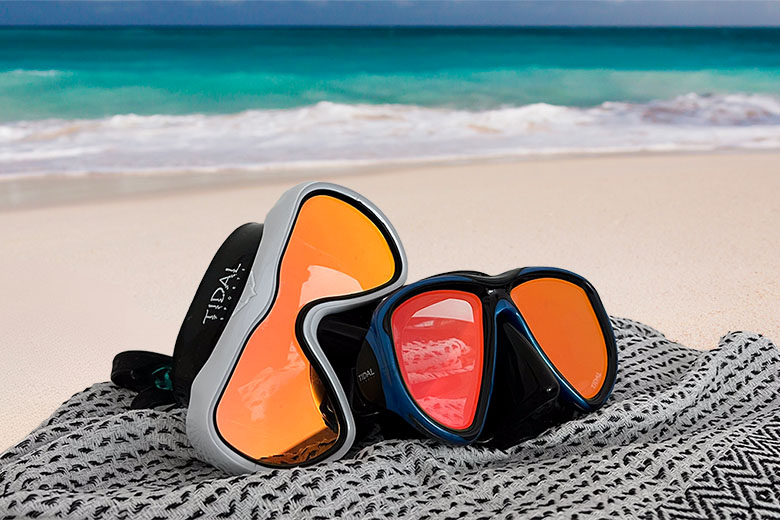 An honest review of the Tidal Sports Anti Fog Dive Masks and whether they honestly prevent fogging underwater.
If you snorkel or scuba dive, you've probably asked the question: 'How do I keep my mask from fogging up?'.
We feel your pain! There's nothing more annoying than having to clear your scuba mask every few minutes. Especially when you've just spotted turtles, dolphins, sting rays, or the ever-elusive whale shark underwater.
Or maybe like me, you've got scuba diving anxiety and you'd rather dive blind than clear your mask…
Don't worry mermaids (or mermen), we've got you!
We've tried every method we know to keep our scuba masks from fogging up. From burning the protective film, and applying toothpaste the night before, to using anti fog spray in our dive masks.
These methods work but aren't always foolproof. But now we've found a new solution to prevent fogging: anti fog masks!
Yup! These are masks that are specifically designed to not fog up whether you're snorkeling, scuba diving, or free diving.
But do anti fog masks honestly work and how long will it prevent fogging?
We're answering these exact questions (and more) in this comprehensive review of the Tidal Sports Anti Fog Mask. From how comfortable they are to snorkel or dive in, their quality and design, size and weight for traveling, to whether they honestly stop fogging.
Disclosure: This review is sponsored. But whether a guide is sponsored or not, we always share our honest opinion.
How Do Anti Fog Scuba and Snorkel Masks Work?
Before we 'dive' straight into the review (excuse the pun). Let us explain how the Tidal Sports Anti Fog Snorkel and Dive Masks work.
Based on first impressions, they may look like any other scuba mask. But its secret weapon is found in the inner lens of the masks: their specially formulated anti fog film.
This uniquely designed film stops fogging by preventing small water droplets from forming. It's so effective, that even a steamer is unable to fog up the mask once the film is on.
Sounds too good to be true? Check out this video to see the Tidal Sports Anti Fog Film in action.
These anti fog films are a game changer! But they're designed to only keep your scuba or snorkel mask fog-free for months and up to a year.
Its longevity will depend on how frequently you use them and whether you clean them properly after every use (more on that later).
If your dive mask ever fogs up, you can simply (and affordably) replace the anti fog films yourself. It's that easy!
Tidal Sports Anti Fog Mask Review
These anti fog scuba and snorkel masks sound like a dream come true. But do they do as promised underwater?
That's what we're here to answer.
Michael and I are both avid scuba divers. We've been diving since 2013 with over 100+ dives under our (weight) belts. We typically scuba dive in tropical destinations. This is why we got the Tidal Sports Anti Fog Masks with red-tinted lenses.
Michael has the Dual Lens Anti Fog Mask and I have the Single Lens Anti Fog Mask.
Our Tidal Sports review will not only cover whether these anti fog masks work but also how to choose the right scuba or snorkel mask for you.
Quality and Design
At first glance, these anti fog masks are beautiful!
The shatterproof tempered glass lens with the red tint is not only functional but mesmerizing to look at. We love how it gives it a reflective, mirrored effect compared to our clear diving masks.
On closer inspection, you'll see the anti fog films on the inner lens. It's easy to miss on the dual-lens scuba mask. But it's a bit more noticeable on the single-lens mask because of the small gap in the middle.
The other thing we noticed was the size of the lens. Compared to our Mares and Cressi scuba masks, the lens on the Tidal Sports snorkel and diving masks are slightly larger.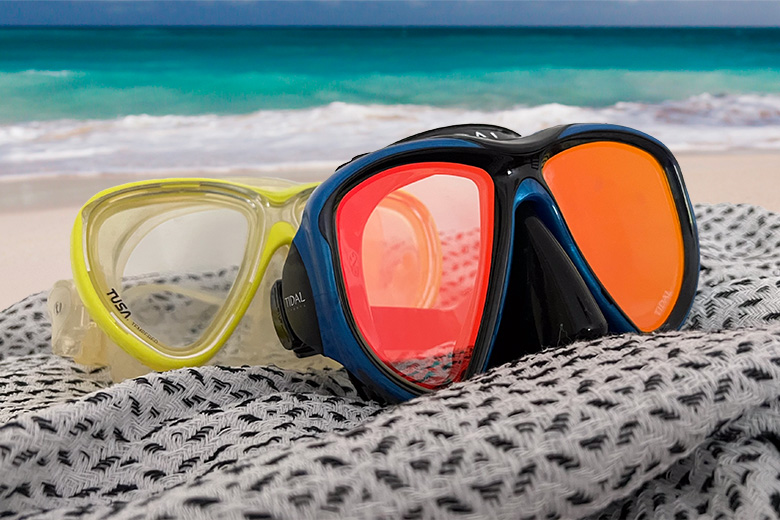 We love this because we felt that it gave us a wider field of vision when we're snorkeling or scuba diving underwater.
Both of our anti fog masks have black, silicon skirting. They also have two-way adjustable straps so that you can easily adjust them to fit your face.
Fit and Comfort
The Tidal Sports scuba and snorkel masks look great, but what is the fit and comfort like?
Michael and I have very different face shapes, and we must say that both our anti-fog masks fit perfectly.
The mask has a soft super and flexible silicon skirting. This gives it great sealing capability without leaving marks or imprinting (no mask squeeze) on the face.
My skin is very sensitive and gets red easily. So I was pleasantly surprised that these scuba masks left my skin unscathed!
These Tidal Sports dive masks definitely tick the box when it comes to fit and comfort, plus they didn't leak at all.
Like other scuba and snorkel masks, these come in one size only. But don't worry – Tidal Sports have designed them to fit most face shapes and sizes.
In the unlikely event that they don't fit, they offer FREE 30-day returns for customers in the USA.
How To Choose A Diving or Snorkel Mask That Fits Your Face
We live in Germany so the 30-day free return policy doesn't apply here. To avoid sending our masks back, we did a ton of research on how to choose a dive or snorkel mask that would best fit our face shapes.
It basically comes down to this.
The Tidal Sports Dual-Lens anti fog masks will fit most face shapes and sizes. The Single-Lens scuba and snorkel mask are less versatile in that they may not be as comfortable if you have a large face or a more prominent nose (i.e. high nose bridge).
That's because the nose pocket on the single-lens masks is relatively smaller compared to the dual-lens masks. It may therefore feel more restrictive if you have a bigger face or higher nose bridge (like Michael).
If you're Asian (like me), both the dual- and single-lens masks should fit your face.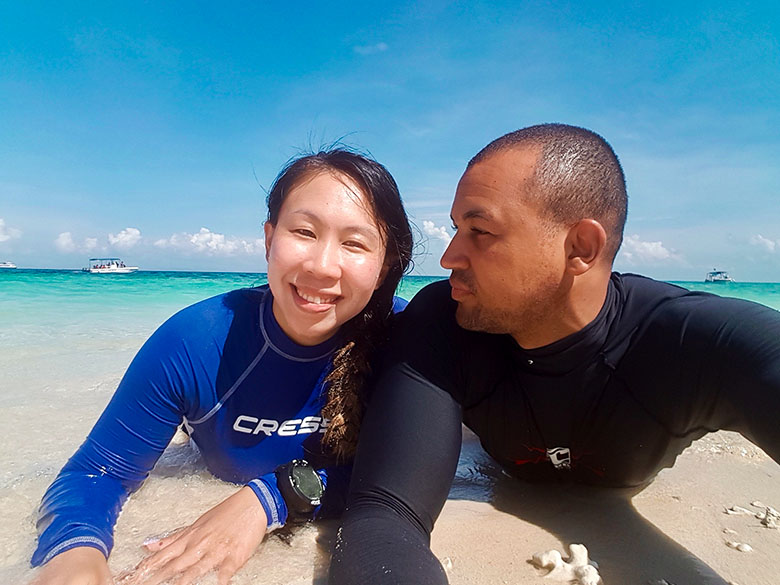 And if you're unsure what your face shape or size is, then we'd recommend picking the Tidal Sports Dual Lens Anti Fog masks. They're more versatile and designed to fit 90% of all face shapes and sizes.
Field of Vision and Visibility
Thanks to the slightly bigger lens size on the Tidal Sports mask, we now have a wider field of vision when we scuba dive. The visibility underwater is also sharper and more colorful with the red-tinted lenses.
Benefits of Diving With A Red Tinted Scuba Mask
Why do people use tinted lenses and are these dive masks better? The answer depends on where you're diving or snorkeling.
Tinted lenses are designed for underwater color correction. They help neutralize certain colors so that corals and marine life appear sharper and more vibrant underwater.
Dive masks with red tinted lenses are best when diving or snorkeling in tropical destinations with clear, turquoise-blue waters.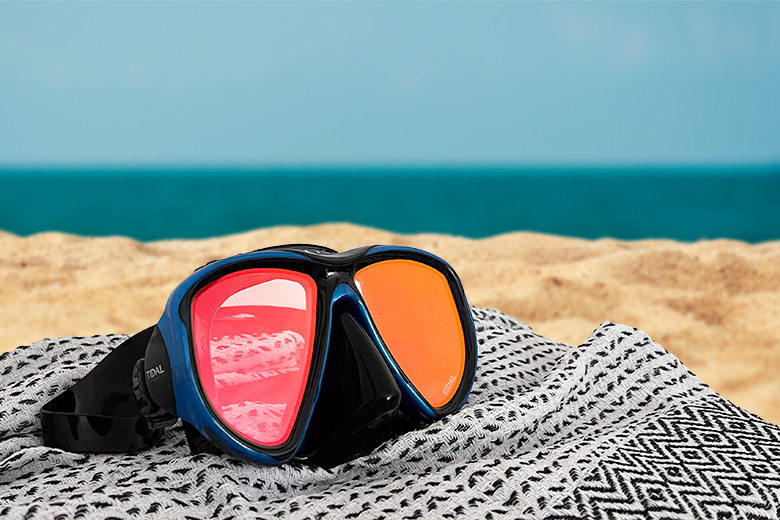 Yellow tinted dive masks are ideal if you're scuba diving in lakes and rivers where there is low lighting or visibility.
And finally, you also get scuba masks with magenta lenses. These are best suited if you're diving or snorkeling somewhere with colorful reefs or marine life. They help neutralize the blue color tones underwater so that colors like red, orange, yellow, and green are enhanced.
So yes, tinted diving masks are better but only under certain underwater conditions (i.e. not for night or wreck diving). They're not as versatile as scuba masks with clear lenses which are suitable for all underwater environments.
Bonus Tip: If you're new to scuba diving, we'd recommend all beginners get anti-fog diving masks with clear lenses. This is especially important if you experience anxiety underwater. It will allow the instructor or dive master to see your eyes and assess your emotional state.
Related Guide: Do you get nervous or feel fearful whilst scuba diving? You're not alone! Read my Scuba Diving Anxiety story and practical tips on how to overcome it.
Anti Fogging Capability of the Dive Mask
Now for the ultimate question – do these anti fog scuba masks prevent fogging underwater?
YES!!! We've both tested and tried these on a recent trip to Greece and they didn't fog up. Not even a little bit!
To say that I'm pleasantly surprised is an understatement. We even tested them snorkeling (which tends to fog up our masks faster) and nothing. No fog, no leaks – incredible!
Bonus Tip: Tidal Sports gives you a free bottle of their anti fog spray when you buy their masks. The spray helps you prolong and restore the anti fog film so that it stays fog-free for longer.
Save Me For Later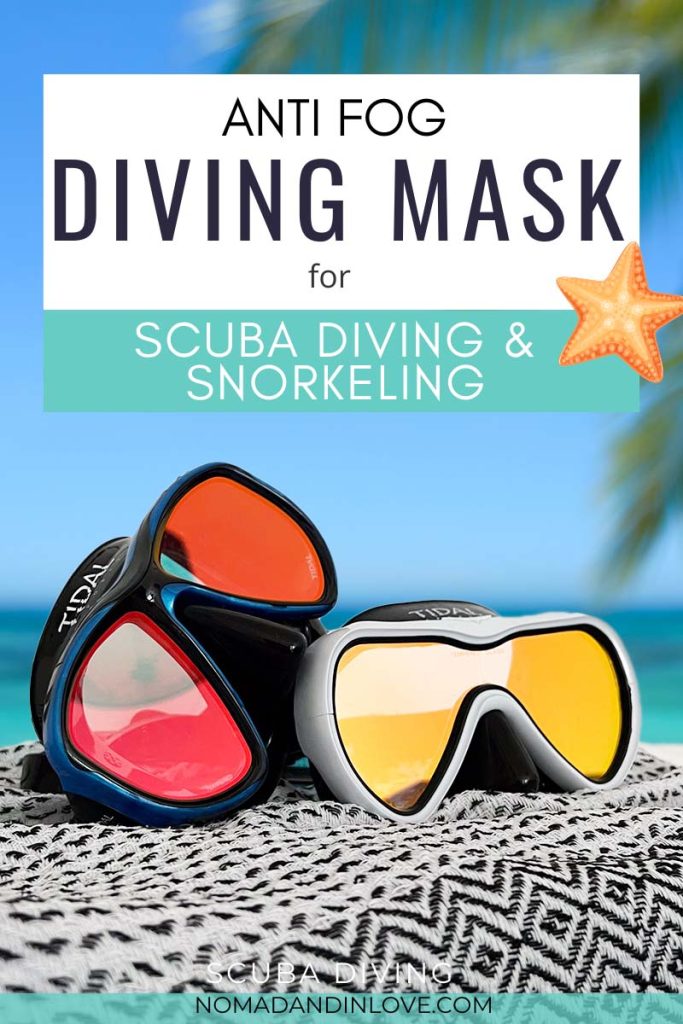 Durability and Maintenance
These high quality dive masks are made to last a lifetime – provided that you give them the tender, love and care they need, of course.
Maintenance is simple. Just like any other scuba mask, you should rinse it under clean water after every use and let it air dry. You can also rinse it with some soapy water if it gets oily or salty after snorkeling or diving.
The most important thing is to not scratch and aggressively wipe the anti fog film on the inner lens.
We'd also recommend not leaving your dive masks (or any scuba gear) in the sun to dry. This can damage your gear and turn the clear skirting of your masks yellow.
Bonus Tip: All Tidal Sports Masks come with a two-year manufacturer warranty.
Size and Weight for Traveling
The Tidal Sports Dual and Single Lens Masks are roughly the same size at 16cm x 9cm (6 x 3.5 inches).
The Single Lens Mask is however slightly heavier. It weighs 230 grams compared to the Dual Lens Mask, which is 190 grams.
Both these scuba and snorkel masks come with their own protective travel case and anti fog spray (1fl oz or 30ml).
In total, you can expect the Tidal Sports Dual Lens Mask to weigh 380 grams. The weight of the Single Lens Mask is slightly heavier at 460 grams.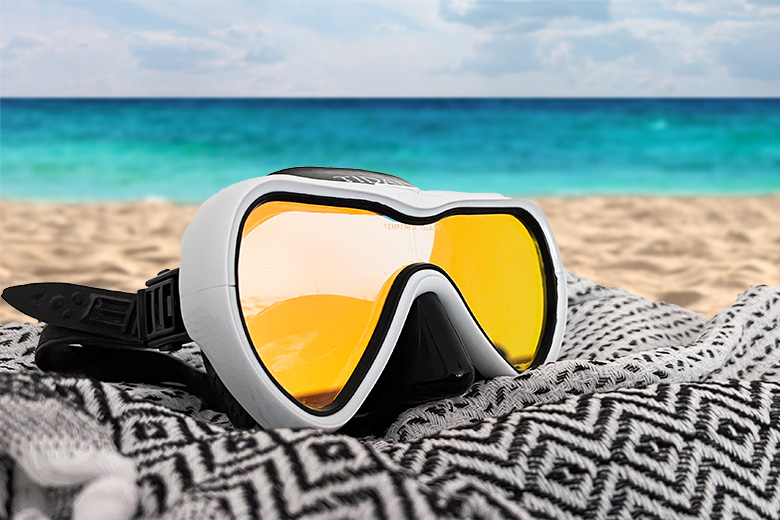 Price and Value
No review would be complete without a price comparison. So how do the Tidal Sports masks compare?
A pair of high quality, anti fog dive masks with mirrored or tinted lenses can cost anywhere between €60 to €200+. This puts the Tidal Sports scuba masks in the 'Goldilocks' range – not too cheap nor too expensive.
Bonus Tip: Use the code NOMADPRO20 to get 20% discount off your Tidal Sports Scuba and Snorkel Masks.
Wrapping Things Up
The Tidal Sports Anti Fog Scuba Masks certainly deliver as promised! They're high quality, comfortable to snorkel or dive in, easy to maintain and most importantly, it doesn't leak or fog up.
Like everything in life, these diving masks have their pros and cons. But overall, the pros far outweigh the cons. Here's a quick summary of them:
Pros of Tidal Sports Anti Fog Dive Mask
Designed with shatterproof tempered glass
Offers the biggest range of anti fog scuba and snorkel masks – tinted vs clear lenses, clear vs black or white skirting, dual vs single lens masks – they have them all
Designed to fit 90% of faces
All masks have 2 year manufacturer warranty
Anti fog films can be easily and affordably replaced
30 day free return for customers in the USA
Cons of Tidal Sports Anti Fog Dive Mask
You can't make use of their free return shipping if you're based outside of the USA
Free delivery in the US but charges may apply for international shipping
Depending on which country you live in, you may have to pay customs tax
Related Guide: New to scuba diving? Learn from our mistakes! Find out what scuba diving gear you should buy vs rent as beginners, and how much it will cost.