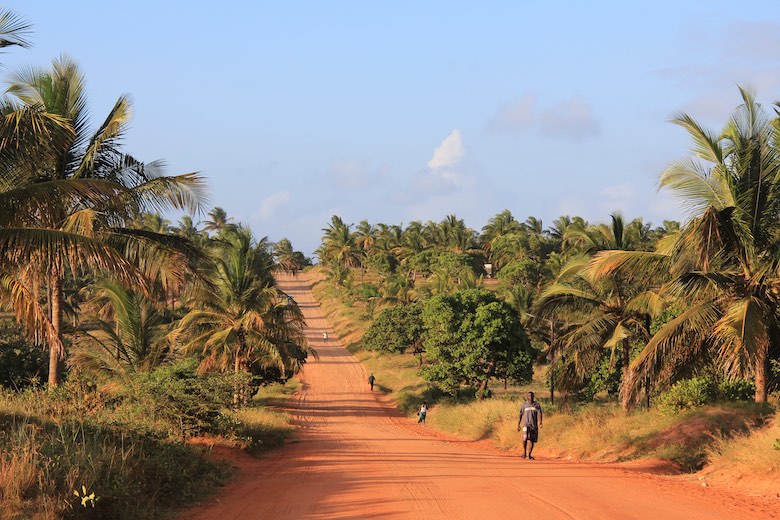 Driving in Mozambique is the perfect way for friends and family to explore this beautiful country.
If you're dreaming of exploring magical Mozambique, then you'll quickly discover that public transport in the country is extremely limited.
Unless you're willing to hire a transport company to chauffeur you everywhere, your only other alternative is to self-drive. Luckily, driving in Mozambique has become a popular option for travellers looking to explore this beautiful African gem.
This guide will cover everything from the essential checklist and entry requirements you need in your vehicle, the road conditions in Mozambique, to what driving style to adopt when driving in this top African travel destination.
We'll also include tips on how to cross the Mozambique border so you can enjoy the best driving experience.
Mandatory Items You Need in Your Vehicle to Drive in Mozambique
The law in Mozambique requires you to carry certain items in your vehicle when driving in Mozambique.
Traffic officers usually conduct random checks on foreign vehicles. So it's a good idea to ensure you have every item listed below to avoid a run-in with the law.
Related Guide: Still looking for a place to stay? Then check out our Where to Stay in Mozambique guide to discover the best beach resorts, hotels, backpackers and self catering accommodation.
Essential Mozambique Driving Checklist
Valid Driver's Licence
Vehicle Registration Certificates (includes Trailers and Caravans)
Copy(ies) of Vehicle Registration Certificates
Authorisation Letter from Vehicle Owner (Granting Permission to Cross Border)
Special Compulsory 3rd Party Insurance (Mandatory in Mozambique)
Vehicle Insurance Letter (Confirming Insurance Cover in Mozambique)
2 Red Warning Triangles (Used During Breakdowns)
2 Yellow Reflective Vests (Worn During Repairs, Accidents and Loading Cargo)
Towing Triangle Stickers (Displayed on Front of Vehicle and Rear of Trailer)
Black and White ZA Sticker (if Entering with a South African Registered Vehicle)
Warning triangles, reflective vests, towing triangles and ZA stickers are available from Loot.co.za or Outdoor Warehouse stores in South Africa.
In addition to the checklist, we highly recommend you include the following useful, but not mandatory items in your vehicle.
Useful But Not Mandatory Mozambique Driving Checklist
Copies of Passport and Driver's Licence (Certified)
Local Currency (for Road Tolls)
Jerry Can (to Carry Extra Petrol/Diesel)
Fire Extinguisher
Travel Size Spade
Air Compressor (for Deflating/Inflating Tyres)
Torch
Pocket Knife
Cooler Box
Travel Adaptor
Extension Cord
Pad Lock
Roaming-Enabled Sim Card
Lots of Snacks and Non-Alcoholic Drinks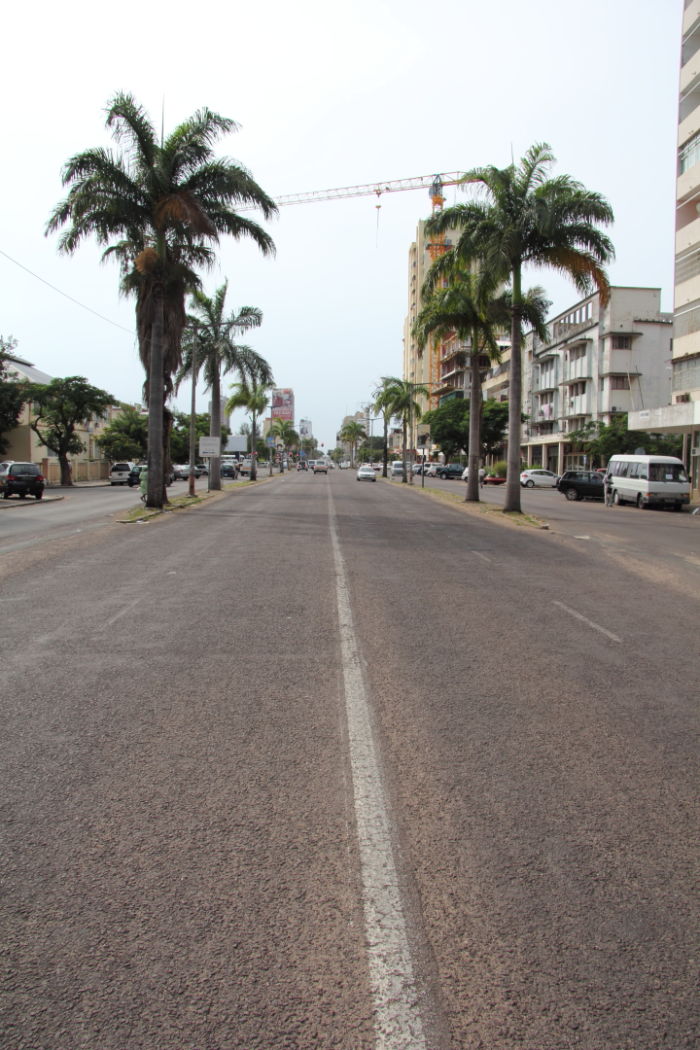 Paperwork For Mozambique Entry Requirements
Paperwork always seems to be a daunting task, but it doesn't have to be. Authorities in Mozambique just need to prove ownership of the vehicle you're driving. So it's quite a simple process once you know what documents you require.
Simply put, you will require vehicle registration certificates to take your vehicle (including trailers and caravans) into Mozambique. These documents need to be presented along with the relevant temporary vehicle import forms which are available at the border post.
If the vehicle is owned by a third party (financed through a bank or loaned), you need a letter from the bank or the owner authorizing you to take the vehicle across the border.
It would then be sufficient to produce copies of vehicle registration certificates along with authorisation letter, as original vehicle registration certificates are usually kept by the bank or the owner.
Car rental companies usually provide a cross border letter (at a fee) which is essentially an authorisation letter, along with a copy of the vehicle registration certificate.
Save Me For Later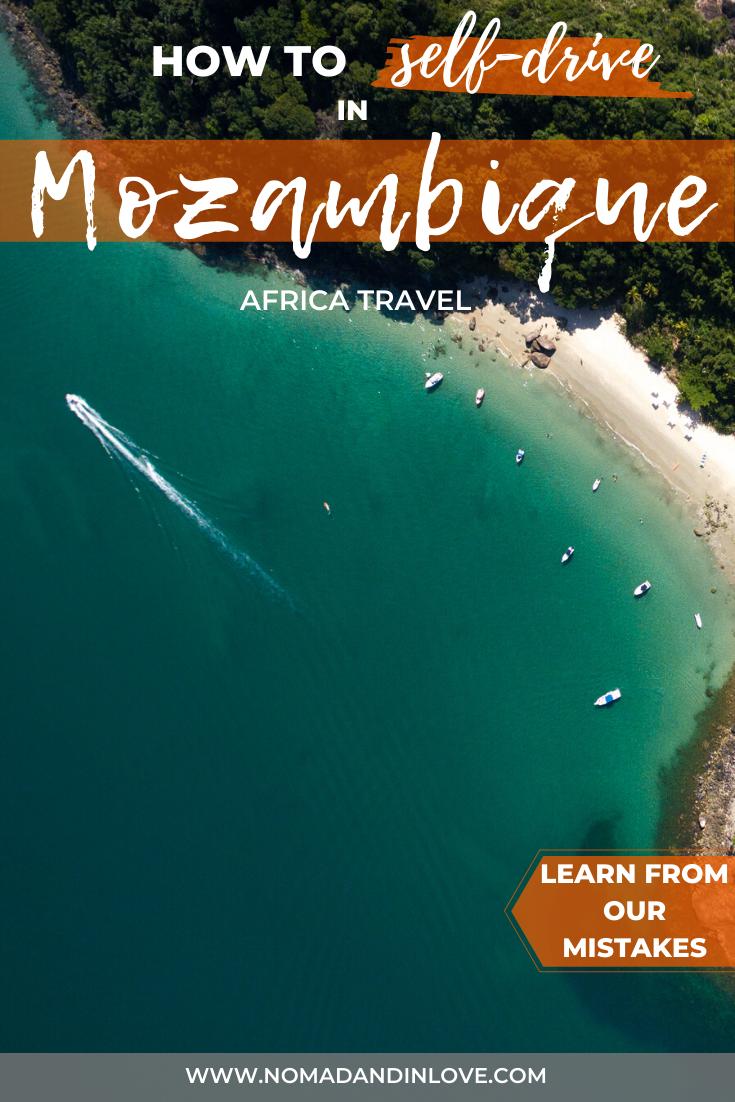 Do You Need Car Insurance in Mozambique
Yes. Comprehensive car insurance is necessary, but you also need 3rd party insurance.
What is Comprehensive Vehicle Insurance and Do You Really Need it in Mozambique
Comprehensive vehicle insurance is important because it covers your vehicle in the event of an accident, may provide roadside assistance and may also cover the cost of towing your vehicle back to your country of residence.
This is the reason foreign vehicles entering Mozambique are required to have comprehensive vehicle insurance. A letter from your insurance company or insurance policy document confirming that the vehicle is insured in Mozambique is sufficient.
Certain car rental companies self-insure their vehicles, so they will usually issue you with a letter confirming that their vehicle is insured whilst in Mozambique. This letter may be separate from the cross border letter or it may be one and the same. Just don't forget to notify the car rental company that you plan to take their vehicle across the border.
What is Compulsory 3rd Party Insurance and Where Can You Buy It
3rd party insurance protects you against damages incurred by a 3rd party in Mozambique. Simply put, it covers death or bodily injury to any 3rd party who is not a family member or employee of the insured and damage to 3rd party property in the event of an accident.
You can purchase 3rd party insurance at most border posts, but it is usually a good idea to purchase it in advance online from Hollard, the DriveMoz Portal, Outdoor Warehouse Stores or AA Accredited Sales Agents in South Africa to avoid any mishaps such as insurance agencies being closed at the time of crossing.
If you are renting a vehicle and cannot purchase 3rd party insurance in advance, ensure that you cross the border at a reasonable time as certain border posts operate 24 hours a day during peak season but not necessarily their insurance agencies.
It is a fineable offence to drive a foreign vehicle in Mozambique without 3rd party insurance so be sure to get it. Insurance companies such as the Hollard Group also have walk-in branches at various border posts on the Mozambican side. You can find their updated 3rd Party Insurance options on their website.
What Type of Car Should You Hire to Drive to Mozambique
It all depends on the type of terrain you'll be driving through. Certain resorts and villages are only accessible by four-wheel drive (4WD), also commonly referred to as 4X4 in Africa.
These vehicle usually cost more to hire than smaller mid-size or economy vehicles. Pre-planning your road trip could save you money, as renting a cheaper vehicle may be sufficient to cater for your driving needs.
Resorts that are only accessible by 4×4 will usually specify it on their website or during the reservation process.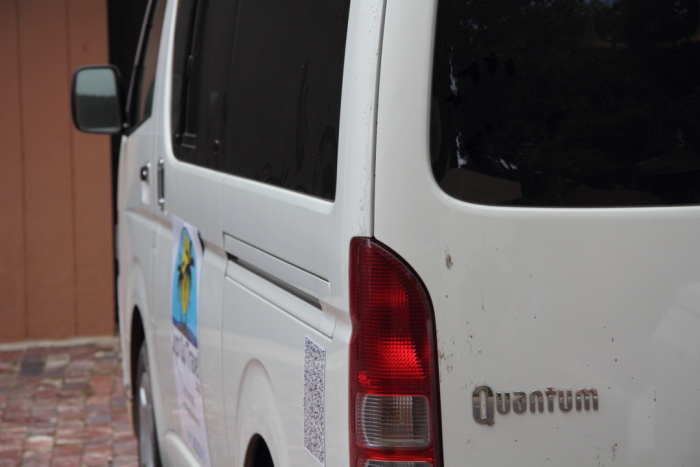 Another option to consider is hiring a van (minibus). These vehicles are generally not fuel efficient. But they can accommodate more individuals (up to 10 people) which will no doubt make your driving experience much more fun and cheaper too.
If you're renting a car in South Africa, Rentalcars.com is the best site to compare car rental prices. They have a large range of vehicles at competitive rates from reputable car rental companies in South Africa.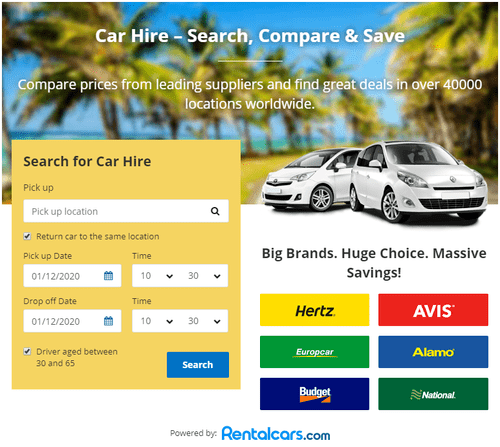 Crossing the Mozambican Border
Mozambique has various ports of entry located at various points along its boundary shared with Malawi, South Africa, Swaziland, Tanzania, Zambia and Zimbabwe.
Crossing the Mozambican border is relatively straight forward. Border operating times can vary between border posts. So it's a good idea to lookup their operating hours before departing.
South Africa–Mozambique Border Post Operating Hours
If you are entering Mozambique from South Africa, here are the official border post operating hours:
Mozambique–South Africa border post operating hours
How to Avoid Queues at the Mozambican Border
Major border posts operate 24 hours a day during peak holiday seasons to cater for the influx of travellers. Although we do not recommend driving at night, crossing the border at early hours of the morning (between 2am and 6am) may help you avoid queues which can sometimes add several hours to your journey.
If you find yourself in traffic which is backed up several kilometers, do not try to jump the line by driving ahead. Mozambican border posts are notorious for being chaotic especially during peak holiday seasons (usually in April around Easter and in December around Christmas).
The best approach is to be patient and wait in line as traffic officers will not think twice when issuing traffic fines and send you to the back of the queue.
Do You Need Immigration Assistance at the Mozambican Border
It is not unusual to find 'freelancers' offering unsolicited assistance to travellers at the border post. Their services include jumping ahead of traffic queues, acquiring 3rd party insurance and fast-tracking the immigration process (having your passport stamped on your behalf).
Our advice is to decline any offer at all costs. Although we promote supporting locals and their businesses, we feel that these individuals' actions contribute towards the delays and chaos experienced at border posts.
These freelancers are not agents of the Mozambican Immigration Authority and therefore act in their own capacity. There have been many instances where passports, driver's licenses and vehicle documents have been held until payment for their services has been settled in full.
Documents should always be in your possession and only handed to immigration officials if requested to do so (for inspection and stamping).
The Mozambican immigration process is very straightforward and any traveller will be more than capable of entering the country without requiring any assistance from 'freelancers'. Patience is the only requirement.
And if you're not sure which form to fill in or which line to stand in, politely ask an immigration official inside the immigration office and they will gladly assist you.
How Should You Manage Your Travel Time when Driving in Mozambique
In more developed countries, we would normally budget covering a distance of around 100km (62 miles) per hour of driving. You will need to budget around 30% more time to cover the same distance in Mozambique as the national highway is a two lane road (i.e. one lane in each direction).
You may therefore need to slow down quite frequently for trucks or other slow vehicles in order to find an opportunity to overtake in the oncoming lane.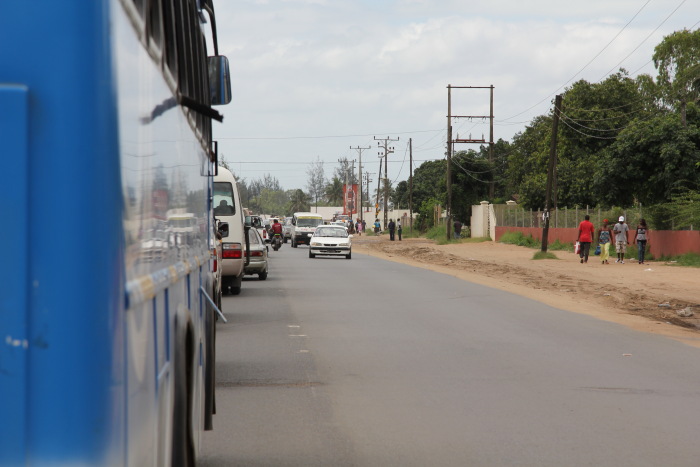 Besides trucks, you will also need to slow down frequently when approaching small towns or villages. Make sure to abide to the speed limits by slowing down, as these are the spots where traffic officers issue fines for speeding.
The added benefit of slowing down is that you get to see the fresh produce the locals are selling. Usually they sell everything from a fresh variety of tropical fruits, nuts (roasted cashew nuts are very popular and tasty), fresh coconuts to gasoline and homemade chilli oil.
We love purchasing items from the locals. It's a great way to support the local community and tasting some of Mozambique's best produce.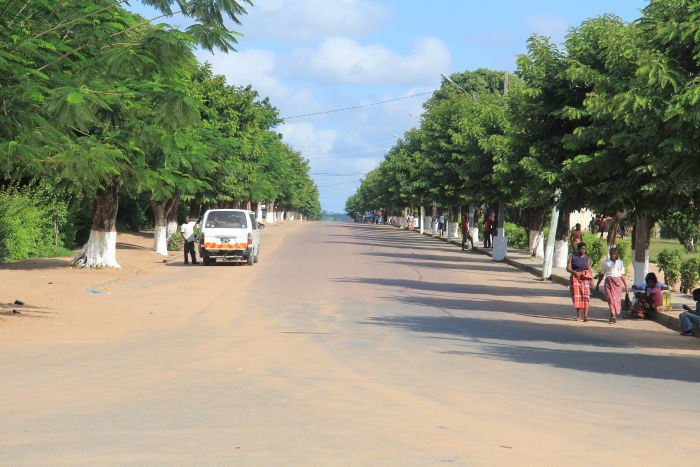 What Driving Style Should You Adopt in Mozambique
If you come from the United States, Latin America or Europe and drive on the right side of the road, you will need some adjustment when driving in Mozambique.
Similar to South Africa, motorists are required to drive on the left side of the road in Mozambique. That's relatively simple once you get the hang of it.
More importantly, you need to drive more defensively than you would at home. That means that you should drive with an extra dose of caution as you can not assume that other drivers will stop at red traffic lights or even a stop sign.
This is particularly true when you are driving in busy cities in Mozambique like Maputo. Driving can be quite stressful in the city centres as there are a lot of cars and drivers may not necessarily adhere to traffic rules.
That doesn't mean you should do the same though as the local traffic officers are renowned for being strict with tourists. Being aware of this beforehand will help you to expect it and make your road trip more pleasant.
It is very different driving in Mozambique in comparison to any developed country (or even South Africa). But it's all part of the adventure so just be patient, try your best to squeeze in when there are gaps (otherwise you won't get anywhere) and enjoy the new experience.
What are the Driving Speed Limits in Mozambique
Speed limits vary depending on whether you are driving in the city or on the highway. There are usually signs along the road indicating the maximum kilometres per hour (km/h) you may drive at. This generally varies between 60km/h in the city centre to 100km/h on the highways.
Make sure to adhere to the indicated speed limits at all times as it is very common for there to be speed cameras and traffic officers waiting to stop you.
Sometimes you may see cars in the oncoming lane flashing their lights as they drive past you. That's usually a friendly driver's way of indicating that there are speed traps ahead, so watch out for these signals when driving.
How to Deal with Traffic Officers while Driving in Mozambique
First and foremost, be polite. Second, remain calm. And finally, it doesn't hurt to learn a few Portuguese phrases such as 'good day, how are you?' which translates to 'bom dia, tudo bem?'. If you apply these three tips and follow the checklist in this guide, you should be on your merry way after being stopped for a random inspection.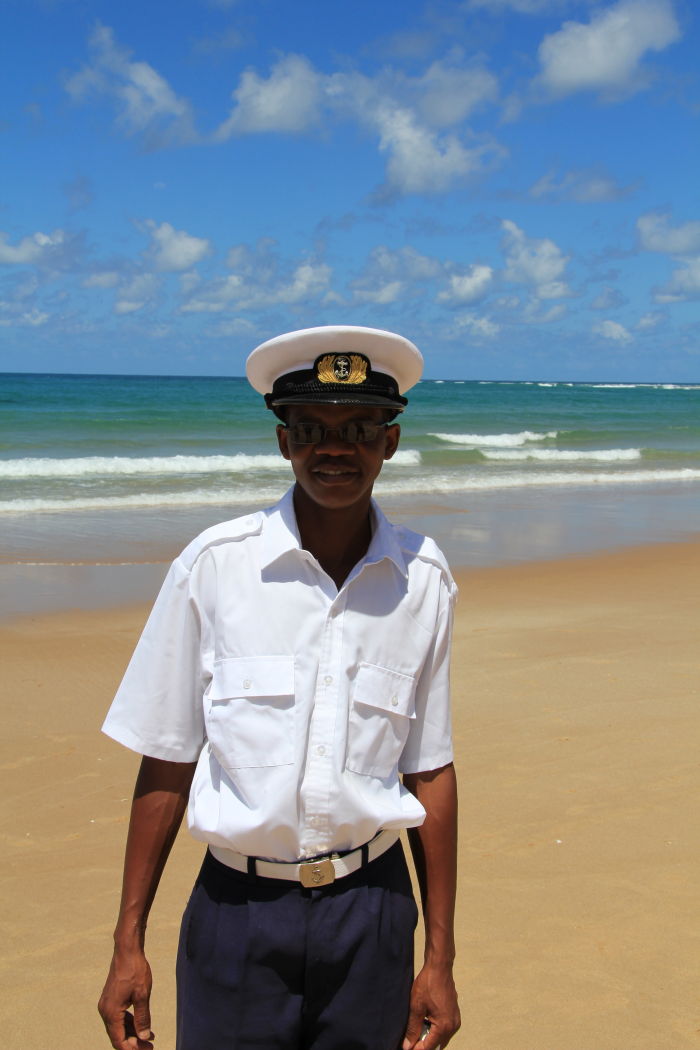 It is true that Mozambican traffic offers are notorious for soliciting bribes and making up violations so they can issue you with a fine. Government has been working hard to clamp down on corruption but they cannot do it alone.
If you are guilty, pay the fine (not a bribe for a lesser amount) and ask for a receipt. But if you feel that you have been unfairly issued a fine or the amount does not match the violation, ask for a receipt, note the officers details and dispute the fine at the nearest police station.
You should always receive all your documents back if the officer requests to see them. But if they hold onto them, you should also make a complaint with the commander (chief) at the police station.
Are There Filling Stations Driving Along the Highway in Mozambique
Yes, there are but not at frequent intervals. The best option is to make sure you have data on your phone so you can check when the next filling station is coming up.
Always start looking for the next filling station when your tank has at least a quarter of gas left as the next filling station may be several kilometres away. The brand of the filling station does not really matter, as the prices are similar. However, the price of gas does become more expensive, the further north you travel. Something to bear in mind if you going for an extensive road trip.
Mozambique Road Conditions and Where To Park Your Car
Whether you're driving through a city or a rustic seaside village, parking in Mozambique can be quite challenging. Applying common sense on where to park will ensure that you have an incident free travel experience.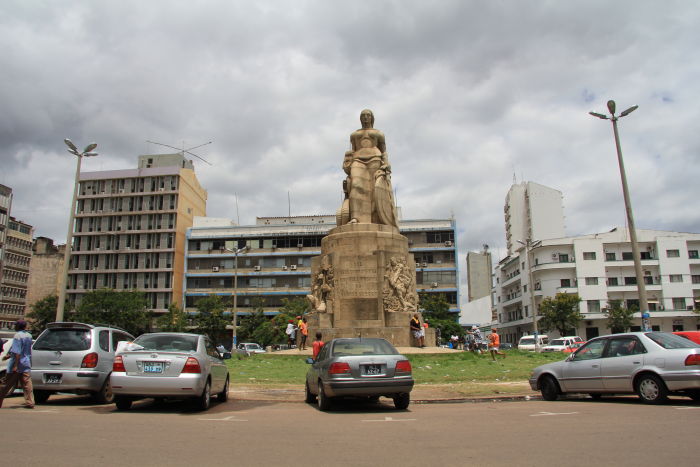 Paved Roads
The general rule, like rules in most countries, is that vehicles should only be parked in demarcated areas. If there isn't suitable parking in the vicinity, then it may be safer to park further away and walk to your desired destination.
It is common to see locals park on pavements or on solid white road lines especially after dark. But as a foreigner, you should avoid this at all costs. Vehicles with foreign registration plates are inspected more frequently and as a result unknowing culprits become easy targets for traffic officers. Unless it is an emergency, always park in designated parking areas.
Unpaved Roads
It is common for seaside villages to have narrow, unpaved roads. Even though there may not be any traffic officers monitoring these roads, taking great care to park in an un-obstructive manner will avoid road congestion and the risk of having your vehicle damaged by other passing vehicles.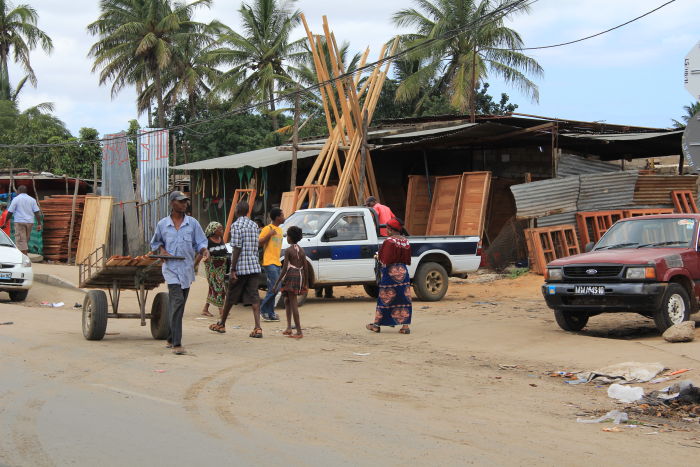 Getting Assistance from Car Guards
'Car Guarding' is a common occupation in African countries, as it is a source of vital income. Wherever you are in a city, town or village, finding a car guard is inevitable. If you're really unsure about where to park, just roll down your window and ask for assistance.
Car guards will always ensure that you park your vehicle out of harm's way. They man specific areas so don't be suspicious if they request you to park in an area that wouldn't otherwise seem suitable. Your potential tip incentives them to ensure that your vehicle is safe until you return.
Be polite and don't forget to tip when you collect your vehicle. A couple of coins is usually sufficient and will go a long way in ensuring they can provide for themselves and their family.
Is it Safe to Drive in Mozambique
Yes, it absolutely is. We've done it more than 3 times and driven more than 5,000km in total.
The only precautions we would advise is to not drive at night. There are no street lights along the highway so you only have your car lights to guide you.
It can get quite dangerous at night when animals or children cross the road. Other than that, its the usual be careful while overtaking and dodging potholes.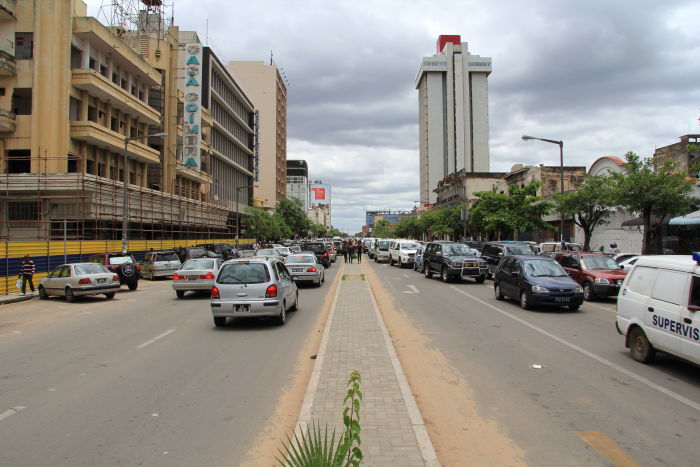 One thing we absolutely recommend is to join the DriveMoz Facebook Group. It is a community of experienced and new travellers that advise, warn, assist and provide information to fellow visitors travelling to Mozambique.
It's also a great way to keep abreast of border delays, road closures and ask for help in the event of unforeseen circumstances.
Boa Viagem (Bon Voyage in Portuguese)
It seems as if there are quite a lot of things to consider to drive in Mozambique. But we feel that this only adds more excitement to the experience and we have no doubt that you and your friends and family will have a fun and memorable time in Mozambique.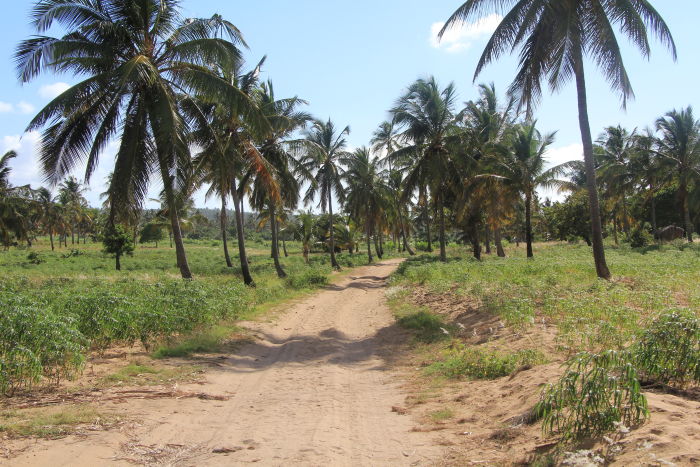 Planning to visit Mozambique soon? Let us know if you have any other questions about driving in Mozambique. We'll try our best to help you.
Or maybe you're planning a trip through Africa? Make sure to read some of our other African travel guides like: