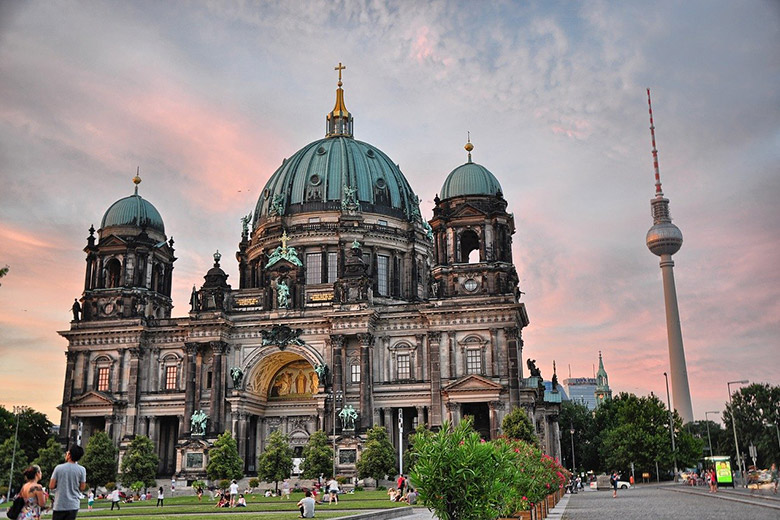 Expats share what it's like to visit Berlin during the coronavirus pandemic and tips for travelling in Berlin and Germany during COVID.
With some countries relaxing travel restrictions and slowly opening borders across Europe. We thought it would be useful to share what it's like to visit Berlin during the coronavirus pandemic.
Berlin and Germany were considered to be one of the lower-risk countries to travel to during COVID. But this has now changed and some parts of Germany are now considered corona high-risk areas.
We've personally decided to minimise travelling where possible and have opted for day trips instead. But we hope that those who need to travel for work or personal reasons will find this first hand account useful.
April 2021 Update: Berlin is now considered a risk area which means that new guidelines and restrictions may be implemented at a moment's notice. We update this post as new coronavirus rules are released, but you should always check the official Visit Berlin website to make sure you have the latest coronavirus updates.
International Travel To Berlin and Germany During COVID
Germany has decided to keep its borders open for international travel. But there are certain coronavirus guidelines and rules you need to follow to enter the country.
The current rule is that you have to do a mandatory coronavirus test if you're entering Germany from a risk area.
You can check which countries are considered risk areas for travelling to Germany on the Robert Koch Institute website. The site is in German, but you can find the list in English if you click on the 'English Archives'.
You can do the mandatory coronavirus test when you arrive in Germany at the main train station (Hauptbahnhof) or at the airport. Then you'll need to remain in quarantine for 10 days or until you get your test results back and it's negative.
It can take between 3 to 5 days (and possibly longer) to get your results. So if you're tight on time, you should do a coronavirus test in your country and bring the results with you to Germany. The test results should not be older than 48 hours (and needs to be in German or English) for it to be considered valid for entering Germany.
If you're travelling to Berlin and Germany from a country that is not considered a risk area, then the coronavirus test is voluntary and you don't have to do it.
Read the official Berlin entry and quarantine requirements for travelling during COVID to check for the most recent updates.
Related post: Need to get tested in Berlin? Read our Corona Testing in Berlin guide to find out how to easily get a COVID rapid test and PCR test done in the city.
Berlin Public Transportation During COVID
It's easy to forget that we're still in the midst of a global pandemic when you're travelling in and around Berlin during COVID. That's because you're not required to wear masks when you're outdoors walking in the streets (with some exceptions) or taking a stroll at a park.
You're only reminded of the 'new normal' when you need to enter enclosed spaces like taking public transportation, going into shops or attending large public gatherings.
If you're planning to take public transportation in Berlin (or in the rest of Germany), wearing a medical-grade mask that covers both your mouth and nose is now mandatory.
This is a new requirement that was put in place in 2021 to stop the spread of the new coronavirus variant. Surgical masks, fabric masks, and other make-shift coverings are no longer sufficient and FFP2 filter masks are now required for taking public transport.
This wasn't the case a month or so ago in Berlin, but now it has become compulsory. The public transportation controllers can now fine you for not wearing an FFP2 filter mask and ask you to leave the train or bus.
There are no restrictions to the number of people that are allowed on trains or buses in Berlin. But on the few occasions that we had taken public transportation, it was not crowded.
We're guessing that's because more people are working from home. Plus more people are getting around Berlin by bike during the warmer spring and summer months.
To encourage more people to cycle, the city council has actually expanded bike lanes across the city to make Berlin even more bike-friendly during COVID, which is awesome!
So if you're planning to visit Berlin during the coronavirus pandemic, you can do it more responsibly (and sustainably) by renting a bike to get around the city. As a tourist or traveller, you can easily rent a bike for cheap in Berlin with bike sharing.
Never used bike sharing before? Don't worry. Read our Berlin Bike Sharing guide to find out which bike share will be the best option for you in our cost comparison guide. We've also put together a comprehensive list of 24 Bike Road Rules you should know for cycling in Germany.
Travel Tip: Always have masks and hand sanitiser on you if you're planning to visit Berlin during the coronavirus pandemic.
Eating Out At Restaurants in Berlin
April 2021 Update: The lockdown in Berlin has been extended until at least 18 April 2021. All restaurants, pubs, bars and clubs will remain closed until restrictions are lifted. Restaurants, bars and pubs in Berlin may offer takeaways for food and drinks, so you can still support your favourite spots during the lockdown.
Restaurants could only do take-outs or deliveries a few months ago. But now you can sit and eat in restaurants when you're visiting Berlin during coronavirus times.
Most restaurants have tried to adapt their seating arrangements so that people can sit further apart and outside where possible. But we have seen a few restaurants that don't abide to social distancing rules.
If you're travelling to Berlin during COVID, we'd recommend eating out at restaurants that have enough space between tables for you to stay at a safe distance away from other guests.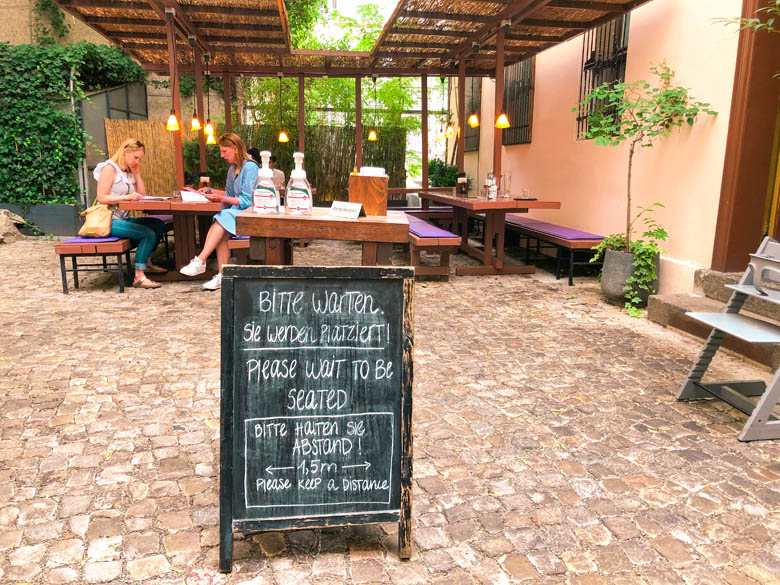 Another tip is to reserve and book a table online. Most restaurants are not operating at full capacity so that they can allow sufficient distance between guests. This means that you might have to queue if you haven't reserved a table.
In Berlin, sit-in guests at restaurants, bars and pubs ask visitors to fill out contact forms on arrival. This is to allow authorities to track infections and contact guests if there's a chance that they were exposed.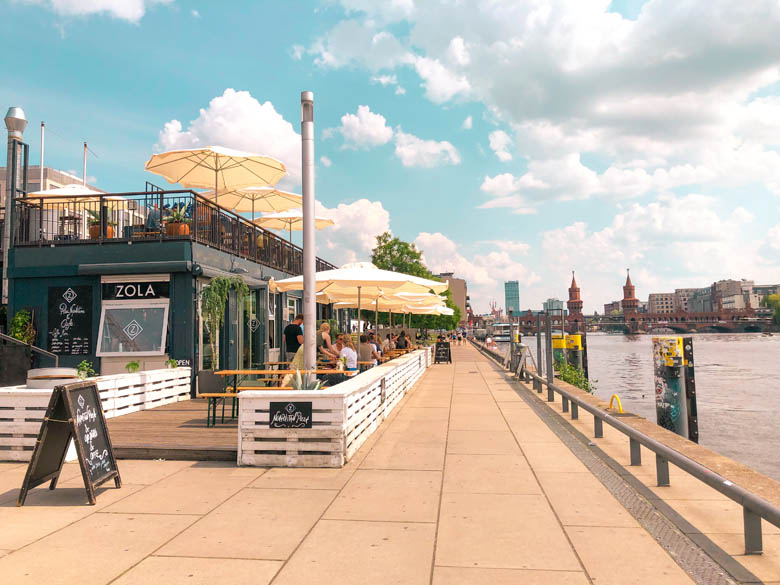 Shopping in Berlin During Coronavirus
April 2021 Update: In addition to essential shops like supermarkets, grocery stores and pharmacies, bookshops, flower shops and garden centers are also allowed to open. For other non-essential retail stores or services, you'll need to show a negative corona rapid test result in order to enter the store. You are also now required to wear an FFP2 filter mask (not a surgical mask) to do your shopping, so don't forget those.
For those that love a bit of retail therapy. You'll be happy to know that all the malls in Berlin are now open and trading.
Only essential shops like supermarkets, grocery stores and pharmacies were open during strict lockdown. But now with the easing of restriction measures, non-essential stores like clothing, electronics and cosmetics are trading too.
You'll have to wear masks when entering any shops or malls in Berlin, of course. Another thing to be wary of, is the maximum number of people who may enter the store at a time.
Usually shops (especially the smaller stores in the malls of Berlin), will have a sign or notice on their storefront, indicating the maximum number of guests that are allowed in the store at any one time.
This sign is usually written in German. But you can easily decipher the notice by looking for the words 'max (number) personnen'. This number is calculated depending on how large the store is and is there to ensure that guests can social distance whilst shopping.
Travel Tip: Do your shopping during the week if possible. Weekends tend to be a lot busier and you may find that you'll need to queue to get into certain shops.
Mandatory Mask Requirement On The Streets of Berlin
April 2021 update: In addition to malls, shopping centres and indoor spaces, all pedestrians will be required to wear masks on the following busy streets in Berlin:
Wilmersdorfer Strasse (Charlottenburg)
Tauentzienstrasse (Schoneberg, Charlottenburg)
Kurfurstendamm (Charlottenburg, Halensee, Wilmersdorf)
Altstadt Spandau
Schlossstrasse (Steglitz)
Bergmannstrasse (Kreuzberg)
Friedrichstrasse (Mitte)
Karl-Marx-Strasse (Neukolln)
Bolschestrasse (Friedrichshagen)
Alte Schonhauser Strasse (Mitte)
Rosa-Luxemburg-Platz (Mitte)
Alexanderplatz (Mitte)
Rathausstrasse in the Mitte district
Hermannplatz (Neukolln)
Hermannstrasse (Neukolln, Kreuzberg)
Sonnenallee (Neukolln)
Breitscheidplatz (Schoneberg, Charlottenburg)
Wittenbergplatz (Schoneberg, Charlottenburg)
Olympic Square (for events such as football games)
Hardenbergplatz (Schoneberg, Charlottenburg)
Kottbusser Tor (Kreuzberg)
Lausitzer Platz (Friedrichshain, Kreuzberg)
Boxhagener Platz (Friedrichshain)
Potsdamer Platz
Rosenthaler Platz (Mitte)
Washingtonplatz / Europaplatz (Moabit, Mitte)
Bebelplatz (Mitte)
Hackescher Markt (Mitte)
Pleasure garden (Mitte)
Leipziger Platz
Pariser Platz (Mitte)
Unter den Linden and Karl-Liebknecht-Straße on both sides from Pariser Platz to Alexanderplatz (Mitte)
Turmstrasse (Moabit)
33 streets in Berlin is a long list to remember! If you're unsure whether you need to wear a mask or not, look for signs or just wear it if most pedestrians are wearing theirs.
Cyclists who are cycling on the bike lane are exempt from wearing masks. Phew! Another reason why you should cycle to get around Berlin during the pandemic.
Flea Markets in Berlin
Flea markets are very popular in Berlin, especially during the warmer spring and summer months.
All the flea markets in Berlin are open again. Most of them are outdoors, but some require guests to wear masks, whilst others not.
Our tip? Wear masks when you visit flea markets in Berlin during the coronavirus pandemic. Especially when they are busy and it's impossible to stand at least 1.5 meters apart.
April 2021 Update: If you're traveling to Berlin during COVID, you will now need to wear an FFP2 mask at all flea markets and weekly markets.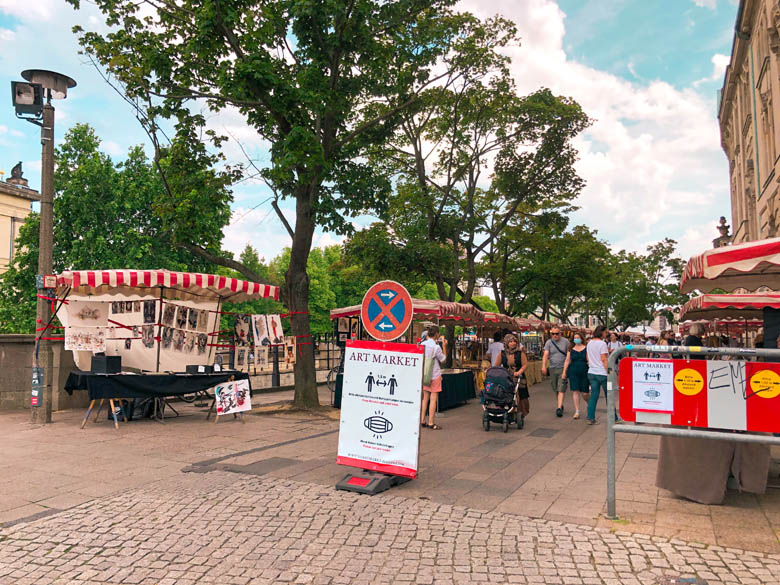 Visiting Bars and Pubs in Berlin During COVID
April 2021 Update: Bars and pubs in Berlin remained closed until further notice. But drinking in public is allowed again!
Bars and pubs in Berlin are open again since the coronavirus pandemic started. The only difference is that they are only allowed to sell alcohol up until 11PM. This rule applies to bars, pubs and restaurants too.
Similar to restaurants, you'll be asked to fill out a contact form when visiting bars or pubs in Berlin during COVID.
Most bars and pubs have resorted to outdoor seating where possible. The ones that don't, allow guests to enjoy their drinks on the sidewalk outside.
If you did not know, drinking in public is allowed in Berlin. It's actually a popular summer pastime to enjoy a couple of beers outside at a park or next to the river.
You can enjoy yourself as long as you're not a nuisance or make too much noise. And please, be a kind and considerate human and take your litter with you.
Berlin Night Clubs, Events and Festivals During Coronavirus
Most people travel to Berlin for its world renowned nightlife and clubs. But unfortunately, all large public gatherings for events, festivals and night clubs remain prohibited during the coronavirus pandemic.
Yup, it's sad we know but it's ultimately necessary. And hopefully by reducing the infection rate, we can all go back to hugging, celebrating and socialising without worrying about COVID.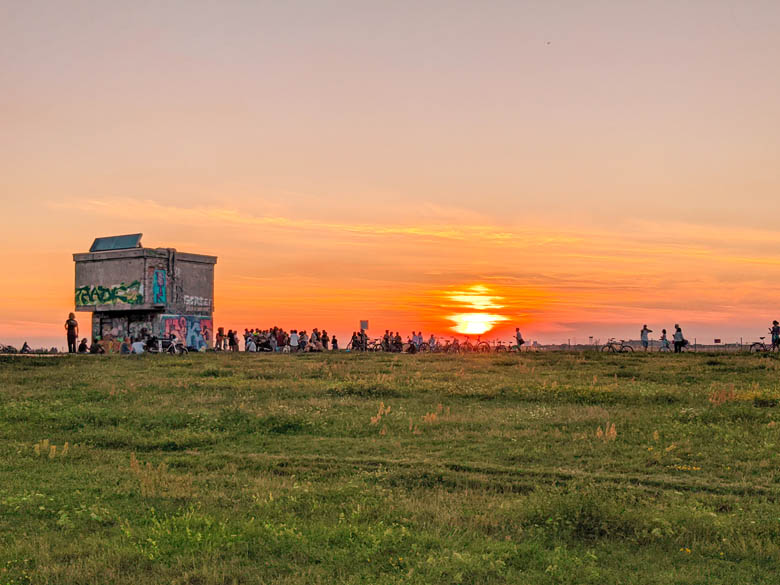 There's still plenty to do besides its nightlife if you choose to visit Berlin during the coronavirus pandemic. Many travellers don't realise this, but Berlin is considered to be one of the greenest cities in Europe.
Between green spaces and water, almost half of Berlin is enveloped by Mother Nature. There are 3 rivers, 8 canals and more than 50 lakes in Berlin alone. So there's no shortage of beautiful outdoor places to enjoy the long summer days in Germany's capital city.
Need help to decide which outdoor places to visit? Check out our Best Outdoor Places To Visit in Berlin Guide.
Berlin Museums During COVID
April 2021 Update: Museums are closed again but the outdoor areas of Berlin's zoos are open for visitors (with masks, of course).
Museum lovers will be happy to know that all the museums in Berlin (including the famous ones on Berlin's Museum Island) are open!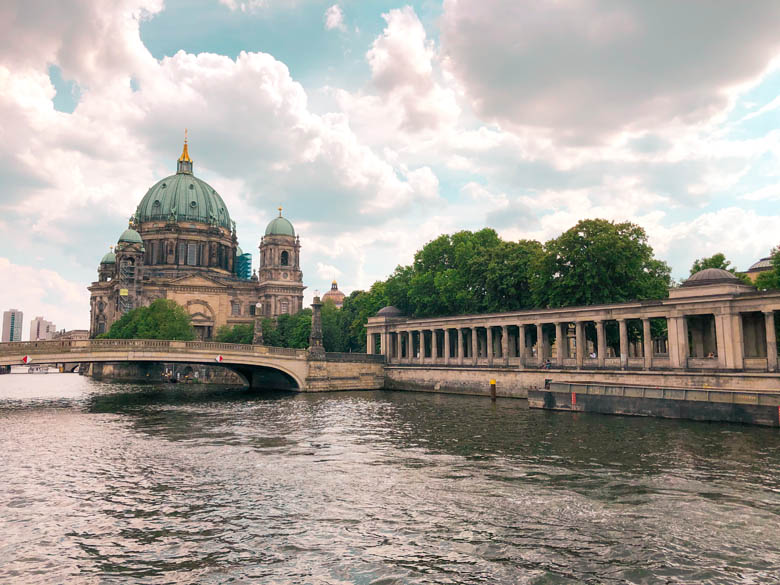 If you plan to visit a Berlin museum during coronavirus times, you'll need to reserve a time and date before your visit. The same applies if you're visiting museums with free entrances as well.
Wearing masks are mandatory and hand sanitisers are widely available so that you can safely enjoy your museum visit.
Love museums but don't want to risk visiting during the global pandemic? Why not 'FaceTime' your favourite museums from the comfort of your home on a free museum virtual tour? Berlin's famous Pergamon Museum is included in this free list!
Head to our 60 Free Virtual Tours Guide to find more tours to travel around the world from home.
Berlin Christmas Markets During Coronavirus Pandemic
It's finally official – we don't know whether to be happy or sad. But with the announcement of a strict lockdown in Berlin from 16 December 2020 to 10 January 2021, Christmas markets in Berlin is officially canceled.
If you've never been to a Christmas market in Berlin before, you can get a glimpse of what to expect in our Christmas Markets in Berlin for 2020/2021 guide.
For a few weeks, there was a Christmas market alternative. We had compiled a detailed Berlin Gluhwein To-Go Guide with 60+ places where you can buy gluhwein in every district and neighbourhood in Berlin.
But drinking in public was later prohibited during the hard lockdown so we'll have to drown our sorrows at home.
Need a gluhwein recipe? Send us a message and we'll share our recipe with you.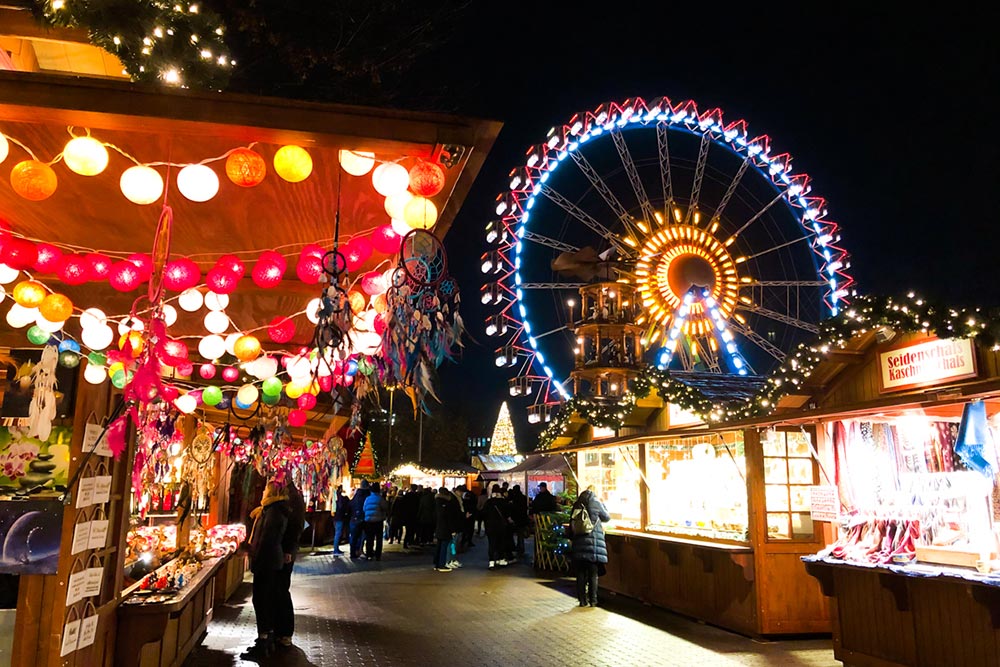 Berlin Tours During Coronavirus Pandemic
April 2021 Update: The Berlin government has continued to advise against non-essential travel. Hotels and other accommodations are currently forbidden to host any tourists. The only exception is for those traveling for business or for family emergencies. So if you do have a trip to Berlin booked, we'd highly recommend you e-mail the host or hotel and ask if your stay has been impacted.
Popular Berlin Tours are in operation again. But it's a lot quieter and less busy if you compare it to the summers before the pandemic. That's great news for avoiding the tourist crowds. Especially since it's more of a necessity rather than a 'nice to have'.
The iconic sightseeing buses are up and running in Berlin. The few that we did see were only 20% full with most people sitting on the top open deck with no masks on.
Boat tours and cruises are also operating. Like sightseeing buses, there are fewer boat tours cruising along the city's canals. The few that we did see were surprisingly full and we didn't see people wearing masks either.
Travel Tip: Avoid tours where social distancing is not possible. If you join a walking tour, make sure to go with an operator that follows social distancing rules. And if you prefer to go the extra safe route, follow our self-guided Berlin tour by bike – it's social distance approved!
Save Me For Later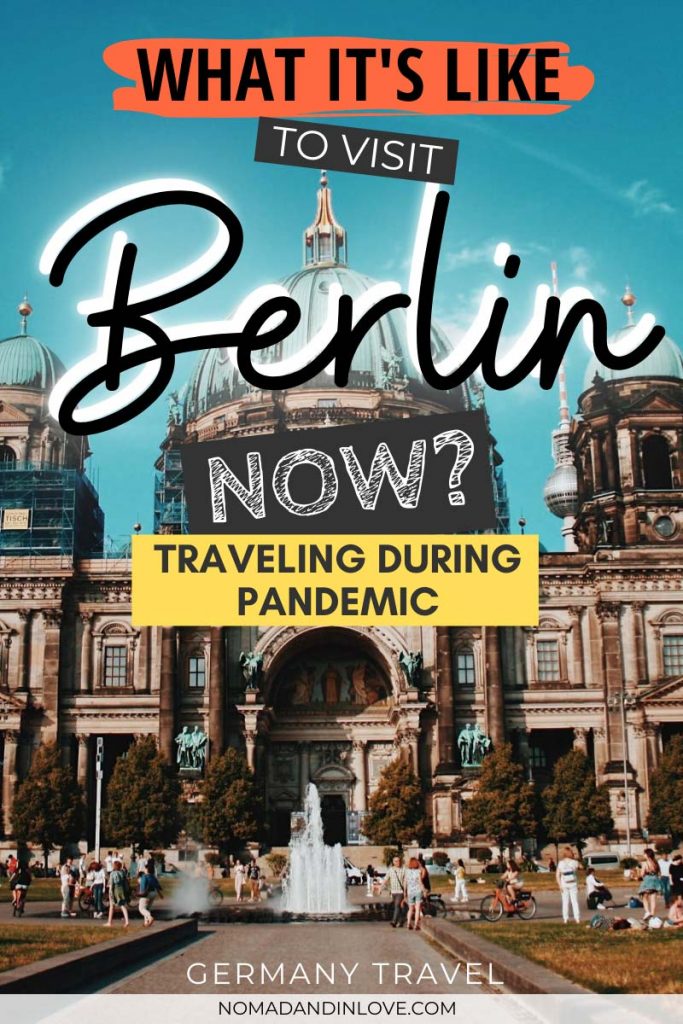 We retraced the route we designed for our self guided Berlin Wall Tour to show what it's like to visit Berlin during the coronavirus pandemic. We deliberately picked a sunny Sunday to tour the city by bike.
Berlin is usually teeming with tourists in summer, especially on weekends. Shops may be closed on Sundays, but restaurants, cafes and tourist attractions are open.
These are the scenes of what it's like to travel to Berlin during COVID.
East Side Gallery
East Side Gallery is the most famous tourist attraction in Berlin. Whether you're visiting this iconic monument during winter or summer, it's usually always packed with tourists.
But not now if you're travelling to Berlin during the coronavirus pandemic. You would never be able to take a photo like this pre-COVID.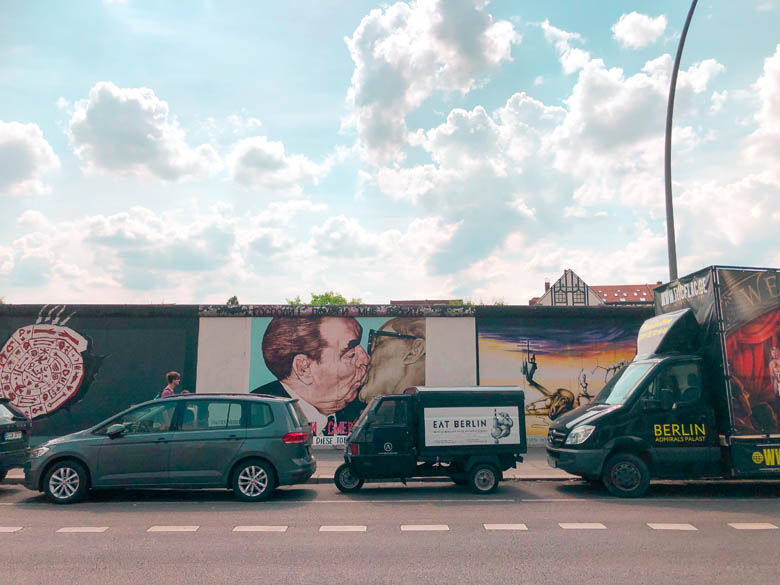 Potsdamerplatz
Potsdamer Platz is a famous shopping and office district in Berlin, but it's not usually this quiet even on Sundays. Locals come here for its bustling restaurants and cafes. And travellers come to see Germany's Boulevard of Stars, visit the LegoLand Discovery Centre, the Museum Dali or the famous Spy Museum.
Now it's pretty empty.
Alexanderplatz
You'll know Alexanderplatz if you've ever been to Berlin. It's the centre of the city with the famous Berlin Fernsehturm or TV Tower.
Alexanderplatz is usually bustling with people every single day of the week. So you can imagine how surprised we were to find it empty on a sunny Sunday afternoon.
Brandenburg Gate
Brandenburg Gate is another icon to visit when you're in Berlin. We found a few tourists here as well as a small demonstration, but other than that it was quite uneventful.
If you're looking to take the perfect Instagram photos with Berlin's most famous attractions, now is the perfect time to do so.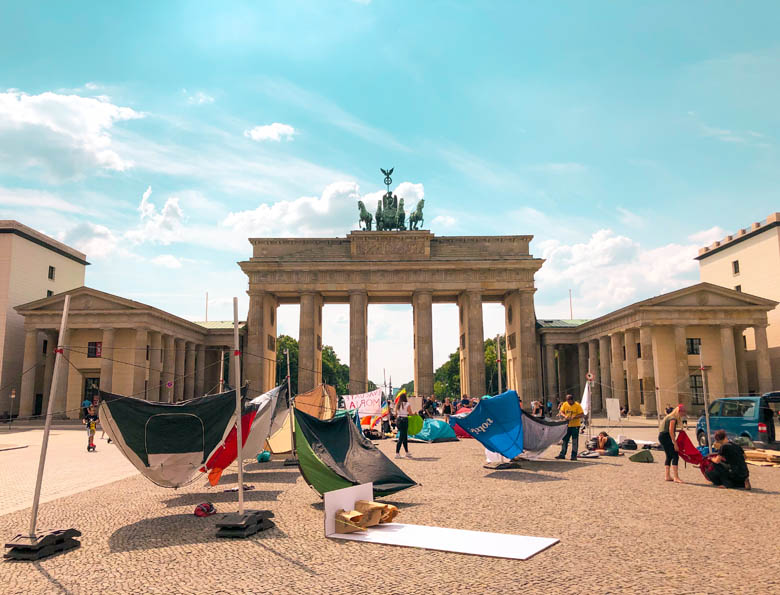 Local Hangout Spots in Berlin
If all the travellers and tourists are doing the responsible thing, how about the locals? We visited some of the popular local hangout spots in Berlin to find the answer.
Our first top was Holzmarkt. It's a popular outdoor market along the Spree River with cute restaurants, cafes and bars. It was also pretty empty for a Sunday afternoon.
We came here a lot last summer and Holzmarkt is usually quite vibey with lots of people sitting along its wooden deck with a drink in hand.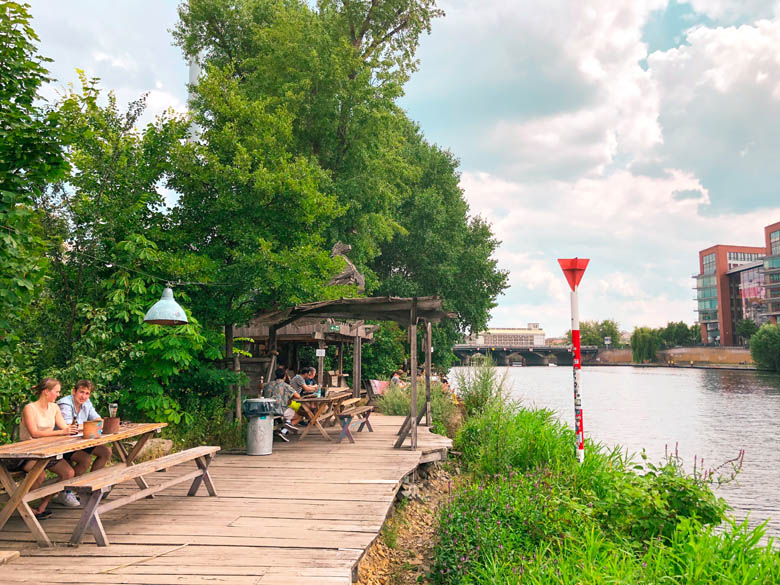 Monbijoupark on the other hand, was much busier. Not as busy as previous summers in Berlin, but busy compared to all the Berlin attractions we visited earlier.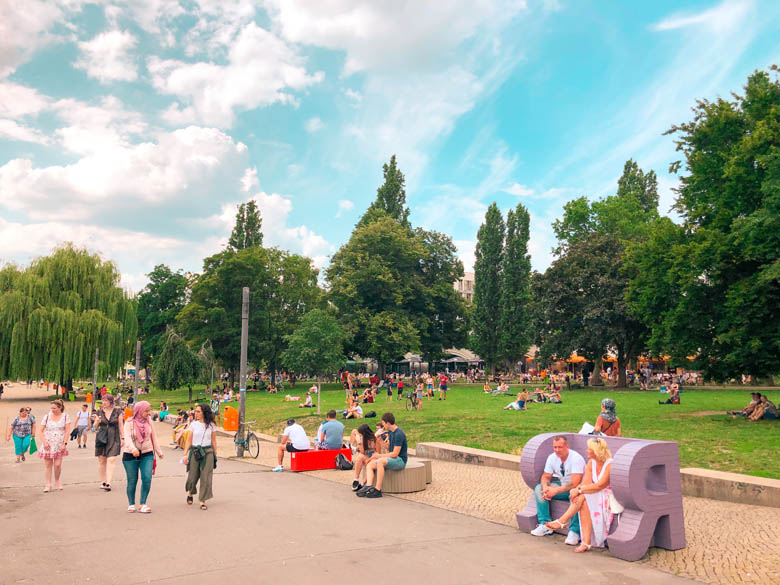 We also found locals (geese and swans included) along the Landwehr Canal in Berlin's trendy and hip Kreuzberg area. It was busy but groups kept at a comfortable distance away from each other.
Travel Tip: If you plan to travel to Berlin during COVID, make sure to add a few parks and lakes to your itinerary so you can catch a glimpse of the local Berlin vibe.
Day Trips From Berlin to Potsdam
We took a day trip from Berlin to Potsdam as well, to see what it's like during the pandemic.
If you've never heard of Potsdam, it's the largest UNESCO World Heritage Site in Germany and the second most famous tourist attraction in the country after Neuschwanstein Castle.
It's a must-visit if you're planning to visit Berlin during the coronavirus pandemic. Not only is it an easy day trip from Berlin (only 45 – 50 minutes by train), it's also 'social distancing friendly'.
Most of the attractions in Potsdam are outdoors and you can easily enjoy an entire day there with our 1 day Self Guided Potsdam Itinerary.
Potsdam is usually packed with tourists during summer when the gardens are in full bloom. So it was really wonderful to experience it with a fraction of the crowds.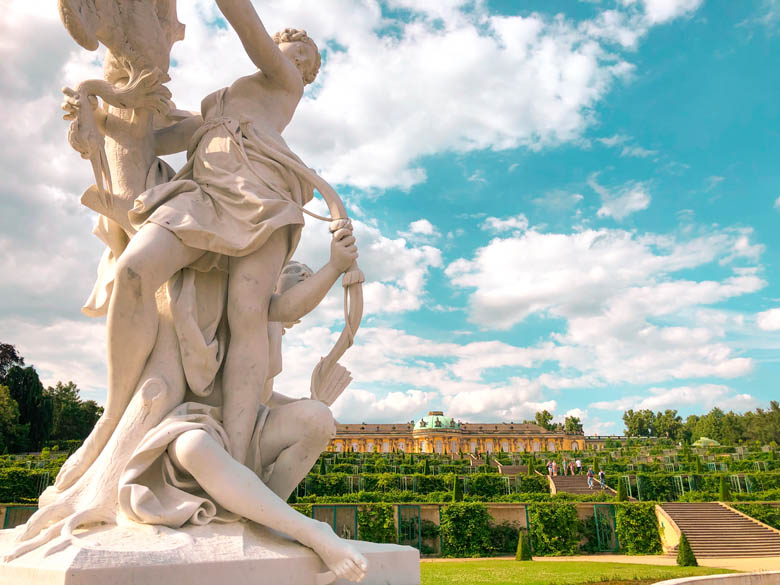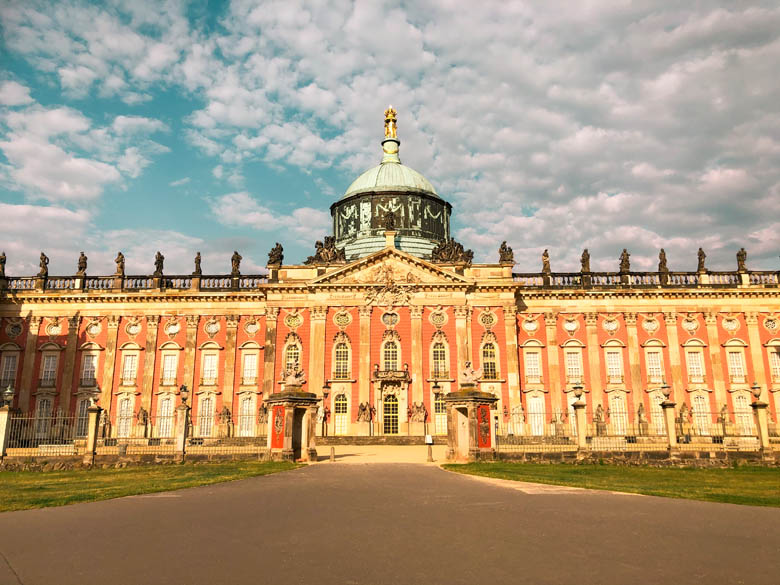 So there you have it. A first hand account of what it's like to visit Berlin during the coronavirus pandemic. Please remember that lower risk doesn't mean no risk, so be mindful when travelling during COVID.
Here's some extra tips to help you travel Berlin or Germany more safely and responsibly during the pandemic:
Travel during the week (when it's usually less busy) rather than weekends
Include more outdoor activities and natural attractions in your travel itinerary
Go on self guided tours rather than group tours
Get around Berlin by bike instead of using public transportation
Travel by train or rent a car instead of flying
Experience day trips close to your city
Always have at least 2 masks and hand sanitizer on you when leaving home
---
If you enjoyed reading this post, share it with your friends and family on social media below. Have any other questions or need advice? Reach us via WhatsApp or Facebook Messenger. And if you'd like to leave a comment, tweet us on Twitter.
Our content is free and always will be. But if this post has saved you time, money or made your life easier, feel free to buy us a coffee. We'll really appreciate your support. And don't forget to subscribe!