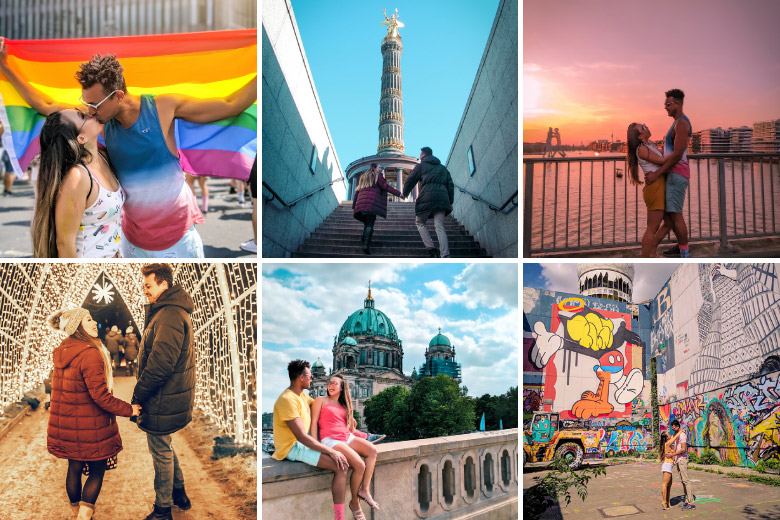 Discover awesome places to visit in Berlin for photography! Expats reveal the best photo spots in Berlin and tips on capturing that perfect, instagrammable shot. Use this guide to get photography inspiration and ideas for photoshoot locations in the capital city of Germany.
Berlin may not fit in your conventional list of the most beautiful cities in Europe. But that doesn't mean that it can't be a photographer's delight either. There are many opportunities to capture Berlin's unique vibes and contrasts if you know where to find them.
As expats who have been living in the city for almost 2 years. We thought we would share our list of most instagrammable places in Berlin. So whether you're looking for awesome photoshoot locations around Berlin's top attractions, best places for street photography, or exploring some of Berlin's more secret photo spots, we've got you covered!
Make sure you follow us on Instagram for more photography inspiration and ideas from around the world!
Best Instagram Photo Spots in Berlin
There are hundreds, if not thousands of instagrammable places in and around Berlin. But to find secret photo spots where you can take photos without having locals and tourists invading your photo – is a bit trickier.
Don't worry though, because we're sharing the exact photoshoot locations we went to in Berlin to get these exact shots.
You can easily get to any of these Instagram photo spots in Berlin by public transport. But if want to explore the city like a local, then you should definitely travel by bike! Especially if you're only spending a weekend in Berlin and want to make the most out of your time in the capital.
Don't have a bike? Don't worry. You can easily rent a bike for cheap using bike share. Read our Berlin Bike Sharing guide to find out which one will work out the cheapest for you with our price comparison table.
Make sure you're also familiar with the 24 bike road rules for cycling in Germany to avoid traffic fines and to bike safely around the city.
1. Berliner Dom (Berlin Cathedral)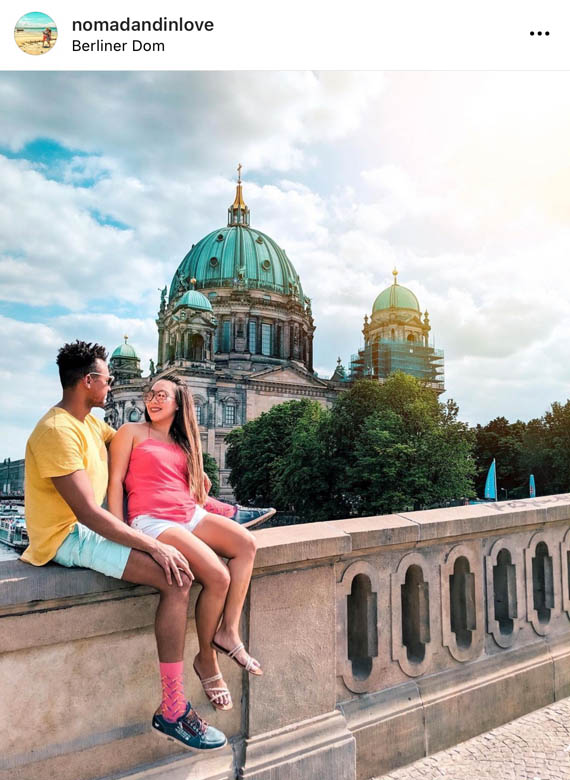 You can't visit Berlin without seeing the Berliner Dom or Berlin Cathedral. It's one of the most famous landmarks and attractions in the city. And because of this, it's also not the easiest place to take that perfect Instagram shot.
Most people think that the best photo spot is right in front of the Berlin Cathedral taken from Lustgarten. But we found that the best way to photograph the Berliner Dom without photobombers is from Friedrichsbrücke where we got this exact shot. Just be careful if you do want to sit on the balustrade as we did. It's a little high if you're not almost 2 meters tall like Michael is.
Another instagrammable place to capture the Berlin Cathedral is by the Three Girls One Boy Statue. Otherwise known in German as the 'Drei Mädchen und ein Knabe'.
Loving the romantic views around the Spree River? Take a 1 hour city boat tour in Berlin and enjoy the sunset! There's also a 2.5 hour Berlin boat tour for those who want to enjoy the experience for longer!
2. Berlin Museum Island (Museumsinsel)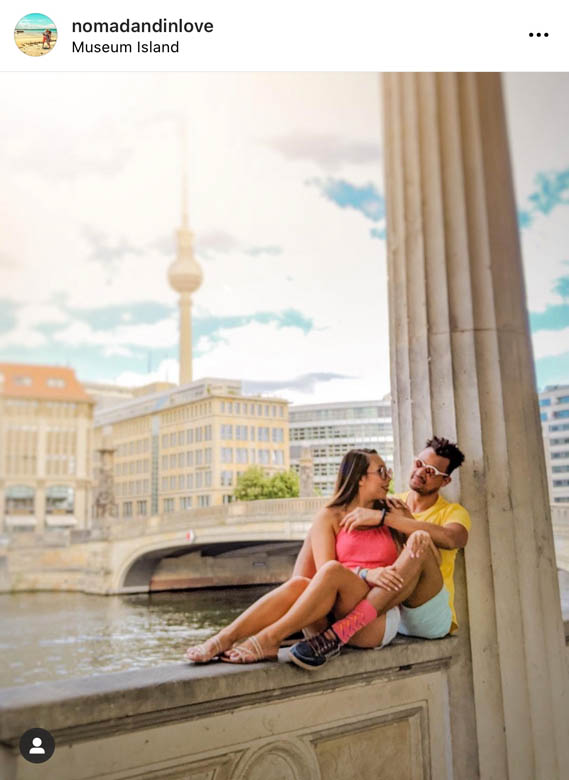 The next photoshoot location is just a hop and a skip away from the Berlin Cathedral. Simply cross Friedrichsbrücke towards Berlin's iconic Museum Island and turn right into this beautiful, columned walkway next to the Alte Nationalgalerie (Old National Gallery).
There is an infinite number of ways to wield your creative photography skills here. We just chose this one archway that showcases the Berliner Fernsehturm (Berlin TV Tower) in the backdrop.
Planning to head up the Berliner Fernsehturm for the ultimate views over the city? Skip the queue and book your Berlin TV tower fast track tickets online!
3. Victory Column at Tiergarten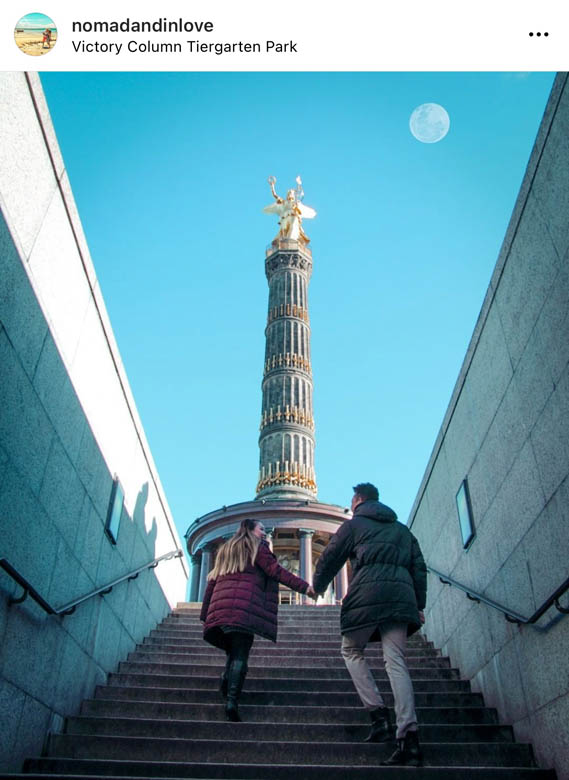 Another not-to-be-missed place to visit in Berlin for photography is the Victory Column at Tiergarten. This is also one of those more challenging photo spots in Berlin because it's such a tall structure and the fact that there are always tourists around.
But you can overcome anything with a little creativity. So we explored a little and found the most epic Instagram photo spot of Berlin's Victory Column – from the underground pedestrian walkway!
The unconventional angle of taking this photograph from the bottom up allows you to perfectly frame and capture the entire length of the column. Plus, it's much easier to avoid capturing other people in your photos from this walkway as it's usually deserted.
To find this secret photo spot in Berlin, simply head to the columned structure behind Cafe Victoria around the Grosser Stern traffic circle. Head down the stairs and continue along the walkway until you're about to resurface and see the Victory Column greeting you on the other side. And voila!
4. Berlin Wall at East Side Gallery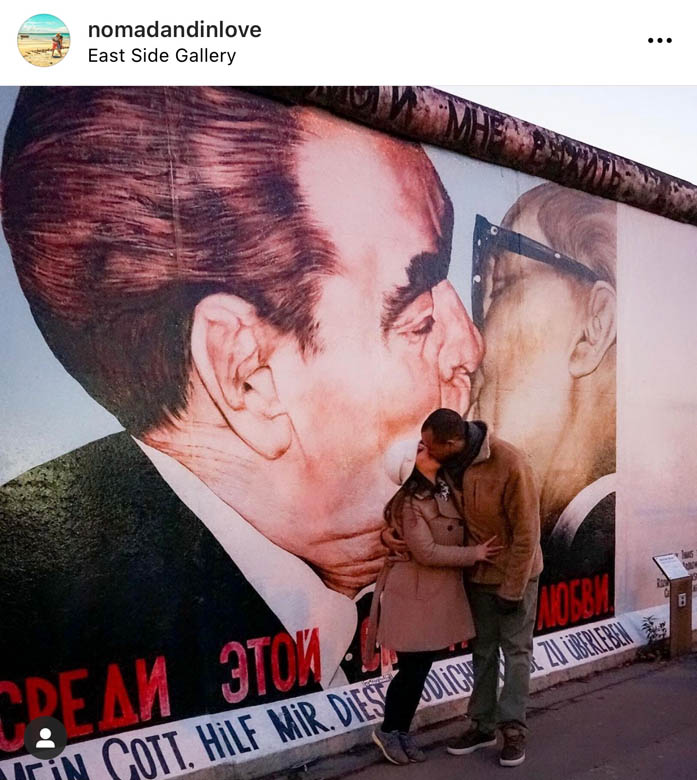 This is probably THE most popular photo spot in Berlin – in front of the famous kissing graffiti at the East Side Gallery. Or otherwise formally known as the Socialist Fraternal Kiss ('Bruderkuss') between Honecker and Brezhnev. It's almost impossible to avoid the crowds here. But you can try waking up really early before the crowds arrive to get your shot in.
Otherwise, there are plenty of other street photography options here along the former Berlin Wall. Make sure you also explore the green park behind the wall along the Spree River. You may be surprised by what photography opportunities pop up.
Related Guide: Kill 2 birds with 1 stone and see the top Berlin attractions on our Berlin Wall Bike tour whilst hunting for instagrammable photo spots in the city.
5. Reichstag (Berlin Parliamentary Building)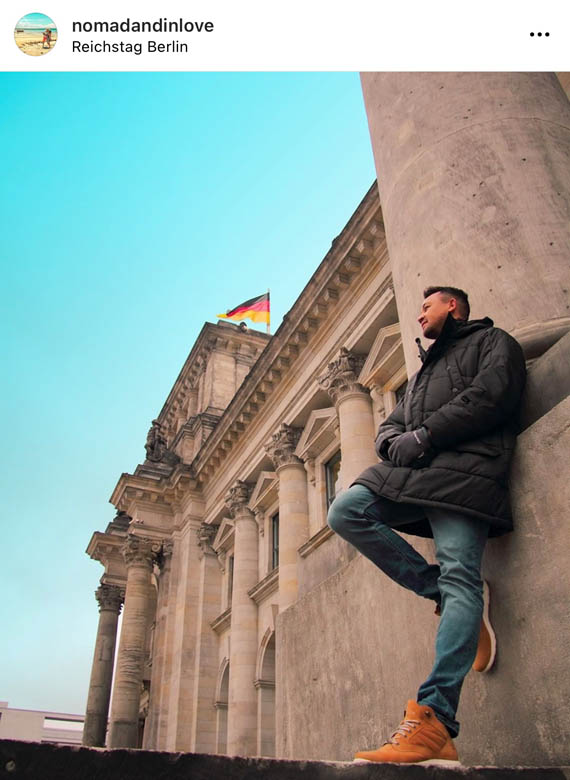 The Reichstag Parliamentary Building is not just an iconic place to visit in Berlin. But also one of the most important buildings in Germany. And what makes this famous landmark even cooler is the fact that it's one of the few parliamentary buildings in the world that allows the public to watch over government processions.
And the cherry on top? It's completely free to visit! All you have to do is register for a tour online. We enjoyed it so much that we went twice. Once to explore the Reichstag Dome and the second time for a free guided tour in the Reichstag building itself. And this is how we captured this epic Instagram photo at the entrance of the Reichstag Parliamentary Building.
Related Guide: The Reichstag may not be open for visitors during the coronavirus pandemic. Sad, we know – but you can still 'visit' this landmark on a free virtual tour! Read our FREE 60 Virtual Travel Tours guide to see it right now.
6. Reichstag Dome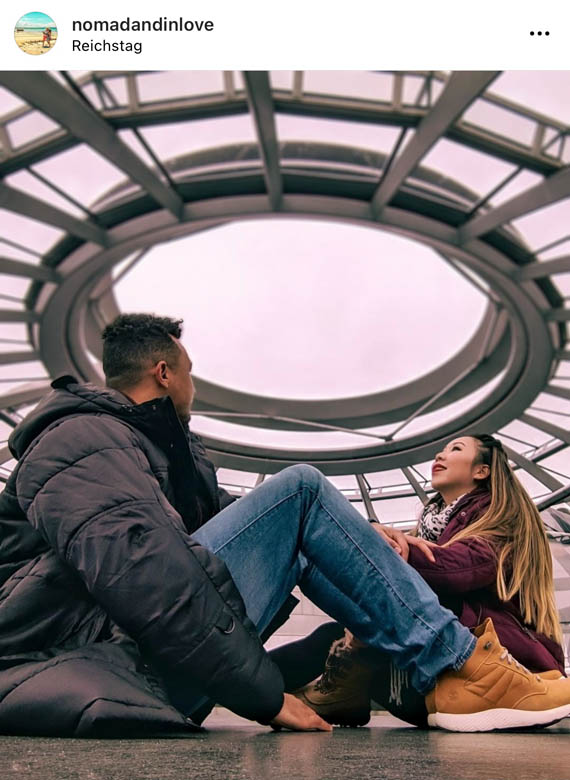 The other instagrammable spot is in the Berlin Reichstag Dome itself. You'll be able to access this section of the dome when you book any of the free tours. It may be tricky to get the perfect shot without other people in it. But with the right angle and a little bit of patience, you can easily get it right.
7. Teufelsberg in Grunewald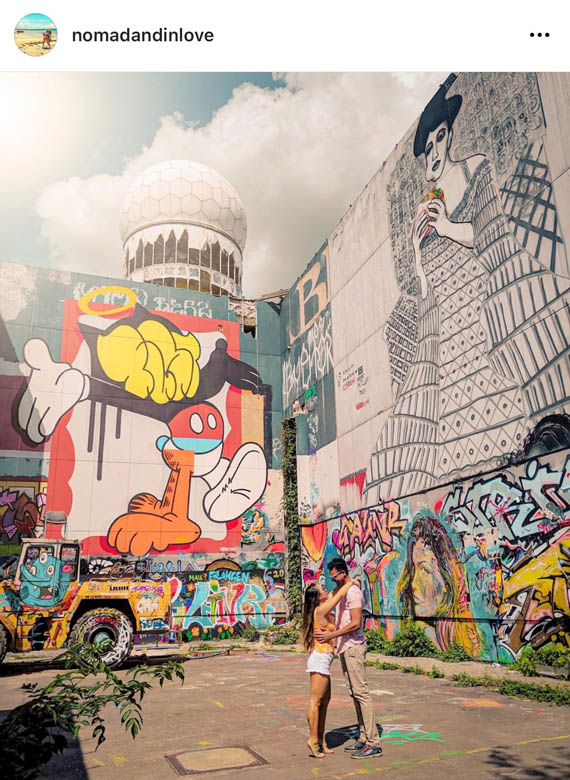 You'll enjoy snapping photos at Teufelsberg if you love urban and edgy street photography. It's one of the best photo spots in Berlin for capturing vibrant and mind-blowing street art. You'll be absolutely spoilt for choice with all the creative ways you can capture photography here.
We picked this instagrammable place at Berlin's Teufelsberg for our shot. But feel free to explore this former spy tower in its entirety before choosing yours.
Related Guide: Looking for other outdoor places to visit in Berlin for photography? Read our Best Outdoor Activities To Do in Berlin for a list of forests, lakes and parks to visit.
8. Molecule Man An Den Treptowers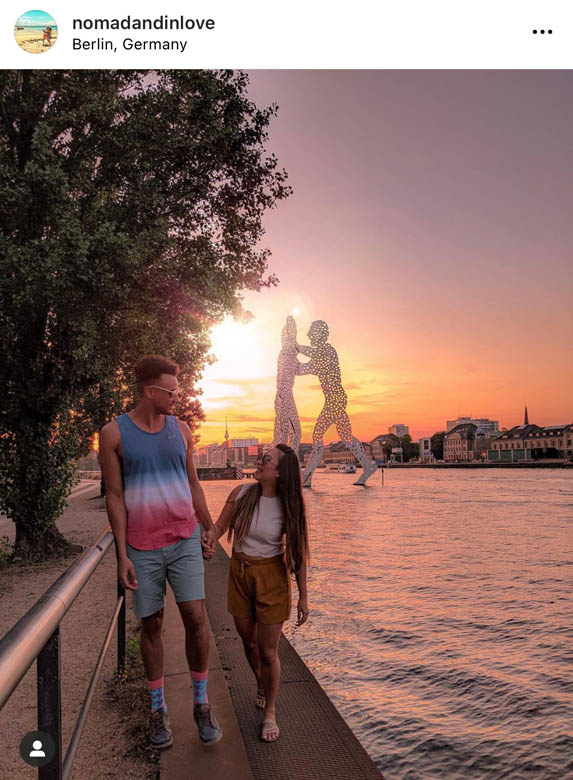 Looking for awesome places to watch the sunset AND capture epic sunset photography in Berlin? Then head over to see the Molecule Man in the Kreuzberg-Friedrichshain district. It's one of the relatively secret instagrammable places in Berlin that not many people know about.
You'll find this exact spot if you take the stairs down from Elsenbrücke behind the Allianz office building. Just keep walking towards the sculpture along the Spree River and you'll find tons of photo spots to capture the most unforgettable sunsets.
9. Elsen Bridge in Kreuzberg-Friedrichshain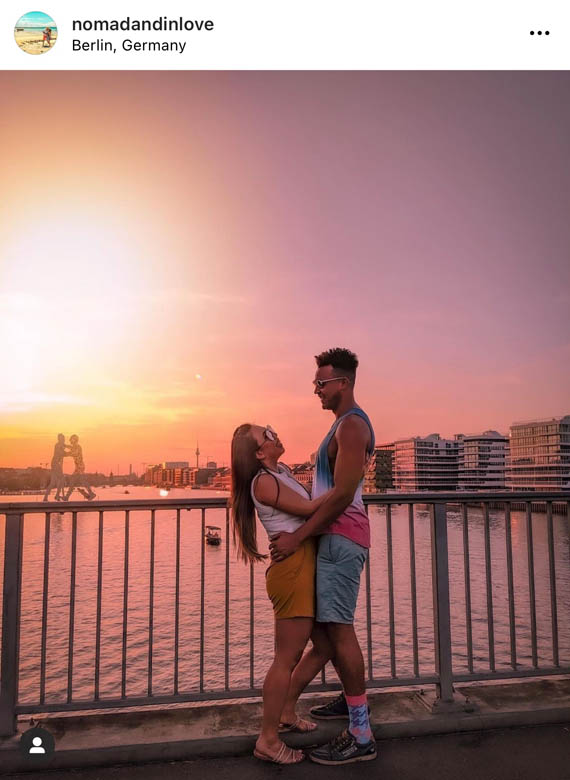 Another great way to capture dreamy sunset photos of Molecule Man with a backdrop of Berlin's city center is from Elsen Bridge. You can't miss it because it's the main bridge connecting Berlin's trendy Kreuzberg and Friedrichshain district.
10. Holzmarkt 25 at Jannowitzbrücke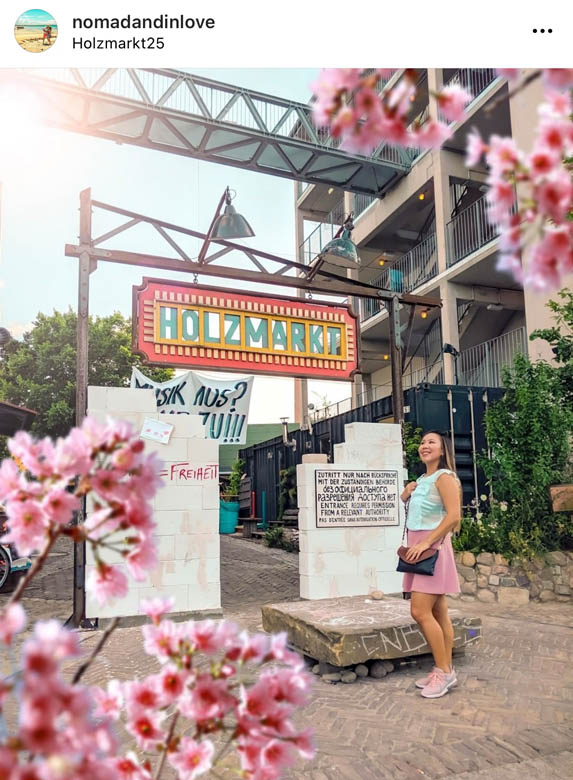 Holzmarkt 25 is a popular local hangout spot in Berlin, most well-known for its artsy cafes and eclectic urban vibes. But it's also a great place for some street photography. Simply walk along Holzmarktstrasse and you'll come across some captivating graffiti masterpieces. When you're done, make sure you head inside the market, find the perfect photo spot along Berlin's Spree River, and set those creative wings free.
Related Guide: Want to know where you can see real Japanese cherry blossoms in Berlin? Use our Cherry Blossoms in Berlin guide to find the 13 best places to see them.
11. Potsdamerplatz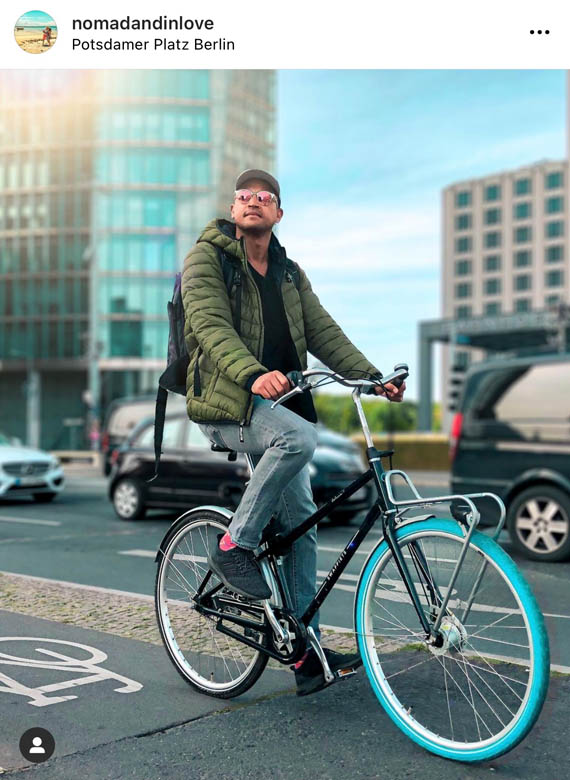 Most people know Potsdamerplatz for shopping, but it can also be a really cool photo spot! The busy square's modern skyscrapers and gravity-defying architecture creates a backdrop that is quite unique from the rest of Berlin.
Needless to say, the opportunities for photography are unlimited. We decided to capture the commotion of Potsdamerplatz with this fun 'action' shot. But if you love night photography, make sure you come back to Potsdamerplatz after dark.
Related Guide: Have you seen these bikes with their iconic blue tires and wondered what it is? Read our honest Swapfiets review to find out how much it costs and whether it's worth it.
12. Berlin Pride Celebration (CSD Berlin) in Kurfurstendamm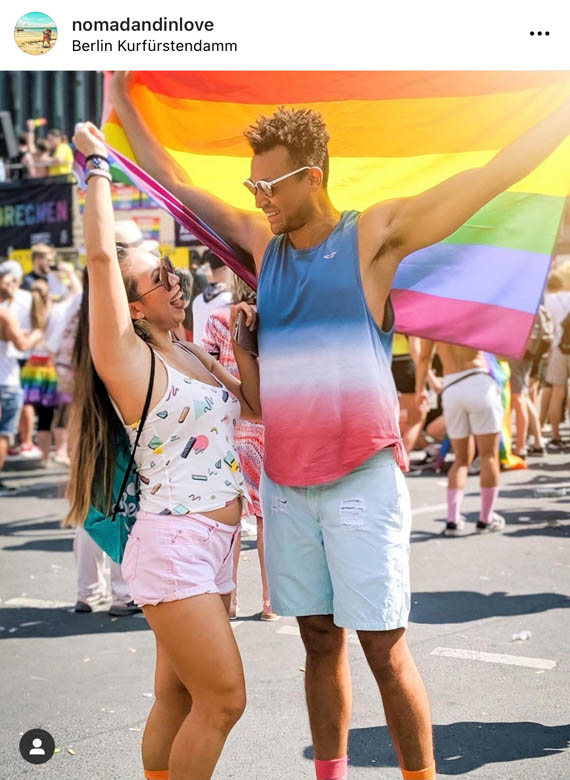 The Berlin Pride Celebration (also called CSD Berlin) is not only the most anticipated street festival of the year. But also one of the most instagrammable events of the year! More than 1 million people from all walks of life, cultural backgrounds, orientation, age, and race come together to celebrate the freedom to love.
It's one of those once-in-a-lifetime events that you got to experience for yourself to understand why it's THE most unforgettable street festival in Berlin. And of course, it creates the opportunity to capture some pretty awesome street photography too.
We took both these shots in Kurfurstendamm – the location where the CSD Berlin parade begins in July of every year.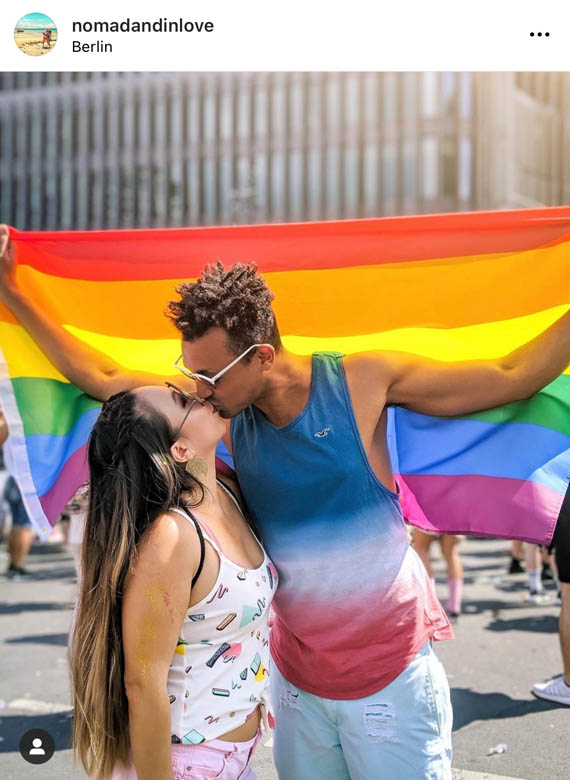 Bonus Tip: Be careful where you point your camera when taking photos in Berlin or the rest of Germany. Privacy is a big thing in German culture. Always ask for permission first before taking pictures of a stranger (or their dog). And if you happen to unintentionally capture someone's face in your photos, make sure you blur them out before you post your photo on Instagram or any social media platform.
13. Charlottenburg Palace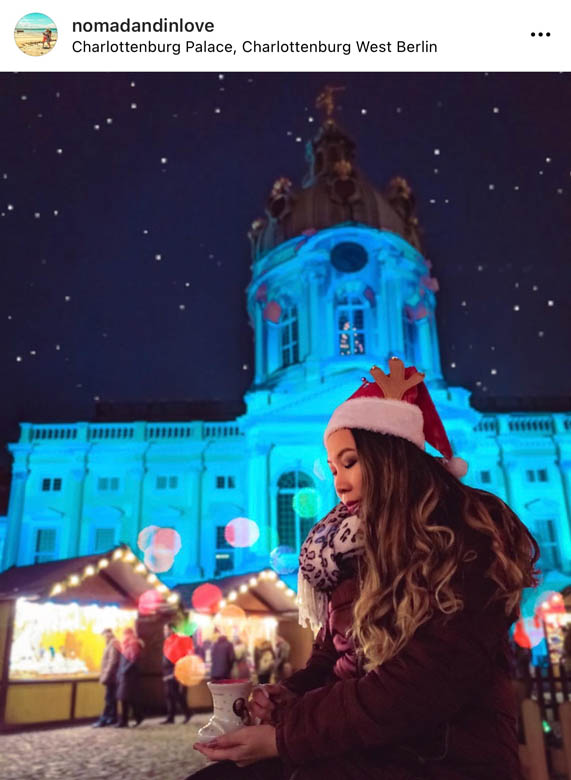 Another instagrammable place you should not miss when visiting Berlin is Charlottenburg Palace. Not only does it feature the largest palace in Berlin. But it also has some of the most beautifully manicured gardens that will excite any photography lover. Plus, if you visit the palace during the Christmas Market season. You'll be able to experiment with some fun night photography shots like this.
14. Tempelhofer Feld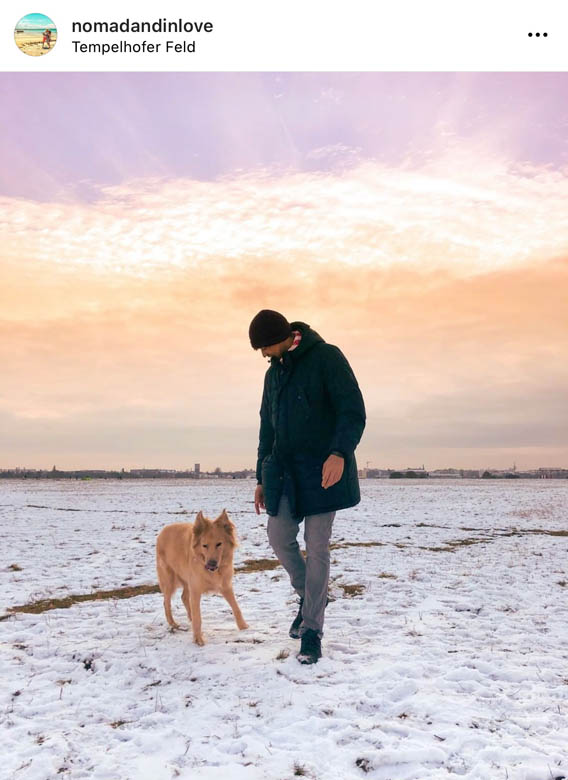 Tempelhofer Feld is one of the most popular local hangouts in Berlin and has some of the best photo spots for sunset photography. Take your pick between getting that shot on the former runway or on one of the grassy patches. There's plenty of open space to let your photography streak run free. Make sure you bring your fur-kid (i.e. dog) if you have one. They're sure to fall in love with this place.
Berlin Night Photo Spot Ideas
Berlin is a city of the night. But most of its scenery is too dark to capture without a high-quality camera. Don't worry though because we're sharing some fun, instagrammable places in Berlin that you can capture with your smartphone camera!
Like we mentioned earlier, Potsdamerplatz is a great night photography spot all year round. But if you're looking for special events to show off your creative flair. Then you have to add the Festival of Lights and Berlin Christmas Market events to your calendar.
15. Christmas Market at Kaiser Wilhelm Memorial Church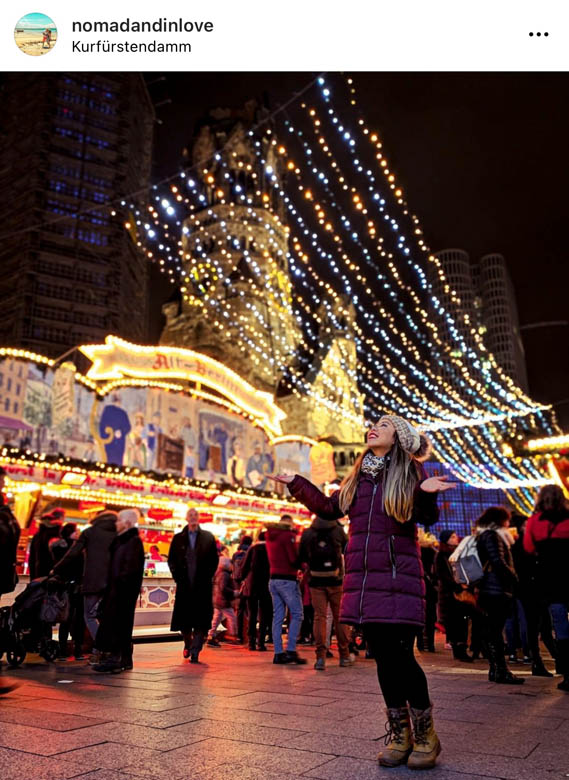 The Berlin Christmas Market at Kaiser Wilhelm Memorial Church is a must-visit for night photography lovers. The combination of the brightly lit Christmas stands, suspended fairy lights and the backdrop of the historic church will create the perfect setting for your next Instagram shot.
Related Guide: Find out what the best 10 Christmas Markets in Berlin are with our detailed guide!
16. Berlin Botanical Gardens Christmas Market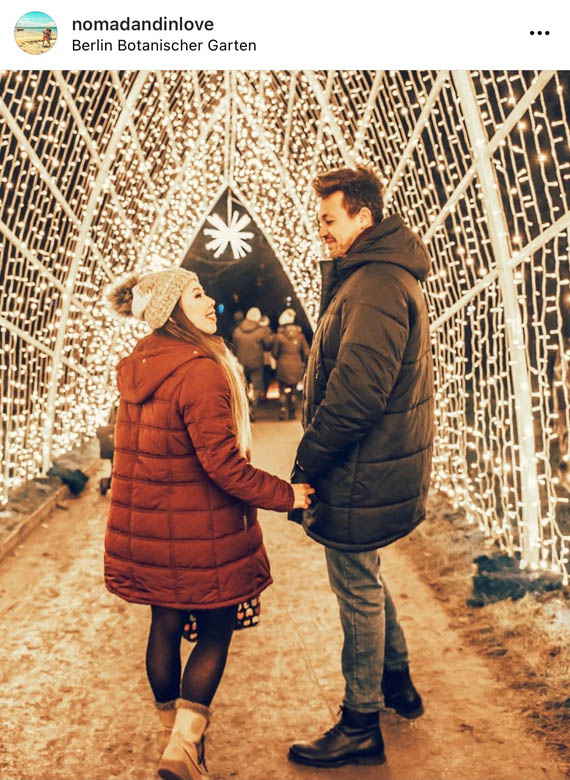 We left the best for last. The one place you MUST visit in Berlin as a night photography enthusiast – the Berlin Christmas Garden held at the Berliner Botanischer Garten (Botanical Gardens). It's inspired by London's famous 'Christmas in Kew' and unquestionably the most unique Christmas Market in Berlin! Expect to be wowed by intricate light sculptures, magically orchestrated landscapes, and glittering light installations around every corner.
Summary of the Most Instagrammable Photo Spots in Berlin
If you couldn't remember it all, don't worry. Here's a quick summary:
On Friedrichsbrucke with a view of Berliner Dom
Columned Walkway on Museum Island
Underground pedestrian walkway to Victory Column, Tiergarten
Socialist Fraternal Kiss on East Side Gallery
Entrance of Reichstag Parliamentary Building
Under the Reichstag glass dome
Amongst graffiti at Teufelsberg, Grunewald
Sunset photography of Molecule Man
Sunset photos on Elsen Bridge in Kreuzberg-Friedrichschain
At Holzmarkt 25
Potsdamerplatz square
Street photography at Berlin Pride Celebration
In front of Charlottenburg Palace
On Tempelhofer Feld
Night photography at Kaiser Wilhelm Memorial Church
Berlin Christmas Gardens at the Botanical Gardens
Save Me For Later