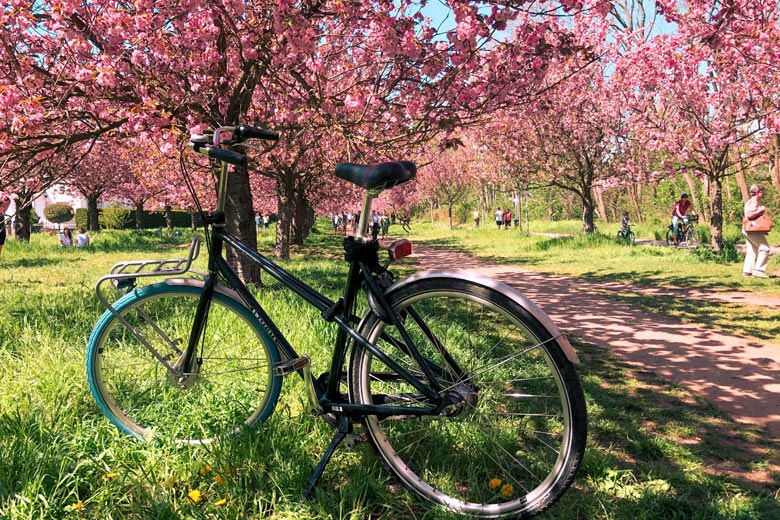 Deciding between bike sharing in Europe VS buying your own bicycle? Find out what the pros and cons are of using monthly bike rentals and read our honest review on renting a Swapfiets bike in Berlin, Germany.
Did you know that more than 20 million bicycles are sold in Europe EVERY year and that around 10% of all Europeans use bikes as their main mode of transport? Yup! Cycling is one of the best ways to get around most (non-hilly) European cities. It's often faster than taking public transportation, a great way to save money, awesome for your health, and eco-friendly too.
But buying a bike is not cheap. A basic but quality city bike with gears could easily cost you between €230 to €600 at least. And let's not forget about the other additional costs like buying a sturdy bicycle lock (or two), repairing a flat tire and general maintenance costs, or getting bike theft insurance.
It's not only a financial investment to buy a bike, but also a lifestyle commitment too. After all, no one wants to buy a bicycle only to have it standing idle like some home decor item right? And this is why we always recommend renting a bike or bike sharing in Europe for a couple of months before spending that hard earned money of yours.
This is exactly what we did as expats living in Berlin to find out whether we could adapt to the bike life in Germany and get used to cycling on the 'wrong' side of the road. So we did some research, found this monthly bike rental company in Berlin called Swapfiets and tried it out.
We've been exploring in and around Berlin with our Swapfiets for 10 months and counting. So if you're keen to know the pros and cons of renting a Swapfiets bike, how it works, how much it costs, and whether it's worth it. This honest Swapfiets review will answer all those questions and more.
Disclosure: This Swapfiets review is not sponsored in any way. But whether a guide is sponsored or not, we always share our honest opinion.
How Does Swapfiets Work?
If you live in Germany, The Netherlands, Belgium or Denmark, chances are high that you've seen Swapfiets eye-catching bikes with their iconic blue tires and wondered how it works. It's quite simple actually.
You pay a fixed monthly fee to rent a bike that is guaranteed to always work. If something breaks or stops working, Swapfiets will repair your bike within 48 hours or swap it for another one for FREE.
It's similar to bike sharing in that it's one of the cheapest ways to rent a bike in Europe on a flexible short-term basis. But different in that you get to keep the bike as if it were your own! It's like renting a bike on a lease contract. But simpler and cheaper because you don't pay a deposit or for repairs and wear and tear, so you know exactly how much to budget for each month. Awesome, right?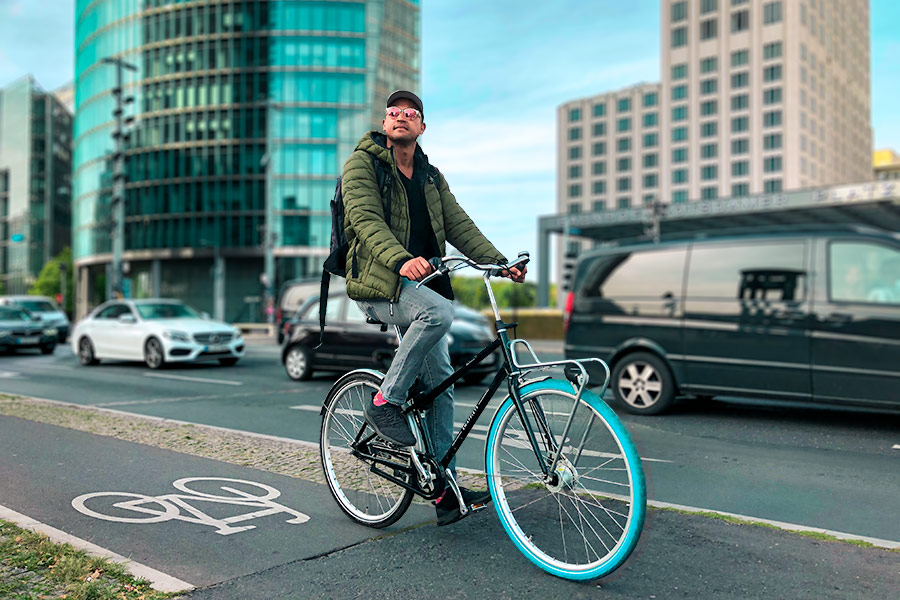 Another big pro is that they've made it really easy to sign up and rent a bike. Simply head over to the Swapfiets website, select the bike (or e-bike) that you want and fill in your personal details and payment information. Then select whether you want to pick the bicycle up from one of their stores or have it delivered to your home or work for FREE! And voila!
💡 Bonus Tip: Make sure you read till the end of this guide if you want to get a discount off your Swapfiets bike rental. By using the discount code, you'll save €7.50!
Benefits of Renting vs Buying A Bike
There are many pros for renting a bicycle with bike sharing VS buying one in Europe. You won't have to worry about paying for repairs or fixing flat tires, they come with built-in locks and you have the flexibility of returning the bike if you don't need it anymore. This comes in handy if you're a digital nomad who moves around a lot. Plus, it can help you save some money too if you don't want to rent a bike during winter. But the biggest pro for us is the bike theft advantage because Swapfiets bicycles are rarely stolen.
Related Guide: Want to know what other bike sharing options are out there in Europe that you can rent on an hourly or daily basis? Read our Berlin Bike Sharing Guide to find out which one will be the cheapest bike rental for you!
Do Swapfiets Get Stolen?
Bike theft is rife in Europe! According to Cordis, more than 4 million bicycles are stolen in Europe every year. That's 20% of the total amount of bikes sold EVERY year! Yikes! Bike theft is also pretty bad in Berlin with an average of 77 bikes being stolen every single day!
Selling stolen bikes is big business in Europe. That's why you should be really careful when buying second-hand bicycles on eBay, Craigslist, Facebook Market or other consumer-to-consumer selling platforms. And always ask for a purchase receipt when buying a second-hand bike to make sure you're not supporting thieves.
This is why we prefer going the stress-free route of cycling with a Swapfiets bike. People rarely steal these bikes because of their distinctive look. And the fact that you can't legally purchase a Swapfiets bike anywhere even if you wanted to, means that there's little incentive for thieves to steal it.
We've had our Swapfiets bikes for more than 10 months now. We've parked them outside notorious hotspots where bikes are usually stolen and have not had our bicycles taken yet… (touchwood).
But if in the unlikely event, you do get your Swapfiets stolen, it's not the end of the world either. Simply contact Swapfiets because they'll help you fill out a theft report for the police. And they'll replace your bike quickly after you pay for the surcharge.
How Much It Costs To Replace
The cost or surcharge to replace your stolen Swapfiets bike is quite reasonable and often costs less than buying the 2 or 3 bike locks you'll need if you had bought your own bicycle. This is provided that you're still in possession of your bike keys, of course.
We've listed the costs for getting the Deluxe 7 bike replaced if stolen. But the surcharge is less if you rent the Swapfiets Original bike or more if you opted for the more expensive Swapfiets e-bikes.
| Reason for Surcharge | Additional Costs |
| --- | --- |
| Stolen Swapfiets bike with double lock | €60 |
| Stolen Swapfiets bike with single lock | €150 |
| Stolen Swapfiets bike and key | €450 |
| Lost key | €15 |
Additional costs to be aware of in the unlikely event your Swapfiets Deluxe 7 bike gets stolen
Where Is Swapfiets Available?
Another pro for Swapfiets, is that it's widely available. You can currently rent their bikes in 70+ cities across 9 different countries in Europe. The price for their monthly bike rental varies slightly depending on which city you're renting from. So make sure you check their website to get the exact price for your city.
Useful Tip: Will you rent a brand new Swapfiets bike? Probably not (unless you're really lucky). This is quite normal when bike sharing in Europe. But don't worry, your bicycles will be in a great condition. And if for some reason you're really not happy with your bike, you can always swap it for another.
Swapfiets in Germany (Deutschland)
Aachen
Berlin
Bonn
Braunschweig
Brunswick
Bremen
Cologne (Kölln)
Darmstadt
Dresden
Düsseldorf
Frankfurt
Freiburg
Göttingen
Halle (Saale)
Hamburg
Hannover
Heidelberg
Karlsruhe
Kiel
Leipzig
Lübeck
Mainz
Mannheim
Munich (München)
Münster
Oldenburg
Osnabrück
Potsdam
Stuttgart
Wiesbaden
Wolfsburg
Related Guide: If this is the first time you're cycling in Germany, make sure you read our 24 Bike Road Rules and Traffic Laws For Cycling in Germany guide BEFORE getting on that bike.
Swapfiets in The Netherlands (Holland)
Amsterdam
Amstelveen
Arnhem
Baarn
Bilthoven
Blaricum
Breda
Bussum
Delft
De Bilt
Den Bosch
Den Haag (The Hague)
Diemen
Dieren
Duivendrecht
Ede
Eindhoven
Ellecom
Elst
Enschede
Groningen
Haarlem
Heemstede
Hengelo
Hilversum
Hoofddorp
Houten
Huizen
Ijmuiden
IJsselstein
Laren
Leeuwarden
Leiden
Leiderdorp
Leidschendam
Lonneker
Maastricht
Naarden
Nieuwegein
Nijmegen
Nootdorp
Oosterbeek
Oosterhout
Pijnacker
Rhenen
Rijswijk
Rotterdam
Schiedam
Soest
Tilburg
Utrecht
Veldhoven
Velp
Vlaardingen
Vlijmen
Voorburg
Voorschoten
Vught
Wageningen
Wassenaar
Wateringen
Westervoort
Wijchen
Zeist
Zwolle
Related Guide: Explore some of the best places to visit in The Netherlands by bike! Read our Free Things to Do in Rotterdam in 2 days Itinerary and How To Visit Kinderdijk Windmills guides!
Belgium
Antwerp
Brussels
Gent
Leuven
Mechelen
France
Paris
Lyon
Nantes
Strasbourg
Toulouse
Denmark
Aalborg
Aarhus
Copenhagen
Odense
Other Countries Where Swapfiets Is Available
London (United Kingdom)
Barcelona (Spain)
Milan (Italy)
Vienna (Austria)
Types of Swapfiets Bike Rentals
Swapfiets currently has 4 different bike rental options in Berlin: the Original Swapfiets bike, the Deluxe 7, the Power 7 e-bike and the Power 7 e-bike heavy. All these bikes are custom designed by the Swapfiets team to ensure the highest quality and durability.
The Original Swapfiets bike is the cheapest bike you can rent. It's a simple Dutch bike with no gears. It has that signature curved, step-through frame that ladies love because it's easier to ride a bike with a skirt on. These bikes come in 3 different sizes: small, medium and large and some fun colors too like red, yellow and indigo blue.
The Deluxe 7 is the next step up and has 7 gears. It has the typical cross-bar frame that are more common for mens' bikes. They also come in 3 different sizes in the colors black, navy and duck egg gray.
The Power 7 e-bikes are the latest newcomers to the Swapfiets bike fleet. They're basically supercharged bikes with an electric motor that help you get from A to B faster! How fast exactly? Well, Swapfiets e-bikes can travel up to 25km/h. That's pretty fast for cycling!
The difference between the normal Power 7 e-bikes and the heavy one is simply mileage. The normal Swapfiets Power 7 e-bikes are for individuals that expect to cover less than 1,000 km per month and can not be used for doing deliveries. Whilst the Power 7 heavy bikes are more suited for heavy users that expect to cycle more than 1,000 km per month and can be used for delivery purposes.
Swapfiets Original VS Deluxe 7
Most people decide between the Swapfiets Original VS Deluxe 7 bicycles since they're currently the cheapest monthly bike sharing options in Berlin and the rest of Europe. But the best bike rental option will depend on how frequently you cycle and what type of bike trips you usually do.
In our opinion, the Swapfiets Original bicycle with no gears will be sufficient if you mostly do short trips (i.e. less than 20 minutes long) and rarely cycle beyond the city limits. But if you cycle for more than 40 minutes per day, more than 4 times per week and enjoying exploring new parks, lakes and forests around your city. Then we highly recommend paying a little extra to get the Swapfiets Deluxe 7 bike with 7 gears.
The price difference between the Swapfiets Original VS Deluxe 7 is only €3 per month. But the difference it makes on your cycling experience is huge. You may think that your city is relatively flat with minimal uphills (like Berlin) until you cycle it. Then you'll literally feel every degree change in inclination and wish you had a bicycle with gears.
Plus the Deluxe 7 also comes with more responsive brakes to compensate for the increased speed. And these are the reasons why we both chose the Deluxe 7 to use as our trusty steeds.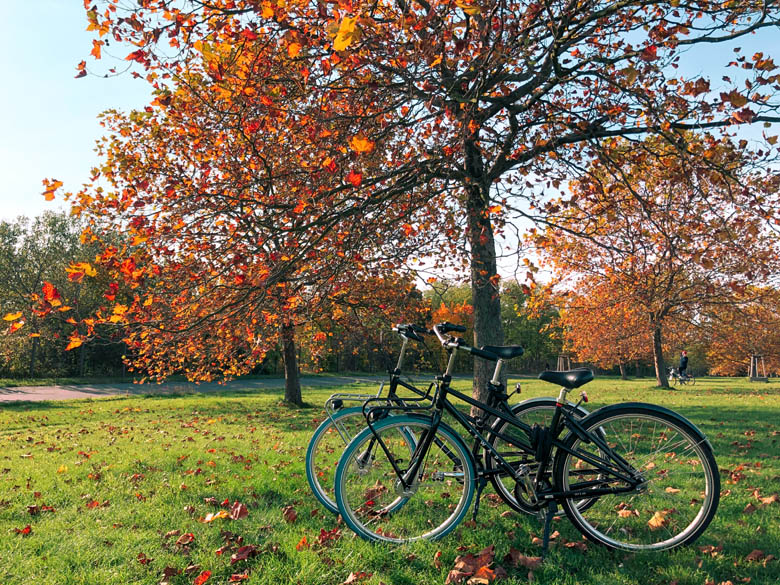 Related Guide: Are you a nature lover living in Berlin? Make sure you read our Best Outdoor Activities in Berlin guide to find the best lakes, forests and parks to explore in the city.
Quality of Swapfiets Bikes
We've been using our Swapfiets bike rental in Berlin for more than 10 months now and can honestly say that the quality of their bikes are great. We haven't had any problems besides tightening the bike stand and replacing a brake light. Both of which Swapfiets quickly fixed at no additional costs like they said they would.
But perhaps something even more important than the quality of their bicycles, is the fact that their bikes are equipped with all the items you need to abide to the traffic laws and cycling rules in Europe. These include:
A white (or pale yellow) front light that is non-blinking;
A red brake light at the rear of the bike that stays lit when you're stationary;
At least 2 yellow reflectors on each wheel or alternatively, the tires or spokes are reflective;
A loud sounding bell; and
Two independently acting braking devices.
The last bike requirement may not be obvious. But Swapfiets bikes do have two independent braking systems: the handbrake which are attached to the bicycle handles and coaster brakes which activate when you pedal backwards.
All these items need to be in good working condition for you to cycle safely (and legally) in Europe without risking your safety or a traffic fine. And this is one of the major pros for renting a bike with Swapfiets because they guarantee to fix or give you a new bike within 48 hours.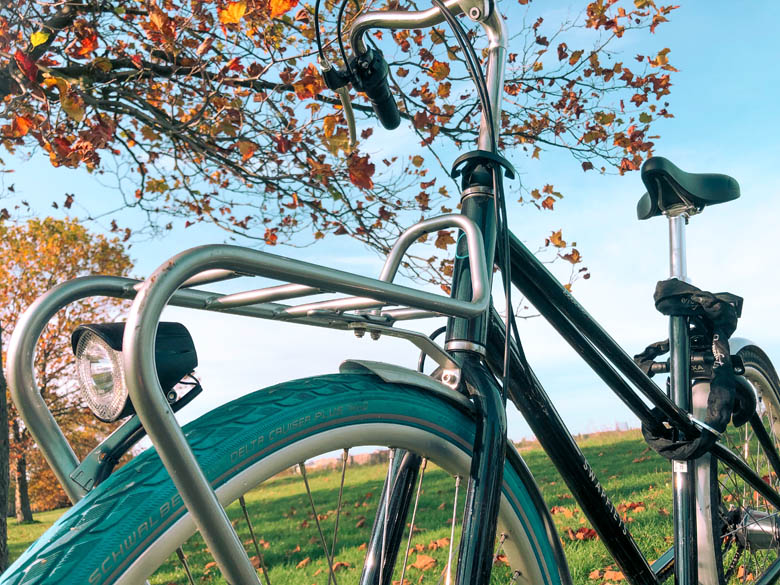 In addition to meeting the European bicycle safety requirements, they've also included 3 other perks. The first one is that their bicycles have built-in double lock systems. This means that you won't need to spend money to buy the 2 or 3 bike locks you'll need to ensure against bike theft which could easily cost you an additional €100 to €150.
The second perk is that they've used tires with double-fused wall systems. These types of tires are awesome because they're often lighter but more durable and stronger than bicycle tires with single-fused wall systems.
And lastly, Swapfiets uses dynamo bike lights which uses the energy generated from pedalling the bicycle to light up the bulbs. Not only is this more eco-friendly and sustainable for the environment. But it also means that you won't need to replace the batteries of your bike lights at all.
The one con that we will mention is that the mud flaps on the back tire is a bit flimsy and bends easily. So you may need to gently bend it back to place if it moves out of alignment.
Adding A Basket To Your Bicycle
By default, Swapfiets does not include a bike basket. But you can request to add a basket to your bicycle by paying €4 extra to your monthly bike rental subscription. There is no notice period to return the basket and you can easily add a basket at anytime by visiting your nearest Swapfiets store.
Similar to the bicycles, their baskets are also made from the same high-grade materials and look awesome too. But the cons of these baskets are that they're not deep enough for carrying big bags or small dogs. Plus you're only given the option to install the basket on the front of the bike (as opposed to the back), which makes cycling a lot harder when there's additional weight. And lastly, you'll be charged €12.50 if your Swapfiets basket gets stolen.
Save Me For Later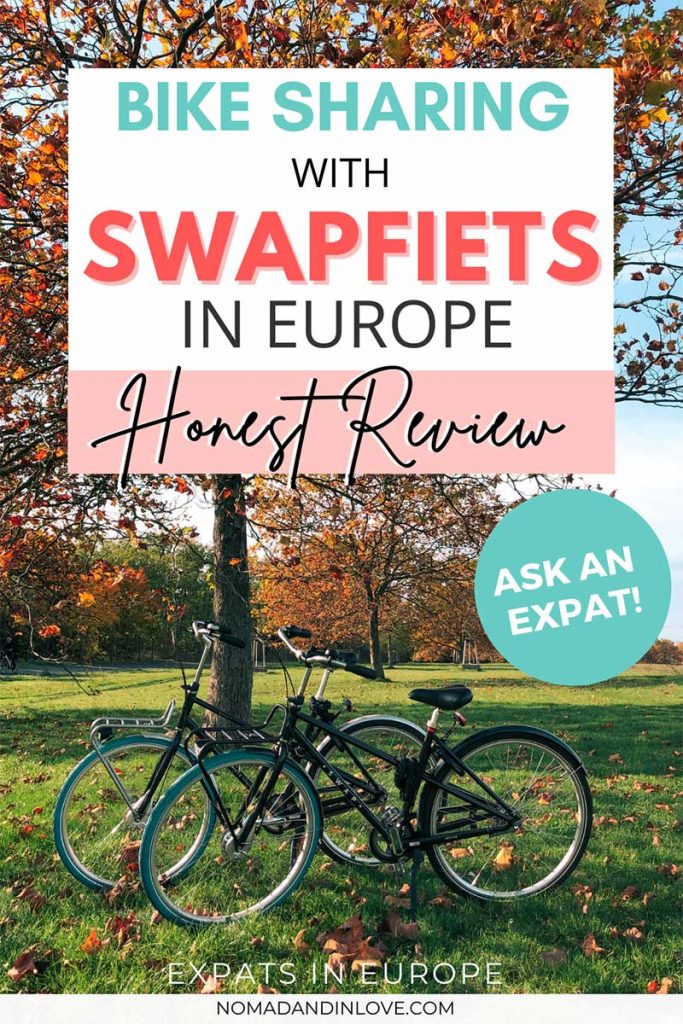 But don't worry – you can also install your own bike basket. It's probably cheaper to get your own bike basket anyway if you're renting a Swapfiets bike for more than 6 months. You can easily buy one from Bauhaus, Decathlon or Amazon. The most important thing to remember when buying your own bicycle basket is to make sure you're able to install it without damaging your Swapfiets bike.
Adding A Child Seat or Trailer to Swapfiets
Besides adding a basket, you can also install a child seat or trailer to your Swapfiets bike too. Just follow the same rule to not damage the bike and you should be all good! This is another pro that Swapfiets has over other bike sharing options in Europe.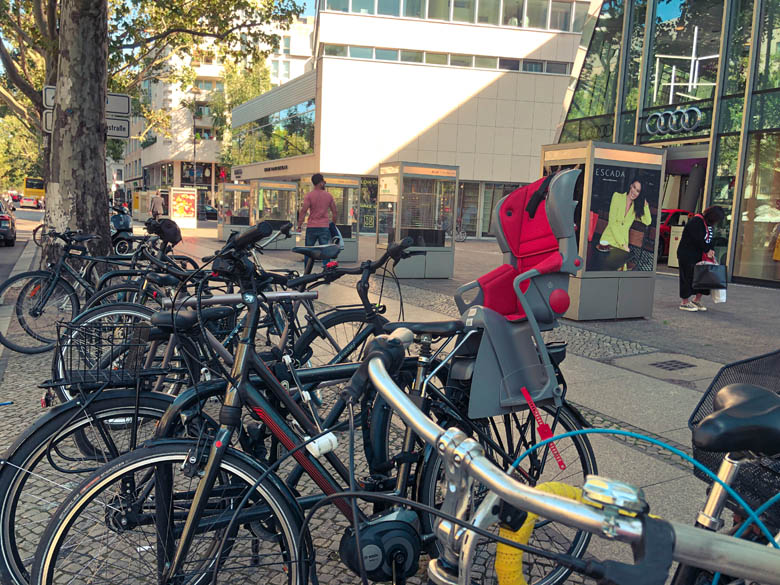 Insurance for Swapfiets Bicycle
A con you should know though, is that you won't be able to buy insurance on your Swapfiets bicycle to cover for bike theft or unintentional damage. So if you already have home contents insurance and was hoping to add your bicycle in as part of your cover, you won't be able to do so.
This is no fault of Swapfiets but rather the fact that you can't buy insurance on something you don't technically own. We thought we would mention this since you can buy insurance for almost anything in a country like Germany.
But one insurance you should definitely get (depending on which European country you live in) is personal liability insurance. It's one of the most important insurance to get if you're living in Germany.
Personal liability insurance basically covers you in the event you harm another person physically or damage their property in any way. For cycling, that could mean accidentally hitting a pedestrian that was walking in the bike lane, to your parked bike falling over and damaging someone's car. It's essential whether you're using Swapfiets or any other bike sharing option in Europe.
Damages could easily cost you several hundred thousands of Euros (and even into the millions) depending on the damage. So it's really important that you get personal liability insurance when cycling in Germany.
The good news is that personal liability insurance in Germany is really affordable. You can sign up for it for as little as €4.99 per month and it will cover you for up to €30 million in damages.
The only problem for expats is that most of these insurers only offer German customer support. So if your German language skills isn't quite up to scratch yet, you'll struggle to understand the policy documents or speak to customer service.
But don't you worry – we've got a solution for you! Get expat-friendly personal liability insurance in Germany with Feather Insurance to do it all in English.
How Heavy Are Swapfiets Bikes
If you plan to take your Swapfiets on public transport or up and down the stairs. You're probably wondering how heavy Swapfiets bikes are. We've summarised the weight in kilograms in the table below to make it easy for you.
| Type of Swapfiets Bike | Weight in kg |
| --- | --- |
| Swapfiets Original (no gears) | 18.8 |
| Swapfiets Deluxe 7 (7 gears) | 16.2 |
| Swapfiets Power 7 (e-bike) | 30.0 |
The different weight (in kilograms) of the various Swapfiets bicycles
How Much Is Swapfiets?
We've been saying that Swapfiets is the cheapest way to rent a bike in Berlin and Europe. But how much does Swapfiets cost exactly?
Swapfiets has 2 types of monthly subscriptions: The flexible monthly subscription and the 6-month subscription. The flexible monthly subscription, like the name suggests, can be terminated at anytime after you've given a one month's notice. But you have to pay an additional once-off fee of €19.50 upon sign-up to have this flexibility.
There is no additional once-off fee if you select the 6-month Swapfiets subscription. So make sure you pick this option if you're able to rent the bike for longer. After the 6 months subscription is over, you can then cancel anytime after giving one month's notice at no additional costs.
We've listed the monthly costs for the Swapfiets bike rental options available in Berlin in the table below. But prices do vary slightly depending on which city you're renting from. So make sure you double check how much Swapfiets costs in your city on their website.
| Type of Swapfiets Bike | How Much It Costs |
| --- | --- |
| Original Swapfiets | €16.90 |
| Swapfiets Deluxe 7 | €19.90 |
| Swapfiets Power 7 E-Bike (less than 1,000km per month) | €75.00 |
| Swapfiets Power 7 E-Bike (more than 1,000km per month) | €99.00 |
Monthly subscription costs to rent different Swapfiets bicycles in Berlin (prices vary slightly from city to city)
💡 Bonus Tip: You get a slight discount on the Swapfiets monthly fee if you're a student! Make sure you select this option if you can prove that you're studying in Europe.
How To Cancel Swapfiets Bike Subscription
Cancelling your Swapfiets bike subscription is super easy and simple to do. Simply contact Swapfiets via their website, Whatsapp or on their app to let them know you would like to cancel. You need to give one month's notice to cancel your subscription which means that you can keep your bike for another 30 days before returning it. You could also return it earlier, but either way you'll still have to pay for one more month before your monthly bike rental subscription officially ends.
How To Pay For Swapfiets
Paying for Swapfiets is equally easy. All you need to do is give them your SEPA or credit card payment details and they'll directly debit the monthly payments from your account. You can use Revolut, bunq or Monese to easily do this without worrying about paying any bank charges for your debit orders. It's what we personally use!
Quality of Service
By now you know that Swapfiets bikes are great all-round, but do they offer good service? This is pretty essential too since repairs and maintenance are included as part of the package. We can only comment about our Swapfiets bike rental experience in Berlin. But so far, we've had great service from Swapfiets.
We really like the fact that the Swapfiets team is multilingual. It made renting a bike in Berlin stress-free since we could do it all in English whilst we continue to work on improving our German.
It was also really easy to get bike repairs done, both in-store as well as having a new bike delivered. And we liked the fact that the Swapfiets team is friendly and will make sure that the bike is set up to the right height for you.
The one con that we will mention is that chat support does takes longer to get back to you. So you'll need a little patience if you have a query that isn't related to getting your bike repaired.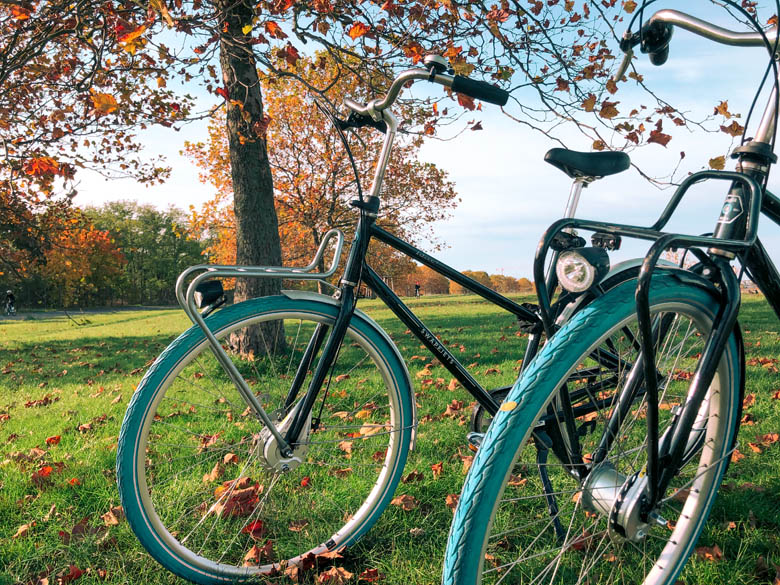 Related Guide: Do you live in Berlin too? Then make sure you read our FREE self-guided cycling tour of the Berlin Wall to see the top attractions and understand the history behind the famous Berlin Wall.
Is Swapfiets Worth It?
We're tried most of the bike sharing options in Europe and in our opinion, Swapfiets is definitely worth it! Not only is it the best monthly bike rental option for us in Berlin, but also the cheapest! How else can you rent a bike in Europe for less than €1 per day?
And if price alone is not enough to convince you, here's a quick summary of the pros and cons of Swapfiets monthly bike rental in Berlin and the rest of Europe.
Pros of Swapfiets Monthly Bike Rental
Flexibility of renting a high quality bike and being able to keep it as if it were your own
Swapfiets bikes are equipped with all the items you need to meet the European bicycle safety requirements
Never worry about paying for bike repairs or maintenance
No bike deposit required
No need to worry about bike theft
The best and cheapest bike rental in Berlin and the rest of Europe
Great customer support that is also available in English
Cons of Renting a Bike With Swapfiets
The Deluxe 7 bikes are not available with step-through frames
The bike basket mount is only available on the front of the bike
The back tire flap is flimsy and bends easily
You can't buy insurance for a Swapfiets bike to insure against damage or theft
Swapfiets Discount Voucher
Try bike sharing in Europe for yourself with our Swapfiets discount code and save up to 40% on your bike rental! Use the code DAVID12421 and get €7.50 discount off your Swapfiets monthly fee!
If this discount code doesn't work, let us know and we'll find you another one.