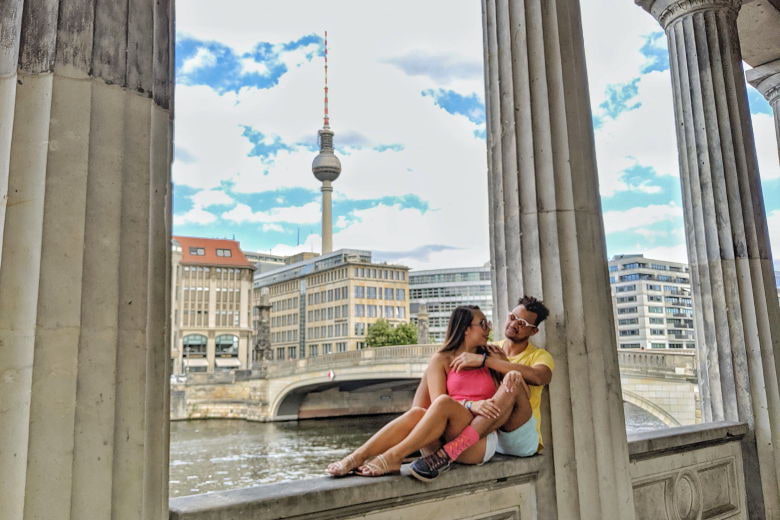 Moving to Germany? Expats share what monthly costs to budget for in Germany and what the cost of living in Berlin is in 2023.
If you're planning to move to Germany, you may be wondering how much it costs to live in Berlin. As a couple who has relocated, we'll demystify if Berlin is expensive compared to the city you live in.
Perhaps you're thinking of taking up a new job, moving your business or maybe you're planning to further your studies. Whatever your reasons may be, this guide will list every expense you'll need to budget for when living in Berlin.
This comprehensive guide includes what you can expect to pay for rent, groceries, healthcare, transport, gym, entertainment and more. We've also included a list of the most cost effective companies we use, so you can easily settle into your new life abroad.
Living in Berlin
Moving to Germany and living in a vibrant European city like Berlin is exciting. Not only because of how diverse it is in terms of its population, but also because of the choice you have as a consumer.
Whether you like to live the high life or prefer to spend carefully, Berlin has an option for you. We'll cover all the options we came across when we looked at the cost of living in Berlin.
Biggest Living Costs Moving to Germany
One of the biggest living costs to budget for when moving to Germany (and to Berlin in particular), is renting an apartment.
Even though rent in Berlin is still considered low compared to other cities in Western Europe, it's no secret that rentals have increased rapidly over the last decade. So much so that it's caused unrest amongst residents, prompting the government to introduce rent caps and rent freezes in the city.
This can only be good news for the cost of living in Berlin. But it's not always the case. Some landlords ignore or try to find a way around these laws, demanding illegal high rentals from unsuspecting tenants.
You can expect rent to be about a third of your monthly salary. But bear in mind that most landlords will require you to pay an apartment deposit ('Kaution') of up to 3 times the monthly rent.
Related Guide: Looking to rent an apartment in Berlin but not sure which neighborhood to live in? Don't worry! We break down everything you need to know in our Berlin Neighborhoods and Districts guide.
What is the Average Cost to Rent in Berlin
The average rent in the city recently breached €10 per square meter for an unfurnished apartment. You can expect to pay up to €13 in sought after areas (like Friedrichshain and Mitte) and €8 in the city limits (Spandau and Marzahn).
Average monthly utilities (water, gas, heating, electricity and waste disposal) cost €2.5 to €3 per square meter.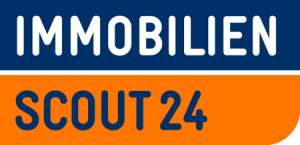 When we arrived in Berlin for the very first time, we found a centrally located apartment on the property rental site Immobilienscout24. We paid €1,180 per month for a fully furnished 65m² (700 Sqft) apartment including all utilities (water, heating, electricity and TV tax).
This may seem like a reasonable amount to pay for a couple living in Berlin. But we only realised after the fact that we had been overpaying. Long story short, we managed to reduce our rent by €317.64 per month.
If you want to find out how we managed to reduce our rent in Berlin and get over €5,000 back, check out our Conny Review. But for now, budget between €400 – €500 per person if you plan to rent a room. And between €550 – €850 per person if you're sharing an apartment.
Finding a room, flat or apartment to rent in Berlin is notoriously challenging. But don't worry, we've written a detailed How To Rent An Apartment in Berlin guide to help you. It includes a full list of resources and tips that will help increase the success rate of renting an apartment in Berlin.
Related Guide: Did you know that you can save more than €200 by signing a new electricity contract when moving into a new apartment in Germany? We kid you not! Find out how in our detailed Electricity Providers in Germany guide.
Food and Grocery Prices in Germany
If you're a foodie like us, then you'll be happy to hear that food and groceries in Berlin are amongst the cheapest in Europe. Mid-priced supermarkets such as Rewe and Edeka usually have the best deals for everything you'd need under the sun.
But there are what seems to be an infinite number of supermarkets to suit every budget and palate. These include discount supermarkets such as ALDI and Lidl. And if you prefer ethically sourced organic food, you can find them at premium supermarkets such as BioMarkt and Bio Company.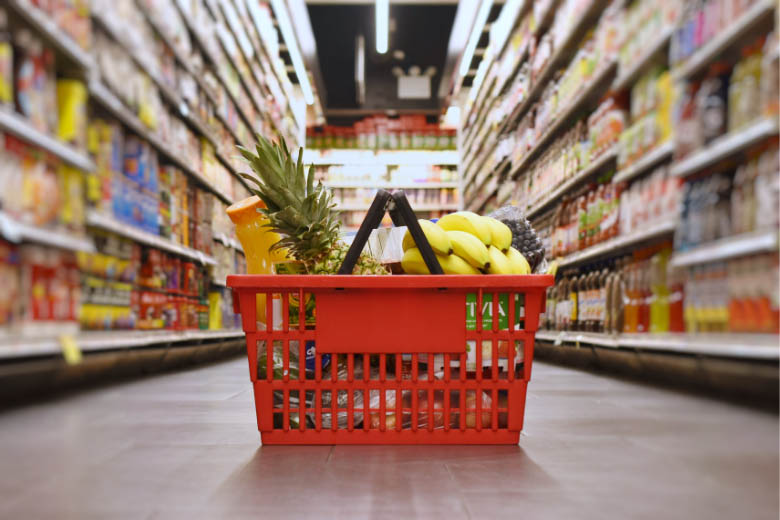 In order to keep our monthly costs low, we opt to cook most of our meals at home. Not only is dining in cheaper than eating out, it's also healthier as you control what goes into your food.
Our monthly food and grocery costs rarely exceeds €500 per month (i.e. maximum €250 per person). And that also includes cleaning detergents, coffee beans, wine, and everything one would usually buy at a supermarket.
Cost of Health Insurance in Berlin
Choosing the right health insurance in a country you know very little about sounds daunting. Knowing which health insurance company is the best in Germany is important if you don't want the fuss of reading through pages and pages of policy documents.
The gold standard of health insurance in Germany is Techniker Krankenkasse (TK). TK is the largest public health insurer in the country and it will set you back up to 15% of your monthly income. If you're employed, your employer may contribute up to half of your monthly premium.
We opted for private health insurance because we don't currently qualify for TK as they consider us to be freelancers. Long story short, we plan to join TK once we're able to fulfil their criteria for self-employed individuals.
Bonus Tip: Keen to get public medical insurance in Germany but not so keen on signing policy documents or speaking to customer service in German? Don't worry! Get your public health insurance in Germany with TK, AOK, BARMER or DAK via Feather Insurance. Not only does Feather Insurance offer free advice on which health insurance will suit you best. But you'll also get all policy documents and customer advice you need in English.
Best Health Insurance for Expats in Germany
We're covered by Mawista for €69 per month per person. It's the best basic medical insurance for expats we could find in Germany.
Mawista offers different plans which cover an array of insurance benefits. But unlike TK, you'll have to pay for your medical treatment first and then send the invoice to Mawista for reimbursement.
Mawista is not as comprehensive as TK but covers all the essentials. It's also a great option if you want good basic health care while reducing your cost of living in Berlin.
Bonus Tip: Expat Health Insurance is the cheapest medical insurance you can get as a new expat moving to Germany. And the best part is that it's accepted for first time visa or residence permit applications. Get a quote for expat health insurance with Feather Insurance to find out more.
Save Me For Later
Berlin Public Transport
Getting around Berlin is as easy as 1, 2, 3. The city boasts a well-connected public transport system, so getting around with tram, subway, train or bus is a breeze. Public transport also helps keep the cost of living in Berlin low as it's cheaper than other European cities.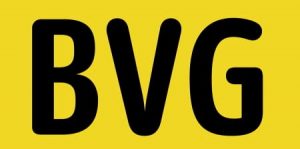 The public transport services in Berlin is managed by BVG. You'll notice their bright yellow sign the minute you arrive in the city. They offer various commuter fare options which includes single trip, daily, weekly and monthly tickets.
As we work from home, we used to take advantage of the BVG 10am flexible monthly ticket. It allowed us to take any public transport, but only from 10am week days. And we would only pay €63 per month for the ticket.
Getting Around Berlin
Due to the coronavirus pandemic, we've decided to switch to cycling to get around Berlin. It's perfect for social distancing and good for the planet too.
We use Swapfiets and have been loving the freedom of getting around Berlin by bicycle! You basically get the benefit of owning your own bike for only €22.90 a month!
If you want to try Swapfiets out for yourself, use our Swapfiets Discount Code and SAVE €7.50 on your Swapfiets subscription (Discount Code: OSAID76140).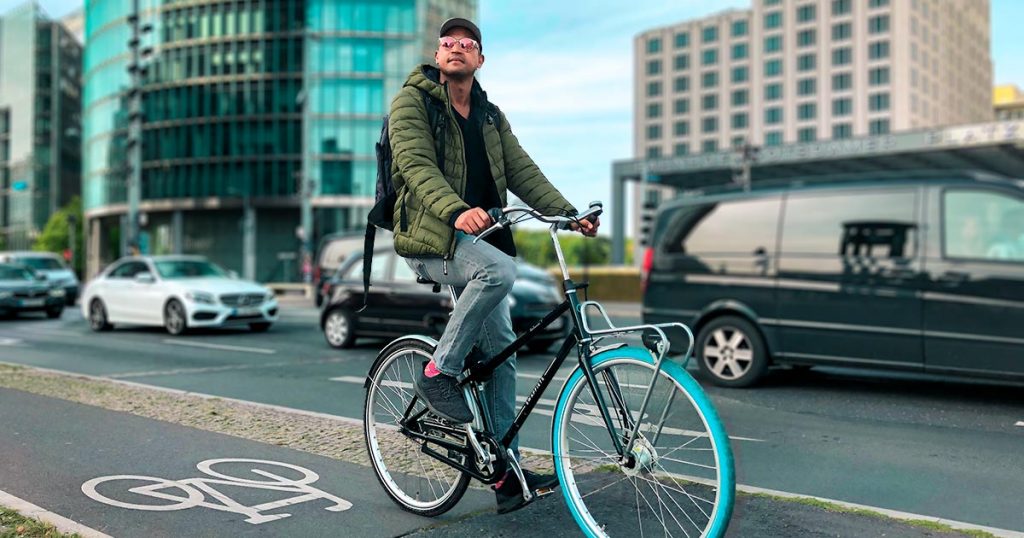 Besides Swapfiets, you can also get around using other Berlin bike sharing options or via scooters (Lime or Nextbike). You can find them virtually along any street in Berlin.
If you prefer to drive or need a car once in a while, you also have access car sharing services such as ShareNow (previously DriveNow and Car2Go), SixtShare, FreeNow or these other carsharing options. And if you just want to get home after a night out, Uber or Taxi is the way to go.
Related Guide: Moving to Germany and want to know how to convert a foreign driver's license to a German driving license? Find out how in our step-by-step Driver's License in Germany Conversion guide.
Personal Liability and Contents Insurance in Germany
Personal liability insurance is one of the most important insurances to get when moving to Germany. It's second only to mandatory health insurance. It covers you if you harm another person physically or damage their property in any way.
There are hundreds of insurers ready to offer you cover. But most of them only offer German customer support.
So if your 'Deutsch' is nowhere good enough yet, then make sure you get expat-friendly personal liability insurance with Feather. All your policy documents and customer touch points will be conducted in English and you can get covered from as little as €4.94 per month.
While it's not mandatory to get contents insurance, it's still a good idea if you own valuable possessions. Insurance companies such as Lemonade even cover your items when they're outside your home.
And if you want to cover the shortfall from your health insurance, you can take out dental insurance from companies such as Ottonova and Getsafe.
These are just a handful of insurers out of many that offer an array of cover in Germany. Check out the full list of different types of insurances on our resource page. We've also included special offers just for you.
If you'd like to maximise your cost of living in Berlin, consider spreading your cover across several insurers. We did precisely that in order to get the cheapest premiums for each type of cover. Our cover for contents and liability insurance costs us €10 monthly.
Internet Providers in Berlin
If you're reading this article, it means that you can't live without the internet. Don't feel bad, we also rely on the internet for pretty much everything we do.
Although internet is not Germany's strongest point, (strange, right?) there is connectivity at the end of the tunnel. Just don't expect uninterrupted connectivity 100% of the time. Allow a 10% margin of error.
Internet is relatively affordable which helps reduce your cost of living in Berlin. Companies such as Vodafone, 1&1 and M-net offer speeds up to 1000Mbps.
We went with Vodafone and we pay €36 per month (including our sign-up discount) for a 1,000Mbps line, which is more than sufficient to run our online business from home. But you can also compare all internet providers to make sure you're getting the best deal.
Which German Bank is the Best for Expats
Banks know that banking is a very competitive industry in Germany. So they're always looking for ways to lure you in with the best deals to suit your spending habits.
The best deal for us is paying zero banking fees. That's right, €0.00 per month! With Revolut, we haven't paid any fees since arriving in Berlin. And that really helps us keep our cost of living low.

Mobile banks offering accounts with zero bank charges include Revolut, N26 and Monese. And if you care about reducing your impact on the planet, there's also bunq mobile bank which even helps you reduce CO2.
Just bear in mind that Revolut has its headquarters in the United Kingdom. So if you need to open a German Bank account with a German IBAN and don't mind going mobile, N26 and bunq is the way to go.
But if you prefer a traditional bank and don't mind paying fees, check out Deutsche Bank, Postbank or Sparkasse.
Gyms in Berlin
If you're looking to join a gym in Berlin, then you'll be spoilt for choice. There are literally hundreds of gyms spread across the city, so joining a gym will be quick and easy.
The only hard part about joining a gym is choosing which one to join. As not one single company dominates the city, you'll have to consider deals from gyms trying to out-do each other.
A 12 month membership at gyms such as McFit, John Reed and SuperFit cost no more than €25 per month. But if you prefer premium gyms such as Fitness First, be prepared to pay upwards of €50 per month.
We decided to go with Holmes Place because they have a sauna, pool and are quieter compared to cheaper gyms. Our gym memberships sets us back €61.70 per month, but it's totally worth it at just over €2 per day. Your body is your temple after all.
If you would like to try out Holmes Place, we're giving away a free weekly pass which gives you access to any of their gyms in Germany. Simply send an email with referral code "NomadAndInLove" to claim your free weekly pass.
Cost of a Night Out in Berlin
Eating out, clubbing, exploring Christmas markets in Berlin, and entertainment in general all costs money. The frequency at which you partake in these things will determine the amount of money you should budget.
As the cost of living in Berlin is lower compared to other European cities, you'll be pleasantly surprised that things cost less. Here's a range of prices from lowest to most expensive you can expect to pay for entertainment in Berlin:
| Entertainment | Range (Low to High) |
| --- | --- |
| Meal for Two (including wine) | €30–€250 |
| Night Club Entrance | €5–€18 |
| Glass of Wine | €3–€8 |
| Cocktail | €5–€13 |
| Beer | €3–€6 |
| Movie | €5–€12 |
| Fast Food | €1–€10 |
| Theatre | €10–€100 |
| Cup of Coffee | €2–€5 |
Cost of a Night Out in Berlin
As you can see, the range of the cost of entertainment in Berlin is quite broad. How much to budget will depend on where your preferences lie between the low and high end of these ranges.
On average, we spend €200 per month on entertainment which includes dining out at least once a week. But because it's not illegal to drink in public in Berlin, we often pre-drink along the way before painting the city red.
Other Costs to Consider when Living in Berlin
If you haven't heard about it yet, then we'll be happy to be the horse's mouth. German TV Tax is a real thing. So don't be surprised when you receive a letter in the post requesting payment after you move into your new home.
The TV licence fee works out to €18.36 per month. You can either pay quarterly, semi-annually or annually. There are ways of avoiding the fee, but rather budget for it so there are no surprises when you arrive. Find out whether you're exempt from paying in our Germany TV Tax guide for expats!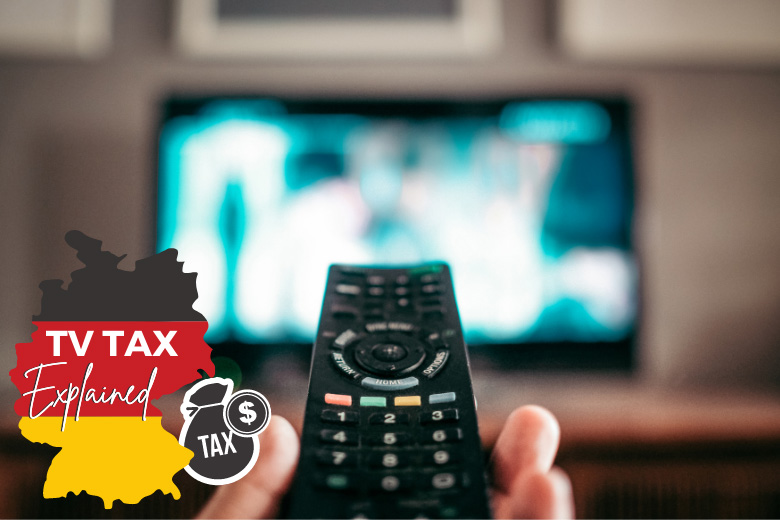 Another cost to consider is coffee. The coffee drinking culture in Berlin is 'huuuge'! It's simply what people do. Coffee can easily set you back over €100 per month blowing the lid of your cost of living in Berlin wide open.
We brew our own coffee every morning using appliances we bought from Amazon. At less than €0.60 per cup, we keep our cost of living in check, while sipping on the best lattes in Deutschland.
What about learning German at a language school in Berlin? That can cost anywhere between €200 to €750 per month. Yup, learning German is an investment. But don't worry, you can use these 22 free ways to learn German online.
Monthly Expense Breakdown: Our Cost of Living in Berlin
We've been living in Berlin for over 3 years now and we've settled quite well into our new life as expats. We've also worked out that the cost of living in Berlin is low compared to most in-demand cities around the world.
You can find out exactly how much more affordable it is in our Living in London vs Berlin guide. And if your heart is set on moving to Berlin, our 21 pros and cons of living in Berlin will help you mentally prepare for your relocation.
For us, Berlin takes top spot as being one of the most affordable, expat friendly and in-demand cities to live in Europe. But you can decide for yourself. Here's a summary of our monthly expenses for two in Berlin:
| Monthly Expenses | Provider | Amount |
| --- | --- | --- |
| Rent | via Immobilienscout24 | €1,385 |
| Electricity | Vattenfall | €59.50 |
| Groceries | Rewe / Edeka | €500 |
| Entertainment | N/A | €200 |
| Health Insurance | Mawista | €138 (€69 per Person) |
| Gym | Holmes Place (Claim Free Weekly Pass) | €123.40 (€61.70 per Person) |
| Transport | Swapfiets Discount Code: OSAID76140 | €45.80 (€22.90 per Person) |
| Internet (1,000Mbps) | Vodafone (Claim Your €70 Sign-up Reward) | €36 |
| Germany TV Tax | Rundfunkbeitrag | €18.36 |
| Private Liability Insurance | Luko (Claim Your €15 Sign-up Discount) | €5.69 |
| Home Contents Insurance | Lemonade | €4.75 |
| Mobile Phone Minutes & Data (Unlimited & 3GB) | Vodafone CallYa (Claim Your €12.50 Sign-up Reward) | €19.98 (€9.99 per Person) |
| Investment Account | eToro (0% Commission on Stocks) | €0 |
| Bank Account | Revolut | €0 |
| Coffee | We Brew Our Own Coffee | €0 |
| Total | | €2,536.48 (€1,268.24 per Person) |
Cost of Living in Berlin for Two Adults
Whatever your reason is for moving to Berlin, we hope that our cost of living guide will help you decide if the city is for you. If you do decide to move to Berlin, here are some great deals for essential services to get you started.
Before making the big move, find out 10 things you should know before moving to Berlin.
When you arrive, check out our guide about how to open a bank account in Germany without a permanent address. Or when you've found that perfect apartment, check out this guide about how to register your address in Germany.
And finally when it's time to file your German tax return, check out this guide to get started with taxes in Germany.
Related Guide: It's no secret that the cost of living in Berlin (and the rest of Germany) is rising. But don't worry, there are easy ways you can cut down costs without sacrificing quality of life. Check out our How To Save Money in Germany guide for 14 easy tips to reduce your cost of living.