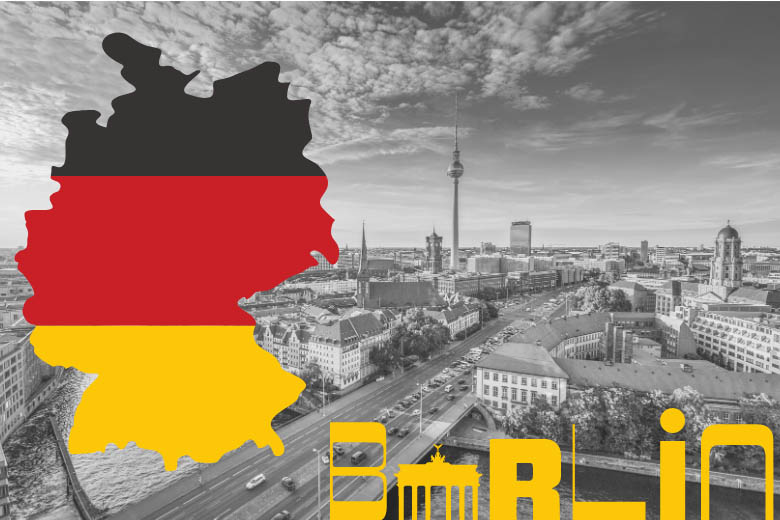 Find the best areas and suburbs to stay in Berlin to suit your lifestyle and personality in this Berlin Neighborhoods and Districts Guide.
Are you moving to Germany and wondering where's the best areas to stay in Berlin? Have no fear! We're here to help. As fellow expats, we understand the challenges (and excitement) of moving abroad and finding a new home.
We personally made the move in 2019 and it took us around 2 years to get familiar with the various neighborhoods and suburbs in Berlin. The city has quite an eclectic mix of districts and each area has its own unique set of characteristics.
So if you're looking for the best district or suburb to rent an apartment in Berlin, you've come to the right place!
This Berlin Neighborhoods Guide will cover the most popular districts and best areas to stay in Berlin. From the cool, 'hipster' neighborhoods to the more quiet, family-friendly suburbs and everything in between.
We've also included a Berlin neighborhoods map for those who are new to the city.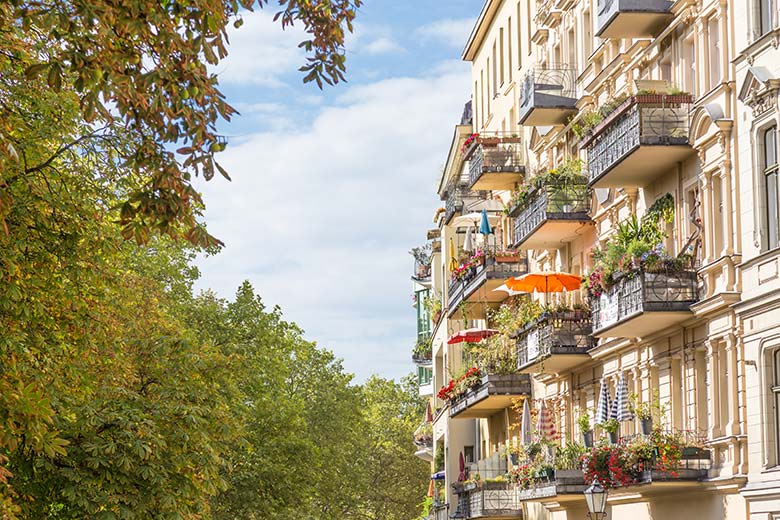 A quick side note before we begin.
Renting an apartment in Berlin is notoriously challenging – even for local Berliners. Demand for renting flats in the city is extremely high. To a point where you may not always have the luxury of choosing which neighborhood you want to stay in.
Our biggest advice to you is to be flexible with where you're willing to live.
We hope this guide will help you broaden your search to find the best neighborhood in Berlin for you.
Related Guide: If you're new to renting in Berlin, make sure you read our Berlin Apartment Rental guide. We explain how the process works, which platforms to look at, and what documents you need for the application process.
A Guide To Berlin Neighborhoods
Let's start off by introducing you to the word 'Kiez'. It's the German word for 'neighborhood' and the term is mainly used in Berlin and northern Germany.
You'll hear both locals and expats referring to 'Kiez' frequently in Berlin. The word can be used to refer to the larger suburb or the micro-neighborhood within the neighborhood.
Confused? You're not alone.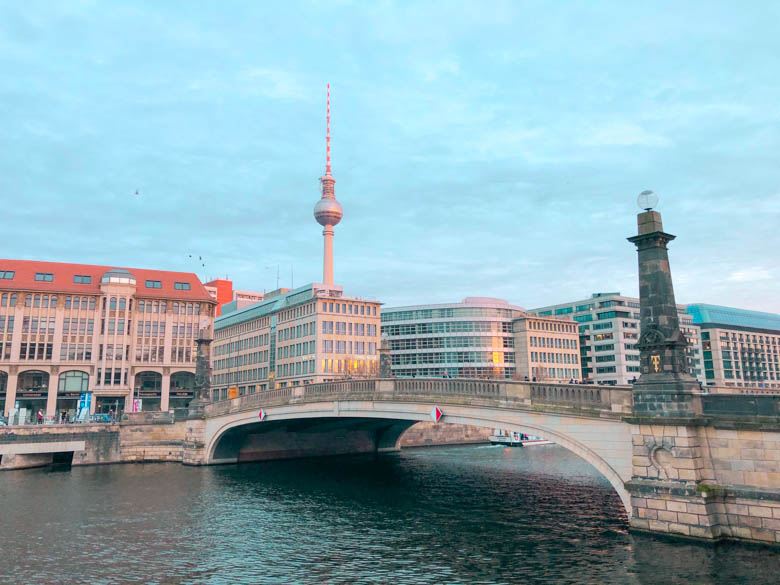 That's because unlike other cities, Berlin isn't quite as easy to compartmentalize into family-friendly suburbs, hipster and trendy neighborhoods, urban business districts, or unsafe, 'no-go' areas. But rather each district is a concoction of the above.
So before you fall in love with one particular neighborhood or completely write off another. Make sure to keep this point in mind, as the feel and 'flavor' of each district can change from one street to another.
So use this guide to get a general idea of what to expect in each neighborhood in Berlin. Bearing in mind that it's not definitive in any way and that these are based on our own opinions.
Related Guide: Did you know that there are German customs you should know before renting an apartment in Germany? Yup! It will make the apartment rental process much easier and save you time, money and heartache too. Read our German Cultural Norms to know to avoid Culture Shock Renting in Germany guide to find out more.
Where to Stay in Berlin? East or West?
Ever heard of the Berlin Wall? You probably have if you're considering living in the city.
The famous wall use to divide the sprawling city into two. So the question most expats ask is: does it matter whether you're living on the east or west of Berlin?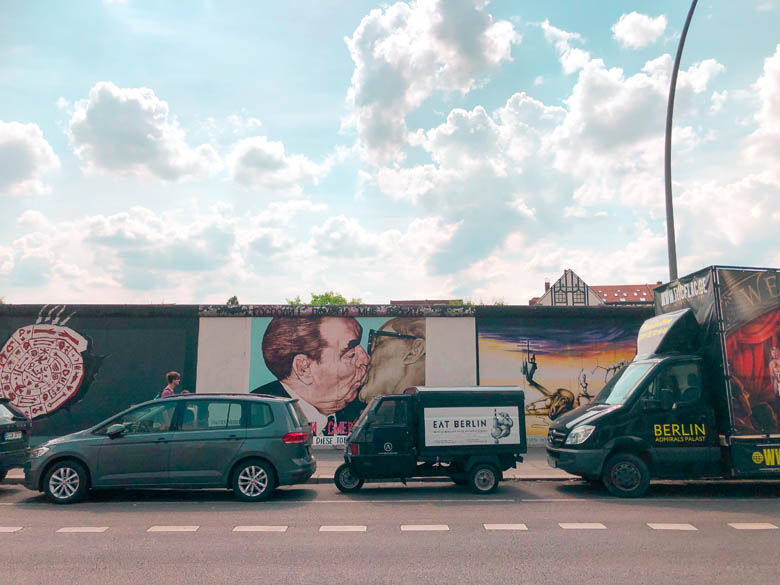 In our opinion, no. Especially since it's so easy to get across the city by train.
So don't write off renting an apartment in the east of Berlin if you're working in the west. It's easy to get around Berlin if you live within the Berlin A and B public transportation zones.
You should be able to get around the city in under 30 to 45 minutes if you live within a 10-minute walk to a U-Bahn or S-Bahn train station.
Related Guide: Moving to Germany and want to know how to convert a foreign driver's license to a German driving license? Find out how in our step-by-step Driver's License in Germany Conversion guide.
And if you prefer to burn fat, not fuel, you could also get around Berlin by bike. It's often faster than taking public transport, saves you tons of money, good for your health and great for the planet too.
Try cycling around Berlin using bike-sharing and see if you like it. Read our Berlin Bike Sharing guide to find out how it works.
Related Guide: Curious to know the history behind the Berlin Wall and understand why it's so famous? Read the simplified version of the Berlin Wall history. Or better yet, cycle and follow the crumbs of the Berlin Wall on our Berlin Wall Tour.
Are There Berlin Districts To Avoid?
Another common question that expats ask are: is Berlin safe, are there certain Berlin districts to avoid or where you should not live if you're a woman living alone?
Fortunately not. Berlin is quite a safe city and there aren't any 'bad' neighborhoods. But there are some areas within districts that feel more unsafe and 'unsavory' than others.
They're often limited to certain U-Bahn train stations, parks or a street within a district. So there's no need to avoid any particular neighborhood in Berlin if your concern is safety.
Now that you know the basics, let's get straight in the 17 most popular neighborhoods and districts in Berlin!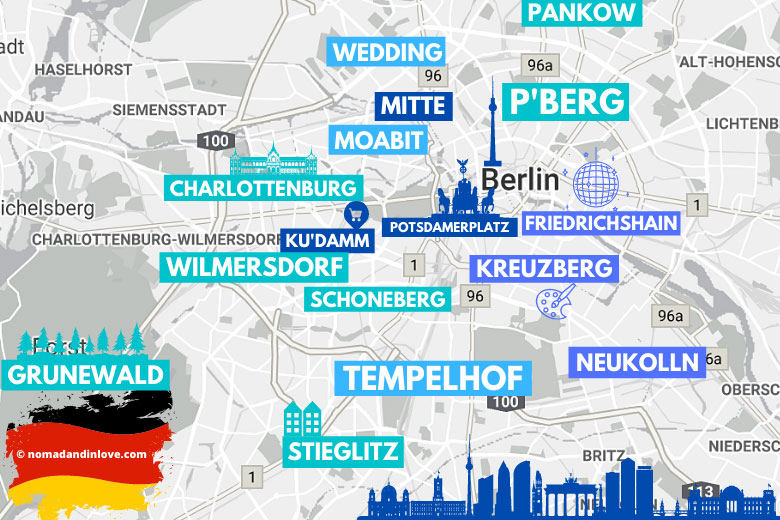 Related Guide: Are you planning on moving into a new apartment? Find out 10 things you must do after you sign the rental contract for your new home in our Moving Apartments in Germany Checklist guide.
Trendy and Cool Neighborhoods in Berlin
These districts are often touted as the cool, trendy and 'hipster' neighborhoods in Berlin. They tend to be lively, bustling and are very popular amongst expats.
The demand to live in these neighborhoods is therefore very high. So expect finding an apartment in these parts of Berlin to be more challenging than normal.
Bonus Tip for Renting Apartments in Berlin That Offer Anmeldung
If you urgently need to rent an apartment in Berlin that offers Anmeldung, we highly recommend checking out Homelike. Like other short term rental options, they are more expensive compared to renting a long term apartment. But it's a temporary solution that will allow you to get your foot in the door (literally!).
The benefit of renting with Homelike is that it's as easy as booking a hotel. This means that you won't need to submit a long list of documents (including SCHUFA) to rent an apartment in Germany. All the apartments come fully furnished and some are even deposit-free and pet-friendly too! And the cherry on top? You get customer service in English!
The only downside is that there are no apartment viewings with Homelike (same as with a hotel). But don't worry, the photos do a pretty good job of showing you what the apartment is like. And their listing policy is stringent so you won't need to worry about scammers either.
Another alternative is to stay at an Apartment Hotel that allows Anmeldung in Berlin.
Kreuzberg
Kreuzberg is often dubbed the coolest neighborhood in Berlin. The district is known for its incredible diversity and bustling atmosphere.
It's probably the most popular neighborhood for expats because you can find a little bit of everything in Kreuzberg. From quieter, residential suburbs around Graefekiez and Bergmannkiez, to the hustle and bustle around Kottbusser Tor.
There is a myriad of trendy cafes, restaurants and bars in the area. So you'll never run out of options if you love eating and dining out. And if you have kids (or fur-kids), there are plenty of fabulous parks and green spaces in the area too.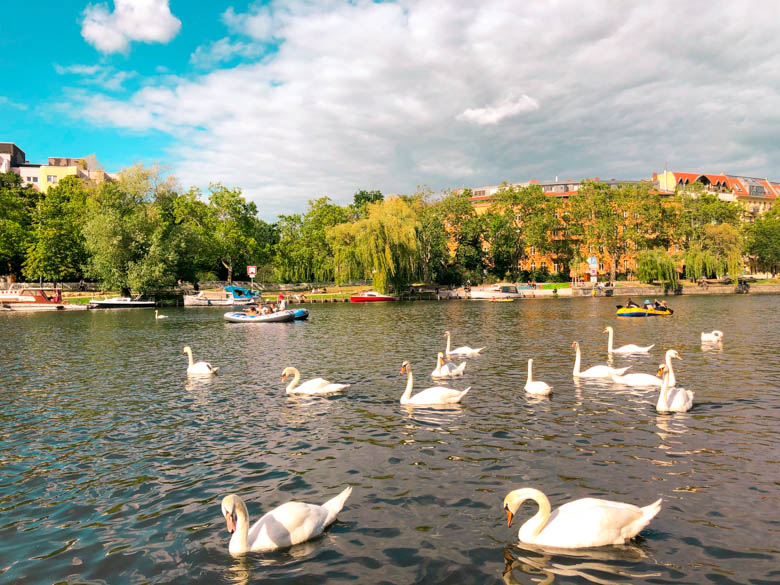 Some of the best street art in Berlin is found in the cool neighborhood of Kreuzberg. So don't be surprised to see lots of tourists roaming the streets, looking to experience Berlin's alternative scene.
Depending on where you come from, certain areas of Kreuzberg can feel a little grimy and unsafe. Particularly around Kottbusser Tor U-Bahn station and parts of Gorlitzer Park.
Friedrichshain
Friedrichshain – the district that never sleeps. This is another neighborhood that is very popular with expats and students studying abroad.
It's known for being home to some of the best nightlife in Berlin. Yes, that includes the world famous Berlin nightclub, Berghain. The club where it's 'normal' to queue for 3 hours just to get bounced at the door. Yup – that's the one.
Besides nightclubs, Friedrichshain is also home to a flourishing food scene. Especially around Boxhagener Platz where it's renowned for its street food market and vegan dining spots.
You'll love Friedrichshain if you're a night owl that prefers living in the middle of the hustle and bustle. And you don't mind new graffitis popping up and the sounds of the youth drinking on the sidewalks.
Otherwise, it may be a little too lively (and dirty) if you prefer to live in a quieter Berlin suburb.
Neukolln
Neukolln is one of the larger districts in Berlin. It stretches all the way from the edge of Kreuzberg to Buckow and Rudow in the south. Hence why you see two Neukolln's on Google Maps.
Here, you'll find a mix of hipster and trendy neighborhoods popular with expats and locals. As well as quiet, residential suburbs where mostly local German families stay.
The cool and trendy suburbs are located in the northern part of Neukolln close to Kreuzberg. This is where you'll find the more artsy, alternative and multicultural suburbs like Reuterkiez and Schillerkiez.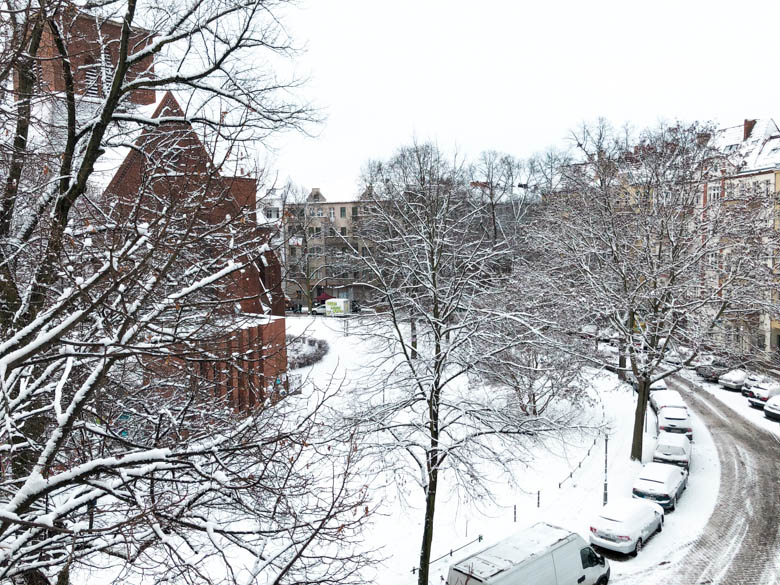 These neighborhoods are great if you want to be within walking distance to a large variety of shops, artsy cafes, old school pubs (or 'Kneipes' in German) and cheap eats. Plus they're pretty dog-friendly too as you're close to both Tempelhofer Feld and Hasenheide Park.
But these suburbs can be a bit too lively, noisy and dirty in summer and on weekends when people literally flock to the area to drink and hang out on the sidewalk.
From Britz to the south part of Neukolln, it's mostly quieter residential suburbs where local German families and the older generation of Berliners stay.
Related Guide: Thinking of adopting a dog in Germany? Read our firsthand experience on adopting a dog in Berlin in our Dog Adoption in Germany guide.
Schoneberg
Schoneberg is another awesome district to stay in if you're looking for a neighborhood that strikes a balance between vibrant and trendy vs serene and family-friendly.
The busier parts of Schoneberg are mostly along main roads like Hauptstrasse and Kolonnenstrasse. But once you enter the smaller side streets and move further away from the main roads, you'll find leafy residential suburbs that are both peaceful and quiet.
Schoneberg is also known for being one of the most LGBTQ and gay proud neighborhoods in Berlin. It's home to the densest concentration of gay bars and clubs in Berlin, around Nollendorfplatz and Victoria-Luise-Platz.
Save Me For Later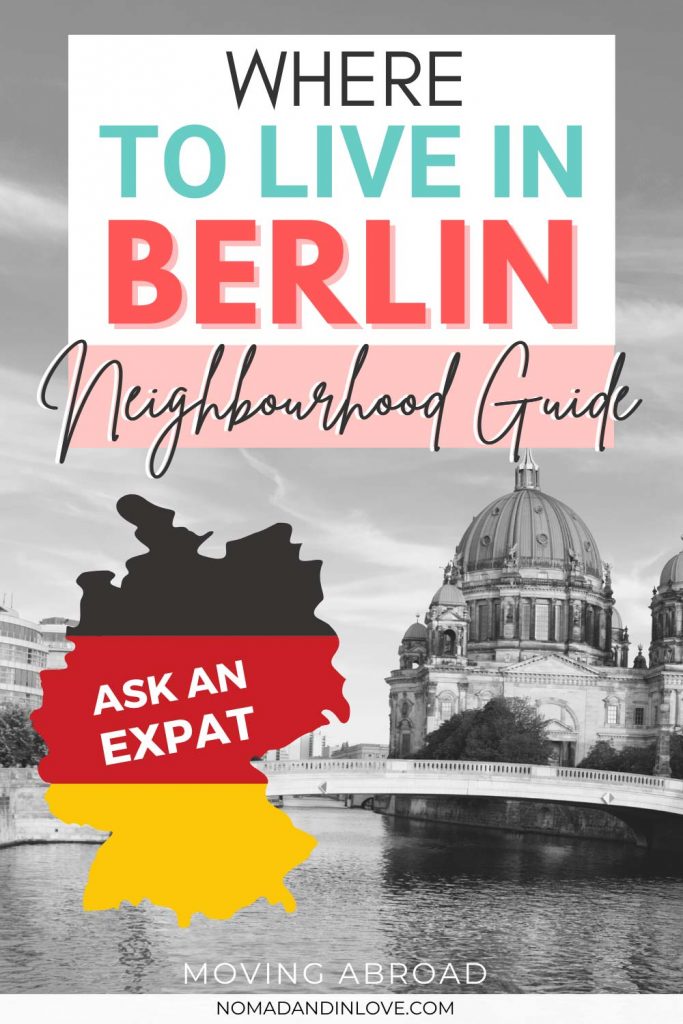 Urban and Posh Neighborhoods in Berlin
These are some of the most expensive and posh neighborhoods to stay in Germany's capital city. They're the most central places and the ideal suburbs to stay in Berlin if you're missing the urban city life.
Related Guide: There tend to be lots of rental scams for apartments in neighborhoods where there's high demand. Make sure you read our 7 tips to spot Berlin Apartment Rental Scams to dodge them like a boss.
Berlin Mitte
Fun fact: Ever wondered why every city in Germany has a district called 'Mitte'? Well, that's because 'Mitte' literally means 'middle' in German. So that became the 'name' for the city centre of every large city in Germany.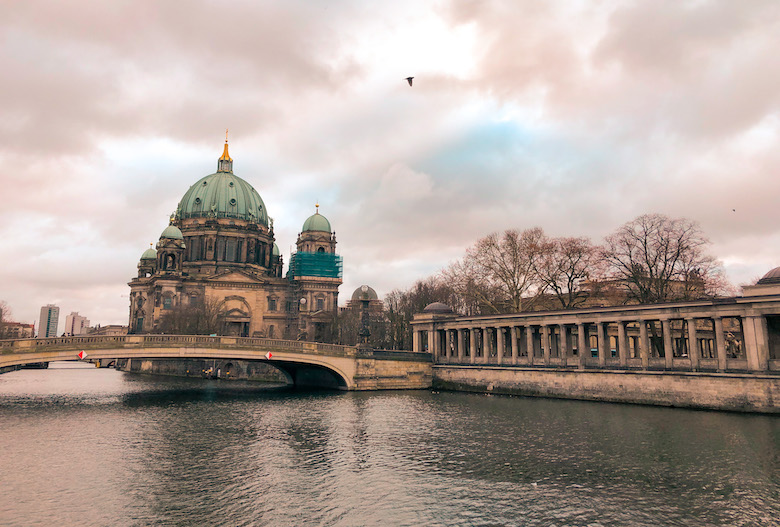 You'll love Berlin's Mitte district if you want to stay where all the action is. Here, you'll be within walking distance to the most famous landmarks in Berlin. Like the Berliner Dom on Museum Island, the Reichstag Parliamentary Building, Brandenburger Tor, and the Berlin TV Tower at Alexanderplatz, just to name a few.
As you may have guessed, this neighborhood in Berlin is a hotspot for tourists. So expect it to be busy on any given day of the week.
Plus the other downside of this tourist hub is that there are limited supermarkets, convenience grocery stores, kitas (or kindergardens) and schools in the area.
Potsdamer Platz
Potsdamerplatz is probably the most urban and contemporary suburb in Berlin. It's actually so modern that at times it's easy to forget that you're still in Berlin.
So if you're thinking glass skyscrapers, modern, gravity-defying architecture, and tall office buildings, you're on the right track.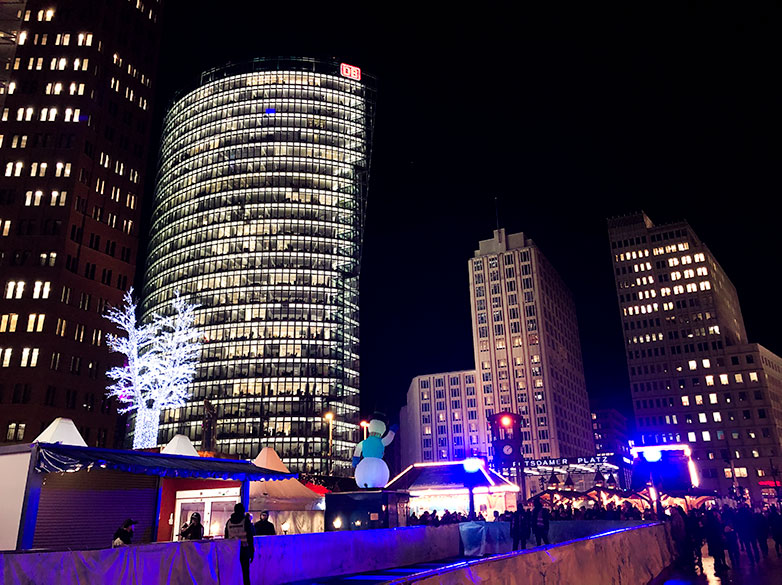 Potsdamerplatz has always been one of the busiest squares in Berlin. Even way back in the 1920s and 1930s. So expect to see tons of suited-up office workers, well-dressed shopaholics, and photo-snapping tourists roaming the streets.
Similar to Mitte, there aren't many convenience grocery stores and supermarkets in the area. But you could just pop into the appropriately named, Mall of Berlin, which is the largest shopping center in the city.
Kurfurstendamm
Kurfurstendamm – also lovingly referred to as Ku'Damm for short is the 5th Avenue of Berlin. It's an absolute mecca for shopaholics (and tourists of course) and is home to some of the world's most well-known brands.
This is also the district where you'll find KaDeWe (short for Kaufhaus des Westens) which is Berlin's equivalent of Harrods in London.
As you can imagine, the price tag to stay in this posh suburb of Berlin is higher than average. But it's very central whether you work in one of the fancy office towers in Kurfurstendamm or on the eastern part of the city.
Ku'Damm is located near Zoologischer Garten U- and S-Bahn train station. So you can pretty much get to anywhere in Berlin in a blink of an eye.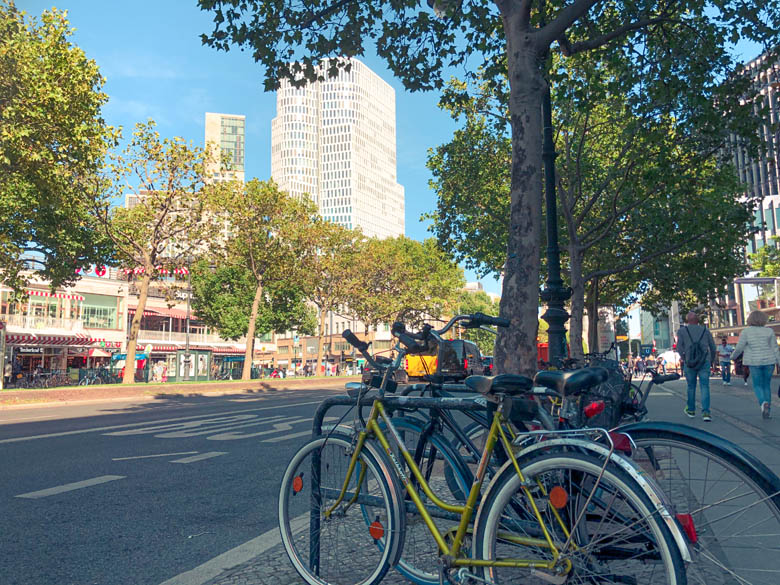 Related Guide: Ever wondered what it's like living in London vs Berlin? Find out what the pros and cons are in our London vs Berlin comparison guide.
Family Friendly Berlin Districts
If you're looking to start a family and have kids in Berlin, these are the most family-friendly districts in the city. These suburbs tend to be quieter, cleaner, and more 'vanilla' or plain compared to the other neighborhoods in Berlin.
You'll generally find small cafes and restaurants in these districts. But bars, spätis (i.e. late night shops) and basically any nightlife is very few and far between.
Bonus Tip: If you're moving from one apartment or flat in Berlin to another. Make sure you use this free mail forwarding service in Germany to redirect your mail from your old to new address. It's the easiest way to let the banks, insurance companies, and other essential service providers know that you've moved. It takes less than 5 minutes to do and you can do it all online!
Charlottenburg
This beautiful neighborhood in Berlin is most well known for the majestic Charlottenburg Palace. But the surrounding neighborhood is just as beautiful, with lots of parks and green spaces for both kids and dogs.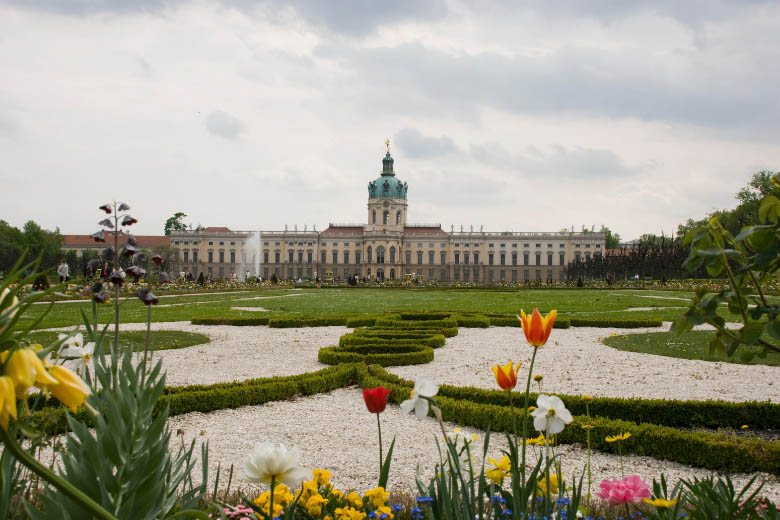 The older generation of Berliners tends to love living in this suburb. It's further away from the hustle and bustle of the city. Plus it's just a short train ride away from some of the best lakes and nature spots on the west side of Berlin.
Needless to say, the price tag to stay in this 'regal' suburb of Berlin can be quite expensive.
Make sure that you're familiar with German rules and customs if you plan to live in Charlottenburg. That means respectings 'Ruhetag' (i.e. rest days in German) and that you don't vacuum or make noise on Sundays or after 10PM in the evenings.
Related Guide: Want to explore the best nature spots in and around Berlin? Read our best outdoor activities and things to do in Berlin!
Wilmersdorf
Wilmersdorf is another family-friendly neighborhood in Berlin. The setting is similar to Charlottenburg, only without the palace and the expensive price tag.
It's got the nice mix of being a quiet, residential suburb with cute cafes and restaurants in the area. But it's also not too far away from Kurfurstendamm or Schoneberg if you're looking to enjoy a night out or a couple of drinks with friends.
And if you're an Asian food lover, you'll be happy to know that this part of Berlin has some of the best Asian restaurants in the city. It's also home to the only outdoor Thai Market (Thaipark at Preussenpark) in Berlin.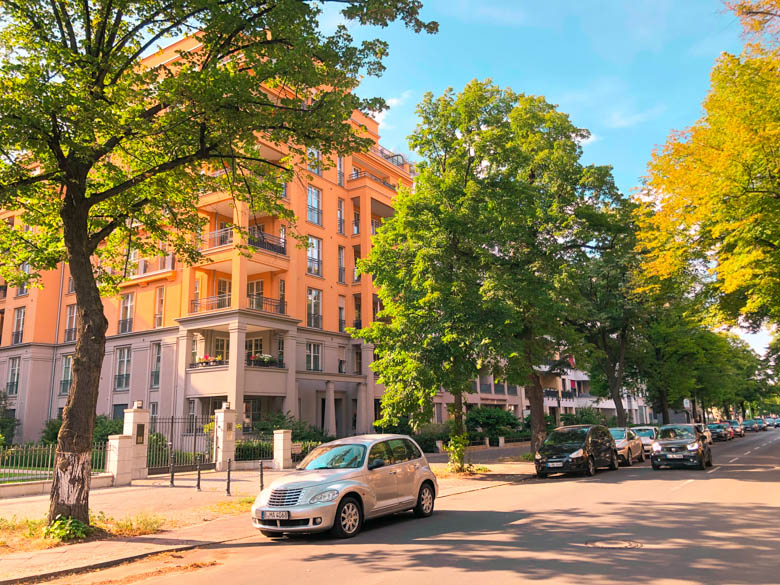 Prenzlauer Berg
Prenzlauerberg or PBerg for short, is also jokingly referred to as 'Parentslauerberg' for obvious reasons. The neighborhood is very popular with young families because it has the best of both worlds.
The district is relatively close to the city centre of Berlin. Yet it's just far enough to raise a family away from the commotion of the city. Plus it's home to the largest organic food and vegan community in Berlin.
That's why Prenzlauerberg has quickly become one of the most popular (and expensive) neighborhoods to stay in Berlin.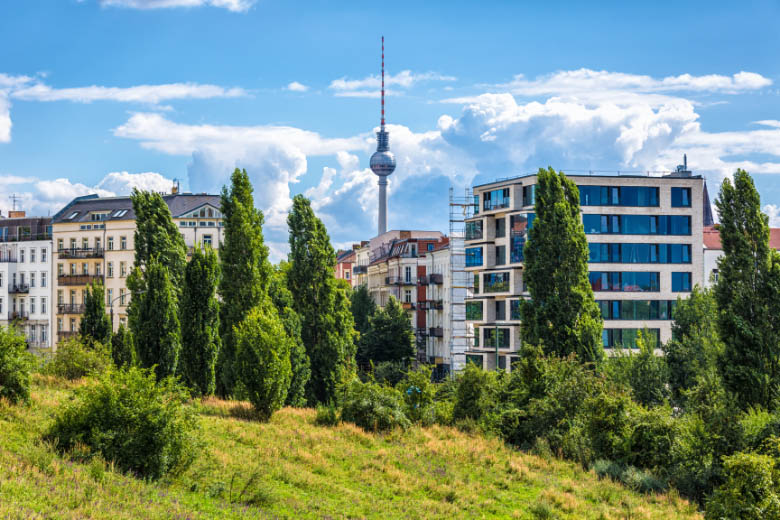 Related Guide: When you've finally signed that lease and ready to move into your new apartment. You'll probably need a moving van to transport your furniture and belongings. Find out how you can easily rent a van in Berlin (or anywhere else in Germany) and how much it costs in our Van Rental in Germany guide.
Stieglitz
Stieglitz is another great neighborhood in Berlin for families. Like Charlottenburg and Wilmersdorf, there's no nightlife in Stieglitz. But there's plenty of green spaces and parks, with the most famous one being the Berlin Botanical Gardens (Botanischer Garten).
You'll love Stieglitz if you prefer living further away from the city. But do bear in mind that you'll probably need to budget 45 to 60 minutes travel time if you're working on the opposite end of Berlin.
Luckily you won't need to go far to shop till you drop, because Stieglitz has its own main shopping street along Schlosstrasse.
Pankow
Pankow is often mispronounced by expats as 'pan-cow' when it's actually more like 'pan-koo'. We know this all too well because we made the same mistake.
This neighborhood is on the northernmost periphery of Berlin just outside the city's main transport ring. It's a growing residential area that is also very popular for families.
It's very clean, quiet, there's plenty of parks and playgrounds and rent is lower here compared to the rest of Berlin. But the downsides are that there are only trams and buses (i.e. no trains) in Pankow and it's also not as multicultural as the rest of Berlin.
Grunewald
The name 'Grunewald' (which means 'green forest' in German) should say it all – it's the ultimate nature lovers' retreat in Berlin. It's also one of the most expensive places to stay in the city. And that's because the homes here are more like stand-alone houses than apartments.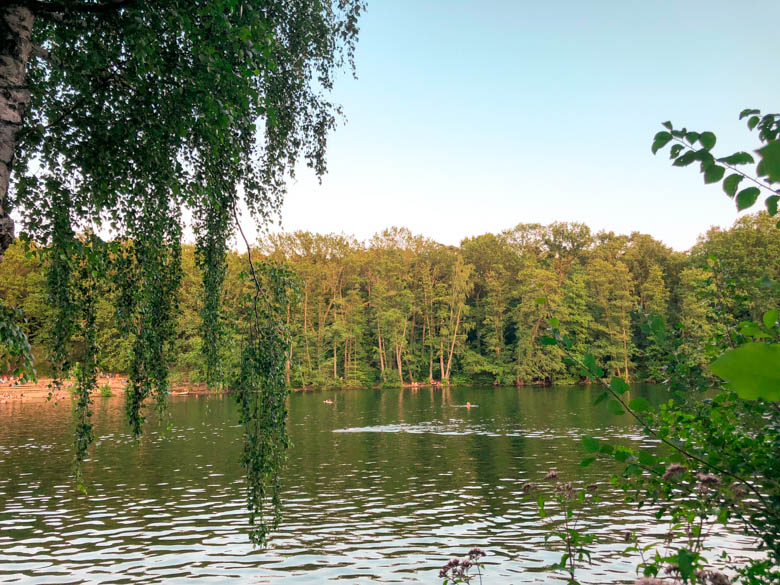 Up-And-Coming Neighborhoods in Berlin
We've categorized these districts and suburbs in Berlin as up-and-coming because they're changing and growing as new developments come up. They are great neighborhoods to stay in whether you're a student or looking to start a family. Plus very few tourists venture into these districts as they're relatively less known.
Tempelhof
Tempelhof is the ultimate suburb where green space meets urban living. The district is well-connected to public transport, it's family-friendly and culturally diverse too.
Plus you can find a wide range of residential settings here. From narrow, duplex style apartments in Neue Tempelhof (New Tempelhof) to more traditional, Berlin-style apartments towards Alt Tempelhof.
Moabit
Moabit is another hidden gem of a neighborhood in Berlin. It's quiet, there's plenty of green spaces, close to Tiergarten and it's quite a central part of Berlin to live in.
The only downside to Moabit is that it doesn't have as many U-Bahn and S-Bahn stations as other districts in Berlin.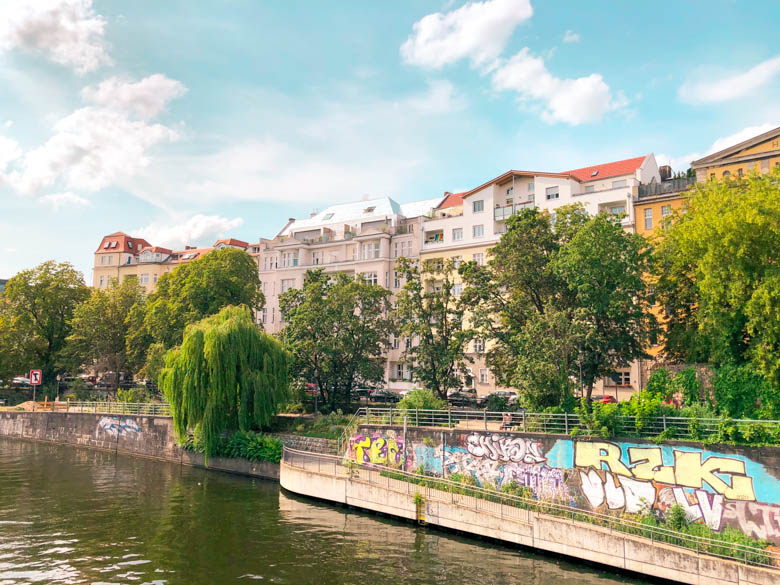 Wedding
Wedding – pronounced 'Vedding' is known to be the most culturally diverse district in Berlin. Here you'll find everything from authentic African grocers, traditional Turkish restaurants to the latest hipster breweries and trendy Korean nail salons.
It's estimated that at least 30% of the residents living in this neighborhood are non-German. So if you're looking for a Berlin suburb where you can get by without speaking German, this is it.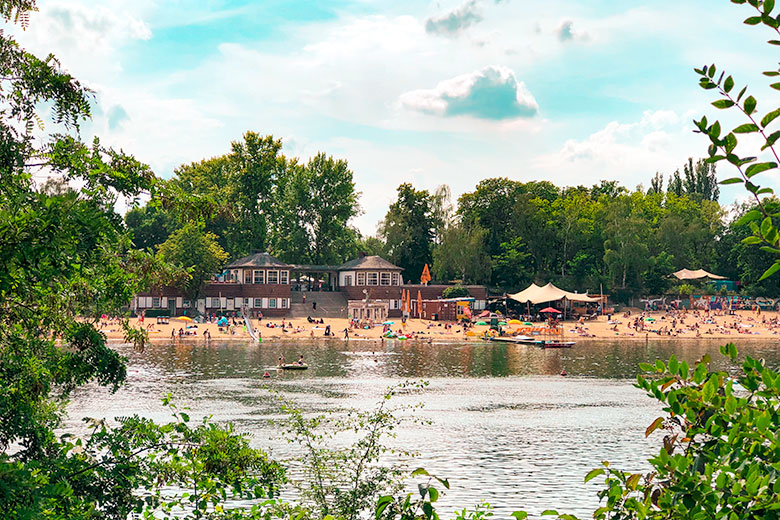 Lichtenberg
Lichtenberg is probably one of the fastest growing neighborhoods in Berlin. It used to be very popular with students and young couples because of the cheaper rent. But this is slowly changing as new residential developments are being built in the district and older apartments are modernized.
The neighborhood is currently not very multicultural. But this will probably change as more people move into the area.
Best Neighborhoods in Berlin
We hope you enjoyed this detailed Berlin Neighborhoods and Districts guide! Now that was a long guide, so here's quick summary:
Kreuzberg
Friedrichshain
Neukolln
Schoneberg
Berlin Mitte
Potsdamerplatz
Kurfurstendamm
Charlottenburg
Wilmersdorf
Prenzlauerberg
Stieglitz
Pankow
Grunewald
Tempelhof
Moabit
Wedding
Lichtenberg
Make sure you check out our other Moving To Germany guides if you're planning to live abroad.