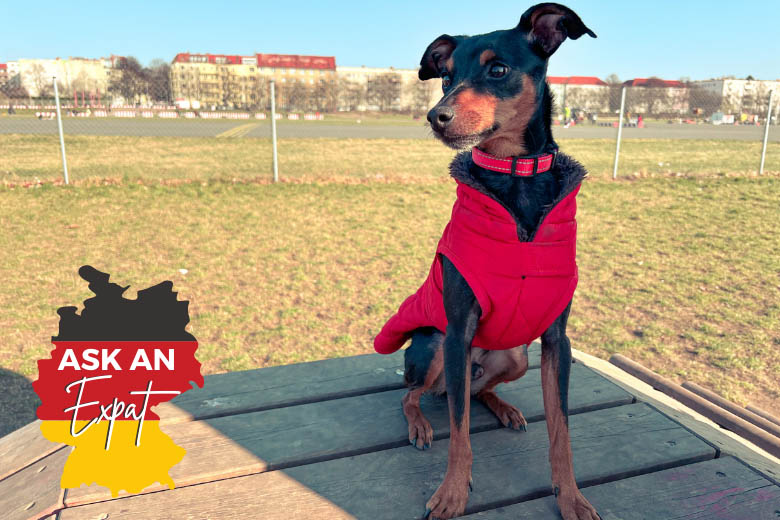 Expats share what the dog adoption process in Germany is like based on their personal experience. From how the process works and how much it costs to adopt a dog in Germany, to a step-by-step guide on how to adopt a dog in Berlin.
Thinking of adopting a dog in Germany but don't know where to start? Well, wonder no more! As expats living in Berlin and self-confessed dog lovers, we're spilling the beans!
The dog adoption process in Germany may seem daunting at first (especially when your German isn't great), but it doesn't have to be. Our German language skills are not great in any shape or form and we managed to adopt a dog from a shelter in Berlin.
This comprehensive guide written based on our personal experience will explain it all!
From how dog adoption works in Germany, what to consider before adopting, and how much it costs to adopt a dog, to what documents you'll need, and a step-by-step guide on how we adopted our dog in Berlin.
How Does Dog Adoption in Germany Work?
Dog adoption isn't 'a walk in the park' in Germany (excuse the pun). You can't simply arrive at an animal shelter in Germany, adopt a dog and take your pooch home.
Nope! If you're a seasoned expat living in Germany, you'll know that everything must be done in a proper and orderly fashion. And this means that there are some paperwork and bureaucratic processes involved.
Adopting a dog in Germany is no different. Most registered dog adoption or animal rescue organizations (known as 'Tierheim' in German) have certain procedures that they must follow.
It's quite common to have to go through at least 2 rounds of interviews, a home inspection, and fill out a long questionnaire BEFORE you're even considered eligible for dog adoption in Germany.
It's tedious – we won't lie. But it's the right way to go about dog adoption and totally worth it when you finally welcome your new family member home.
You see – the priority of animal rescue shelters in Germany is to find a forever home for their dogs. Not to adopt out as many dogs as possible just for them to be returned or treated badly. And to achieve this, they need to find the right match between dog and human.
This is why you can't just walk into a dog shelter, fall in love with those puppy eyes and adopt a dog on the spot in Germany.
Like we said, adopting a dog here is not 'a walk in the park', but it isn't difficult either. Hopefully, by sharing our dog adoption journey in Berlin, we can make this process easier for you and encourage more people to adopt, not shop.
Before The Dog Adoption in Germany: What To Consider
Dog adoption organizations in Germany will ask you lots of questions. These are standard questions any future dog owner should ask themselves whether you're adopting or not. So don't worry – you're not being interrogated like a suspect.
Animal rescue shelters are more than delighted that you're interested in adopting rather than buying a dog. But they do need to ask these questions to make sure that you're matched with the right dog for you.
Some of the standard questions dog adoption organizations in Germany will ask are:
How big is your home or apartment? Which floor is it on?
Do you rent or own your home and are pets allowed?
How many people are in your household? Do you have kids or other pets?
Have you had a dog before and how much experience do you have with dogs?
What's your lifestyle and daily routine like?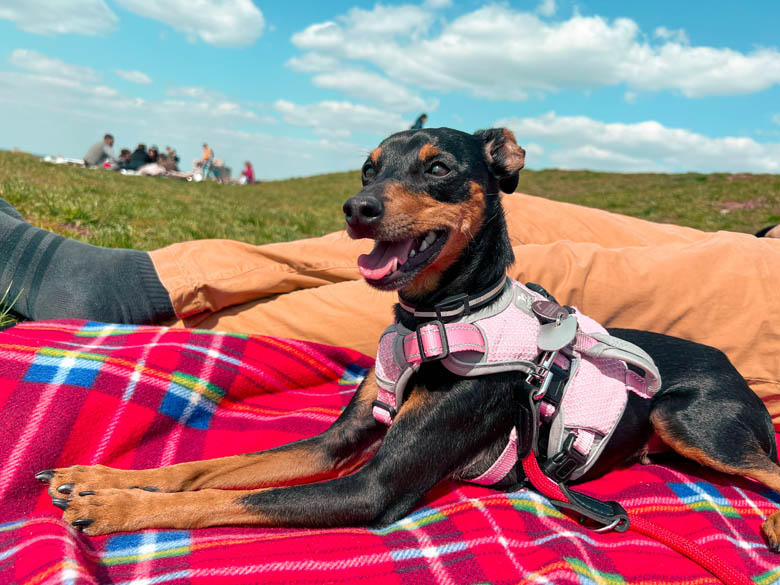 Some animal rescue shelters in Germany, like the Berlin Tierheim, will have additional questions and restrictions.
For example, if you have young kids under a certain age (usually 8 or 13), they won't let you adopt a dog of a certain size. Or if your apartment is on the 2nd floor or higher and there's no elevator in the building, you will not be able to adopt an older or short-legged dog. And you may even be required to have a garden if you're adopting a large dog.
The specific requirements of each dog adoption organization in Germany may differ slightly. So we highly recommend you read through the adoption process for the particular dog shelter or organization first before identifying your pooch and filling out the questionnaire.
And lastly, you may need a friend who can speak German fluently to help you manage the language barrier. Most dog adoption shelters in Germany don't offer English support. So this is something important to consider too.
But don't worry – our German language skills are mediocre at best and we managed to adopt a dog in Germany in English! More details on that later. But if you're keen to improve your German, we're got some great hacks in our Free Ways To Learn German Online guide.
How Much Does it Cost to Adopt a Dog in Germany?
Adopting a dog (or any animal) from a shelter is not only the ethical thing to do but also a lot cheaper than buying a dog in Germany.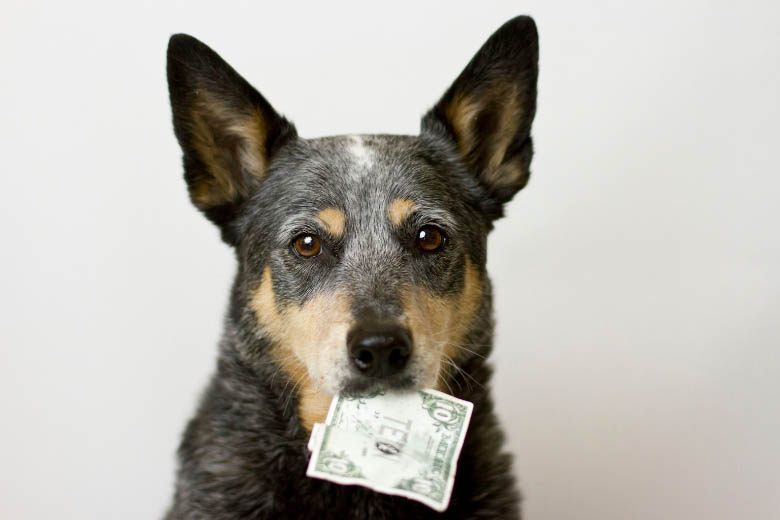 Buying a dog could easily cost you €1,500 and more! Whereas the costs to adopt a dog in Germany range from €200 to €600.
The €200 to €600 dog adoption fee covers a complete health check, standard vaccinations (including rabies), deworming and tick/flea treatment, castration if the dog is old enough, a microchip, and also an EU dog passport.
Big expenses you could save on if you adopt rather than shop!
And let's not forget that you're also exempt from paying dog tax for 5 years (since 2022) when you adopt from a shelter in Germany. That's an additional €120 to €180 cost saving per year!
Interesting Fact: Registered dog adoption organizations in Germany often list a breakdown of how they calculate the adoption fee on their website. In most cases, the adoption fee is insufficient to cover the actual costs of rescuing abandoned or neglected dogs. So feel free to donate and support your favorite dog shelter in Germany – it's a tax-deductible expense too!
Save Me For Later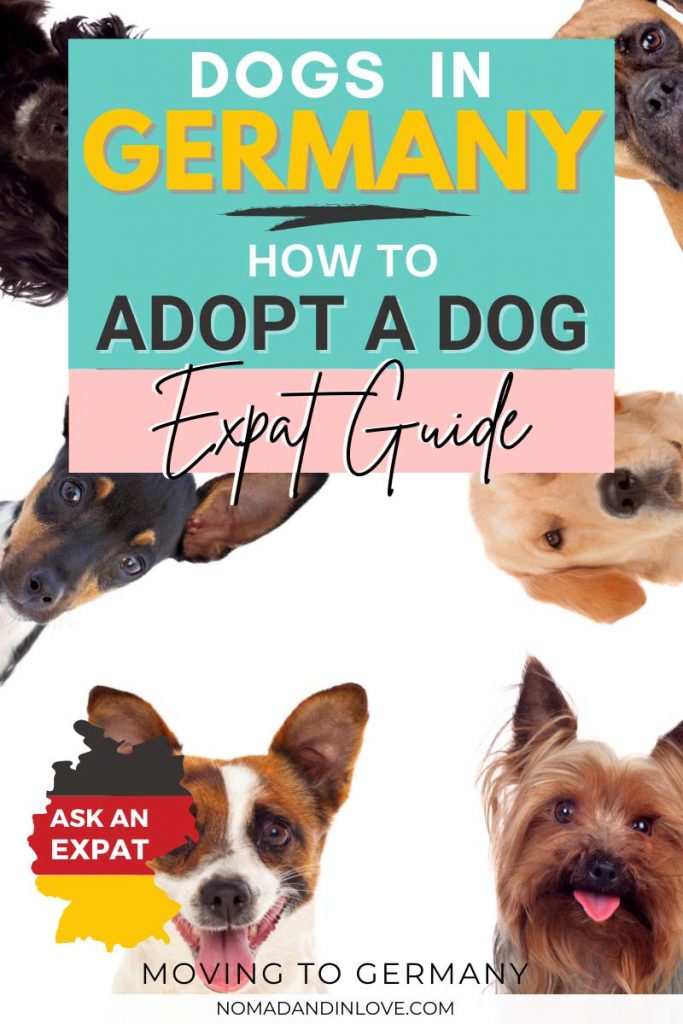 How Much Does It Cost To Adopt A Dog From Berlin Tierheim
If you're an expat living in Germany, you've probably heard of the Berlin Tierheim. It's the largest animal rescue shelter in Germany and the whole of Europe. Not only do they rescue dogs, cats, rabbits and birds, but also exotic and farm animals too.
Out of all the animal rescue shelters we researched, the Berlin Tierheim offered the lowest dog adoption fee.
Their dog adoption fee ranges from €200 to €250 depending on the breed of the dog, its age, and health condition.
The exact costs to adopt a dog from the Berlin Tierheim may vary. But in general, it costs €250 to adopt a dog younger than 1 year old. €200 for dogs between the age of 1 and 7 years old. And less than €200 for dogs older than 8 years old or have a chronic medical condition.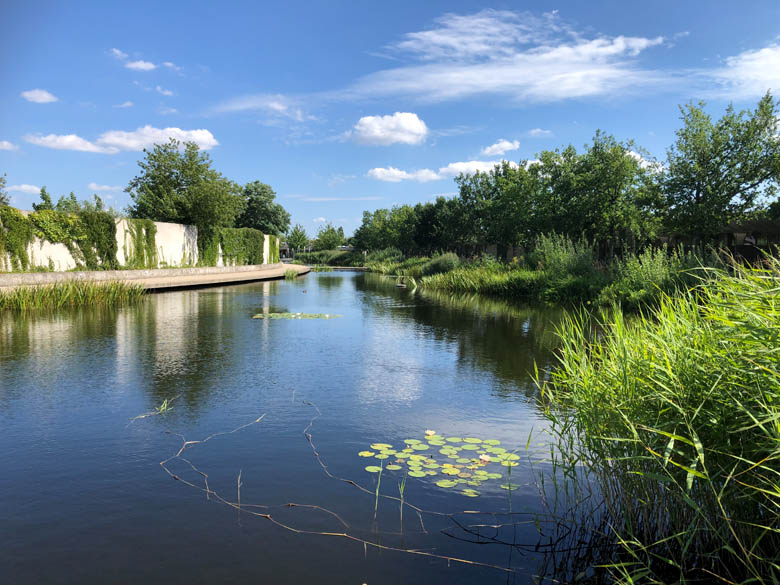 The Berlin Tierheim will cover all the medical costs of a dog with an existing medical condition or who is handicapped. So don't be afraid to adopt a dog who will need extra medical attention.
Just be wary though, that you'll have to bring them to the in-house vet at the Berlin Tierheim to make use of the free medical care.
The cost to adopt a dog from the Berlin Tierheim is low. But it can be very difficult to adopt a dog from them. They often have rescues that are in pretty bad physical and emotional shape. So their requirements to adopt are stricter and more onerous.
At the time we were looking to adopt a dog from them, almost all their dogs were not for people who didn't have expert dog training experience. The other requirements were that you had to be working from home, had no kids, AND live in an apartment that was at least 150m2 big on the ground floor and had a fenced garden.
We didn't meet all the requirements to adopt a dog from the Berlin Tierheim. But you may have better luck than us. Just keep checking their website or fill in a dog adoption application form so they can notify you when a suitable dog comes along.
Documents Required For Dog Adoption in Germany
You only need 2 documents to adopt a dog in Germany:
A copy of your German ID card or passport; and
Written confirmation from your landlord that pets are allowed in your apartment.
The first document is pretty straightforward. It's the second one that will make or break the dog adoption process.
Our advice? Get the written confirmation from your landlord before you even identify a dog to adopt and fill out the adoption questionnaire. It will save you a lot of time, stress and potential heartache.
In Germany, the dog adoption process can happen very quickly if you're a good match for the dog. In our case, we welcomed our dog home after 2 weeks of having our first video interview. So it's very important that you get the landlord's permission before starting the adoption process.
Can Landlords Refuse Pets in Germany
A common question expats ask when renting an apartment in Germany is whether landlords are allowed to refuse dogs or pets in general. And the answer is – it depends.
Tenant laws in Germany do not permit landlords to refuse small pets. So birds, mice, rabbits, fish, or small reptiles are allowed.
For dogs, cats or pets that are larger, landlords are not allowed to refuse them without providing a suitable reason.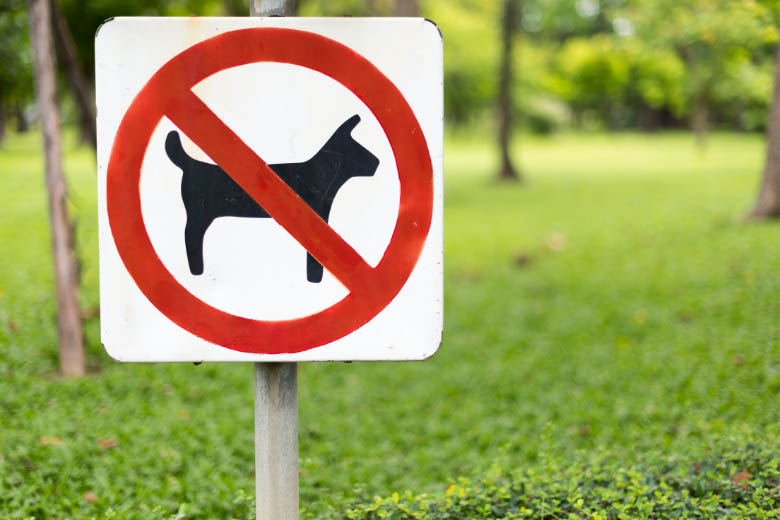 That reason could be due to smell, noise or that the animal is considered to be a dangerous dog breed.
We won't get into more detail here. But if you're planning to adopt a dog in Germany, we'd recommend you e-mail the landlord with a photo of the dog. Include information on the type of breed, its size and give a bit of background on the dog so you can (fingers crossed) get his or her permission and start the next part of the dog adoption process.
How To Find Ethical Dog Adoption Organizations and Shelters in Germany
There are many dog adoption organizations and shelters in Germany and Europe. So how do you tell whether they're ethical or not?
Is there a way to make sure that you're not unintentionally supporting an unethical dog breeder or unscrupulous individuals stealing dogs and puppies to sell?
In Germany, the best way to find an ethical dog adoption organization is to go with a registered shelter. You can usually tell whether it's registered if the name of the dog shelter is followed by the abbreviation 'e.V'.
'e.V' is short for 'eingetragene Verein' in German and means that the organization is registered as a non-profit association.
For dog adoption organizations to be able to register as an 'e.V', they need to follow a stringent dog adoption process. From how their staff and volunteers are trained, doing the required medical checks on the dogs, proper screening of potential adopters, and transparent disclosures, to how the dogs are transported to ensure their safe arrival.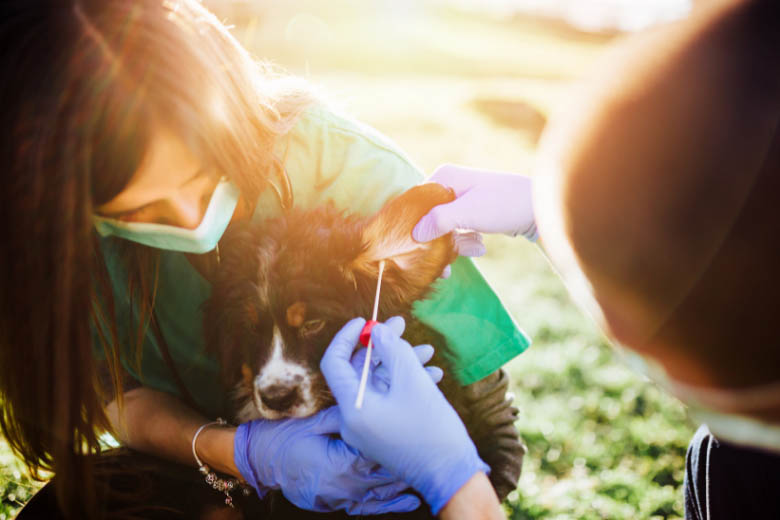 Of course, you may find other ethical dog shelters that aren't necessarily registered as an e.V. But unless you can physically visit the organization and see what goes on daily. You can never guarantee that they are indeed ethical or not.
So your best bet is to find a dog adoption organization that has gone to the lengths of registering as an e.V.
Interesting Fact: Dog adoption organizations in Germany have a no-kill policy. This means that if the dog (or any other animal) can enjoy a good quality of life. They won't be put down no matter how long they'll stay at the shelter.
Dog Adoption Organizations and Shelters in Germany
There are many registered dog adoption shelters and organizations in Germany. This isn't an exhaustive list. Just a shortlist of the dog shelters we looked at when we were planning to adopt a dog in Berlin.
We'd recommend checking out their websites and following their Facebook or Instagram pages. Most dog adoption organizations are run by volunteers who have full-time jobs outside of rescuing dogs. So they may update their social media pages more regularly than the official website.
How To Adopt A Dog in Berlin, Germany
We adopted our dog from Daisy Family Rescue e.V. They are a German registered dog adoption organization based in Berlin and North Macedonia.
Daisy Family Rescue has been rescuing strays and abandoned dogs in North Macedonia since 2016. They try their best to re-home their dogs as close to home as possible. But unfortunately, the demand to adopt dogs in North Macedonia and its surrounding countries are low. So Daisy Family Rescue often finds loving homes for their dogs in Germany, France and the UK instead.
Since Daisy Family Rescue is a registered e.V. They follow the stringent dog adoption process that is required by all registered animal shelters in Germany.
To help give you a better idea of how you can adopt a dog in Berlin or anywhere else in Germany, we'll be sharing the adoption process we had with Daisy so you know what to expect.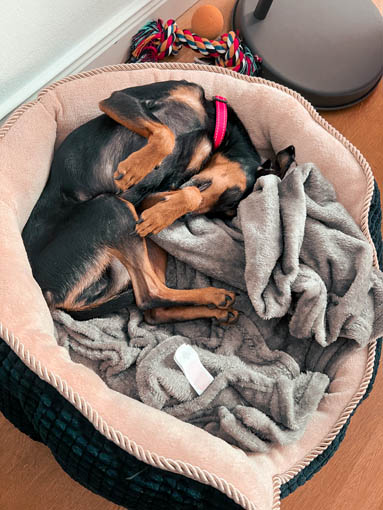 In general, you can expect the dog adoption process in Germany to follow this order:
Identify a dog you want to adopt or specify what type of dog you're looking for
Complete the self-disclosure questionnaire
Have a preliminary discussion on the dog adoption
Home inspection
Have a second discussion on the dog adoption process
Sign the dog adoption contract
Pay the dog adoption fee
Collect the dog from the rescue organization
Our Dog Adoption Experience in Germany with Daisy Family Rescue
1. Identify The Dog You Want To Adopt
The first step in any dog adoption process is to identify a dog that you want to adopt. With Daisy Family Rescue, this part of the process was easy and effortless.
They are one of the few dog rescue organizations in Germany that allow you to do the entire adoption process in German or English. From the information you read on their website, the self-disclosure questionnaire, to the adoption interviews and the dog adoption contract. So no Deutsch yet? No problem!
We looked at both the Daisy Family Rescue website as well as their Facebook page for around 6 months before we found the dog for us.
We weren't able to meet our pooch in person beforehand. He was still in North Macedonia at the time. But if the dog you're looking to adopt is with a foster in Germany, you probably can meet before deciding.
Daisy does upload a couple of photos and provide a short description of the dog's size, breed, and what they know of his or her personality to help you decide. That's how we found and decided to adopt our dog, Franky, in Berlin.
He is a 2-year-old Miniature Pinscher mix. Around 5kg at the time he was rescued, but now a healthy 6.7kg.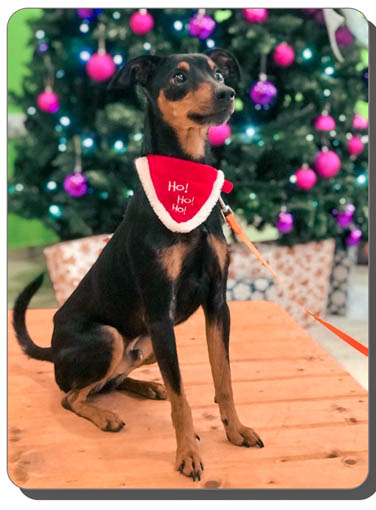 When you do find a dog you would like to adopt. We'd recommend thoroughly reading through the adoption process of whichever dog shelter you're adopting from. Make sure you do this before taking the time to fill out the self-disclosure questionnaire.
2. Complete The Self-Disclosure Questionnaire
After you've identified the dog you want to adopt, it's time to fill out the self-disclosure questionnaire.
Each dog adoption organization in Germany will have its own questionnaire or self-disclosure form. But the questions should be pretty similar.
Just bear in mind that you may need to use Google translate and fill out the forms in German if the dog adoption organization only offers its services in German.
With Daisy Family Rescue, you can choose to fill out the form online in German or English.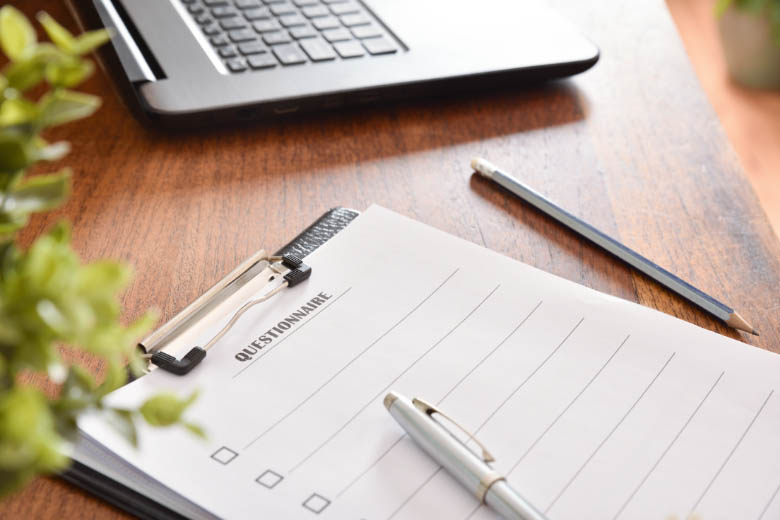 We'd recommend putting aside around 30 to 45 minutes to complete the questionnaire. It's important that you answer the questions properly and honestly. The dog adoption organization needs to know whether you'll be a good match for the dog you want to adopt.
Not only is it the best way to ensure that the adopted dog is in good hands. But it benefits you too.
You don't want to unintentionally adopt a hyper-energetic dog when you're more of a Netflix-and-chill type of person, right?
Most of the dog adoption questions are pretty straightforward. The forms will ask what citizenship you have, whether you're registered as a resident of Berlin (i.e. have Anmeldung), your employment status and what work you do, how many people live in your household, and how big your apartment is.
There are some harder (but necessary) questions you'll have to answer too. Like who would take care of the dog when you go on long trips or vacations. Or what will happen to the dog if you and your partner separate or when you're sick. The reasons why you chose this specific dog to adopt and also what's your opinion on castrating or neutering dogs.
After you've completed and submitted the dog adoption questionnaire, you'll need to wait for a response. Different dog adoption organizations in Germany will have different response times. With Daisy, you'll get a response within 10 days of submitting the questionnaire.
We had a response within a week and set up our first preliminary video call to discuss the dog adoption.
3. Have A Preliminary Dog Adoption Discussion
The next part of the dog adoption process is to have a preliminary discussion. Some shelters in Germany prefer to do this in person. Others, like Daisy, have since COVID started to do video calls instead.
Whether you're meeting in person or doing a video call, it's important that everyone in your household is available for your first preliminary meeting. This includes your housemates or partner, kids, and even pets that you may already have.
This is a standard requirement for all registered dog adoption organizations in Germany.
Like we said earlier, the priority of dog shelters in Germany is to find a forever home for their dogs. They try their best to not put the dog through the emotional stress of moving from one home to another. So this is an important part of the process.
During the first video call, the organization will want to get to know you, tell you more about the dog, and explain how the dog adoption process works. You'll also be able to ask any questions you may have.
The duration of the first preliminary call could be anywhere between 60 to 90 minutes long. Our first video call with Daisy was around 90 minutes long.
It was really comprehensive. They shared with us whatever history they knew of the dog. Gave us an update on his health and all the medical checks he has done. And told us what they know of his personality based on his interaction with the carer and other dogs too.
Besides that, they also give you great tips on what to expect when adopting a dog in Germany. From registering your dog and paying dog tax, what to feed your dog when he/she first arrives, to what you can expect when your dog first comes home.
We found this information to be really useful for expats like us, who are adopting a dog in Germany for the first time.
4. Home Inspection
The next step of the process is the home inspection. It's quite common for dog adoption organizations in Germany to send someone to come inspect your home in person.
This is done to make sure that there are no hazardous objects or plants in your home. So basically, it's a precautionary measure to ensure that your home is 'dog-proof'.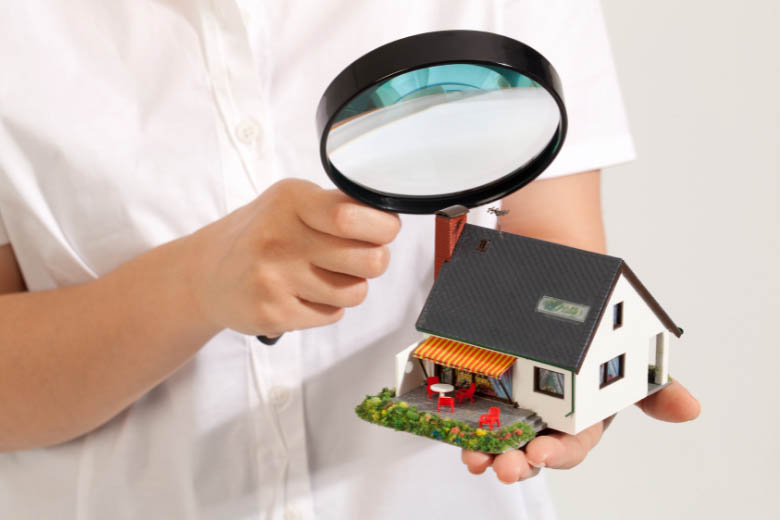 With Daisy, we did the home inspection via video call. The idea is to take them for a quick walk through the apartment so they can identify any objects or plants that may be unsafe for dogs.
They also use the home inspection to help you identify a safe space in your apartment for your dog. This step is important because often your recently adopted dog will need time and space to adjust to new people and surroundings.
5. Secondary Discussion on Dog Adoption Process
Depending on the dog shelter in Germany, you may have a second (or even third) meeting or phone call to discuss the adoption process.
With Daisy, we had scheduled a second call within the next few days of the home inspection. The call was short and sweet. They just summarised the key points of the dog adoption process to make sure that everyone was on the same page. And asked whether we had any other questions on the process.
After that, they told us that we should get an answer from them within a few days.
Bonus Tip: You will still have to pay dog tax in Germany (i.e. no exemption) when adopting from Daisy. Daisy was transparent about this with us. This is because the laws in Germany state that the organization has to have a physical shelter in Germany for the adopter to be exempt from paying dog tax. Since Daisy doesn't have a shelter in Germany, adopters will, unfortunately, have to pay dog tax.
6. Sign Dog Adoption Contract
If you've been identified as the right match for the dog you want to adopt – CONGRATULATIONS! The next step is signing the dog adoption contract and paying the adoption fee.
All registered dog adoption organizations in Germany should have similar terms and conditions in the dog adoption contract. The big difference with Daisy is that their contract is in German and English.
This makes it so much easier for expats like us, whose German isn't good enough to understand the legal lingo.
The terms and conditions are pretty straightforward so we won't elaborate here. But there is one condition that we would like to explain because it can be unusual if you've never adopted a dog in Germany before.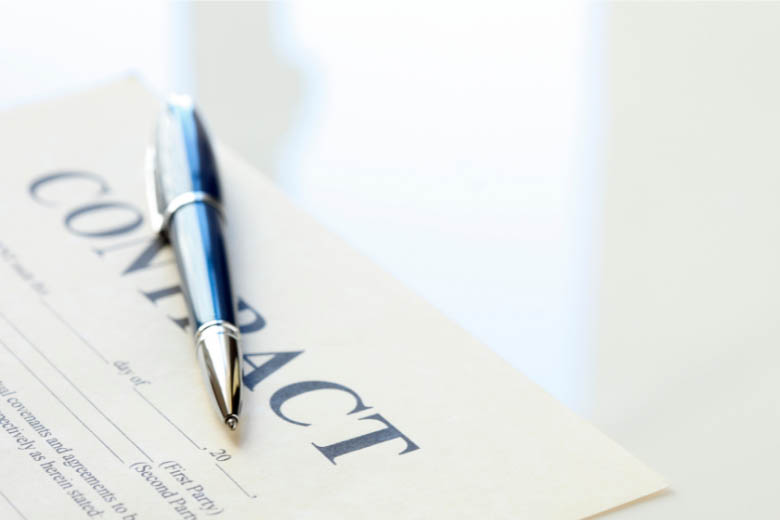 There's a clause in the dog adoption contract that states that you will only have possession not ownership, of the adopted dog. The ownership of the dog will remain with the dog shelter, which would be Daisy in our case.
This is a standard clause that registered dog adoption organizations in Germany have in the contract. It's there so that the shelter can rescue the dog if he or she ends up living under dangerous conditions or is abused.
This clause also ensures that adopters won't be able to sell, neglect, or give the dog up to anyone else without prior consent from the relevant dog shelter in Germany. This is the only way they can make sure that their dogs are well looked after and not just taken from one terrible situation to another.
So there's no need to be concerned when you see this clause in the dog adoption contract. It's there for the well-being of the dog. And you'll be able to register the dog as your own to pay dog tax and get dog health and liability insurance.
Bonus Tip: Did you know that it's mandatory to have dog liability insurance in Berlin? Yup! Not only are you at risk of paying a hefty fine for not having it. But you could also be liable for several hundred thousand Euros if your dog causes an accident, bites another dog or person, or tears a stranger's expensive pair of trousers. We pay as little as €4.08 a month to get €10 million cover in liability insurance with Agila. They offer dog health insurance too. So we got both offers with Agila and pay €27.98 per month for dog health and liability insurance.
7. Pay The Adoption Fee
The next step is to pay the dog adoption fee. As we mentioned earlier, the fee to adopt a dog in Germany will vary depending on the rescue shelter.
Daisy's adoption fee varies from €540 to €590 depending on transport costs and medical costs, amongst other things.
It is more expensive compared to the other dog adoption organizations we looked at in Germany. But we felt it was worth it since they had the dog we fell in love with. And the fact that they were the only dog shelter where we could do the entire process in English without a translator.
Daisy is very transparent with its costs. They provide an entire breakdown of how they've calculated this adoption fee.
This includes a complete health check (i.e. blood tests), test for Mediterranean diseases, all the standard dog vaccinations (DHPPL and rabies), deworming, tick and flea treatment, microchipping the dog, neutering if the dog is old enough, a Macedonian passport that you can easily convert to an EU dog passport, and also transport costs to Germany.
The adoption fee may seem high compared to the Berlin Tierheim. But Daisy is founded and run by a group of dog lovers and volunteers who work full-time jobs by day and rescue dogs by night.
Unlike the Berlin Tierheim, they receive no government support at all and depend entirely on the adoption fee and donations from kind-hearted humans to continue rescuing dogs in North Macedonia.
Donate To Daisy Family Rescue
If you're not able to adopt a dog in Germany right now, you can still help by making a donation to Daisy Family Rescue. Not only will you help a dog in need, but you'll also benefit by getting a tax deduction. Simply head over to Daisy's website for directions on how to donate.
8. Collect Your Dog From The Rescue Organisation
The final step in the dog adoption process – collecting your new family member and bringing him or her home.
This again will depend on the rescue shelter you're adopting from. With Daisy, the collection point was in a parking lot in Grunewald forest.
They recommend that you try your best to come collect the dog by car. That way, you won't put more stress on your dog taking public transport after he or she has just arrived from a long journey.
We don't have a car – so we just rented a car in Berlin with Sixt Share.
Everything went smoothly. We really appreciated how the Daisy team kept us updated throughout the entire process. From taking photos of our dogs in the animal transport van, to sending us updates on their estimated arrival time over the 3 days it took for the dogs to arrive in Berlin.
Final Thoughts On The Dog Adoption Process in Germany
We won't lie – we were pretty nervous to adopt a dog in Germany. Our German language skills are mediocre and we weren't familiar with all the dog laws in Germany. But Daisy made the adoption process simple and easy to understand.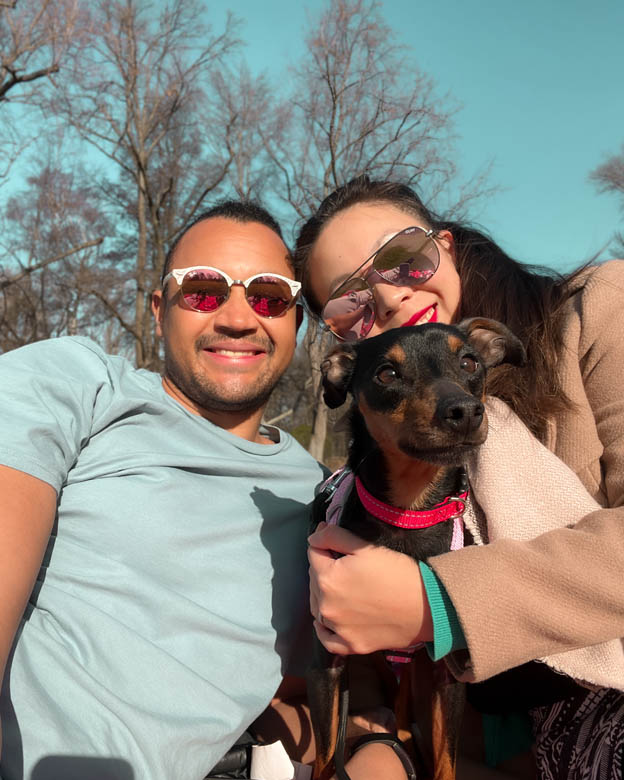 We really appreciate the fact that they help their adopters prepare for the arrival of the dogs. From what essential equipment to buy (and providing measurements of the dogs), things to bring when collecting your dog, to what to expect the first few days and weeks after your dog arrives.
We felt physically and mentally prepared when we welcomed our dog, Franky, home and we thank Daisy Family Rescue for that.
The most difficult part of the dog adoption process for us was getting a written confirmation from the landlord that we were allowed to have a pet in our apartment. Besides that, everything else was pretty stress-free.
We hope that our dog adoption journey has inspired you to adopt a rescue in Germany. As always, you'll welcome to contact us via social media or e-mail if you have any other questions.
---
Thank You For Reading
If you enjoyed reading this guide, share it with your friends and family. Have a question or need advice? Contact us via Email, Messenger, WhatsApp or join the community on Telegram. And if you'd like to leave a comment, tweet us. Oh, and don't forget to subscribe!
Buy Us A Coffee
Our content is free and always will be. But if this guide has saved you time, money or made your life easier, feel free to buy us a coffee. We'll really appreciate your support.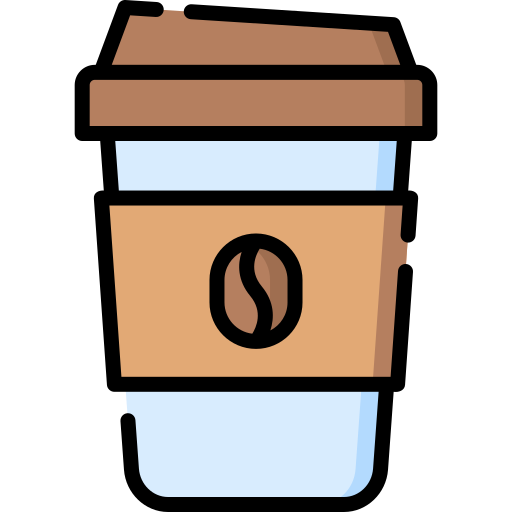 Support Our Work
Can't donate? No problem! You can still support us by buying products and services that we recommend. Check out our resource page for all offers and discount codes.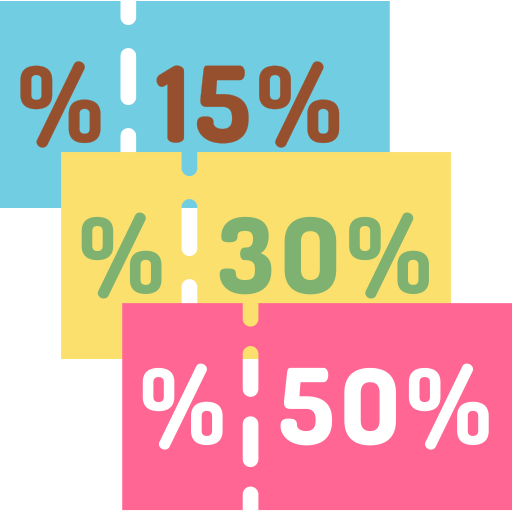 📣 This guide contains affiliate links. This means if you click on our links and buy something, we may earn a commission at no extra cost to you. This allows us to work on the website full time and keep Nomad And In Love alive and thriving.