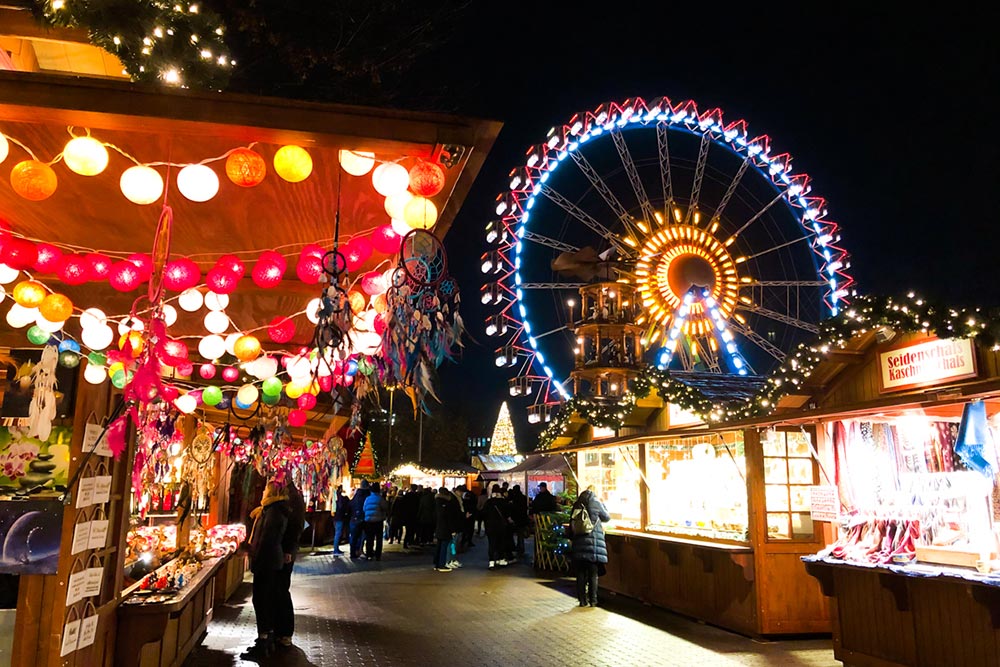 The ultimate guide on experiencing the best Christmas markets in Berlin for 2020/2021. Everything from dates, opening hours and what makes each German Christmas market unique. To useful tips to know like how much to budget, whether card payments are accepted, how to easily get there using our free Berlin Christmas markets map and guidelines visiting Christmas markets in Germany during the coronavirus pandemic.
As expats living in Berlin, one of the things we look forward to the most are the Christmas markets here. It's truly a magical time of the year and with Berlin being the nation's capital and the largest city in Germany, there are over 70 Christmas markets in Berlin alone to discover and experience.
With so much choice, we thought we would help you narrow down the best Christmas Markets in Berlin so you can make the most out of your time and money during this wonderful time of the year.
But first, if you've never been to a Christmas market in Germany before, make sure you read these useful tips before you go. We've also included some tips and guidelines for visiting German Christmas markets during the coronavirus pandemic.
If you have been before, skip straight to our best 9 German Christmas Markets in Berlin!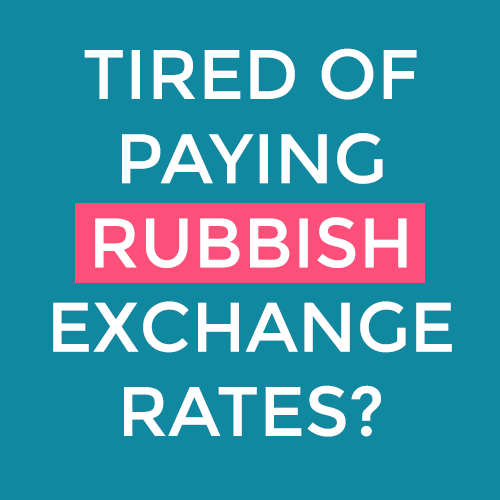 Things to Know Before You Visit Christmas Markets in Germany
When are the Christmas Markets in Berlin Open
The majority of the Christmas markets start a month before Christmas. In 2020, most German Christmas markets in Berlin will open from the 23 November 2020 and end just after Christmas.
There are, however, a few markets like the ones at Kurfürstendamm, Gendarmenmarkt, Winter World at Potsdamerplatz and Weihnachszeit at Rotes Rathaus that remain open after Christmas.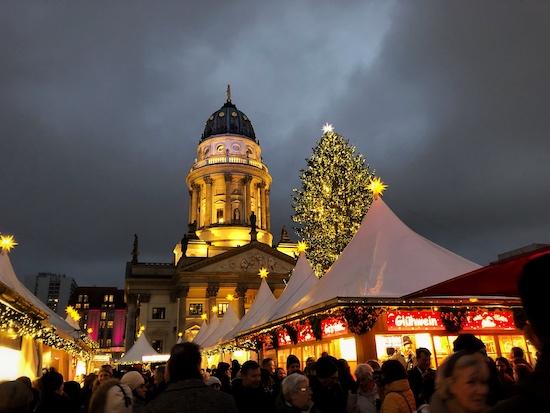 Can You Pay by Card at Christmas Markets in Germany
Germany is many things, but card-friendly is not one of them. Yes, you read that right! You're going to need cash if you want to fill those bellies or do some Christmas shopping.
Coincidentally, 'bar' translates to 'cash' in German, which is rather appropriate if you love glühwein or beer.
Make sure to get your fix of glühwein as it's usually only sold during the Christmas season.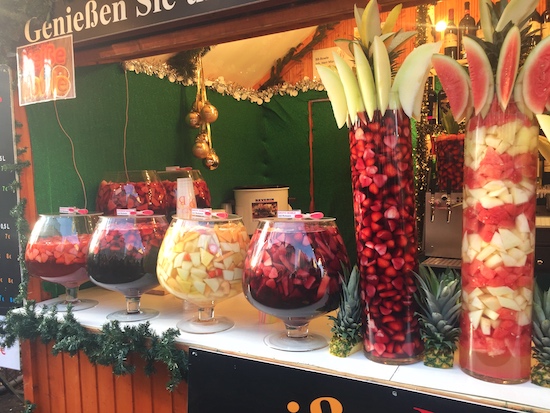 Where to Find ATMs with No Withdrawal Fees in Germany
Now that we've determined that you need cash, the next big question to ask is where to draw your 'bar' or cash without incurring transaction fees.
This depends on the bank card you use. If you're using Revolut or N26 cards like us, you can draw at any major banks for no transaction fees if it is within your free monthly withdrawal limits.
In that case, head over to a Deutsche Bank, Post Bank, Berliner Volksbank or Sparkasse ATM and withdraw your cash for free.
Is your bank or travel card charging you withdrawal fees and commission fees when buying forex? Find out how you can get free cash withdrawals and get the best price buying forex in our best travel card for 2020 guide.
Whatever you do, DO NOT draw at an EC ATM unless you have a German bank card that allows you to withdraw cash with them for free. These EC ATMs are super easy to find since they're literally everywhere, but they will charge you a whopping €5 per transaction.
Trust us, we experienced that firsthand and we're not ever doing that again.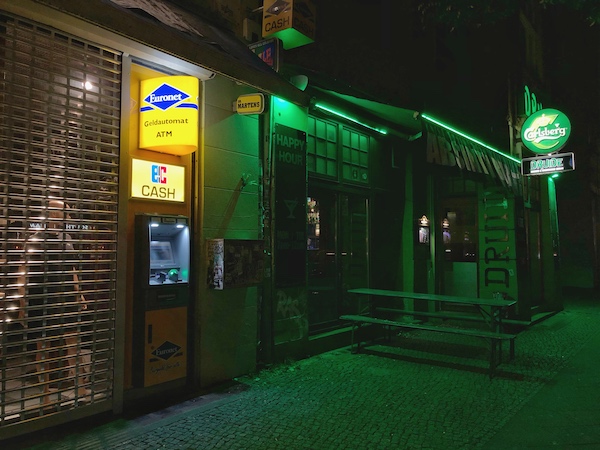 Pfand or Deposits at Christmas Markets
One thing we love about Germany is that it is a very environmentally conscious country and takes reducing waste and recycling very seriously. In fact, they take it so seriously that you won't usually find plastic or even paper cups at Christmas markets in Germany. Instead, your delicious drinks are all served in a glass.
To encourage guests to bring their glasses back to the vendors, they charge an extra €2 to €3 per glass as a deposit. In German, this is referred to as 'pfand', which is pronounced like 'fund' in English.
When you're done with your drinks, either return them and get your deposit back or keep the mug as a souvenir. You'll probably want to keep at least one of the many festive Christmas market mugs you'll find in Germany because they're absolutely beautiful.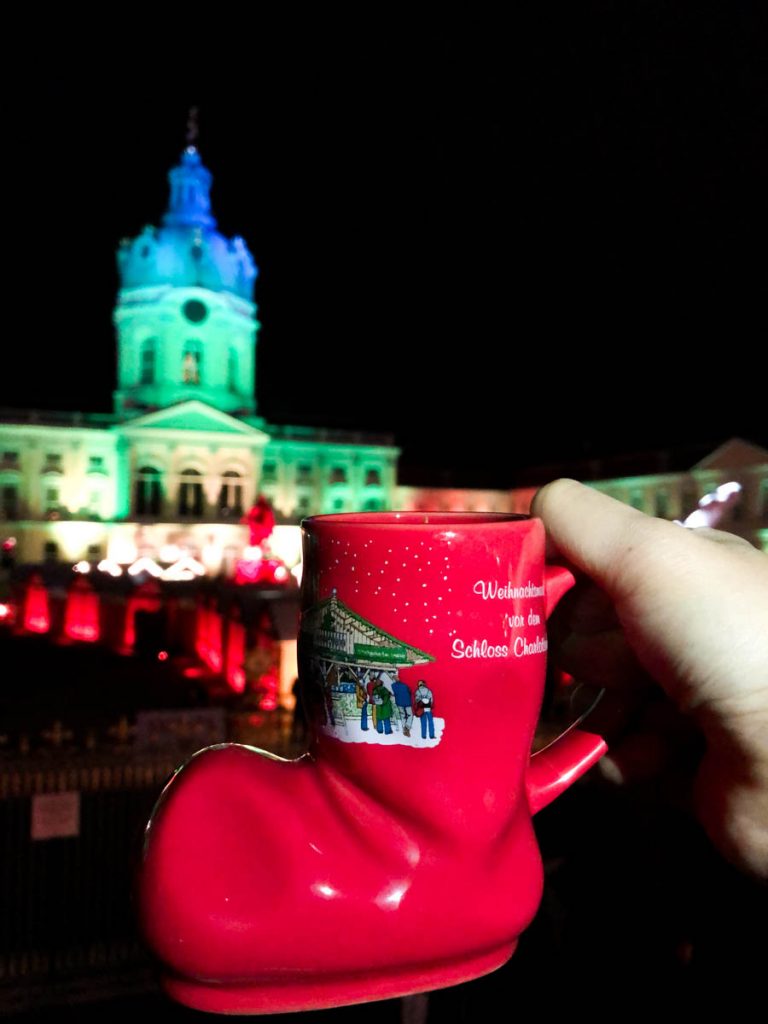 As sustainable travellers who try our best to reduce the footprint we have on the earth, we absolutely love this initiative! Yes, you will need to carry a bit more cash on you, but you'll get the money back and it's a small inconvenience that will help preserve our beautiful planet.
How Much to Budget for Berlin Christmas Market
For food and drinks, we'd budget around €15 – €25 per person (including deposit). The prices are quite standardised across most Christmas markets in Berlin with beer, glühwein and bratwursts costing between €3 to €4.
If you're planning to visit the Christmas market at Gendarmenmarkt, budget between €20 – €40 per person if you want to spoil yourself and eat at one of the luxury, tented restaurants.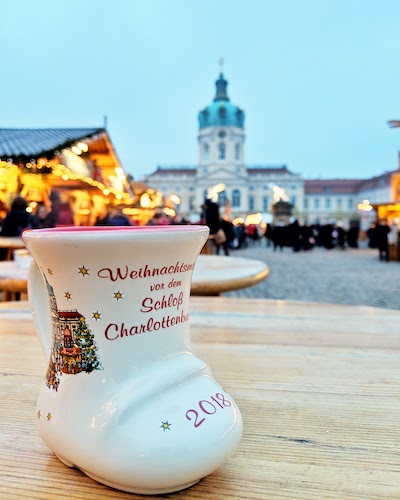 Unique Christmas Mugs and Christmas Glasses
Did you know that every Christmas market in Germany has its own signature Christmas mug and that they have different editions for each year?
Yes, each Christmas market has their own mug usually designed with pictures or words that distinguishes that area or market from the others. We didn't know that ourselves until we visited a few German Christmas markets and realised that each one sold their own unique and charming Christmas mug!
So charming in fact that we did a giveaway last year and gifted one of our Instagram subscribers their favourite Berlin Christmas market mug.
Not only mugs but draft beer glasses too. Our favourites were these beer glasses from the Winter World Christmas market at Potsdamerplatz.
Security at German Christmas Markets
It's best not to carry large backpacks or luggage when visiting popular Christmas markets in Germany like the Gendarmenmarkt Christmas Market.
For safety reasons, the security at the entrance may refuse you entry if your bag is too big, so it is best to leave it behind at your hotel. Handbags or smaller bags are fine but they may be checked before you enter.
If you want to be a more eco-friendly traveler, bring your own grocery bag for your shopping and storing your Christmas mug souvenirs.
2020 Coronavirus Guidelines for Christmas Markets in Berlin
German Christmas markets are going to be slightly different this year, but at least they're not cancelled! Since no one can say how the coronavirus situation in Berlin will be like by the end of November, we'll just have to keep providing updates on safety guidelines and rules for visiting Christmas markets in Germany as they're released.
So far it seems that not all the Christmas markets in Berlin will be open in 2020 due to the coronavirus pandemic. Usually, there are more than 70 Christmas markets to visit in the German capital alone. But since some of these markets are held indoors or in enclosed spaces, they won't meet the required hygiene and safety guidelines and will therefore not be safe to attend.
But don't worry. All the popular Christmas markets in Berlin like Berliner Weihnachtszeit, Charlottenburg Palace and almost all the other German Christmas markets mentioned in this post are all set to open with new hygiene concepts and safety rules, of course.
Some of the coronavirus safety rules and guidelines include:
Limiting the maximum amount of visitors that are allowed to attend the Christmas market at one time. This limit will likely depend on how big the market is.
Visitors will be required to wear masks when attending Christmas markets in Germany.
Social distancing rules will apply and each market will have demarcated waiting and standing areas where visitors can remove their masks to eat and drink.
All food and beverage booths will be fitted with perspex dividers to protect both visitors and vendors.
Vendors will be required to clean and disinfect all Christmas mugs and glasses used and returned to them using a specific dishwashing system.
Alcohol consumption may be limited up until a specific time. But this hasn't been confirmed yet so don't panic.
Save Me For Later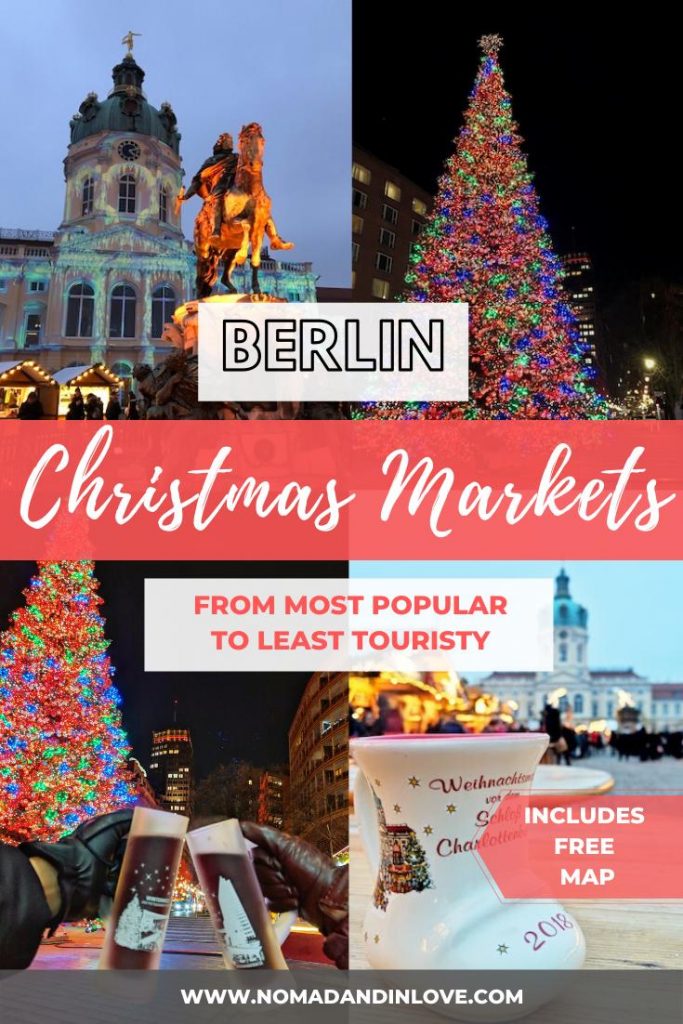 Best 9 Christmas Markets in Berlin 2020
Here are our top 9 Christmas Markets in Berlin that you can easily get to using the public transport ticket for A and B zones. We've listed them from the most popular and busy markets to the least touristy ones.
Click on the map to see how far you are from the different German Christmas markets:
1. Alexanderplatz Christmas Market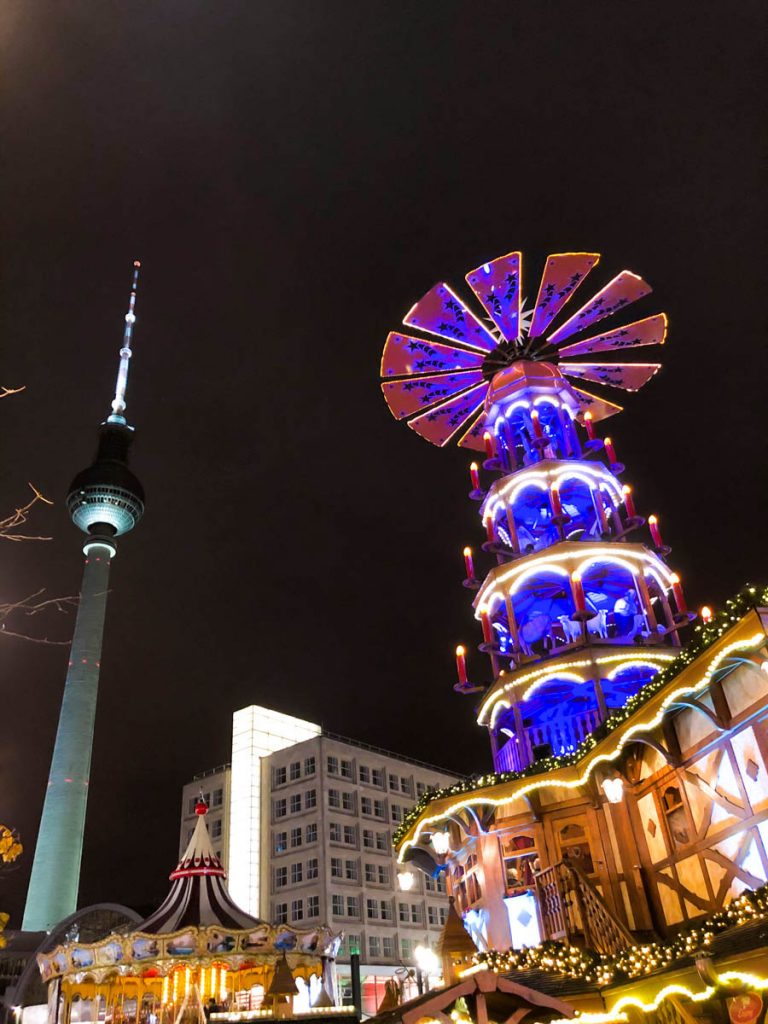 Where: On Alexanderplatz square just outside Alexanderplatz U-bahn station
Dates: 23 November 2020 – 27 December 2020 (ice rink and Santa Claus party house are open until 3 January 2021)
Opening hours:
Monday – Sunday 10:00 – 22:00
24 December 2020 10:00 – 14:00
Highlights: Sip your glühwein while admiring Berlin's iconic Fernsehturm in the backdrop on one of the most famous squares in Berlin! Or enjoy ice skating, a ride on the carousel and visit Santa Claus in his party house.
Admission fee: Free
Anyone who has visited Berlin will most likely have visited Alexanderplatz. Not only is it one of Berlin's main public squares and a major transport hub, but it also features one of the city's iconic landmark buildings, the Berliner Fernsehturm or TV Tower.
Over the Christmas period, the square is completely transformed into a huge festive market located just outside the Alexanderplatz U-bahn station. This Christmas market is probably the busiest one we've been to.
Like other markets, there are lots of yummy goodies to buy, eat and drink. The drinks here are bigger (same size as Potsdamerplatz) – yes, that is an important factor if you love glühwein.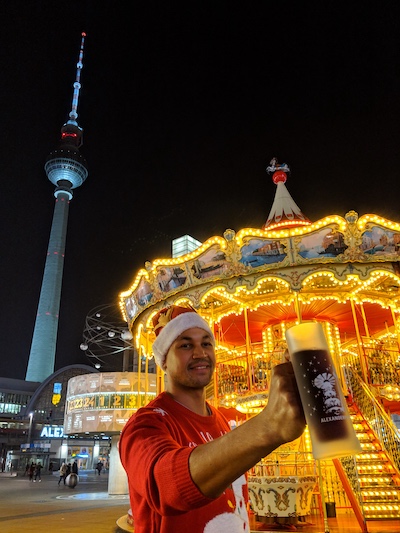 From this market you can enjoy the view of the TV Tower in the backdrop or harness your inner child and take a ride on the merry-go-round.
It's also a great choice if you need to do some last minute Christmas shopping. Looking for a one-stop-shop? Then check out Galeria Kaufhof Berlin which is just a hop and a skip away.
2. Berliner Weihnachtszeit Christmas Market at Rotes Rathaus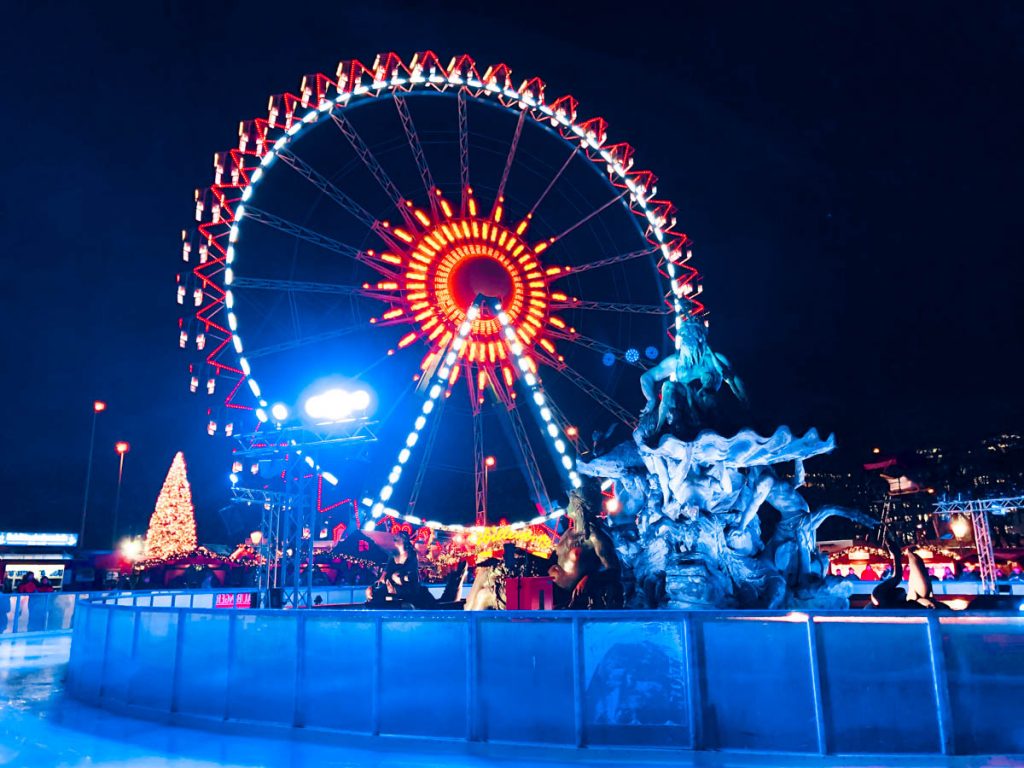 Where: The public square between the Berlin City Hall (Rotes Rathaus) and St. Marienkirche
Dates: 23 November 2020 – 4 January 2021
Opening hours:
Monday – Friday 12:00 – 22:00
Saturday and Sunday 11:00 – 22:00
24 and 25 December 2020 Closed
26 December 2020 11:00 – 21:00
Highlights: One of the most diverse Christmas markets in Berlin that will thrill the young, old and most of all, ice skating enthusiasts! Bring your own skates and ice skate for free!
Admission fee: Free
Berliner Weihnachszeit Christmas Market is one of the newer and bigger Christmas markets in Berlin. As expected you can find a much larger variety of food, drink, gifts and activities to do here. It's not too far away from the Alexanderplatz Christmas market, located just past the Berliner Fernsehturn (TV Tower).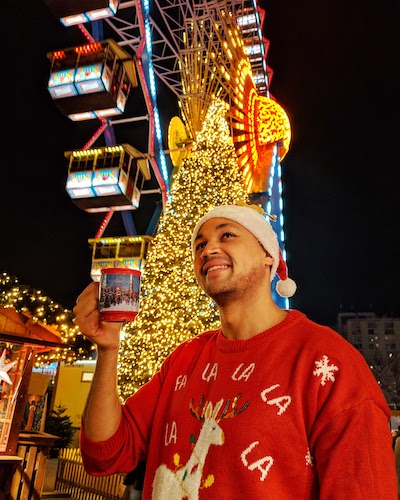 Expect to be dazzled by bright fairy lights scattered across the entire market, entertained by a giant ferris wheel (it's 50m high!) and it's one-of-a-kind circular ice skating rink around Neptune fountain. If you're going on a date, it really can't get more romantic than this!
And if you've overindulged in bratwursts and pretzels, you should try the delicious, baked apple or 'Bratapfel' in German. The tart, green apples are perfectly baked with a decadent and creamy homemade custard. And the extra sweetness you get from the raisins just leave your tastebuds wanting more.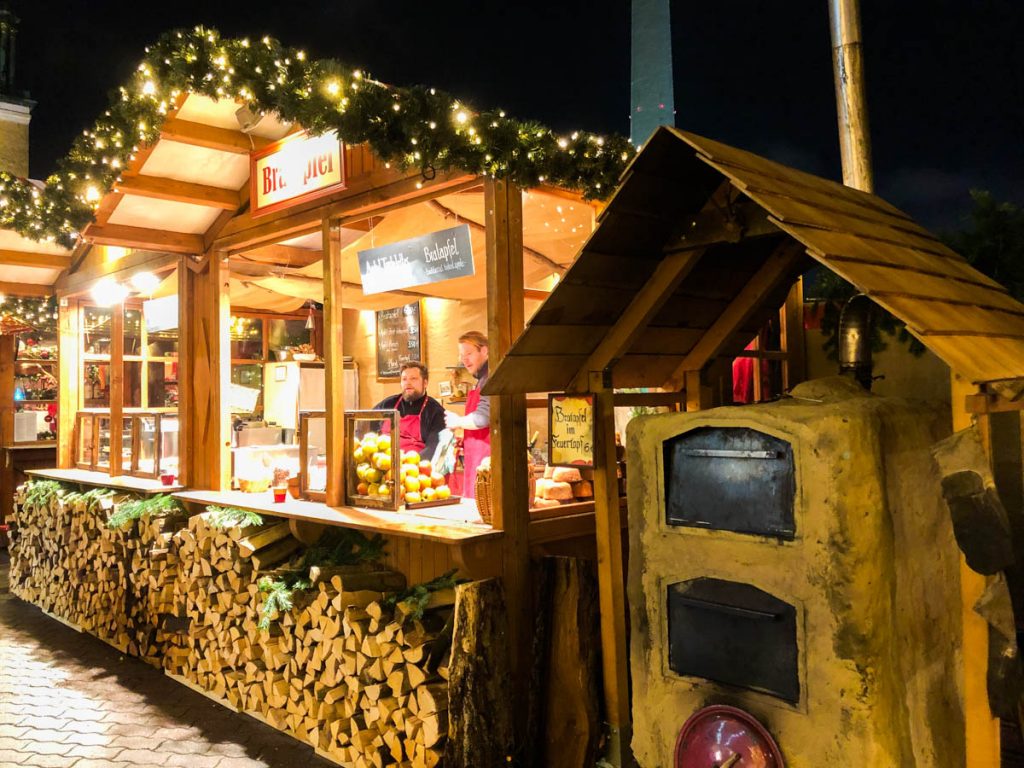 It is one of the most famous markets in Berlin and therefore always busy, but certainly worth the visit.
When visiting this Christmas market, make sure to also check out the Medieval Market around St Mary's Church (St. Marienkirche) before you head home.
3. Gendarmenmarkt Christmas Market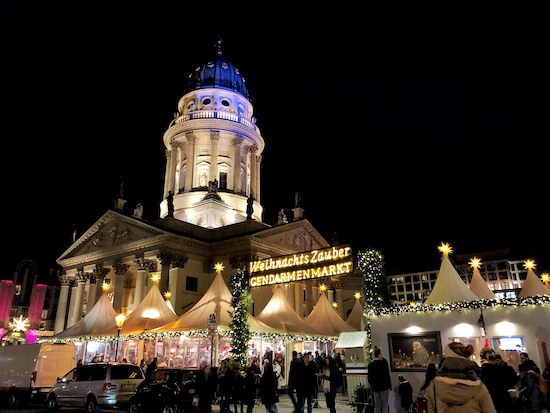 Where: Gendarmenmarkt Square
Dates: CANCELLED (but usually between 23 November – 31 December)
Opening hours:
Everyday 11:00 – 22:00
24 December 2020 11:00 – 18:00
31 December 2020 11:00 – 01:00
Highlights: Most famous and luxurious Christmas market in Berlin. Try more gourmet dishes here if you've had too much pretzels and bratwurst. Soak in the festive atmosphere amidst some of the most historically significant architecture in the heart of the city.
Admission fee: €1 after 14:00 Monday-Friday for live music and performances (Entrance fee may differ on 25th, 26th and 31st December).
October 2020 update: The Berliner Zeitung (Berlin's official newspaper) has just officially announced that the Gendarmenmarkt Christmas market will be cancelled for 2020 due to the coronavirus pandemic. This is very sad, but we can understand the reasoning behind it.
Gendarmenmarket is no doubt, one of the most magical Christmas markets in Berlin, but with the concert stage, the giant tents for the craft market and restaurants and all the Christmas market stalls. There's really not enough space between for people to walk through if you follow the 1.5 meter social distancing requirements.
The other 8 Christmas markets mentioned in this post haven't been cancelled yet. So all is not lost. If you've never been to Gendarmenmarkt Christmas market, you can read about it's highlights below for 2021.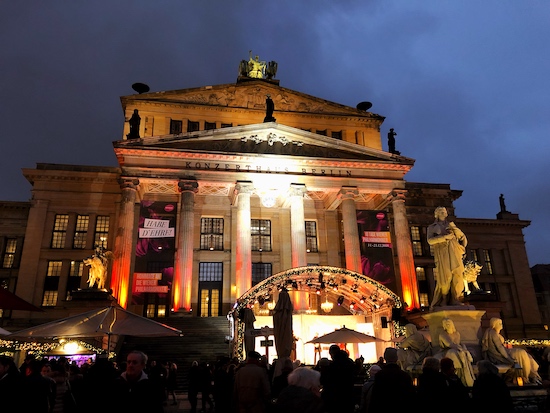 The Weihnachtszauber market Gendarmenmarkt is the most famous Christmas market in Berlin and also one of the most beautiful. It's one of our favourite Christmas markets in Berlin because of its majestic historic setting. The market is wedged between the Französischer Dom and the Deutsche Dom, right in the heart of the city.
This is the Christmas market to visit if you prefer the finer things in life, as you'll be able to sip champagne and other fine wines while indulging in gourmet cuisine at one of the enclosed restaurants.
Although there is a €1 entrance to the market (other markets are generally free) it is completely worth it as there is usually some sort of entertainment in the market. When we were there, there was a beautiful snow Queen walking around on high stilts throwing confetti snow and handing sweets out to children. There were also musicians and live bands performing on stage.
Being there allowed us to imagine what a busy square it must have been more than 300 years ago. A must-visit when in Berlin for its beautiful architectural wonders and historically significant surroundings.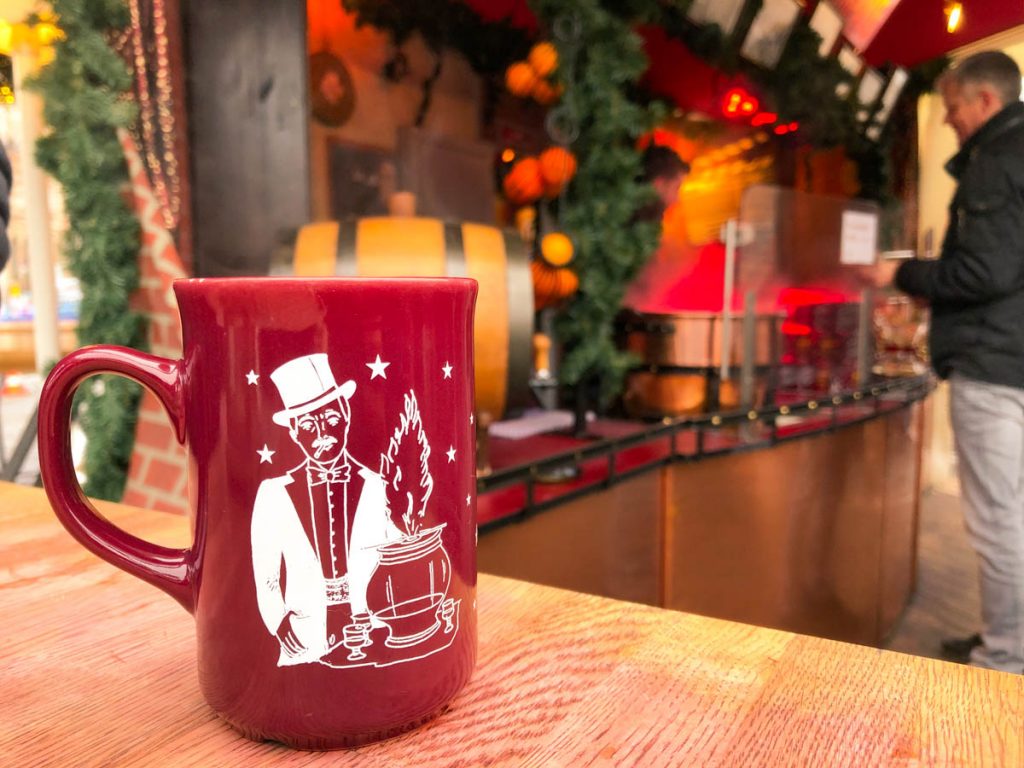 If you plan to visit the famous Gendarmenmarkt Christmas Market, make sure to get there early. There are usually long queues to buy admission tickets. We can only assume that with the 2020 coronavirus restrictions limiting the maximum number of people allowed in Christmas markets, that it can only mean longer queues.
You can also save some money by visiting Gendarmenmarkt Christmas Market between 11AM to 2PM on Mondays to Fridays when admission is free.
4. Kurfürstendamm Christmas Market at Kaiser Wilhelm Memorial Church
Where: Breitscheidplatz Square (between the Kaiser Wilhelm Memorial Church and Europa Shopping Centre)
Dates: 23 November 2020 – 03 January 2021
Opening hours:
Sunday – Thursday 11:00 – 21:00
Friday – Saturday 11:00 – 22:00
24 December 2020 11:00 – 14:00
25 and 26 December 2020 13:00 – 21:00
31 December 2020 11:00 – 01:00
1 January 2021 13:00 – 21:00
Highlights: Enjoy the festive spirit alongside one of Berlin's most striking landmarks and see the longest Christmas lights in the world. It's also one of the few Christmas markets that remain open after Christmas.
Admission fee: Free
The Christmas Market at Gedächtniskirche is located around Kaiser Wilhelm Memorial Church, the landmark of West Berlin. This striking landmark is composed of the ruins of the church that was destroyed in the war, as well as a modern church building. It is a memorial for peace and reconciliation, commemorating Berliners' determination to rebuild after the war.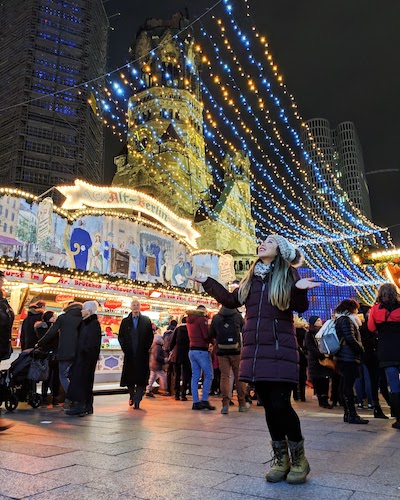 And not too far away from the Christmas market, you'll find Kurfürstendamm which is not only one of the most popular shopping avenues in Berlin, but also famous for having the longest Christmas lights in the world!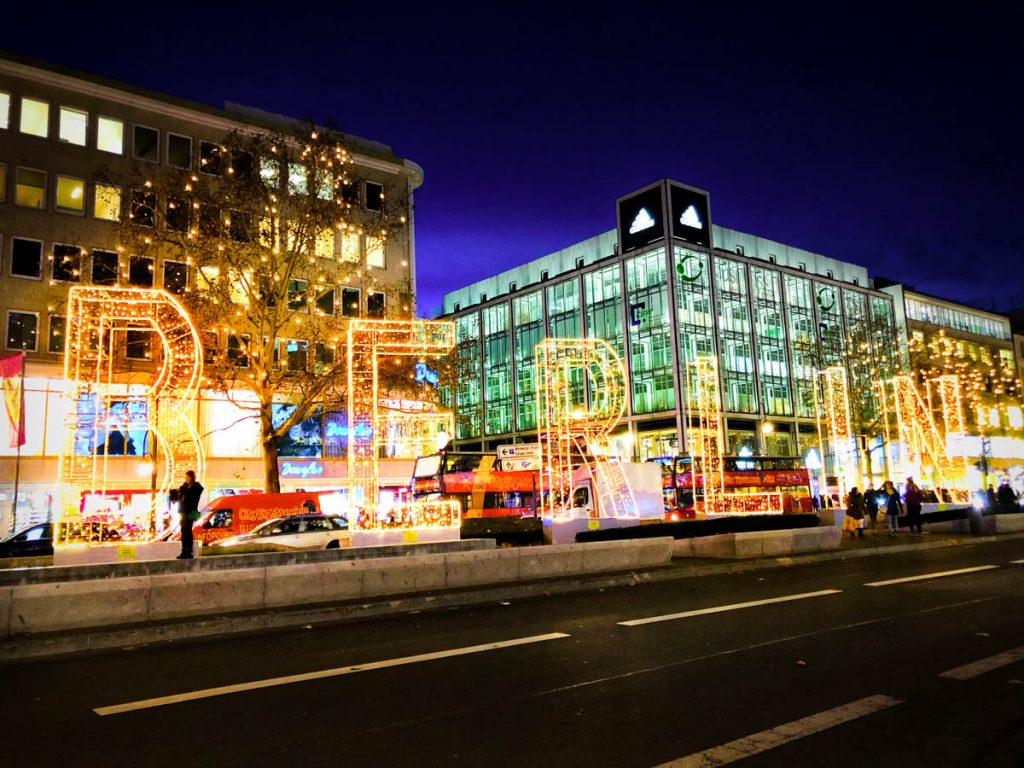 As you can imagine, the Kurfurstendamm Weihnachtsmarkt at Kaiser Wilhelm Memorial Church is quite the tourist hotspot. But given its rich history and iconic architectural landmarks, it is one of our favourite Christmas markets in Berlin.
If you're looking for a bargain, you may want to visit stalls off the main pathways. They sell glühwein for €1 cheaper. Before you go, make sure to head down Tauentzienstraße to admire the other festive light decorations.
5. Winterwelt am Potsdamerplatz Christmas Market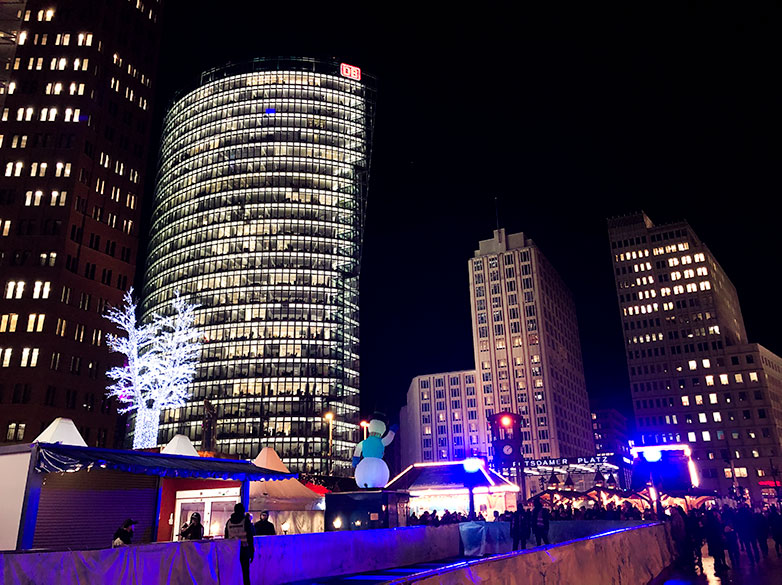 Where: Public Square outside Potsdamerplatz U-Bahn station
Dates: End October 2020 – 3 January 2021
Opening hours:
Daily 10:00 – 22:00
15 and 22 December 2020 Closed
24 December 2020 10:00 – 14:00
Highlights: The first Christmas market to open in Berlin and the only Christmas market in Berlin with a 12m high toboggan run as well as an ice rink. If you love Austrian delicacies, this is the market for you.
Admission fee: Free
Fancy ice skating or going for a toboggan run in the bustling hub of Berlin? Then you need to visit Winterwelt or Winter World Christmas Market at Potsdamerplatz.
This Christmas market has an Austrian-style winter scenery, complete with log cabins and a variety of craft markets. At first this Christmas market may appear smaller than the other markets in Berlin, but it actually extends all the way from the square, along Alte Potsdamer Strasse up until the Stage Theater am Potsdamerplatz, where you'll be greeted by a giant, magnificent Christmas tree and an ice skating rink.
You can ice skate here for free if you have your own shoes and there are free ice skating lessons for children on Saturday and Sunday.
Prefer to take a ride down the 12m long toboggan run? You can easily try that for €1.50. Just buy your tickets from the kiosk beforehand.
When you're ready to sit down and relax, try the Austrian version of glühwein instead. Be prepared to receive a very generous amount as the mugs at this Christmas Market are one of the biggest we've seen in Berlin.
Winter World is the perfect market to visit if you need to do some last minute Christmas shopping (at Mall of Berlin and Potsdamer Platz Arkaden).
6. Historical Christmas Market in RAW Friedrichshain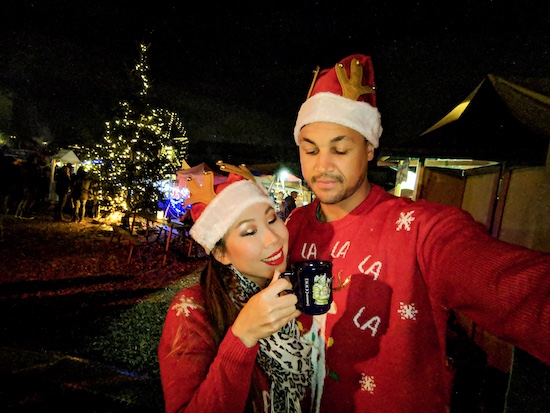 Where: RAW-Gelände in Revaler Straße 99
Dates: 19 November 2020 – 22 December 2020
Opening hours:
Monday – Friday 15:00 – 22:00
Saturday – Sunday 12:00 – 22:00
22 November 2020 Closed
Highlights: Travel back to the medieval times at this Christmas market and enjoy a glühwein (or two) around a bonfire. Archery, knife throwing, ponies, fire performers, the most unique Christmas market in Berlin!
Admission fee:
Free on Monday to Wednesday
€2 from Thursday to Sunday (€1 for children between 6 – 16 years and those dressed up in historical costumes and free for children under 6 years)
Now this is a Christmas market with a unique theme! We loved the medieval setting of the Historic Christmas Market Friedrichshain. It is probably the most unique Christmas market in Berlin as the stalls here do not sell the usual Christmas decorations, but rather artisan crafts that have been handmade by wood carvers and blacksmiths.
You can even buy freshly baked bread from a bread artisan who kneads and bakes the bread in a wood-fired clay oven, right before your eyes!
When you're done shopping and trying some Medieval dishes, you can go try your hand at some archery, knife and axe throwing or stroke some ponies.
If you have children, they can enjoy a ride on a hand-operated wooden Ferris wheel and wooden carousel. And if that's not enough, you can enjoy watching acrobats, jugglers and fire dancers perform in the evening while sitting around a bonfire.
One thing is for sure, there's something for everyone in the family to enjoy.
Save Me For Later
7. Charlottenburg Christmas Market
Where: Charlottenburg Palace grounds
Dates: 23 November 2020 – 26 December 2020
Opening hours:
Monday – Thursday 14:00 – 22:00
Friday – Sunday 12:00 – 22:00
24 December 2020 Closed
25 and 26 December 2020 12:00 – 20:00
Highlights: Admire the largest and most exquisite palace in Berlin and enjoy a leisurely walk in the palace gardens.
Admission fee: Free
Where else in the world can you enjoy a cup of hot cocoa at a Christmas market, next to an extravagant palace? In Berlin of course!
Schloss Charlottenburg or Charlottenburg Palace was build at the end of the 17th century (more than 400 years ago) and is the largest and most magnificent palace in Berlin.
The dreamy palace is surrounded by beautiful gardens and over the Christmas period, there's a wonderful Christmas market that is held on the palace grounds itself.
We love how this market extends from the pedestrian pavement, right through to the footsteps of the palace. It is very spacious and feels less crowded than some of the other markets we've been to.
Besides the yummy food and drinks, what was most memorable for us was the Christmas mug! The mug is shaped in a cute Christmas stocking and printed with portraits of the Prussian monarchy from the 17th century. One of the most unique mugs we've come across exploring the different Christmas markets in Berlin.
We also thoroughly enjoy the festive light display that ignites Charlottenburg Palace and gives that extra level of enchantment to one of our favourite Christmas markets in Berlin.
8. Lucia Christmas Market at KulturBrauerei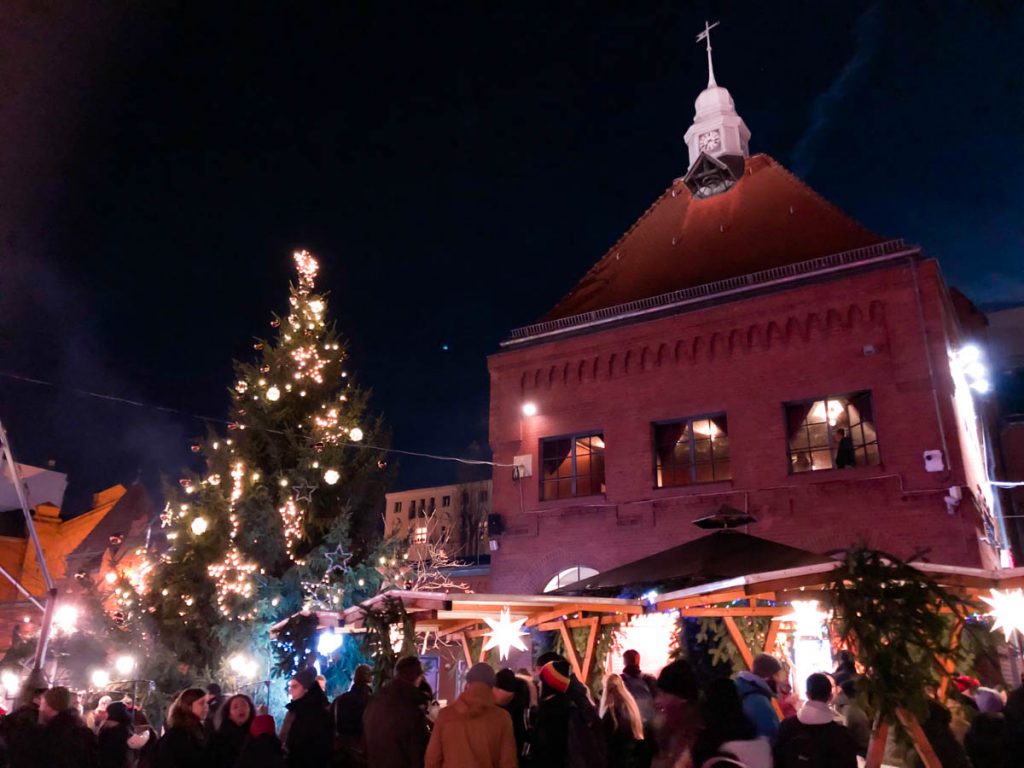 Where: Kulturbrauerei
Dates: 23 November 2020 – 22 December 2020
Opening hours:
Monday – Friday 15:00 – 22:00
Saturday – Sunday 13:00 – 22:00
Highlights: Escape the tourists and experience Christmas with a Scandinavian and Nordic twist. There's a reason why this is the most popular Christmas market in Berlin for locals!
Admission fee: Free
The Lucia Christmas Market is one of the smaller, less touristy Christmas markets in Berlin. So if you're looking to mingle amongst Berliners, this is the market to visit.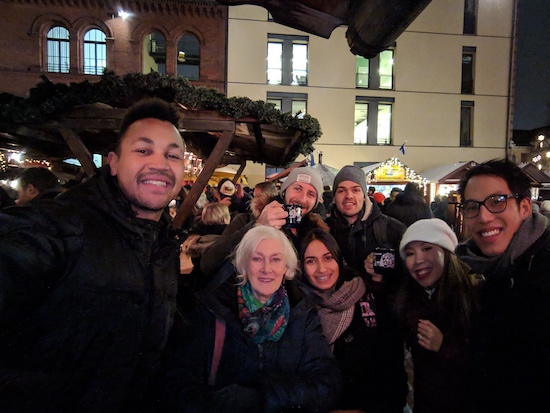 This Christmas market is nestled between the historic brick buildings of Kulturbrauerei in Prenzlauer Berg and has a Scandinavian theme. Not only can you enjoy the classic Christmas market snacks here, but you can also sample some typical Scandinavian and Nordic delicacies such as moose goulash, reindeer salami, elk meatballs, salmon potato soup or Finnish waffles.
Complete your Nordic experience with some Swedish Glögg, Finnish Glögi or Icelandic Jolaglögg instead of your usual mug of glühwein. The Lucia Christmas Market at Kulturbrauerei probably has the largest varieties of alcoholic beverages, so don't be afraid to step out of your comfort zone.
We tried the apple glühwein and loved it!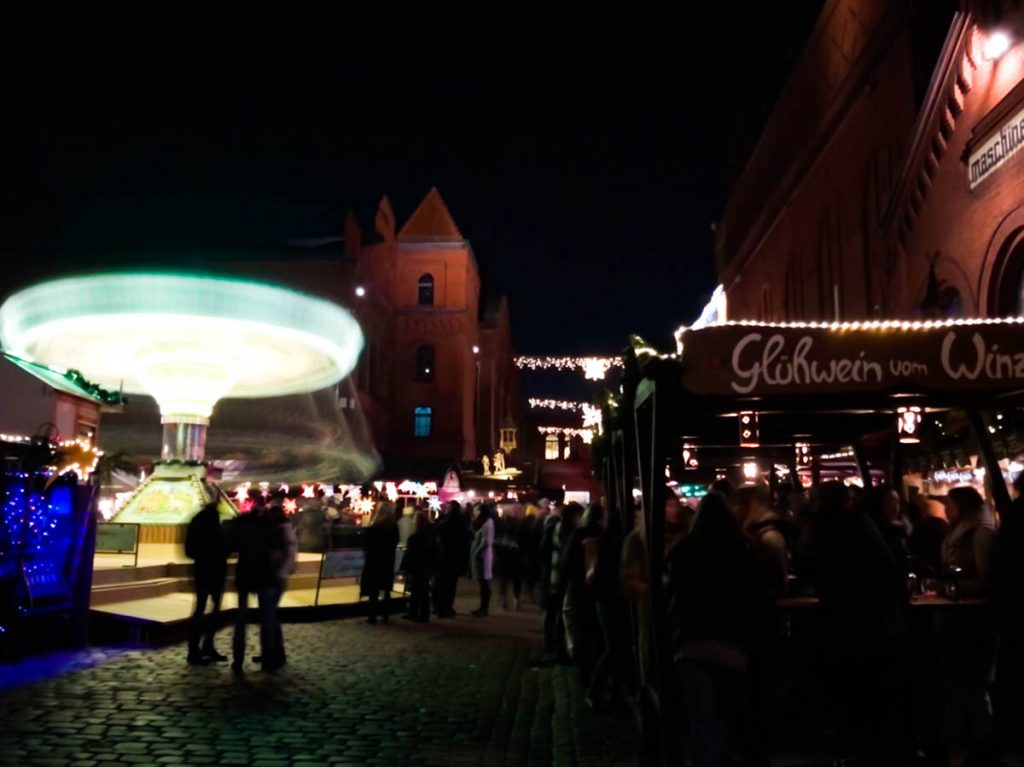 If you're not warm by the end of that, you can always warm up in the mobile sauna or dance the night away at a club in the area.
And if you're coming as a family, there's plenty of entertainment for children too. They'll love taking a ride on Lucia Christmas Market's iconic chain carousel, jump on the bungee trampoline, try crossbow shooting or climbing the popular 'star ladder'.
9. Spandau Christmas Market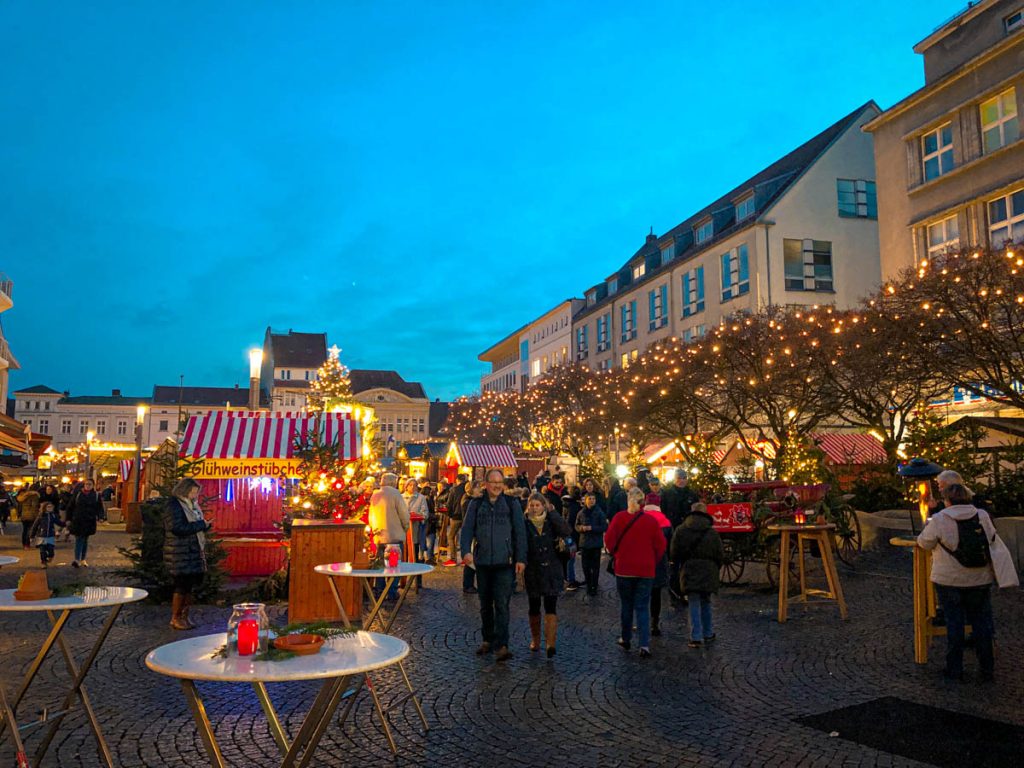 Where: Spandau Citadel
Dates: 23 November 2020 – 23 December 2020
Opening hours:
Monday – Thursday 14:00 – 20:00
Friday 14:00 – 22:00
Saturday 12:00 – 22:00
Sunday 12:00 – 20:00
Highlights: Enjoy a day trip outside the city centre and immerse yourself in the largest Christmas market in Berlin. Enjoy this market as part of a full day adventure. Explore Spandau's charismatic cobbled streets, St. Nikolai Church and the Citadel before joining the Christmas festivities.
Admission fee: Free
Take a day trip outside the city centre and experience Berlin's largest Christmas market in the charming town of Spandau.
This beautiful, medieval-themed Christmas market is normally held in the quaint cobbled streets and old town square of Spandau. But this year, visitors can experience the festive vibe within one of Europe's best-preserved Renaissance fortresses, the Spandau Citadel.
This is an absolute treat because you'd normally need to pay to visit the inner courtyard of the Spandau Citadel. Now you can enter it's heavily fortified walls and experience one of the best German Christmas markets in Berlin for free!
And if you'd like to visit the Spandau Citadel museum and exhibition to learn more about its history and architecture, you can easily buy an entrance ticket for €4.50.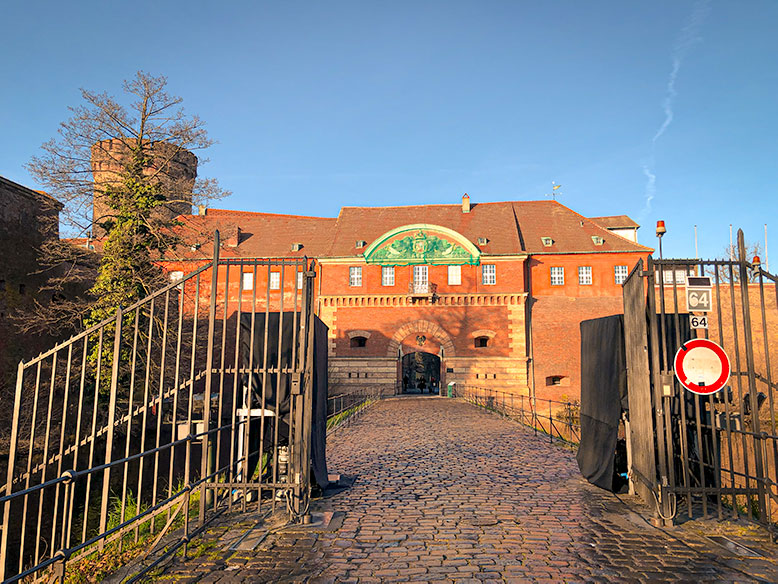 The Spandau Christmas Market may be smaller than previous years (due to new safety rules required during the coronavirus pandemic), but that doesn't mean it will be less festive.
Expect to spend a full day here with kids, family and friends. They'll be a skating rink, a curling rink, winter carriage rides, an open-air cinema, medieval artists and musicians playing Christmas music and much more!
Make sure you taste some of Spandau's food specialities and marvel at how smoked fish is traditionally made, right before your very eyes.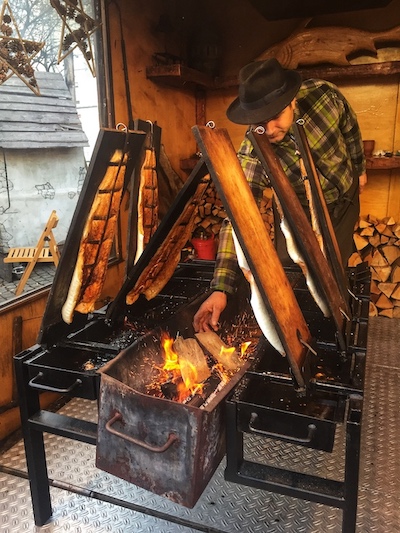 This market is not only off the beaten track, but it's also cheaper! If you've ever wanted to try glühwein mit Schuss (extra shot of liquor), now's the perfect time to do so!
While you're here, head over to the Gothic Church of St. Nikolai and see if you can find the cannonball embedded in the outer wall of this church.
Best Christmas Markets in Berlin 2020 From Most Popular To Less Touristy
That's a whole lot of Christmas Markets to explore, so here's a quick summary.
Alexanderplatz Christmas Market
Berliner Weihnachtszeit at Rotes Rathaus
Gendarmenmarkt Christmas Market
Kurfurstendamm Christmas Market
Winterwelt Potsdamerplatz
Historical Christmas Market at RAW Friedrichshain
Charlottenburg Christmas Market
Kulturbrauerei Christmas Market
Spandau Christmas Market
Best German Christmas Markets
Have you experienced the Christmas markets in Berlin or Germany? If so, which were your favourite? If not, where are your favourite Christmas destinations around the world?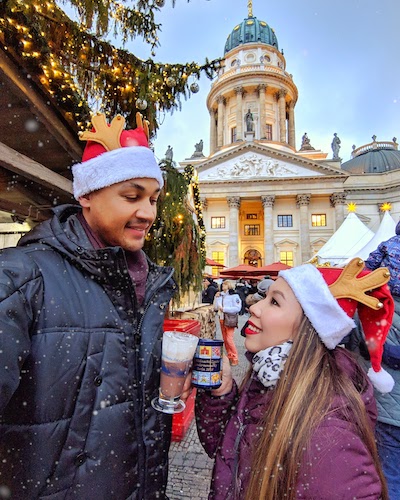 ---
Looking for other things to do in Berlin? Why not see the top historical attractions in the city by bike on our Berlin Wall by bike tour.
Don't have a bike? Don't worry! We reveal the best and cheapest way to rent a bike in our Berlin Bike Sharing Ultimate Guide.
Curious to know what the other 70 Christmas markets are in Berlin, check the full list of Christmas Markets here.
Travelling elsewhere in Germany during Christmas? Then check out where all the Christmas Markets are in Germany are before your trip. If you're planning to road trip around Europe or Germany, make sure you read our how to hire a car for €1 guide!
If you enjoyed reading this post, share it with your friends using the buttons below. Have any other questions or need advice? Reach us via WhatsApp or Facebook Messenger. And if you'd like to leave a comment, tweet us on Twitter.
Our content is free and always will be. But if this post has saved you time, money or made your life easier, feel free to buy us a coffee. We'll really appreciate your support. And don't forget to subscribe!