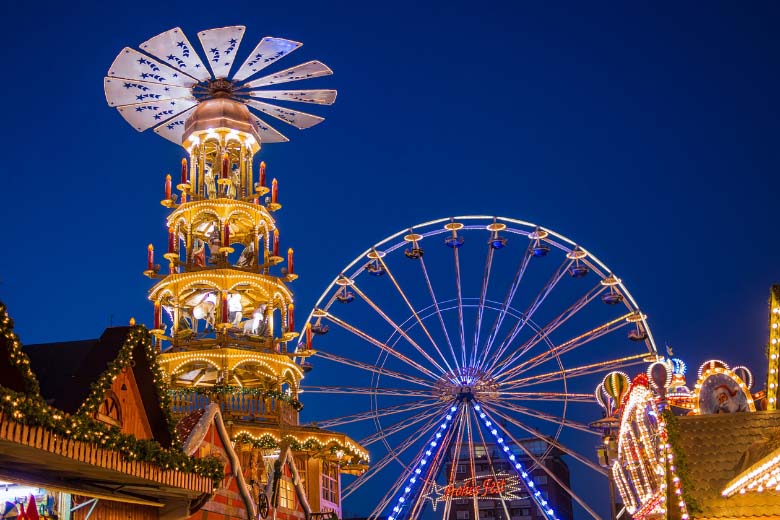 Locals share 13 essential tips you should know when visiting Christmas markets in Germany for the first time. From start dates, whether German Christmas markets are card friendly, to how much to budget and what the COVID rules are.
Ever heard the saying, 'No one does Christmas better than Germany'? Well, they're right!
As the country that created many of our Christmas traditions, Germany truly does go all out when it comes to celebrating this magical time of the year.
And there's no better way to ring in the festive season than visiting Christmas markets in Germany!
If you've never been to a German Christmas Market before, then you've come to the right place. As expats living in Berlin, we're sharing with you 13 essential tips you should know visiting Christmas markets in Germany.
From when German Christmas markets start, whether it's card-friendly, to how to dress warmly, how much to budget for, and what the COVID rules are. Plus, we've also included some basic German phrases and fun facts to know before visiting.
Before we jump straight into the tips, let's answer some basic questions about German Christmas Markets first.
Will There Be Christmas Markets in Germany in 2022?
Yes! There will be German Christmas Markets in 2022! Holding thumbs that there won't be any 'once-in-a-generation Black Swan event' that will change this.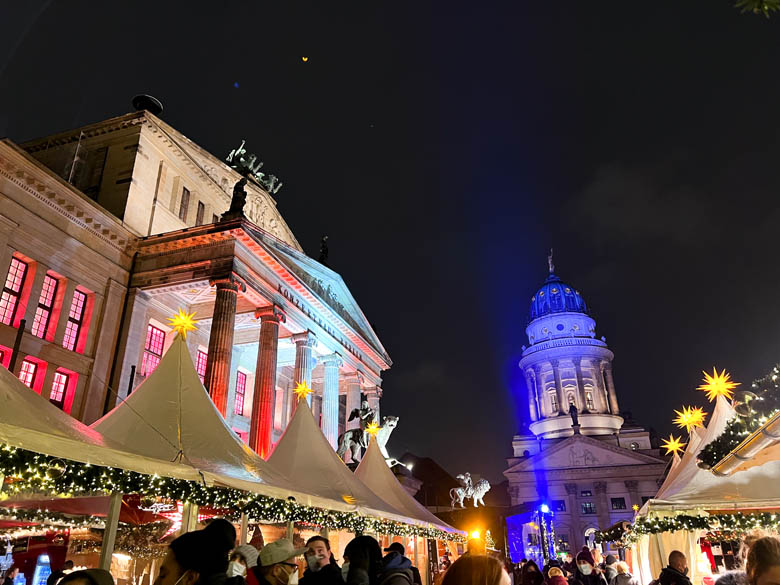 When Do Christmas Markets Start in Germany?
Most Christmas Markets in Germany start a month before Christmas. The exact start dates for the Christmas market season differ slightly from city to city.
But in 2022, you can expect most German Christmas Markets to open between the dates 21 and 25 November and to close just after Christmas.
Bonus Tip: Most German Christmas Markets close between Christmas Eve (24 December) to Boxing Day (26 December). If you're traveling to Germany to experience its magical Christmas Markets, make sure you visit before Christmas Eve.
Tips For Visiting German Christmas Markets
1. Bring Cash When Visiting Christmas Markets in Germany
If you've never been to German Christmas markets before, you're probably wondering whether they take credit cards. Well, Germany is many things, but card-friendly isn't one of them.
Yes, you read that right! You're going to need cash money if you want to fill those bellies, drink gluhwein, or do some Christmas shopping.
Most stalls and vendors only take cash except for a minor few who sell bigger ticket items (€50 or more) like handmade Christmas decorations.
We'd recommend bringing a mixture of small notes (€10 and €20) as well as coins. You may need to pay €0.50 or €1 to use the toilets at some Christmas Markets in Germany.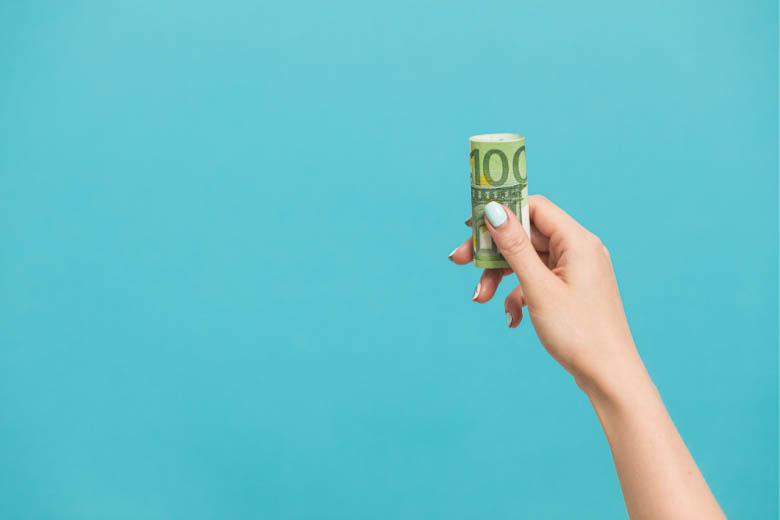 How Can I Get Cash in Germany Without Paying Fees?
Good question! This depends on the bank card you use. 
If you're using Revolut or N26 bank cards like us, you can draw at any major German bank without fees as long as it's within your free monthly withdrawal limits.
Just head over to a Deutsche Bank, Post Bank, Berliner Volksbank, or Sparkasse ATM to withdraw and get cash for free.
You get 3 free withdrawals per month with the N26 Standard Plan (free account). And the Revolut Standard Plan (also free) allows you to withdraw up to €200 per month without fees.
Whatever you do, DO NOT draw at an EC ATM unless you have a German bank card that allows you to withdraw cash with them for free. These EC ATMs are super easy to find since they're literally everywhere. But they will charge you a whopping €5 per transaction.
Trust us, we experienced that firsthand and we're never making that mistake again.
Bonus Tip: If you love to travel, consider opening a free bank account with Revolut. We've been using Revolut for almost 4 years and we never travel without it. Not only does it allow us to withdraw cash for free at most travel destinations. But we also get the best exchange rate buying foreign currency! Find out more in our in-depth Revolut Travel Card guide.
2. Understand the German Word 'Pfand'
This is probably one of the most important tips you should know if you're visiting Christmas Markets in Germany for the first time. Understanding the meaning behind the German word 'Pfand'.
'Pfand' (pronounced like 'fund' in English) means 'deposit' in German. You'll come across this word whenever you buy gluhwein (German mulled wine) at most Christmas Markets in Germany.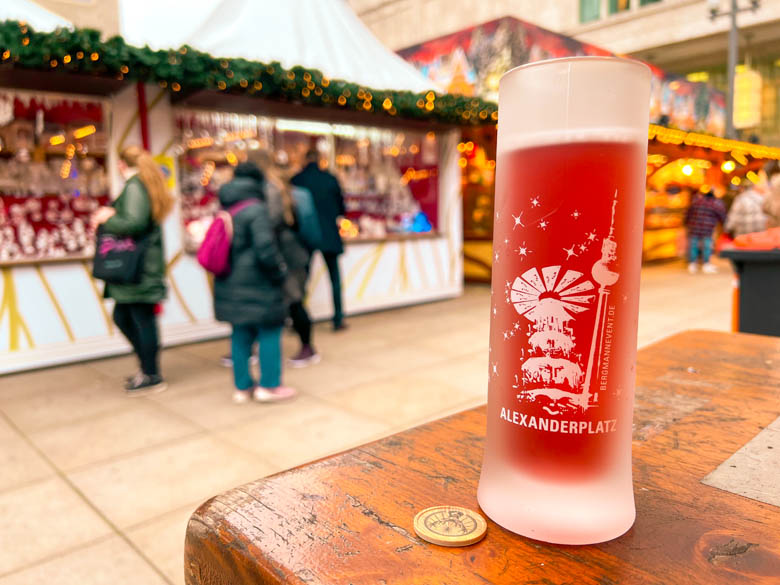 You see, Germany is a very environmentally conscious country and takes reducing waste and recycling very seriously. They take it so seriously, in fact, that you won't usually find plastic or even paper cups at German Christmas markets. Instead, your delicious drinks are all served in a glass.
To encourage guests to bring the glasses back to the vendors, they charge an extra €3 to €5 per glass as a deposit.
So when you're done with your drinks, either return them to get your deposit back or keep the mug as a souvenir.
You'll probably want to keep at least one of the many festive Christmas market mugs you'll find in Germany because they're absolutely beautiful!
3. Collect Christmas Mugs as Souvenirs
Whilst we're on the topic of Christmas mugs, here's tip #3.
Each Christmas Market in Germany has their own signature mugs. Not only are these Christmas mugs unique at every market. But they're different from each year to the next.
They make great souvenirs or Christmas gifts to take home for family, friends, or yourself!
In that case, simply forfeit your 'pfand' and take your gorgeous German Christmas mug with you when you leave.
This mug from Charlottenburg Christmas Market in Berlin is one of our personal favorites!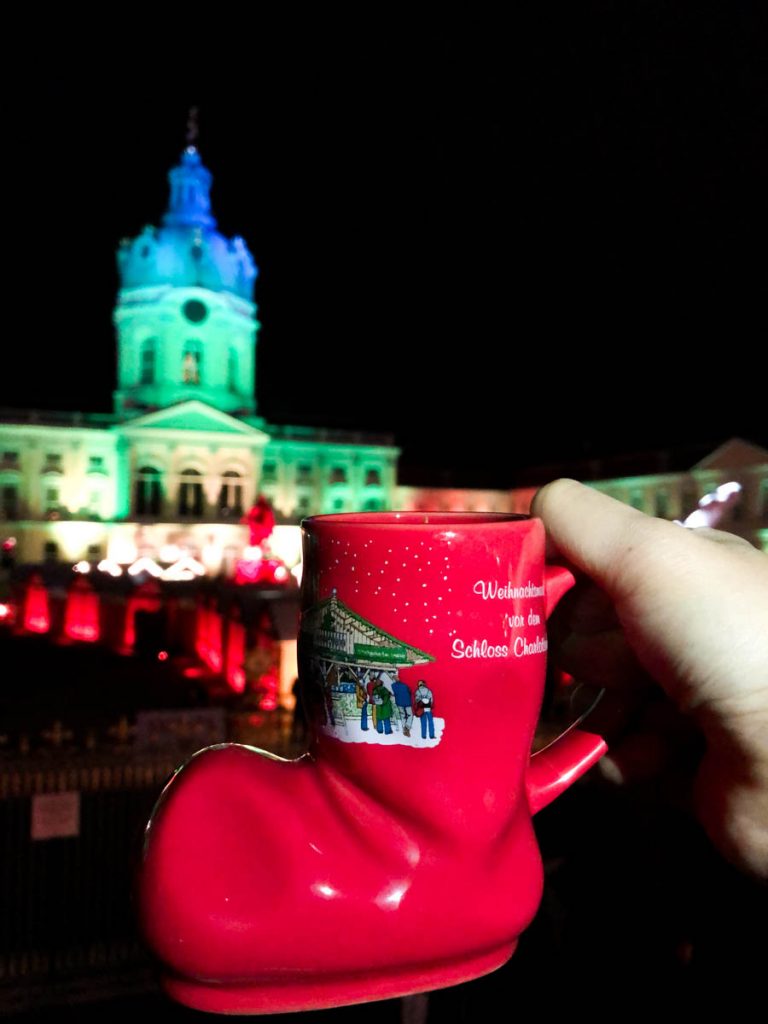 Related Post: Planning on visiting Christmas markets in Berlin and love photography? Read our Best Photo Spots in Berlin guide for inspiration!
4. How Much Money to Budget for Christmas Markets in Germany
'Cash is King' when you're visiting Christmas Markets in Germany. You'll need cash not only for food and drinks, buying gifts and trinkets, but also for 'pfand' too.
So how much money should you budget for?
Our tip is to budget around €30 to €40 per person (including 'pfand' money). This should be more than enough for food and drinks.
Beer, gluhwein, and bratwurst cost between €3 to €5 each depending on which Christmas Market you're visiting. Some larger dishes like 'grünkohl mit knacker' (kale with sausage) and 'flammkuchen' (savory, thin pizza-like dish) cost a bit more, between €8 to €10.
Bonus Tip: This budget doesn't include shopping. Make sure you bring extra cash if you plan to buy souvenirs and Christmas gifts.
Save Me For Later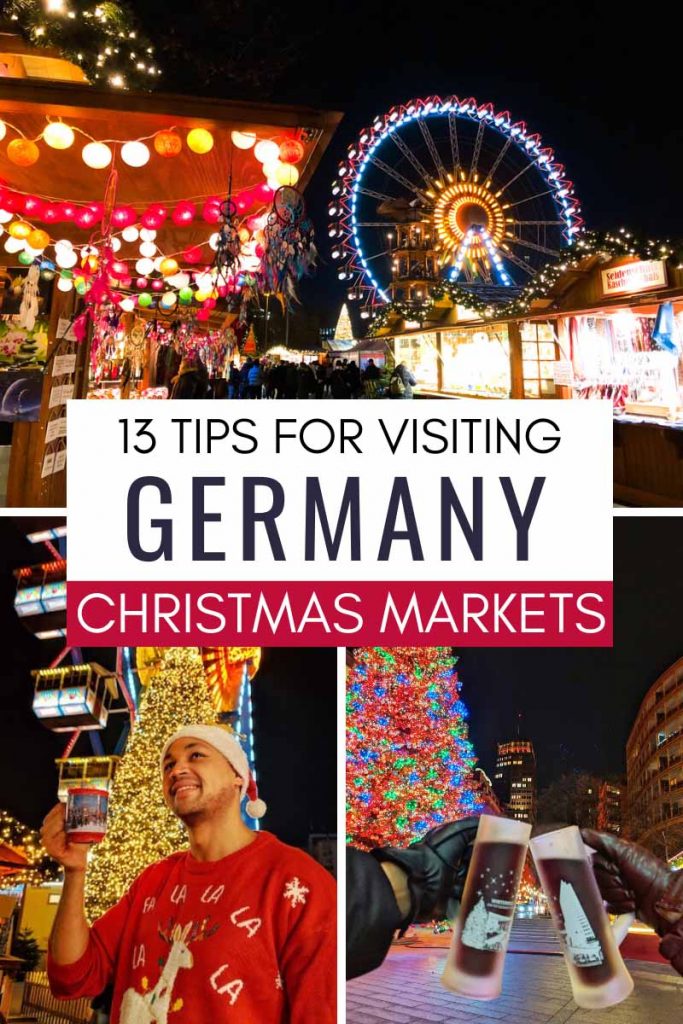 5. Book Your Hotel Early to Avoid Expensive Prices
Another essential tip to know when visiting German Christmas Markets is to book your hotel as early as possible.
Christmas time is the peak travel season for many European countries, including Germany. You'll therefore want to book your hotel as early as possible to avoid paying sky-high prices.
We'd recommend staying close to the Christmas Markets you want to visit so you can walk instead of taking public transport. It's a great way to walk off the gluhwein and avoid standing in the cold, waiting for the next train or tram to arrive.
Bonus Tip: Always book hotels with good (i.e. FREE) cancellation policies. Germany is generally more strict than other European countries when it comes to COVID rules. Rather be safe than sorry by booking your hotel through reputable platforms like Booking.com that offer free cancellation policies.
Tips for Places to Stay Near Christmas Markets in Germany
The most elaborate Christmas Markets will usually be located in the center of the German city or town you're visiting. Staying in the city center anywhere is usually more expensive, so make sure you compare prices to find the best hotel deals.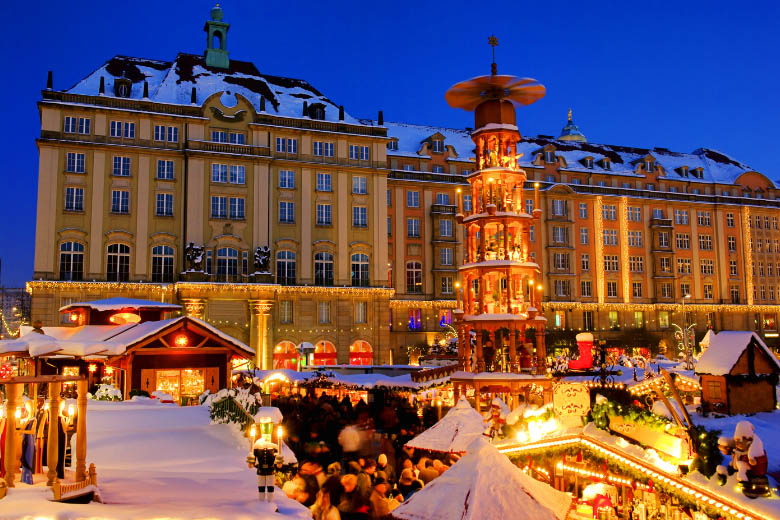 Below you can easily compare hotels near the most popular Christmas Markets in Germany:
Bonus Tip: Not sure which Christmas Market you should visit in Germany? Read personal reviews on TripAdvisor to get inspiration!
6. Dress Warmly
What should you wear when visiting Christmas Markets in Germany? Good question!
It gets pretty cold during Christmas in Germany. Temperatures often drop to a few degrees above zero. That's around 32 Fahrenheit for our US friends. And if you're really lucky, it may even snow.
It doesn't get more magical and festive than a White Christmas!
Our tips for dressing warmly at German Christmas Markets are to dress in layers and to wear a big warm jacket that covers you up to your knees at least.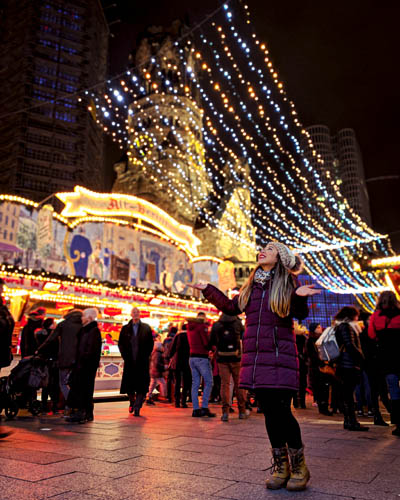 We'd also recommend wearing thermal vests and pants if you get cold easily. Whatever you do, make sure you wear hats, gloves, scarves, as well as warm and comfortable shoes, which are a must. Bonus if they're waterproof!
Bonus Tip: Keep your phone in the inside pocket of your jacket so that the frigid cold doesn't drain your battery. Alternatively, bring a portable power bank so your phone never runs out of juice!
7. Take Public Transport or Uber Home
If you've overindulged in gluhwein at a Christmas Market, make sure you don't drive, cycle, or ride an e-scooter back to your hotel.
It's not worth getting in trouble with the police and risking a hefty fine. Public transport is extensive and convenient to use in Germany. Simply take the train, tram, metro or bus.
Alternatively, you can also grab an Uber or Bolt to take you back to your hotel.
Bonus Tip: If you do want to experience the cycling culture in Germany (pre-gluhwein), make sure you read our 24 Rules For Cycling in Germany guide.
8. Visit Christmas Markets During Week Days to Avoid the Crowds
The best time to visit Christmas Markets in Germany to avoid the crowds is on weekdays. Weekends are by far the busiest days to visit, especially closer to Christmas Eve.
The opening times for German Christmas Markets are usually between 11AM and 2PM. Most markets will close at 10PM to abide by 'Ruhezeit' (quiet time) so they don't disturb nearby residents.
The earlier in the day you go, the quieter it is. But the best time to visit Christmas Markets (in our opinion) is between 4PM and 5PM during what photographers call 'blue hour'.
Not only is this the best time to take photos. But it's also the best time to visit to avoid the worst of the crowds.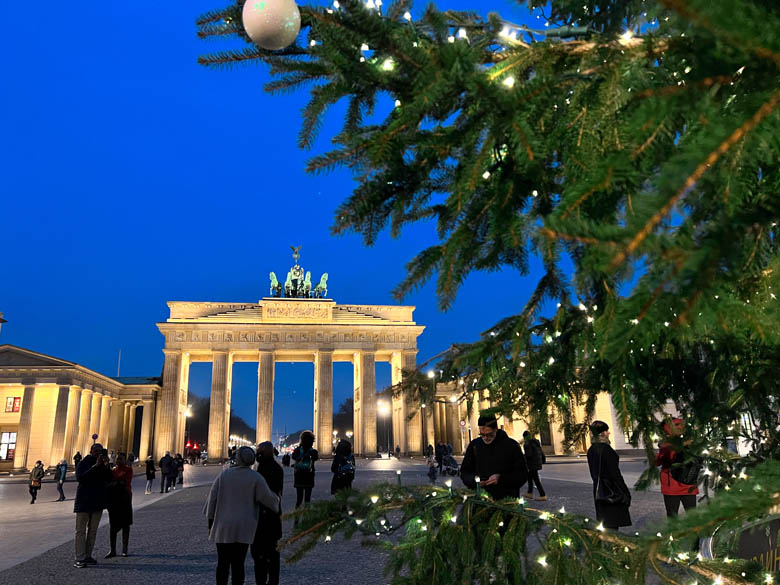 9. Kid-Friendly Christmas Markets in Germany
Almost all Christmas Markets in Germany are family and kid-friendly. But some are more kid-friendly than others.
Some Christmas Markets have outdoor ice skating rinks, dreamy carousels (merry-go-round), giant Ferris Wheels, and even toboggan runs! So make sure you do some research and see which ones are best for your kids.
Bonus Tip: If you're visiting Christmas Markets in Germany with kids, get them 'Kinderpunsch'. It's a non-alcoholic mulled cider that's the perfect alternative to the boozy gluhwein.
10. Visit More Than One Christmas Market 
You may not know this if it's your first time visiting Christmas Markets in Germany. But most cities and large towns in Germany host multiple Christmas Markets – not just one.
In the German capital – Berlin alone, there are over 70 Christmas markets to visit! Do you now see why people say that no country does Christmas better than Germany?
Again, do some research beforehand so you have a list of Christmas markets to visit.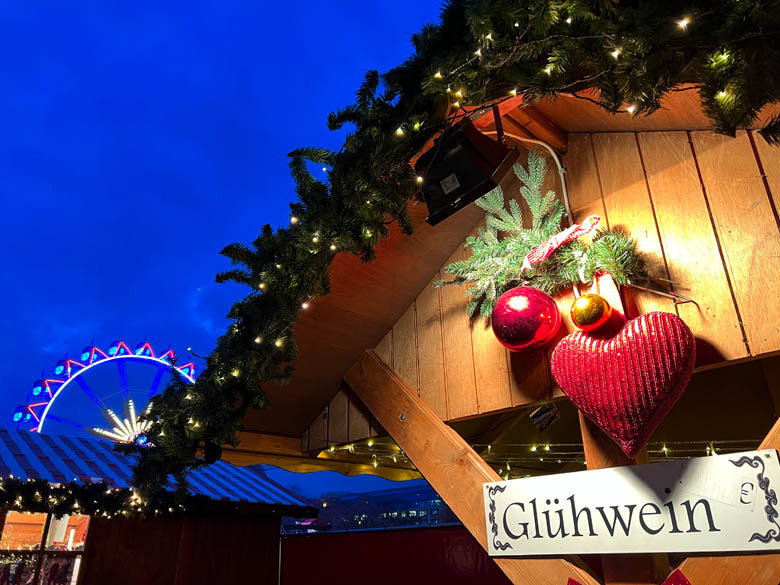 If you're visiting Berlin (our home city), then you're in luck because we've done the research for you.
Read our Berlin Christmas Markets guide where we've put together the best German Christmas Markets to visit in Berlin from the most popular to the least touristy.
11. Security at Christmas Markets in Germany
Germany is a pretty safe country to visit. But given past events, security is more stringent at some of the most famous German Christmas Markets.
Our tip to you is to not bring large backpacks or rolling luggage and suitcases with you when visiting Christmas Markets in Germany.
For safety reasons, you may be refused entry if your bag is too big. So it's best to leave it behind at your hotel. Handbags or smaller bags are fine but they may be checked at some markets before you enter.
Bonus Tip: If you want to be a more eco-friendly traveler, bring your own shopping bag for your purchases or for collecting your Christmas mug souvenirs.
12. Corona Rules for Visiting Christmas Markets in Germany
No one can predict whether there will be special COVID rules for visiting Christmas Markets in Germany in 2022. To be on the safe side, always bring your FFP2 masks and vaccination documents with you.
We'd also recommend reading up on the markets you'll be visiting to see if there are any specific corona rules you should know about.
For general corona rules for travelers visiting Germany, check the German Federal Ministry of Health page.
Bonus Travel Tip
With the ongoing COVID-pandemic, airport chaos, and who knows what else, it's better to be safe than sorry! Travel insurance will protect you against cancellations, illness, injury and even theft. Get a travel insurance quote for a stress-free vacation and enjoy the adventure without worries. Here are some recommendations:
Bonus Tip: Don't have FFP2 masks? Don't worry! You can easily buy them online or at any supermarket or drugstore in Germany.
13. Basic German Phrases for Visiting German Christmas Markets
Last but not least. Some tips for basic German phrases to know when visiting Christmas Markets in Germany!
Most people working at German Christmas Markets can speak some English. But it's always nice to learn a few basic phrases in German too. It's part of the travel experience and you may even get a free shot ('mit schuss') with your gluhwein if you attempt German with a smile.
| English | German | Pronunciation |
| --- | --- | --- |
| Hello (Formal) | Guten Tag | goo-ten tag |
| Hello (Informal) | Hallo | ha-low |
| Thank you (Formal) | Vielen Dank | fee-len daank |
| Thank you (Informal) | Danke | daan-ke |
| One gluhwein please | Einmal glühwein bitte | ein-mal gloo-vine bitter |
| Two gluhwein please | Zweimal glühwein bitte | zwai-mal gloo-vine bitter |
| I would like my deposit | Pfand bitte | fund bitter |
| Merry Christmas | Frohe Weihnachten | froo-he vai-nag-ten |
| Bye | Tshüss | shoos |
Basic German phrases for visiting Xmas markets in Germany
Fun Facts About Christmas Markets in Germany
What is Christmas Market in German?
Weihnachtsmarkt ('w' pronounced as 'v')
What is the Oldest Christmas Market in Germany?
Dresden Christmas Market – Striezelmarkt 
What is the Famous Christmas Town in Germany?
Rothenburg ob der Tauber – often known as the Christmas capital of Germany. It's famous for being home to the world's only Christmas Museum and one of the few places in the world where you can buy Christmas products any time of the year.
Which Are the Best German Christmas Markets?
Dresden (oldest and largest Christmas Market in Germany)
Rothenburg ob der Tauber (Germany's famous Christmas town)
Berlin (the city with the most Christmas Markets in Germany)
Nuremberg (the most beautiful Christmas Market in Germany)
Munich Christmas Market
Cologne Christmas Market
Dusseldorf Christmas Market
Stuttgart Christmas Market
Hamburg Christmas Market
Leipzig Christmas Market
Rudesheim Christmas Market
Is It Free to Visit Christmas Markets in Germany?
Most Christmas Markets in Germany are free to visit (i.e. no entrance fees) but there is a handful that charges entrance.
Are There Christmas Market Tours in Germany?
Yes, there are guided Christmas Market tours you can join in Germany!
Here are some of the most popular ones: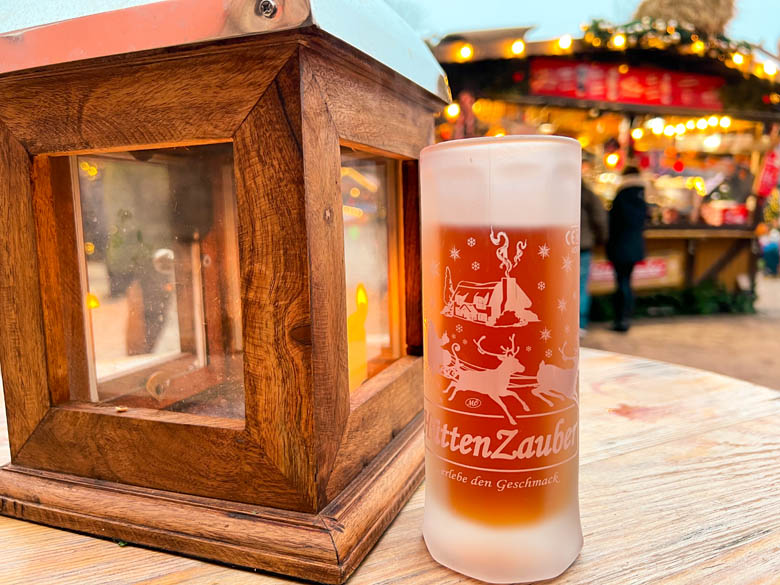 Tips For Visiting Christmas Markets in Germany in 2022
That was a long post! Here's a quick summary:
Have cash money (i.e. credit and debit cards won't do)
Learn the German word 'pfand'
Collect Christmas market mugs
Budget enough cash to have with you
Book your hotel in advance
Dress warmly
Take public transport or Uber back to your hotel
Visit Christmas markets on weekdays to avoid crowds
Find a Christmas market your kids will love
Visit more than one Christmas market in the city or town
Don't visit Christmas markets with large backpacks or luggage
Know the COVID rules beforehand
Learn some basic German phrases
---
Thank You For Reading
If you enjoyed reading this guide, share it with your friends and family. Have a question or need advice? Contact us via Email, Messenger or WhatsApp. And if you'd like to leave a comment, tweet us. Oh, and don't forget to subscribe!
Buy Us A Coffee
Our content is free and always will be. But if this guide has saved you time, money or made your life easier, feel free to buy us a coffee. We'll really appreciate your support.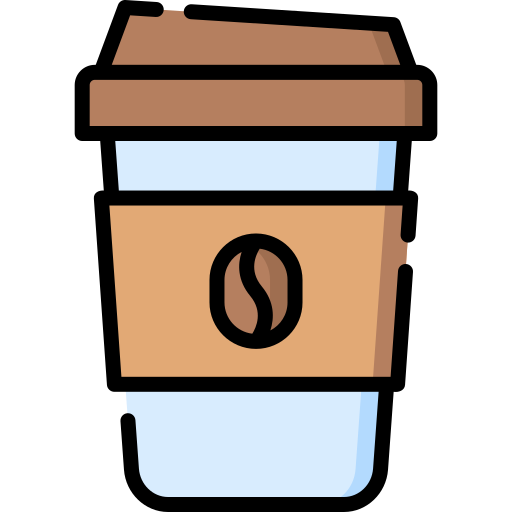 Support Our Work
Can't donate? No problem! You can still support us by buying products and services that we recommend. Check out our resource page for all offers and discount codes.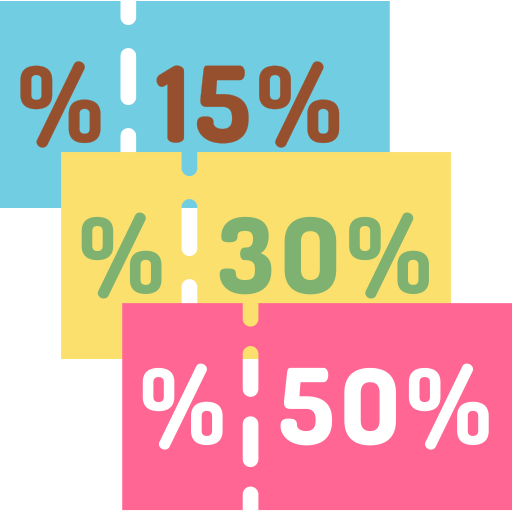 📣 This guide contains affiliate links. This means if you click on our links and buy something, we may earn a commission at no extra cost to you. This allows us to work on the website full time and keep Nomad And In Love alive and thriving.