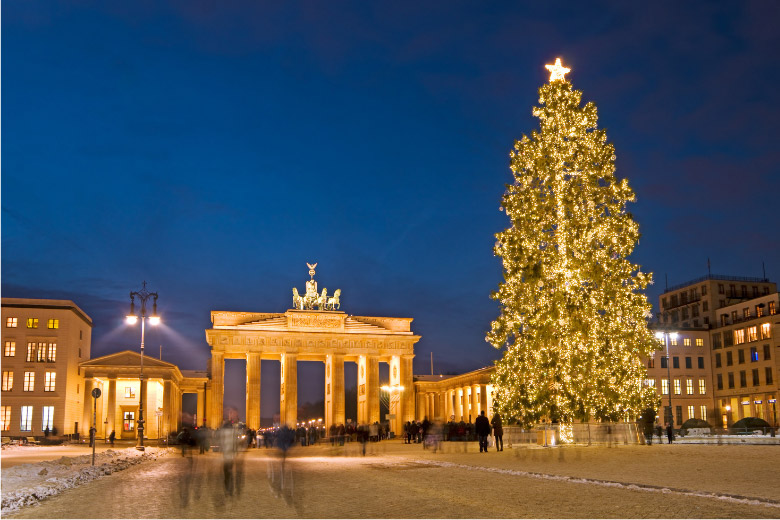 The coronavirus pandemic may have bought some uncertainty around Christmas markets in Berlin. But that doesn't mean you can't enjoy your favourite German Christmas drink! This Berlin Gluhwein To-Go Guide will show you 60+ places to buy mulled wine in every district and neighbourhood in Berlin.
The most popular Christmas markets in Berlin are going ahead in 2023 (thank goodness!). But not everyone will feel comfortable visiting them with the news of new variants and waning vaccine immunity. But don't you worry – we've got a solution for you!
Besides Facetiming friends and family and decorating your apartment, you can still enjoy your favourite German Christmas drink in Berlin, gluhwein, without braving the crowds at Christmas markets. Oh yes! It's the perfect excuse to 'drown your sorrows' and chase the corona blues away.
So if you're looking for a social distance-friendly thing to do during corona times, why not go for a 'gluhwein walk' with a friend?
We've listed 60+ restaurants, cafes and bars in every district and neighbourhood in Berlin where you can buy this Christmas drink for your festive stroll.
Not only will it get you outdoors during the dark winter months. But it's also a great way to support local businesses during the coronavirus pandemic and help keep your favourite local hangouts afloat.
It's clearly a win-win situation.
So if you're ready to become a gluhwein connoisseur, just look for the district you live in (or heading to) and find the nearest place to buy gluhwein in Berlin near you. We've listed the districts in alphabetical order to make it easier for you to find.
Find this Berlin Gluhwein collection useful? Share it on social media with your friends and family!
Berlin Gluhwein To-Go Tips
Bring your own refillable mug for your gluhwein to keep it eco-friendly. Or if you really want to get into the Christmas vibe, bring your favourite Christmas market mug!
Don't hang around outside the restaurant, bar or cafe after you've got your gluhwein. Go for a stroll instead. Otherwise, you may get the owner of the establishment in trouble with the police.
Don't overindulge in gluhwein if you're cycling back home. It's the most important traffic rule when cycling in Germany.
Gluhwein in Berlin Mitte
1. Restaurant SIMON
Where: Auguststraße 53, 10119 Berlin
This beautiful Italian/Mediterranean restaurant located in Berlin's Mitte district sells delicious gluhwein to-go between 1PM and 9PM. They also sell homemade pumpkin soup and paninis for takeout if you're feeling peckish.
2. Deutsche Küche
Where: Sophienstraße 11, 10178 Berlin
Get traditional mulled wine to-go from this German restaurant located near Hackescher Markt.
3. Wild & Raw
Where: Weinbergsweg 5, 10119 Berlin
It may be hard to travel during corona times. But you can enjoy a taste of Hawaii with these super yummy and healthy poke bowls at Wild & Raw. It's also a great place to buy gluhwein to-go in Berlin, especially if you're going for a walk at Volkspark Weinberg.
4. Planet Wein
Where: Mohrenstraße, Charlottenstraße 30, 10117 Berlin
If you're missing Gendarmenmarkt Christmas market as much as we do, then make sure you get a hot cuppa gluhwein from Planet Wein before heading off to see the Franzosischer Dom and the Deutsche Dom in the heart of Berlin.
5. Bandy Brooks
Where: Friedrichstraße 96, 10117 Berlin
It may be too cold for ice cream, but it's never too cold for a hot and spicy cup of gluhwein from Bandy Brooks.
6. Cafe Chagall
Where: Georgenstraße 4, 10117 Berlin
Planning to take a walk around Berlin's Museum Island? Then grab a gluhwein to-go from Cafe Chagall.
7. Sawade Berlin-Mitte
Where: Rosenthaler Str. 40, 10178 Berlin
Maybe you've tried chocolate and wine pairing. But have you tried chocolate and gluhwein pairing? No? Try it next time you visit Sawade Berlin-Mitte.
8. KaffeeMitte
Where: Weinmeisterstraße 9a, 10178 Berlin
Drink coffee to change the things you can control in life and gluhwein to accept the things you can't. Get your gluhwein takeout before doing some much deserved Christmas shopping in Berlin.
Related Guide: Looking for outdoor things to do in Berlin during corona times? Read our 17 Outdoor Activities to do in Berlin for a list of lakes and forests to visit.
Gluhwein in Charlottenburg
9. Restaurant Schlossgarten
Where: Schloßstraße 64, 14059 Berlin
Charlottenburg Christmas market may be canceled this year. But you can still buy gluhwein to-go and take a walk around the Charlottenburg Palace gardens.
10. Manstein Café Bistrot
Where: Witzlebenstraße 32, 14057 Berlin
The best place to get yourself a spicy cup of gluhwein if you're planning to take a walk around Lietzensee lake in Berlin. This wonderful bistro sells cakes and other delicious food for takeout too.
Gluhwein in Friedenau
11. LuLa am Markt
Where: Lauterstraße 14, 12159 Berlin
This cute, hidden gem in Friedenau sells gluhwein and other scrumptious food to-go, from pizzas to vegan wraps.
12. frohSINN schank speisen barkultur
Where: Cranachstraße 39, 12157 Berlin
This tastefully decorated restaurant is currently selling gluhwein, crepes, hot chocolate, coffee and even the German classic, Leberkase brotchen mit Krautsalat for takeout!
Gluhwein in Friedrichshain
There are tons of places selling gluhwein to-go in Berlin's vibey Friedrichshain district. But here are a few to get you started.
13. Tapet
Where: Proskauer Str. 10, 10247 Berlin
This popular tapas bar in Berlin is selling gluhwein and other delicious food to-go. Check out their full menu on the Tapet Restaurant website.
14. SmooBar Cafe
Where: 79, Grünberger Str., 10245 Berlin
Make a pit stop at SmooBar Cafe just opposite Boxhagener Platz to buy fresh, homemade gluhwein in both red and white.
15. MACHETE Berlin
Where: Neue Bahnhofstraße 29, 10245 Berlin
Get the best of both worlds and try an authentic Mexican burrito with your German mulled wine.
16. Restaurant U&P
Where: Sonntagstraße 26, 10245 Berlin
Traditional gluhwein from a traditional German restaurant. What else do you need?
17. Restaurant Kurhaus Korsakow
Where: Grünberger Str. 81, 10245 Berlin
Another awesome German restaurant to buy hot and spicy gluhwein in Berlin.
18. Zimt & Zunder
Where: Gärtnerstraße 15, 10245 Berlin
One of the most popular organic cafes in Friedrichshain! Try their hot chocolate, gluhwein or Holunderpunsch (elderberry punch) to-go and see if you have enough willpower to resist their decadent cakes and sweet treats.
19. ROCKz
Where: Simon-Dach-Straße 37, 10245 Berlin
Missing Berlin's bar scene? We know – us too. You can support them by buying gluhwein and other alcoholic drinks from your favourite local hangouts.
20. Migi Würsch Cocktailbar
Where: Boxhagener Str. 13, 10245 Berlin
The name says it all! Get your favourite cocktails, gluhwein and whatever drinks tickles your fancy from this popular bar in Friedrichshain, Berlin.
Gluhwein in Grunewald, Berlin
21. Paulsborn am Grunewaldsee
Where: Hüttenweg 90, 14193 Berlin
Who says you can't buy gluhwein in the middle of the forest? Anything is possible when you're in Berlin. Grab a gluhwein to-go from the charismatic Paulsborn am Grunewaldsee. It's a short walk from the 'Parkplatz Grunewaldsee' parking.
Gluhwein in Kreuzberg, Berlin
You'll be spoilt for choice if you're looking for gluhwein in Berlin's lively Kreuzberg district. There are plenty of places to buy this favourite Christmas beverage, but this list will get you started.
22. The Neighborhood
Where: Möckernstraße 91, 10963 Berlin
This stylish gastropub in Berlin makes mouth-watering homemade gluhwein amongst other hot and boozy drinks. Think mulled cider, Irish coffee and peppermint mocha. Yum!
23. Rubens Coffee Lounge
Where: Mehringdamm 65, 10961 Berlin
Coffee by day, gluhwein by night! Another awesome spot to buy gluhwein to-go in Berlin's trendy Kreuzberg district.
24. Destille Kreuzberg
Where: Mehringdamm 67, 10961 Berlin
Not a fan of gluhwein? Get other awesome alcoholic beverages for takeout at this popular bar in Kreuzberg.
25. Frau Behrens Torten
Where: Bergmannstraße 3, 10961 Berlin
Frau Behrens Torten doesn't only sell Germany's favourite 'torte' or cake. They also sell gluhwein!
26. MarktWirtschaft
Where: Marheinekepl. 15, 10961 Berlin
Of course, the legendary MarktWirtschaft in Kreuzberg offers gluhwein to-go.
27. Fermento Weinbar
Where: Friesenstraße 21, 10965 Berlin
If you've indulged in too much gluhwein and want to try something different, this boutique wine bar in vibey Bergmannkiez sells other hot, alcoholic drinks. Try Glogg, the Danish version of mulled wine or order a Weinschorle (wine spritzer) to-go.
28. Bar Franzotti
Where: Kreuzbergstraße 71, 10965 Berlin
Planning to take a stroll at Viktoriapark? Make a stop at Bar Franzotti for a hot cuppa gluhwein.
29. Das Gretel
Where: Hagelberger Str. 15, 10965 Berlin
This cafe also sells gluhwein for takeout but they're only open from Wednesdays to Sundays.
30. Lausebengel
Where: Grimmstraße 21, 10967 Berlin
German cuisine with a modern twist – Lausebengel is located in the gorgeous Graefekiez within a stone's throw from the Landwehr Canal. The perfect location for getting that cup of gluhwein before taking a romantic walk along the water.
31. Milchmadchen
Where: Grimmstraße 30, 10967 Berlin
Another awesome cafe to buy gluhwein to-go along the Landwehr Canal in Berlin, just off Admiralsbrucke.
32. La Maison
Where: Paul-Lincke-Ufer 17, 10999 Berlin
This popular French patisserie doesn't only sell delectable baked bread and pastries. They also have pretty delicious gluhwein too.
Gluhwein in Moabit
33. Moa – Café & Bar
Where: Kirchstraße 1, 10557 Berlin
A great cafe to buy gluhwein close to Kleiner Tiergarten park in Moabit, Berlin.
34. Exclusive Coffee
Where: Turmstraße 25, 10559 Berlin
Exclusive Coffee also sells mulled wine – just saying.
35. Tastavin – Weinhandel Weinbar
Where: Arminiusstraße 2-4, 10551 Berlin
If you're a wine connoisseur, you'll probably be delighted to know that Tastavin will also be selling gluhwein during the Christmas period.
Gluhwein in Neukolln
Looking for places to buy gluhwein around Tempelhof, Hasenheide or the vibey neighbourhood of Schillerkiez? Here are some restaurants, bars and cafes you can visit.
36. Blauer Affe
Where: Weisestraße 60, 12049 Berlin
One of Neukolln's old school pubs! You can grab a hot cup of gluhwein here. Or if you're still in denial that winter has arrived, you can also order a cold gin and tonic or a summer Aperol spritz.
37. 21 gramm
Where: Hermannstraße 179, 12049 Berlin
21 gramm is probably one of the most unique restaurant and bar we've visited in Berlin! It's located inside St Thomas Church next to a cemetery. You might have to wait till lockdown has been lifted to see its beautiful interiors. But right now you can support them by buying food, gluhwein and other drinks to-go.
38. Home: Brewing & Kitchen
Where: Jonasstraße 23, 12053 Berlin
This quaint coffee shop on Jonasstrasse sells amazing coffee, delicious baked goods as well as gluhwein, of course. If you're missing English favourites like cheddar cheese scones, thyme scones or BBQ baked beans, make sure to check out the Home: Brewing & Kitchen menu.
39. Rixbox Espresso & Food
Where: Richardstraße 2, 12043 Berlin
Doing some Christmas shopping in Karl-Marx Strasse? Take a break at Rixbox Espresso with a hot cuppa gluhwein.
40. Herr Lindemann Cocktail Bar auf Kräuterbasis
Where: Richardpl. 16, 12055 Berlin
Another awesome bar where you can grab gluhwein to-go in Berlin if you're on the Richardstrasse side of Neukolln.
41. Cafe Lux
Where: Herrfurthstraße 9, 12049 Berlin
If you're heading to Tempelhofer Feld and in dire need of gluhwein, Cafe Lux will be one of the closest cafes to buy it from.
Gluhwein in Prenzlauer Berg
Ah, Prenzlauer Berg – or otherwise affectionately known as PBerg. You'll feel like a kid in the candy store in this part of Berlin with all the gluhwein to-go options!
42. Badfish Bar
Where: Stargarder Str. 14, 10437 Berlin
You can experience a slice of New York at Badfish Bar with a hot, cuppa mulled wine for takeout of course!
43. Plant Base
Where: Prenzlauer Allee 208, 10405 Berlin
As the name of this cafe suggests, if you're looking for homemade, organic and VEGAN gluhwein in Berlin, Plant Base is the place to be.
44. Schankwirtschaft Seeblick
Where: Rykestraße 14, 10405 Berlin
Now this one is unique – a German restaurant that also serves vegan dishes! What more can you ask for? Order food or gluhwein to-go from their menu.
45. Misirlou Bar
Where: Dunckerstraße 10, 10437 Berlin
The best place to grab gluhwein if you're planning to take a stroll at Helmoltzplatz park.
46. KINK Bar & Restaurant
Where: Schönhauser Allee 176, 10119 Berlin
Hanging around Kollwitzkiez? Get some Christmas vibes with a cup of gluhwein from KINK Bar & Restaurant to wash the corona blues away.
47. Manifest Taproom
Where: Oderberger Str. 15, 10435 Berlin
Are you a craft beer lover? Then you need to visit Manifest Taproom. Not only do they sell gluhwein to-go, but there are also 20+ craft beers to try! The bar is also conveniently located close to both Kulturbrauerei and Mauerpark fleamarket so there's plenty of room for walking and exploring.
48. Restaurant Muse
Where: Immanuelkirchstraße 31, 10405 Berlin
One of the most popular restaurants in Prenzlauer Berg! Not only can you order delicious food, but you can also shop handmade products from their online deli! Their gluhwein is homemade and comes in both red and white.
49. Salt'n Bone
Where: Schliemannstraße 31, 10437 Berlin
Missing that authentic gastro bar vibe? Then make a stop at Salt'n Bone and grab some mouthwatering burgers, wings and even fish and chips to-go with your gluhwein.
50. Dirty Velvet Drinkery
Where: Lychener Str. 39, 10437 Berlin
What do you get when you mix alcohol and art? Well, Dirty Velvet Drinkery of course!
51. Lamm Bar
Where: Wisbyer Str. 1, 10439 Berlin
You can't hang around Prenzlauer Berg and not visit this trendy bar. Get your favourite alcoholic (or alkoholfrei) drink, hot and spicy gluhwein and Flammkuchen to share!
Save Me For Later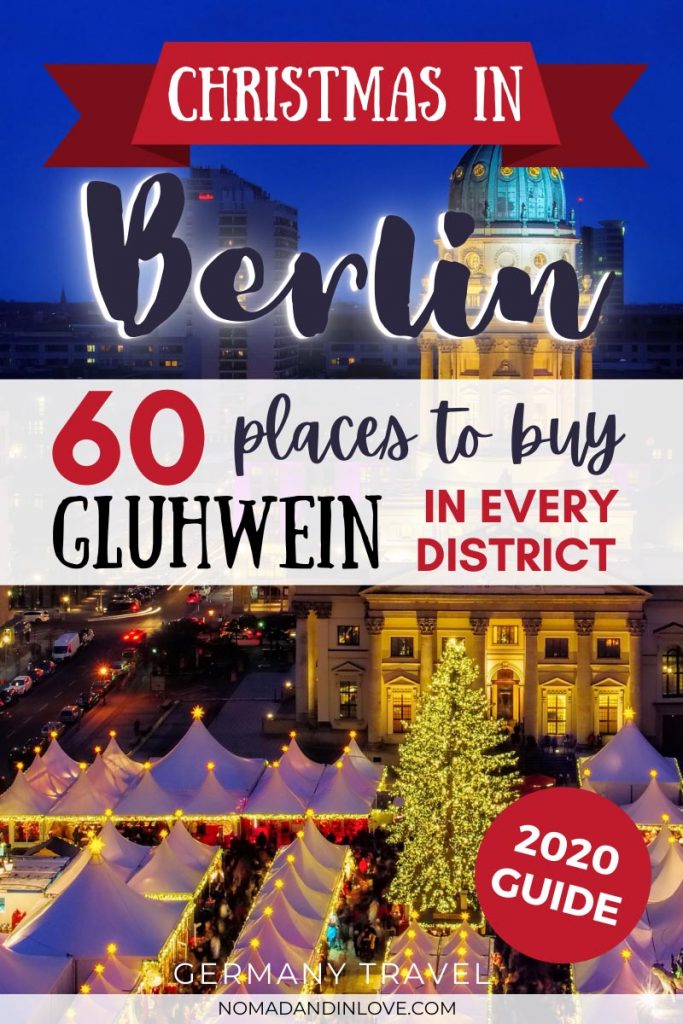 Gluhwein in Schoneberg
52. Berio
Where: Maaßenstraße 7, 10777 Berlin
An amazing bakery that sells a variety of cakes, pastries, other baked goods, and of course gluhwein to-go!
53. Bar Voyage
Where: Nollendorfstraße 1, 10783 Berlin
Bar Voyage – the cozy bar famous for its amazing drag and cabaret shows! Let's show them lots of love and support by drinking all their gluhwein (or shots).
54. Barkett
Where: Czeminskistraße 10, 10829 Berlin
One of Schoneberg's most popular neighbourhood bars. We may not be able to attend live music shows for now, but we can still drink with Barkett.
55. Café Sully
Where: Leberstraße 8, 10829 Berlin
Love all things homemade? Then you need to try the delicious dishes and gluhwein from Cafe Sully.
56. Pizzeria Trattoria Café LuNa
Where: Gotenstraße 18, 10829 Berlin
Nothing beats pizza and pasta to chase away the corona blues. And if you order on Mondays to Fridays between 12PM and 4PM from Pizzeria Trattoria Cafe LuNa, you can buy pizza or pasta for only €6! The cherry on top? They sell gluhwein to-go in Berlin too!
Gluhwein in Wedding
57. Schraders Bar and Kitchen
Where: Malplaquetstraße 16B, 13347 Berlin
One of the oldest gastro pubs in Wedding if not in the whole of Berlin! Get your mulled wine here if you're planning to take a walk around Schillerpark and the English Quarter.
58. Tre Amici
Where: Neptunstraße 30, 13409 Berlin
Italian food and gluhwein – need we say more?
Gluhwein in Wilmersdorf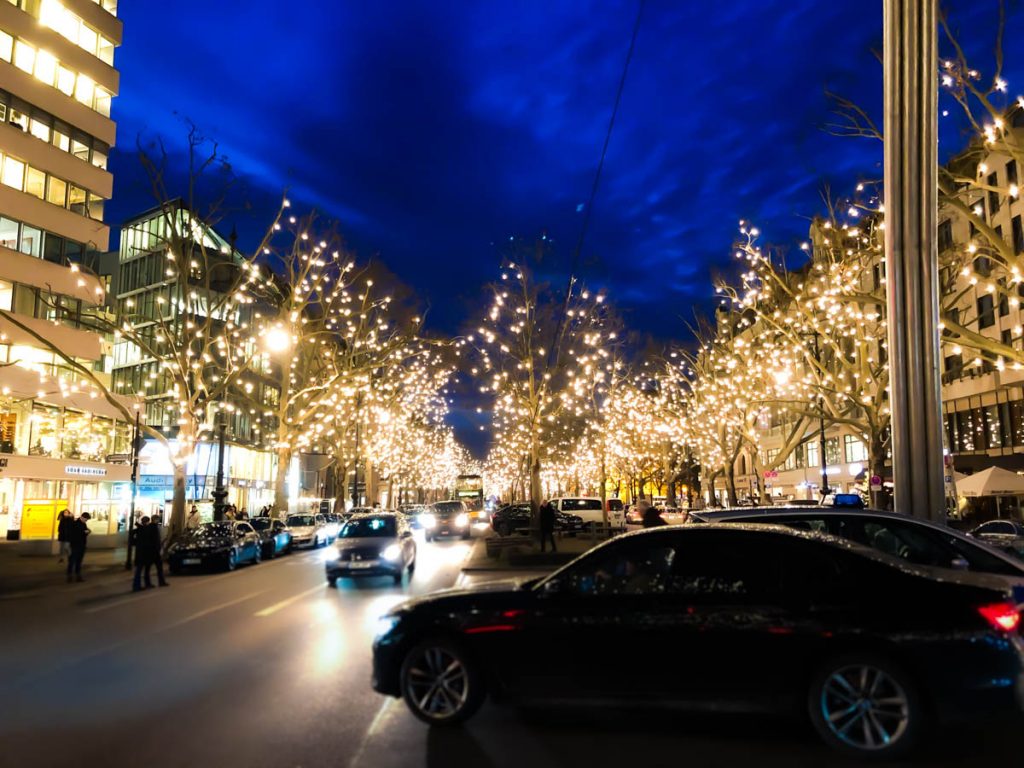 59. 12seasons – Restaurant & Bar
Where: Giesebrechtstraße 3, 10629 Berlin
Looking for delicious, hot gluhwein to go around Kurfurstendamm? Make a stop at the 12seasons Restaurant and Bar. This fine-dining restaurant also sells gourmet wildbratwurst, kartoffelsuppe (potato soup) and gnocchi for takeout.
And if you're looking to celebrate a special occasion at home during corona times, the 12seasons can make and deliver a 4-course menu to your home.
60. Restaurant Berliner Hof
Where: Hildegardstraße 14, 10715 Berlin
Restaurant Berliner Hof not only sells gluhwein to-go, but also decadent Christmas biscuits.
61. Cafe LebensArt
Where: Uhlandstraße 47, 10719 Berlin
Tired of gluhwein? Cafe LebensArt sells 'gluhbirne' which is mulled wine made from pears.
62. Cafe Restaurant Manzini
Where: Ludwigkirchstraße 11, 10719 Berlin
Another awesome spot to grab gluhwein and something to eat when you're doing Christmas shopping in Kurfurstendamm.
Want to add your favourite restaurant, cafe or bar in Berlin on this list? Email us with a short description of what's awesome about this place and we may add it to this Berlin Gluhwein guide.