A comprehensive guide on visiting the world famous Kinderdijk Windmills UNESCO World Heritage Site in Holland. From how to get there, top things to do, to how you can visit the famous windmills for FREE.
Your experience of the Netherlands is not complete if you didn't see the famous windmills in Holland. It's true. Guided day trips and tours to Kinderdijk are expensive. They can easily cost anywhere between €200 for group tours to €800 for private tours.
That's why we're showing you how you can visit Kinderdijk windmills in Holland by yourself for a fraction of the price and even for free!
We'll cover how to get there from Amsterdam and Rotterdam, the top things to do in Kinderdijk and how you can rent a bike for the ultimate Dutch experience.
Why Kinderdijk is a Must-See Attraction in the Netherlands
Time travel may not be invented yet, but visiting Kinderdijk comes pretty close. It's one of the few places in the world where you can catch a glimpse of how life was a 1,000 years ago. And the best part is that you don't need to be a history lover to appreciate its beauty.
That's actually how we found out about Kinderdijk. We saw it on Instagram. After all, there's a reason why they say a picture is worth a thousand words.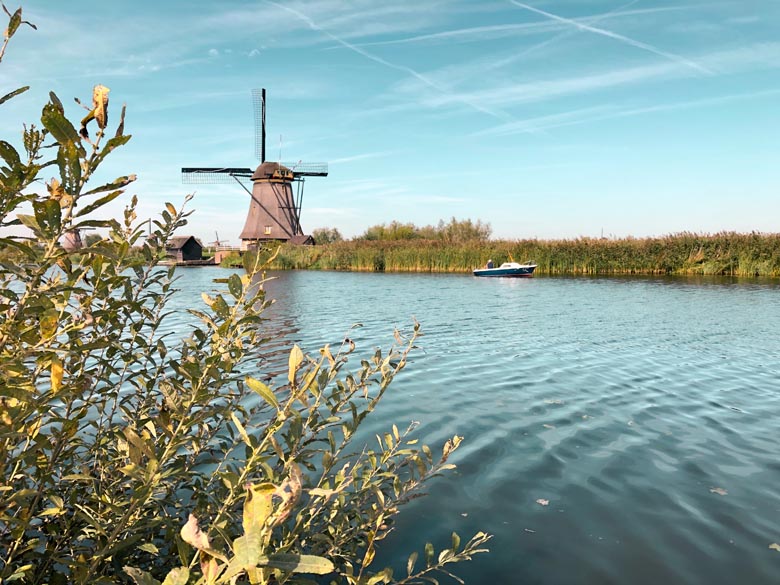 But besides its breathtaking beauty, Kinderdijk also captures one of the most monumental chapters in the history of humankind. The day humans found a sustainable way to harness the power of water and wind to literally keep land afloat and habitable.
You won't find another windmill complex like Kinderdijk anywhere else in the world. It's a unique piece of history and the reason why it has earned UNESCO World Heritage status since 1997.
Is Kinderdijk Windmills in Holland Worth Visiting
We all know the dangers of following pretty pictures on Instagram. Sometimes they lead to places that don't quite live up to the hype. Luckily Kinderdijk does more than live up to expectations. In fact, it's even better in person.
If like us, you enjoy authentic local experiences, learning about cultural history and being in breathtaking natural landscapes, then you'll love Kinderdijk as much as we did.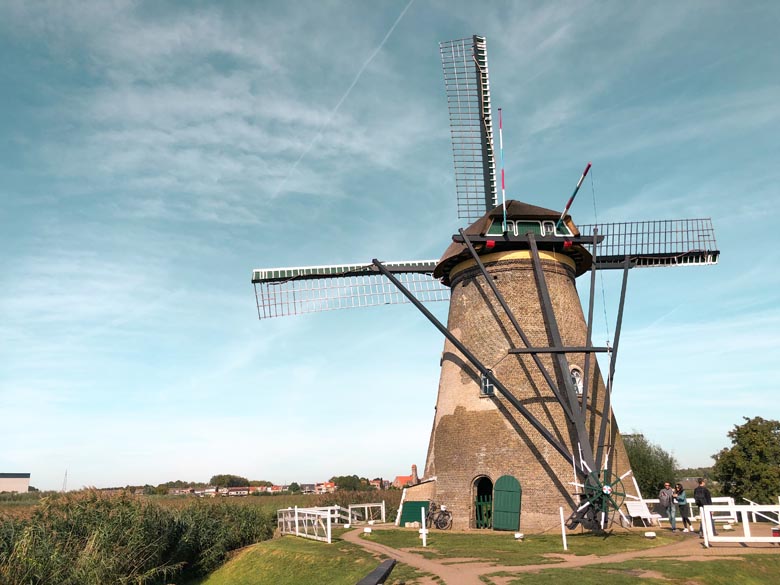 How To Get To Kinderdijk Windmills
Thanks to the extensive and amazing public transport in the Netherlands, exploring the windmills in Holland is easy. That's why Kinderdijk is a popular day trip from Amsterdam or Rotterdam.
If you're planning to see Rotterdam, make sure to read our Top Rotterdam Attractions by Bike. Experience Rotterdam in 2 days with our 22 top things to see.
How To Get From Amsterdam to Kinderdijk
The best way to get to Kinderdijk from Amsterdam using public transport is via Rotterdam or Utrecht. We covered in detail how to get from Amsterdam to Rotterdam by bus and train in our Rotterdam Attractions in 2 Days guide. The costs range between €5 to €19 depending on the option you take.
From Rotterdam, you can either take the bus or ferry directly to Kinderdijk (we'll explain this in the next section).
The other option is to take the train from Amsterdam to Utrecht Central Station. Then get on bus 154 to get to Kinderdijk.
Save Me For Later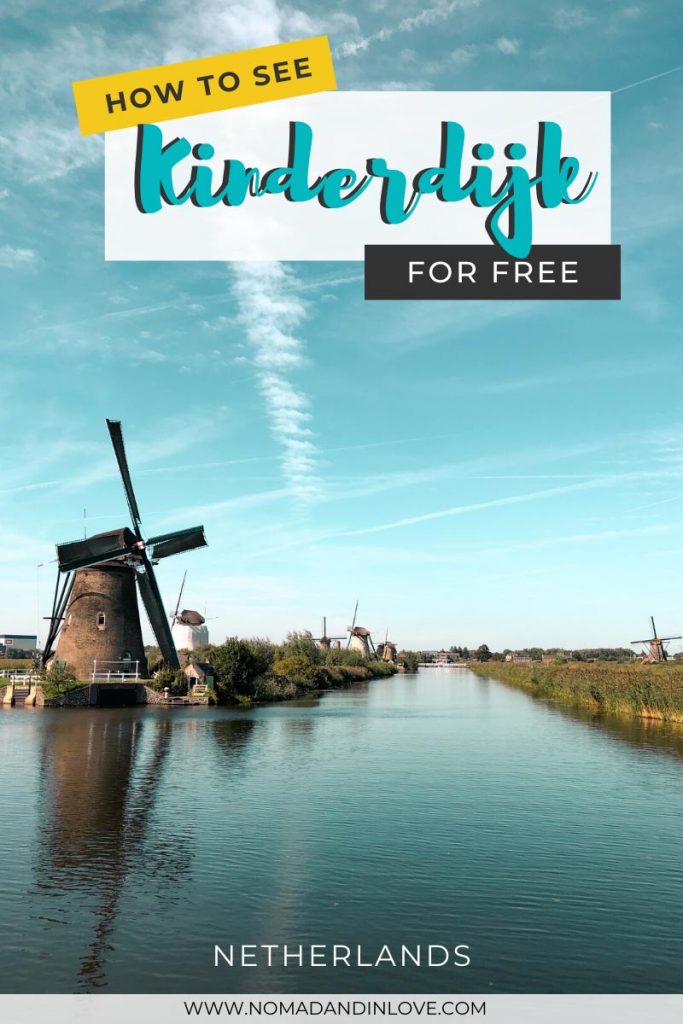 How To Get From Rotterdam to Kinderdijk
There are three ways to get from Rotterdam to Kinderdijk. Via bike, bus or by ferry.
To get to Kinderdijk from Rotterdam for 'free', you can burn fat not fuel by cycling there. It should take around 60 – 75 minutes to cycle to Kinderdijk from Erasmusbrug. If you need to rent a bike in Rotterdam, make sure to read our previous guide.
For the bus option you'll need to take the metro from Rotterdam Central Station to Zuidplein. Then get on bus 154 to get to Kinderdijk. Buy the Rotterdam Day Ticket for €9.00 online if you opt for the road route. It will give you 24 hours of unlimited travel by bus, tram or metro.
We opted for the most scenic experience. By ferry or otherwise known as the waterbus.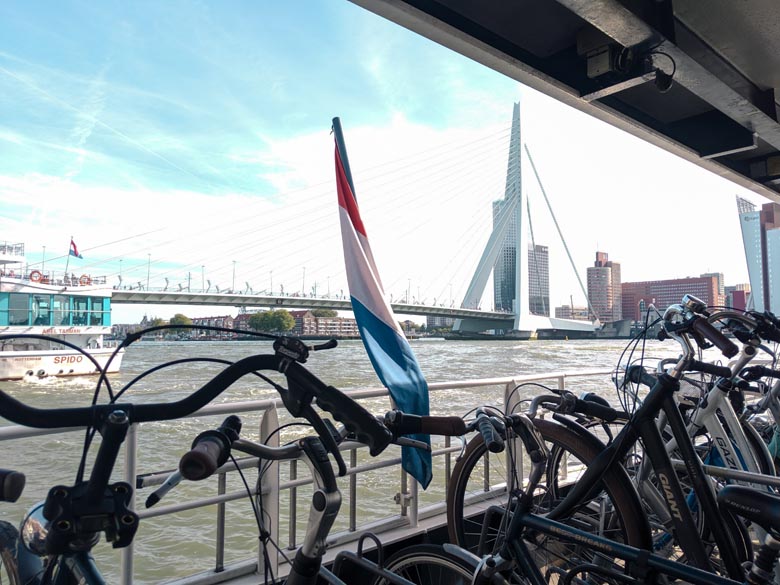 Cost of Waterbus Ticket from Rotterdam to Kinderdijk
A return ticket for the waterbus from Rotterdam to Kinderdijk costs €8.98. Take this option if you're already exploring Rotterdam by bike. You can bring your bike on the waterbus for free. Simply lock your bike on the bicycle stand and go enjoy the beautiful views from your seat.
Make sure you buy your Kinderdijk tickets online. It's slightly cheaper at times and an e-ticket is better for the environment. If you need a travel bank card that offers zero transaction fees and free cash withdrawals, read our Best Travel Bank Card guide. It's free to sign up if it's available in your country.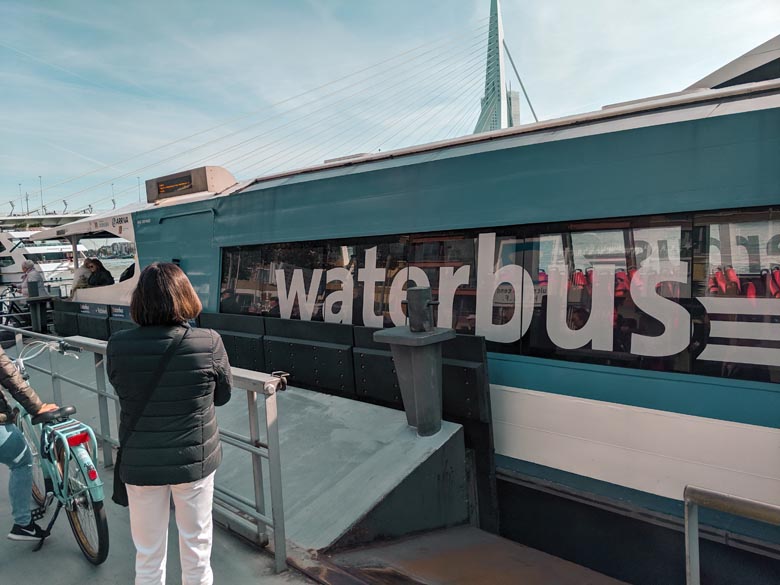 Where to take Waterbus from Rotterdam to Kinderdijk
Head to the Rotterdam Erasmusbrug ferry terminal to take the waterbus from Rotterdam to Kinderdijk. It's on the north side of the Maas River close to the Wereldmuseum.
You can take waterbus line 202 or 20 to get from Rotterdam to Kinderdijk. These lines operate on different routes depending on the time of the year. Check the waterbus schedule to make sure it is available before buying your tickets.
Ideally you should take waterbus 202 to go directly to Kinderdijk. We had to take line 20 when we went which makes a short stop at Ridderkerk. From there we had to change to the Dordrecht waterbus to get to Kinderdijk.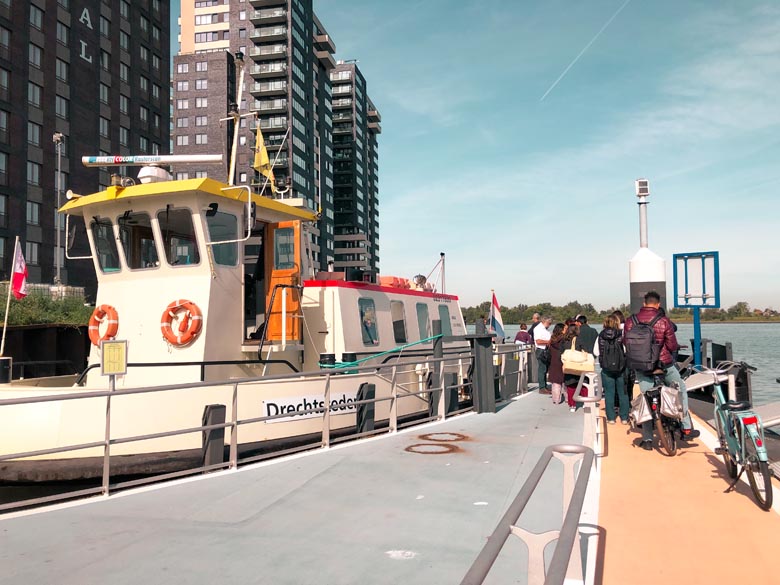 Things To Do in Kinderdijk
The windmills are the obvious highlights of Kinderdijk but there are plenty of other exciting things to do too. Especially if you love the great outdoors.
You'll see two rows of windmills when you explore Kinderdijk. The windmills on the right are the Nederwaard Mills and the Overwaard Mills are to your left. You can easily tell them apart from their appearance. The Nederwaard Mills have brick bodies whereas the Overwaard Mills are covered in thatch.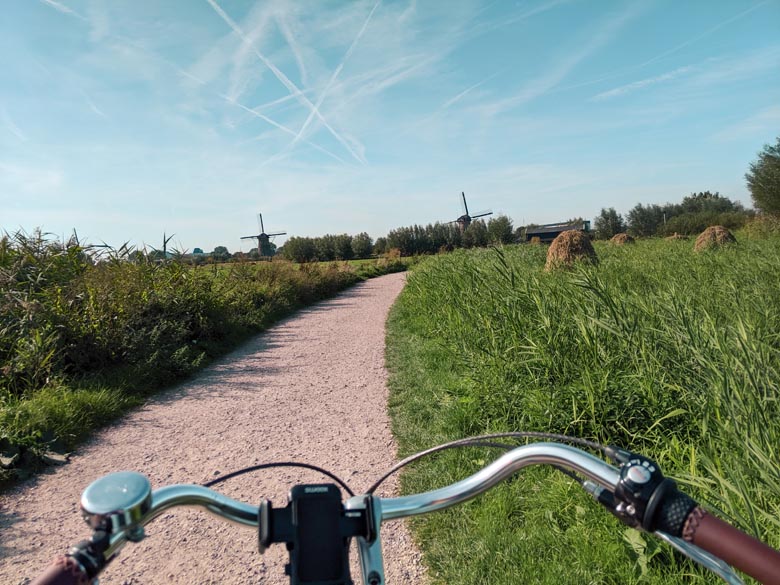 Cycling routes at Kinderdijk
The best way to experience Kinderdijk and its surrounds is by bike. There are many cycling routes in and around the area. Simply pick one based on the experience you're looking for or how long you plan to cycle.
Alblasserdam Cycling Route 5km (20 minutes)
Local Products Route 10km (90 minutes) – great option if you're not planning your own picnic
Polder Hopping Route 17km (3.5 hours)
Download the Kinderdijk App to get the map for these cycling routes (it's free).
Long Distance Cycling Routes
There are also some long distance (+40km) bicycle routes to please the cycling fanatics.
The SIMAV Windmill Route 42km (4 hours) – Starts at Kinderdijk and ventures out to Bleskensgraaf, Ottoland and Groot-Ammers before circling back to the starting point. This cycling route is also available on the Kinderdijk App.
Windmills and Stork Route 45km (4.5 hours) – Start from the Wisboom's Pumping Station in Kinderdijk. Cycle along the De Lek river all the way past Groot-Ammers towards the Avonturenboerderij Windmill close to Nieuwpoort. Cycle back to Kinderdijk along the De Donk or via the Ottoland route. You can easily wing this route on Google Maps or you can buy the map for this cycle route at the Visitors' Centre.
Kinderdijk, Dordrecht and Biesbosch Route 50km (5 hours) – See the 3 highlights of the Dutch Water Triangle in one day. The route starts at Kinderdijk and heads down to the oldest Dutch city, Dordrecht. From there it heads east towards the Biesbosch National Park before cycling back. Follow your own DIY route on Google Maps or buy the map for this cycle route at the Visitors' Centre.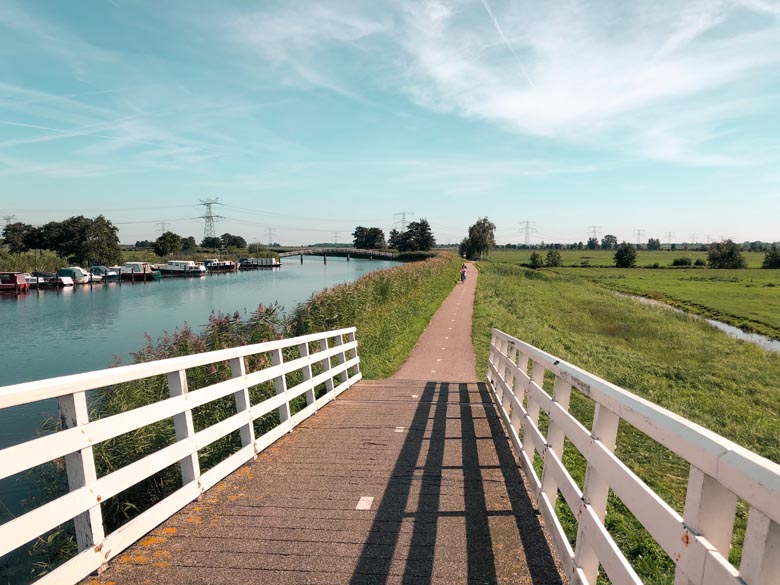 Hiking at Kinderdijk
If you prefer walking to cycling, there are also a number of walking routes in and around Kinderdijk.
The most popular hiking route is the Kinderdijkpad. It's an easy 7.5km route that explores the UNESCO World Heritage Site and is suitable for the whole family. You can find the exact hiking trail map on the Kinderdijk App.
For the avid hikers, there's a 17km hiking trail called the Polderhoppen & Vogel Spotten route. It's basically the Polder Hopping Route mentioned in the cycling section, but you walk it instead. The map for this trail is also available in the app. Just look for it under the cycling section.
Bird and Wildlife Watching
You can expect to find foxes, martens, frog, salamanders and meadow birds at Kinderdijk, but the highlight is to spot the rare purple heron. Make sure to bring your binoculars because Kinderdijk is known to have the largest colony of purple herons in Western Europe.
We weren't lucky enough to see the purple heron, but we did spot these cute ducks.
Visit Local Farms like Biokaas Kinderdijk
Another top attraction in Kinderdijk is visiting the Biokaas organic cheese farm. It's a short 1.8km walk from the entrance of Kinderdijk and you can find it near Nederwaard 5 or the 5th windmill.
If you did not know, the Dutch are world famous for their Gouda and Edam cheese. So make a stop at the Biokaas farm to see how cheese is traditionally crafted and buy some to enjoy later.
Capture Beautiful Photography of Kinderdijk Windmills
Be sure to bring extra batteries for your camera because you'll need it to capture all the picturesque moments here at Kinderdijk. The place is simply so beautiful that it's hard to take a bad photo there.
On a serious note though, if you're looking for the ultimate photography spot in Holland, capturing the the windmills is it. The possibilities are endless. Capture your favourite moments between the reeds, above the gentle ripples of the dike or underneath the sails of the windmills.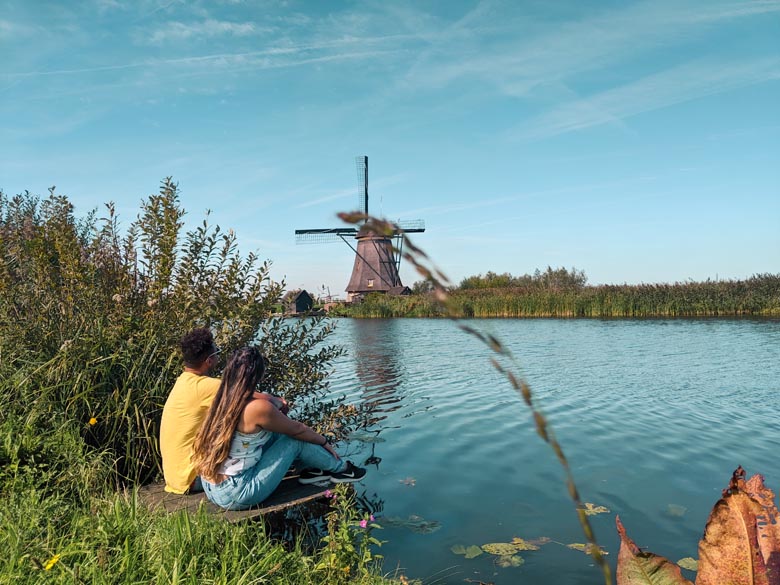 Kinderdijk Windmills Boat Cruise Tour
Another enjoyable way to appreciate the renowned Kinderdijk windmills in Holland is on a boat cruise. Especially if you love taking photos.
You can take the boat cruise for free if you buy the Kinderdijk entrance ticket. The tour boats are wheelchair accessible and dogs are allowed if they're on a leash.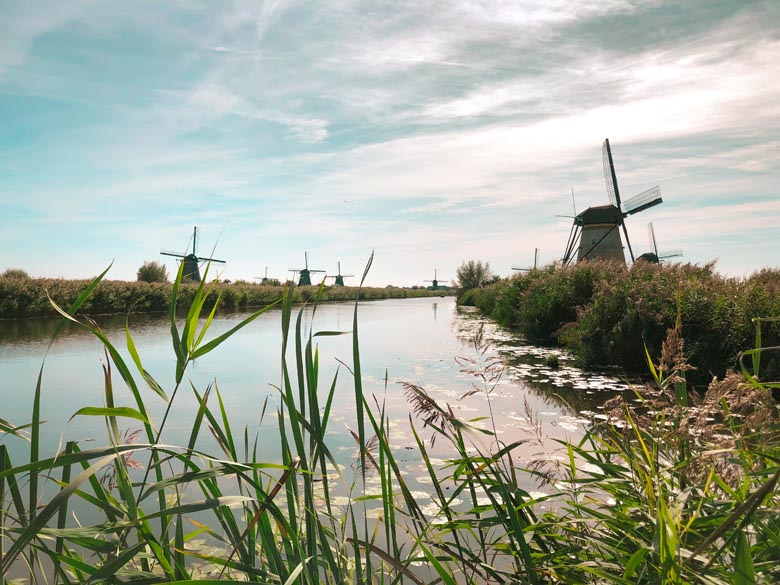 Interesting Facts about Kinderdijk
The famous Windmills of Holland, Kinderdijk, captures more than 700 years history of Dutch water management.
The entire area was a swamp when people first settled here.
Kinderdijk and its surrounding areas are actually below sea level, with some areas almost 2 meters below sea level.
There are a total of 19 windmills in Kinderdijk, of which 2 are still functional.
These windmills were built in the 1730s to help pump excess water into the surrounding dikes.
Kinderdijk has the largest concentration of traditional windmills in Holland and has become one of the top attractions to visit in the Netherlands.
Today, the function of the windmills have been replaced by high tech water pumping systems.
40% of the Netherlands would be flooded if the country stopped pumping and redirecting water.
Most of the 19 windmills are inhabited. At least one person from the household has to have a Miller's Degree to be able to live in one of these windmills.
How To See Kinderdijk For Free: Self-Guided Tour
To capture the full Kinderdijk experience and find out how it became the World Heritage Site it is today, we highly recommend buying the entrance ticket. It's not expensive considering that it's a full day experience.
Not only will you be supporting the community that lives there, you'll also learn even more interesting facts than the few we've mentioned here.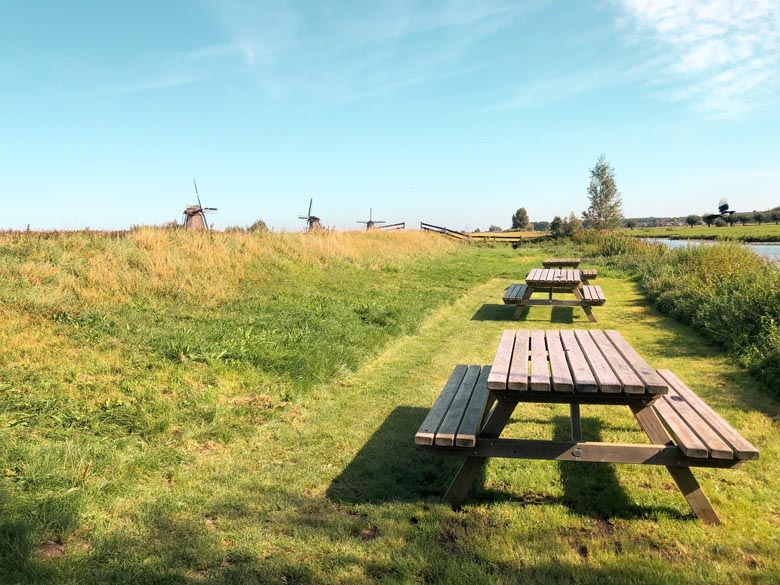 You can technically see the windmills for free, since it's free to cycle or walk through the area. You'll only need to pay the entrance fee if you want to see the inside of the windmills and visit the museum.
Like we always say, travel means more to us than taking pretty pictures. It's a great way to learn about local culture, expanding our knowledge and being better humans. We loved the informative experience we had at Kinderdijk and highly recommend paying for the full adventure.
Cost of Kinderdijk Entrance Tickets
Adult entrance tickets: €16 if you buy online and €18.50 from the Kinderdijk visitors centre
Children between the age of 4 and 12: €5.75 if you buy online and €6.75 from the visitors centre
Children younger than 3: Free
Attractions Included in Kinderdijk Entrance Fee
Entrance to see the inside of two windmills that have been converted into museums;
Watch a film on the history of Kinderdijk;
Visit the engine room of the Wisboom Pumping Station;
Boat Cruise; and
Download the free audio tour on the Kinderdijk App.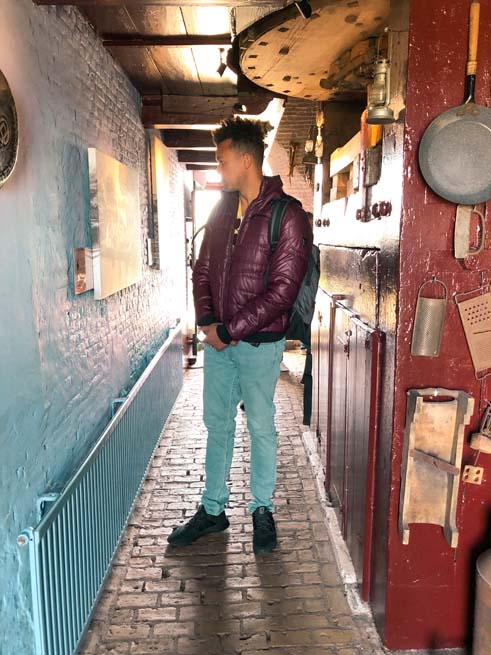 Best Time To Visit Kinderdijk Windmills
Kinderdijk is exceptionally beautiful whether you're visiting in summer or winter. The best time to visit is when it's not raining. Normally June till August tend to be the drier months, but this usually coincides with the tourist high peak season.
Our recommendation is visiting Kinderdijk in September when the weather is still great and the tourist crowds are smaller.
Visiting Kinderdijk Windmills during Tulips Season
If you're planning to combine the tulip season at Keukenhof in April with Kinderdijk, be prepared to join many other travellers who have the same idea.
Unfortunately, it will be near impossible to avoid the crowds if you want to see tulips and Kinderdijk windmills in one day. But we're sure it will be completely worth it either way!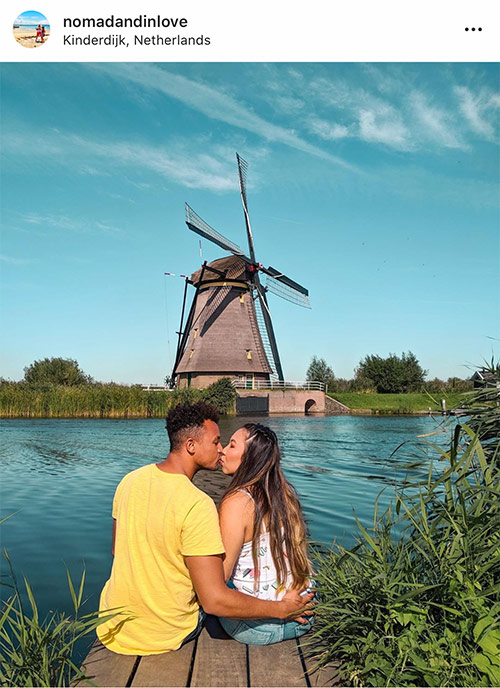 Kinderdijk Opening Hours
April to October: Everyday between 09:00 to 17:30.
November to March: Everyday between 11:00 to 16:00.
How Much Time To Spend At Kinderdijk Windmills
You can easily spend an entire day at Kinderdijk, but we'd recommend budgeting between 3 to 5 hours to experience it properly.
Kinderdijk Bike Rental
If you didn't rent a bike in Rotterdam, don't worry. You can easily rent a bike in Kinderdijk. The most affordable option is to bike share with Windmill Bike.
All you need to do is download the Windmill Bike app, register an account and put in your card details. Billing works on a pay-as-you-go basis. It costs €1 to hire the bike for the first 20 minutes. Thereafter, €0.05 is charged for every minute.
The maximum you'll pay for renting a Windmill Bike for the whole day is €9. That's cheaper than the bike rental options we found in Rotterdam.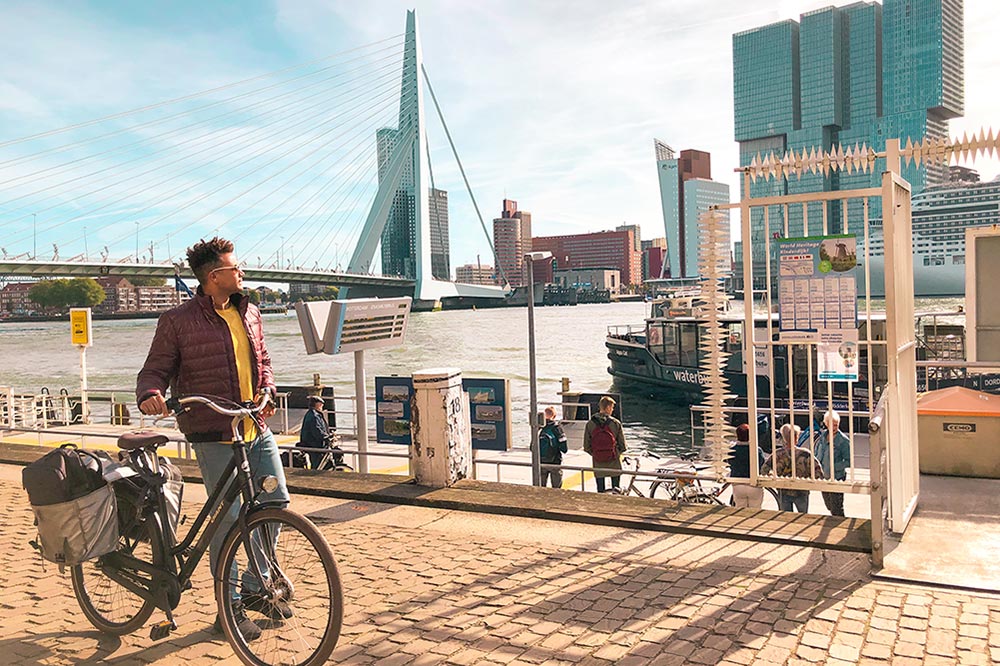 Kinderdijk Accommodation
A great way to experience Kinderdijk is after opening hours when all the tourists have left. You can experience its quiet surrounds by staying overnight. There are a few accommodation options in the area.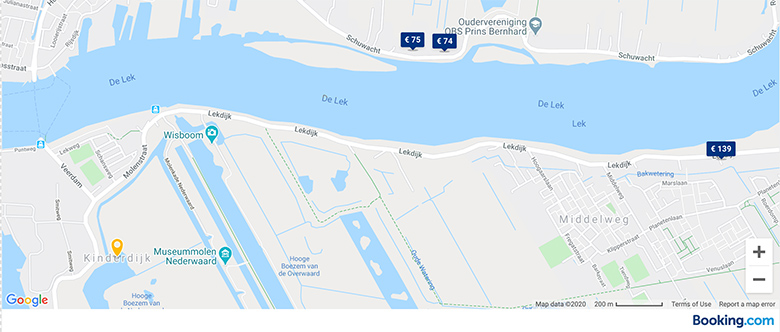 Before booking your accommodation, read our How To Travel For Cheap guide to find out how you can save up to 53% on flight and hotel bookings.
We hope you enjoyed our comprehensive guide for seeing the windmills in Holland. If you're travelling around Europe, we've written other useful European travel guides that will help save you time and money. Like how to rent a car in Europe for only €1.