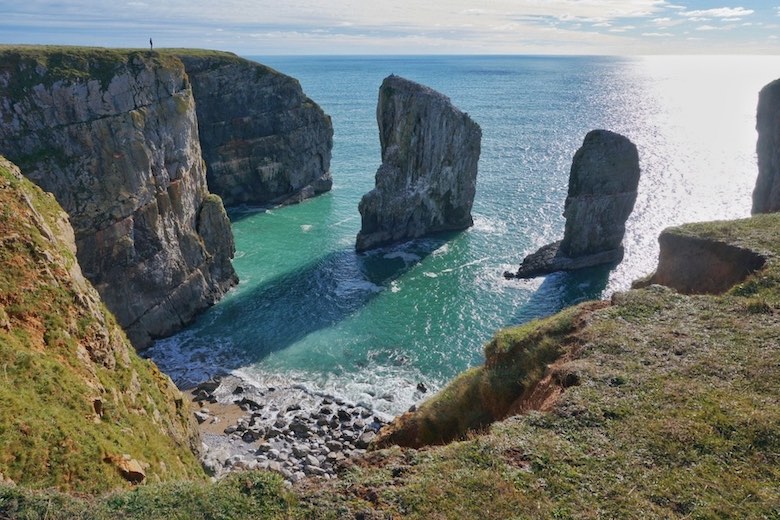 The cheapest budget car rental you'll find in Europe. Rent a car or van one-way for just €1.
Let's face it, driving is probably the best way to explore any place without any restrictions.
There's no tour guide limiting your time to 60 minutes per activity (probably closer to 15 minutes as they're usually running behind schedule), dictating when you can eat your meals (resulting in endless half-eaten snacks stuffed at the bottom of your backpack) and hurrying you along during your free time (like a teacher chasing kids after recess has ended).
That's usually what you can expect during guided tour excursions.
Car Rental in Europe
With self-drive tours, you can literally go at your own pace and practically do whatever you want to, on your own terms. But renting a car can quickly become expensive, especially if you pick up a car in one location and return it to a different location (you're charged a one-way car rental fee for doing this).
We found this out the "expensive" way by paying £167 for car rental from London to Plymouth, FOR JUST ONE DAY! We were so incensed (excuse our British) that we searched far and wide for an alternative to paying the very expensive one-way car rental fee, and discovered a company called DriiveMe that offers the cheapest budget car rental in Europe for only €1 or £1.
Read on to discover how to rent a car or van in Europe for only €1. Don't feel like reading? Watch the video instead.
The Dilemma: The One-Way Car Rental Fee
We both love travelling, so much so that we specialise in adventure travel and discovering hidden gems. So we rarely return to the same place once we've explored it. That's why we usually rent a car in one location and return it to a different location. And that's how we experienced the one-way car rental fee dilemma.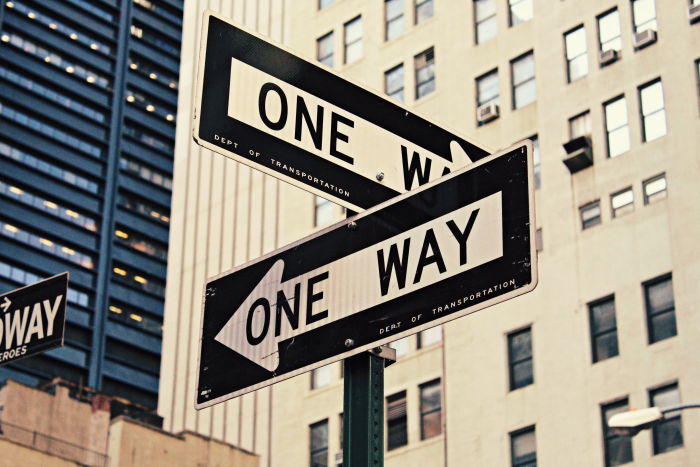 What is a one-way car rental fee? That's the same question we asked ourselves when we had to pay an additional £75 for our car rental. Simply put, the one-way car rental fee is what you pay when you collect a rental car from one location and return it to a different location, to cover the cost of taking the car back to its original location.
We collected our car in London and returned it at Plymouth, and that's why we were charged the exorbitant fee. One-way car rental fees vary across car rental companies, so perhaps we just got unlucky with the £75 one-way fee. It made us see red (nudge nudge wink wink), but we're not naming and shaming any car rental companies today.
So we channelled our anger and disappointment of paying the exorbitant £75 one-way fee into searching for a cheap one-way car rental solution online, and that's when we discovered DriiveMe and their £1 or €1 one-way car rentals in Europe.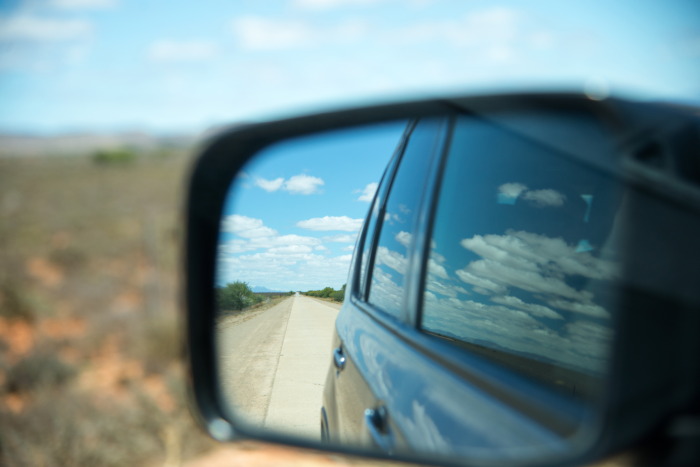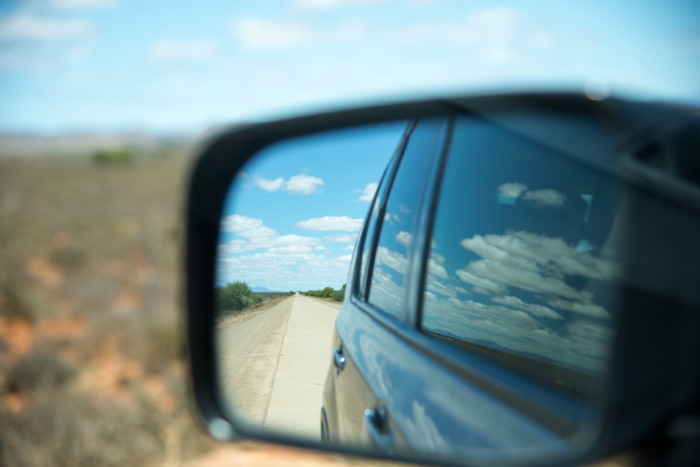 Related Guide: Have you received a traffic fine abroad? Follow these 5 easy tips to help you reduce your speeding ticket by as much as 30%!
The Cheapest Budget Car Rental in Europe
What is DriiveMe
DriiveMe is an online portal that allows you to find cheap one-way car rental across Europe for only £1 or €1. It's the cheapest budget car rental we found to travel in and around Europe.
How Does The Cheapest Budget Car Rental in Europe Work
Every day, thousands of travellers (like you, and frankly us too) rent cars from one location and return these cars to a different location. Eventually, certain locations end up with more cars while other locations have a shortage of cars.
Now we totally understand why the Racing Red Fiat 500C convertible wasn't available the last time we requested it.
So in order to balance their fleet, car rental companies across Europe need to move their cars from one location to another, usually by transporter trucks. To reduce the cost of these transfers, DriiveMe offers car rental companies a solution to move these cars for cheap using private individuals.
That's where you and I come in! We move their cars, and in return we get cheap car rental in Europe. Sounds like a good deal to me!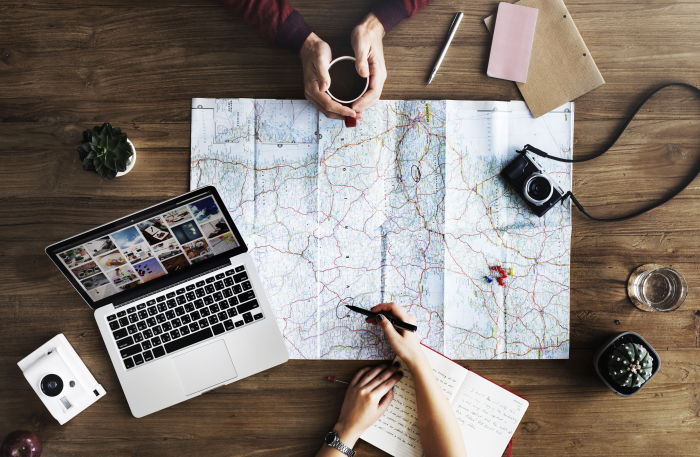 What You Need To Book Cheap Car Rental In Europe
Renting a car for £1 or €1 is pretty much the same as renting a car from any other car rental company in Europe. But for those who's not sure, here's what you'll need to book the cheapest budget car rental in Europe:
1. Meet the Age Requirement
Be at least 21 years old. 23 if you're renting in the UK and 25 if you're renting in Germany.​ Certain rental companies apply a Young Driver Surcharge to drivers under the age of 25, so be wary if you're a spring chicken.
2. Driving Licence
Have any valid driving licence in Latin or Roman alphabet (i.e. the English alphabet). The licence must have been held for at least one year. The car rental company in the UK checked my driving licence to see if I had any penalties. So make sure you don't have any penalties and you're eligible to drive.
3. Credit Card
Pay using a credit card in the driver's name. You'll need to show the car rental company the same credit card when you collect the car and pay the rental deposit.
And that's all you require to rent a car in Europe for £1 or €1 from DriiveMe.​ Easy peasy!
What's Included in the €1 Budget Car Rental Europe Deal
£1 or €1 car rentals include everything you need to move a car from one location to another. Here's what's included in the cheapest car rental in Europe:
Mileage
Sufficient number of kilometres for the trip. We were given an allowance of 500 miles but the journey only took 215 miles. We used the additional miles to visit Stonehenge and explore Dartmoor National Park. You can expect to receive more than enough miles to complete your journey.
Sufficient Time
Car rentals usually give you 24 hours to complete the journey. Certain car rentals give you 48 to 72 hours depending on the distance. So if you plan well, you could take advantage of your £1 or €1 car rental to explore more along the journey. Just make sure you return the car within the specified time to avoid any penalties.
Insurance Cover
Standard comprehensive insurance offered by the car rental company is included in the £1 or €1 car rental. The cover includes Third Party Liability Insurance (TPLI), Collision Damage Waiver (CDW) and Theft Protection (TP); but you'll be liable for an excess of up to £1,000 or €1,250 if the car is damaged.
You may not get to choose the actual model of the car you drive as car rental offers depend on what cars are available at each location. But DriiveMe car rentals include everything you need for £1 or €1.
💡 Bonus Tip: Like in any ordinary car rental, fuel and road tolls are not included and have to be paid by the driver. So make sure you refuel the car before returning it. Or you'll pay out of your *insert preferred word* if the car rental company does the refuelling. If you're driving in the UK and need to refuel, try out PetrolPrices to find the cheapest fuel prices along your route.
What's Not Included In The Cheapest Europe Car Rental
Standard cover is included in the car rental. But if you want to reduce the excess amount of £1,000 or €1,250 you'll have to pay in case of damage caused by collision or theft, you'll need to purchase additional cover.
Car Hire Excess Insurance
This will sound a lot like an insurance advert, but we'll say it anyway. Paying over 1,000 Pounds or Euros if we damage a rental car isn't our idea of having fun, especially during our well-deserved travels. Knowing before our trip that we don't have to pay a cent if the rental car is damaged, gives us total peace of mind that we can enjoy ourselves to the fullest. That's why we didn't hesitate to purchase car hire excess insurance when we discovered a cheaper option online.
Car rental companies offer Super Waiver Cover (also known as Waiver or Super Cover) which reduces the car rental excess to zero. But their cover often costs a lot more than what we found online, sometimes more than 10 times, and often nearly as much as the rental itself.
You can purchase car hire excess insurance and reduce your excess to zero online from as little as £2.99 or €4 per day and from £44.99 or €50 per year. We travel quite a bit so we purchased AIG Annual Cover for only £44.99, which covers us in Europe for one year. But you can also buy the Worldwide Cover if you're a globetrotter.
So there you have it! Wave goodbye to expensive excess "waivers". Simply buy car hire excess insurance online to reduce your excess to zero next time you rent a car.
💡 Bonus Tip: The cheapest car hire excess insurance we found is offered by Direct. However, their car hire excess insurance is currently only available to UK residents. If you live anywhere else in Europe, you can purchase cheap car hire excess insurance offered by Questor. And if you live anywhere else in the world, you can purchase annual or daily car hire excess insurance offered by Worldwide Insurance.
Save Me For Later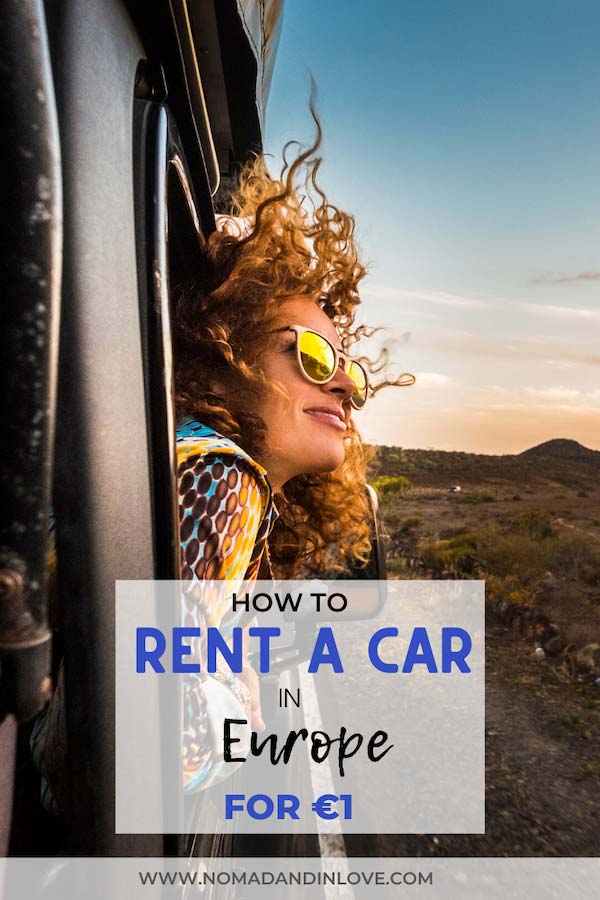 How To Rent A Car in Europe for €1 with DriiveMe
To book your cheap car rental for £1 or €1 in Europe, sign up for free on www.driiveme.co.uk.
Once you've signed up, click on 'Find a Rental' to reveal a list of available one-way car rental offers. If nothing catches your eye, then simply:
Choose your city of departure and city of arrival. Or leave it blank to let chance decide where you'll end up.
Select your desired departure date (if you have one in mind).
Click search. This will reveal all the available £1 or €1 car rental deals with your search criteria.
Note: Fill in the city of departure and leave the city of arrival blank to check if there are any rentals available from your intended city of departure. You can also leave the dates blank.
Select the offer you're interested in. And confirm your booking by selecting the pick-up date and time and authorising on your credit card £1 or €1 for your car rental. The car rental company will deduct £1 or €1 from the refundable car rental deposit after you return the car. It's really that easy!
Note: You'll be charged a penalty fee (£25 or €25) if you decide to cancel your booking any time before the pick-up date.​
What Car Rental Companies Does DriiveMe Partner With
​DriiveMe only partners with reputable companies across Europe. £1 or €1 car rental offers are currently available from Avis, Blacksheep Van, Europcar, Hertz and many other companies operating in Germany, Italy, France, Portugal, Spain, and the UK.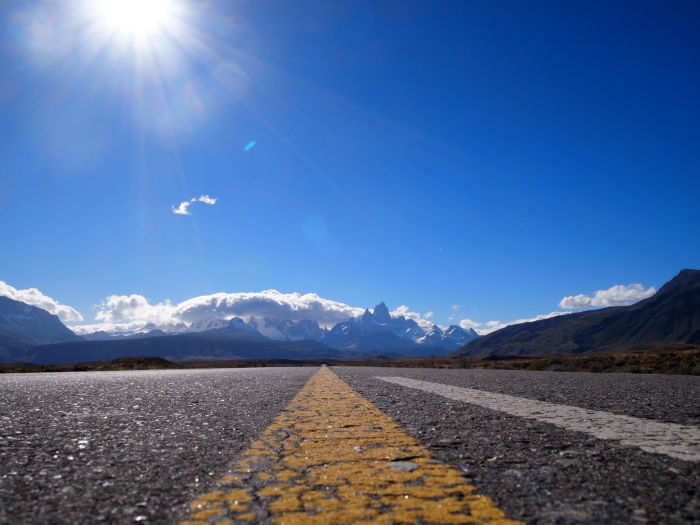 How To Rent A Car in Europe For Cheap
There you have it! If you're like us and prefer self-drive tours or are simply looking to travel or relocate from one location to another while saving money and enjoying the open road, then DriiveMe is a great option for you. Now you too can rent a car in Europe (or van) for £1 or €1. Enjoy your trip, have a safe drive and enjoy the money you're going to save!
Cheap European Cities to Visit
Where to go next with your €1 car rental? Here are travel guides to some affordable European cities:
Do you love money saving tips just as much as we do? Then make sure you don't miss these other money savvy guides:
The best travel card that allows you to buy foreign exchange at the cheapest rates and hold 30 different currencies one one card.
How we save up to 53% on booking flights, hotels and car rental with this simple travel for cheap hack.
Watch the Video: Cheap Car Rental Europe
---
Thank You For Reading
If you enjoyed reading this guide, share it with your friends and family. Have a question or need advice? Contact us via Email, Messenger or WhatsApp. And if you'd like to leave a comment, tweet us. Oh, and don't forget to subscribe!
Buy Us A Coffee
Our content is free and always will be. But if this guide has saved you time, money or made your life easier, feel free to buy us a coffee. We'll really appreciate your support.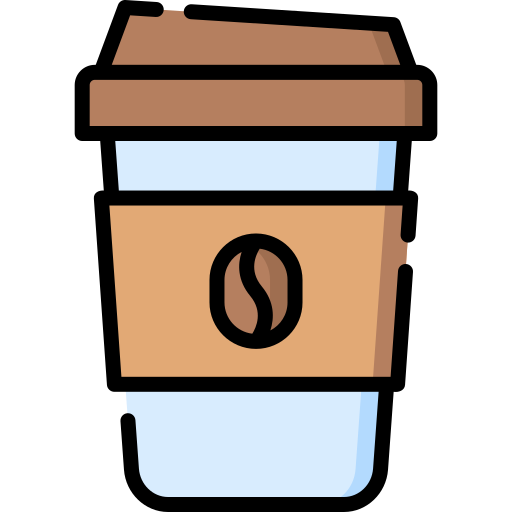 Support Our Work
Can't donate? No problem! You can still support us by buying products and services that we recommend. Check out our resource page for all offers and discount codes.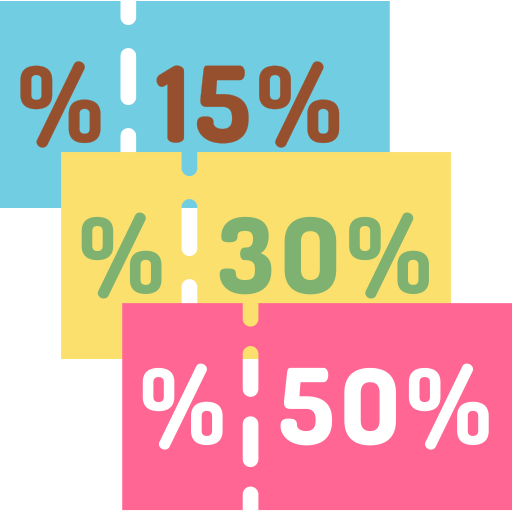 📣 This guide contains affiliate links. This means if you click on our links and buy something, we may earn a commission at no extra cost to you. This allows us to work on the website full time and keep Nomad And In Love alive and thriving.