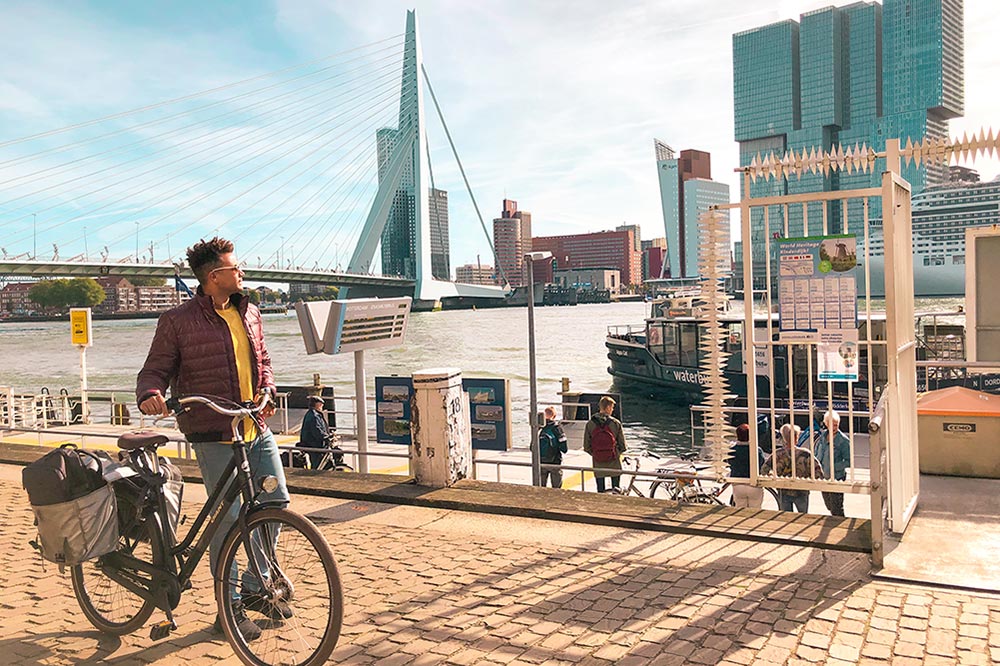 Experience the best Rotterdam things to do in 1 or 2 days by bike! This self guided cycling tour is the perfect itinerary to see Rotterdam's top attractions in a weekend.
Travelling to the Netherlands and wondering what else you should see besides Amsterdam? Plenty! You can start off by visiting one of the most innovative and artistic cities in the world – Rotterdam.
Discover the best things to do and top attractions in Rotterdam with us on this self-guided cycling tour.
We'll take you sightseeing across the city in 1 or 2 days with our custom-made cycling map. We also share some of our favourite Instagram photography spots in Rotterdam.
Is Rotterdam Worth Visiting?
To be honest, we weren't planning to visit Rotterdam on our 3-week trip around the Netherlands. We changed our minds last mind and are so glad that we did! Rotterdam is completely unique to any other city in Holland. We highly recommend you to experience it for yourself, especially if you're planning to be in Amsterdam. It's only a short 35 minute trip away!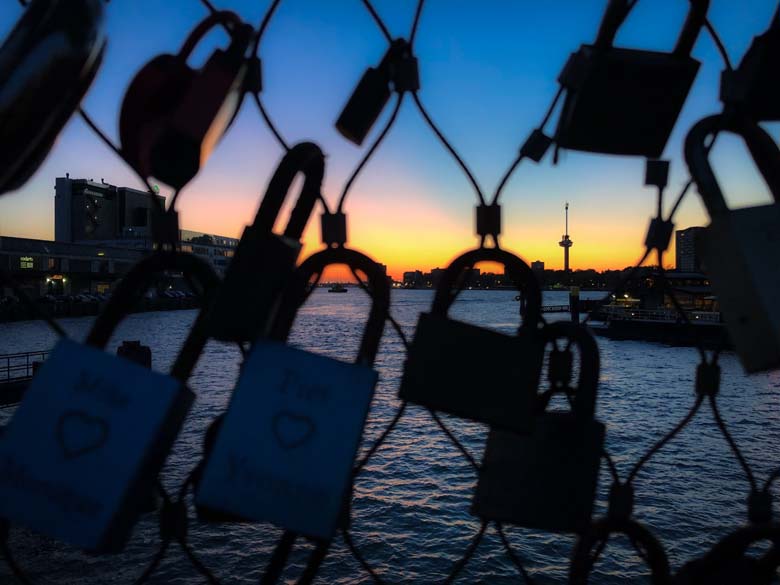 8 Reasons Why You Should Visit Rotterdam
It's the second biggest city in the Netherlands after Amsterdam and one of the largest port cities in the world.
Rotterdam is completely different to Amsterdam. Rotterdam is modern and eclectic compared to Amsterdam's more traditional style.
If you love unique, thought-provoking art and bold, contemporary architecture, you'll LOVE Rotterdam.
Some of the best street art and murals we've seen on our travels.
It's one of the most diverse and multi-cultural cities you'll visit in Europe.
Rotterdam is a lot cheaper to visit than Amsterdam!
It's also easier to cycle in Rotterdam than Amsterdam.
It's closer to visit the UNESCO World Heritage Site of Kinderdijk and see the world famous windmills of Holland.
Interesting facts About Rotterdam's Architecture
Ever wondered why Rotterdam is so unique and different to other Dutch cities?
The city's center was mostly destroyed by the bombings from World War II. Instead of dwelling on the terrible devastation, the people of Rotterdam used this as an opportunity to rebuild their city.
Like a phoenix that was reborn from the ashes, the city was rebuilt with an array of innovative architecture and experimental art.
If you love architecture and would love to learn more, here are some awesome guided architecture tours:
Save Me For Later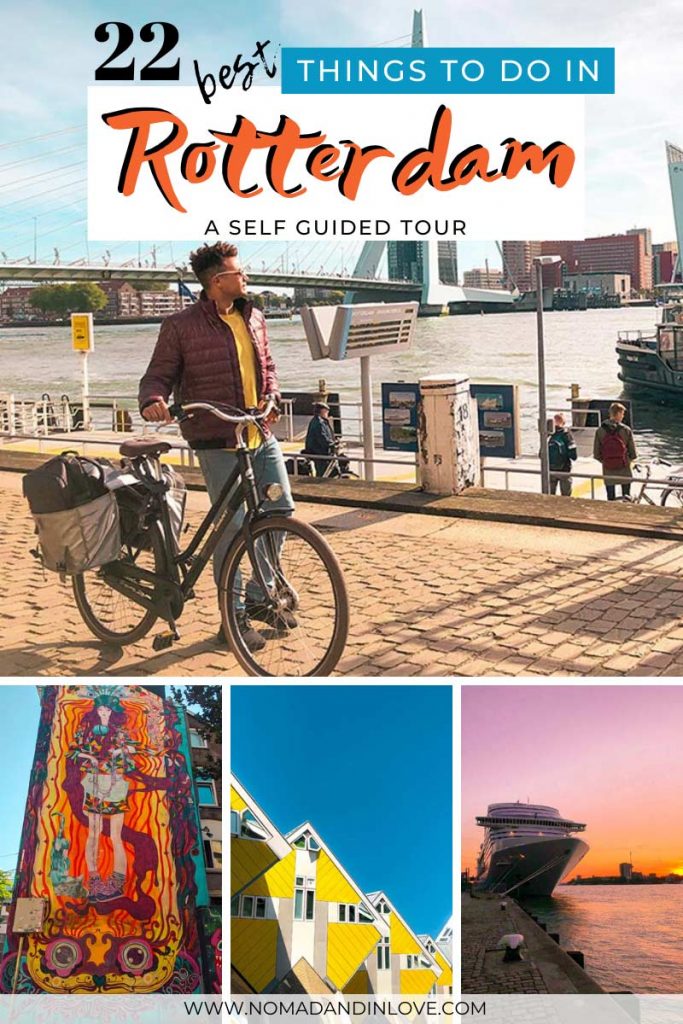 Transport from Amsterdam to Rotterdam
If you don't need anymore convincing, here's how you can easily get from Amsterdam to Rotterdam.
Cost of Train From Amsterdam
There are two options from Amsterdam Central to Rotterdam Central by train:
The fastest option takes around 40 minutes with the Intercity Direct. This option costs €19.00.
The cheaper option takes around 74 minutes with the IC Intercity. This costs €16.40.
Cost of Train From Amsterdam Schipol Airport
The fastest option takes around 33 minutes with the Intercity Direct. This costs €15.80.
The cheaper option takes around 78 minutes with the SPR Sprinter. This option costs €13.20.
Bonus Tip: You save €1 on your train ticket when you buy it online instead of purchasing it from the ticket machine. It's also more eco-friendly!
Cost of Bus From Amsterdam
If you have the time, taking the bus from Amsterdam to Rotterdam will be the cheapest option.
Flixbus is probably the most budget-friendly option. You can get from Amsterdam to Rotterdam for €5 – €7 and the travel time is between 75 minutes to 2 hours long.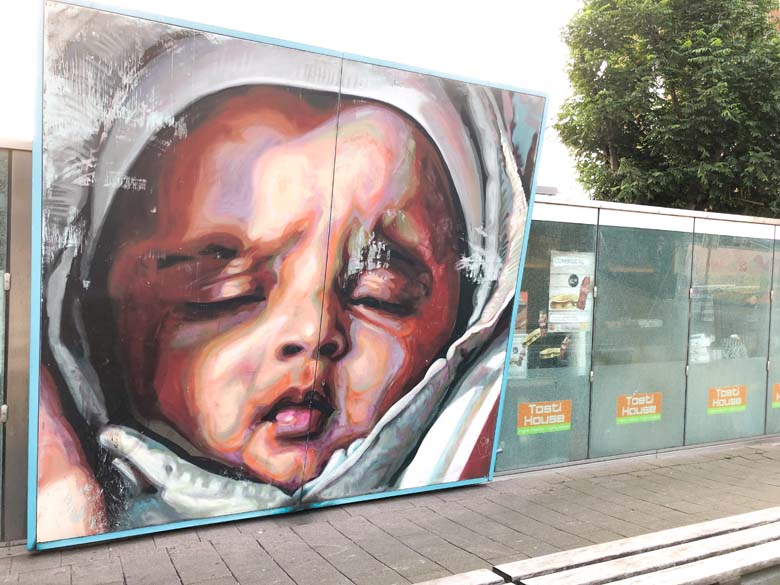 2 Days in Rotterdam Itinerary
It's possible to experience all 22 attractions in Rotterdam in 1 day, but it will be rushed. We recommend stretching it over 2 days for a more enjoyable experience.
If you only have 24 hours, definitely rent a bike so you can get to all 22 attractions faster.
For the 2 day option, feel free to walk on day 1 and only rent a bike for day 2 if you prefer walking to cycling. The route on day 1 covers between 4km – 7km, so walking is also an option. The route on day 2 is much longer, so if you want to see it all in one day you'll definitely need a bike.
Otherwise, if you prefer the authentic Dutch experience and love cycling as much as we do, cycle for the full 2 days.
Don't have a lot of time in the Netherlands? See Rotterdam, Delft and the Hague from Amsterdam in one day on this guided tour.
What to do in Rotterdam: Day 1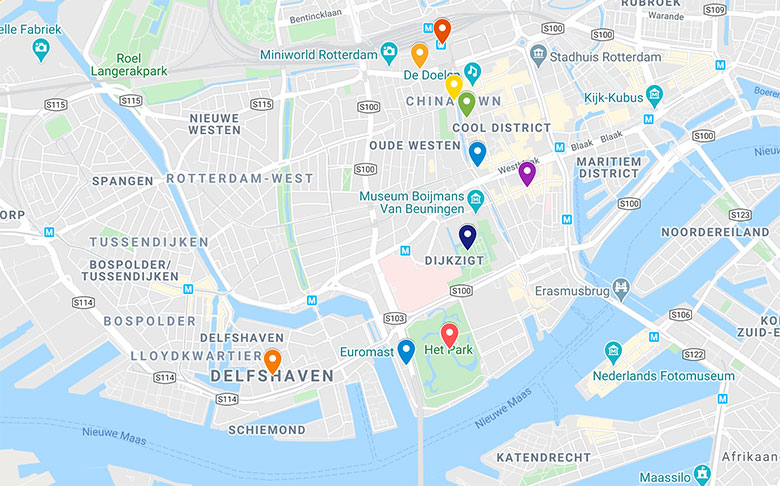 1. Visit The Central Station
You must be wondering why we included a train station as a top attraction to see in Rotterdam. Especially if you arrived by train like we did.
It may not be obvious from the north side of the station. But if you walked through Central Station towards Stationsplein, you'll quickly realise why it is an architectural highlight.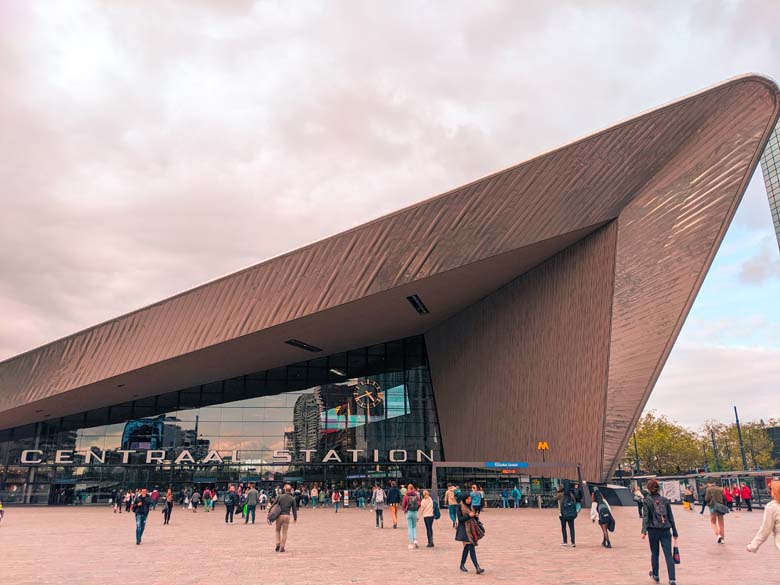 The clean, elegant lines of the wooden interior creates an inviting and warm atmosphere. Its high ceiling and huge expanse of space reminds you how small you are in a world where there is a whole lot to see.
Quite appropriate for a station that welcomes over 300,000 passengers everyday. That's equivalent to just under half of the entire population of Rotterdam!
The most mind boggling part of it all? There's not a single column in sight! It's called an architectural 'wonder' for a reason of course.
And if you thought that wasn't amazing enough, the station is energy efficient too. There are over 3000 solar panels on the roof that powers the entire station. It also supplies electricity to the city's power grid when excess energy is generated. How cool is that?
You can also store bicycles outside Central Station. On any given day, you can easily find more than 5000 bikes parked outside. How anybody finds their bike there is a mystery.
2. Rent a Bike in Rotterdam
Your experience of Holland is not complete if you didn't explore it on two wheels. There's a reason why they say the Dutch were born on bikes. Dutch children supposedly learn how to cycle before learning how to walk.
Needless to say, the Dutch are cycling pros and your bike skills and confidence levels are nowhere close. But don't worry, the Dutch are some of the most friendly Europeans you'll ever meet. That doesn't mean we should push their buttons though. So make sure to follow these basic bike rules and cycling etiquette. It's similar to the cycling rules in Germany.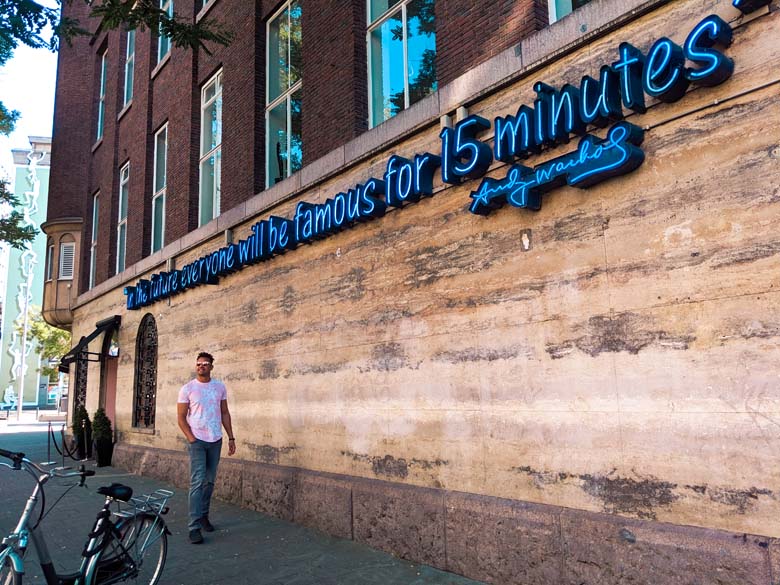 Where To Rent A Bike
The two best bike rental options we found for good quality bikes with 3 gears were Zwaan Bikes and Donkey Republic.
We ended up renting from Zwaan Bikes. It costs €12.50 to rent a bike for 24 hours. We rented a bike bag as well for an additional €1.50.
All you need to bring is your passport for them to get your details. If you pay by credit card, no cash deposit is required. As always we used our only travel bank card, Revolut because there are no transaction fees and we can withdraw cash for free when we travel.
If you're one tall (1.92 meters) and one short (1.60 meters) like us, renting at Zwaan Bikes is a good option. They have different sized bikes to suit different heights and also have bikes for children too.
Both bikes were of high quality and in good condition. They provide them with locks so you can safely lock your bike when they're not in use.
Another great bike rental option in Rotterdam is bike sharing with Donkey Republic. We've summarised the differences between traditional bike rental vs bike sharing in another guide. If you've never used bike sharing before and want to know how it works, make sure to read our Ultimate Bike Sharing guide.
3. Explore Chinatown
Another rather unusual attraction is exploring Chinatown. It's only unusual because Rotterdam's Chinatown is more functional and less touristy than the Chinatown in the Hague.
If you love authentic Asian food, there's a high chance you'll find it here. This Chinatown was created to cater to the needs of the local residents. From Asian groceries and food to traditional Chinese doctors and acupuncturists.
It's also the largest Chinatown in the Netherlands and probably one of the oldest.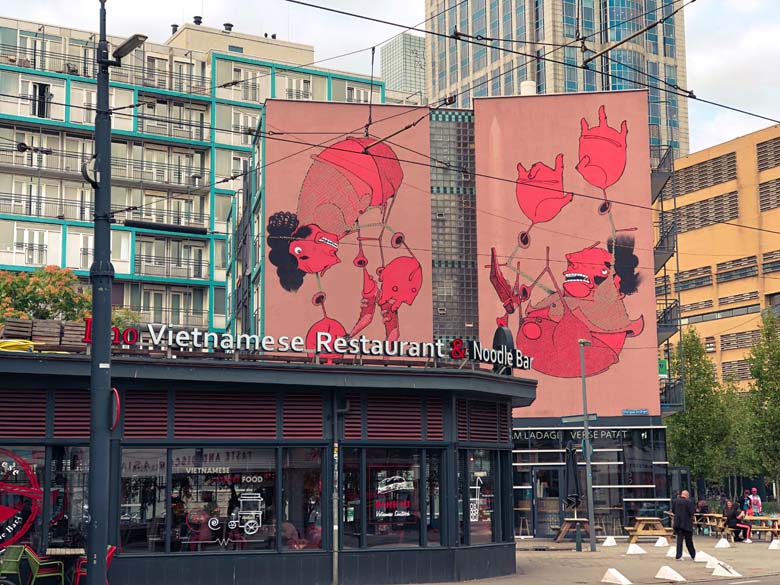 Rotterdam has been an important port city for over 150 years. Today, it is still the largest seaport in Europe. This is one of the reasons why this city is so incredibly vibrant and multicultural.
4. Pauluskerk
Not far from Chinatown, you'll find a somewhat tamagotchi-shaped church. It's quite unusual architecture for a church building, almost too fancy and pretentious. But we were surprised to find out that Pauluskerk is more than a place of worship.
Thanks to Reverend Visser, Pauluskerk also serves as a refuge for those in need. Whether it's asylum seekers, the homeless or drug addicts, everyone is welcome at Pauluskerk.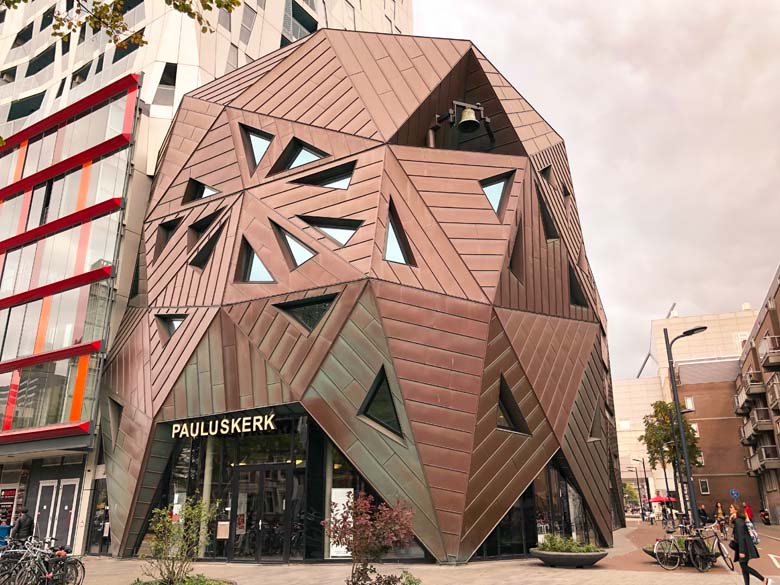 Inside, there's a thrift store, coffee shop and a kitchen that serves three meals a day to those in need. They also provide overnight accommodation, medical services, social services and legal assistance.
Pauluskerk is non-denominational and they do hold formal church services every Sunday.
The church survives on charity. You can support their worthy cause by donating.
If you'd like to see what Pauluskerk looks like from the inside, they'd be happy to take you on a tour.
5. Santa Claus Statue by Paul McCarthy
From Pauluskerk, continue down Mauritsweg towards Eendrachtsplein Metro station. You'll arrive at a square where it's impossible to miss the controversial 'Santa Claus' statue. Can you guess why from the picture?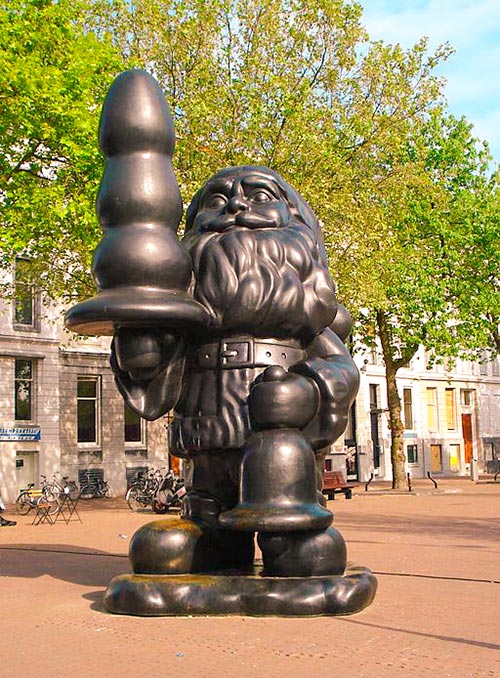 The City Council had commissioned American contemporary artist, Paul McCarthy to create an artwork for the city. €200,000 later, we have 'Santa Claus' or better known as Buttplug Gnome.
The artwork is suppose to be Santa Claus holding a Christmas tree. But Paul McCarthy had purposefully designed it with a mischievous twist. His intention was to highlight and discourage the superficial consumer culture around celebrations like Christmas.
The City Council may not be completely sold on McCarthy's concept, but it's undeniably a 'statement' piece.
6. Witte de Withstraat Street Art Tour
There's beautiful street art sprinkled all around Rotterdam. But the highest concentration of street art can be found around Witte de Withstraat.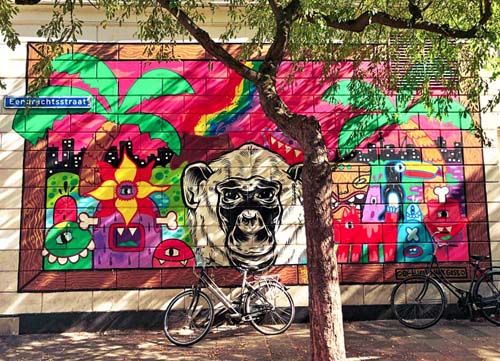 Finding all these masterpieces is a bit of a treasure hunt, but it's incredibly fun and exciting when you find them. It may be easier to park your bike and walk down the side streets to locate them.
Street art is very dynamic and always changing. So don't be surprised if you can't find these and discover new ones instead.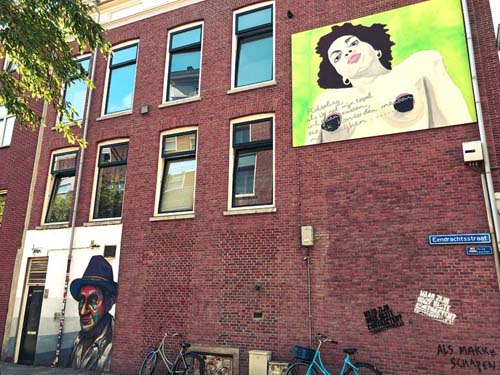 This particular piece by Tymon and Robert Rost was particularly memorable. It's fittingly named 'Love Birds' because it's also a marriage proposal.
She said 'yes' of course.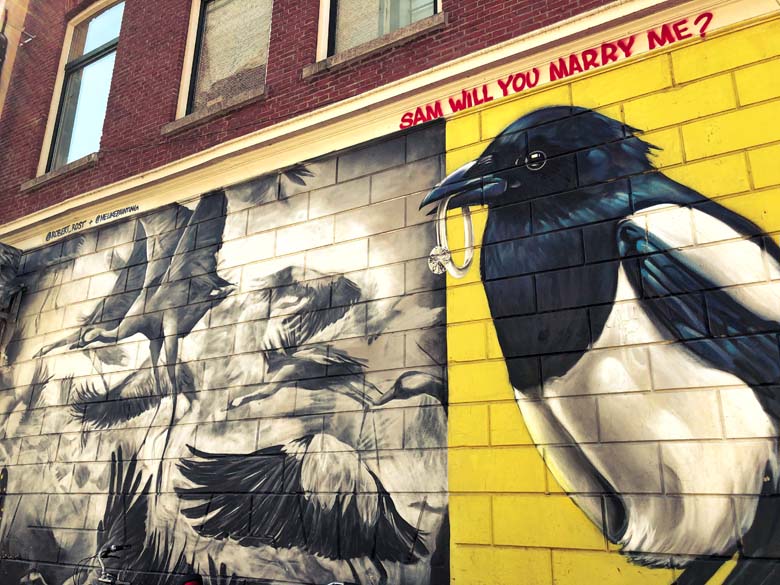 If you wander further away from Witte de Withstraat, you'll also find these two breathtaking murals. We can't decide which one we like more, can you?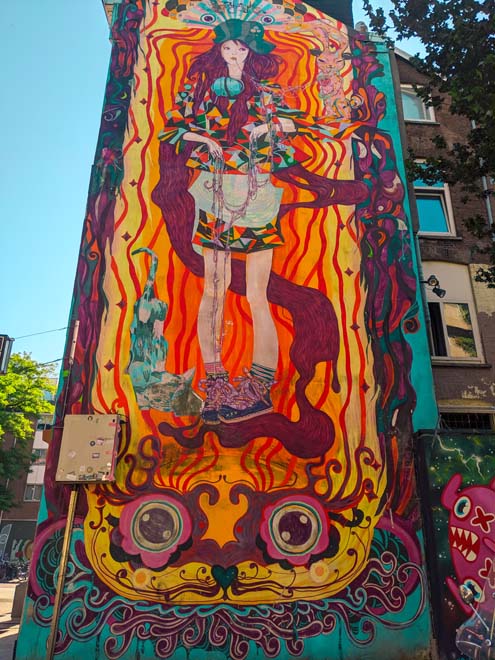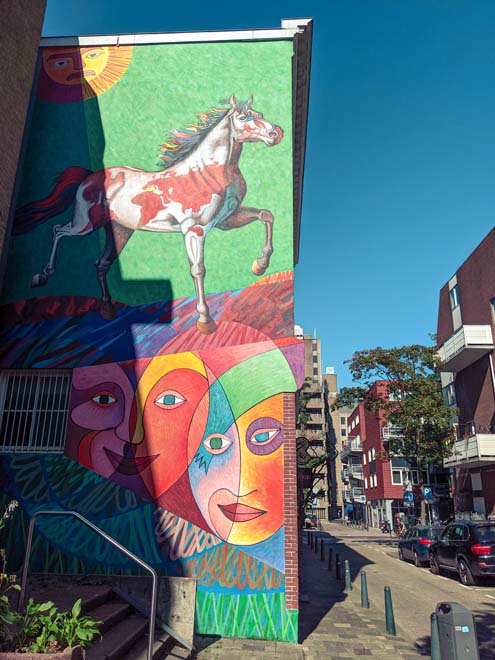 If you need to stop for a coffee break or lunch, you'll be spoiled for choice here. Witte de Withstraat has some of the best cafes, restaurants and nightlife in the city.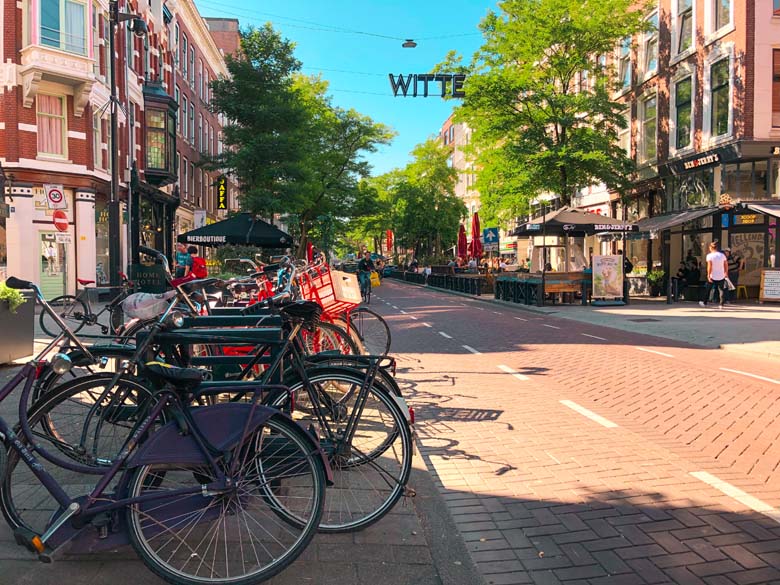 This mural took us a while to find, but it was worth it when we eventually found it. You can find it on Schiedamse Vest 89.
It's a must-see attraction in Rotterdam if you love interactive street art.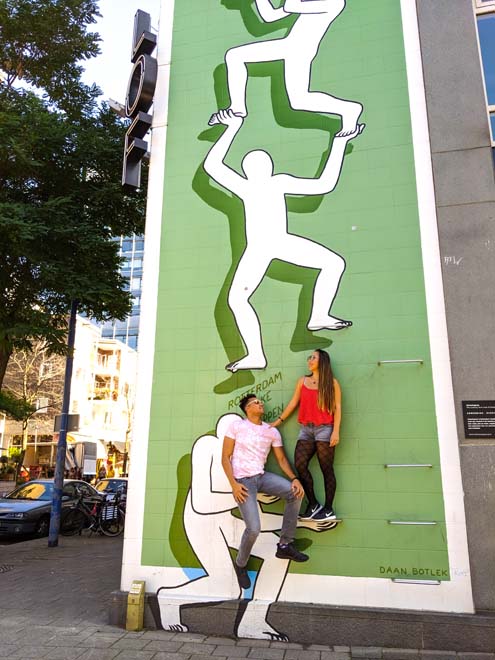 7. Visit a Museum at Museum Park
After Witte de Withstraat, grab your bikes and take a short cycle to Museum Park. You can either take a relaxing stroll around the park or visit one of its 3 museums.
Museum Boijmans Van Beuningen features some of the best European artworks from Dali, Rembrandt to Van Gogh.
If you prefer contemporary art, then make a stop at Kunsthal.
The Natural History Museum of Rotterdam exhibits everything from whale and elephant skeletons to insect and plant fossils.
8. Take a Stroll Around Het Park
If your stroll ended too quickly at Museum Park, you can always continue at the much bigger Het Park.
Het Park directly translates to 'The Park' in English. It's the park where no name is required because besides its beautifully landscaped gardens, it also has magnificent views of the Euromast in the backdrop.
This park is particularly popular in summer for mini golf, BBQs and sunbathing.
9. Explore Delfshaven
Also known as the 'Amsterdam of Rotterdam'. Delfshaven is one of the few districts that was not destroyed during World War II. If you've been looking for the typical, narrow Dutch style houses, you'll find them romantically lined up here.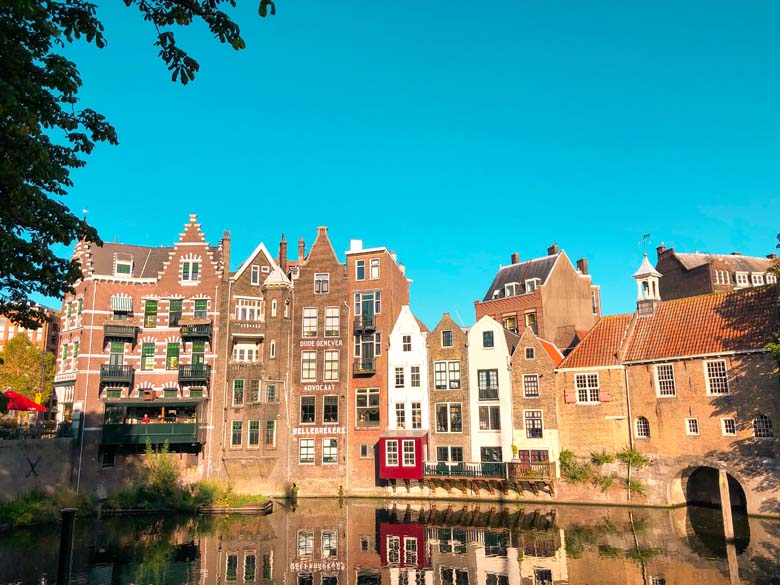 You can't help but feel a sense of nostalgia as you wander around this quaint part of the city. Feel free to get off your bikes, enjoy a stroll along Delfhaven's cobble stoned roads and visit a charming cafe.
If you've been searching for a photography spot with a windmill in the backdrop, here's your chance.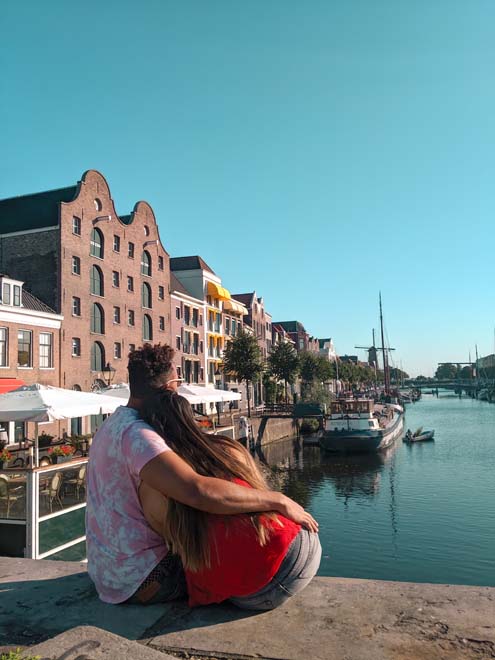 10. Visit Euromast for Sundowners
There's no better way to end a beautiful day 1 in Rotterdam, than sipping sundowners from its highest viewing point.
Euromast is a must-visit attraction if you want to experience the 'high' life. The tower was built in 1960 for the sole purpose of providing the best views of the city.
Besides enjoying cocktails at 185 meters above ground level. You can also wine and dine, stay the night in one of their 2 suites or try your hand at abseiling.
It costs €10.25 per adult to go to the top. Buy your Euromast tickets online to avoid the queue and try your best to go on a clear day.
What to do in Rotterdam: Day 2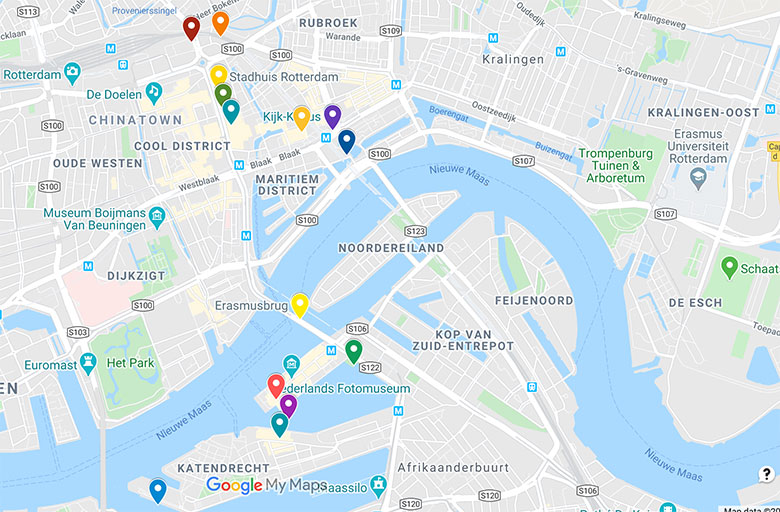 11. Get Breakfast at Op Het Dak
Start your day off with breakfast at Holland's first rooftop farm and urban garden. It's a short cycle from Central Station. When you see a distinct yellow bridge, you're in the right place (we'll come back to the bridge after breakfast).
The building itself may be nothing to write home about, but the magic happens on the 6th floor. Make your way up the spiral staircase and hold thumbs that there's a table for you outside on the wooden terrace.
Op Het Dak's opening hours are Tuesday to Sunday from 8:30AM to 5PM. Make sure to arrive early as it gets busy and there are often queues.
12. Luchtsingel Bridge
The next attraction in Rotterdam is just outside Op Het Dak. Besides the eye-catching yellow colour of Luchtsingel Bridge, it's also famous for being the world's first crowdfunded infrastructure project.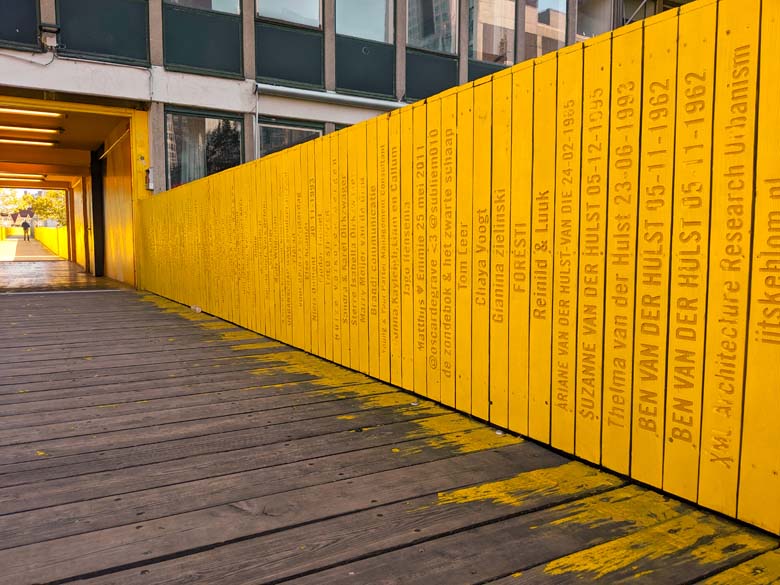 What is crowdfunding? That's when funds are raised by a large number of individuals that each contribute a small amount of money. That's quite different to how funds are traditionally raised, which are large sums of money by a limited group of investors.
More than 8,000 people signed up and helped fund the construction of this bright yellow wooden bridge. The intention was to better connect the north of Rotterdam to the city centre.
For every €25 contribution, the 'investor' could have their name immortalised on a wooden board that would form part of the bridge. Would you pay to have your name forever immortalised here?
13. Explore Coolsingel District
We are exploring the very cool and hip, Coolsingel District next. Here you'll find an eclectic mix of old and nostalgic versus new and contemporary.
Our first stop is Stadhuis. The City Hall is an attraction in Rotterdam because it's one of the few historic buildings that escaped the bombings of World War II. It's therefore one of the last remaining remnants of how the city looked before it was destroyed in the 1940s.
You may not be able to visit the inside of Stadhuis without booking a tour, but you can visit its beautifully manicured courtyard.
Not far from Stadhuis, you'll find one of the coolest McDonald's ever! The menu may be exactly the same, but its architectural design is extraordinary. Can you believe it only took 2 months to build?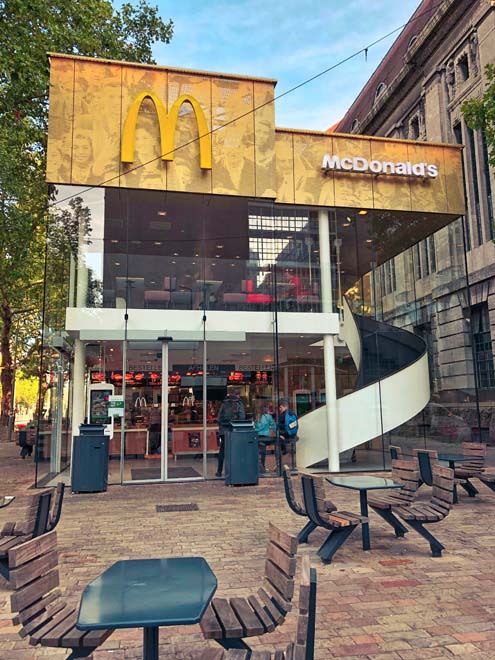 On your way to the iconic Cube Houses, you'll see the Beurs-World Trade Center. It's one of the tallest high rise buildings in Rotterdam at 93 meters high. The giant is home to more than 200 offices and is a member of the international World Trade Centers Association.
14. The Famous Cube Houses
From Coolsingel, it's a short 5 to 7 minute cycle to one of the signature architectural attractions of Rotterdam, The Cube Houses. You'll cycle pass Markhalle's futuristic horseshoe shape on your left. Hold your horses because we will come back to it in a bit.
If you're dazzled by these 45 degree tilted cube boxes in 2023. Can you imagine how cutting-edge these were when they were built in the 1970s?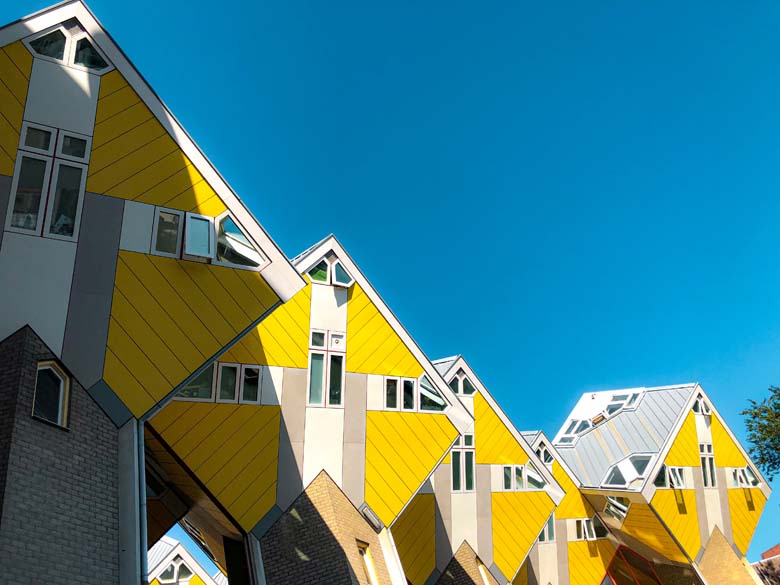 Architect Piet Blom designed the iconic Cube Houses. His concept was based on 'living as an urban roof' as these were some of the first houses that were built above a pedestrian bridge.
High density living was still a relatively new concept in the 1970s. His idea was to try replicate homes as trees in a forest. Residents would live 'high up in the trees' and come down to the ground level to socialise with the community.
People do actually live here. So be respectful and mindful of that when visiting. If you're curious to see how it looks on the inside, there is one house you can view for a small fee.
15. Witte Huis
You'll see this beautiful view of the shipping dock directly from the Cube House balcony. Witte Huis, which translates to 'White House' in English is on your right.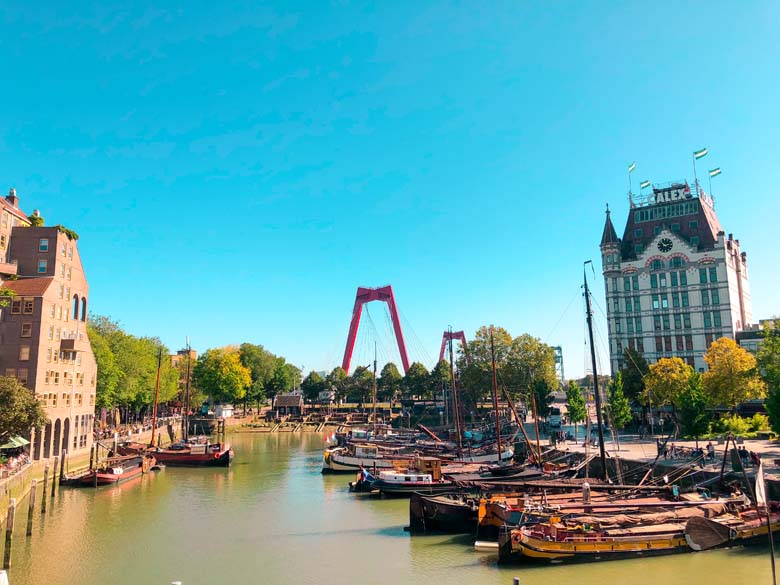 The Witte Huis building is listed as a National Heritage Site and a UNESCO World Heritage Site. It's a popular attraction in Rotterdam because it's the first high rise building built in Europe.
A 10 storey building isn't exactly a skyscraper in today's terms, but back in the 1890s it was a pretty big deal. It's one of the few historic buildings that survived World War II.
16. Hotel New York
Sandwiched between two modern architectural giants, Hotel New York is another iconic attraction of Rotterdam.
This Art Nouveau building use to be the headquarters of the Holland Amerika Cruise Line. It served as the first connection between the two continents, shipping goods and passengers between the Netherlands and the United States. Today it is a beautiful 4 star hotel managed by the WestCord Group.
Looking for places to stay in Rotterdam? Compare accommodation prices below.
Want to know how we save up to 53% on flight and hotel bookings? Read our How To Travel For Cheap guide to discover our secret.
17. Visit Markthalle (Market Hall)
The moment you've been waiting for – lunch! Before you indulge those tastebuds. Take a moment and feast your eyes on this architectural delight. If you thought it looked fascinating from the outside, wait till you step inside.
Rotterdam's Markthalle (market hall in English) is the first covered market in Holland. Besides a massive market hall, you'll also find restaurants, cafes and 200+ residential apartments nestled within its walls.
And if that wasn't impressive enough, look up and admire the largest artwork in the world. Also referred to as the 'Sistine Chapel of Rotterdam', this masterpiece was created by artist Arno Coenen.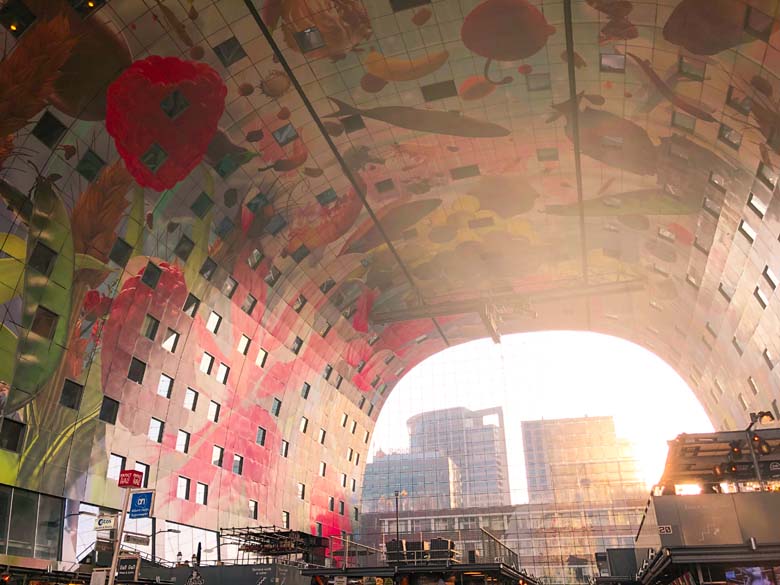 It's named Hoorn des Overvloeds or the Horn of Plenty. A colourful assortment of fruits, vegetables and flowers that adorn the 11,000m2 ceiling.
Another architectural wonder that shows off how skilful the Dutch are at creating structures without the obstruction of columns.
18. Erasmus Bridge
Affectionately named 'de Zwaan' or 'The Swan' by locals, Erasmus Bridge is the second largest bridge in Holland. It's a 802 meter long bridge that connects the north and south part of the city.
Prepared to get your heart rate slightly elevated. There's a slight incline on the first 400 meters of the bridge. Reduce your bike's resistance if needed and keep to the right to allow others to pass on the left.
19. The Bobbing Forest
Just after Erasmus Bridge you'll see The Bobbing Forest on your right.
This Rotterdam attraction is an art installation that consists of 20 trees. These are all real trees that have been 'recycled' as new buildings came to take its place. They have been carefully placed in sea buoys filled with fresh water so they are able to survive and float in the harbour.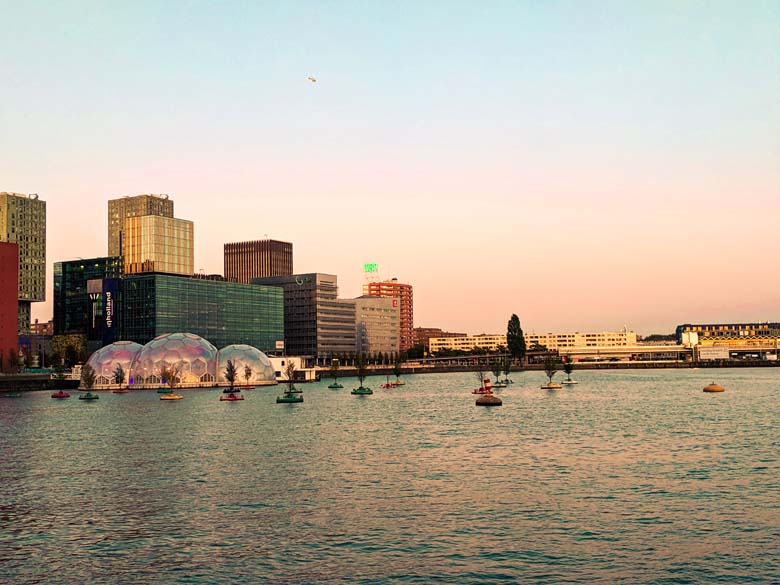 Many trees were cut down as the city rebuilt itself and expanded. Artist Jorge Bakker, created this thought-provoking artwork to encourage us to consider the effect we have on nature.
20. SS Rotterdam Hotel
From The Bobbing Forest cycle along the pier and cross Rijnhavenbrug towards SS Rotterdam Hotel.
This is the most famous ship and cruise liner from the Holland Amerika Cruise Line. It was named 'The Grande Dame' and was constructed by some of the finest artisans from the Netherlands.
It sailed between Holland and the United States for 41 years between 1959 to 2000 before it finally retired. Today it is a boutique 4 star ship hotel managed by the WestCord Group.
The SS Rotterdam may be permanently docked. But if you're keen to sail away and experience Europe's most innovative port, here are some great river cruise options:
21. Best Sunset in Rotterdam at Rijnhavenbrug (Rijnhaven Bridge)
There are many beautiful spots to enjoy the sunset in Rotterdam, but our favourite is from a bench on Rijnhavenbrug. You get uninterrupted views of the city overlooking the harbour and it's relatively quiet. The perfect spot to reflect on an exciting day 2 in the city.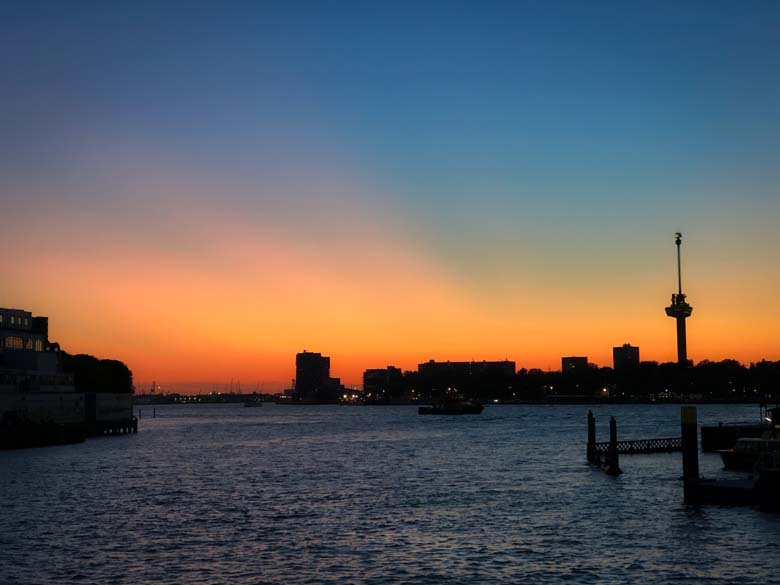 22. Fenix Food Factory
Our final stop, the Fenix Food Factory. A trendy place to grab a bite or enjoy a couple of beers with locals. The food is delicious and also slightly cheaper compared to Markthalle. Make sure to order some Dutch bitterballs to accompany your craft beers.
Now for some bad news. The Fenix Food Factory is in the process of moving. They haven't announced to where yet, but it seems they are only open on Saturdays between 10:00 and 17:00 now. Check their Facebook page for updates before you go.
Tulip Season in Holland
Another must-do attraction is seeing the millions of flowers in bloom at Keukenhof. Thousands of travellers flock to Holland in the two weeks between mid-April and early May to witness this annual event.
Make sure to book your tickets early to avoid disappointment. Skip the line and buy entrance tickets to Keukenhof online. Alternatively, you can book this 5 hour guided Keukenhof tour (Spanish or English) to learn more about the famous 'Garden of Europe'.
Rotterdam to Berlin
Looking to explore other European destinations after Rotterdam? How about taking a train from Rotterdam to Berlin? Or even better yet, rent a car and only pay €1 for car rental.
If you loved this self cycling tour, you'll love our Berlin Wall Self Cycling Tour too. It's easy to rent a bike for cheap in Berlin with our Berlin Bike Sharing Ultimate Guide.
Rotterdam to Prague
If Prague is more to your liking, you'll love our Prague self guided walking tour. We share our tips to avoid the tourist crowds and discover 10 hidden gems in Prague.
Not sure if you have the travel budget for Prague? Don't worry, we've got you covered. Find out how much to budget per day in Prague and how you can spend less than €50 per day (including accommodation), with our 11 Prague Travel Tips guide.