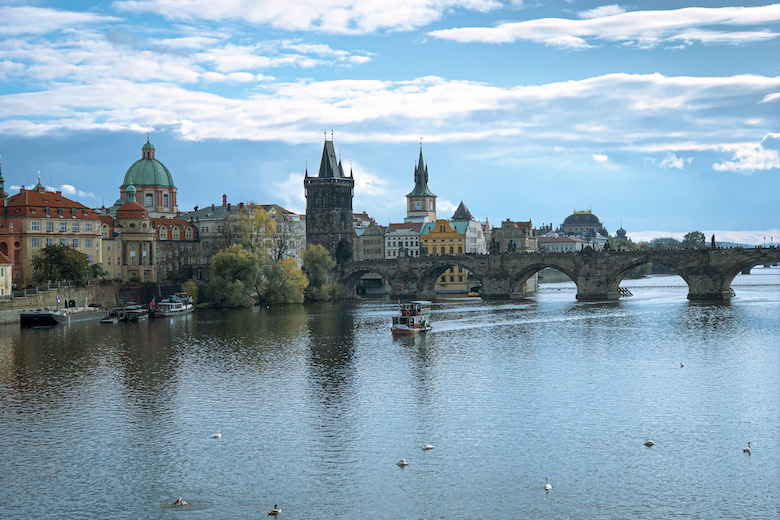 The ultimate Prague Guide for essential travel tips to get the most out of your travel budget in Prague. Find out how you can spend less than €50 per day (including accommodation) travelling Prague in 2023.
Prague may be rated as one of the cheapest European capital's to visit. But that does not mean you won't blow your travel budget if you unknowingly fall into the typical 'tourists traps'.
This Prague guide covers how much to budget daily in Prague and how to get around using public transport.
We've also included other essential travel tips that will help you save money when visiting Prague.
Prague Travel Tips
Travel Tip 1: Daily Budget for Prague
Your main costs in Prague are accommodation and food. If you're going low budget, budget anywhere between €35 to €50 per day.
A budget of between €50 to €75 per day will leave you enough wiggle room to have a great time.
Bear in mind, that these 'daily budget ranges' may only be relevant outside of high peak season.
If you're looking for a line-by-line cost breakdown of the expenses to budget for when visiting Prague, you can find it at the end of this Prague Guide.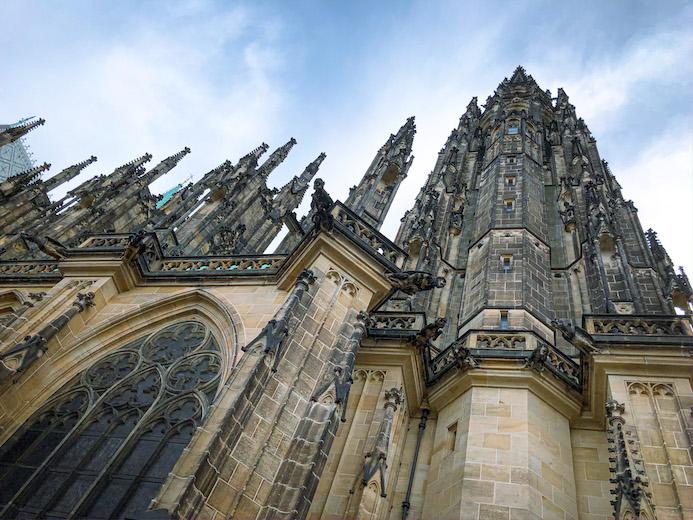 Travel Tip 2: Cheapest Way to Get to Prague
Whether you're travelling to Prague by air, train or car, there's always a budget-friendly option that will get you the best value for money.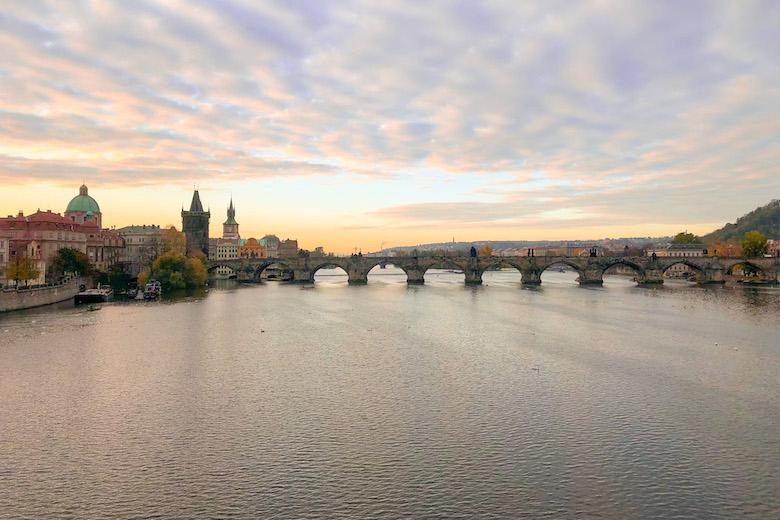 Cheapest Flights to Prague
Easy Jet and Ryan Air are our go-to options for booking cheap flights within Europe. To get the best prices, book your flights at least 2 months in advance.
If your travelling dates are flexible, subscribe to their newsletter so you're the first to know about their flight deals.
If none of the above options are possible, then try our travel for cheap hack and save up to 53% on your next flight.
The other trick to keeping the price of your flight tickets low is to only travel with hand luggage. If that's not possible, you can always pay extra to check-in your large luggage. But bear in mind that you'll end up paying the same as the price of a normal air ticket with other major airlines.
Bonus Prague Tips: If you really can't survive on hand luggage only when travelling to Prague, opt to travel by train instead.
Cheapest Train Tickets to Prague
Travelling by train through Europe is a great way to save money when you're not a light packer.
Basically, there's no limit on the amount of luggage you can carry with you on board a train. Well, maybe besides what you can physically carry yourself.
We really like the convenience of only having to arrive 15 minutes before departure time to board the train. And there's also no hassle with border control or security checks. Plus, it's a great way to see the changing landscapes of the European countryside.
Bonus Prague Tips: During low peak season, you should get a good deal if you book at least a month ahead. We paid a low €40 for a return train ticket from Berlin to Prague with Deutsche Bahn.
Cheapest Car Rental to Prague
You could also opt to hire a car for the ultimate freedom and road trip experience.
For the cheapest car rental in Europe, you can't beat the €1 car hire deal. Nope, we are not kidding! We've personally used the service to get this amazing deal. And even made a video to prove that it isn't a scam and that the cars are 100% road worthy.
The only trick to this is that it depends on availability. So make sure you check if there are €1 car rental deals available from your location to Prague.
Travel Tip 3: Getting Around Prague by Public Transport
Prague is divided into 20 districts. If you're in the city for 2-3 days, you'll most likely only need to travel to Prague district 1 and 2. That's because almost all the main tourist spots and even our 10 Hidden Prague Attractions are located in these two districts.
If you love walking, you'll love Prague. We averaged 25,000 steps and 15 kilometres daily exploring its picturesque and quaint streets. It's a great way to balance out all the indulgent treats you'll try in Prague.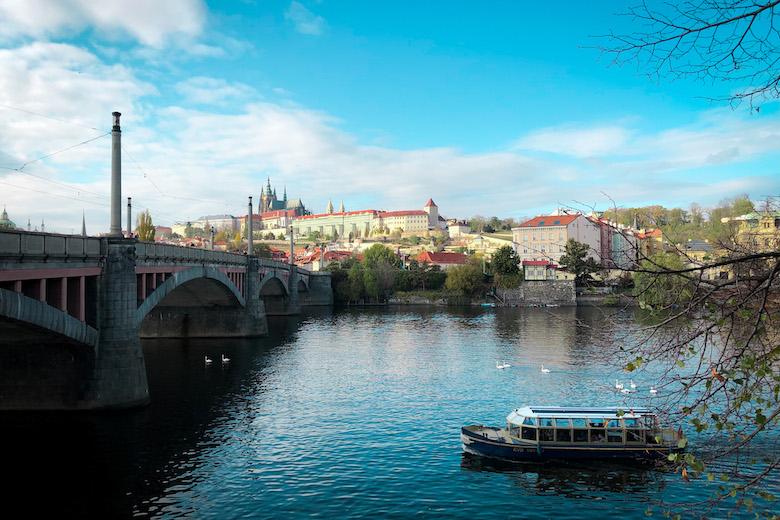 Getting Around by Prague Public Transport
If that's too much walking for you, Prague has an extensive public transport network. It's easy to use and very affordable.
The public transport tickets in Prague are time-based. This means you can take any type of public transport, as many times as you want within the time the ticket is valid for.
You can buy tickets for 30 minutes, 90 minutes, 24 hours (1 day) and even 72 hours (3 days).

Bonus Prague Tips: To get the most from your travel budget in Prague, we suggest walking until you're tired. And then buying a 30-minute ticket to get you back to your hotel. A 30-minute ticket costs less than €1 per day. Which means that over 3 days, you'll spend €3 instead of €12 for a 72-hour ticket. Your €9 savings will be enough to buy you at least 4 pints of beer. Cheers to that!
How Do I Get Public Transport Tickets in Prague?
You can conveniently buy your public transport tickets at any of these locations:
Information centres and ticket offices in metro stations;
Yellow ticket vending machines at metro stations;
Newspaper shops across Prague;
Inside every tram (only by contactless credit/debit card);
Inside every bus from the driver (these tickets are slightly more expensive);
Online and paperless with the PID Litacka App.
Make sure you validate your ticket before you hop on. You can do this by punching the ticket in one of the validation machines that are located at the entrance to every metro station or on trams and buses.
You can validate your ticket on the PID Litacka App if you purchased it via the app.
Save Me For Later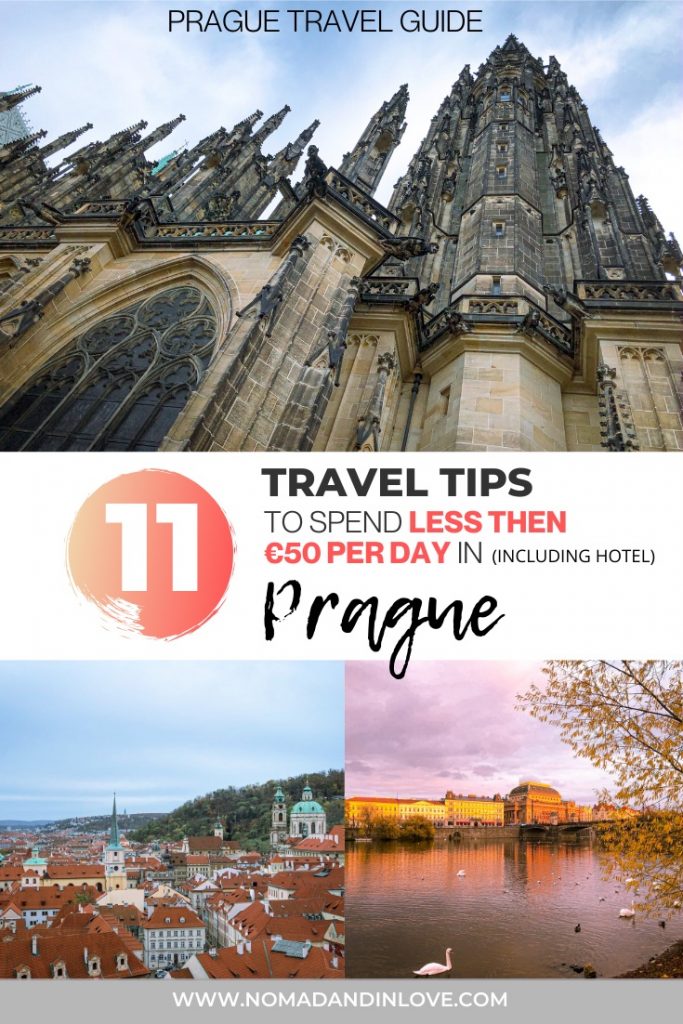 What Time Does Public Transport Stop in Prague?
The metros or subways stop operating from 00:30 to 04:30, but the night service trams and buses continue to run. Night transport is serviced by 9 tram lines that run at 30 minute intervals.
On Friday and Saturday night, the intervals are shorter (20 minutes). Night bus lines are also available throughout the city.
Bonus Prague Tips: City Mapper is currently not available for Prague. But you can easily use Google Maps to figure out which public transport stops to hop on and off.
Prague Card vs Prague Public Transport
It may be worth your while to purchase the Prague Card if you are planning to visit at least 4 paid attractions in Prague.
The Prague Card includes transportation (so you won't need to buy public transport tickets), a river cruise and free entry to 60 top attractions. This includes free entrance to Prague Castle Circuit B, a historical city bus tour in Prague, the Prague Venice Cruise and another 50+ attractions.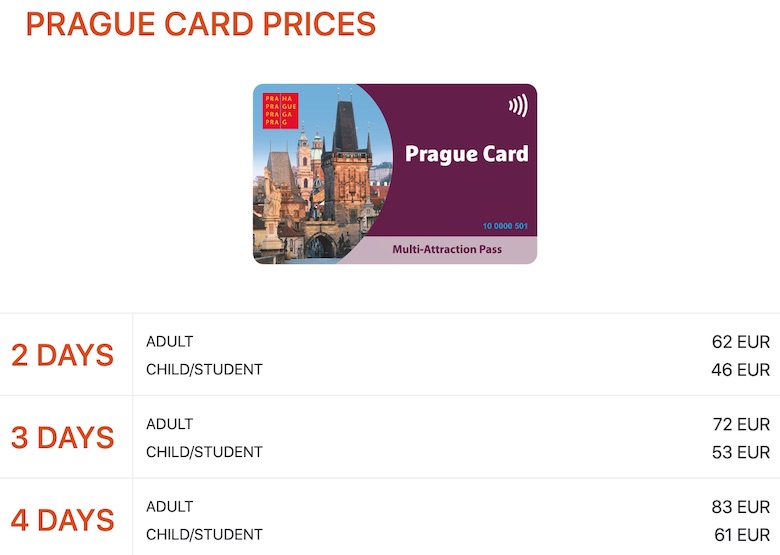 We recommend checking the full list of free Prague Card attractions first before buying the Prague Card.
Bonus Prague Tips: To get the most from your travel budget, consider buying the Prague Card if you plan to visit at least 4 of their 60+ free attractions.
Travel Tip 4: Where to Stay in Prague
There are plenty of hotel options in Prague. For more affordable accommodation options, avoid staying in the Old Town Centre or around Prague Castle. The further you are from tourist hotspot areas, the more affordable accommodation will be.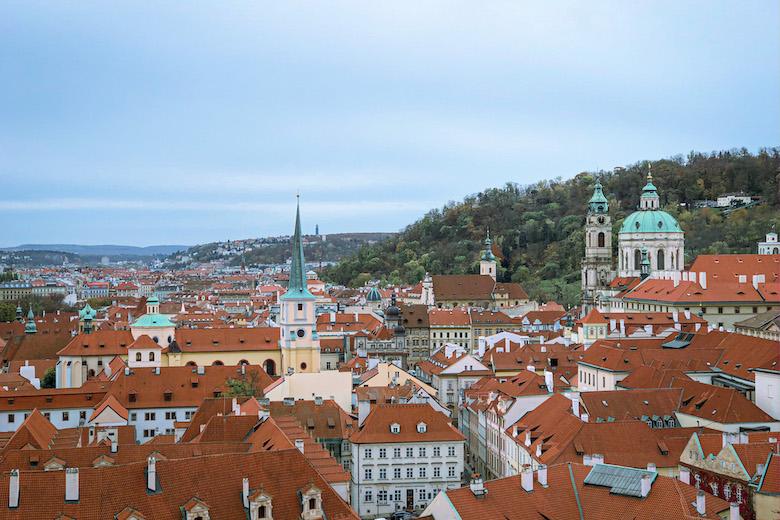 We chose to stay close to Prague's Main Train Station, at Miss Sophie's Downtown. It's a brand new boutique hotel that opened in November 2019.
Not only was the room incredibly spacious and modern, but we also loved its train cabin-inspired theme. And the best part? It's location. It's a short 10 minute walk to Prague Old Town Centre and 20 minutes to Prague Castle.
If you're travelling to Prague by train like we did, you can literally just walk across the road from the main train station to the hotel.
Bonus Prague Tips: Staying in centrally located accommodation will give you the option to walk to most attractions in the city centre. It will also save you money as there's no need to take public transport or Uber to get around Prague.
Click on the map below to easily locate the hotels in Prague and compare prices.
Travel Tip 5: Prague Money Tips
What is the Best Currency to Use in Prague?
Czech Crowns or Korunas (CZK) is the main currency used in Prague and the Czech Republic.
Most hotels, shops and restaurants only accept Czech Korunas. But some places (mostly hotels) also accept Euros (EUR).
If you are planning to spend Euros in Prague, be aware that you'll likely get a more expensive exchange rate for the Korunas. Also, any change owed to you will likely be paid in Korunas.
Is It Better to Use Cash or Card in Prague?
Prague is a pretty card-friendly city. Shops and restaurants widely accept credit cards like VISA, Master and sometimes American Express and Diners Club too.
The only places that are cash only, are food vendors and market stalls.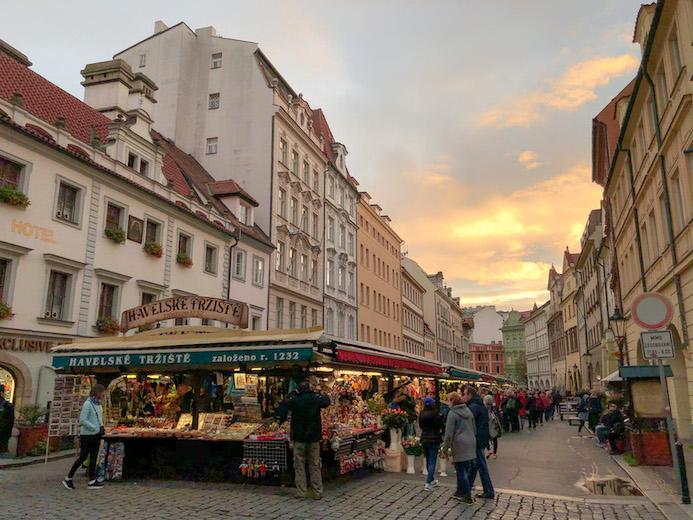 Bonus Prague Tips: To maximise your travel budget in Prague, have at least 500CZK (€20) on you to pay for small ticket items like chimney cakes, beer and using paid toilets.
Cheapest Cash Withdrawal or Currency Exchange in Prague
Draw your Czech Korunas from bank ATMs to get the best currency exchange rate for your hard earned cash.
Rates offered by the hundreds of Exchange Bureaus littered across Prague are often more expensive.
ATMs with Free Cash Withdrawals in Prague
If you're using travel cards like Revolut, you can draw cash from certain ATMs for free when travelling the world. Prague is no exception.
Big main banks in major cities usually offer free cash withdrawals. So pay attention next time you're walking through a foreign city. In Prague, you can use your Revolut card to draw cash for free from these bank ATMs:
Ceska Sporitelna
Komercni Banka
CSOB
Like we mentioned in our Berlin Christmas Market Guide, EC or EuroNet ATMs will charge you a hefty fee. So beware! You've been warned.
Bonus Prague Tips: Use a travel card that you can load Czech Korunas for your Prague travels. You could save up to €30 in bank changes and foreign exchange fees if you already have Korunas on your card. If you can't buy foreign currencies on your bank card, you may want to consider opening a Revolut account. It's free and if you love travelling, it will end up saving you a lot of money.
Travel Tip 6: Best Places to Eat in Prague
Eating in Prague is not only affordable, it's also absolutely delicious. The best part is that you won't run out of great food options anywhere in the city. There are literally hundreds of delicious places to sample.
For budget-friendly options, avoid restaurants and cafes in Prague's Old Town Centre and Prague Castle area. They're often 30% to 50% more expensive than eating the same delicious food elsewhere in the city.
If you love good food at good prices, here are some of the best places to eat in Prague for cheap.
Best Czech Food in Prague
Hospoda Hajnovka
For traditional and authentic Czech food, make a stop at Hospoda Hajnovka. Not only does the restaurant have a large selection of beers, they come in different beer-to-foam ratios too. Unique, right?
For starters, we shared what is called a meat salceson. It's a traditional Czech starter that is made from lean slices of meat set in a thin layer of gelatine. It's complemented with onions, a vinegar dressing and pepper to add some crunch and acidity to the dish.
For main course, we had a very traditional beef goulash and sirloin with cream sauce. If you're wondering why the names don't sound very Czech, it's because it's translated directly into English.
The food portions are big and heavy, so we couldn't get to dessert.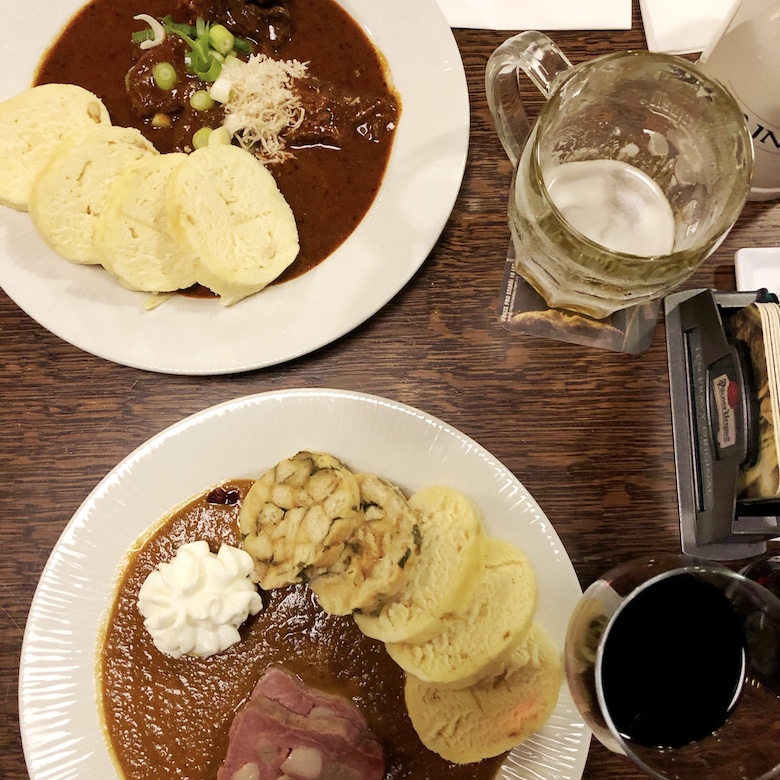 Our total bill for 1 starter, 2 main dishes and 2 alcoholic beverages was €26. €28 including tip. It's really good value for money, especially for the amount of food you get.
Best Breakfast Cafe in Prague
Cafe Nahlas
Cafe Nahlas is a cute little cafe that serves delicious and healthy breakfast. Service is a little slow, but that's because all the food is made from scratch.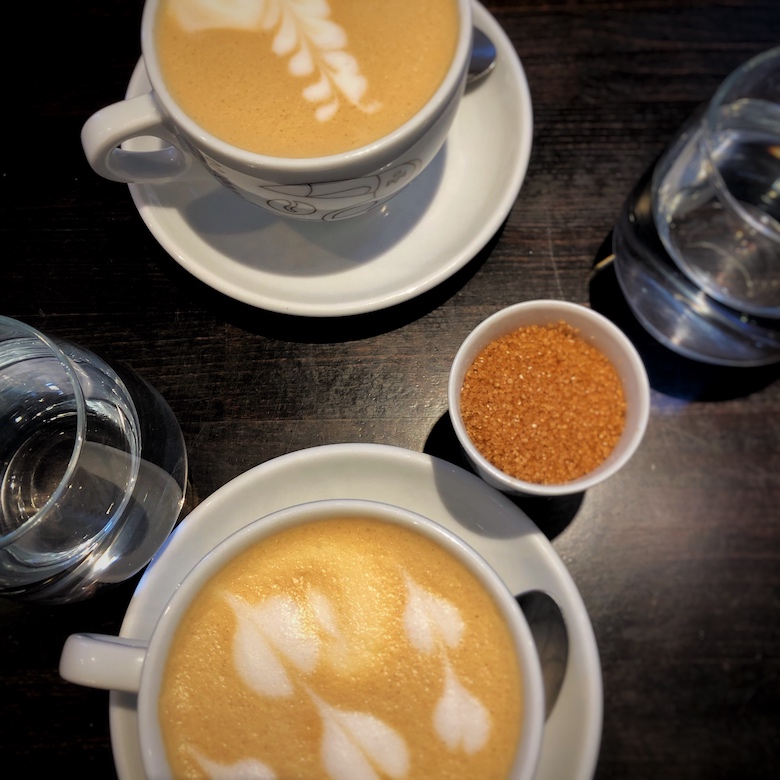 We paid €18 (including tip) for 2 lattes, a bowl of oats, eggs with toast and a breakfast salad.
Best Coffee in Prague
Sicily Cafe
Just the name Sicily Cafe itself tells you that the coffee will be great, right? They serve coffee made the Italian way, 7 grams per shot.
Honestly, it's probably the best coffee we've tasted on our travels. They serve a good breakfast too and also offer vegan options on their menu.
Sicily Cafe is located very close to Prague's main train station. It's a great place for a quick coffee before catching the train.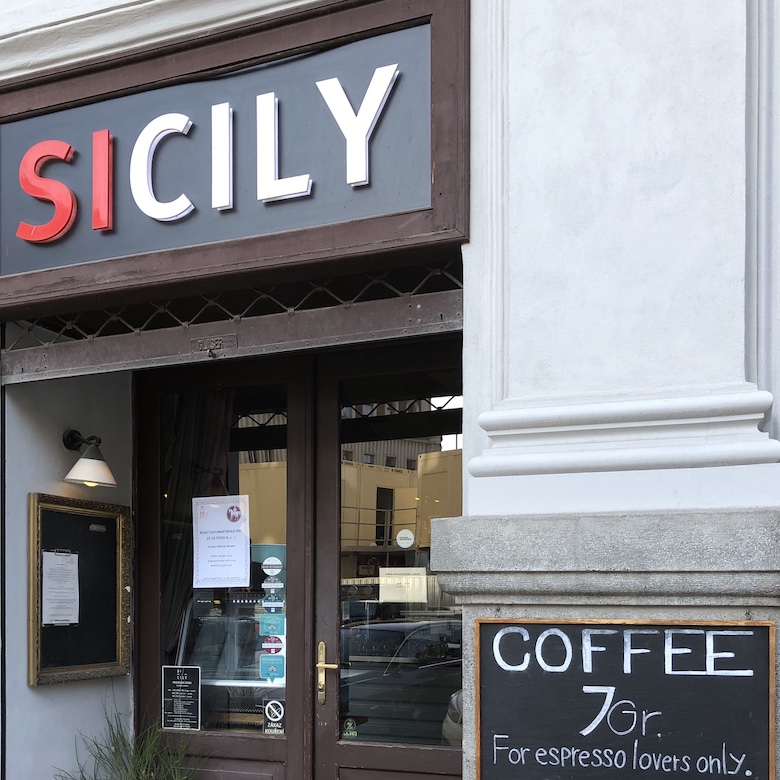 Two delicious coffees and two breakfasts will set you back €14 including tip.
Best Vietnamese Food in Prague
Banh-Mi-Ba
For those evenings when you're craving a light meal, try Vietnamese at Banh-Mi-Ba. A bustling street food bar where you can grab a quick meal.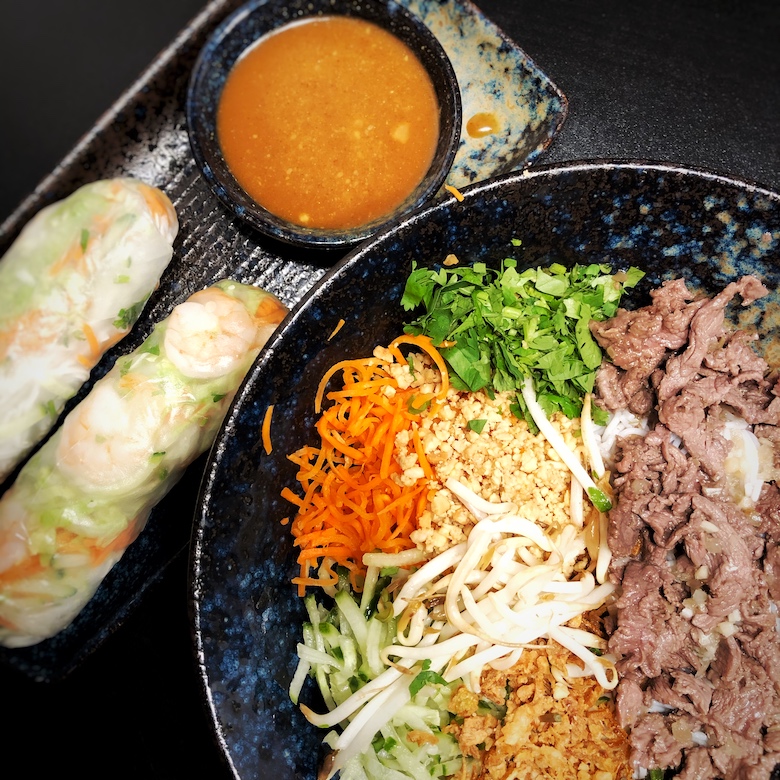 Two beef rice noodle salad bowls and prawn summer rolls to share will cost you €16.
Best Burgers in Prague
The Street Burgers and Cocktail Bar
This was probably one of our more expensive meals in Prague, but oh was it good! Hands down some of the best burgers we've had. They comes with fries and a super indulgent sauce of your choice. A must-try when that burger craving hits.
With a beer and a glass of wine, our total bill came up to €25 including tip.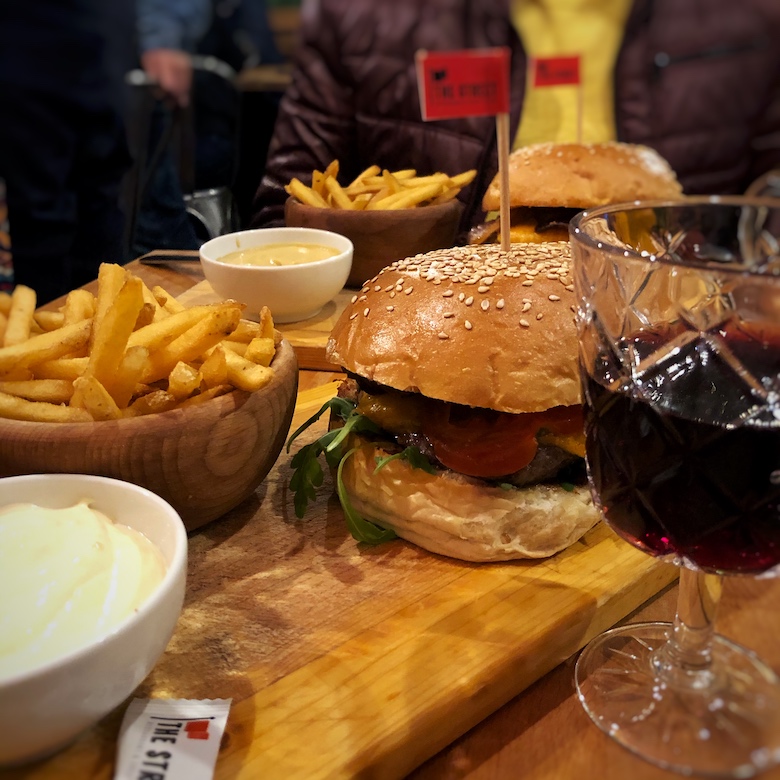 Supermarkets in Prague
You can save money by getting small meals and snacks from supermarkets instead of eating all 3 meals out.
Here's a list of major supermarkets in Prague offering the most competitive food prices:
Bonus Travel Tip: Like in most other European cities, you need to pay a small fee to use a toilet in Prague (10CZK). Toilets are free to use if you're a customer at a coffee shop or restaurant.
Travel Tip 7: Tipping in Prague
Tipping in Prague is pretty simple. Just add 10% on your bill if you received good service.
You can double-check with your friendly waiter/waitress whether they'll receive the tip when you pay by card. In most cases, this should be possible but it doesn't hurt to ask.
Travel Tip 8: Best Time to Visit Prague
Prague is busy with tourists throughout most of the year. There will be tourists regardless of high or low peak season. It's more a matter of more and less tourists.
Both high peak and low peak season has its pros and cons. So pick the best time to visit Prague based on your travel style.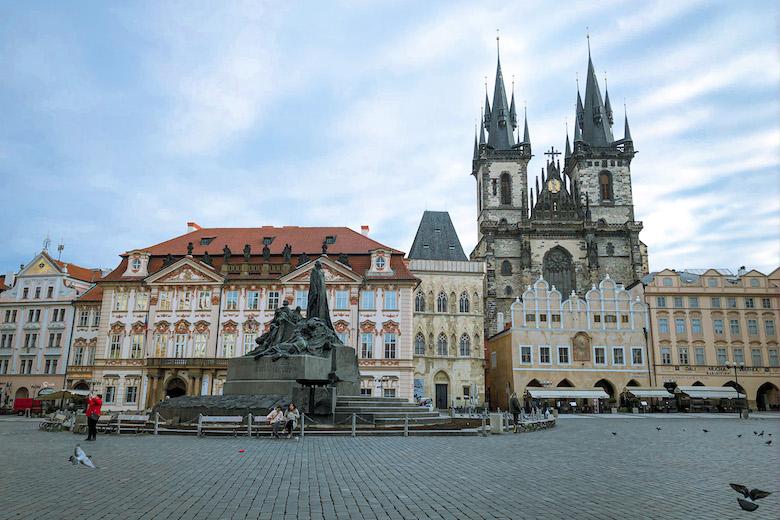 High Peak Season to Visit Prague
The high peak months to visit Prague are during summer, between June and early September, Easter, as well as the Christmas Market Season (end of November to early January).
One of the benefits of travelling in summer is that the days are longer. The sun sets at 9pm at the peak of summer. So even if you're not an early bird, you'll still have plenty of hours of daylight to explore the city.
In summer, outdoor parks and gardens like Strelecky Island and Queen Anne's Royal Summer Palace come alive. You'll also enjoy river cruises down the Vltava River even more.
The downside is that it costs more to travel to Prague during this time year. It also gets incredibly crowded and you'll likely have to queue for every single attraction.
If you plan to travel to Prague in summer but want to avoid the crowds, use our Prague self walking guide to explore 10 FREE hidden attractions.
Low Peak Season to Visit Prague
The low peak months to visit Prague are between January to May (excluding Easter) and mid-September to mid-November.
One of the benefits is that it's much cheaper to travel to Prague during the low peak season. It's also less crowded and probably easier to take photos when tourists aren't kicking over your tripod.
The downside is that the days are a lot shorter during low peak season. I'm talking about sunsets at 4pm! Great if you love sunset photography, but not so great if you want to maximise your time sightseeing.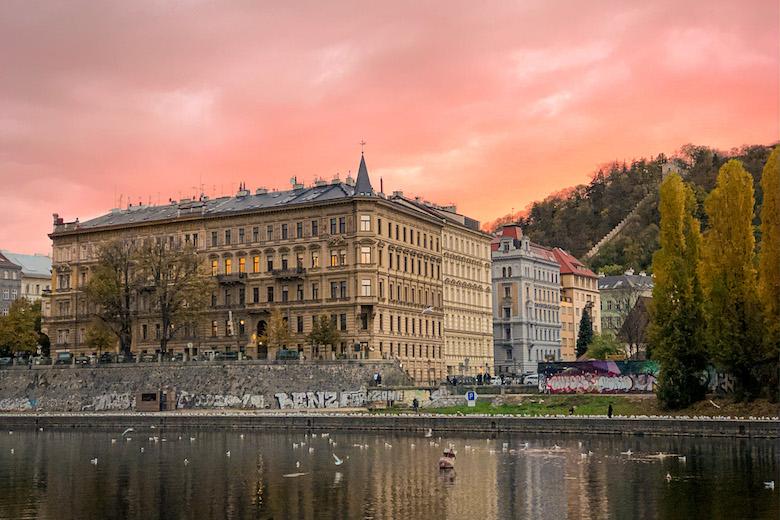 Travel Tip 9: Is Tap Water Safe To Drink in Prague
It is 100% safe to drink tap water in Prague. Just remember to bring your re-usable water bottle for those long walks. You'll help reduce plastic waste and save yourself a ton of money.
Travel Tip 10: Massage Prices in Prague
We didn't know this until we arrived, but getting a massage in Prague is apparently a popular thing to do.
It may be "cheaper" in European terms, but definitely not cheap if you compare it to South East Asia.
Budget between €23 to €56 for a 60 minute massage in Prague.
Travel Tip 11: Is Prague English-Friendly
It's easy to get by in Prague speaking English or German. The level of English was surprisingly good, given how different the Czech language is.
But that doesn't mean you shouldn't make an effort to learn a few Czech words. We always make an effort to learn how to at least say 'hello' and 'thank you' in the local language.
Here are some phrases which might come in handy during your travels to Prague.
This isn't exactly a money saving tip, but you never know who may give you a discount if you attempt Czech with a smile.
Basic Czech Phrases
| English | Czech | Pronunciation |
| --- | --- | --- |
| hello (formal) | dobrý den | [doh-bree-den] |
| hello (informal) | ahoj | [ahoy] |
| thank you | děkuji | [dyeh-koo-yi] |
Total Daily Budget & Costs For Prague
Here's a breakdown of our daily budget per person when we visited Prague during low peak season:
| Daily Expenses | Amount |
| --- | --- |
| Accommodation (3/4 Star) | €30 |
| Breakfast | €7 |
| Lunch | €9 |
| Dinner | €14 |
| Transport | €1 |
| Attractions | €12 |
| Total Daily Cost for Prague | €73 per Person per Day |
If you made it this far, you'll know you can easily cut down on transport as well as the attraction costs if you follow the travel tips in this Prague Guide. Then your total daily budget per day in Prague comes down to €60.
You can reduce your costs further to below €50 by staying in a hostel or eating out only once per day and buying some meals from the supermarket.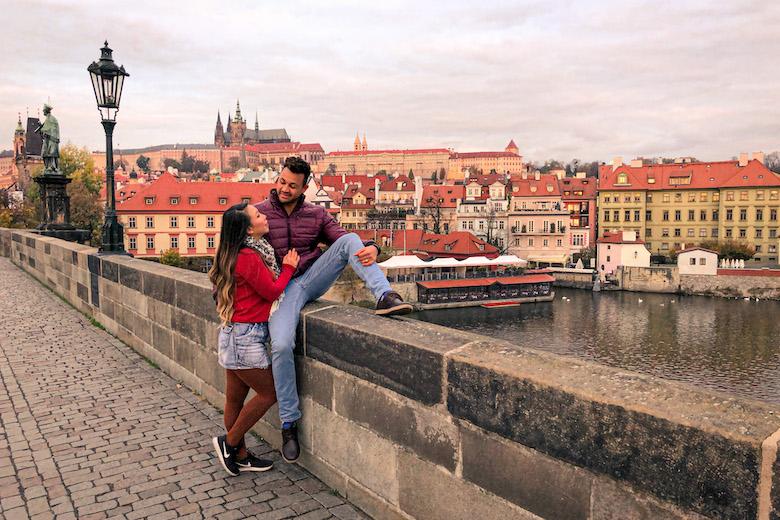 We hope you enjoyed these travel tips. Our goal is to help you save your hard earned money so you can go on more adventures around the world.
Trips from Prague by Train
Looking for other European destinations after Prague? Why not take a train trip from Prague to Berlin. It's only a short 4.5 train ride to explore one of the most vibrant and hip cities in Europe.
If you loved this self walking tour of Prague, you'll love our self cycling tour of Berlin. Explore the best Berlin attractions by bike and discover the history behind the famous Berlin Wall.
Don't have a bike? Don't worry! We reveal the best and cheapest way to rent a bike in our Berlin Bike Sharing Ultimate Guide.
If you're planning to be in Berlin between the end of November and December, make sure to check out the best Christmas Markets in Berlin with our guide.
We loved the city so much that we moved here! Curious to know if it's the city for you? Check out our cost of living in Berlin guide.
Been to Berlin already? How about exploring the 22 Best Things To Do in Rotterdam by bike? It's a self cycling guide to explore the top attractions in Rotterdam. We also share the most Instagram worthy photo spots in Rotterdam.