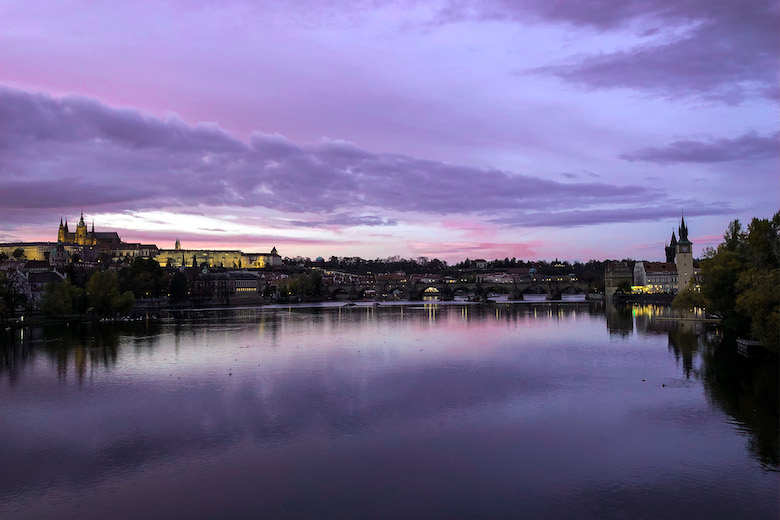 Avoid the crowds and discover 10 secret Prague attractions and hidden places to visit with this FREE self-guided walking tour.
Prague is undeniably one of the most beautiful cities in the world. But its beauty comes at a price. Tourists! Tons of them. Even in winter when it's supposedly less busy.
This free Prague walking tour will show you how to explore the 10 hidden attractions in the city and avoid the tourist crowds. Not only do these secret places make great photography spots, they're also budget friendly (all free things to do in Prague) and it's perfect for a 2 to 3 day itinerary.
If you're planning to travel to Prague in 2023, make sure you read our Prague Travel Tips Guide to find out how to budget for your trip and spend less than €50 per day including accommodation!
Free Prague Walking Tour: 10 Secret Attractions
We've created a custom Google map outlining the location of each of these hidden places to visit in Prague. Our map starts from the Legion Bridge (Most Legií) by The National Theatre of Prague and ends at the Frank Kafka sculpture.
The tour is planned in a way to maximise daylight (useful during the autumn and winter months). The last two Prague attractions can still be enjoyed well after sunset.
Follow this free walking tour as is or adjust it based on where you're staying in Prague.
1. Most Legii (Legion Bridge)
Did you know that there are more than 300 bridges in Prague? Incredible right?! So what makes Legion Bridge so special that it makes it to our hidden attractions guide?
Legion Bridge may not be as grand or famous as Charles Bridge, but the views of Prague's Old Town Center and Prague Castle are arguable better. That's because Charles Bridge is always busy, even before sunrise.
We tried our hand at 'the early bird catches the worm' and arrived before sunrise. We still couldn't avoid the horde of selfie sticks. But fear not, you can still enjoy the same (if not better) magnificent views of the city from Legion Bridge.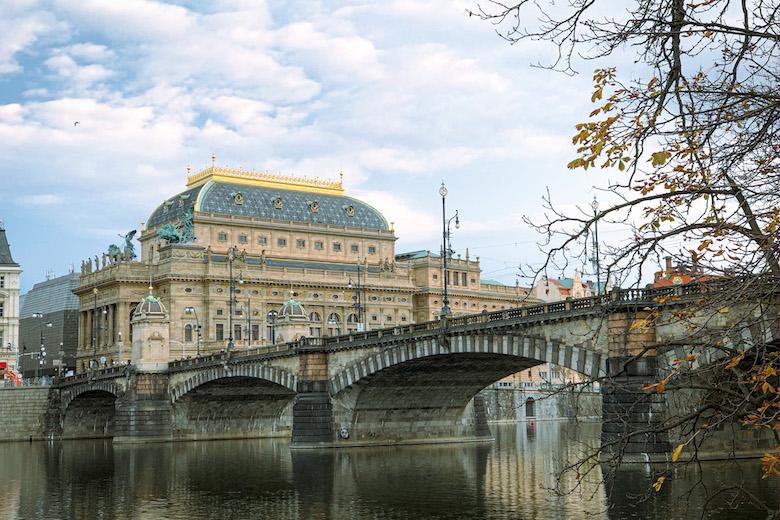 Interesting facts about Legion Bridge in Prague
You'll see two towers as you walk along Legion Bridge. In the 1990s, these towers were used to collect tolls. Lucky for you, no more tolls are collected on this bridge as you'll need to walk along it to get to your next secret attraction.
2. Strelecky Ostrov
When you're done admiring the city views, walk along Legion Bridge towards Prague Castle. Around halfway across the bridge, you'll come across a staircase as well as an elevator that will take you down to our favourite hidden place in Prague, Strelecky Ostrov.
Strelecky Ostrov is one of a few man-made islands on the Vltava River. It's a favourite amongst locals. A popular picnic and relaxation spot especially during the warmer summer months.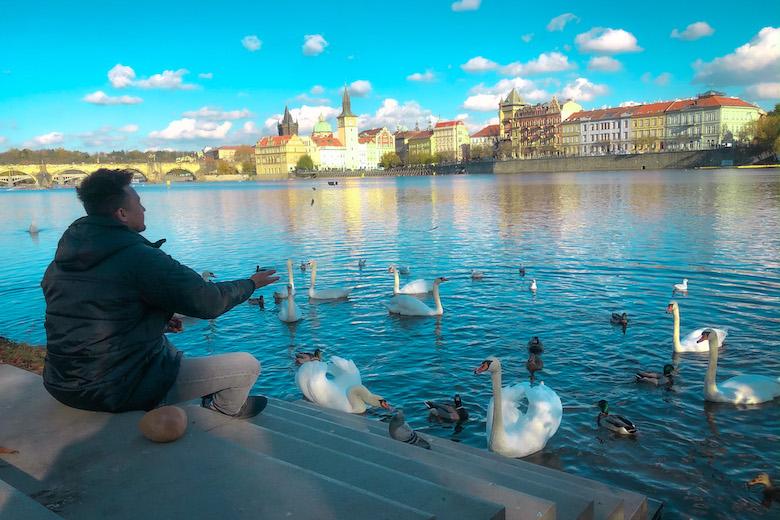 We loved it because you can enjoy unparalleled views of the city sitting along the edge of the river. The cherry on top? You'll have hundreds of swans, ducks and even coypus to keep you company.
What is a coypu, you may ask. Don't worry, we thought it was a beaver at first. Coypus are semi-aquatic and belong to the rodent family. It looks like a leaner version of the beaver, but with a rat tail. But unlike rats, coypus are herbivores and not omnivores. So they don't eat meat (including humans).
Make sure you bring some bread to feed your new-found friends. We enjoyed it so much we went twice!
This hidden attraction is one of the best places to visit for photography lovers. Visit Strelecky Ostrov island just before sunset for some great shots.
Interesting facts about Strelecky Island
Strelecky Ostrov which directly translates to 'Sharpshooters Island', is a man-made island on the Vltava River. In the 15th century, it was used as a training ground for longbow and crossbow shooters. It was later used to defend Old Town against enemies during the 17th and 18th century.
One thing is for sure, it didn't have the romantic and picturesque setting it has today.
3. Prague Yellow Penguins at Kampa Park
If you've walked towards the northern edge of Strelecky Ostrov (Charles Bridge side), you've probably noticed a line of bright, yellow penguins to your left. This is the Prague Yellow Penguins art installation and the next attraction on this free walking tour.
To get a closer look, head back up to Legion Bridge via the staircase or elevator. Leave the bridge on the Prague Castle side and turn right towards Kampa Park.
Walk through Kampa Park towards the outdoor terrace of Cafe Restaurant Museum Kampa. You'll get the best vantage point of the 34 penguins standing in a single file from here.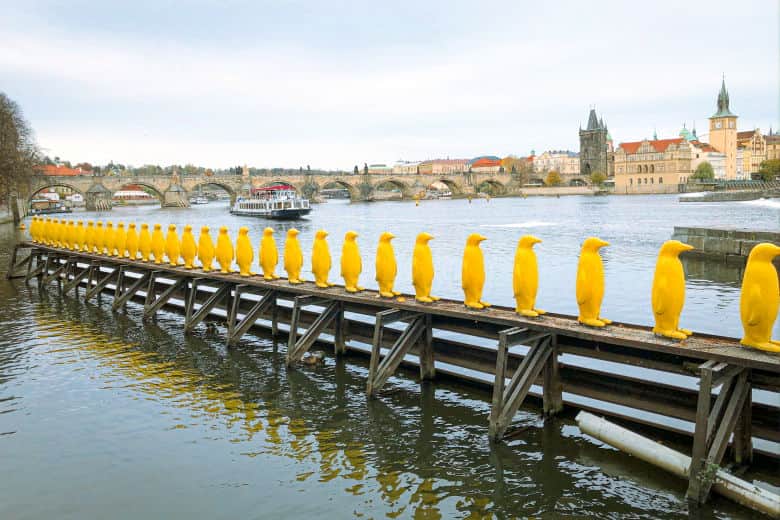 Interesting facts about the Prague Yellow Penguins
The Prague Yellow Penguins is an art installation created by the Cracking Art Group. It's a group of international artists whose mission is to highlight the dangers of climate change and the need for society to take positive action to protect the environment.
These yellow penguins and all of their art pieces are made entirely from recycled plastic.
What is the meaning behind the Prague Yellow Penguins
There is a reason why the artists used penguins as the centre of this artwork. Firstly, penguins are social animals. This means that like humans, they choose to live together in large groups.
Secondly, the penguins highlight the strong ecological issues the world is facing. Penguins are particularly vulnerable to this as its survival is directly affected by global warming and the ice caps melting.
4. Devil's Stream (Certovka)
Devil's Stream is a short 3 minute walk from the Prague Yellow Penguins. The best way to get there is to follow Google map (our directions won't do it justice).
You'll know you've arrived when you're overlooking a picturesque canal with houses on both sides.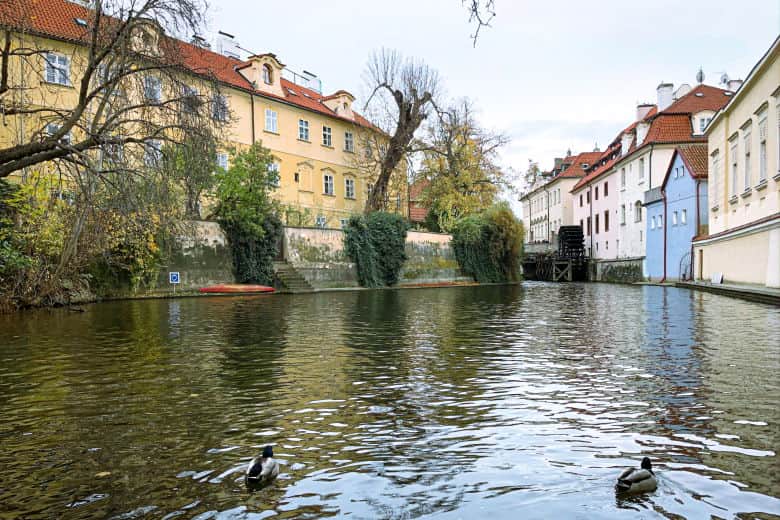 Devil's Stream (or Čertovka in Czech) is known as the Venice of Prague. It's charming, picturesque and one of the best places to visit for a romantic gondola ride away from the crowds.
Interesting fact about the Devil's Stream in Prague
The old mill wheel you see in the canal is a Grand Priory Mill that dates back to the 15th century. That means that the mill wheel is more than 600 years old! Understandably, it's not functional anymore but it does add charm to the romantic setting.
Save Me For Later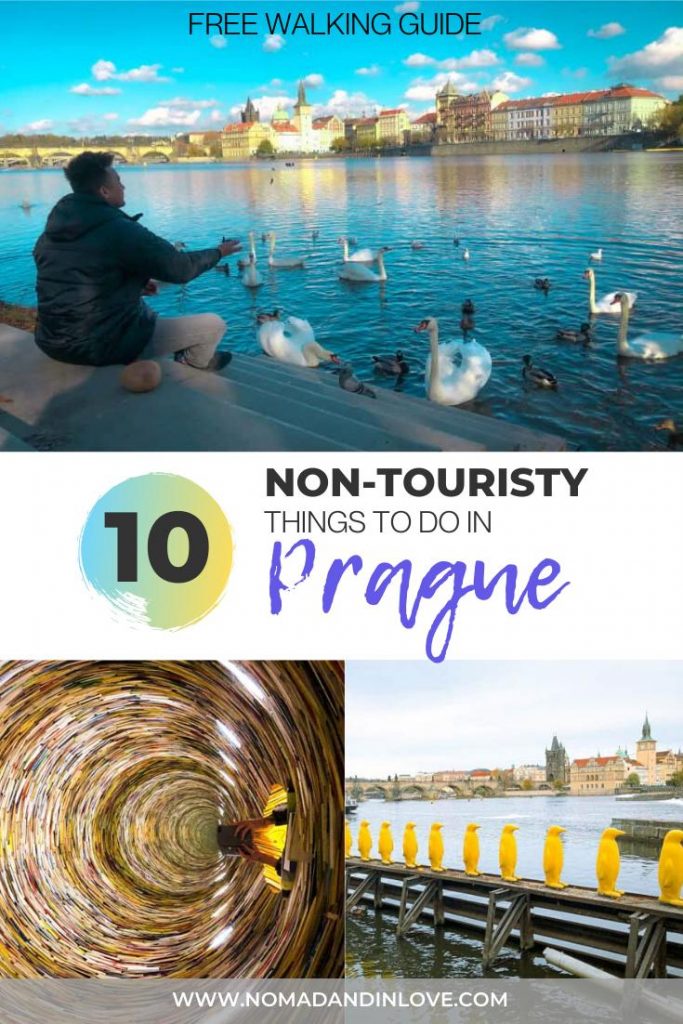 5. Mala Strana (or Lesser Town)
The next Prague attraction is the quaint neighbourhood district of Mala Strana.
In Czech, Mala Strana translates to 'the little side of the river'. The name is derived from its location on the left bank of the Vltava River, on the slopes just below Prague Castle.
It is one of the most historic districts in the city. Take a leisurely stroll and admire its pretty streets and Baroque style architecture.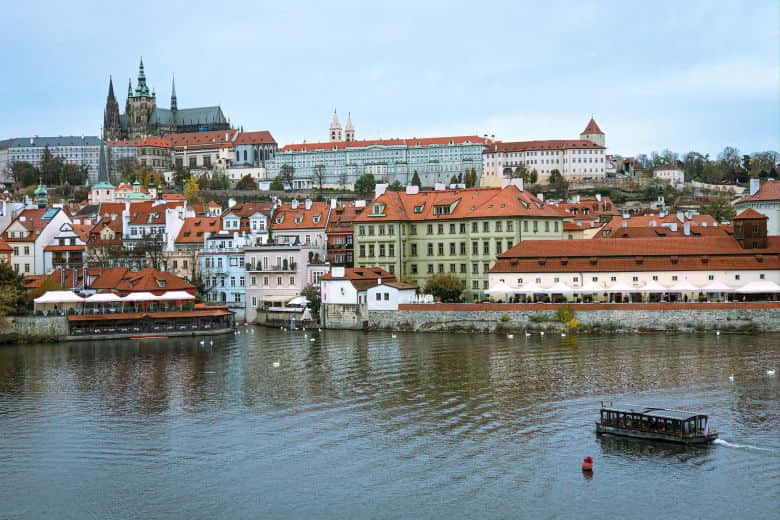 If you love art and history, make sure you visit the Memorial to the Victims of Communism while walking through Mala Strana. It's located at the base of Petrin hill at the end of Vitezna Street.
Interesting fact about the Memorial to the Victims of Communism
At the memorial you will see 7 statues along the staircase. The first statue is complete, but each statue behind it has pieces missing from its body. This artwork, created by Czech sculptor Olbram Zoubek, was designed to symbolise the suffering of the victims during the communist period, 1948 to 1989.
6. Queen Anne's Royal Summer Palace Gardens
From Mala Strana, it's a 20 – 25 minute walk to our next hidden places to visit – Queen Anne's Royal Summer Palace. You can take public transport there too, but we find walking to be the best way to discover little hidden gems along the way.
The Royal Summer Palace was built in the mid 1500s by King Ferdinand I for his wife, Queen Anne. Today it's a venue for fine art and artistic craft exhibitions. Its geometrically-designed garden also makes for a romantic stroll, especially in summer.
When we were there in November, there was an exhibition commemorating 30 years since the Fall of the Iron Curtain.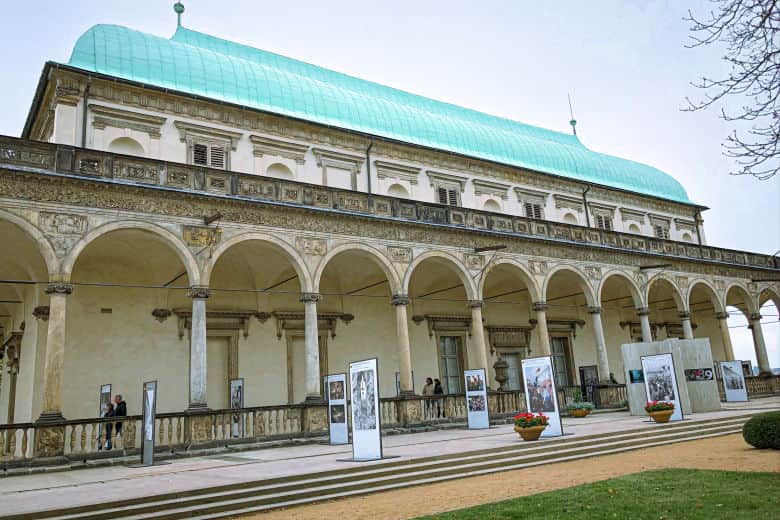 Interesting facts about Queen Anne's Royal Summer Palace Gardens
It's an incredibly romantic gesture to build anything for the one you love, let alone a palace. Sadly, Queen Anne did not live to see it being completed. She passed giving birth to her 15th child.
In front of the palace, you'll see the Singing Fountain. It was designed so that the water drops would produce a melodious hum as it fell onto the bottom basin. Unfortunately, this fountain has lost its tune since it was last restored.
7. Letna Park
The next Prague attraction requires a little uphill climb, but the mini-hike is worth it. We promise.
It's one of the best places to visit for a stunning, panoramic viewing point that overlooks the city. It's only a 7 to 10 minute walk from Queen Anne's Summer Palace, but it's mostly uphill.
Say hello to Letna Park.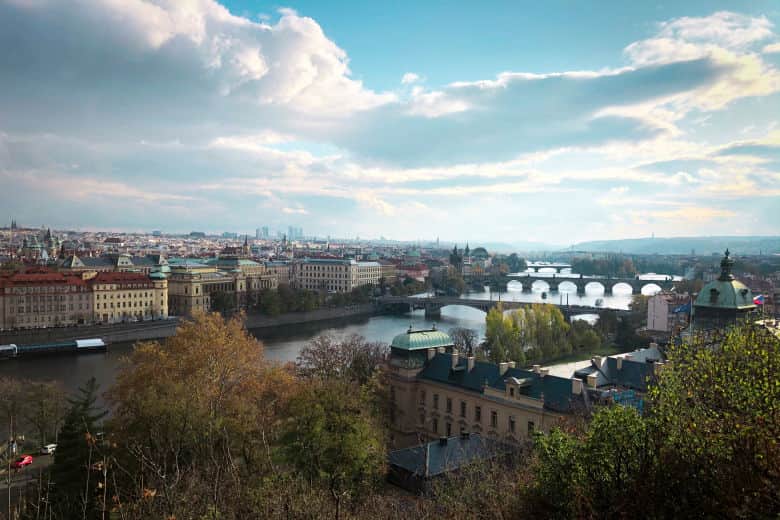 Letna Park is one of the biggest parks in Prague. You could spend a good few hours here, but if you're short on time then head straight to the viewing point (find it on our map above).
From here you can see 9 out of the 17 bridges that are located in the city centre. It's completely breathtaking and even more so at sunset. Have your camera ready because it's an amazing photography spot.
Another great way to see and experience Prague is going on a romantic river cruise. Here are some of the top favourites:
8. Prague Jewish Quarter in Josehov, Prague
Prague's Jewish Quarter is a short 15 minute walk across the bridge from Letna Park.
Here you'll find the oldest synagogue and the best preserved complex of historical Jewish monuments in the whole of Europe. It's the only place in the world where there are 6 synagogues within a few minutes walk of each other and why it's a must-visit place in Prague.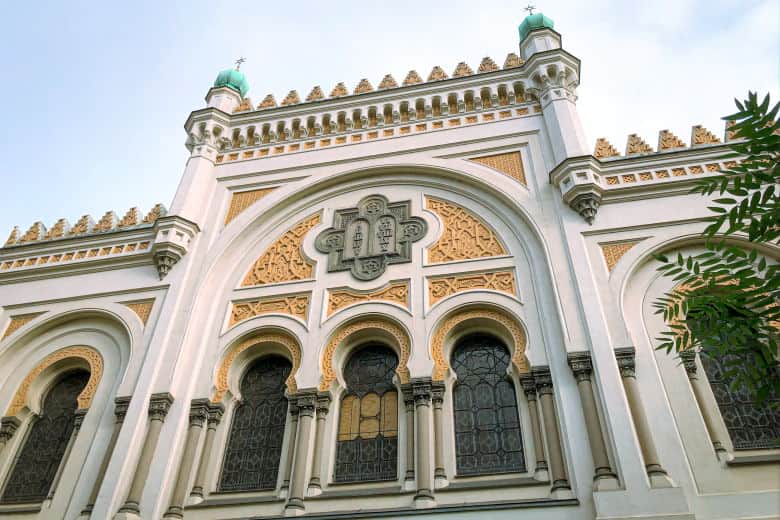 The 6 Synagogues in Prague Jewish Quarter
The Old-New Synagogue
Spanish Synagogue
Maisel Synagogue
Klausen Synagogue
Pinkas Synagogue
Jewish Ceremonial Hall
The Old-New Synagogue is one of the oldest and most valuable European Jewish monuments in the world. Today, it is the main synagogue of the Jewish community in the city.
Interesting facts about The Prague Jewish Quarter
The history behind how the Jewish community was formed extends back to more than 800 years ago.
During the 13th century, Jewish people living across Europe were ordered to settle in this particular district in Prague. Over time, the community grew as more Jews from Moravia, Germany, Austria and Spain were also forced to move here.
The only reason why the monuments in the Jewish Quarter survived Nazi occupation is because Hitler decided to preserve it as a 'Museum of an Extinct Race'.
Chilling isn't it? Let's hope humankind doesn't repeat the same mistakes again.
If you find this interesting, consider going on a guided Jewish Quarter Tour. It will also give you access to see the Old Jewish Cemetery.
Purchase your tickets online so you don't have to waste time standing in queues.
9. Book Tower at Municipal Library of Prague
It may seem weird to add a library as one of the must-visit places in Prague, but just hear us out. The hidden Prague attraction isn't the library itself, but rather the art installation inside it named 'Idiom' or 'Book Tower'.
From the outside, it just looks like a spiralling tower of stacked books. But when you take a peek inside the book tower, that's where the magic happens.
An illusion of an infinite spiral of books in both directions. A book lovers' dream.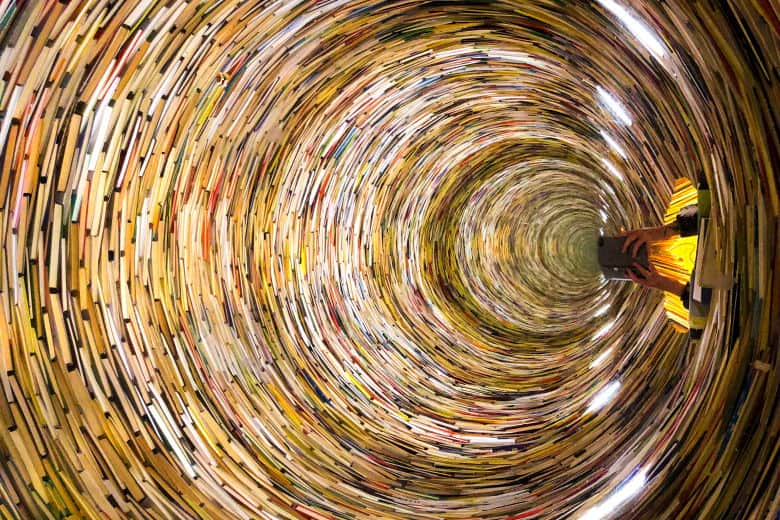 Interesting facts about the Book Tower at Municipal Library
This simple but highly innovative masterpiece was created by Slovakian born artist, Matej Kren. He assembled the books in a cylindrical pattern and inserted mirrors inside the funnel to create the illusion of an unending spiral of books.
We love the underlying meaning behind the artist's ingenious work and how he connected the concept of infinity with knowledge.
10. Head of Franz Kafka Sculpture
Another rather unusual thing to do in Prague is to see an 11 meter tall sculpture of a head that weighs more than 40 tons.
But it's not just anyone's head. It's Franz Kafka's head! He is considered to be one of the most acclaimed and influential writers of the 20th century.
Artist David Černý created this captivating masterpiece with 42 mobile tiers that rotate to ravel and unravel into Franz Kakfa's face.
Whether you're a history lover or not, you'll find this kinetic artwork intriguing to watch.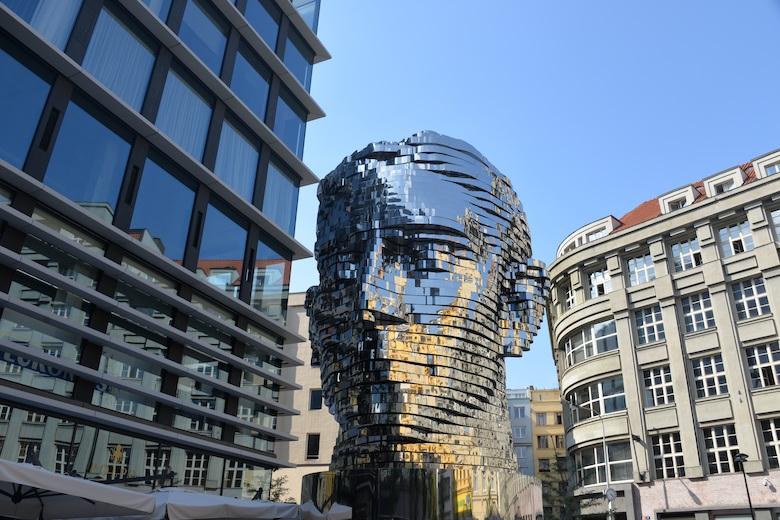 Other Unusual Prague Attractions and Places to Visit
Guided Ghost and Legend Tours in Prague
Looking for a bit more adventure in the city? Why not try one of Prague's famous guided ghosts and legends tour?
Medieval Dinner Experiences
Or if that's too scary for you, how about travelling back in time to a medieval dinner experience.
Unique Beer Spa Experience in Prague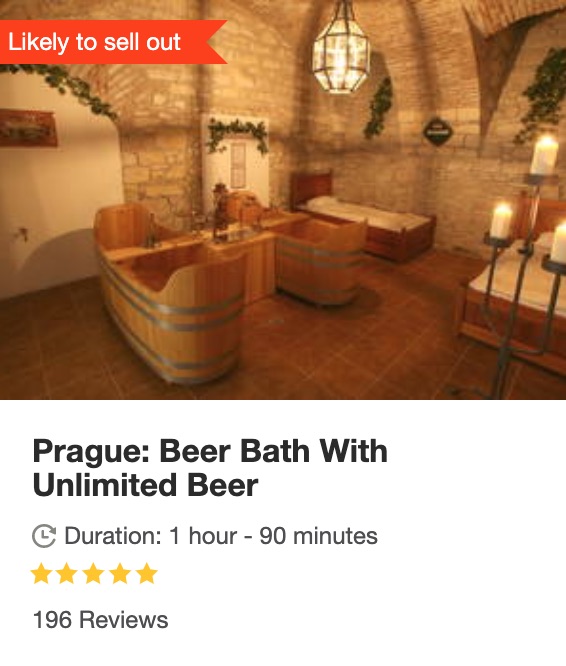 You probably already know that the city is world-renowned for its beer. But did you know you could bathe in it too at a unique Prague Beer Spa experience?
Buy Prague Beer Spa Experience Ticket with UNLIMITED beer (60 – 90 minutes)
Free Prague Attractions Walking Tour
We hope you enjoyed exploring Prague's hidden spots and attractions on this free walking tour.
Here's a quick summary of the top 10 places you must visit to avoid the crowds:
Legion Bridge
Strelecky Ostrov
Prague Yellow Penguins
Devil's Stream
Mala Strana
Queen Anne's Royal Summer Palace Gardens
Letna Park
Prague Jewish Quarter
Book Tower at the Municipal Library of Prague
Franz Kafka Head Sculpture
If you love this type of self walking tour, make sure you check out our other Europe itineraries and travel guides.
Looking for the cheapest way to get to Prague? Find out how you can save up to 53% on flights, hotels and car hire and travel cheap on your next vacation.
We also share which bank card we use to always get the best foreign exchange rates for travelling.
If you're planning to drive to Prague or road tripping through Europe, find out how you can hire a car in Europe for only €1.
Trips from Prague by Train
Looking for other European destinations after Prague? Why not take a train trip to Berlin? It's only a short 4.5 train ride to explore one of the most vibrant and hip cities in Europe.
Prague to Berlin
If you loved this self walking tour, you'll love our self cycling tour of Berlin. Explore the story of the Berlin Wall by bike and see the top attractions in the city at the same time.
Don't have a bike? Don't worry! We reveal the best and cheapest way to rent a bike in our Berlin Bike Sharing Ultimate Guide.
If you're planning to be in Berlin between the end of November and December, make sure to check out the best Christmas Markets in Berlin with our guide.
We loved the city so much that we moved here! Curious to know if it's the city for you? Check out our cost of living in Berlin guide.
Prague to Rotterdam
Been to Berlin already? How about exploring the 22 Best Things To Do in Rotterdam by bike? It's a self cycling guide to explore the top attractions in Rotterdam. We also share the most Instagram worthy photo spots in Rotterdam.