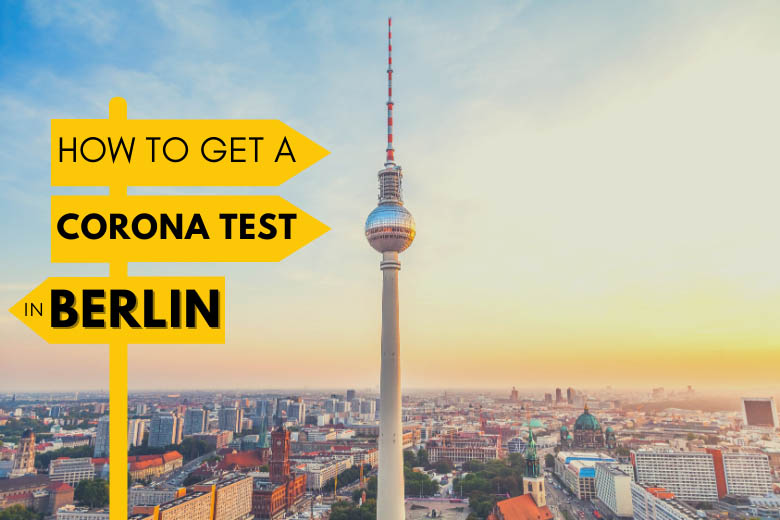 Need to get a corona test in Berlin? This guide explains how you can get a COVID rapid test ('Schnelltest') and PCR test done in Berlin. We explain how to make an appointment and included a list of corona testing centers you can visit to get your free, weekly COVID rapid tests done.
Unless you've been living under a rock (or without internet) and have had zero contact with the outside world. You've probably heard that you can now get FREE corona rapid tests done in Berlin every 24 hours!
What seemingly was a recommendation at first has quickly become a necessity. Especially with the new coronavirus restrictions in Berlin that now require you to present a negative corona test result if you want to shop anywhere outside of supermarkets, drugstores, and pharmacies. And yes – unfortunately that also includes your visits to the nail salon, home improvement and DIY stores, hairstylists, and whatever else that is not deemed necessary during pandemic times.
So to make your life in Berlin a little easier (we've all got enough stress and hassles to deal with already). We've taken the liberty to decipher all the official German websites, done the required research, and put together a comprehensive guide on how to get corona testing done in Berlin.
So whether you need to get the free corona rapid test (also called the 'Schnelltest' or antigen test), COVID PCR test or you need to get tested returning to Berlin from your travels, we've got you covered.
Before we jump into the how and where to get corona testing done in Berlin, you should first know which coronavirus test you need to get.
Update: You no longer need to show a negative COVID test to enter shops, restaurants, participate in tours, etc. in Berlin, Germany!
Corona Rapid Test vs PCR Test: What's The Difference?
The corona rapid test (or 'Schnelltest' in German) is the same as the COVID-19 antigen test. It's basically a quick test that checks if you have any coronavirus fragments in your system.
This is the type of test that locals and expats living in Berlin can easily get at one of the 180+ corona testing centers across the city. As the name suggests, these quick tests can easily be done in a clinic, pharmacy, doctor's office or hospital. Turnaround time is short and you can get your corona test results within 15 to 20 minutes.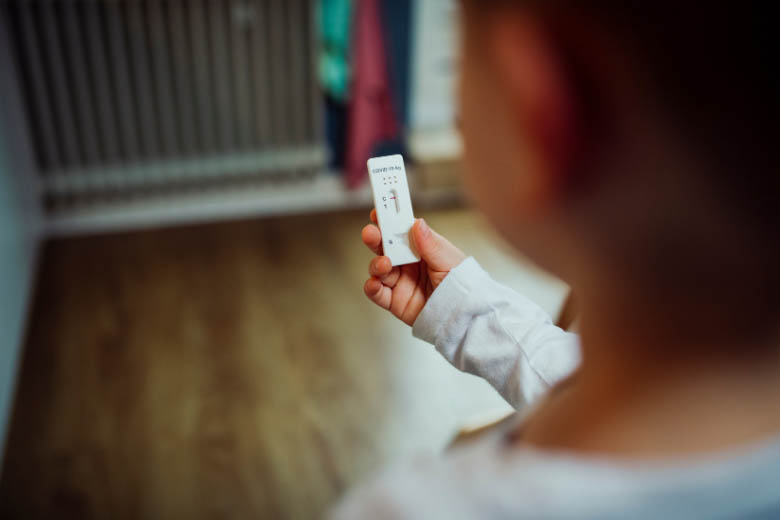 The COVID PCR tests, on the other hand, are considered the 'gold standard' of corona testing. These tests are designed to detect the genetic material specific to the coronavirus. Turnaround time is longer (2-3 days), but PCR tests will detect the virus within days of infection even if you don't show any symptoms.
This is the test you'll need to do if you're returning to Berlin from your travels. Or you're flying to a country that requires you to bring along a negative corona PCR test result.
The only other time you'll be required to do a COVID PCR test in Berlin, is if you test positive on the corona rapid test.
Where To Get Free Corona Testing in Berlin
Since May 2021, anyone living in Berlin is eligible to get a free corona rapid test every 24 hours. This is one of the initiatives the government has put in place to help identify COVID infections. That means that you don't need to show any coronavirus symptoms to take this free rapid test.
At first, the weekly corona 'Schnelltest' was only a recommendation. But now it has become a necessity if you need to buy anything in-person that isn't considered daily essentials, like food (pet food counts!), medicine, or take-outs.
That's the bad news. But the good news is that you will no longer need to make an appointment at some non-essential shops (provided that your COVID test results are negative). Plus you can do one corona rapid test for FREE daily (i.e. every 24 hours) and get a results certificate for this.
So how do you get one of these bad boys?
There are 2 ways to get a free corona rapid test in Berlin. We'll be listing them below and also provide an extra (paid) option for those who need a COVID PCR test for traveling in and out of Berlin.
Can you use the results of Corona Self-testing Rapid Tests from Supermarkets and Drugstores to shop in Berlin?
Unfortunately not. These won't be valid for shopping because there's no way of telling if you actually did the test properly or not. These coronavirus self-testing kits are more suited for personal use. Like visiting family and friends who are more susceptible and vulnerable to the virus.
Corona Testing Centers in Berlin
The first option is going to one of the dedicated corona testing centers that are set up by the Department of Health. And if you're already afraid that getting tested for corona in Berlin would be a bureaucratic nightmare. Don't worry – it's much easier (and faster) than the other 1,001 administrative tasks you need to do to live in the city.
Most testing centers require that you make an appointment beforehand. But if you're the spontaneous type, there are 4 corona testing centers in Berlin that you can visit without an appointment.
Berlin Corona Testing Centers With No Appointments
Wilmersdorf: Kurt-Weiß-Sporthalle, Franzensbader Strasse 16, 14193 Berlin
Tiergarten: Poststadion, Lehrter Strasse 59, 10557 Berlin
Kreuzberg: Carl-von-Ossietzky-Schule, Blücherstraße 46-47, 10961 Berlin
Lichtenberg: Max-Taut-Schule, Fischerstraße 36, 10317 Berlin
The opening hours of these testing centers are Mondays to Friday from 09:00 to 18:00. Appointments are not required, but they highly recommend you make one beforehand to avoid long waiting times and queues.
Call them on 0800 266 8363 if you want to make a quick appointment before visiting the closest corona testing center in Berlin near you.
If these large testing centers are too far from your location. There are 12 smaller corona testing centers you can visit. But you have to make an appointment to get a coronavirus test at these centers.
COVID Testing Centres in Berlin with Appointments
Tempelhof-Schöneberg: Mariendorfer Damm 64, 12109 Berlin
Marzahn-Hellersdorf: Janusz-Korczak-Str. 17, 12627 Berlin
Charlottenburg-Wilmersdorf: Zillestrasse 10, 10585 Berlin
Treptow-Köpenick: Spreestraße 6, 12439 Berlin
Lichtenberg: Rummelsburger Str. 13, 10315 Berlin
Friedrichshain-Kreuzberg: Prinzenstr. 23, 10969 Berlin
Pankow: Main Street 29a, 13158 Berlin
Neukölln: Bat-Yam-Platz 1, 12353 Berlin
Reinickendorf: Antonienstr. 51, 13403 Berlin
Spandau: Schönwalder Allee 26, 13587 Berlin (behind entrance house 2)
Steglitz-Zehlendorf: Kirchstr. 1–3, 14163 Berlin
Wedding: Müllerstrasse 146, 13353 Berlin
These testing centers are open daily but their opening hours vary depending on the test center.
Save Me For Later
Corona Testing At A Pharmacy (Apotheke) in Berlin
The second option is to get your coronavirus test done at a pharmacy near you. Depending on where you live and which day you go on, this might be the most convenient and quickest way to get your testing done.
Simply go to the 'Mein Apotheken Manager' website to do a search for pharmacies in Germany that provide free corona testing. Enter your postcode or city and the website will list a number of pharmacies near you where you can do the free 'Burgertest'.
Some pharmacies may require you to make an appointment beforehand. So give them a quick call and ask before heading there. If your German language skills are not up to scratch yet, then use the next option to make an appointment online.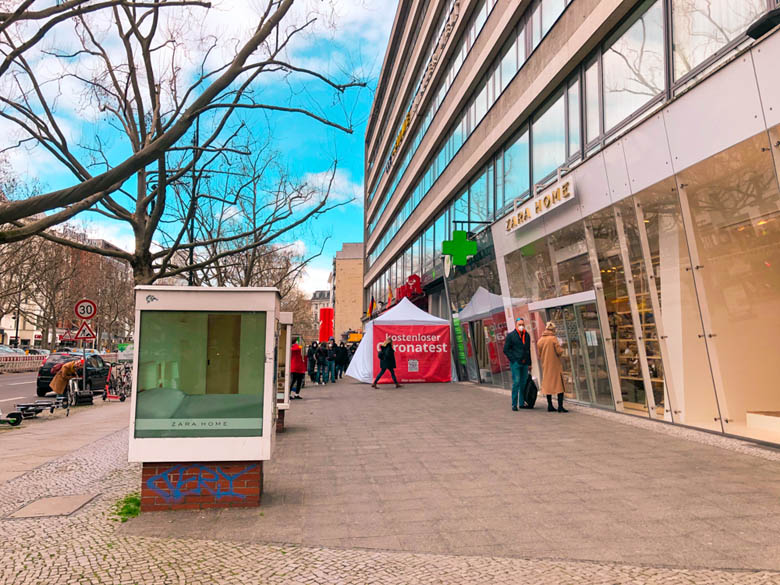 How To Make An Appointment in Berlin for COVID Testing
Once you've identified the corona testing center or pharmacy you want to visit. It's time to make an appointment.
You can easily book your corona testing appointment in Berlin on the Direkt Testen website. This portal lists all the testing centers in the city, as well as some pharmacies and private providers. Simply enter your postcode or city to find the closest COVID testing center near you.
Bear in mind that if you select a pharmacy, that you may need to call them to make an appointment. If you prefer making an appointment online without calling. Then make sure to select a testing center instead.
Bonus Tip: If possible, always try to book your corona testing appointments between 11:00 to 15:00 during the week. You'll increase your chances of getting your COVID rapid test done quickly if you avoid mornings, afternoons, and weekends.
Once you've done your corona rapid test, you should receive your test results via e-mail to say whether you're negative or positive. It usually takes around 20 to 30 minutes to get your test results. But it may take longer depending on how busy the test center is.
What Documents Do You Need To Do Free Corona Testing in Berlin
The only document you need to bring to your corona testing is an ID card (identification card) or passport. They just need it to be able to identify you and see that you are who you say you are.
In most cases, you won't need to bring your anmeldung (i.e. proof of address) with you. But if you don't have an EU passport, we'd suggest you save a digital copy of your anmeldung and bring it with you just in case.
We've personally been to smaller corona testing centers where we've been asked to show anmeldung in addition to our non-EU passport. Some COVID testing centers check this to make sure you do in fact live in Berlin VS traveling to Berlin as a tourist.
And that's it! The only other thing you need to do is make sure not to eat, drink, smoke or chew gum 15 minutes before you do the test.
Related Guide: Need to do your anmeldung or register your address during the corona pandemic? Find out how in our How To Get Anmeldung in Germany guide.
What Happens If You Test Positive On Corona Rapid Test
If you do test positive on the COVID rapid test – don't panic. You'll be asked to immediately isolate yourself from others and have a PCR test done. In this case, the PCR test will also be free of charge.
Where to get a PCR Test in Berlin?
If you test positive on the corona 'Schnelltest', you can get a free PCR test done at these hospitals in Berlin:
Community hospital Havelhöhe, Kladower Damm 221, 14089 Berlin
Evang. Hospital Queen Elisabeth Herzberge, Herzbergstraße 79, 10365 Berlin
Vivantes Klinikum Location Prenzlauer Berg, Fröbelstraße 15, 10405 Berlin
Vivantes Wenckebach-Klinikum, Wenckebachstraße 23, 12099 Berlin, access via Albrechtstraße
Where To Get PCR Test in Berlin Returning From Travel
The third option is for those who need a corona PCR test when returning to Berlin from travel. You no longer need a negative PCR test to enter Berlin. But as we all know – the situation may change at any moment.
If you weren't able to get a PCR test done at Berlin Hauptbahnhof (main train station) or BER Airport. Then you'll need to go get a PCR test done at specific testing centers if you're returning from travel.
Use this list of medical practices that do PCR test for travel returnees in Berlin to find the closest one to you.
And finally, if you're departing from Berlin and need to get a PCR test done. These tests are not part of the free 'Burgertests', so you'll need to pay for them yourself.
Bonus Tip: If you're visiting Berlin as a tourist and need to do a COVID rapid test to attend an event, go inside a pub, restaurant or club. You can book to do a corona rapid test with CoronaTest.de too.
No city is fun during pandemic times, even Berlin – the party capital of Europe. So if you're looking for outdoor things to do in Berlin during corona, make sure to read our detailed, self-guided Berlin Travel guides for pandemic-friendly ideas and inspiration. And for those wondering how travelling in Berlin and Germany has changed since COVID-19? Find out what it's like to visit Berlin during the coronavirus pandemic.