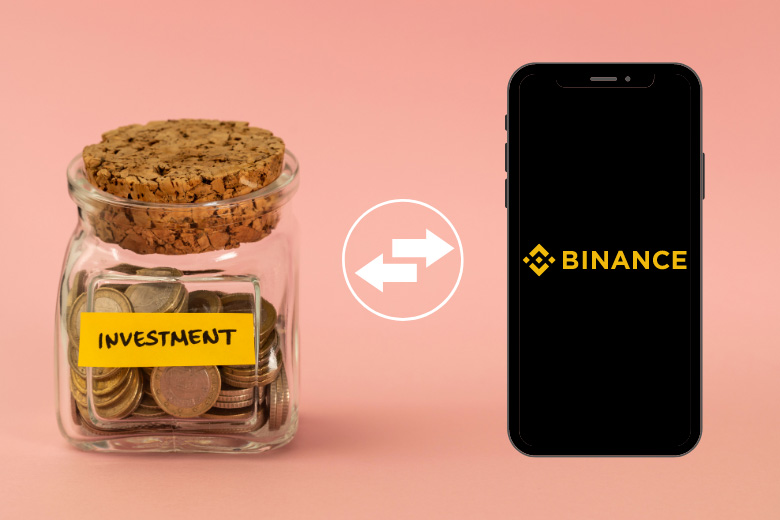 Find out how to add or deposit money on Binance for FREE (without fees) using Revolut! Save money and improve your investment returns when investing in Bitcoin, Ether, Tether and other cryptocurrencies in Germany.
If you've ever looked into buying or selling cryptocurrencies (crypto), you've probably come across the trading platform, Binance. It's one of the most popular investment apps for trading cryptocurrency.
With over 100 million users globally, Binance has become the largest crypto exchange in the world. And in doing so, are able to offer its users some of the lowest fees when buying or selling Bitcoin and other cryptocurrencies.
That's all common knowledge. But did you know that you can add funds and deposit money to your Binance account for free (i.e. without fees)?
Sounds too good to be true. But we know it's possible because we've done it multiple times!
That's why we've written this step-by-step guide to show you how to deposit on Binance for FREE!
Not only is this the cheapest way to add funds and transfer money on Binance. But it's simple and easy too.
Just keep reading and follow these easy steps to avoid paying the 1.8% Binance deposit fee and boost your crypto investment returns.
Ways To Deposit to Binance
There are different ways to transfer and deposit money on Binance. The most common method is making a deposit on Binance using your credit or debit card.
It's easy and quick to do. But the downside is that Binance charges you a 1.8% fee every time you add money to Binance this way.
Now we know that 1.8% may not sound like a lot. But it can quickly add up if you're making frequent deposits to Binance.
How Much It Costs To Deposit on Binance
The deposit limit will differ depending on which country your Binance account is registered in. If you're investing from Germany, the minimum daily deposit starts at $50 and the maximum is $2,000,000.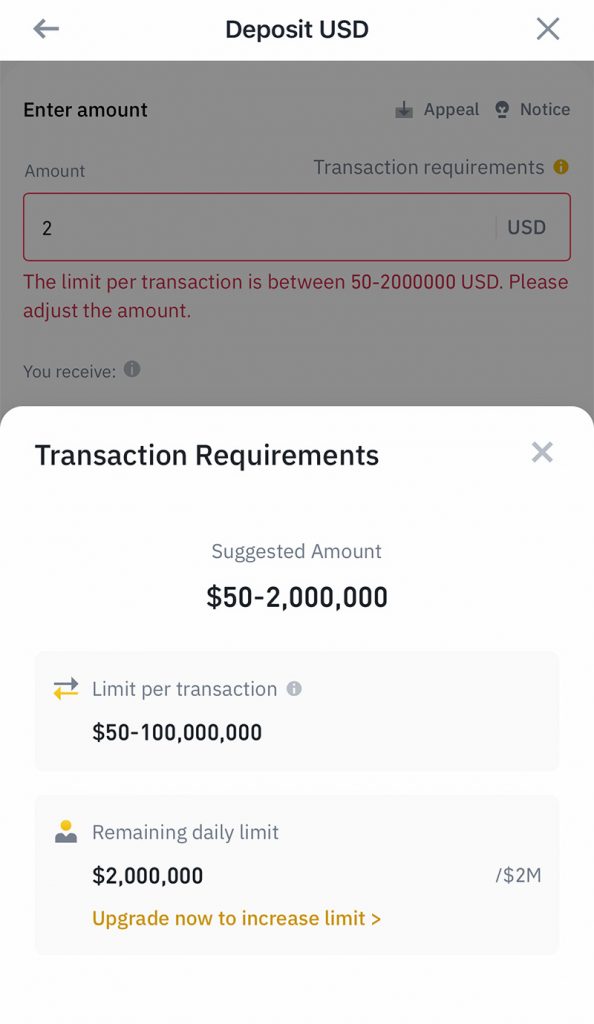 Assuming you're a high roller and are able to max out the deposit limit. You can expect to pay between $0.90 to $36,000 in fees every time you add money on Binance to buy crypto.
Now imagine saving the $0.90 to $36,000 in Binance deposit fees and investing it in your crypto portfolio instead. How much Bitcoin, Ether, Tether, or other cryptocurrencies will you be able to buy with that money?
Well, imagine no more! We're going to show you the cheapest way to deposit money to Binance without fees (FREE!).
What You Need To Transfer Money To Binance Without Fees
All you need to transfer money to Binance without paying fees is a Revolut bank account.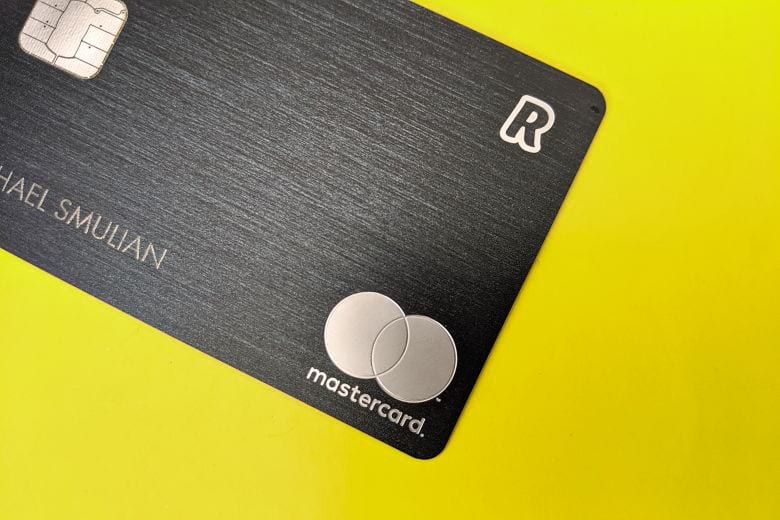 You could probably do it with any other fintech bank like bunq, N26, or Monese. But we haven't personally tested this. So we'll only share how to make a deposit on Binance for free (without fees) using Revolut.
If you don't have a Revolut account, you can open one for free and get a £10 top-up when signing up with us.
Bonus Tip: What is Revolut and what other benefits do you get besides adding funds to Binance for free? Read our detailed Revolut Review to find out the pros and cons and why it's our most used bank card.
How To Deposit On Binance Without Fees (FREE)
Just a quick side note before we jump straight in. This method works on both the desktop and mobile versions. But since most of us use mobile these days, we'll be giving step-by-step instructions on how to deposit money on Binance without fees (FREE) using your mobile.
Step 1: Log in To Your Binance Account
Open the Binance app on your phone and click on the two arrows button on the bottom of the screen.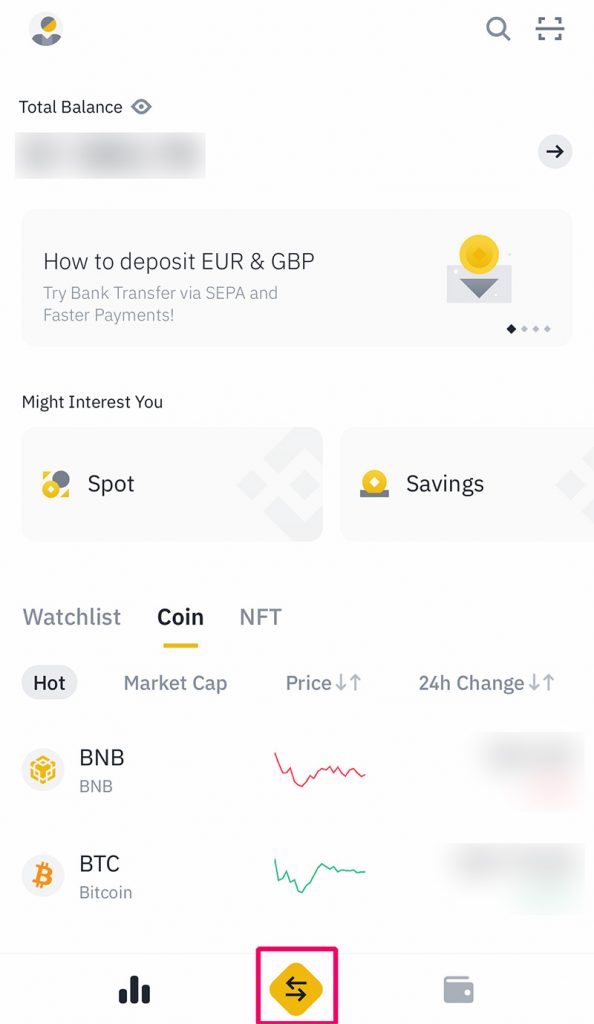 You should see a pop-up that asks if you want to buy or sell crypto, convert or trade coins, or make a deposit. Click on 'deposit' to add money to your Binance account.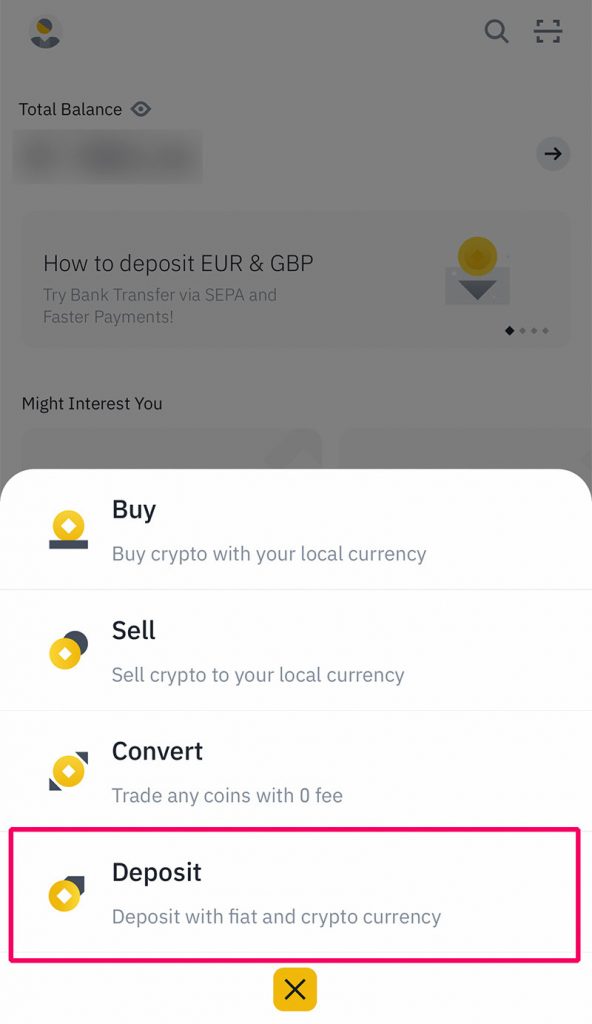 Next, click on the word 'Fiat' on the top left. Then in the search bar on top, type 'USD'. You should only see one option come up. Click on 'USD' to move to the next step.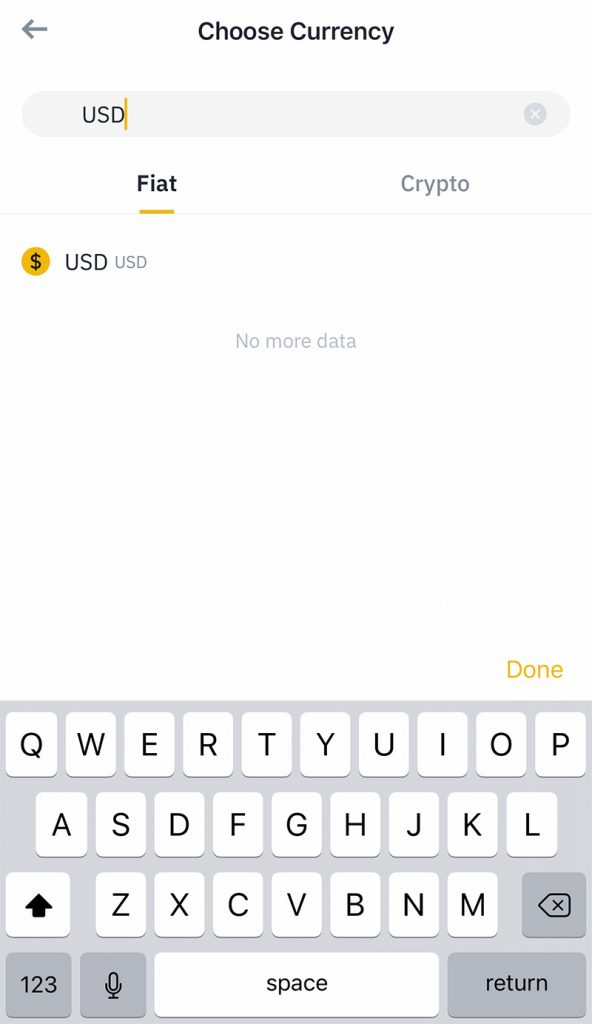 You know you're on the right track when you see 'Deposit USD' on your Binance app and the option 'Bank Transfer SWIFT' is automatically selected. Under 'Bank Transfer SWIFT', you should also see '0 Fee' which means you will be making a deposit to Binance without paying any fees.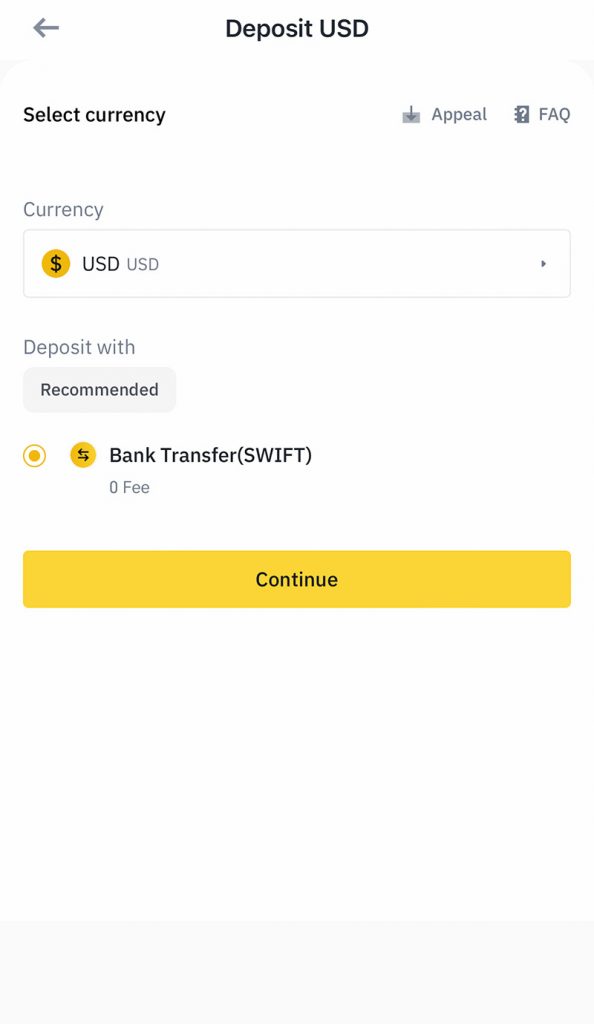 Step 2: Add Money to Binance
The next step is easy. Simply enter the amount of money or funds you would like to add to your Binance account.
We've used a $200 deposit in this example so that you can see that the Binance transaction fee remains zero.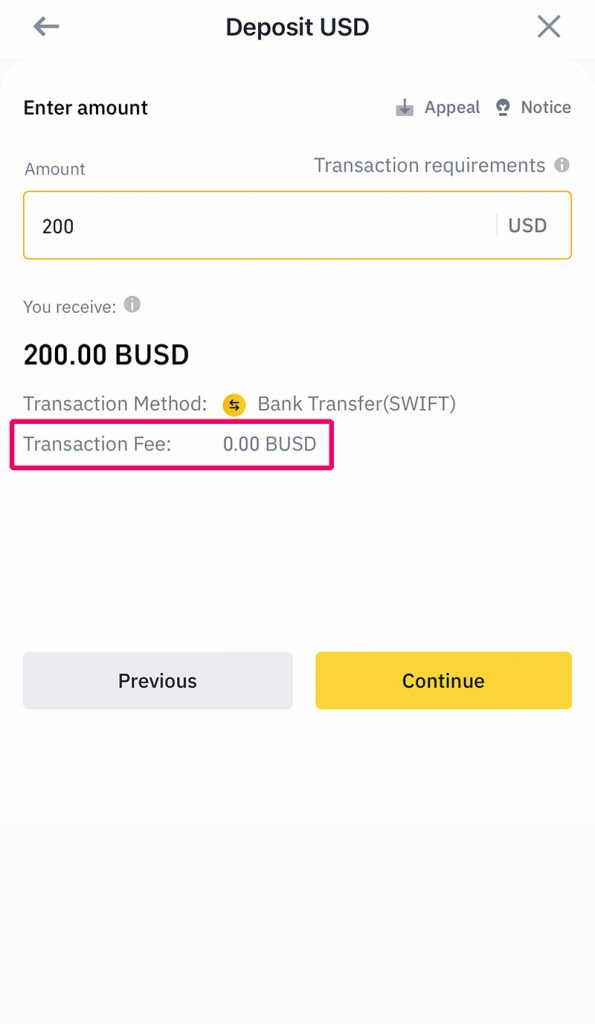 Bonus Tip: If you live in Germany and earn Euros, don't worry. You can easily exchange your hard-earned Euros for USD on Revolut! And the cherry on top? With Revolut, you exchange currencies at the real interbank exchange rate. That means you're getting the same rate you see on Google or on apps such as XE. Zero commissions are charged if you stay within the €1,000 per month currency exchange limit.
Step 3: Important Things To Note Before You Deposit Money on Binance
Once you click 'Continue', the next screen will show some important things you should know before adding funds to your Binance account.
Make sure you read this carefully. Otherwise, there may be delays getting your deposit on Binance.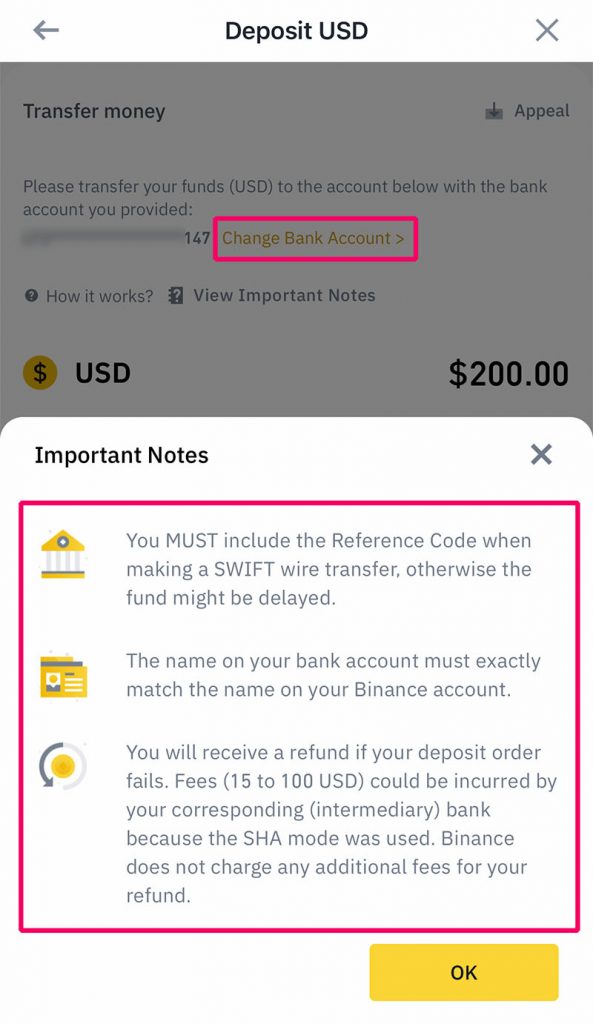 There are two important points to take note of here. Firstly, you need to make sure you include your unique reference code when making a deposit on Binance.
And secondly, the name you use on your Revolut bank account must EXACTLY match the name registered to your Binance account. If it's different, you'll need to change either one so that it matches the other before you can deposit money into Binance.
Step 4: Copy Binance Bank Account Details
Once you've read the important notes and clicked 'ok', you should see the Binance bank account details that you'll need to take note of.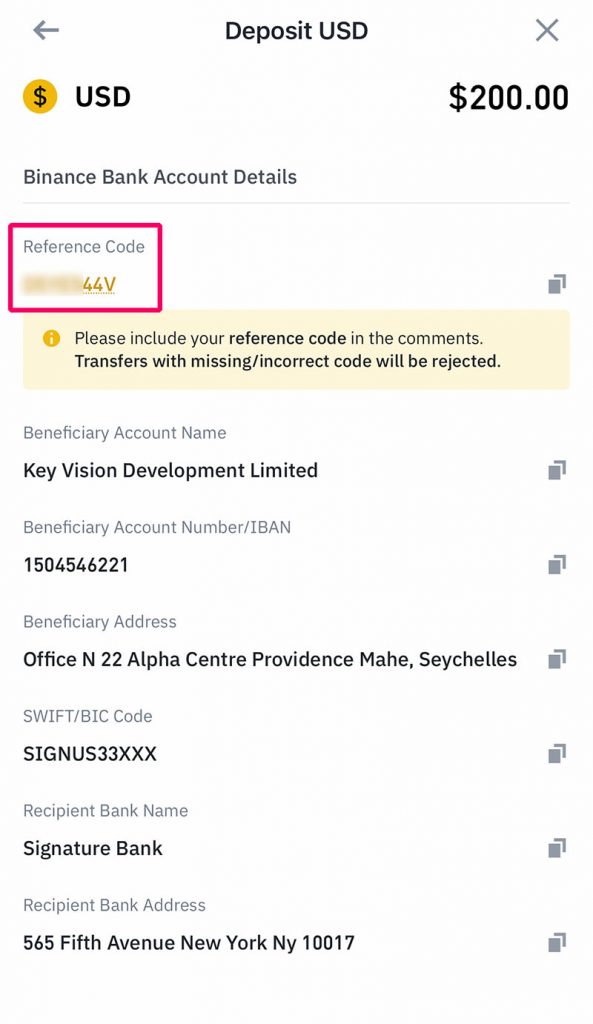 We'd recommend copying each line (by clicking on the two grey squares on the right) and pasting them into Google Keep or a Word document. You'll need to transfer this information to your Revolut app next.
Step 5: Create New Recipient in Revolut
Close Binance and open the Revolut app. Click on the icon 'Transfer' (in the center of the screen) and click the '+ New' button on the top right. Then select add new 'Bank Recipient'.
You should see 'Account Details' on the top of the screen. Click on 'Business' to add Binance as a business bank recipient.
Then add the Binance bank account details you saved earlier (on Google Keep or Word) and insert them in the Revolut app.
Under 'Country of Recipient's Bank', select Seychelles. For 'Currency', select US Dollar. Then copy and paste Binance's IBAN number over. Insert 'Binance' for Company Name and leave 'e-mail' blank.
Once you've filled all the above details in, click on the blue arrow to save and continue.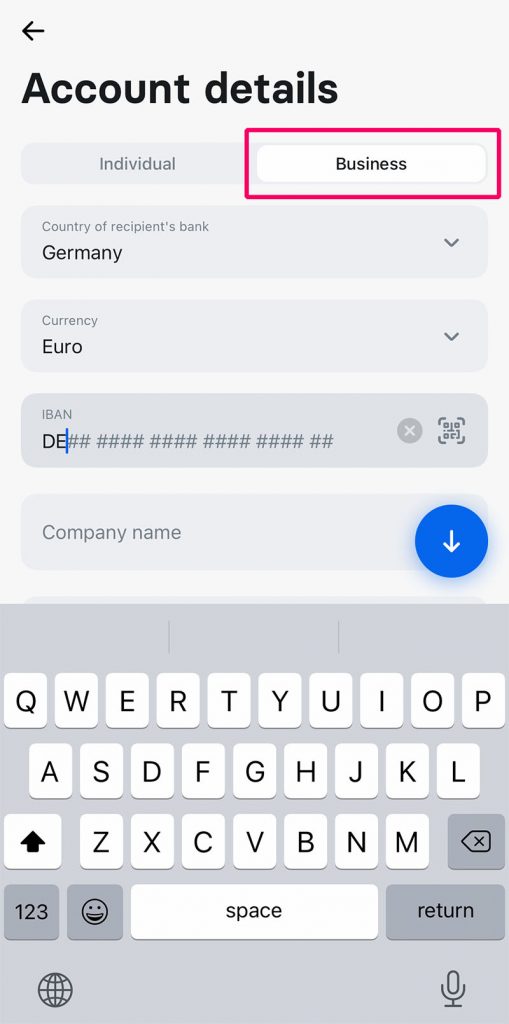 You will now have to insert the bank recipient's address in Revolut. This is important, so pay attention.
The country 'Seychelles' will be automatically selected. But you need to change this to the United States. Next, click on the 'search address' tab on the top and type in: '565 Fifth Avenue New York NY 10017'.
Revolut will show you a list of address options. If none of the options provided are exactly the same as what's given as the 'Recipient Bank Address' in the Binance app, add the address manually. Then click 'Add Recipient'.
Step 6: Adding Funds to Binance
Once you've successfully added Binance as a recipient, click 'send' and insert the amount of USD you want to deposit to Binance.
In the reference tab, make sure you add the unique reference code provided to you on the Binance app and click next.
Revolut will then show you a review of your transfer. You should double-check that the Binance bank account number and reference code are correct.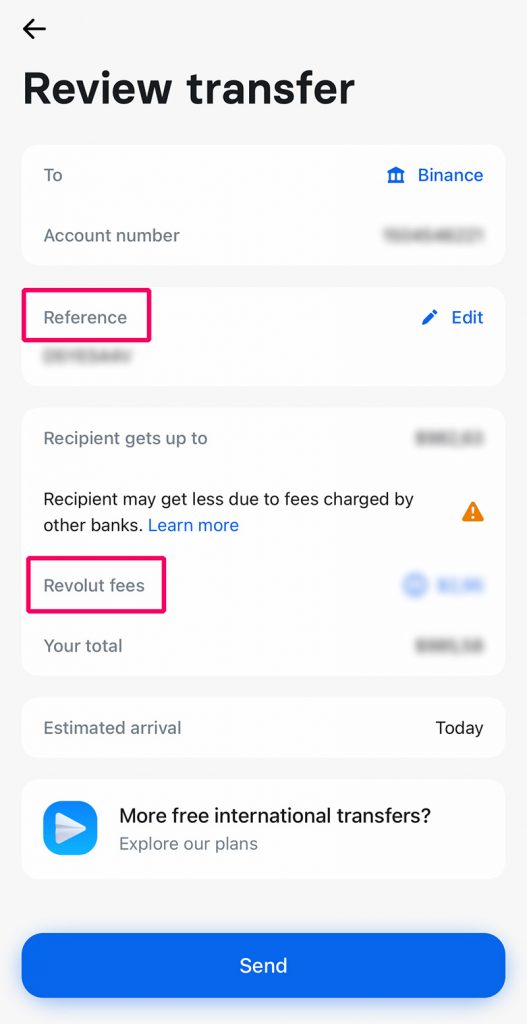 Then look at the payment breakdown to see a summary of how much money (in USD) you're transferring from Revolut to your Binance account.
Depending on the type of Revolut account you have (Standard, Revolut Plus, Premium or Metal), you may or may not have to pay a small international transfer fee.
We have the Standard Revolut account (free option) which has a €1,000 monthly limit. If your Binance deposit is within the limit, then there are zero fees (FREE). If it's over the monthly limit, then Revolut charges you a 0.5% fee.
A bargain if you compare it to the 1.8% Binance fee, right?!
How Do I Transfer Money to Binance Without Fees
And that's it! Now you know how to transfer money to Binance without paying the 1.8% fees.
We know the above process is tedious. But the good news is that you'll only need to do this once. After you've added Binance as a recipient and all the details are saved, you can deposit on Binance much faster going forward.
All you need is to save and copy over your unique reference code when adding funds to Binance, and you'll be able to invest in Bitcoin and other cryptocurrencies in no time.
Related Guide: Looking to invest your money as an expat living in Germany? Read our eToro Review to find out why we use it for investing in ETFs, stocks and more! Find out the pros and cons of eToro VS the other top investment apps to diversify your investment portfolio in Germany.
How Long Does It Take To Deposit Money Into Binance?
You should receive your deposit and see the funds reflected in your Binance account within 24 hours (maximum) if you do it during business hours.
Binance sends you an SMS notification as soon as your deposit hits your account. So you'll know when you can start buying crypto to your heart's content.
How To Deposit Money Into Binance: Additional Tips
Why Do I Have BUSD on Binance?
Don't panic when you receive your USD deposit in your Binance account and it's been automatically converted to BUSD. It's normal!
BUSD is a USD-backed stablecoin that Binance provides. It's essentially a cryptocurrency that is pegged to the USD (i.e. follows the price movements of the USD currency).
So if you've made a deposit of $200 to Binance, you'll see 200 BUSD reflected on your account. You can then use this to buy Bitcoin or any other crypto, as you normally would.
What exactly is a stablecoin and why does Binance convert my deposit to BUSD? Find out the pros and cons of stablecoins here.
How To Get The Best Exchange Rate for US Dollars?
You should always deposit money into your Binance account in US Dollars. Otherwise, you will have to pay unnecessary fees for currency exchange.
Revolut offers the best exchange rates for US Dollars. But make sure to exchange your non-USD currency during market hours on weekdays (i.e. avoid weekends) to get the best rate.
Bonus Tip: Want to learn more money-saving tips using your Revolut account? Read our Revolut Travel Card guide.
Save Me For Later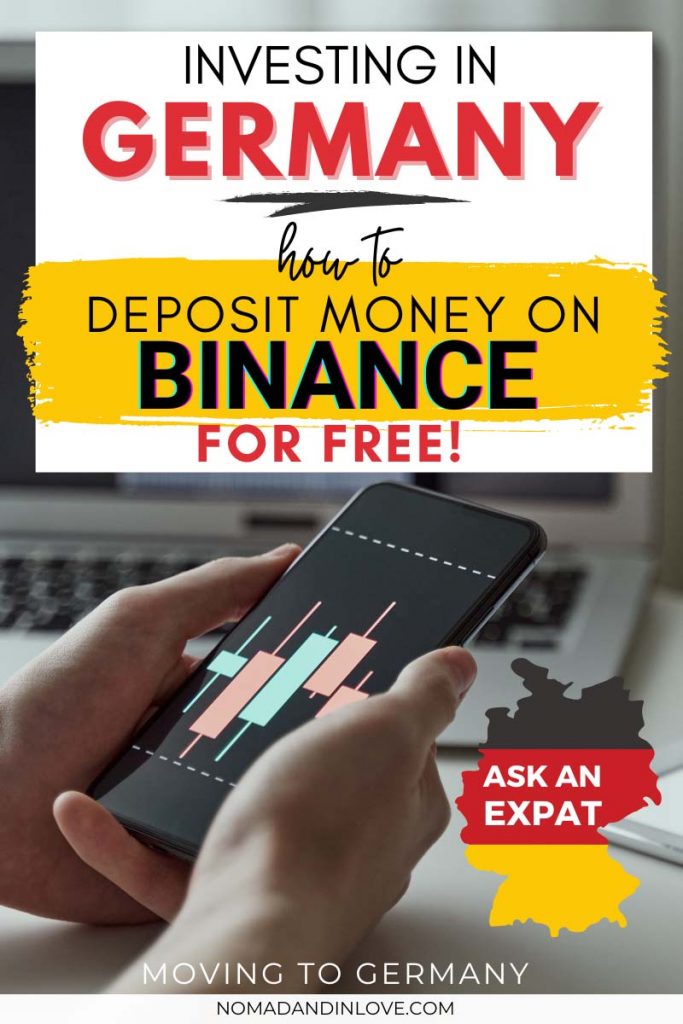 How To Send International Transfer on Revolut With No Fees?
Revolut allows you to send international transfers for free on all of their accounts. But if you're on the Standard (i.e. free) or Plus account, you'll only be able to send up to €1,000 per month before you have to pay a 0.5% fee for international transfers.
To get unlimited international transfers and currency exchange, you'll need to upgrade to the Premium or Metal Revolut account.
If you're planning on adding funds to Binance frequently, it may be worth your while upgrading your Revolut account.
The Premium Revolut account costs £6.99 per month and the Metal Revolut account is £12.99 per month.
Besides getting unlimited international transfers, they offer many other benefits too! Check out Revolut's pricing plans to see what they offer.
Do You Pay Taxes on Crypto in Germany?
You can (legally) avoid paying taxes by investing in cryptos in Germany. That's right!
You won't pay any taxes in Germany if you buy and hold cryptocurrencies for at least one year. So any profit you make from the sale of crypto after investing in them for more than 12 months will be 100% tax-free.
Now you too can work on your tax avoidance skills without worrying about law enforcement knocking on your door!
Oh, and if you want to learn how to file taxes yourself in Germany using ELSTER, we've got a guide for that too.