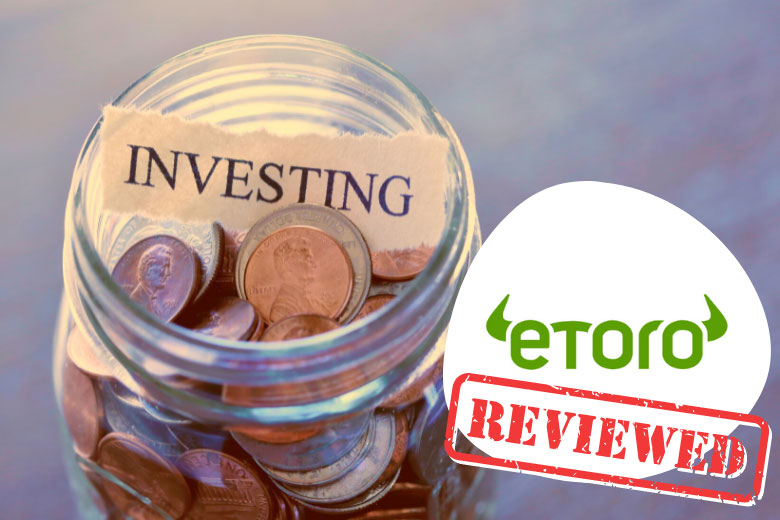 If you're looking for the best way to invest in Germany, eToro has it all, and more! Get global access to stocks, ETFs and crypto, right at your fingertips.
It seems like an eternity ago when we embarked on our investing journey when we first arrived as foreigners in Germany. Fast forward 3 years, we can say with confidence that eToro is without a doubt the best app for stock trading in Germany.
Now we know you've probably seen offers from the likes of Trade Republic, Freedom Finance, Scalable Capital, Vivid Money, Trading 212, Degiro and Plus500 while searching for how to invest in stocks and ETFs in Germany. But any other offer doesn't come close to the value you'll get with eToro. And we'll show you why.
So maybe you're interested in investing in Germany for beginners? Or you're a seasoned investor looking to diversify your portfolio globally? eToro is the answer to all your investment goals in Germany.
This review lists 9 honest reasons why eToro is simply hands down the best way for investing in Germany. We've covered how the eToro trading app compares to its competitors in our eToro comparison review.
Disclaimer: eToro is a multi-asset investment platform and like any investment, values may go up or down. This means that your capital is at risk when investing on any trading platform. For more information, see the eToro disclaimer.
What is eToro and How does it Work
If you've heard of eToro, you can move right along. Your time should be spent in the next sections finding out why you should get the eToro app to invest in Germany. But if you've never heard of it or you're wondering how does eToro work, we'll be happy to enlighten you.
eToro claims to be the world's leading social investment network offering a multi-asset investment platform to more than 25 million users in over 100 countries.
We figured they call themselves a social network because they bring together millions of investors looking to grow their knowledge and financial experience. It's kind of like Twitter, but the conversation is only about investments and you can also trade financial instruments on the same platform.
We'd personally like to think of eToro as a one-stop shop investment platform for both beginners and professionals, where you can securely invest in a multitude of financial assets in Germany. There's obviously a whole lot more to eToro than we're letting on. But we'll reveal all in this review. So keep reading!
In Which Countries is eToro Available
Don't live in Germany? No problem. The eToro investment platform is available in 64 countries. Here's the full list of countries where you can sign up and invest with eToro:
Andorra
Angola
Argentina
Australia
Austria
Azerbaijan
Bahrain
Bangladesh
Bolivia
Brazil
Bulgaria
Cayman Islands
Chile
Colombia
Costa Rica
Cyprus
Czech Republic
Denmark
Dominican Republic
Ecuador
Egypt
Emirates
Eritrea
Estonia
Finland
France
Germany
Gibraltar
Greece
Guernsey
Hungary
Ireland
Isle Of Man
Italy
Jersey Island
Jordan
Kazakhstan
Kenya
Kuwait
Latvia
Liechtenstein
Lituania
Luxembourg
Malta
Mexico
Netherlands
Norway
Oman
Peru
Poland
Qatar
Reunion Island
Romania
Saint Martin
Senegal
Seychelles
Slovakia
Spain
Sweden
Switzerland
United Arab
United Kingdom
Uruguay
Wallis and Futuna
Now that you know what eToro is about, let's jump straight into what you get with the eToro investment app.
eToro Review: Why You Need the Trading App to Invest in Germany
The moment of truth has finally arrived! Here's why you should open an eToro account today to get started with your investments in Germany. You can thank us later.
Save Me For Later
1. Low Minimum Deposit and No Deposit Fee on eToro
One reason why eToro sets itself apart from other ways to invest in Germany is the low minimum deposit required to start investing. If you're signing up for eToro in Germany, the minimum deposit to start investing with your eToro account is only $50.
That's approximately €45 to fund your eToro account to kickstart your investment journey in Germany. And the cherry on top? There is no deposit fee even if you deposit funds by card.
So maybe you're a beginner making monthly contributions to your investment account. Or perhaps you're an avid investor like me, looking to take advantage of bargains that spontaneously come up on the market. eToro makes it easy for you to invest by not restricting you with a large minimum deposit.
But if you live outside Germany, the minimum deposit will vary depending on where you live. You can find the full list of countries and their corresponding minimum deposit amounts directly on the eToro website.
💡 Bonus Tip: You can fund your eToro investment account in USD, EUR, GBP, AUD, RMB, THB, IDR, MYR, VND, PHP, SEK, DKK, NOK, PLN and CZK. Since the eToro platform operates in USD, all deposits are converted to USD using eToro's exchange rate which includes a conversion fee. So make sure you fund your eToro investment account in USD to avoid their conversion fee. You can use Revolut to get the best exchange rates and to easily fund your eToro account in USD.
2. Low Minimum Investment for Stocks and ETFs on eToro
If you're looking for one of the cheapest ways to buy stocks in Germany, you'll be pleased to know that eToro lets you invest in stocks from as little as $10. That's just €9.15 to start trading all 2,735 stocks on the eToro investment platform.
And thanks to fractional shares, eToro lets you buy a fraction of a stock if you can't afford to buy one full share. That means that you too can be an investor in some of the world's top companies, like Amazon and Google, whose shares cost thousands of US Dollars per share.
Just as cheap as it is to start stock trading in Germany, Exchange-traded funds (ETFs) are also available with a minimum investment amount of $10. With eToro, you can invest in 264 ETFs from as little as €9.15.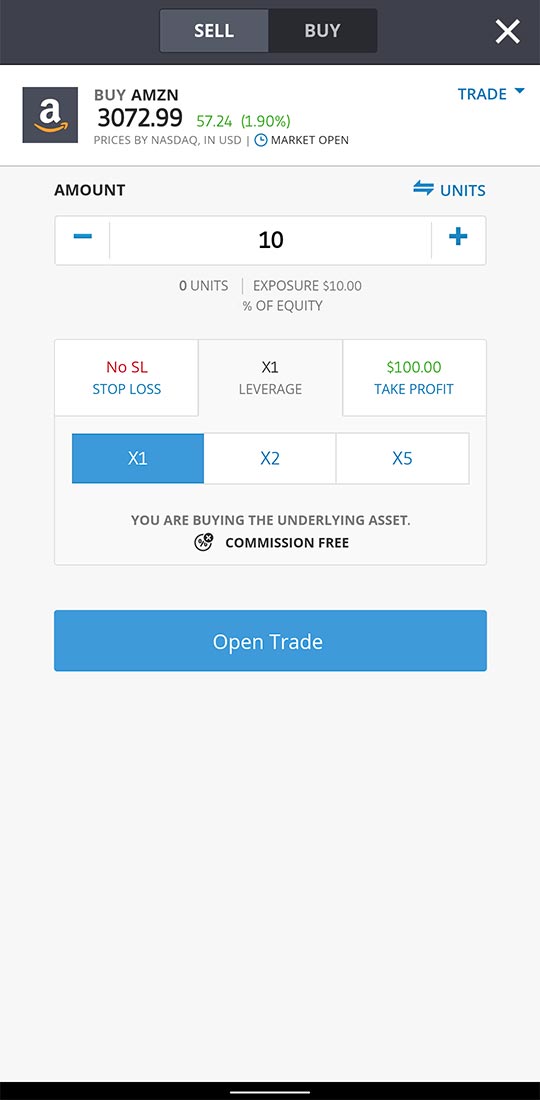 3. Low Minimum Investment for Cryptocurrencies on eToro
If you're into the world of cryptoassets, you'll be happy to know that with eToro you can invest in a wide variety of cryptos from as little as $10. So from just €9.15 you can invest in 64 leading crypto coins on the eToro trading platform.
Gone are the days when investors of Bitcoin (BTC), Ripple (XRP) and Etherum (ETH) were only tech millionaires. With eToro's comprehensive crypto trading experience and low entry point, investors like you and us, can join in on the action as new coins become available.
Fun Fact: You can avoid paying taxes by investing in cryptos in Germany. That's right! You won't pay any taxes in Germany if you buy and hold cryptoassets for at least one year. So any profit you make from the sale of cryptocurrencies after investing in them for more than 12 months will be 100% tax free. Now you too can work on your tax avoidance skills without worrying about law enforcement knocking on your door. Oh and if you want to learn how to file taxes yourself in Germany using ELSTER, we've got a guide for that too.
4. Get Access to Stocks and ETFs on Exchanges Around the World
Investing in Germany doesn't mean you have to be limited to stocks and ETFs that are traded on the German stock market. Especially as the world has become even more interconnected than ever before.
Investing globally will not only help you minimize risk, but also unlock opportunities that may only be available in other markets. After all, the grass may very well be greener on the other side!
That's where eToro comes in! The eToro investment platform gives you access to stocks and ETFs listed on 19 stock exchanges around the world. Which means you can invest in a total of 2,735 stocks and 264 ETFs on eToro listed markets and exchanges.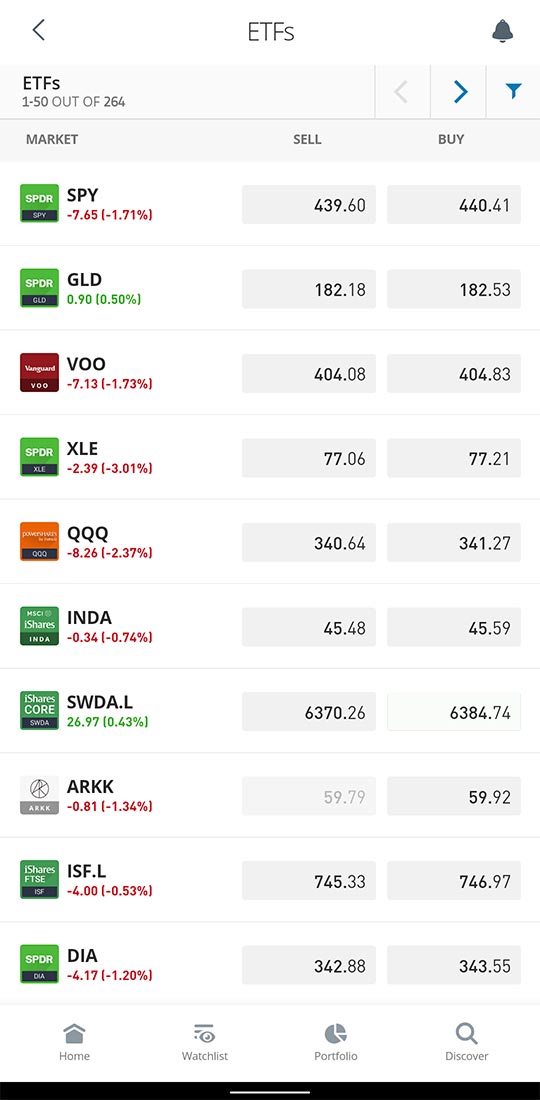 Useful Tip: If you're an expert and want to invest in riskier financial instruments, you'll be pleased to know that you can trade commodities, currencies and indices on eToro. These involve a Contract for Difference (CFD), where you engage in a contract with a CFD broker rather than purchasing the underlying asset directly. Now trading these financial instruments is not really our cup of tea considering how easy it is to incur substantial losses and wipe out your investments. But they are available on eToro if you know what you're doing and need access to them. You can trade 32 commodities, 49 currencies and 13 indices on eToro.
List of Stock Exchanges available on the eToro Trading Platform
eToro constantly reviews their stock offering available on their investment platform. So make sure you sign up for their newsletter to find out when new markets and exchanges are added. Here is the full list of stock exchanges currently available on eToro:
Belgium – Euronext Brussels
Canada – Toronto Stock Exchange
Denmark – Nasdaq Copenhagen
Finland – Nasdaq Helsinki
France – Euronext Paris
Germany – Börse Frankfurt
Hong Kong – Hong Kong Stock Exchange
Italy – Borsa Italiana (Milan)
Netherlands – Euronext Amsterdam
Norway – Oslo Stock Exchange
Portugal – Euronext Lisbon
Saudi Arabia – Tadawul Stock Exchange
Spain – Bolsa de Madrid
Sweden – Nasdaq Stockholm
Switzerland – SIX Swiss Exchange (Zurich)
United Kingdom – London Stock Exchange (LSE)
United States of America (USA) – Chicago Board Options Exchange
USA – NASDAQ Stock Exchange
USA – New York Stock Exchange (NYSE)
Fun Fact: eToro's listed markets and exchanges are located in Asia, the Middle East, Europe and North America. Due to the overlap in their market hours, you can trade stocks and ETFs between Sunday 8am (when the Saudi Arabia market opens) and Friday 10pm (when US markets close). So if you're investing in Germany, trading in stocks and ETFs is available 6 days a week on the eToro platform. You can find the exact eToro market hours for stocks and ETFs on the eToro website.
5. Wide Range of Cryptocurrencies Available for Investment on eToro
There are over 10,000 cryptocurrencies in circulation today. Unless you're a stay-at-home billionaire and have all the time in the world to research all the crypto coins out there, investing in cryptocurrency in Germany would be an impossible task.
You can currently invest in 64 different cryptocurrencies on the eToro investment platform. These include a wide range of leading coins, so you can be assured you have access to the most popular and trending cryptos.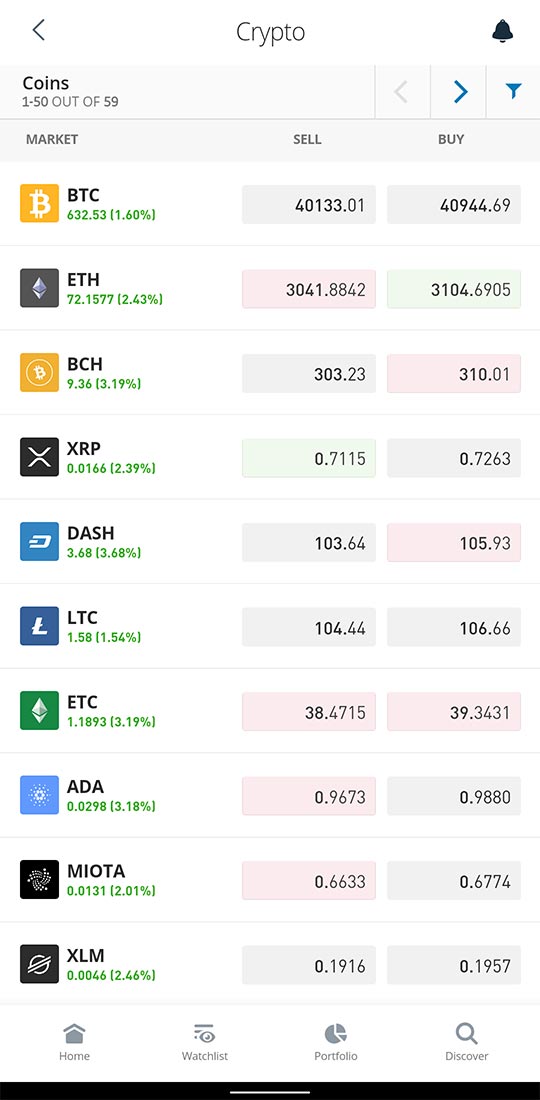 List of Cryptocurrencies available on the eToro Trading Platform
eToro adds new cryptocurrencies to their trading platform from time to time. So make sure you sign up for their crypto newsletter to stay in the know. Here is the full list of cryptos currently available on eToro:
1INCH – 1inch
AAVE – Aave
ADA – Cardano
ALGO – Algorand
ANKR – Ankr
APE – ApeCoin
API3 – API3
ATOM – Cosmos
AVAX – Avalanche
AXS – Axie Infinity
BAL – Balancer
BAT – Basic Attention Token
BCH – Bitcoin Cash
BNB – Binance Coin
BNT – Bancor
BTC – Bitcoin
CELO – Celo
CHZ – Chiliz
COMP – Compound
CRO – Cronos
CRV – Curve
DASH – Dash
DOGE – Dogecoin
DOT – Polkadot
DYDX – dYdX
ENJ – Enjin
ENS – Ethereum Name Service
EOS – EOS
ETC – Ethereum Classic
ETH – Ethereum
FET – Fetch.ai
FIL – Filecoin
FTM – Fantom
GALA – Gala
GRT – The Graph
HBAR – Hedera Hashgraph
KNC – Kyber Network
LINK – Chainlink
LRC – Loopring
LTC – Litecoin
LUNA – Terra
MANA – Decentraland
MATIC – Polygon
MIOTA – IOTA
MKR – Maker
NEO – NEO
QNT – Quant
REN – REN
SAND – The Sandbox
SHIB – Shiba Inu
SNX – Synthetix
SOL – Solana
STORJ – Storj
SUSHI – SushiSwap
THETA – Theta
TRX – Tron
UMA – Universal Market Access
UNI – Uniswap
XLM – Stellar
XRP – XRP (Ripple)
XTZ – Tezos
YFI – Yearn.finance
ZEC – ZCASH
ZRX – Ox
Fun Fact: There are actually 65 crypto coins on eToro. Spark (FLR) is the 65th cryptocurrency listed on the investment platform. However, it is not currently available for trading. But eToro has confirmed that it will be made available for investing in the not so distant future.
6. Cheap Withdrawal Fee and Low Minimum Withdrawal Amount
Nothing lasts forever! Not even your investment term. The time will eventually come when you'll need to disinvest (yes, that's a real word) your entire or portion of your entire portfolio.
Whatever your reasons might be, no one wants to be slapped with excessive withdrawals fees or an extremely high minimum withdrawal amount. Afterall, these fees just erode any returns you may have realized.
eToro charges a flat rate withdrawal fee of $5 per withdrawal, with a minimum withdrawal amount of $30. So if you need to liquidate some or all of your investment on eToro, it will cost you approximately €4.50. And you'll need to withdraw a minimum amount of about €27 from your investments in Germany.
💡 Bonus Tip: Remember that the eToro platform operates in USD. So any withdrawal paid into a bank account that is not denominated in USD will be converted to your local currency using eToro's exchange rate which includes a conversion fee. Just make sure you withdraw any funds from your eToro investment account to a USD bank account to avoid eToro's conversion fee. You can use Revolut to set-up a free USD bank account and to get the best exchange rates. Now you too can easily withdraw from your eToro account in USD without the fees.
7. No Management and Broker Fees on eToro
You can usually tell if a company is taking you for a ride simply by looking at their fees. Imagine paying a recurring management fee just for someone to 'look' at your portfolio once a month, without being offered any real value in return. We absolutely hate being swindled, so that will never happen again!
eToro's fees (or lack thereof) is just another reason why eToro sets itself apart from other ways to invest in Germany. That's because if you're investing in stocks and ETFs, you pay no management fees on the eToro investment platform.
That's 0% commission on stock and ETF trades. So no markup, no ticketing fees, no stamp duties, no rollover fees, zip, nada!
So what's the deal with eToro fees? How do they make money?
Well, you only pay the bid-ask market spread and no additional broker fees. Which in simple terms is the difference between the highest price that a buyer is willing to pay and the lowest price that a seller is willing to accept.
The amount by which the ask price exceeds the bid price is how eToro makes their money. Which is fair considering you have access to a kick-ass trading platform to manage your investments in Germany.
Not So Fun Fact: Investing in cryptocurrency on eToro can be quite expensive. That's because eToro charges a 1% fee for buying or selling cryptoassets. The 1% fee is added to the market price (bid-ask spread) when you open a crypto trade and when you close it. Although the fee seems reasonable, trading apps that specialise in cryptocurrencies like Binance and Coinbase offer even lower fees. eToro still have a long way to go to get their crypto fees to zero. Thinking of opening a Binance account to trade crypto? Then make sure you read our How To Deposit Money on Binance for FREE guide!
8. Investing on eToro for Beginners is Made Easy with Practise Account and CopyTrader
If you're new to investing, it's very easy to fall for a clever bit of marketing. Before you know it; you've got the trading app installed, money deposited and you've bought your first stock in a matter of minutes. And you've officially discovered how to invest in Germany!
That's actually how we started trading on eToro. We kept seeing Alec Baldwin aggressively campaigning for it on TV, cinema, social media, toilet urinal ads and eventually in our dreams. But we kinda glad we did!
But if you're looking to start your investing journey in Germany and have no clue what you're doing, eToro is perfect for beginners. eToro gives access to a virtual account to practice on and even gives you the ability to copy trades of more experienced investors.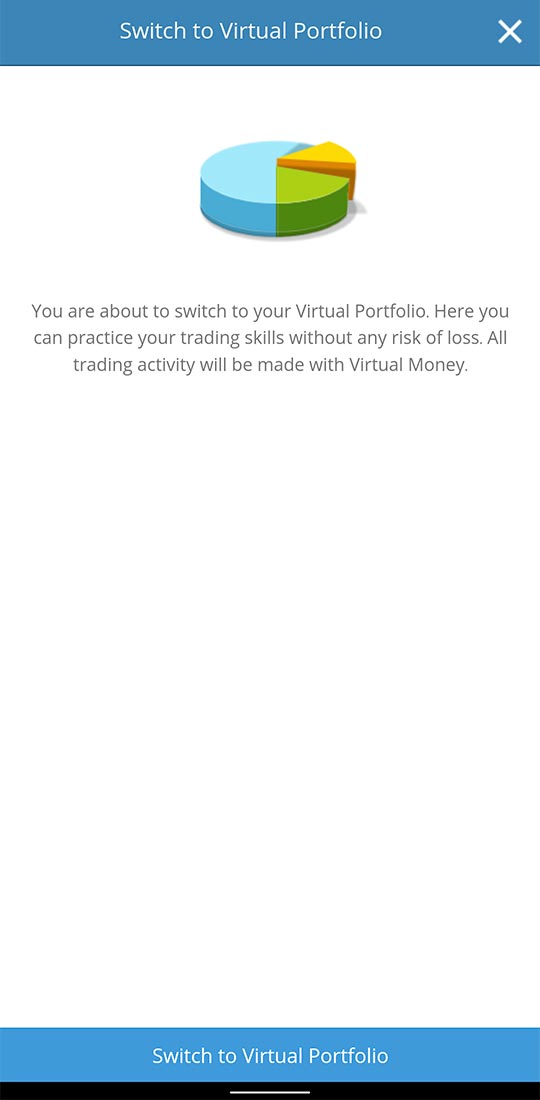 Not So Fun Fact: Investing long-term is a great way to beat the market and earn superior risk adjusted returns. It's been proven over and over again by many investment scholars, ourselves included. But don't invest and forget about your money! eToro charges a $10 monthly inactivity fee if there is no login activity on your account. The inactivity fee will only be charged on any remaining available balance and no open positions will be closed to cover the fee. But it's still a good idea to keep an eye on your investments in Germany. Just in case!
What's the eToro Virtual Account?
eToro's virtual account comes loaded with $100,000 and let's you trade in real time as if you were really investing in stocks, ETFs, cryptocurrencies and all the other financial instruments available on the platform. The eToro demo account is ideal for beginners looking to practise investing. It's also a great way to improve your trading skills.
If you don't have time to learn the art of investing or maybe a top-performing investor has caught your eye and you want to replicate their investment strategy, eToro offers CopyTrader.
What's eToro CopyTrader and How Does it Work?
CopyTrader is the game changer for us non-professional investors (retail investors). This feature comes in handy especially if you're not too clued up about investing in shares and ETFs.
Simply put, CopyTrader lets you allocate a portion or your entire portfolio to replicate the entire portfolio of a top earning investor. So if this investor's portfolio consists of 70% stocks and 30% cryptos, when you invest $1,000 using CopyTrader, $700 will be instantly allocated proportionately to each share and $300 to each cryptocurrency.
And each time that investor rebalances their portfolio, CopyTrader will automatically replicate those changes for you in real time. It's as if you're making the trades yourself, but eToro's technology handles it for you when the trusted investor you're copying buys or sells financial instruments.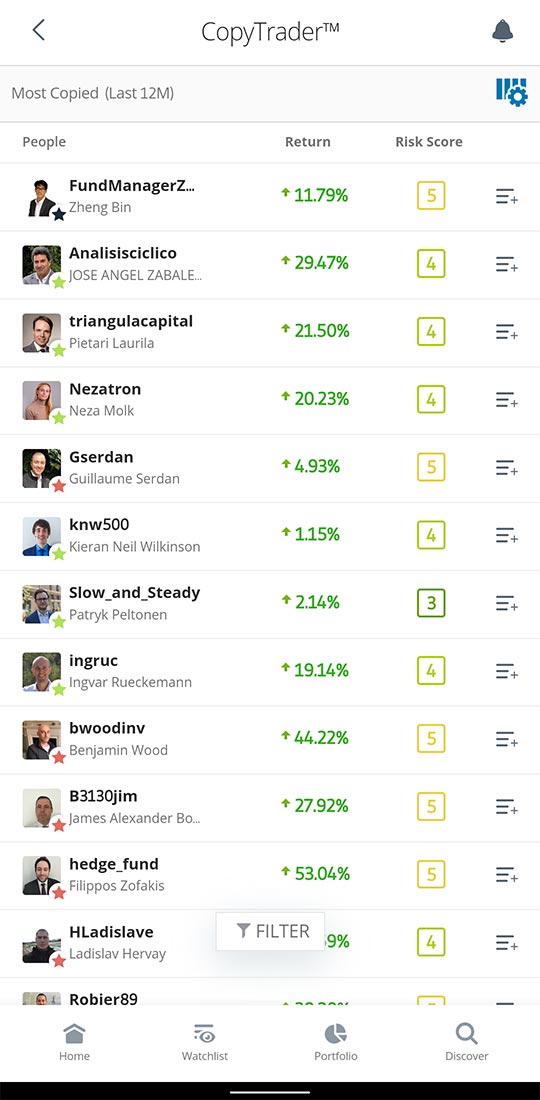 Fun Fact: CopyTrader is FREE. There is no management fees or any other hidden costs when you invest using CopyTrader. So now you too can benefit from expert traders that are earning above average returns on their investments.
9. You Get €1 Million Investment Protection with eToro
By now eToro is probably starting to sound like some scheme your estranged uncle tries to sell you every time he sees you at the yearly family gathering. After all, no one wants to deposit their hard earned money into an investment platform that might go bust in a week.
But is your money on eToro safe? You bet! If you're investing on eToro from Germany or anywhere else in Europe, you can rest assured that your investment is safe. That's because eToro in Europe is regulated by the Cyprus Securities & Exchange Commission (CySEC). Which means you get regulatory protection of €20,000.
But that's not all! In addition to the regulatory protection offered by CySEC, eToro also offers its clients FREE investment insurance of up to €1,000,000 in the event of insolvency. Just make sure your investments in Germany do not exceed 1 million Euro in value and you can sleep easy at night.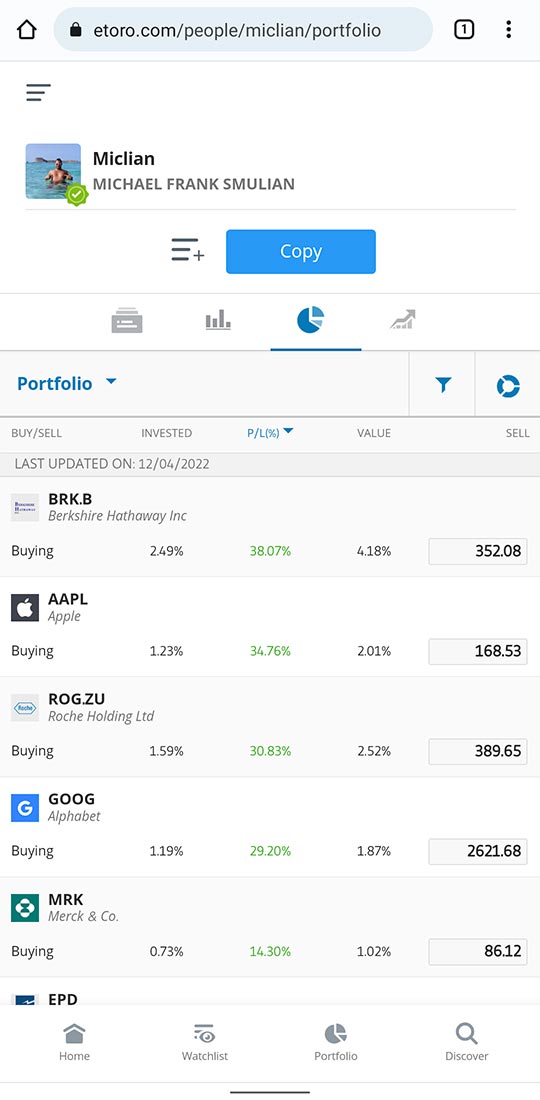 Not So Fun Fact: Cryptoassets (non-CFD) are NOT covered by eToro's €1,000,000 FREE investment insurance. So unless you're trading crypto CFDs, which is probably a bad idea if you want to limit your risk exposure, you won't benefit from eToro's additional investment protection. Either way, cryptocurrencies are still relatively new to financial markets. So not a lot of insurers are willing to cover them just yet.
Things eToro Can Improve
If you've read this far, you're either sold and can't wait to get started with investing in Germany. Or, you're starting to suspect that we work for eToro. We don't blame you, we would too!
Honestly, what eToro offers is just brilliant! Whether you're a beginner or a seasoned investor, eToro's one-stop shop investment platform gives you access to everything you'll need to set you up for success. And there's simply nothing else out there we've tried that comes close.
But not everything is perfect. There are certain things eToro can improve, and it's only fair that we share them with you.
1. eToro Crypto Fees
There's no secret that eToro's cryptocurrency fees are not the most competitive out there. Even with their 1% fee which is added to the market price (bid-ask spread), crypto exchanges such as Binance and Coinbase will easily give eToro a run for their money.
If you're not planning to invest in cryptocurrency, then eToro's expensive crypto fees should't be a deal breaker. But not having exposure to cryptoassets in this day and age might not be the best strategy if you want to give your investments in Germany the best chance of outperforming the market.
With more investors looking to diversify their portfolios with crypto, we feel that eToro could do more to lower their high crypto fees. If eToro can charge zero fees to invest in stocks and ETFs, surely they can reduce or even eliminate cryptocurrency fees to make crypto more accessible to investors.
2. Delay in eToro Opening Hours
Literature teaches us that to be successful at investing, one needs to play the long game. And we totally agree with that! Long-term investment strategies have been proven over and over again to beat the market. We've tested this theory, done the research and seen the results with our own eyes.
But we're living in unprecedented times where information becomes immediately available to just about anyone with internet access and a smartphone. And being able to act on information quickly to make adjustment to your investments in Germany can be the difference between mediocre and above-average returns.
We've witnessed first hand that eToro experiences delays in opening hours of market exchanges from time to time. Which is extremely frustrating if you're trying to execute investment orders before the usual market frenzy that follows sends asset prices sky-high or rock-bottom.
Although they don't occur frequently, these delays in opening hours could be worth the two birds in the bush that seem to elude us all. Now all you'll be left with is a fist full of missed opportunities.
3. eToro Customer Service Response Time
Trying to get in contact with eToro customer service is like posting a letter without registered mail and hoping, praying, that it arrives. And when you eventually receive a reply, the entire ordeal of having to wait an eternity puts you off trying to get in contact with eToro customer service ever again.
Perhaps we're exaggerating a little. But that's how we honestly felt when we requested an investment report to file taxes in Germany. And every other time we've been in contact with eToro customer service.
eToro customer service's response time is slow and you'll wait several 'working' days before getting a reply. They really need to step up their game. But in their defence, the eToro Help Centre, community and online tools contain a wealth of information if you're the self-help type of person.
Useful Tip: eToro has made it easy for you to access your investment account statement which is required to file a tax return in Germany. You can also access a financial summary for any time period directly from your account, which displays information relevant to filing taxes. Information such as breakdown of the fees, commissions (spread) and profit/loss are all included in the summary. If you need to get started with taxes in Germany, make sure you check out our How to File Taxes on ELSTER guide.
4. Spam on eToro Social Trading Network
The first impression you get after you download and install the eToro app, is that it looks a lot like a social network app. That's because eToro prides itself as being the world's leading social trading network. They really do walk the talk!
But we've all come know that social networks, if not monitored and filtered adequately, are often plagued by spam. Especially when the network is used by millions of users like on eToro.
The moment you launch the social trading network app, you're directed to the News Feed filled with latest posts. And the number one eToro complaint you'll see in comments on the social trading platform is, you guessed it, spam! And there's tons of spam on the eToro social investment platform.
How Does eToro Compare to Top Investment Apps in Germany
Still not sure if eToro is the investment app for you? Then check out our side-by-side comparison of how eToro fairs against top investment apps in Germany.
You can see exactly how eToro compares to the likes of Trade Republic, Freedom Finance, Scalable Capital, Vivid Money, Trading 212, Degiro and Plus500. And decide for yourself if eToro is really the best way to invest in Germany.
Get the Best Trading App for Investing in Germany
We've given you more than 9 reasons why eToro is the only trading app you need to invest in Germany. We've also shown you how eToro compares to top investments apps in Germany.
But don't take our word for it. Open your free investment account today and try it for yourself.
We hope our eToro review has helped answer all your questions about the eToro investment platform. If you have any questions about the eToro trading app, feel free to reach out. You can also check out the eToro website for more information.