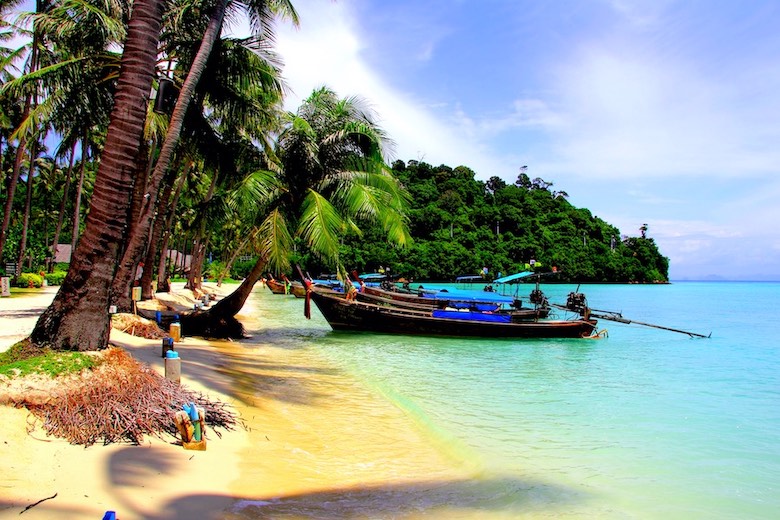 Tips on how to easily get around Thailand on the cheap using public transportation. The best way for travelling around Thailand and discovering hidden gems.
Travelling to a new destination is exciting. Experiencing new cultures, indulging in local cuisine and exploring foreign places, are some of the experiences we most look forward to when we travel.
But sometimes it can be tempting to stay within the boundaries of our resort, village, city or island simply because we don't know how to use public transport systems abroad.
Let's change that, starting with Thailand.
This guide will cover how to use public transportation in Thailand (trains, bus and ferries) to easily and affordably explore this beautiful South East Asian gem.
The Fastest Transportation to Get Around Thailand
Flying is generally the fastest way to get anywhere in Thailand but it comes at a premium. Travelling by road, rail or sea is usually a cheaper alternative to flying.
Although flights in Thailand (and generally in South East Asia) are cheaper than in Europe and other parts of the world. You can save even more money, if you consider taking one of these alternative modes of transport.
Not only are buses, trains and ferries generally cheaper, they'll also the best transportation to take to discover off the beaten path destinations in Thailand.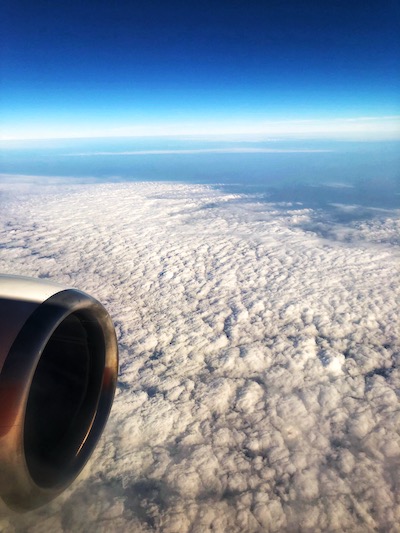 It's important to bear in mind that not all places in Thailand are accessible by plane. Some unique and remote places like Khao Sok National Park are only accessible by trains, buses and ferries so it's a good idea to consider other public transportation options if you'd like to visit less touristy places in Thailand.
If your only option is flying, then make sure to read our Travel For Cheap Guide. We share how we're able to save as much as 53% when booking flights, hotels and car rentals.
What is the Best Way to Get Around Thailand
The best option depends on where and how far your destination is. Most routes between popular destinations in Thailand have already been defined with regular and direct transportation services available on a daily basis from major towns and cities (Bangkok, Surat Thani, Phuket, etc.).
These routes are usually displayed on timetables at local travel agencies, bus stops and online (12Go Asia). Certain defined routes may include a combination of two or more modes of transportation.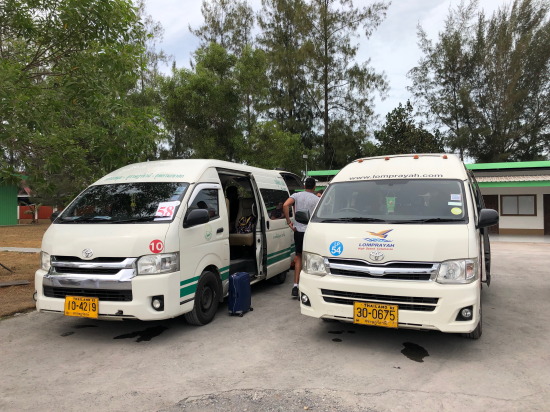 Public Transportation in Thailand
One thing that really confused the hell out of us is the term 'public'. In Thailand, it is so broadly used that all operators, whether bus, rail or ferry transportation services, are commonly referred to as 'public' even though they are operated privately. We'll explain why and how they work so you can pick the most budget-friendly option to suit your pocket.
Save Me For Later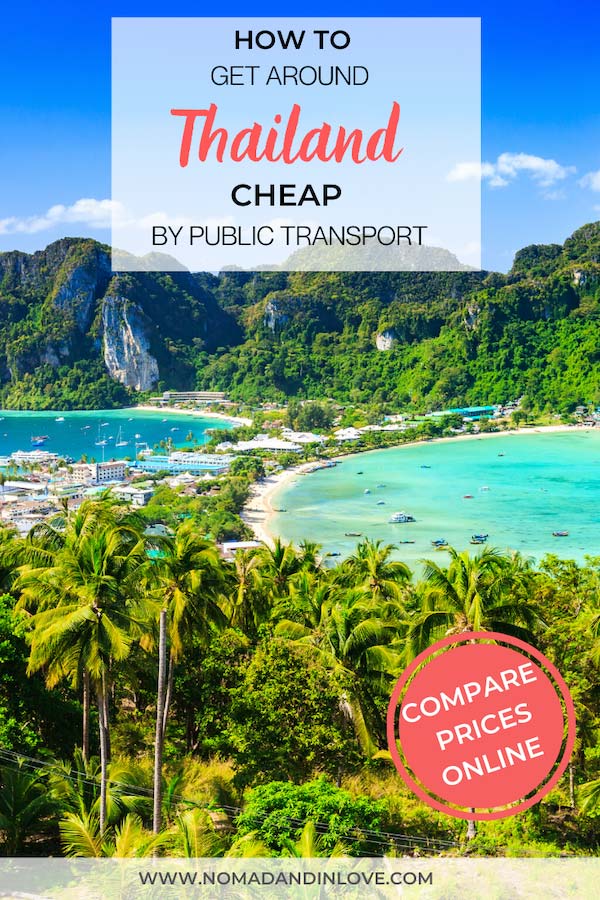 Buses in Thailand: Private vs Public Operated Buses
The main difference between a privately- and a publicly-operated transportation service in Thailand is simply price, speed and comfort. Often there are a number of privately operated services competing with each other, but departing at different times. So you can easily pick one that suits your schedule.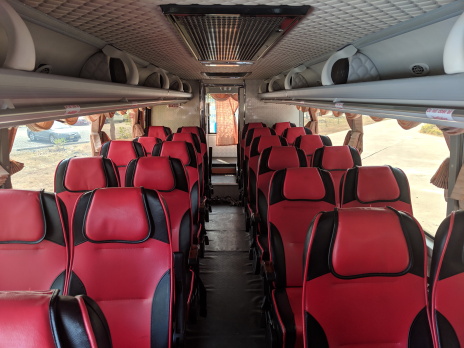 Thailand Bus Transportation with Lomprayah
We used a private operator called Lomprayah to get from Krabi to Koh Phangan because we found that the costs were similar to other privately run operators. Lomprayah cost 100 Baht more (which is less than €3), but it's absolutely worth it.
The cabin was air-conditioned, the route was direct (non-stop) and the ferry was faster (by at least an hour). The staff also spoke relatively good English, which is great if you don't speak any Thai.
This it the exact route we took to get from Krabi to Koh Phangan: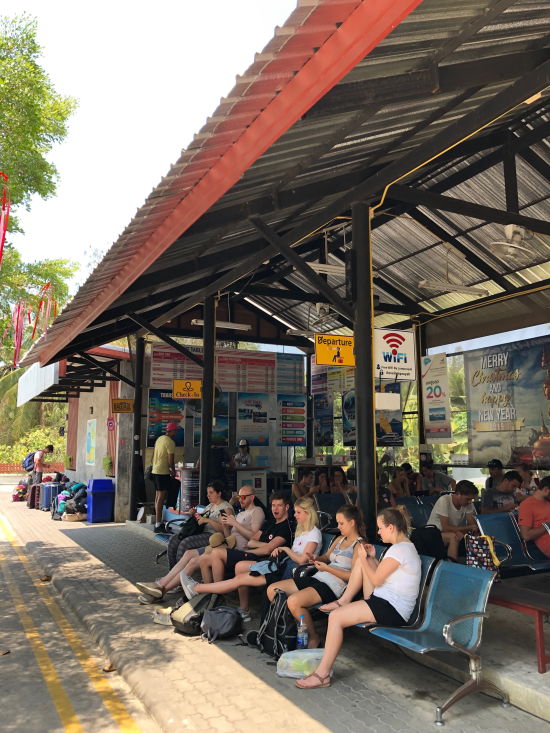 Getting from Krabi to Koh Samui, Koh Phangan and Koh Tao
A Lomprayah minibus transfer to their main bus station in Krabi (collected us from a meeting point close to our hotel)
Arrive at Lomprayah main bus station to get stickers for bags and yourself (so you know which bus to get on)
Get on super comfy, air-conditioned bus for a 3 hour ride to Don Sak port
At the port, wait for your destination to be called so you get on the right ferry
Ferry took around 3-5 hours depending on sea conditions. The ferry will first stop at Koh Samui, then Koh Phangan and lastly Koh Tao
Bonus Tip: Try to get on the ferry as soon as possible. Your ticket reserves a spot but does not specify a seat number. If you're one of the last to arrive on the ferry, you may have to sit in the uncovered sections. This is fine if the weather is great, but if it's raining… (you get the point).
Thailand Transportation Costs and Budget
Total Cost (to Koh Phangan): 700 baht (we opted for the fast ferry which arrived an hour earlier). The slower ferry is 600 baht.
Total Travel Time: 7 hours. Our journey involved bus, minibus and ferry, but it was effortless to say the least.
If your desired route is not available, relax! Don't despair. You just have to be creative and combine two or more defined routes to reach your destination. It's easy!
Bonus Tip: Bring water and snacks for the trip. You can buy at the bus or ferry stations, but it will be more expensive compared to 7 Eleven.
Public Bus Transportation in Thailand: The Real Deal
On the other hand, the 'real' public bus transportation in Thailand, is not for the faint hearted. Don't get us wrong. We weren't born with silver spoons in our mouths but you'll have to be more open minded and adventurous to use the public bus.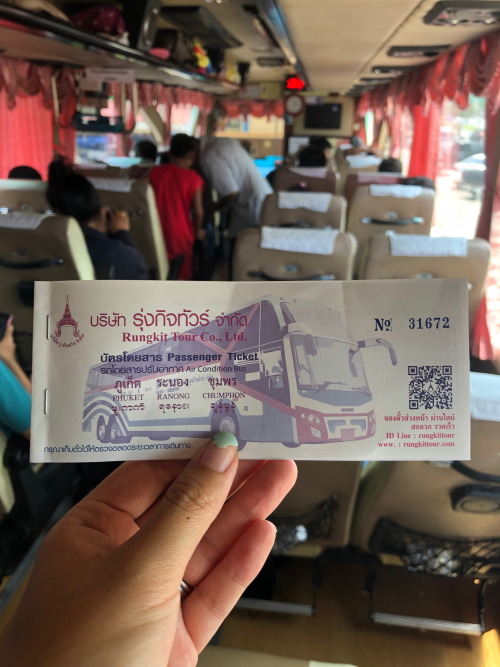 We took the public bus from Khao Sok to Ranong. Then from Ranong to Phuket and paid 80% less (220 and 250 Baht respectively) than taking the private mini-van transport option (1000 Baht per person).
The cabin was air-conditioned but stopped working half way through the journey. The commute took significantly longer because the bus was visually older and stopped every few kilometres at the request of commuters wishing to disembark.
Their staff didn't speak much English (understandable, since we're in their country) so we had to rely on a mix of Google Maps, Google Translate and hand gestures to explain where we were getting off.
And the toilet was pretty much out of service. Unless you were willing to hold yourself still (in a moving bus) with one hand. While pinning down your cell phone under your chin (for light), and simultaneously handling your junk with the other hand. TMI?
It wasn't our finest moment, but we would totally do it again if time is not a factor. After all, why would you pay 5 times the price when you can bake in a bus for 7 hours. We're not being sarcastic at all. It's just our inner "thriftiness" coming out.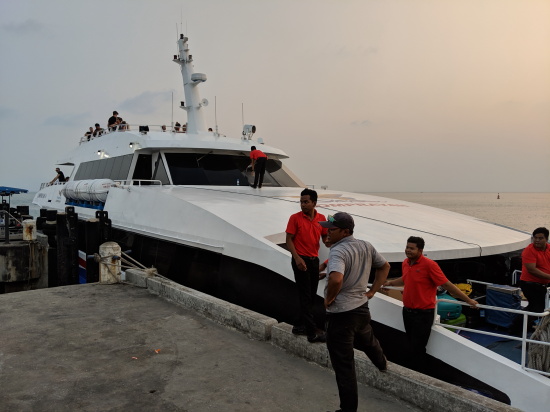 How to Buy Cheap Bus, Train and Ferry Tickets in Thailand
There are only three options for buying transportation tickets in Thailand: street-side agents, online, or directly from the operator. You can buy bus, rail and ferry tickets easily and for cheap using any of these three ways.
Prices are fixed, so either option is just as easy and cheap.
One advantage of buying from a street-side agent though, is that they'll arrange for you to be picked up from your hotel and taken to the terminal, station or pier for free (if your hotel is within a certain zone) or for a small additional fee. Use this option if you have a lot of luggage and need help with your bags.
Fares are usually displayed on boards or on request, so just shop around first to make sure you're not paying more than you have to.
Buy Thailand Transportation Tickets Online
The other option is to buy your ticket via an online agent such as 12Go Asia. The advantage of buying tickets online is that you can compare prices to see if you're getting the best deal. You can also pay with a credit card without being charged an additional 3% to 4% fee, which is the norm in Thailand.
If you prefer to buy your tickets in person, make sure you have cash on you if you don't want to pay the 3% to 4% credit card fee.
We used our Revolut card on all our travels because we get the best exchange rates. ATM withdrawals are also usually free, but in Thailand the Thai banks do charge a withdrawal fee.
You can read more about it in our Krabi Travel Tips Guide if you want to know which Thai bank has the lowest withdrawal fee.
As we've said before, fares from street-side and online agents are usually the same. But don't take our word for it. Always compare prices to see if you're getting the best fare. Feel free to use the 12Go Asia search form to compare prices online before buying your tickets.
Is Public Transportation Safe in Thailand
We've all imagined an overcrowded bus with livestock and baggage tied to its roof. But that's not the case in Thailand. Having asked locals about getting around in Thailand, many of them recommended we use the public bus, train or ferry.
They themselves rely on it and frankly, if it's good enough for them, then it's good enough for us too.
We've personally taken the public bus several times and besides it taking a little longer because of the number of stops along the route dropping off and picking up passengers, it's 100% safe. Some of them are so nice that you can even charge your phone and watch TV (… if you have a VHS tape).
In fact on one occasion, government officials carried out safety inspections on our bus before departure to ensure that it was roadworthy. If that doesn't give you peace of mind then not even The Avengers can reassure you!
Discover The Top Places To Visit in Thailand
Getting around Thailand is easy and cheap. We've done it and so can you. We were pleasantly surprised at how affordable, efficient and extensive the transportation system in Thailand is. It's probably one of the best in South East Asia.
Learning how to get around in Thailand using public transportation, really gave us the confidence to discover more non-touristy and less crowded places in Thailand.
Some of which, include our recent discovery of the beautiful beaches in Koh Phangan, embarking on our first scuba diving liveaboard experience around Similan and Surin Islands and going on some of the most exhilarating hikes on our 3 day trip in Krabi.
If it's your first time travelling to Thailand, make sure you read our 7 Krabi travel tips. We may have written it specifically for Krabi, but most of the tips are applicable for travelling anywhere in Thailand.
We've shared useful tips like how much to budget daily, whether it is card friendly and even how to rent a scooter in Thailand.
Next time you're in Thailand, jump on train, bus or ferry and travel like we did, and you too can travel around Thailand for cheap and like a local.