A personal account and honest review on how effective it was learning German on the Busuu app for 30 consecutive days and whether it's worth upgrading from the Busuu free to Premium subscription.
Moving to Germany has given us a reason (and motivation) to learn a new language. And with a language as tricky as German, you need all the help you can get!
So after using a combination of attending German language school, Duolingo, as well as other free and creative ways to learn German online, we thought we would try Busuu Premium Plus and review it.
Yes! We did another language learning experiment. But this time we tried the paid subscription to find out whether it's worth it.
So if you're keen to know what the differences between the Busuu app's free vs premium plans are, the pros and cons, how effective it is, and whether it's worth paying for the Busuu Premium plan, you've come to the right place.
Disclosure: This Busuu review is not sponsored in any way. But whether a guide is sponsored or not, we always share our honest opinion.
What is Busuu?
You'll probably know what Busuu is if you've used Duolingo before. But in case you haven't.
Busuu is a language learning platform you can use to learn languages online. You can access Busuu's language courses directly from your phone (via the Busuu app) or log on to their website from your desktop computer.
This means that you can literally learn a new language anywhere with an internet connection (and some willpower of course).
Like Duolingo, Busuu is gamified and both language apps offer free and premium plans. But that's as far as the similarities go.
Besides that, the free language learning apps are completely different in their content and teaching style.
Busuu Discount Code
Get 60% discount on any premium Busuu language course (12 month plans only)! Offer is valid between 13 September 2023 until 30 September 2023.
Busuu CEFR Language Levels
Busuu offers online language courses that have been structured according to CEFR levels. That's the Common European Framework of Reference (CEFR) for languages.
This is important because it means that you'll be following a language curriculum that is valid and recognized in every European country.
It also ensures that you'll have the same language skills for that level whether you learned German in Portugal or learned German in Germany, like us!
So if you're serious about learning a language and it's more than just a hobby. You should definitely consider taking language courses that follow the CEFR framework.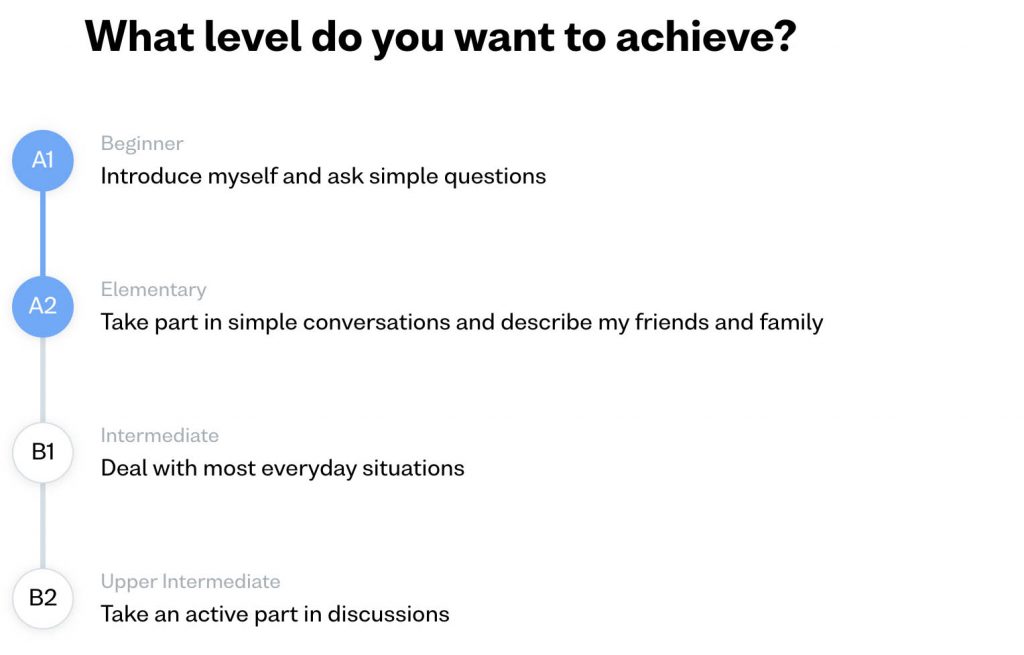 The fact that Busuu offers language courses that follows the CEFR curriculum is probably one of its best features!
It makes learning a new language way more structured, less random and allows you to easily switch to a language school if you ever feel the need to attend in-person classes.
We did the Busuu German course for this review, which allows you to learn German from A1 to B2 level.
Busuu Language List
Besides German, you can learn 12 other languages on the Busuu app. From popular languages like Spanish, French and English to more complex and challenging languages like Arabic, Russian and Japanese.
Here's the complete list of languages that you can learn on the Busuu app:
How to Change Language in Busuu?
Are you using the free version of Busuu and wondering how you can change the language? Don't worry. It's a frequently asked question that comes up all the time. You're not alone.
That's because the Busuu app only allows you to learn one language per account on the free subscription. Only the Busuu Premium Plus plan allows you to change and learn as many languages as you want.
Is Busuu Free?
The answer is both yes and no. Yes, because you can most certainly download the Busuu app for free and use the free plan to supplement your language learning.
And no because you'll only be able to access a very limited range of Busuu's entire language learning content with its free plan.
Here's a snapshot of our progress on the Busuu app. You'll see that we were able to complete some lessons to 100% but others not.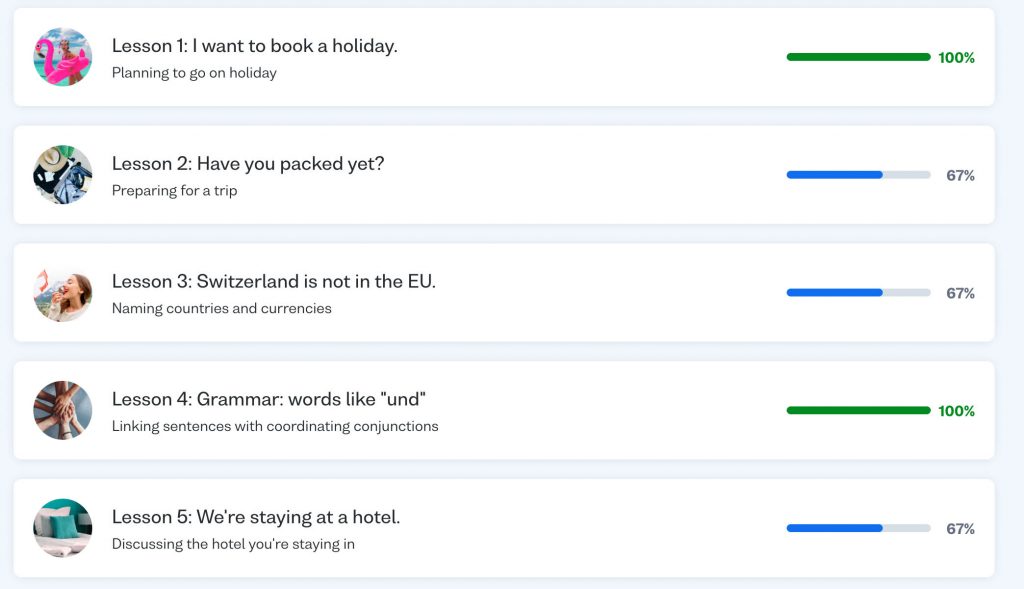 The ones we did not (or rather could not) complete was because we were using the free version of Busuu before we finally upgraded to the premium plan.
Busuu Free vs Premium
So what exactly are the differences between the free vs the premium version of the Busuu app? The short answer – A lot!
The Busuu Free Plan Review
Busuu's free plan is great for absolute beginners. Most of the lessons are flashcards that help you learn new words and vocabulary.
With Busuu's free version, you may not learn as much vocabulary as other free language learning apps like Duolingo or AnkiApp. But you'll have a better grasp on how that word fits in a sentence as Busuu uses examples that you'll likely use or hear in real-life!
This is so important. Many of the free language learning apps use examples that are too basic and not relevant for real-life situations. So even though you're expanding your vocabulary list, you have no real way of knowing how to use it when it comes to including it in everyday conversations.
Don't know what we mean? Here's an example.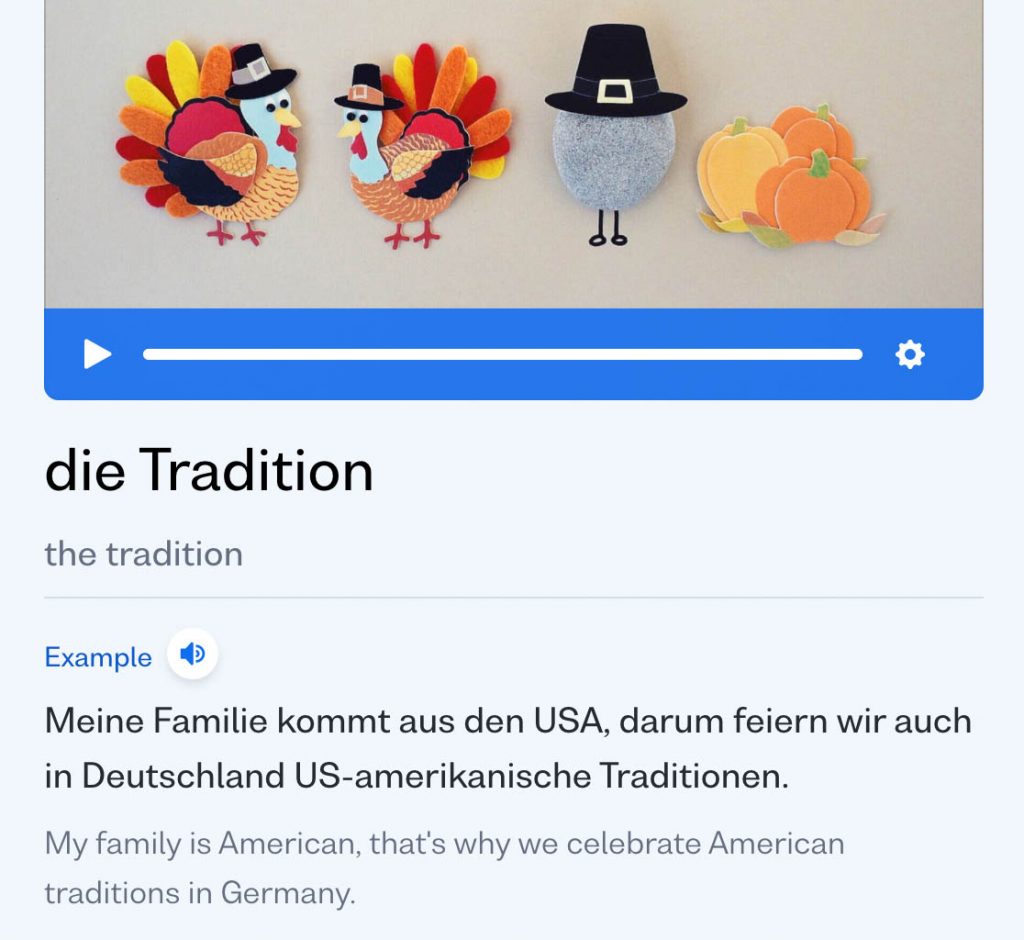 This is a screenshot of one of the German vocabulary lessons we did on Busuu. The first part teaches you the new word (along with a cute image to make it more memorable) and it also includes audio so you can learn how to pronounce the word.
Free Busuu: The Pros and Cons
But the cherry on top has got to be the example. A real-life example of how the word would be used in everyday conversations. We love the fact that many of these examples also teach you the cultural aspect and nuances of that particular language.
Besides learning vocabulary on the free Busuu plan, you'll also get access to a limited selection of lessons that will help you learn grammar rules and improve your listening comprehension skills.
Overall, the free Busuu plan is great if you just want to learn a few basic phrases for traveling or if learning the language is just a hobby. But if you're serious about learning the language for work or moving abroad, then you'll definitely have to supplement it with other ways to learn and improve your German.
Related Guide: If you're enjoying this Busuu review, you'll probably want to know how effective Duolingo is for learning German. Read all about it in our 4-month Duolingo experiment.
Busuu Premium
If you're not an absolute beginner and are serious about learning the language, then you should consider paying for the Busuu Premium plan.
The premium plan allows you to access a whole lot more language learning content and is worth paying for.
Besides vocabulary flashcards, you also get access to all the grammar lessons and exercises, audio dialogues to improve your listening skills, reading and writing exercises, quizzes, and access to the Busuu community where they connect you to native speakers who will give you feedback on your speaking and writing skills.
That's not all. If you choose the Busuu Premium Plus plan, you also get an official certificate that will prove and validate that you achieved that particular CEFR language level. Awesome, right?
We've personally put in the work and hours and are proud owners of our very own German A2 level certificate.
Busuu Premium vs Premium Plus
Busuu has two premium subscription plans: Busuu Premium and Busuu Premium Plus.
Both Busuu Premium plans allows you to:
Practice writing and speaking with native speakers via the Busuu community platform
Download and access lessons in offline mode
Access all the grammar lessons with the option to review your weak words
Access the vocabulary trainer to help you memorize new words
But there are some key differences between the Busuu Premium vs Premium Plus plans. These are:
| Busuu Premium | Busuu Premium Plus |
| --- | --- |
| No study plan | Personalized study plan |
| Only 1 language course | Learn up to 12 languages |
| No CEFR Certificates | Get official CEFR Certificates |
Difference between Busuu Premium & Premium Plus subscription
Busuu Official Language Certificate
Let's quickly chat about the official language certification before we jump into prices.
If you choose to go with the Busuu Premium Plus plan, you are eligible to get an official language certification. But in order to get it, you need to finish the coursework for that level, complete a final level test and achieve a sufficient score to prove that you do have the language skills for that level.
The final level test gets marked immediately. So you'll know if you scored enough to be awarded the language certification.
The certificate comes in a digital format. Download and save it to your computer and if you really want, you could print it out and frame it too.
The official language certificate Busuu issues you are certified by McGraw-Hill Education, one of the world's largest and most respected educational organizations.
You could probably use it to show what language proficiency you have for a job application. But these language certificates do not have the same weight as those issued by IELTS, TOEFL or TestDaF. This means that you won't be able to submit these language certificates as part of visa submissions and applications.
Save Me For Later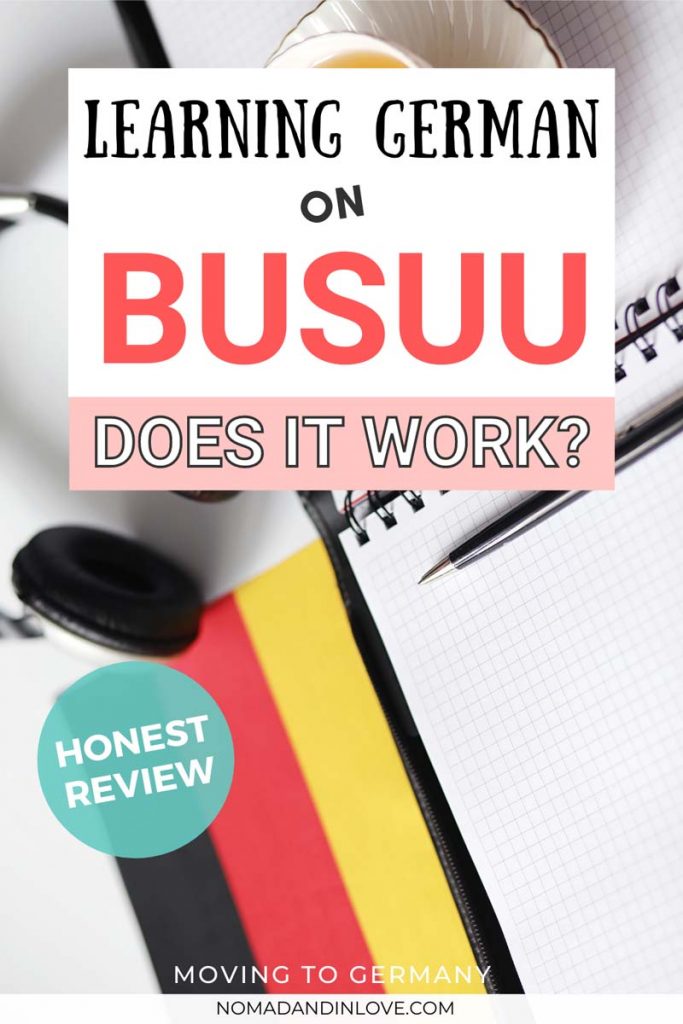 How Much Does Busuu Premium Cost?
All of this is all good and well, but how much does Busuu cost if you want to make use of its premium plans?
Busuu offers 3 different price plans for its premium subscriptions: A 3-month, 12-month, and 24-month subscription.
You'll pay a lower monthly rate for Busuu Premium by picking a longer subscription plan. But you have to pay this amount upfront.
This means that you'll pay for 3 months upfront for the 3-month subscription plan, pay 12 months upfront for the 12-month plan, and so forth.
You can, of course, cancel the plan in between. But that only means that Busuu will not renew your next subscription. You won't get refunded the amount for the remaining period and you'll have access to its full language learning content till your subscription period ends. It's pretty standard and fair in our opinion.
It may seem like a big commitment to make, even for the Busuu Premium 3-month subscription. But the pros are that the prices are really reasonable and you'll probably be more committed to learning a new language when you know you've paid for a certain period.
Busuu Premium Cost Comparison
Here's are the current prices for the Busuu Premium vs Premium Plus plans:
| Plan | Busuu Premium | Busuu Premium Plus | Total Cost |
| --- | --- | --- | --- |
| 3-month Plan | €9.99 / month | €11.66 / month | €30 to €35 |
| 12-month Plan | €5.83 / month | €6.66 / month | €70 to €80 |
| 24-month Plan | €5.41 / month | €6.24 / month | €130 to €150 |
Price per month for Busuu Premium vs Premium Plus plans
The price difference between the Busuu Premium vs Premium Plus plan is around 15%. So we'd recommend getting the Busuu Premium Plus plan to get the most value out of your money.
Most people (including us) would be inclined to buy the 3-month Busuu Premium plan. But before you do that, make sure you check whether they're offering discounts on the 12-month and 24-month subscription first.
Busuu often offers awesome discounts on their 12- and 24-month premium plans which can be up to 50% off!
If we compared the cost of Busuu Premium vs Duolingo, the prices are similar but you get way more value with the language learning content on Busuu. We'll prove that in the next section.
And finally, there's simply no price comparison between Busuu Premium and attending in-person language schools. In Berlin, attending German language schools could cost anywhere between €200 to €750 per month. This equates to paying around $10 to €38 per day!
Related Guide: Can't decide between Busuu vs Duolingo? Read our comparison guide to find out which language learning app is best for your goals.
How to use Busuu?
Our Busuu review would not be complete if we didn't explain how to use Busuu to maximize your language learning experience.
We'll focus mostly on the Busuu Premium plan because the free version is pretty straight forward.
Busuu Placement Test
The first thing you'll do when you join Busuu is complete a placement test. This is great for finding out which CEFR language level you should start at if you're not an absolute beginner.
We love this feature because Busuu allows you to do placement tests again whether you're on the free or premium Busuu plan. Whereas for other free language learning apps (like Duolingo), you can only do a placement test at the beginning of the language course if you're not a premium subscriber.
We also like the fact that you can always check your progress and how far along you are in the language course.
This is a screenshot of our progress when we started the premium plan for the Busuu German A2 level.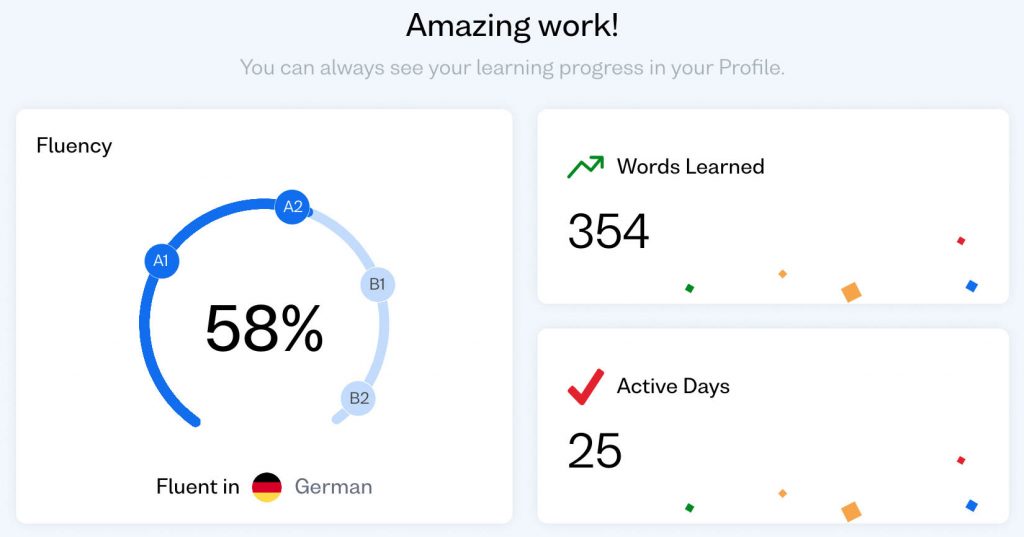 Busuu Study Plan
Next, you'll pick a study plan to follow by choosing what you're interested in learning. The options are for business, travel, or for culture.
We picked 'culture' since we're learning German for the purposes of moving and living abroad in Germany.
After you make your selection, you'll then pick how many times per week you want to dedicate to language learning. The Busuu app will then set reminders to notify you to do your lessons at those times.
Busuu Dashboard
And that's it! From there you should go straight to the Busuu dashboard where you'll see where you are in the language course.
Each lesson has a topic name and a short description of what you can expect to learn. We like that it's easy to see what lessons come up next so you can decide whether you want to move on or review what you've learned on the Busuu app.
Each lesson also has a time estimate so you know approximately how long it will take you to complete it.
Besides the easy-to-follow and clear structure, we find it really helpful that each language lesson builds on what you already know, rather than just random and unrelated lessons.
Busuu Premium Review: The Pros And Cons
Now comes the answer to the big question: what do we honestly think about the Busuu Premium Plus plan after using it for 30 consecutive days and is it good for learning German?
In our opinion, yes – it's probably one of the most complex and comprehensive language learning apps that we've tried. Even Busuu's free version offers pretty extensive content compared to other free language learning apps.
We felt that our level of German improved. Especially our reading, writing, and listening skills. But in terms of speaking German, not so much. Unfortunately, there's no easy way to learn to speak a language besides practicing and speaking it as often as possible.
Busuu does give you access to native speakers to practice your speaking and writing skills. But to be honest, we're a little too shy and self-conscious to record audio in a foreign language and have it sent to a complete stranger.
Related Guide: If you goal is to learn to speak German as fast as possible – then Lingoda is your answer! Find out how much it costs, whether it's effective and all the pros and cons in our Lingoda review.
Advantages of Busuu
1. Comprehensive Yet Concise Grammar Explanations
The grammatical explanations on Busuu are simply awesome. They're accurate, easy to understand, yet short and sweet.
They've even managed to explain confusing grammar rules (there's plenty when you're learning German) like when to use 'weil' vs 'denn' in a simple and clear way.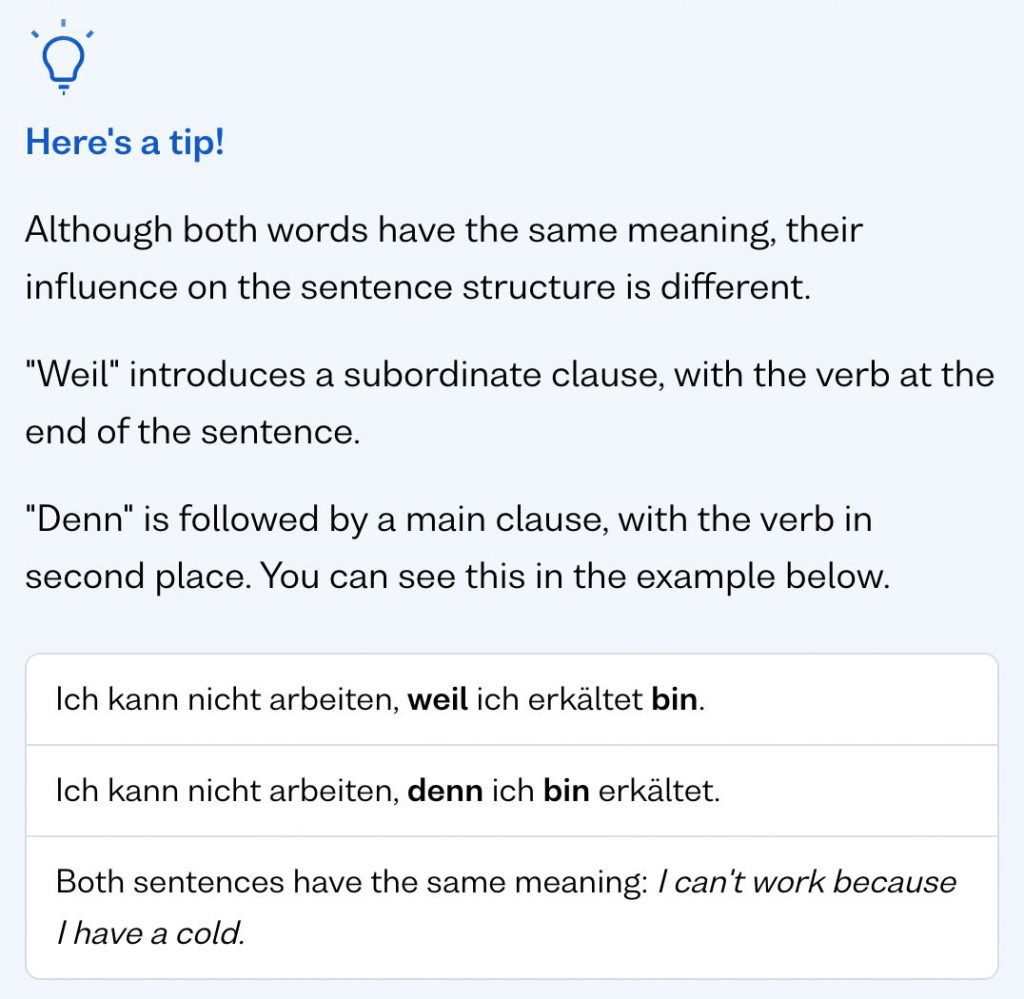 Plus, they also include useful tables to help you understand and memorize mind-boggling grammar rules.
Like this table below. It summarises the 16 ways you can say 'the' in German. Can you see why German is a tricky language to learn now?
We're not sure if there's a way to save these tables and grammar explanations on the app. But we usually take a screenshot of these on the Busuu app so we can review them later.
2. Language Content Relevant For Real-Life Situations
This is another important one. The content in the language course is actually relevant for real-life situations. This means that they teach both the formal and colloquial words used in everyday conversation so you don't end up speaking like someone who's time-traveled from the previous century.

We also love the fact that they include cultural tips as part of the language course. It helps you understand the subtle cultural nuances and aspects of the language that you won't normally pick up in your average textbook.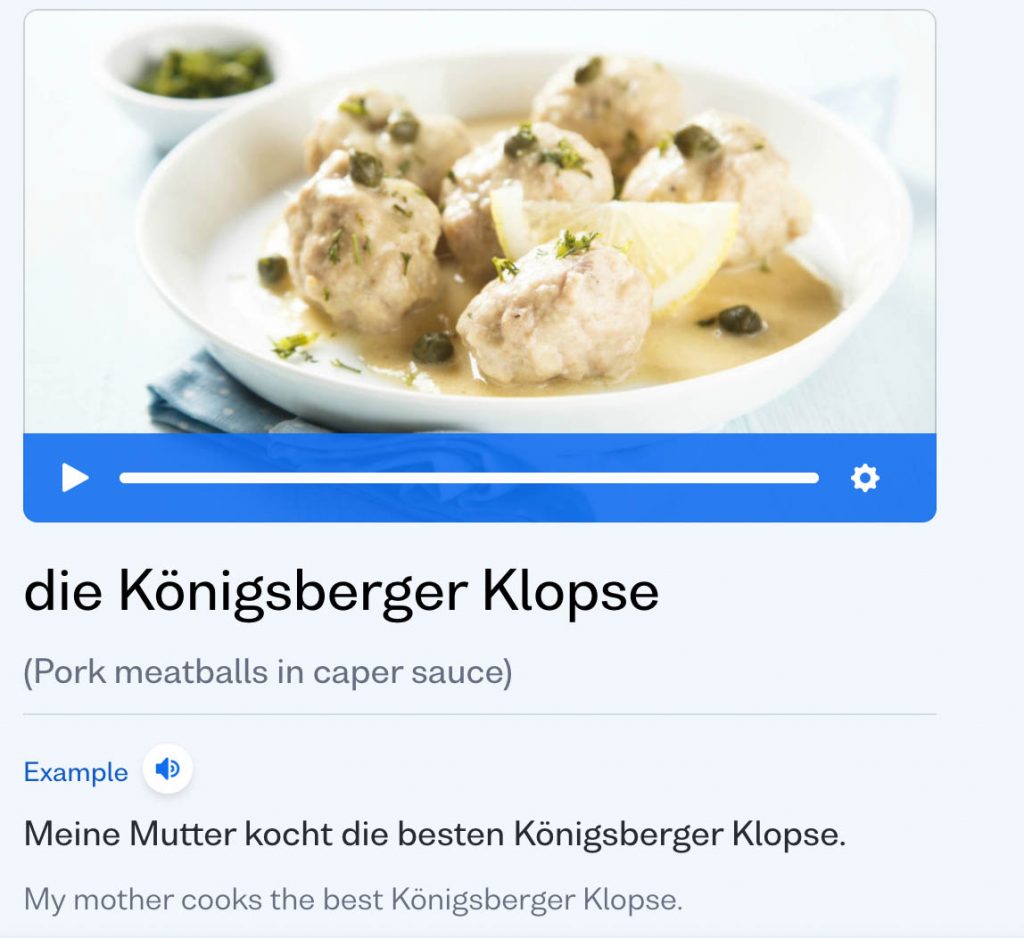 Here's another good example. Maybe this explains why so many people find the dating scene so challenging in Germany.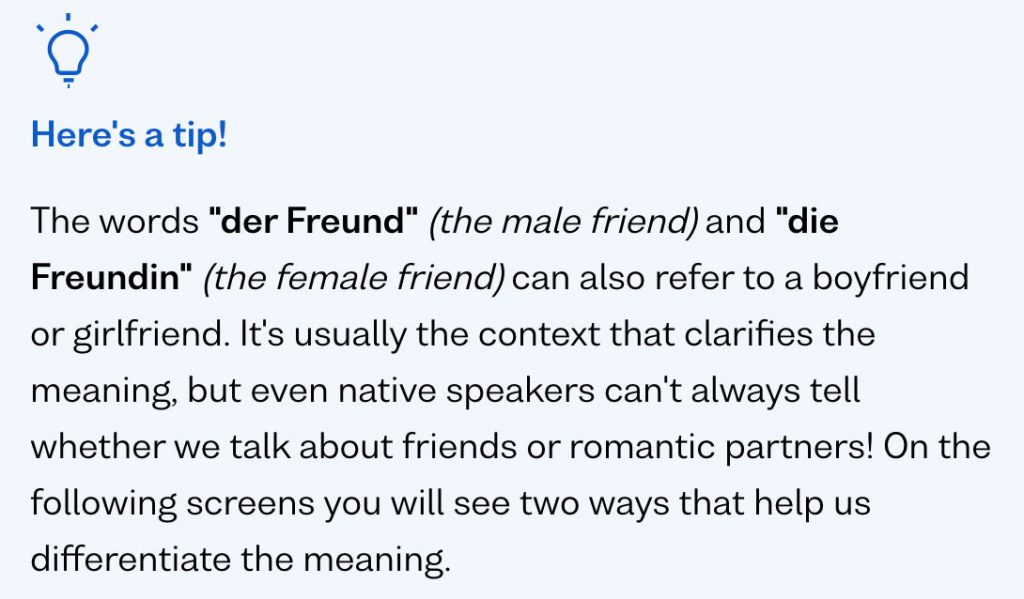 3. Great Reading and Listening Exercises
Many of the reading and listening exercises on Busuu are based on real-life situations too. Like listening to announcements at a train station, booking flights through a travel agent, visiting attractions in Germany, or viewing an apartment.
These really helped us improve our listening and writing skills.
4. You Can Learn At Your Own Pace
Probably one of the biggest advantages of learning German online is that you can go at your own pace.
We managed to finish the Busuu A2 German language course in 30 days. Whereas if we had gone to a German language school, the same coursework would have taken 2 months.
Another bonus is that you can go back at any time to review previous lessons on the Busuu app.
5. Top-Notch Design and User Experience
Both the Busuu app and website are polished, professional, easy and fun to use.
The extra effort that has gone into 'gamifying' the language learning experience really makes a big difference. Now you can never use the excuse that learning new vocabulary or grammar rules are boring.
6. Connecting to native speakers
This is a really cool feature on the Busuu app. But its effectiveness in helping you learn a new language will largely depend on you.
Like we said, we're a bit shy to record an audio of ourselves speaking German and prefer to use the writing option. But if you're not, you'll probably make use of this feature better than we did.
Save Me For Later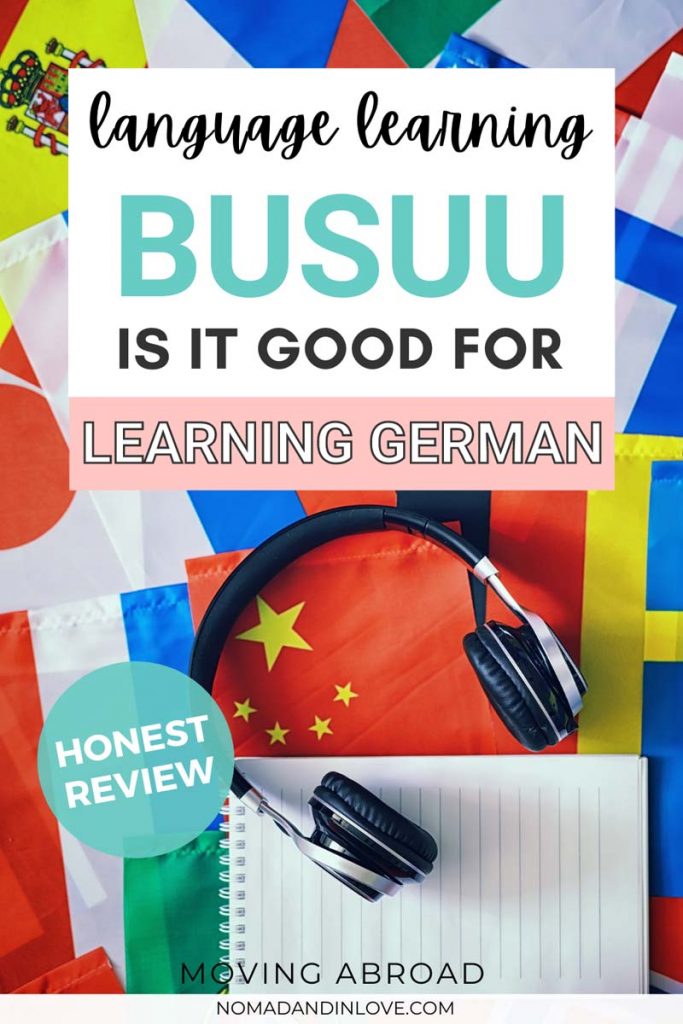 Disadvantages of Busuu
Our review of Busuu would not be honest if we did not include some cons, so here goes.
1. Limited Number of Language Courses
It's true that Busuu doesn't offer as many language courses as some of the other language learning platforms. It currently only offers 12 languages vs 38 on Duolingo and Rosetta Stone's 24.
But we can honestly say that what they don't have in quantity, they've made up for in quality.
Another con is that you can only do one language course unless you're on the Busuu Premium Plus plan.
2. No Monthly Subscriptions
The shortest subscription plan you can purchase on Busuu is 3 months. There is no monthly option even if you were willing to pay a higher monthly rate.
3. Limited Pronunciation and Speaking Exercises
We mentioned earlier that we're a little shy to record audio for a complete stranger. But maybe if Busuu used a combination of speech recognition software and read-out-loud exercises, it may encourage our fellow introverts to come out of their shell.
Learning German Online
We hope you enjoyed our Busuu review! If you've tried any other online platforms for learning German online, share it with us. We would love to hear your recommendations.