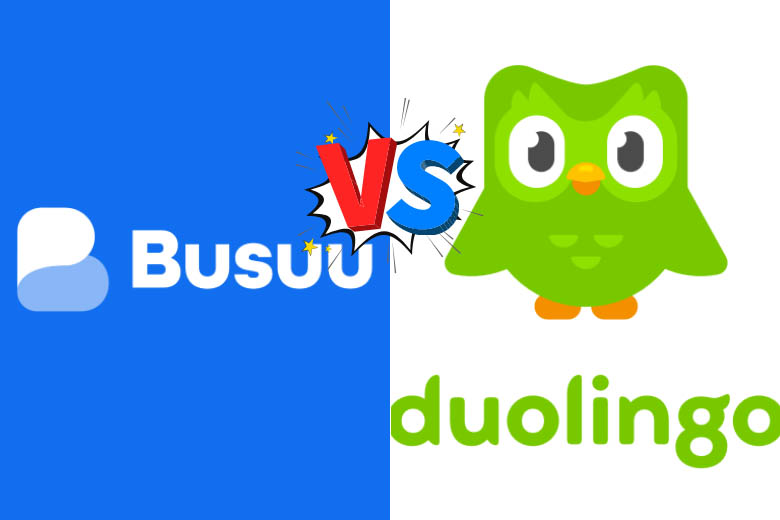 A detailed comparison guide on Busuu vs Duolingo, the pros and cons of each language learning app, and which one is best suited for your goals and learning style.
You can literally learn a language anywhere nowadays with just a smartphone and internet access.
But this convenience comes at a price. There are literally TONS of options out there! From online language courses, YouTube channels, podcasts to language learning apps, and more!
We've tried many of these options to learn German since moving to Berlin. So we thought we would compare two of the most popular language learning apps that are often considered best in their class – Busuu vs Duolingo.
Besides sharing the usual pros and cons of each language app (for both the free and premium option). We'll also share whether Busuu or Duolingo is better if your goal is to learn vocabulary and grammar rules or improving your listening, writing, and speaking skills.
So whether you're learning a new language for studying and moving abroad, a new job, or just for fun, this guide will help you pick the right language learning app to suit your goals.
Disclosure: This guide is not sponsored in any way. But whether a guide is sponsored or not, we always share our honest opinion.
Busuu vs Duolingo: Are Language Learning Apps The Same?
If you thought that all language learning apps were created equal, think again. There are reasons why some apps are more popular than others.
And one of the reasons why Duolingo and Busuu are popular is because they've 'gamified' the language learning experience to make it more fun. Basically what that means, is that both apps are designed to make you feel like you're playing a game while you learn the language. Pretty cool, huh?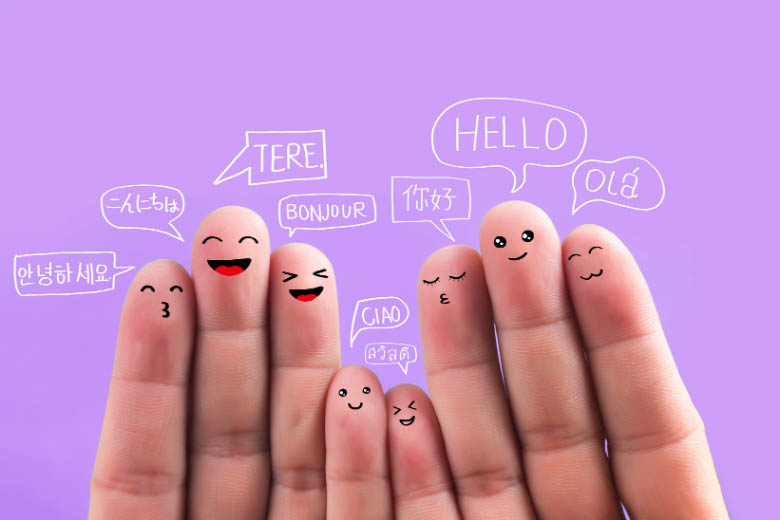 But besides sharing this one similarity, these two language learning apps are completely different in their content and teaching style.
Both apps have their pros and cons and that's why it's important that you pick one that is most aligned with your goals and preferences (especially if you plan to upgrade and pay for their premium plans).
Busuu Discount Code
Get 60% discount on any premium Busuu language course (12 month plans only)! Offer is valid between 13 September 2023 until 30 September 2023.
CEFR Levels Language Certificate
One of the most important questions you need to ask yourself before committing the time and effort to learn a new language is this: Why are you learning the language?
Is it just for fun or is there an actual need to learn the language for a job or living abroad?
If your answer is the latter then you should consider taking language courses that follow the curriculum set by the CEFR framework.
And what exactly is CEFR?
CEFR stands for the Common European Framework of Reference for languages. It's basically a guideline that standardizes the structure in which languages are taught so that they will be valid and recognized in every European country.
It's important because most job or visa applications will ask you to submit an official language certificate as part of your submission.
Plus, if you ever want to take it offline and attend a physical language school. It'll be easier to find your level if you're online language course was taught according to CEFR levels.
So what does this have to do with Busuu and Duolingo?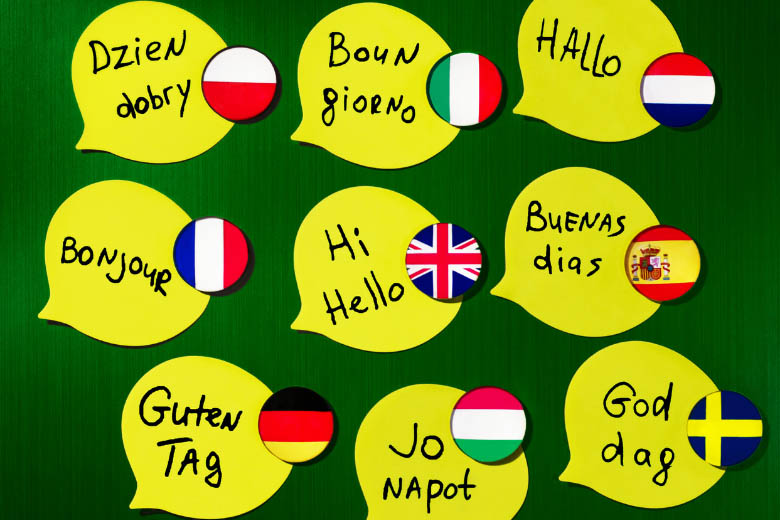 Does Busuu or Duolingo Follow CEFR Levels?
Well, if you need (or want) an official language certificate to prove your language proficiency skills, then you should consider learning the language on Busuu.
Not only are most of Busuu's online language courses taught and structured according to CEFR levels. But they also issue an official language certificate to validate that you achieved that particular CEFR language level. Awesome, right?
We've personally put in the work and hours and are proud owners of our very own German A2 level certificate.
Bear in mind though, that you need to subscribe to the Busuu Premium Plus plan and pass the final level online test to get the certificate.
We've explained this in a lot more detailed in our Busuu Review.
Duolingo's language courses, on the other hand, are not structured according to CEFR levels. So you won't be able to get a formal certificate even if you have superhuman willpower and are able to complete an entire language course on Duolingo.
This is of course not necessary if you're learning for leisure (why would you do that to yourself?!). But if you're a non-German speaker looking for work in Berlin, for example, Duolingo will not be sufficient.
So make sure you ask yourself why you are learning the language before choosing between Busuu vs Duolingo.
Busuu vs Duolingo For Learning Vocabulary
If your goal is to learn as much vocabulary as possible, then Duolingo will probably suit your goals better than Busuu.
Another pro is that Duolingo has a much bigger focus on repetition compared to Busuu. This helps commit the new vocabulary to memory. Especially if you need to memorize the gender of different nouns like you do with the German language.
But what Duolingo makes up for in quantity, doesn't always equate to quality. Here's why.
You probably wouldn't notice this con until you have to actually use the new language skill. But learning lots of new words and vocabulary without any real-life context means that you may end up speaking like someone who's time-traveled from the previous century.
Trust us – we know because we were THOSE people.
So whilst Duolingo may teach you tons of vocabulary, you will have no idea which words are used in what situations.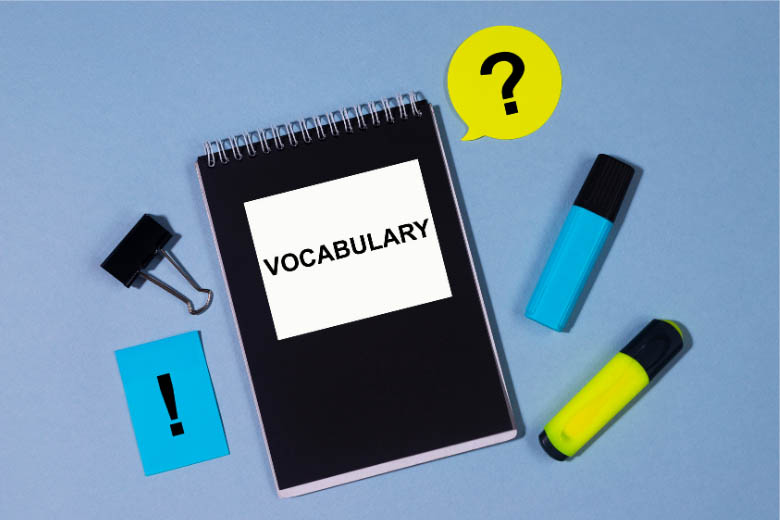 With Busuu, on the other hand, you'll feel like you're learning less vocabulary in the same amount of time. But you'll have a better grasp and understanding of how that word fits in a sentence.
Like we mentioned earlier, Busuu follows the CEFR levels language curriculum. This means that Busuu's language courses are way more structured vs Duolingo.
On Busuu, each lesson is broken down into several steps. First, they teach you new vocabulary. Then they show you how the word fits in a dialogue or a sentence and then they'll have reading, listening or writing exercises to help you memorize it.
But the biggest difference between Busuu vs Duolingo, is the fact that Busuu's language learning content is applicable to real-life situations whereas Duolingo's does not.
Many people don't realise this, but this is so important! There's really no point learning 'Die Katze frisst den Käfer' (which is German for 'The cat eats the beetle'). And it's way more useful to learn examples that can be applied to real-life situations like this: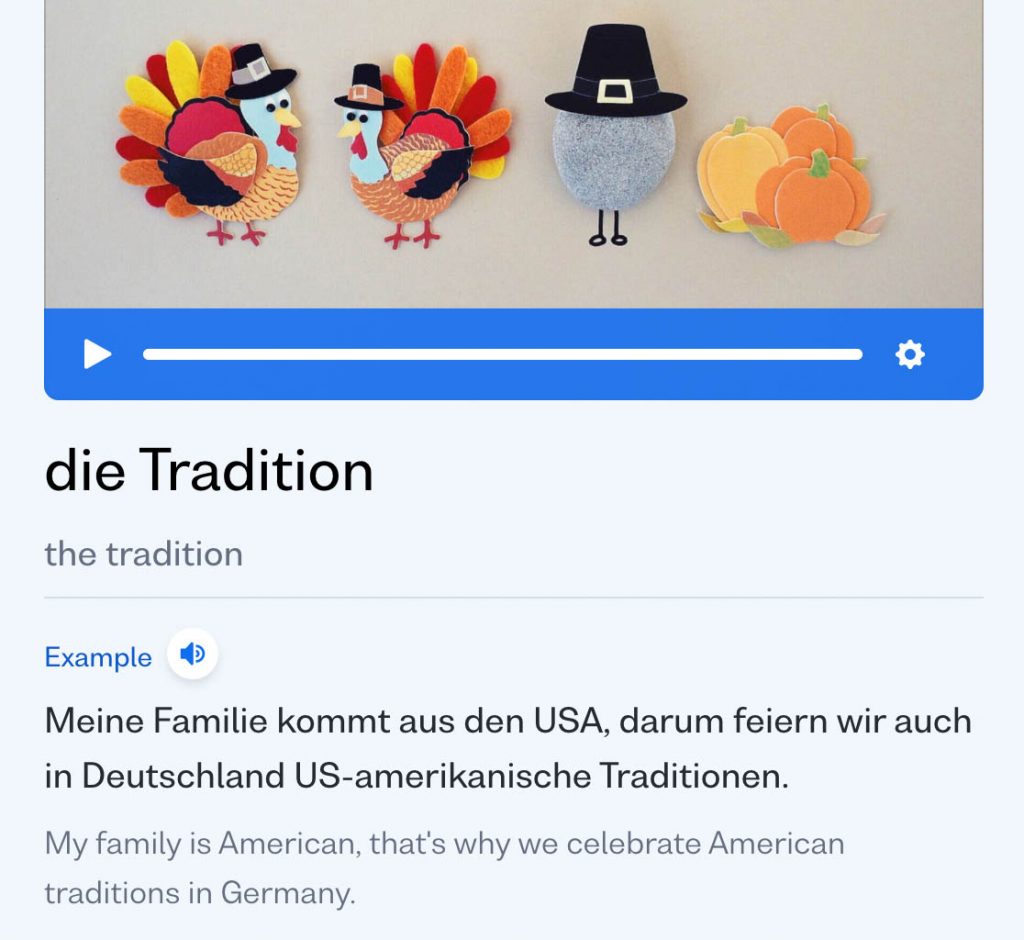 Busuu vs Duolingo For Learning Grammar Rules
If you're looking for language apps that are best for learning grammar rules, then you can't go wrong with Busuu.
We've tried many language apps and Busuu honestly has some of the best grammatical explanations. They're accurate, easy to understand, yet short and sweet.
They've even managed to easily explain some complex grammatical concepts like using prepositions, dative, perfect and past tense when learning German. This impressed us quite a bit since we really struggled to learn these grammar rules on Duolingo.
Duolingo does provide grammatical explanations too. But you can only access them via Duolingo's desktop version (i.e. on their website and not on the Duolingo app itself). It's one of the hidden features we mentioned in our Duolingo German review.
But we're not gonna lie. The grammar explanations on Duolingo are at times ambiguous and difficult to understand. It also doesn't help that Duolingo only uses 5 to 6-word sentence examples to explain it because you can't see how the rule works in real-life situations.
The Busuu app, on the other hand, uses more complex, longer sentences vs Duolingo. This is very useful for learning how to join two sentences with conjunctions and helps you articulate better-constructed sentences for both writing and speaking.
This leads us to our next point…
For Writing and Sentence Construction
Vocabulary and grammar rules go hand-in-hand for constructing sentences and writing. This is why we found Busuu to be the better language learning app vs Duolingo.
In our 4-month Duolingo experiment, we had spent on average 30 minutes every day (60 hours+) learning German on the app. Only to arrive in Berlin and realize that we couldn't put a sentence longer than 5 or 6 words together.
But with just 30 days on the Busuu app (around 20 minutes every day), we could feel a marked improvement in our German language skills.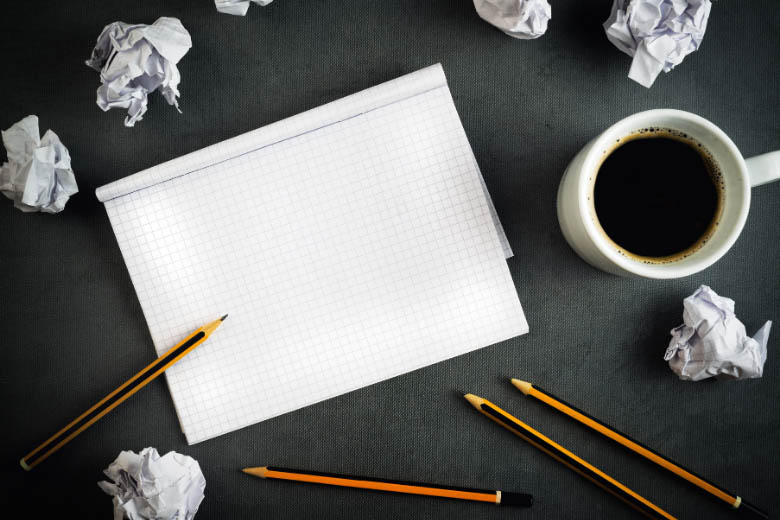 What's different between Busuu vs Duolingo, is that Busuu puts a lot more emphasis on explaining the context in which certain words or grammatical rules are used.
This helps you understand when to use formal vs colloquial words in everyday conversation and writing. Plus, Busuu also explains how these are applied in the spoken vs written language.
And if you're learning a new language for the purposes of studying or moving abroad. You'll be happy to know that Busuu uses language examples that also teach you the cultural aspect and nuances of that particular language.
For Reading & Listening Comprehension
If your goal is to improve your reading and listening comprehension skills, you'll be happy to know that both Duolingo and Busuu are great options for this.
Duolingo Stories is probably one of the app's best features. It's basically a series of short story narrations that you listen to. You'll then get asked a few questions at the end of each story to test your understanding.
For us, this helped us improve our German reading and listening skills.
Plus, we love that you can easily see the English translation for words you haven't learned yet by simply hovering over the word.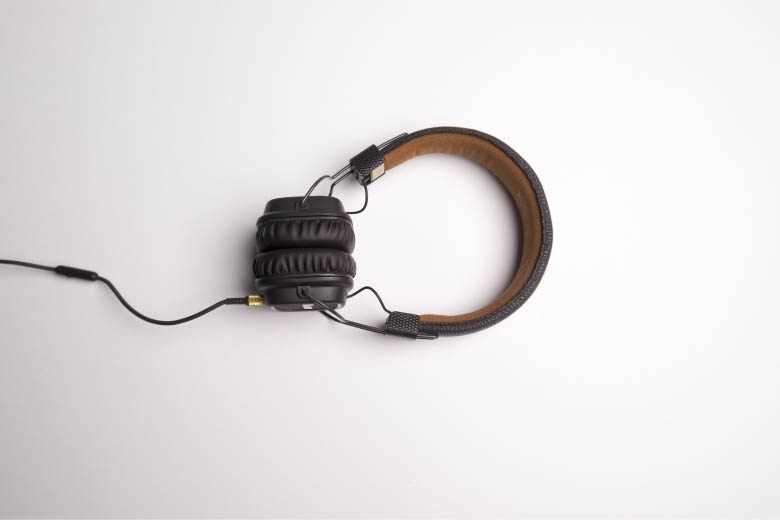 Busuu also has great reading and listening comprehension exercises. The main difference between Busuu vs Duolingo is that the exercises on Busuu are based on real-life situations.
Examples of these would be listening to announcements at a train station, booking flights through a travel agent, visiting attractions in Berlin, or asking questions about renting an apartment in Germany.
Busuu vs Duolingo For Improving Speaking Skills
The most challenging part of learning any new language is speaking it. We know this all too well from personal experience.
Language learning apps like Duolingo and Busuu try their best to help you work on your speaking skills. But to be honest, there's really no easy way to learn to speak a language besides practicing and speaking it as often as possible.
Duolingo tries to help you improve your speaking skills with pronunciation exercises. But we found that they're not always accurate. Sometimes you can completely butcher the word and the app says it's correct. Whilst other times you can say the word right but Duolingo says it's wrong.
Plus the voice prompt on Duolingo is a bit too robotic and not as natural sounding as Busuu.
Busuu, on the other hand, doesn't have pronunciation exercises. But they do give you access to native speakers from the Busuu community to help you practice your speaking and writing skills.
How this works is that at the end of each lesson, you're given an option to either write a short paragraph or record an audio of you talking about a particular topic like what's your favourite cuisine and why. Then the native speaker would give you feedback on your spoken or written exercise.
It's quite an innovative approach really. But there are downsides to this. The obvious one is that most people would be too shy and self-conscious to record audio in a foreign language and have it sent to a complete stranger. And the second one is that the feedback you get is highly dependent on the native speaker you get paired up with.
Related Guide: If your goal is to learn to speak German as fast as possible, then you should look into trying online German classes with Lingoda. We tried it out ourselves for 2 months and saw a dramatic improvement in our German listening and speaking skills. Find out how much it costs and all the pros and cons in our detailed Lingoda review. Or read our Lingoda vs Busuu and Duolingo guide for an in-depth comparison.
Save Me For Later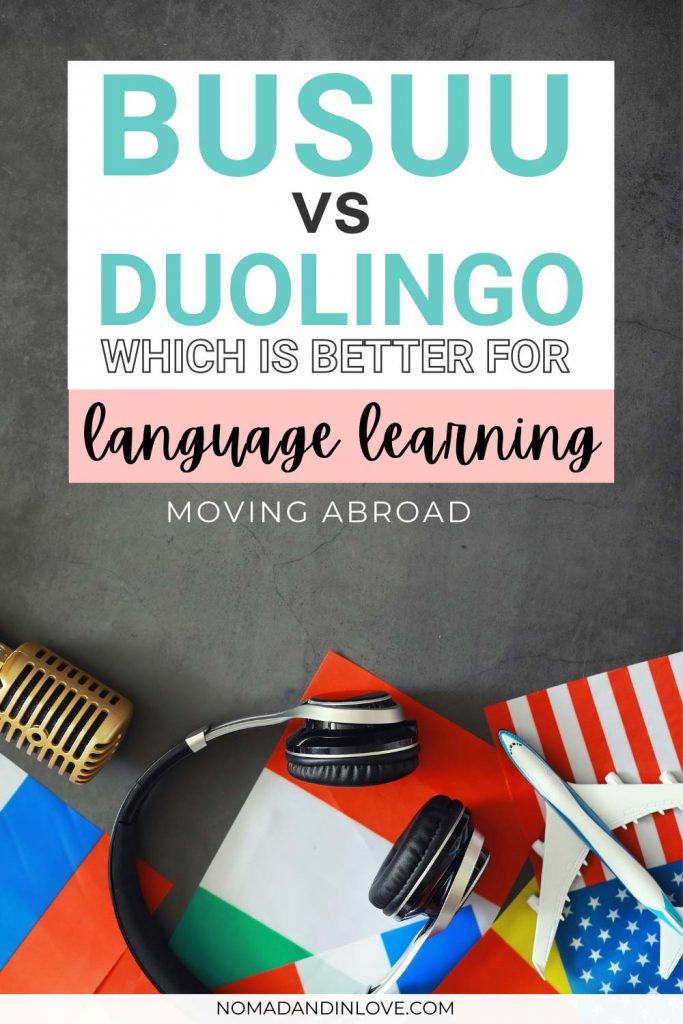 Price for Premium Subscription for Busuu vs Duolingo
Now that you know which language learning app is best suited for your goal. The next big question is how much does the premium plan cost for Busuu vs Duolingo and is it worth it.
The cost to upgrade from the free to premium subscription on both Duolingo and Busuu is quite similar.
For Duolingo Plus, it's $12.99 per month, $47.99 for 6 months, and $79.99 for 12 months.
Busuu's price structure is a little different because they have two premium plans: Busuu Premium and Busuu Premium Plus. (We've explained the differences in detail in our Busuu review.)
| Plan | Busuu Premium | Busuu Premium Plus | Total Cost |
| --- | --- | --- | --- |
| 3-month Plan | €9.99 / month | €11.66 / month | €30 to €35 |
| 12-month Plan | €5.83 / month | €6.66 / month | €70 to €80 |
| 24-month Plan | €5.41 / month | €6.24 / month | €130 to €150 |
Price per month for Busuu Premium vs Premium Plus plans
In our opinion, it's not necessary to upgrade to Duolingo Plus because you can access the entire language learning content on both the free and premium option.
The only additional features you get on Duolingo Plus are:
No ads
You can do your lessons without an internet connection
Complete a mastery quiz to see how much of the course you've completed
Repair your monthly streak
Skip as many lessons as you like
Change your app icon to the Duolingo Plus icon
In contrast, you'll only be able to access a very limited range of Busuu's entire language learning content with its free plan. So upgrading to premium is a must if you want to get all the language learning benefits we mentioned in this comparison review.
What is the Best Language Learning App?
Is Busuu or Duolingo better?
So which is the best language learning app? Is Busuu or Duolingo better?
Well, the answer depends on you and what goals you want to achieve with your language learning skills.
We hope that our experience using both apps will help you decide which one is better for you. And if you still can't quite decide after reading this, nothing is stopping you from using the both.
Related Guide: Looking for other fun and FREE ways to learn any language? Read our 22 creative and free ways to learn German online to get some inspiration.