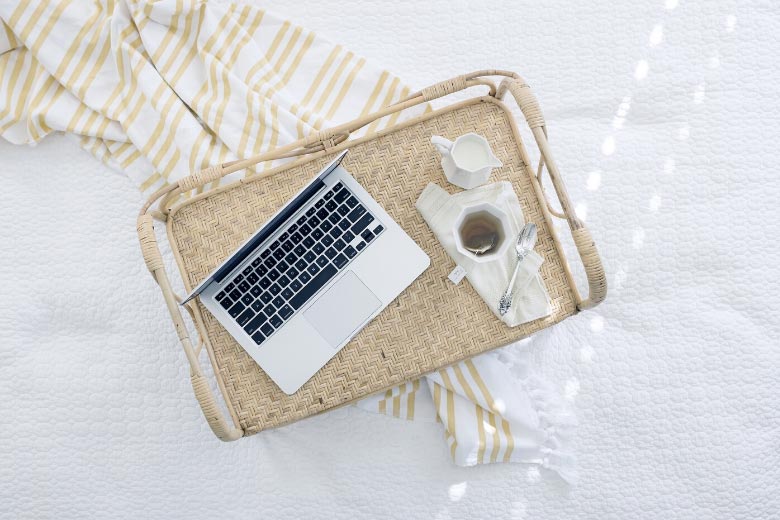 Make money from home and earn $10 to $15 per hour working online. No prior qualifications or work experience required. A great work from home job option for moms, students or freelancers looking to make some extra money on flexible hours.
One of the things that really motivated us to move to Berlin instead of any other European city, was it's big start-up and freelance community. Seeing so many artists, creatives and entrepreneurs doing what they love gave us the courage to follow our dreams. And that's to travel the world and inspire others to go on an adventure of a lifetime.
Well, that's all blown out of the water with the coronavirus or COVID-19 pandemic. With extensive travel bans, social distancing and businesses forced to close, millions of freelancers and business owners like us are starting to worry where their next pay check will come from.
That's why instead of writing the usual weekend travel itineraries or how you can ethically see orang-utans in the wild, we've decided to share how you can make money from home. You can start within a week and get paid by next week. Sounds good?
As always, we write based on personal experience. Our aim is to help as many people as possible during this difficult time.
This is not a 'get-rich-fast' type of job, but it will certainly help you make some extra money from home. It's legitimate work and suitable for beginners because it requires no prior experience or qualifications. So if you're ready to make some cash, keep reading.
Make Money From Home: Online Transcription Jobs for Beginners
We hope you're a good listener because you'll need it to be a freelance transcriptionist.
If this is your first time working from home, make sure to read our 26 tips for working from home to find out how you can maximise your productivity and earn more money from home.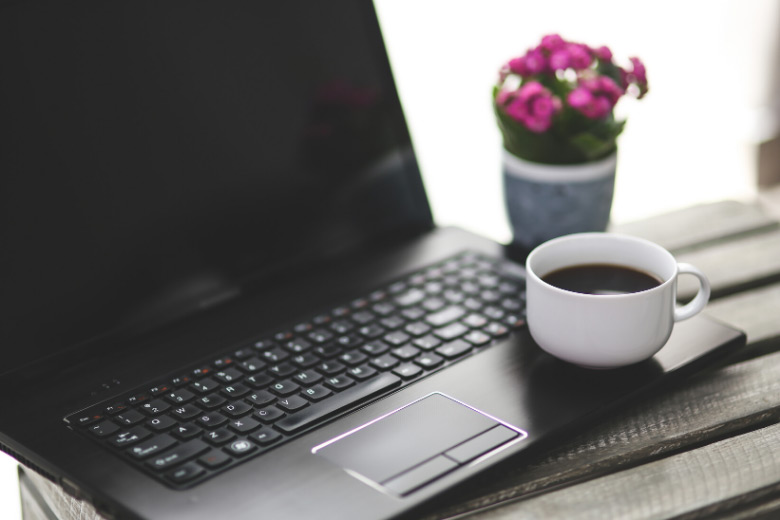 What Is A Freelance Transcriptionist?
A transcriptionist is basically a fancy word for people who listen to audio or video content and type out what they hear. If you've ever 'Netflixed' (we know you do) those subtitles you see are typed out and created by transcriptionists.
Artificial intelligence or AI hasn't replaced humans for transcriptions just yet. So let's take advantage of it while we can.
We've personally tried transcribing for 3 months whilst building our travel and expat blogging business. Since it was our first time and we've never done anything like it before. We freelanced and completed transcriptionist jobs on an online platform called Rev.
What is Rev.com?
Rev.com or Rev is an American start-up that has created an online platform for freelance transcriptionists. The company was established in 2010 with the mission of breaking the barriers around the physical workplace.
To do this, they created an online marketplace to connect businesses and individuals who require transcriptions or video captioning with freelance transcriptionist.
The platform has been so successful that Rev was voted one of the top work from home jobs by Forbes a few years in a row.
Similar to any other freelance job, you'll be your own boss and control your own schedule. Rev will never assign projects to you. You get to pick and choose WHEN and WHAT projects you work on.
Rev Transcription Content
Rev gives you access to transcribe and caption content based on a wide variety of topics. We've personally transcribed content from sports updates, children's cartoons, gym workout videos to medical presentations and YouTube videos.
You may even learn a thing or two depending on the content you pick. And if you have a good ear for certain accents, you can put it to good use here.
Is Rev.com A Legit Work From Home Job?
Having the flexibility of time, location AND potentially learning something new does sound too good to be true. But Rev is legit. We've tried it for a continuous period of 3 months and were paid week after week.
There's no official work contract per se. You just have to read and accept their Services Agreement and sign their Confidentiality Agreement.
We've shown the Confidentiality Agreement below so you can read it yourself. It basically asks you to agree that you won't disclose any material you've learnt from the audio or video content to anyone or on any platform.
Seems fair enough.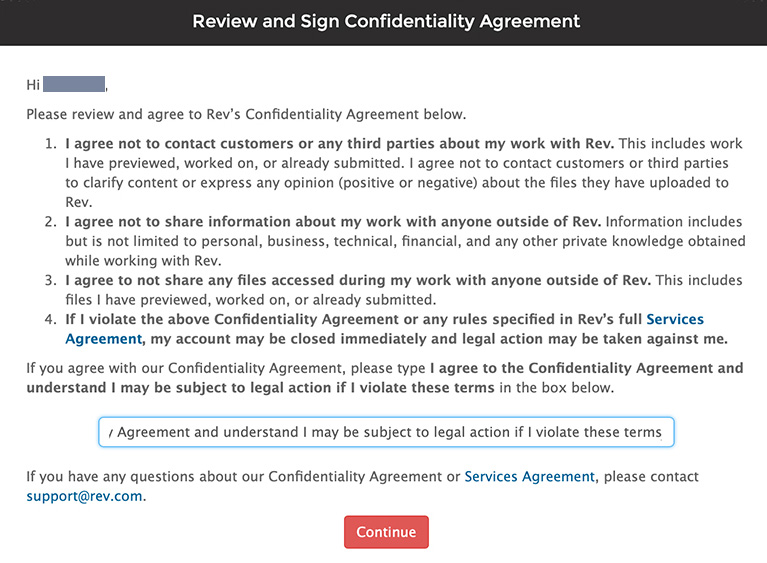 Make Money From Home: Benefits of Online Transcription Jobs With Rev
Technically you could work as a freelance transcriptionist without Rev. But your biggest problem will be finding clients without a track record and no prior experience. With Rev, you won't have to worry about that as they've already built a reputation and track record with a huge client base.
Of course this comes at a cost. Rev takes a commission from your work by charging the client a higher rate per minute and paying you a percentage of that rate. So the good news is that you don't need to pay Rev anything to use their platform. You just receive a lower rate than you would if you were an independent freelance transcriptionist.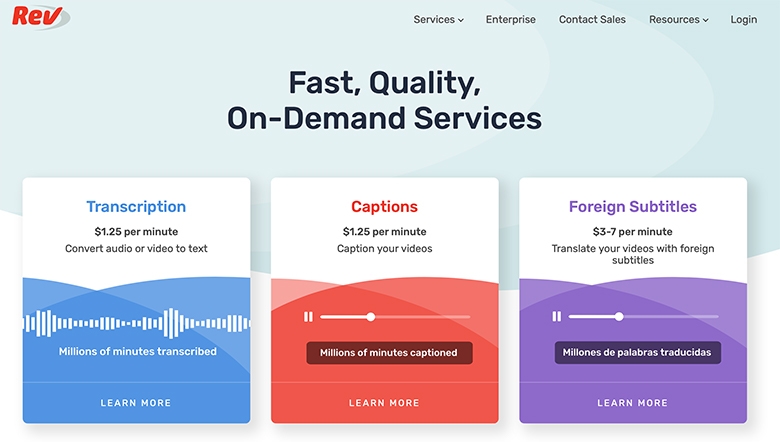 Rev Transcription vs Freelance Transcription
Based on personal experience, we feel it's worth it because:
Rev provides you with all the necessary training and tutorials to teach you how to produce quality transcription content.
Rev will even pay you for transcribing the training and tutorial material once you've successfully registered to work on Rev.
They have experienced reviewers (called Revver+) who will review your work and give you detailed feedback so you can improve.
Rev provides you access to their free online editor that makes it easy to listen to a file and type at the same time.
All these things are provided to you at zero start up costs for you.
It costs nothing but your time, so there's no risk to give this work from home job a try.
How Much Money Does Rev.com Pay?
That's the million dollar question isn't it? Like we said earlier, you won't make millions transcribing for Rev. But it's perfect if your goal is to make some extra money from home.
The exact 'how much' depends on how many hours you work and what Revver level you're on.
Some Rev freelancers have been able to earn enough for Rev to be their primary source of income. That's between $1,000 to $1,400 a month working 40 to 50 hours a week. But that's only possible when you're on Revver+ level.
To get to Revver+ level, you'll first need to get to Revver level. This means that you'll need to have transcribed at least 45 minutes of work and achieved a certain grading for your projects. Once you've reached Revver level, you'll need to transcribe more than 800 minutes and achieve a certain grading to be eligible to earn more on Revver+ level.
The table below shows the average monthly earnings you can expect for completing audio transcription work on Rev. Bear in mind that the monthly earnings are an average only and that ultimately you can earn more or less than this depending how many hours you put in.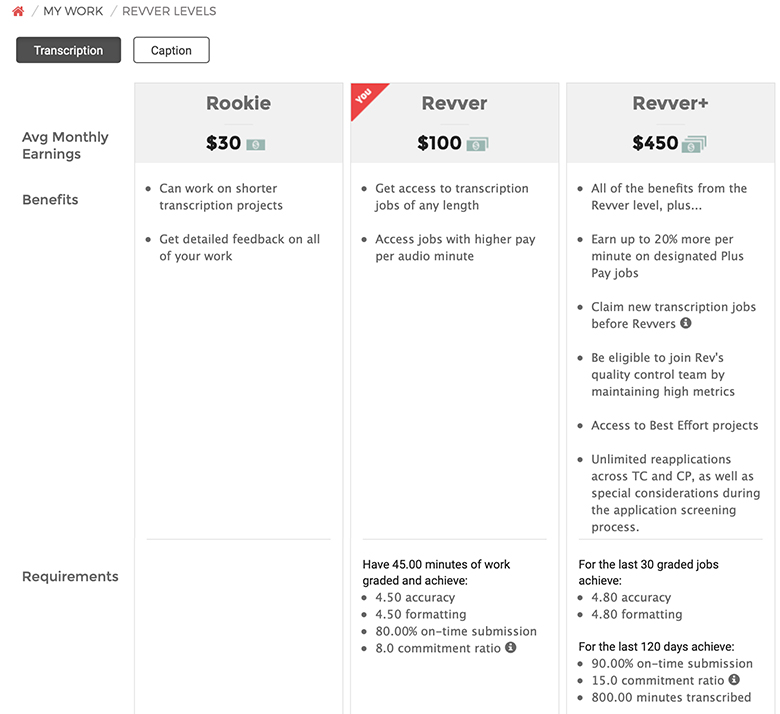 On Revver level, you can earn $0.69 – $0.72 per minute of transcription work. Sometimes the rate on more urgent projects are increased to $0.80 – $0.90 a minute. With some quick maths, that equates to making $41 to $54 for every hour of transcription work.
Sounds pretty good right? But one hour of transcription doesn't equate to one hour of work. Depending on the project, it can take between 2 to 3 times that amount of time to complete.
So…
How Much Money Can You Really Make With Rev?
Again, it depends on how many hours you work and also on your Revver Level. Rookies earn the lowest, Revvers earn the rate mentioned earlier and Revver+ earn the highest rate. The rate is also slightly higher when you do video captioning instead of audio transcriptions.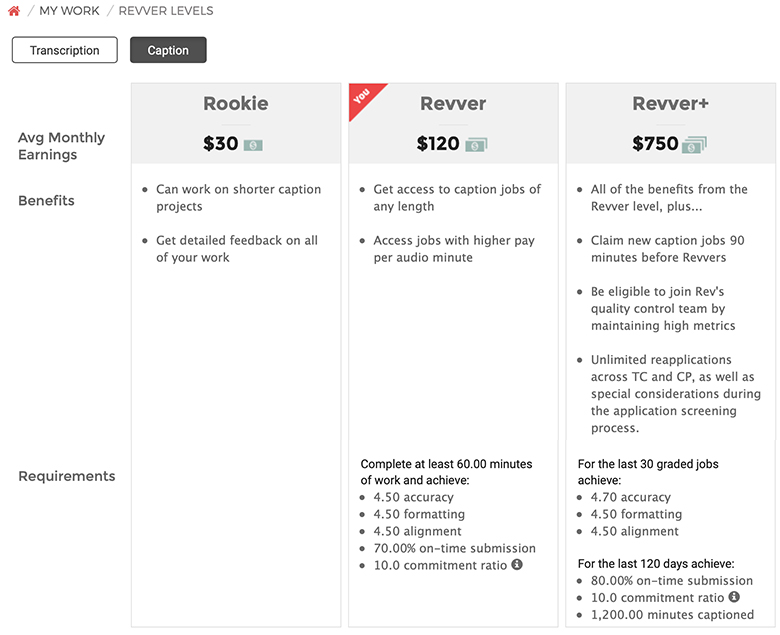 Rev says that at the top of the spectrum, seasoned transcriptionist can make just under $1,500 per month. The top 5% of Rev freelancers earn a monthly average income of $900 online. But the average Rev transcriptionist that completes 15 jobs earns around $156 per month, including those who are just starting out.
How Much Money We Made On Rev
Over 3 months, we transcribed 55 minutes of audio and completed just over 6 hours of video captioning. In total we made $226.59 for just under 7 hours of work.
Remember, we were also building and working on our travel and expat blogging business at the time. So we were only able to transcribe in our spare time which was an hour or two per week.
That equates to earning around $31 per hour for a work from home job. It's lower than the $41 to $54 per hour because we've included the lower rate you earn when you start out as a Rookie.
Although making $31 per hour looks attractive, you need to bear in mind that one minute of transcription work doesn't equate to one minute of actual work. In most cases, it will take you 2-4 times that amount of time to transcribe the work. Especially when you're still learning the ropes.
Plus you'll want to take the extra time to double check your work so you can get a high grading for accuracy, formatting and alignment. You need it to be able to continue working for Rev and hopefully get upgraded to the next payment bracket.
Taking all that into account, we've estimated that you could realistically earn between $10 to $15 per hour transcribing on Rev. This assumes you start out as a Rookie, completed the first 45 minutes of transcription work and achieved Revver level status.
We didn't take into account of the increased rate when you get to Revver+ level because you'll need more than 800 hours of transcription work to get there.
Save Me For Later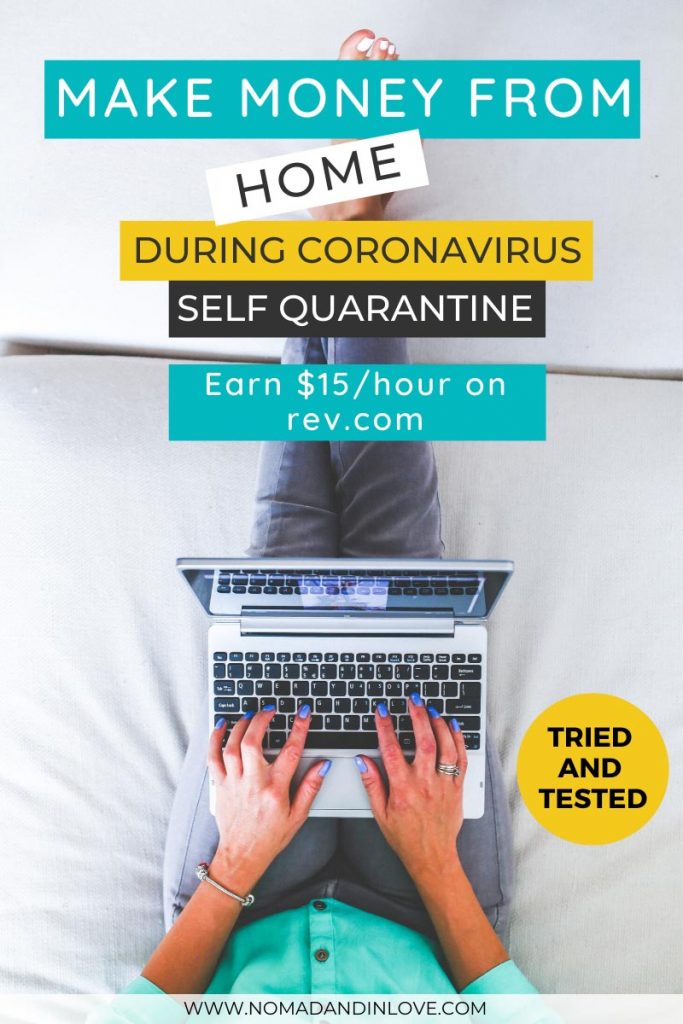 Rev.com Transcriptions vs Video Captioning – Which One is Better?
The better option is the one that will help you make money from home faster. This is entirely up to you based on what you prefer and what you find easier. The easier and faster you complete the job, the more money you can make.
We personally prefer video captioning to audio transcriptions. We find it easier because you can make out what they're saying from visual cues when a word or two are inaudible.
The audio quality of videos are generally higher and easier to make out. We also tend to enjoy the type of content produced for video captioning more.
There is one advantage that audio transcription has over video captioning though. You could potentially transcribe audio faster using Rev's AI program called Line.
Line basically creates an automated draft transcript for you. So instead of typing the entire transcript out from scratch, all you have to do is edit the draft transcript to make sure it's customer ready.
Our advice? Register for both audio transcriptions and video captioning so you have more options.
How Do You Get Paid On Rev?
Rev pays you every Monday via PayPal in US Dollars. They will not pay directly to bank accounts or use any other sources, so make sure to open a PayPal account if you don't already have one.
PayPal will not deduct any fees from your Rev payment, so what you earn is what you get.
We received our weekly payments on PayPal every Monday without fail. We then transfer the funds to our Revolut and N26 bank accounts. If you need to exchange US Dollars to Euros like us, you should consider opening a Revolut account to get the cheapest exchange rates. There's also zero transaction fees with Revolut.
How Do Taxes Work With Rev?
Rev does not withhold taxes from your earnings because you work as independent contractors or freelancers. You'll therefore just follow the same tax procedures as you would with your usual freelance income.
How Do I Work For Rev?
Make Money From Home: The Requirements To Work On Rev.com
Computer or laptop;
Earphones;
Internet connection;
High English Proficiency.
Besides that attention to detail, being meticulous about following formatting rules and researching industry specific terminology is all you need. Fast typing skills is a plus, but not a necessity.
Now for some bad news. If you live in California, you will unfortunately not be able to work as a Rev freelancer due to regulatory reasons.
How To Apply For Work From Home Job As Rev Transcriptionist
You need to complete an application to register as a freelance transcriptionist for Rev.com. The application consists of two phases. All you need is a computer or laptop and around 30 minutes.
The first phase takes 5 to 15 minutes to complete and is an English grammar quiz. It consists some basic questions on word choice, sentence structure and punctuation. You need to be able to answer most of them correctly to pass.
In addition to these general grammar questions, they'll ask a few questions on the Rev Style Guide which they'll provide you.
The second and most important part of the application, consists of a three minute transcription sample. For this part you'll need your earphones. You'll listen to a short audio file and transcribe the sample on the Rev online editor.
To successfully register as a Rev transcriptionist, you'll need to ensure that this transcription sample meets the standards outlined in the Rev Style Guide.
Make sure to not cheat or use any fraudulent method to pass, i.e. get a friend to help you or copying and pasting online. You'll get yourself banned and you won't be able to apply again.
Applying for Rev Transcription, Captions and Foreign Subtitles
Besides audio transcriptions and video captioning, you could earn more money per minute from translating foreign subtitles. Yes, that means you can put that extra language skill to use and earn between $3 to $7 per minute!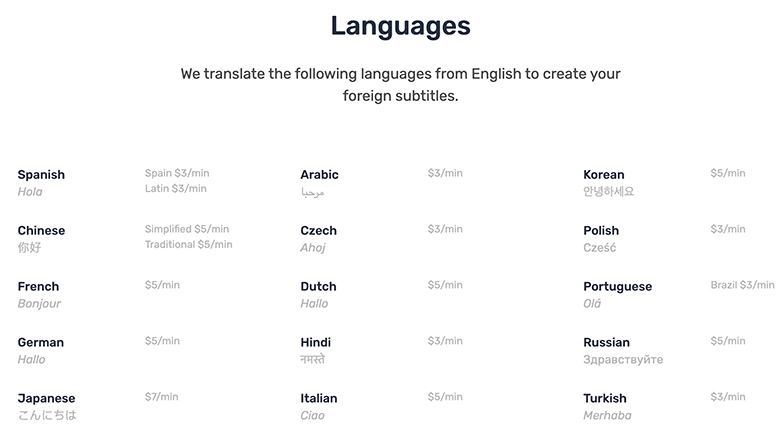 We've tried applying for Mandarin foreign subtitles. But there wasn't sufficient projects so Rev wasn't accepting new applications. There's 14 other languages you could try though.
How Long Does It Take For Rev To Hire You?
After you submit your application, it has to be reviewed before Rev confirms whether you're successful. If you are, you'll receive an e-mail that will allow you to register an account with Rev. You can then claim transcription projects and start your work from home job immediately.
Normally it takes less than a week to hear back. This means you could get paid for your first transcription job within less than 2 weeks of applying.
When we applied in July 2019, my application was approved within 48 hours and I could start working immediately. But a friend of mine waited for a week to hear back. The time difference will depend on the demand and amount of work available.
Rev.com Applications Pending
At times they may say they aren't accepting new applications when they don't have sufficient projects. When this happens, don't be discouraged and just check again later and try again.
We expect more online content to be generated with the coronavirus pandemic and more people staying in. So hopefully that means more jobs to be transcribed, captioned and translated.
Rev.com Application Not Approved
Your Rev transcriptionist application may not be approved for these reasons:
Your transcription sample did not meet Rev's quality standards.
You didn't pass the English grammar quiz.
You live in California where Rev is unable to accept freelancers due to regulatory reasons.
If you aren't successful in passing the test, you'll only be able to re-apply in 45 days after your initial application. Use the time to brush up on your skills before trying again.
A Honest Rev.com Review
This was the first time we've tried a work from home job besides travel and expat blogging. We tried it out of curiosity and also so we had a plan B option in case our blogging income took longer than expected to materialise. Chloe also loves typing (very nerdy, we know…) and learning interesting things across different topics. Needless to say, she really enjoyed it.
We love the concept of breaking the physical barriers of the workplace. After trying it for ourselves, we can confirm that it really does give you the flexibility of time and location and we highly recommend it if you're looking for a work from home job.
The only criticism we have is that the grading can be subjective at times depending on the reviewer. So it gets frustrating when a strict reviewer grades you 3 out of 5 for your formatting, when you previously used the same method and got 5 out of 5 from another reviewer.
Under normal circumstances we wouldn't care too much. But if this happens too frequently, there's a possibility to get downgraded back to Rookie status and earn less per minute of work.
Make Money From Home Fast: Rev Transcription Tips
Complete the first 45 minutes of transcription work as soon as possible, so you can get upgraded from Rookie to Revver status and earn more per minute.
Pick audio transcriptions that are easy to hear and decipher. The easier it is, the faster you'll transcribe and the more money you'll earn.
Listen or watch the first 3-5 seconds of the content and claim it quickly if you want to work on it. Jobs get claimed very quickly on Rev, so you need to be even faster.
Try your best to pick projects on topics you're familiar with. If it's too technical, you'll need to spend more time researching terminology.
If you're working from home in Europe, make yourself available from 3pm – 4pm onwards. That's the time most US companies start their day and usually when more projects become available.
Learn the shortcut keys like "Shift + Tab" so you can complete jobs faster.
Watch Netflix with the subtitles on. It'll help you get into the video captioning mindset but be aware that their formating is different to Rev's style guide.
Apply for both audio transcriptions and video captioning so you have more work options.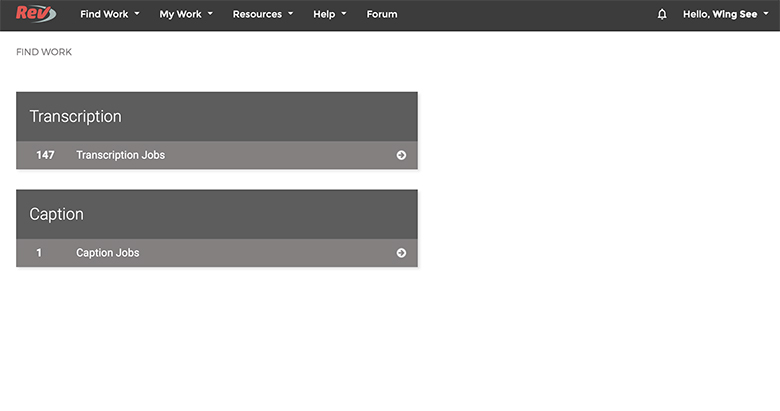 Legitimate Work From Home Jobs With No Startup Fee
Rev is a great make money from home job option that doesn't required any prior work experience or qualifications. It allows you to work anywhere, anytime and get paid weekly with no startup fee to pay upfront. We hope you found this Make Money From Home Guide useful and that it is able to help you during this difficult time. Stay safe and healthy, and share this with someone who needs it.