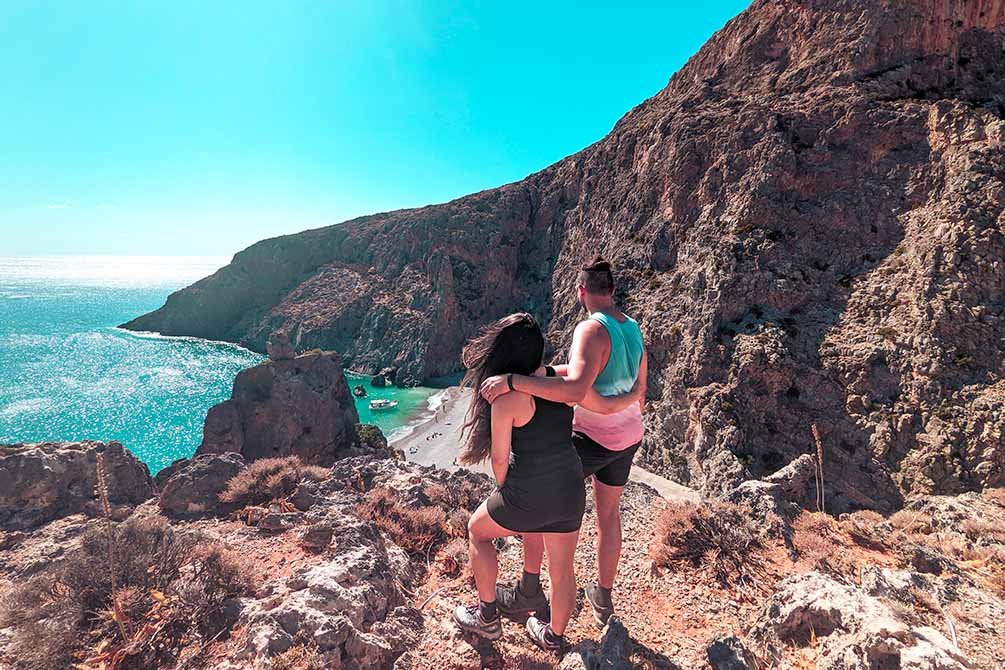 Planning a trip to Greece and wondering how much it will cost? This travel guide shares the exact cost breakdown of flights, hotels, eating out, car rental, and more, so you know exactly how expensive it is to visit Crete.
One of the most common questions travelers ask when planning a trip to Greece is, 'How much should you budget for?' or 'How expensive is it to visit Greece?'. And they're great questions to ask, by the way!
You see, not every travel destination in Greece is affordable. Some popular Greek islands like Mykonos and Santorini are just downright expensive.
But what if you're planning to visit the biggest island in Greece – Crete? How much will it cost and is Crete expensive?
Well, wonder no more! This ridiculously detailed Greece travel guide shares the exact cost breakdown of flights, hotels, eating out, car rental, and more, so you know exactly how expensive it is to visit Crete.
Make sure you bookmark, share or pin this Crete Vacation Guide so you can refer back to it later.
Disclosure: This article contains affiliate links, which means we may earn a small commission on qualifying purchases. Although it won't cost you a cent, these earnings help us continue doing what we love, creating amazing content just for you! Check out our Disclosure for more information.
How Expensive Are Hotels in Crete, Greece
Accommodation costs will often be the most expensive part of your Greece travel budget. But luckily there are a huge variety of hotels and apartment rental options in Crete to pick from.
From budget-friendly hostels, mid-range vacation apartment rentals, and all-inclusive resorts, to ultra-luxury hotels perfect for a honeymoon or celebrating a special occasion.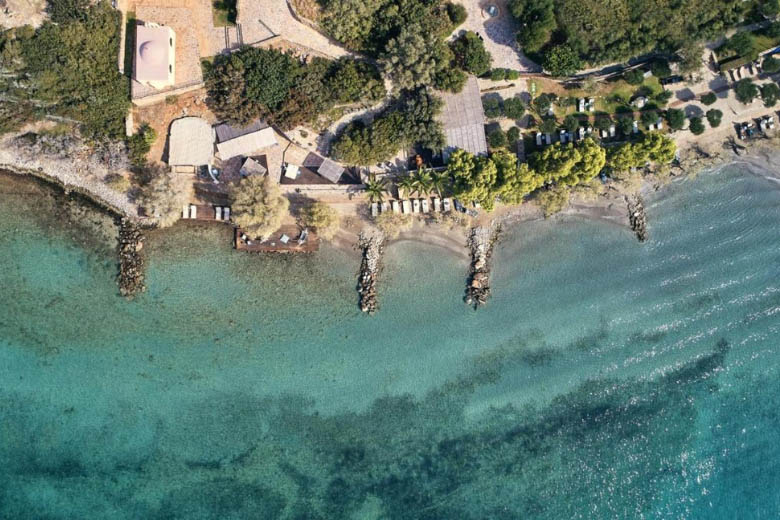 The cheapest hotel options (hostels) start at €15 to €20 for 2 people per night. And the most expensive hotels and resorts in Crete could cost you anywhere between €200 to €700+ for 2 people per night.
Like other travel destinations, hotel prices in Crete will vary depending on whether you're traveling during high or low peak season.
If you're planning to spend your vacation in Crete during the high peak months of June to August. Be prepared to easily pay 50% or more!
Hotels Cost For 2 Weeks in Crete, Greece
We traveled to Crete during shoulder season (between high and low peak season) and spent just over 2 weeks on the Greek island.
For our 15-night (16 days) trip to Crete in Greece, accommodation cost us around €760 for two people. This works out to an average of €50 per night for 2 people or €25 per person.
We stayed in 3 different mid-range hotels (breakfast included) and apartment rentals on our 2 week vacation in Crete.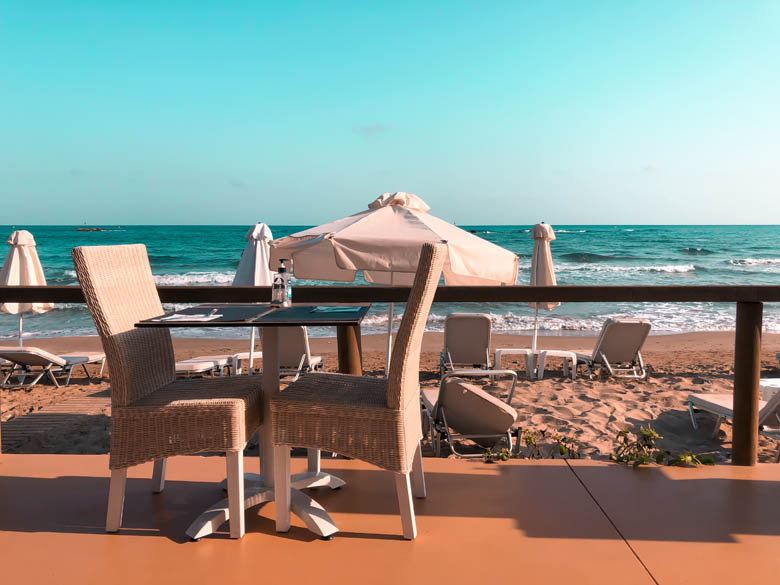 That's pretty affordable, right?! Especially if you compare Crete to the Greek islands of Santorini and Mykonos!
Related Post: Planning a vacation in Crete but not sure where's the best play to stay. Make sure to read our Where To Stay in Crete guide! Find the best hotels and resorts to stay with kids, for a romantic couples getaway, the best part of Crete to stay in for beautiful beaches and unforgettable nightlife, to the best towns to base yourself in Crete with or without a car.
How Expensive Is Car Rental in Crete, Greece
Car rental will likely be the second highest cost you'll need to budget for your trip to Crete in Greece.
Car hire can cost anywhere between €40 to €80 per day depending on the type of car you're renting and whether it's high or low peak season. This excludes fuel costs, parking fees, one-way fees, and sometimes even car insurance, by the way!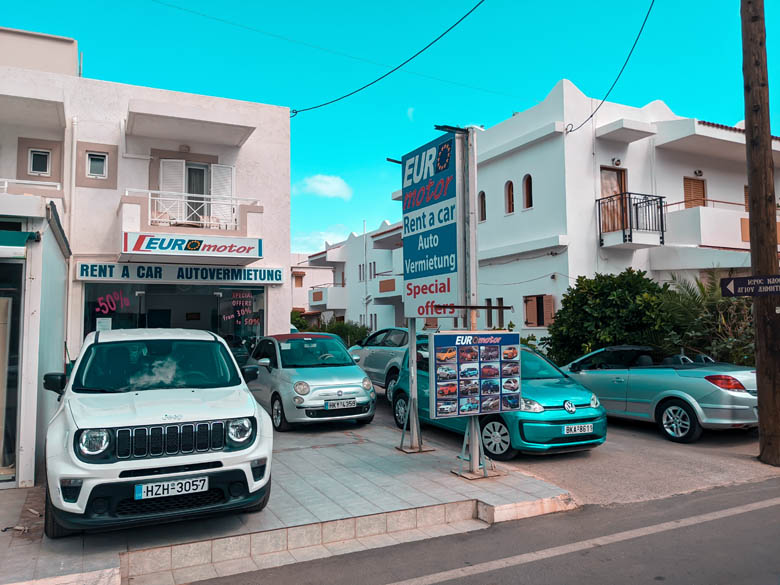 For our two-week vacation in Crete, we rented a car for 12 days and paid €496. This works out to spending €41 per day on car rental and includes comprehensive car insurance as well as one-way fees.
It was not ridiculously expensive, but it wasn't cheap either!
If you plan to travel to Greece on a budget, we'd recommend booking car hire as early as possible to get the cheapest deal. You can easily compare prices for renting a car in Crete on Auto Europe Car Rentals or RentalCars.com.
Bonus Tip: The cost of car rental becomes less expensive, the more people you travel with. Planning a vacation in Crete with friends can easily half the cost of car hire.
Do You Need A Car in Crete?
Renting a car in Crete is not absolutely necessary, but rather a nice-to-have. Public transport exists in Crete and it's fairly decent. But that's only true for the north part of the island.
If you prefer going off the beaten track and want to explore south or east Crete. Then public transportation is scarce, if not nonexistent.
So do you need a car in Crete? Ultimately, it's entirely up to you and what type of vacation you want in Crete.
If you're not sure yet, we'd recommend reading our super detailed Crete Itinerary. This epic travel guide shows you what to see and do in Crete in 3, 4, 5, 7, 10, or 14 days with or without a car.
How Expensive is Fuel in Crete, Greece?
Another expense you'll have to factor in if you're renting a car in Crete is fuel cost. And it's not cheap! Greece has some of the most expensive fuel prices in Europe.
When we visited Crete in September and October 2021, fuel prices in Crete were even more expensive than in Germany!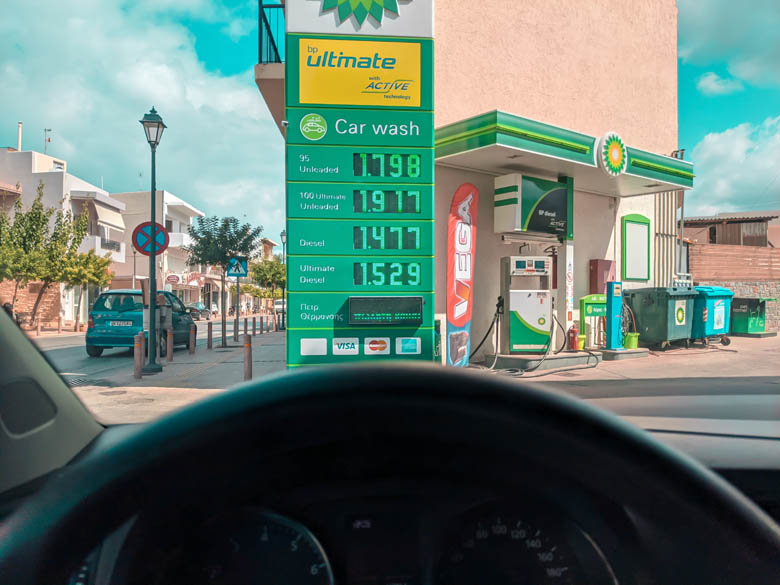 The good news is that there are no toll fees in Crete. And you can get a slightly cheaper fuel price (€0.05 to €0.30 per liter) depending on which petrol station you go to.
We noticed that fuel prices tend to be less expensive outside the popular vacation towns in Crete. And the refueling stations, Shell and Eko, often offered the lowest fuel prices on the Greek island.
On our two-week vacation in Crete, we drove over 2,200+ kilometers in Crete and spent €170 on fuel.
How Expensive is Public Transportation in Crete
Getting around Crete island via public transportation (i.e. KTEL bus) will be the best way to explore Crete on a budget.
You can expect to pay anywhere between €1.60 per person for a short trip, to €7 or more for long trips.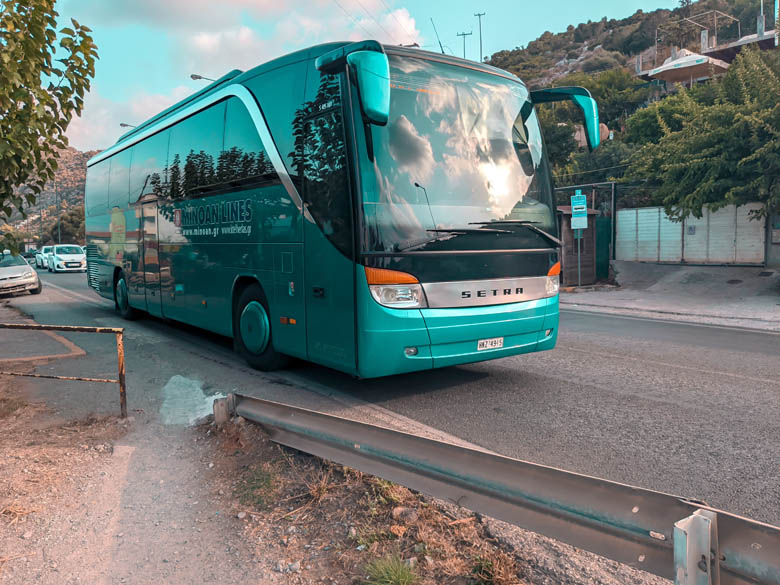 Do bear in mind though, that public transport is only frequent on the north part of Crete island. Most towns in the south and east of Crete only offer bus service twice a day (if any).
So if you plan to get around Crete using the public bus, make sure to check the KTEL website beforehand. Not only does it show bus routes and time of departure, but also how much the bus ticket will cost.
How Expensive Are Flights to Crete
How expensive are flights to Crete? Well, that depends on many factors.
Like which city you're departing from, whether you're traveling during high or low peak season, the airline you go with, how much luggage you're bringing, and whether you're flying on a weekday or weekend (and many more).
This is why it's near impossible to give a standard cost estimate for how expensive flights to Crete will be. But flying with low cost airlines such as RyanAir and EasyJet will be your best bet to travel Greece on a budget.
What we can do though, is share how much our flights to Crete cost us on our Greece trip. This way, you'll have a guideline of what to expect and how much to budget for your trip to Crete in Greece.
Save Me For Later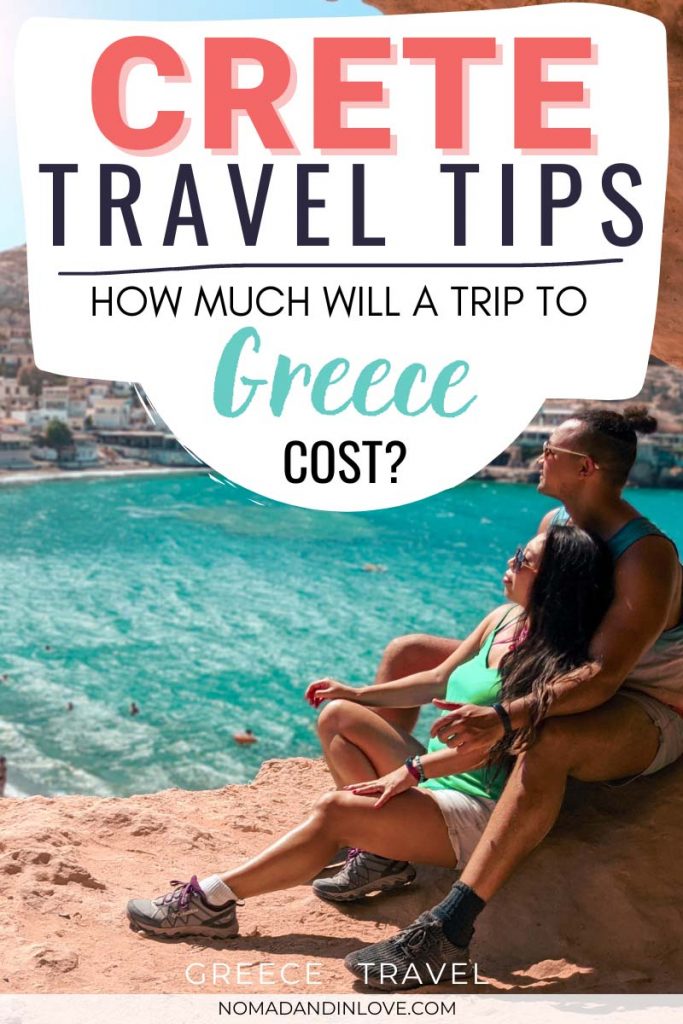 How Much A Trip From Berlin To Crete (Greece) Will Cost
The total cost for our return flights from Berlin to Crete was €320 for two people (i.e. €160 per person). This includes extra fees for 20kg of check-in luggage as well as 2 cabin bags per person.
We departed from Berlin Brandenburg Airport (BER) to Heraklion Airport with RyanAir for €125.50 for two people (€62 per person).
And returned from Chania International Airport to Berlin Brandenburg Airport with EasyJet for €194.94 for two people (€97 per person).
We traveled to Crete during shoulder season (between high and low season). So the cost of flights was a lot less expensive compared to traveling to Crete during the high peak months of June to August.
To get the cheapest flights to Crete, we'd recommend flying with cabin luggage only. This can easily reduce your flight costs by 40% to 50% if you're able to travel light.
Bonus Tip: Compare flight prices on Omio and get €10 credit using our invite code: michas7p0y2t
How Expensive is Airport Transfer in Crete, Greece
The cheapest 'airport transfer' in Crete is taking public transport, of course. But be prepared for the long drive.
There are many stops along the way. So the usual 20 to 30-minute drive could easily become a 1.5 to 2-hour trip from the airport on the public bus.
For the fastest transfer from the airport, we'd recommend taking a taxi transfer instead.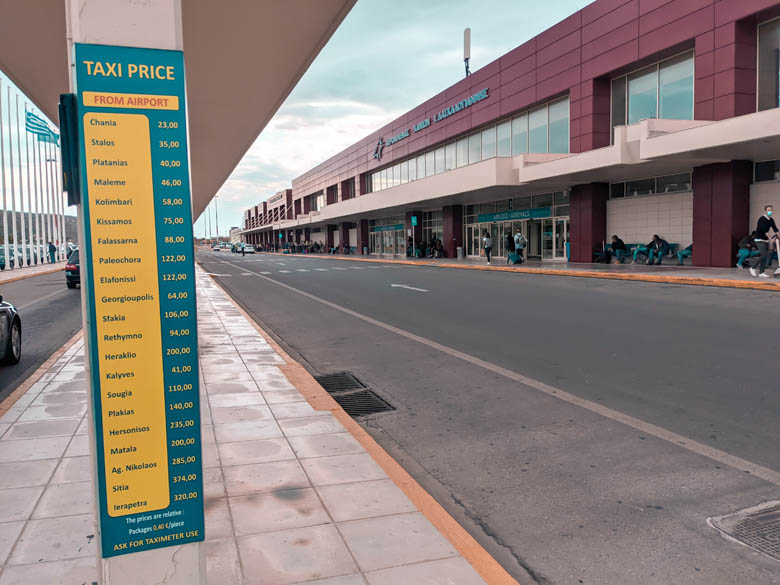 We booked our taxi (i.e. airport transfer) with Crete Cab and paid €34 for a quick and relaxing trip to our hotel in Stalis.
Here are other airport transfer options if you're not planning to stay in Stalis in northeast Crete:
Is Eating Out in Crete Expensive?
It would be a sin to visit Greece and not try their world-famous cuisine! That's especially true when visiting Crete. The food here is not only mouth-watering but also affordable too!
You can easily enjoy an incredible meal for 2 including wine for under €30! And chances are high that you'll probably get dessert and a shot of raki or ouzo on the house.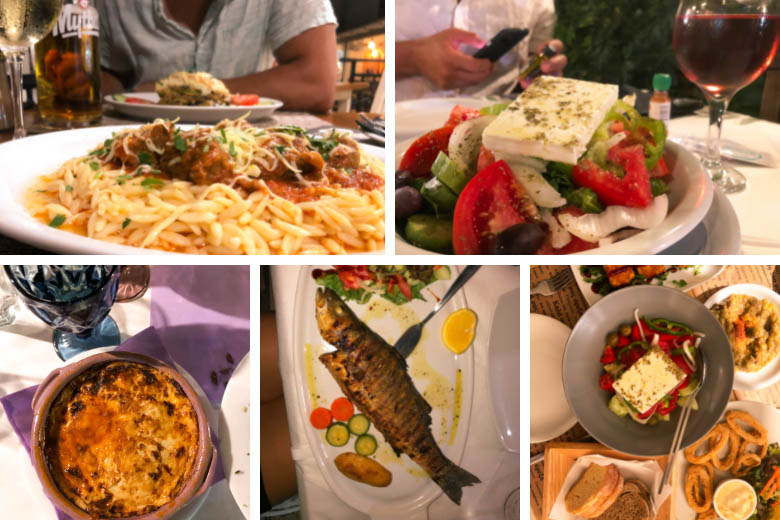 The cost of eating out in Crete does depend on the town you're visiting though. Food and drink prices tend to be more expensive when eating out in popular tourist towns in Crete like Chania, Rethymno, and Heraklion.
We also noticed that the price of hotels, eating out, shopping, renting sunbeds, and beach umbrellas are generally more expensive in west vs east Crete.
Average Food and Drink Prices in Crete, Greece
On average, you can expect to spend between €12 to €30 per person when eating out in Crete. Yup – that's the budget for both food and drink (alcohol included) as well as a 10% tip!
On our two week vacation in Crete, we spent an average of €14 per person eating out in Crete.
The cheapest meal we had in Crete was traditional Greek gyros for €7.50 per person for both food and drink. And the most expensive meal we had was €30 per person for a two-course seafood meal plus 2 glasses of wine.
How Expensive Are Excursions and Attraction Tickets in Crete
How much will it cost to do excursions and visit attractions in Crete? Well, that all depends on you.
The cheapest thing to do in Crete is to visit its beautiful beaches. Not only is it FREE to do, but they're drop-dead gorgeous too! There are only a handful of beaches like Balos, Gramvousa, and Chrissi Island where you have to pay a €1 tourism tax.
If it's your first vacation in Crete, get a sneak peek of what the beaches are like in our 21 Best Beaches in Crete guide.
The most expensive Crete excursions will be renting private yachts or going on small, custom-made guided tours. This could easily cost between €80 to €120+ per person.
But honestly, you don't have to spend that much money on excursions in Crete unless you really want to spoil yourself.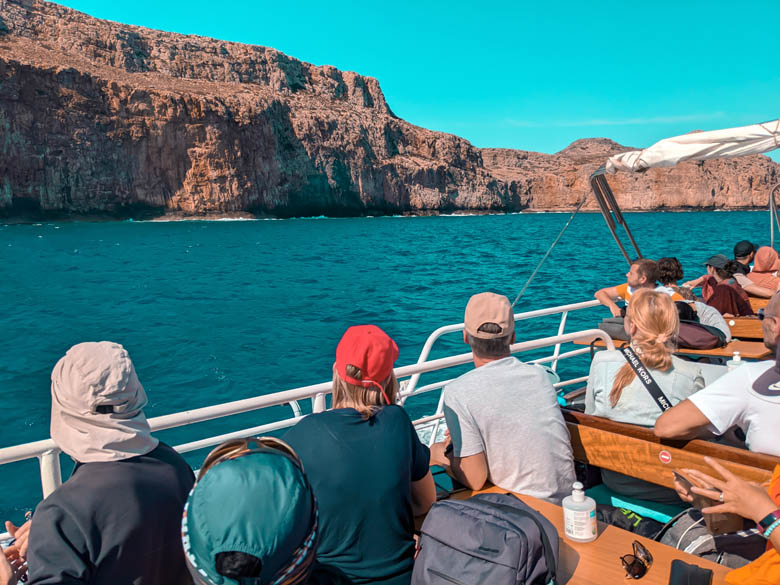 Here's how much our Crete excursions cost on our trip to Greece:
| Crete Attractions | Euros |
| --- | --- |
| Ferry to Balos & Gramvousa Island | €18 per person |
| Ferry from Agio Roumelli to Sougia (Samaria Gorge Hike) | €11 per person |
| Samaria Gorge Entrance Fee | €5 per person |
| Matala Caves Entrance Fee | €4 per person |
| Richtis Gorge Entrance Fee | €3 per person |
| Preveli Beach (Parking Fee) | €2 |
| Total Cost of Excursions for a Couple (2 People) | €84 (€42 per person) |
Prices to visit excursions and attractions in Crete
Related Post: What are the best things to do in Crete? Skip all the guesswork and follow our Two Weeks in Crete itinerary! Explore jaw-dropping waterfalls, hike magnificent gorges and discover the best beaches in Crete over 14 days.
How Much It Costs To Withdraw Money in Crete, Greece?
Greece was not always a card-friendly travel destination. But luckily that has changed and most places in Greece (including Crete) accept and take credit or debit cards.
You will still need some local currency in cash to pay for things like parking fees and entrance fees though.
We'd suggest having €50 spending money in cash per person for every week in Crete. That should be more than sufficient if you're paying for everything else by card.
You can always withdraw more money in Crete if you need it. But be wary that most banks will charge a withdrawal fee of €2 to €4 or more.
Bonus Tip: The local currency in Crete (Greece) is Euros.
Free Cash Withdrawals in Crete With Revolut
To withdraw money in Crete (and Greece) for free, we'd recommend using Revolut and withdrawing from any Attica Bank ATM.
Attica Bank is one of the only banks in Greece where you can withdraw money for FREE with a Revolut card!
The only downside is that there are only 3 Attica ATMs in Crete. You can find them in the town center of Chania, Heraklion, and Rethymno.
Related Post: What other benefits do you get with Revolut besides free cash withdrawals when traveling globally? Read our Revolut Travel Card guide to discover 7 other advantages.
Other Costs To Budget For A Trip to Greece
We've covered the main expenses you should budget for when traveling to Crete in Greece. But there is one important cost we haven't covered yet: travel insurance.
If you live in Germany (or anywhere else in Europe), your health insurance or credit cards should cover basic travel insurance.
But if you're traveling to Crete from a non-European country, then we'd highly recommend you get travel insurance for your vacation in Crete.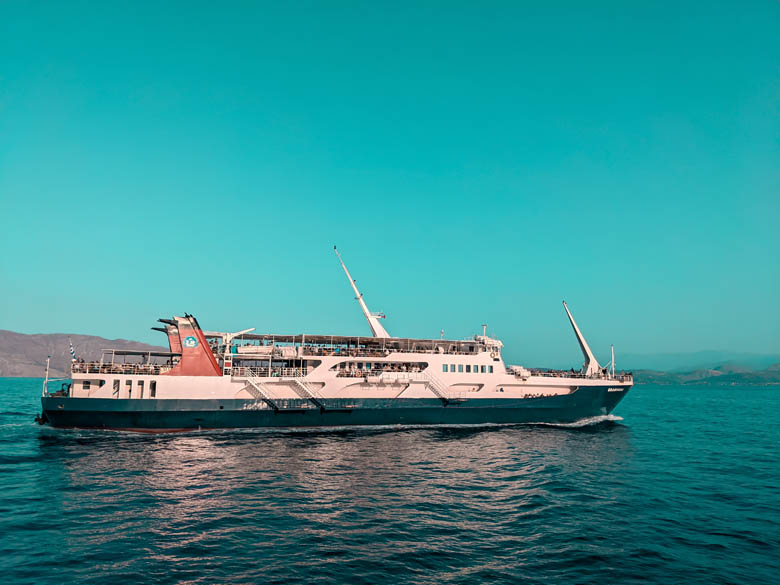 Not only will travel insurance cover the costs if your trip gets canceled or your luggage is lost. But it will also cover the cost of accidents and health care abroad.
With the ongoing COVID-pandemic, airport chaos, and who knows what else, it's better to be safe than sorry! Get a travel insurance quote for a stress-free vacation in Crete. Here are some recommendations:
How Much A 2-Weeks Trip to Crete, Greece Will Cost
We've spilled the beans on how expensive flights, hotels, car rental, eating out and excursions are in Crete.
Here's a summary of how much we spent on our two weeks vacation in Crete:
| Crete Travel Budget for 2 Weeks | Euros |
| --- | --- |
| Hotels | €757.04 |
| Car Rental | €496.00 |
| Flights to Crete | €320.44 |
| Eating Out (food and drink) | €226.00 |
| Fuel (petrol) | €170.00 |
| Excursions and Attractions | €93.60 |
| Airport Transfer | €34.00 |
| Total Budget in Crete for a Couple (2 People) | €2,097.08 (€1,048.54 per person) |
Cost breakdown of expenses to budget for a vacation in Crete, Greece
Daily Budget in Crete Per Person
Using our 2-week trip to Greece as a guideline, you can expect a daily budget for Crete to be around €70 per person. That includes all the costs from flights, car rental, to hotels, and eating out.
Traveling to Crete soon? Follow us on Facebook, Instagram, and TikTok for more Crete travel tips!
---
Thank You For Reading
If you enjoyed reading this guide, share it with your friends and family. Have a question or need advice? Reach us via Email, Messenger or WhatsApp. And if you'd like to leave a comment, tweet us. Oh, and don't forget to subscribe!
Buy Us A Coffee
Our content is free and always will be. But if this guide has saved you time, money or made your life easier, feel free to buy us a coffee. We'll really appreciate your support.
Support Our Work
Can't donate? No problem! You can still support us by buying products and services that we recommend. Check out our resource page for all offers and discount codes.