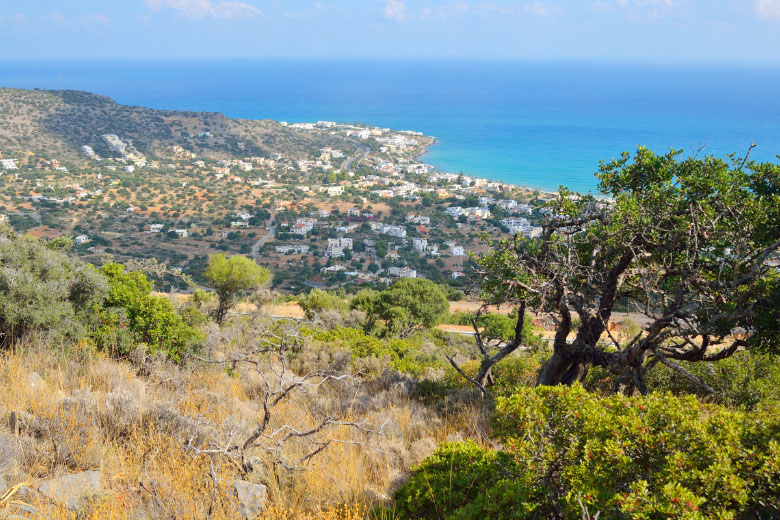 Find out everything you need to know before visiting Stalida in Crete, Greece. Like whether Stalis beach is nice and whether it's family-friendly, best things to see and do in and around Stalida and where's the best part of town to stay.
Planning a vacation in Crete and wondering whether you should stay in Stalida or Stalis? You've come to the right place!
We spent 1 week in Stalis exploring the south and northeast coast of Crete. And boy, did it not disappoint!
This Crete travel guide shares everything you need to know before booking your vacation in Stalis in Greece. It answers some of the most frequently asked questions about Stalida.
Like whether Stalida is nice, what Stalis beach is like and whether it's good for families, what to see and do in and around Stalida, and where's the best part of town to stay.
Make sure to follow us on social media or subscribe to our newsletter so you don't miss our future travel guides on Crete.
Related Guide: Visiting Crete for the first time? Skip the guesswork and follow our Two Weeks in Crete Itinerary. Explore jaw-dropping waterfalls, hike magnificent gorges and discover the best beaches in Crete over 14 days. If you're planning to visit Crete for 3, 4, 5, 7 or 10 days, then read our Crete Itinerary travel guide.
Things To Know Before Visiting Stalida in Crete
Before jumping straight into what to see and do in Stalis. We'll answer some of the most frequently asked questions travelers ask when visiting Stalida in Crete.
Where is Stalis in Crete?
Stalis (also known as Stalida) is a small resort town located on the northeast coast of Crete. It's situated around midway between the capital city, Heraklion, and the gorgeous coastal town of Agios Nikolaos in east Crete.
Stalis is a great place to base yourself if you plan to explore east Crete without a car. The town of Stalida is within walking distance of public transport (ie. buses), so you can easily explore nearby towns like Hersonissos, Malia, and Gouves without renting a car in Crete.
Interesting Fact: The meaning of the name 'Stalis' comes from the Greek verb 'stalizo' which means 'a stop for rest'. The town was named 'Stalis' because it was a place where shepherds and farmers rested while traveling between villages.
Is Stalida in Crete Nice?
This is a question we get asked very often: 'Is it worth visiting Stalis in Crete and is it a nice town to stay in?'.
The answer will depend on what type of vacation you're looking for. We spent a week based in Stalida and thoroughly enjoyed exploring east Crete from Stalis.
But we understand that everyone has different needs and vacation goals. So here are some pros and cons of staying in Stalis so you can decide for yourself.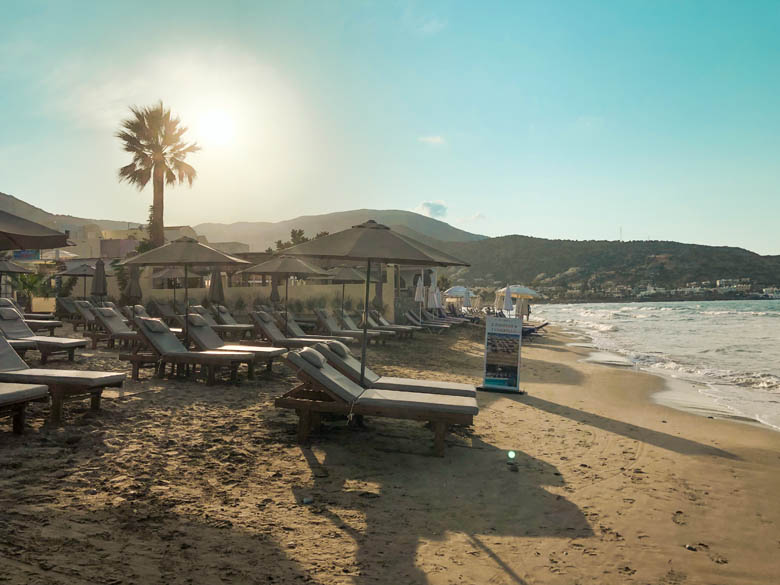 Stalis is a nice town to stay in if you don't want the hassle of renting and driving a car in Crete. The town is small enough to explore on foot.
Restaurants (and authentic Greek tavernas), bars, cafes, and shops are all within walking distance. So you can easily find other things to do in Stalis if you don't want to spend every day on the beach.
And if you want to venture beyond Stalida, you can easily take the public bus, or rent a buggy (i.e. quadbike) or scooter to explore its nearby towns.
Is Stalis lively?
Stalis is lively without being overly crowded and busy. The main road of Stalida is lined with cozy restaurants, traditional Greek tavernas, bustling cafes, and bakeries that will make your mouth water whilst you pick your next culinary delight.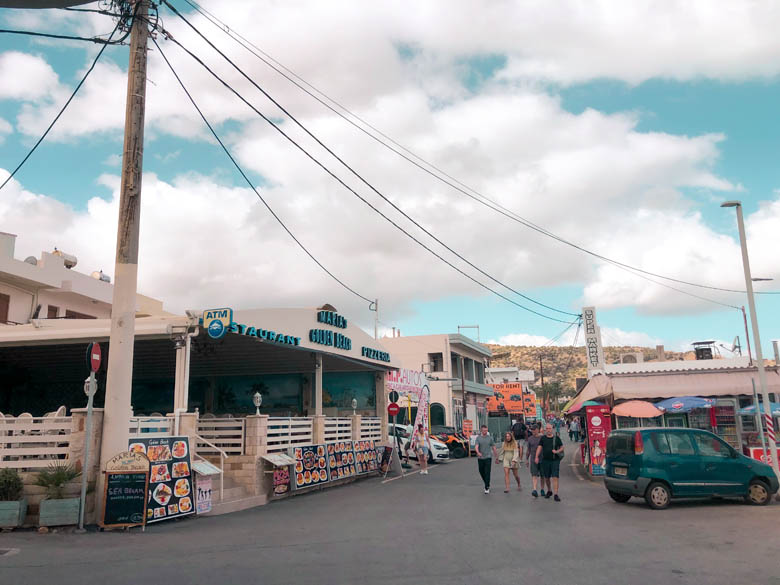 But if you're looking to dance the night away, then you may be disappointed by the limited nightlife in Stalis. You'll find bars and pubs in Stalida, but not nightclubs.
Stalis may also not be the best place to stay if you want to visit the best known (i.e famous) beaches in west Crete. Like Seitan Limania beach, Balos beach, Gramvousa island, or Elafonissi (pink sand) beach.
Crete is a massive island. It's better to stay on the west part of the island if those beaches are on your Crete travel itinerary.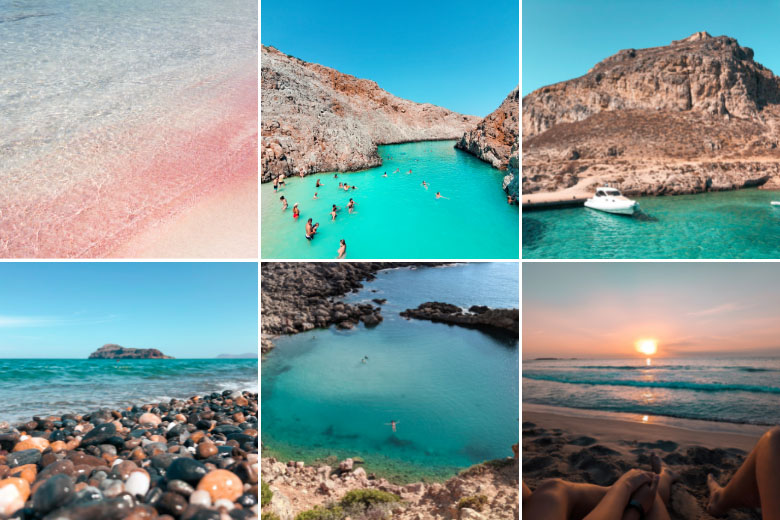 The other downside of Stalis is that it doesn't have the old town charisma you'll find in Chania or Rethymno. The upside though, is that Stalida is much quieter and less touristy in comparison.
This makes Stalis a great place to stay if you're looking for a more budget-friendly vacation. Not only are the prices of hotels and vacation apartments much cheaper in Stalida compared to Rethymno and Chania. But the prices of eating out (i.e. restaurants, cafes), shopping and excursions are also less expensive.
Related Guide: How much does a trip to Greece cost? Get a detailed cost breakdown for flights, hotels, car rental, eating out, and more, in our How Expensive Is Crete guide.
Is Stalis Beach Sandy?
Yes! Stalis is best known for its long, sandy beach. The beach stretches almost 1km long from Slalom Water Sports to I Resort Beach Hotel & Spa.
Stalis beach may not be the most beautiful beach you'll see in Crete. But it's definitely one of the best beach options to visit without renting a car or hiking.
It's a great all-around beach for couples or a group of friends. But it's particularly well-known for being one of the best beaches for families in Crete.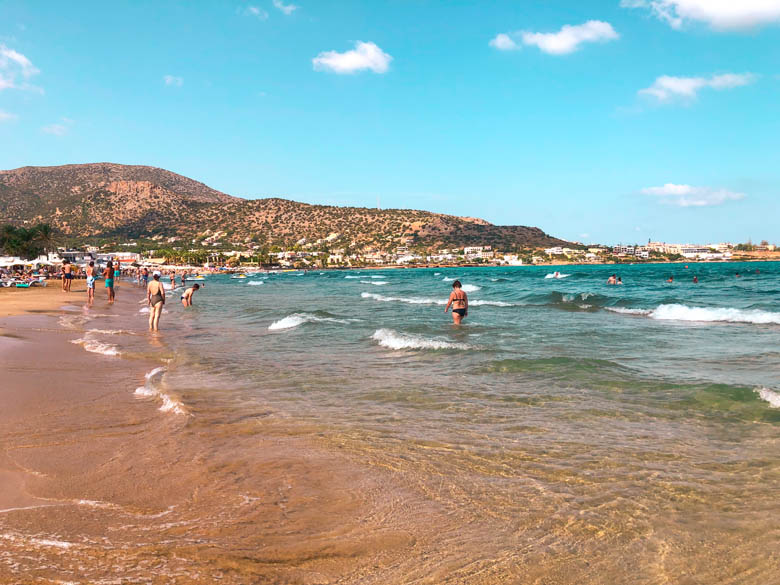 The gentle gradient of Stalis beach makes it particularly family-friendly. There are also lifeguards on duty on the main beach of Stalida. So there's an extra pair of eyes to watch the kids whilst you relax on a sunbed and enjoy a cocktail or two.
And if you're keen to explore other beaches beyond Stalis. You can easily rent a car and explore the other beautiful beaches on the east coast of Crete. Read our Best Beaches in East Crete to get a sneak peek!
To see the most unique beaches in Crete, we'd recommend heading south! Check out our South Crete Beaches guide to explore these other-worldly Crete attractions.
And for the ultimate one-stop-shop, read our 21 Best Beaches in Crete guide.
How far is Stalis from the Airport?
Stalis is not far from the airport. The closest airport to Stalida is Heraklion Airport, which is a 20 to 30 minute (around 30km) drive to Stalis.
How To Get From Heraklion Airport To Stalis
There are a few ways to get from Heraklion Airport to Stalis. The cheapest option is taking the public bus.
Be prepared for a long airport transfer though. There are many stops along the way so the usual 20 to 30-minute drive becomes a 1.5 to 2-hour trip from the airport to Stalida on the public bus.
For the fastest option, we'd recommend taking a taxi from Heraklion Airport to Stalis instead. We booked our taxi (i.e. airport transfer) with Crete Cab and paid €34 for a quick and relaxing trip to our hotel in Stalis.
If you're traveling as a bigger group (5 people or more), we'd recommend booking a private transfer from Heraklion airport. This airport transfer can take you to any destination of your choice in Crete, not just Stalida.
Save Me For Later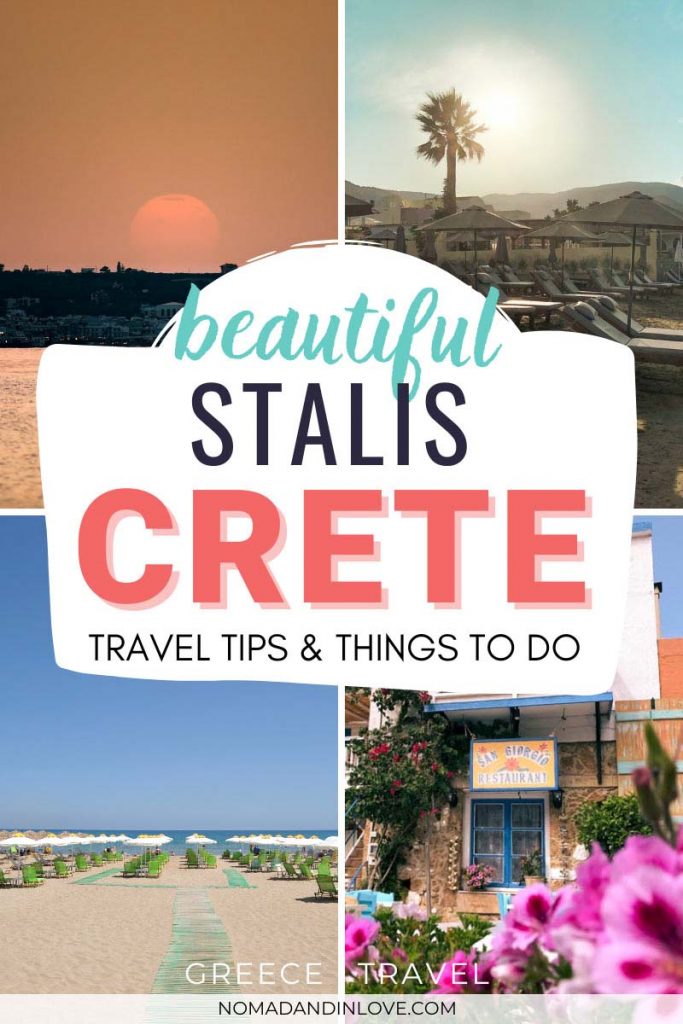 Where To Stay in Stalida
Stalida is not a big town in Crete. So you can technically stay wherever you want in Stalis and still be within walking distance of everything you'll need.
But if you're visiting Crete for the beach, then we'd recommend staying in a beachfront hotel, of course!
Here are some recommendations of where to stay in Stalis to get you started:
Budget Hotels in Stalis, Crete
Midrange Hotels in Stalida, Crete
Luxury Stalis Beach Hotels
Looking for more? Compare the price of hotels in Stalis or check out Stalis hotel reviews on TripAdvisor before deciding.
Related Guide: Looking for more options and inspiration for places to stay in Crete besides Stalis? Read our Where To Stay in Crete guide! It shares insider tips on where to stay in Crete with kids, for a romantic couples getaway, to the best hotels for beautiful beaches and epic nightlife, with or without renting a car.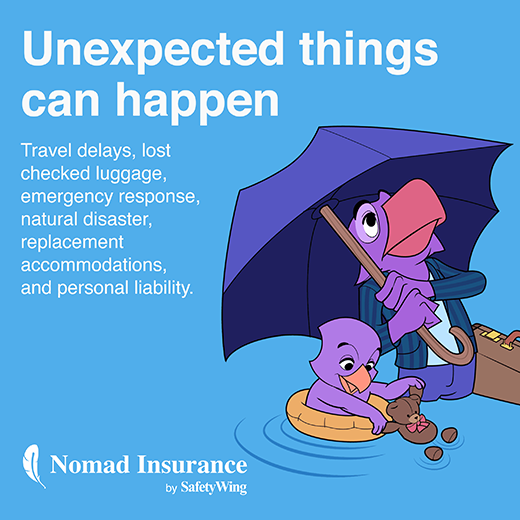 What To Do In Stalida (Stalis), Crete
There are plenty of things to see and do in Stalis besides the beach! Here's a list of what to see and do when visiting Stalida in Crete:
Eating Out At Authentic Greek Restaurants (Tavernas) in Stalis
It would be a sin to visit Greece and not try their world-famous cuisine! That's especially true when visiting Stalis. The food here is not only mouth-watering but also SO affordable too!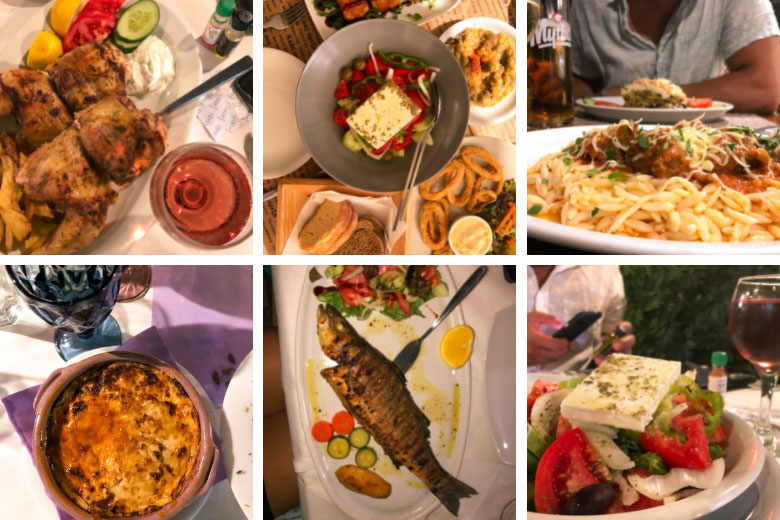 You can easily enjoy an incredible meal for 2 including wine for under €30! And chances are high that you'll probably get dessert and a shot of raki or ouzo on the house. The local restauranteurs are so friendly that they'll make you feel like lifelong friends from day one.
Here are some of the restaurants we visited and loved in Stalis.
Stalis Restaurants
Four Brothers
We enjoyed our first meal in Crete at the Four Brothers Restaurant and it did not disappoint! We both had the fresh fish of the day and highly recommend it! Besides the delicious food, they offer amazing service too. The owner Kostas and his sons are the most friendly hosts we've ever met and made our stay in Stalis unforgettable.
They also have a great beach bar area where you can enjoy cocktails and other drinks right on the beach. It's a great spot to enjoy sundowners before heading up for dinner.
Mastoras
Mastoras is another traditional Cretan Taverna you should not miss when in Stalis! We enjoyed creamy garlic mussels as an appetizer. Then followed that with a scrumptious moussaka and a traditional beef giouvetsi (rice pilaf).
Maria's House
If you're craving a good roast, then head over to Maria's House. They roast their own meat fresh every day. We enjoyed a full roast chicken with a side of fries that was more than sufficient to share between us.
Bonus Tip: Hotels, restaurants, shopping, renting sunbeds, and beach umbrellas are generally cheaper on east vs west Crete.
Watersports in Stalida
There are plenty of options to do watersports in Stalis. Just head over to Zervas Watersports, Skyride Watersports, or Slalom Watersports and pick your favorite activity.
Bonus Tip: Always wanted to learn how to scuba dive? Then become a certified scuba diver and get your open water certification in east Crete.
Don't Forget Travel Insurance
Travel insurance will protect you against injury, illness, theft and even trip cancellation. It's comprehensive cover in case anything goes wrong. We never go on a trip without it as we've had to use it many times in the past. Here are our favourite companies that offer the best value and service:
Get A Massage in Stalis
If you love Thai massages, then you must go to the Original Thai Massage! We loved it so much we went twice! The masseuse is from Thailand herself so this is as authentic as it gets.
Stalis Nightlife
As we mentioned earlier, Stalis is not known for its nightlife. There are bars and pubs, but you'll have to venture to Malia or Hersonissos for nightclubs (more on that later!).
Rent A Buggy Or Scooter in Stalida, Crete
A great way to explore Stalis and its neighboring towns and villages in east Crete is by quad bike (buggy) or scooter. You can easily rent one on the island.
In Stalis, we recommend renting a buggy or scooter with Alex from the Crete Machine Club. He is very friendly and can map out a personalized east Crete itinerary for you.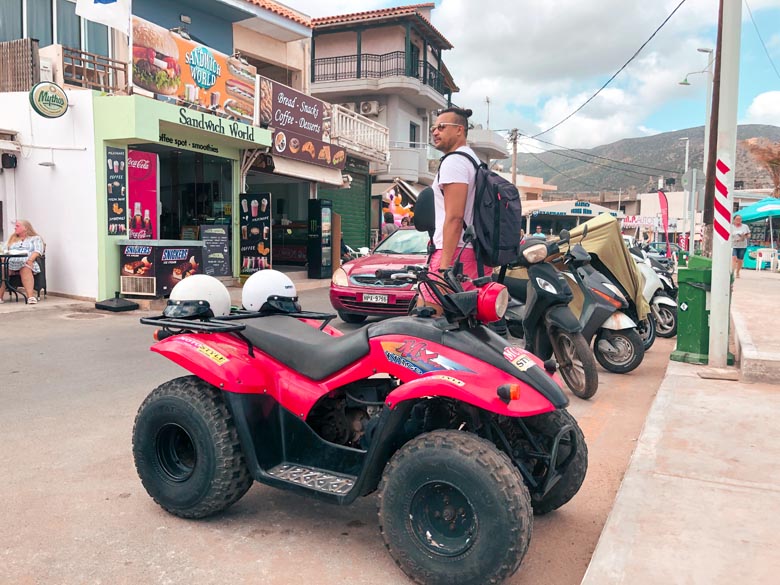 The prices to rent buggies and scooters may have changed since we were there last. But just so that you have an idea to plan your travel budget.
The prices are €50 to rent a buggy that fits 2 people for one day. If you rent for 2 days, you get 1 day free. And scooters cost €10 per day.
Rent a Car in Stalis
A buggy and scooter can only take you so far. To travel further than the neighboring towns and villages around Stalida, we'd recommend renting a car. We rented a car in Crete from EuroMotor Creta in Stalis.
Car rental prices will vary depending on whether you're traveling during low or high peak season. But we spent €496 to rent a car in Crete for 12 days. That works out to renting a car for €41 per day.
You can compare prices for renting a car in Crete on DiscoverCars.com or RentalCars.com and look for a better deal. But we went with EuroMotor Creta because they didn't require us to book with a credit card.
The price also included full car insurance as well as a one-way fee. This worked out better for us since we wanted to return the car at Chania Airport instead of Stalis.
Things To Do In and Around Stalida (Stalis), Crete
Looking for things to do near Stalis? Here are some ideas for what to see and do near Stalida without renting a car.
Day Trip From Stalis to Malia
Take a day trip from Stalis and explore the town of Malia. It's another popular coastal town to visit on the northeast coast of Crete.
The beach at Malia may not be as long and extensive as Stalis. But Malia has the incredible nightlife scene that you won't find in Stalida.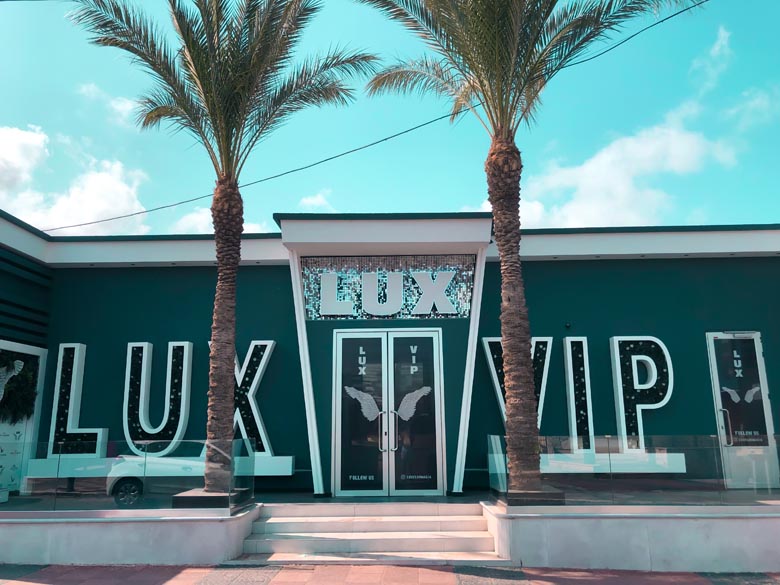 Malia is so famous for its nightlife, that it has an entire strip dedicated to it – the Malia party strip. It's basically like a mini Las Vegas for trendy bars and epic nightclubs.
During the day, we'd recommend exploring the beautiful old town of Malia. And if you love archaeological sites, we'd recommend renting a scooter or buggy and visiting the Minoan town ruins just 3km outside of Malia.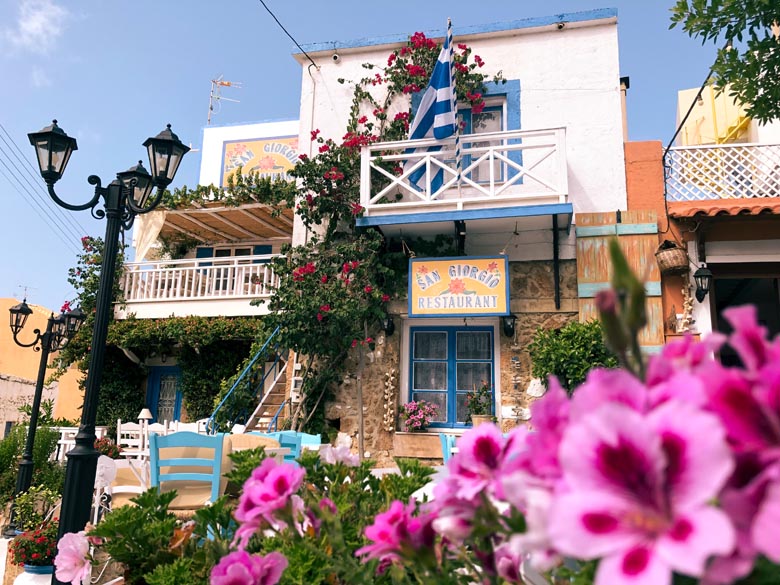 Bonus Tip: Need a caffeine fix? Enjoy a deliciously brewed cup of coffee at Coffee Island. And when you're ready to sit down for lunch or dinner, we'd recommend going to Stone House. They only cook what they can buy fresh and you can taste the difference in every bite!
How To Get From Stalis (Stalida) To Malia in Crete
Malia is located around 3km east of Stalida. So you can easily walk from Stalis to Malia if you wish.
We did just that. Explored the town of Malia for the day and then took the public bus back from Malia to Stalida when we got tired.
You can find the local bus stop on El Venizelou road near Coffee Island and wait for the turquoise bus. They come every 30 minutes and will cost €1.60 per person to go from Malia to Stalis.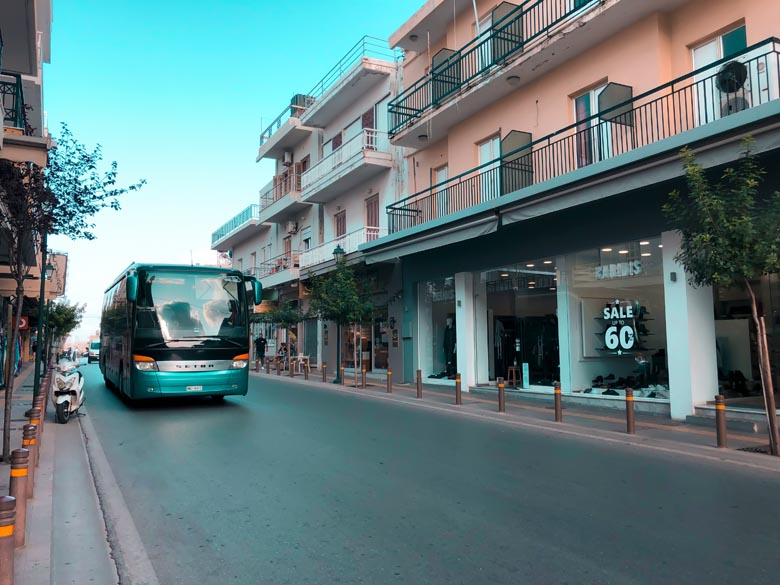 Bonus Tip: There's a cashier on the bus. Just make sure you have cash to pay because they don't take card.
Malia vs Stalis
Can't decide between staying in Malia vs Stalis? Don't worry – we're here to help!
They are both great coastal towns to stay in, in north east Crete. But we'd recommend staying in Stalida if you plan to spend most of your time on the beach. There are more beachfront hotels to choose from in Stalis vs Malia. And it's also quieter and more family-friendly.
But if you're looking for a more lively, bustling town with plenty of things to do at night, then we'd recommend Malia.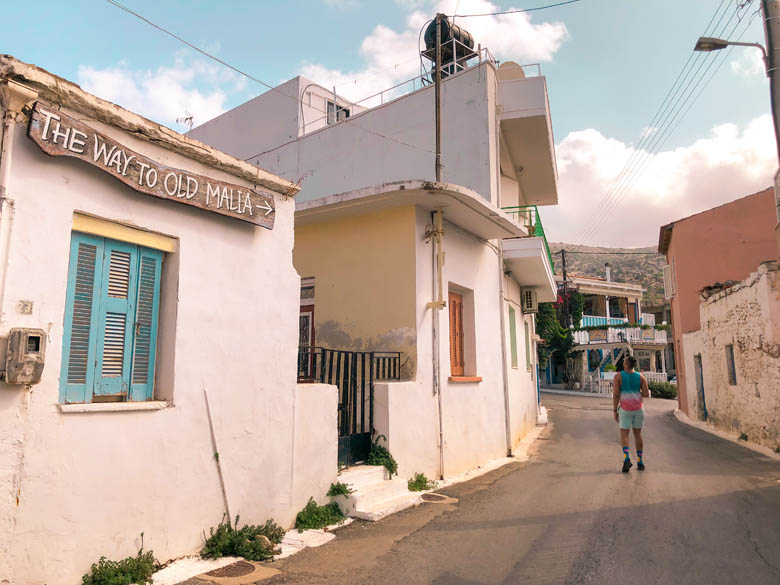 Day Trip From Stalis to Hersonissos
Another great town to explore near Stalis is Hersonissos. It's a much larger seaside town compared to Stalis and Malia with plenty of things to see and do.
Families with kids will love visiting the CretAquarium, Acqua Plus Water Park, or Dinosauria Park.
For outdoor lovers, don't miss these activities:
And if you're traveling as a couple or a group of friends, there are plenty of restaurants, bars, and nightclubs in Hersonissos to explore.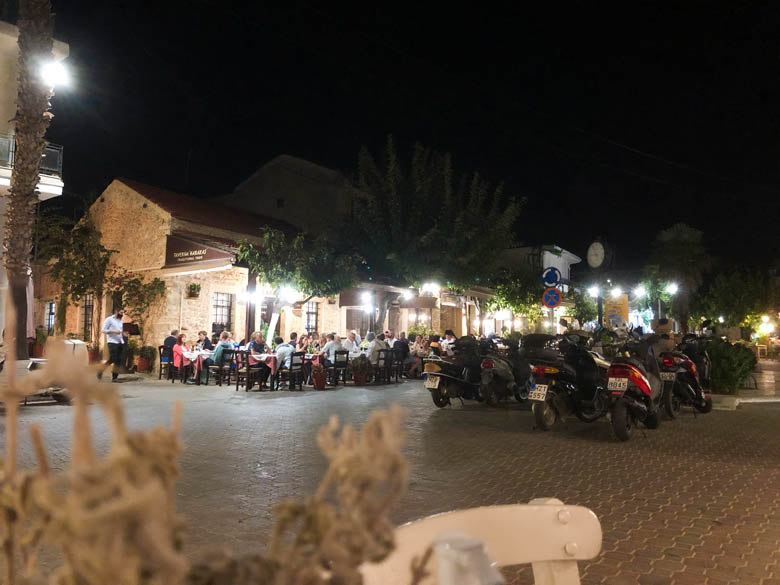 For dinner, we'd recommend heading over to Hersonissos Village and picking a restaurant there. We went to Myrtios Traditional Taverna and enjoyed every scrumptious bite!
How To Get From Stalis (Stalida) To Hersonissos in Crete
The best way to get from Stalis to Hersonissos in Crete is to either rent a scooter or buggy to drive there or take the public bus.
Just head over to bus stop 28 or 29 in Stalis to take the public transport to Hersonissos.