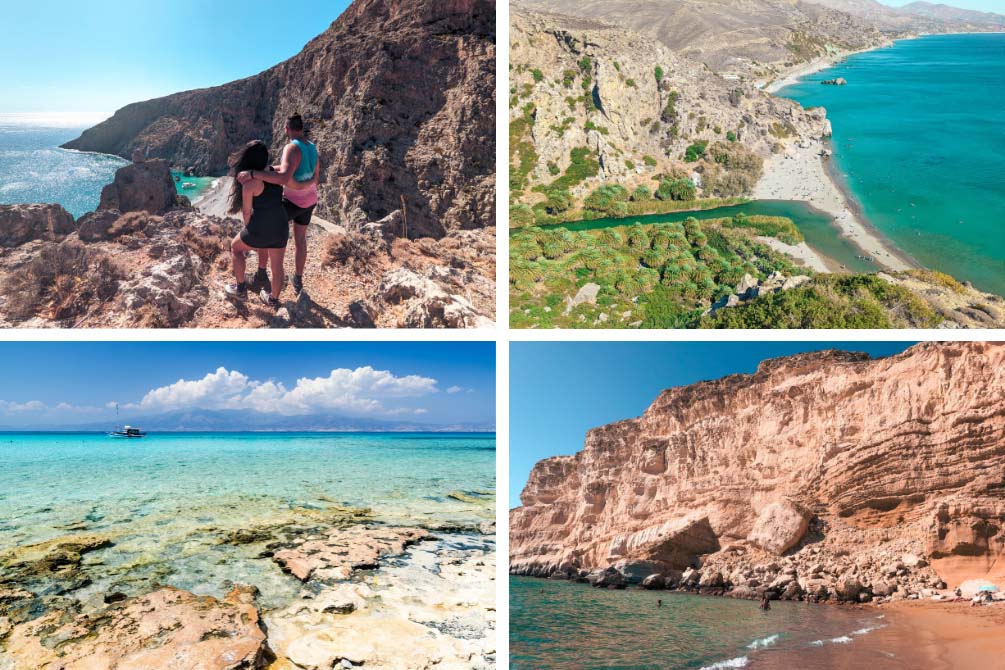 Discover 5 of the most beautiful beaches you must add to your South Crete travel itinerary. Find out how to get there with our free map and what to bring to get the most out of your vacation on Crete island in Greece.
One of the most common questions people ask when planning a vacation in Crete is, 'What part of the island has the best beaches?'. And it's a great question to ask, by the way!
You see, Crete is not only the largest island of Greece. But also the fifth largest island in the Mediterranean Sea with over 1,000km of coastline to explore. So to say that there are literally hundreds of beautiful (and secret) beaches to discover in Crete is probably an understatement.
Most travel guides on Crete will only list the most famous beaches to visit on the north and west coast of the island. It is, after all, the most popular part of Crete where tourism and roads are more developed.
But if you're an adventure seeker who doesn't mind going the extra mile and renting a car. Boy, oh boy, will you be rewarded with some of the most unique beaches you can find on the island on the south coast of Crete!
From a palm forest beach that will make you feel like you're in an African oasis. To experiencing the 'Caribbean Island of Europe' and a red sand beach that feels like it belongs to the planet Mars.
These 5 beaches on the southern coast of Crete are some of the best places to visit by car!
Related Guide: This is part 2 of our Best Beaches in Crete series. Read our 9 Most Beautiful West Crete Beaches travel itinerary if you're planning to explore the western coast of the Greek island.
Make sure to follow us on social media or subscribe to our newsletter so you don't miss our future travel guides on Crete!
Map of Best South Crete Beaches in Greece
Here's a free map to find the best south Crete beaches mentioned in this guide. It should take an average driving time of 1 to 2 hours to get to these beaches from Rethymno or Heraklion.
Make sure you book a car before your trip for lower car rental prices. You can compare prices for renting a car in Crete on Auto Europe Car Rentals or RentalCars.com.
Click on the map to see how far you are from the different beaches in Crete: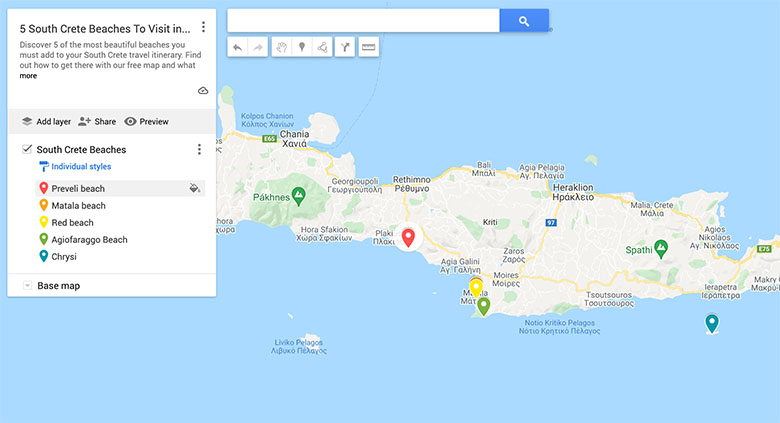 Related Guide: Wondering which are the best towns to base yourself in Crete? Find out in our Where To Stay in Crete guide. We share insider tips on the best places to stay in Crete for families with kids, for a romantic couples getaway, to the best hotels for beautiful beaches and epic nightlife, with or without renting a car.
1. Preveli Beach, South Crete
Preveli beach is no longer an off the beaten track hidden gem in Crete. But it's definitely one of the most unique beaches you can find on the Greek island.
Its one-of-a-kind landscape looks like a scene from a romantic fairytale. A love story of how a river moved continents to meet the sea.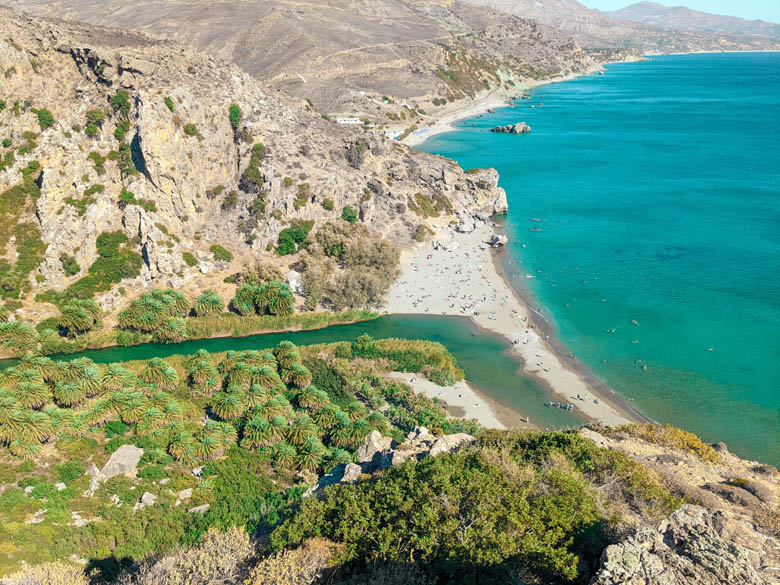 The romantic within us would love to tell you that this 'romance' is the reason why you'll find one of the largest palm tree forest on Crete island at Preveli beach. But the truth is more… pragmatic.
Why There Are Palm Trees on Crete
Palm trees are native to tropical islands. So how exactly did it end up on the Mediterranean island of Crete?
No one but the Greek gods knows for sure. But some believe that it was pirates who bought palm trees to Crete.
Somehow, they must have unintentionally introduced palm tree seeds to the area many moons ago when they visited Preveli beach in search of fresh water. Others believe that the palm tree forest we see today grew as a result of pollination by birds migrating between Europe and Africa.
Whatever the real answer may be. It doesn't change the fact that you feel like you've been teleported to an African oasis when you walk through the palm tree forest of Preveli beach.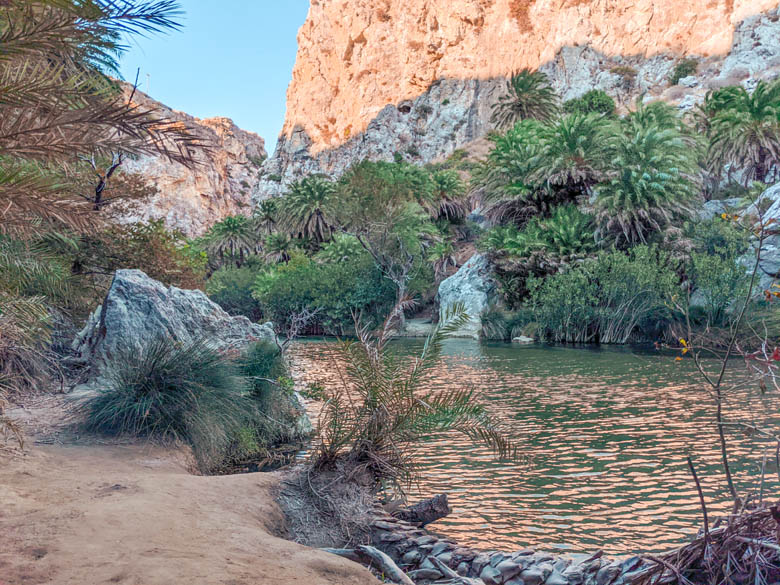 Interesting Fact: The palm tree forest at Preveli beach spreads over 10 acres of land. This entire area is protected because of the unique species of flora and fauna found here.
How To Get To Preveli Beach
The easiest way to get to Preveli beach is from the beautiful old town of Rethymno. It's a fairly easy, 50-minute drive (34km) on paved roads all the way. Just use Google maps and follow the north-south highway on Crete.
The drive from Rethymno to Preveli is incredibly scenic. You'll pass many farms with endless rows of shimmering olive trees before you reach the mountain pass.
The mountain pass is absolutely breathtaking, but it's pretty narrow and windy. So take the last 8km stretch slow and easy, enjoy the views and you'll arrive at the parking in no time.
Bonus Tip: Make a stop at Centuries Old Olive Grove on your way to the parking at Preveli beach. This grove is home to some of the oldest olive trees on Crete island. Some of which, are believed to be more than 100 years old – hence the name!
Not comfortable driving on the roads of Crete? Take a guided tour from Heraklion to Preveli beach to skip the drive.
Parking at Preveli Beach
There are two parking areas at Preveli beach. One on the east of Preveli beach and the other, on the west. We'd recommend picking one based on how long you're willing to hike to get there.
We parked at the parking area west of Preveli beach. This is the more adventurous hiking route. But the scenic views from the top make it worthwhile.
Bonus Tip: There's a small €2 parking fee to park your car here. Make sure you have cash because we're pretty sure they don't take cards.
The second parking area is located east of Preveli beach. It may take a little longer to drive there, but you get the benefit of a shorter (and easier) hike.
We'd recommend this parking for families with young kids or anyone else who prefers an easier hiking route to Preveli beach. It's a short 10-minute walk from the parking to the beach and it's also free to park here.
Bonus Tip: These two parking areas are on either side of Preveli gorge. So make sure you select your parking area of choice before you begin your drive.
Hike to Preveli Beach, Crete
The hike down to the beach is rocky and steep at times. But it should be fairly manageable with closed shoes or hiking sandals.
It should take you around 30 minutes to hike down from this parking area to Preveli beach. Do bear in mind though, that you'll need to hike back up.
The return hike will require some endurance. But don't worry, you'll eventually get back to the car. We'd budget around 40 to 50 minutes to hike back up depending on your fitness level.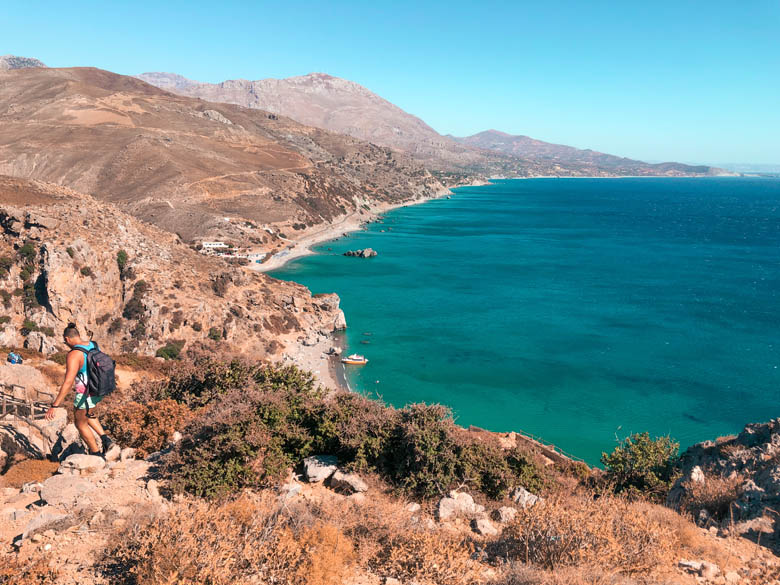 Ferry or Boat Trip to Preveli Beach
And for those who don't want to hike at all, we've got good news! You can skip all of that and take a relaxing boat trip to Preveli beach instead.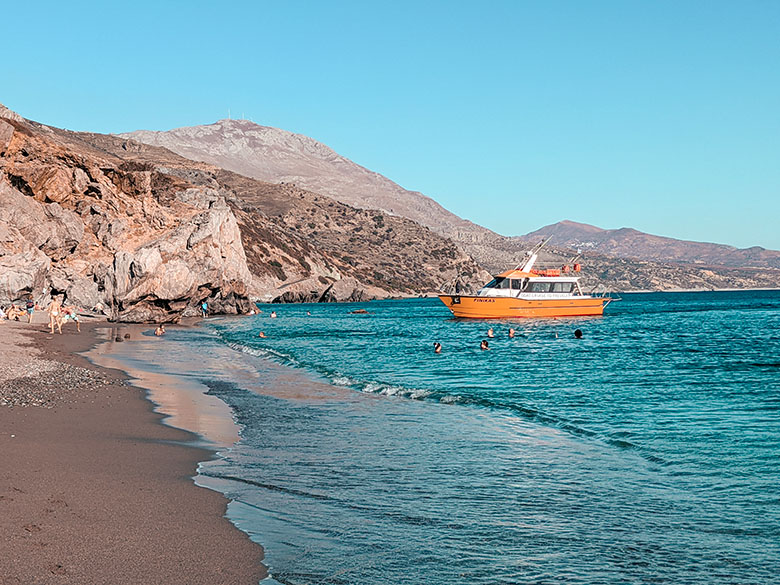 The ferries to Preveli beach depart from Plakias (close to Matala) or Damnoni. LB Ferries seems to be the only company that offers boat trips to and from Preveli beach.
You can check out their ferries to Preveli Beach schedule to get the exact departure times and ticket prices.
Where to Stay in Plakias, Crete
Stay in Plakias so you can skip the drive and take a short walk to the ferry instead. Here are some great places to stay in Plakias:
Compare hotel prices near Preveli beach on Booking.com | Check out hotel reviews on TripAdvisor
Tips For Visiting Preveli Beach
Plan an entire day to visit Preveli beach and start your day early (i.e. 10 PM latest). You don't want to rush the drive back to your hotel or vacation rental in the dark, especially on the mountain pass.
Most of the roads in Crete (including the highways) are not lit at night. We'd recommend having Google Maps on so you can see the curves and hairpin turns ahead of time when driving at night.
Make sure you're wearing closed shoes or hiking sandals if you plan to do the more adventurous, scenic hike to Preveli beach (like we did). Flip flops are not recommended unless you're a flip-flop-hiking-pro.
The water at Preveli beach is much colder compared to the other beaches you'll find in Crete. That's because the ice cold water from Preveli river enters the Libyan sea here.
You can also swim in the river too if you dare! Just make sure you have some warm clothes for after. Like most beaches in Crete, it can get chilly when it's windy.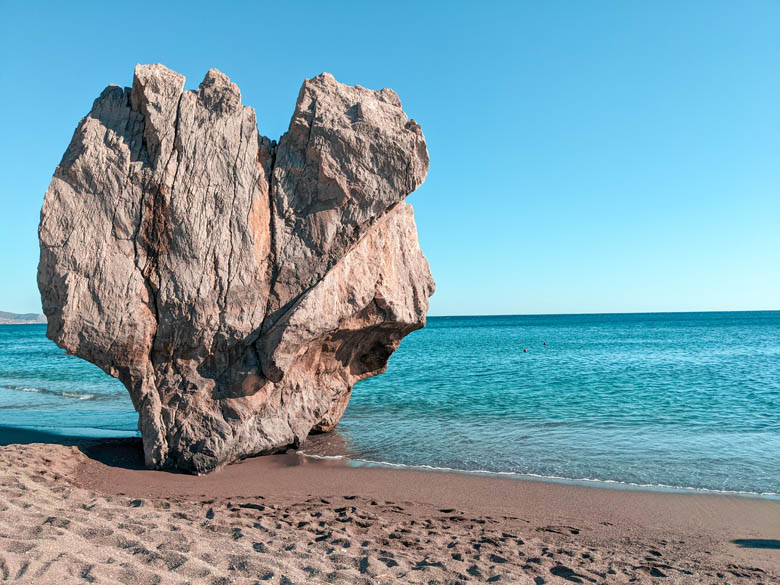 If you didn't bring a picnic or umbrella – don't worry. There's a small canteen on Preveli beach where you can buy food and drinks. You also won't need an umbrella because you can easily find shade amongst the trees.
Just make sure to not smoke or bring anything flammable near the trees or forest at Preveli beach. It's often windy at this beach and it's easy for a fire to spread given the type of trees and how close they stand together.
Best Places to Stay near Preveli Beach
Stay near Preveli beach so you don't need to worry about driving at night. Here are some great options:
Related Guide: Want to visit the largest palm tree forest in Crete and ENTIRE Europe? Then you'll want to add Vai beach to your travel itinerary. Read our Best Beaches in East Crete guide to find out more.
2. Matala Beach, South East Crete
Matala is one of the most popular and bustling beaches in the south of Crete for good reason. It's one of the best all-around beaches for families with kids, a group of friends, and even couples.
And that's not all. Matala beach is famous on Crete island because it's situated right next to the archaeological site – Matala Caves.
These ancient caves are believed to date back from Roman times, around 2,300BC. That's before Christ… not before corona (haha!).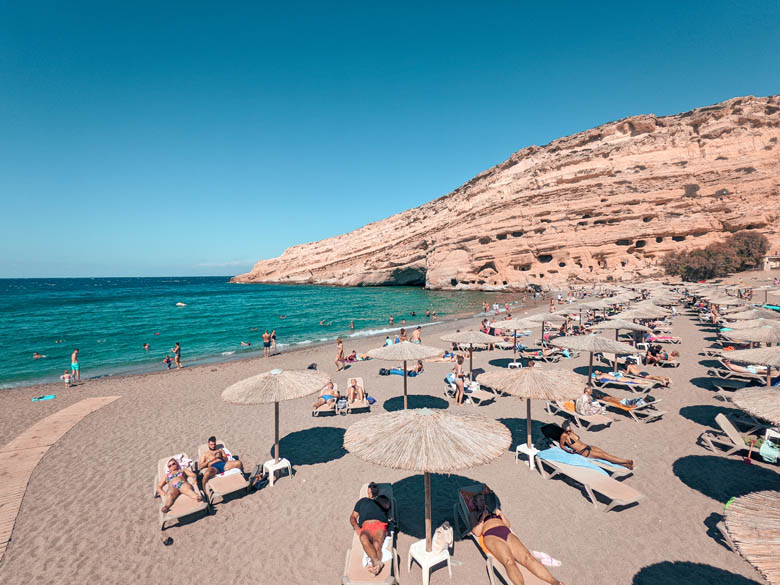 The History of Matala Caves
The history and origin of Matala Caves is still quite a mystery. Archaeologists know that these caves were man-made and carved out of rock thousands of years ago. But no one is really sure what purpose they served.
Some historians believe that the caves were Roman or early Christian tombs. But others feel that some of the caves were homes. Hence why you'll see carved beds and windows in some caves.
What archaeologists do know for sure though, is that hippies or the 'flower children' used to live in these caves during the 1960s. They were later chased out by the church for their carefree, hipster lifestyle.
Today, Matala Caves is one of the most popular attractions in Crete.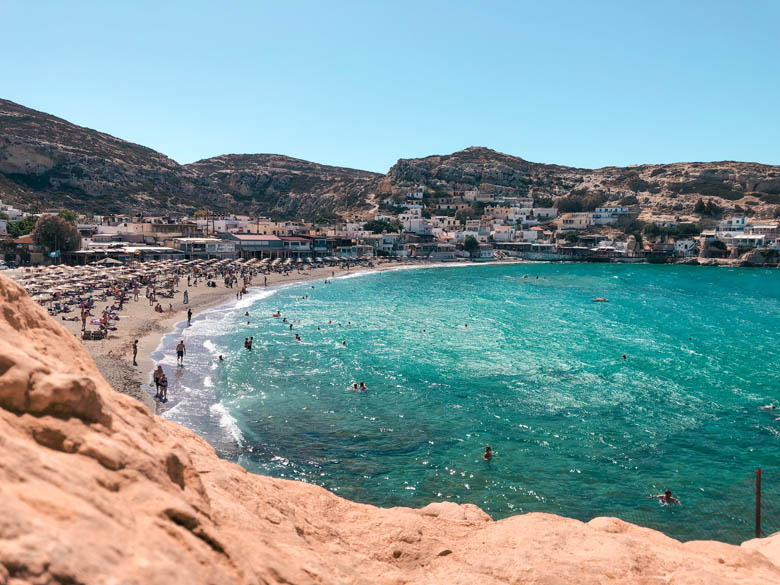 Matala Caves Entrance Fee
You can walk around the archaeological site and explore Matala caves by paying a €4 entrance fee. This fee goes towards preserving the historical site so it's well worth the money.
Take your time at Matala caves and enjoy the beautiful views from above. But please remember to be careful not to damage the interior and to take your trash with you.
Is Matala Worth Visiting?
Matala beach can get pretty crowded at the best of times. But in our opinion, it's still worth visiting and here's why. There are plenty of things to do there for both adults and kids besides visiting Matala Caves.
This is probably one of the most family-friendly beaches in south Crete. It's easy to get to by car and there's no hiking involved.
Matala is also one of the few beaches on Crete island where there are lifeguards on duty. So there's always an extra pair of eyes watching the kids whilst they swim.
And when you're ready to take a break from the sun and grab a bite. There are tons of cafes and restaurants options in the artsy and hippy town of Matala to explore.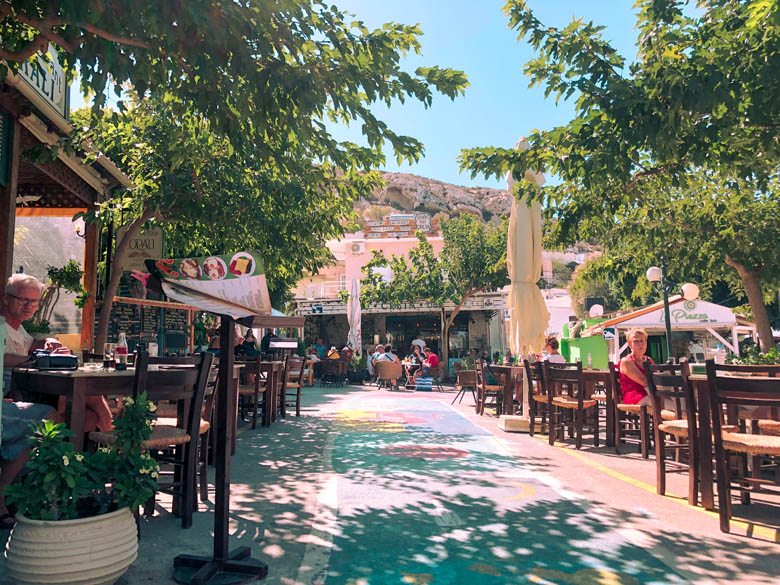 Bonus Tip: If you're looking to try some very delicious (and affordable) gyros, we'd recommend making a stop at Notos.
And lastly, for those seeking a bit more adventure and prefer a quieter beach than Matala. There's a quieter beach option for you if you're willing to hike. It's the next beach in this guide, so keep reading!
How To Get To Matala Beach in Crete
Matala beach is one of the few beaches in south Crete that is easy to get to by car. Well, for Crete standards at least…
It's around a 1 hour and 10-minute drive (67km) from Heraklion. Or a 1 hour and 50-minute drive (80km) if you're coming from Rethymno.
The entire way to Matala beach is on paved roads. It's a pretty relaxing and easy drive. Just follow Google maps for directions to Matala beach, and you're good to go.
Small Guided Group Tour to Matala Beach
Don't want the hassle of renting a car just to visit Matala beach? We've got your back! Take this awesome full day tour to Matala beach and see the beautiful village of Agia Galini and Spili in the south of Crete.
This tour includes hotel transfers to and from Rethymno as well as a guide.
Save Me For Later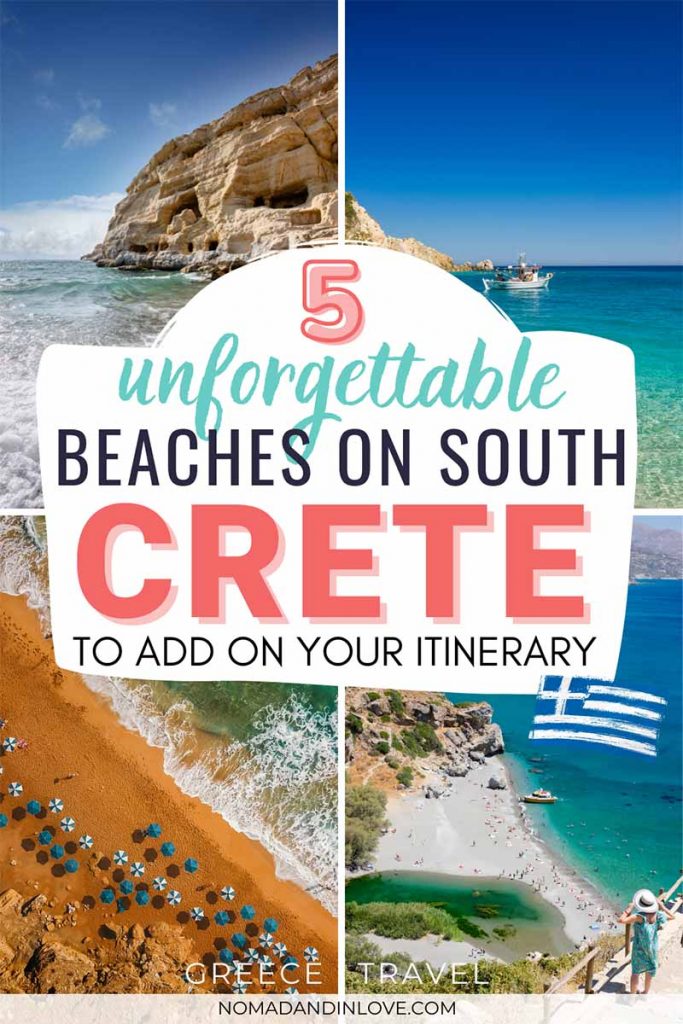 Parking at Matala Beach
There are plenty of parking options at Matala beach. The parking area closest to the beach will cost you a €3 parking fee for the entire day. And you can even pay a little extra (€4) if you prefer parking under the shade.
There's also a free parking option if you go all the way to the end of Matala town on the southwest end.
Best Places to Stay in Matala, Crete
Stay a few nights in Matala so you can explore the beaches in south Crete without driving too far. Here are some places to stay:
Compare hotel prices in Matala on Booking.com | Check out hotel reviews on TripAdvisor
Related Guide: Want to see all the beautiful beaches in this Crete travel guide and more? Skip the guesswork and follow our Two Weeks in Crete Itinerary. Explore jaw-dropping waterfalls, hike magnificent gorges and discover the best beaches in Crete over 14 days.
3. Red Beach (Kokkini Ammos), South East Crete
If you're looking for a quieter, less popular AND even more spectacular beach than Matala – this is it! Kokkini Ammos, or otherwise better known as Red Beach.
Like the name would suggest, the sand at Red Beach is… well, red. Or rather reddish, orange if you want to be exact. If there was a beach on Mars, we'd imagine it to look like this!
The warm color of the sand overlayed with the cool, turquoise blue waters of the ocean and the stark, white cliffs in the backdrop, makes Red Beach one of the most unique beaches we've ever seen on our travels.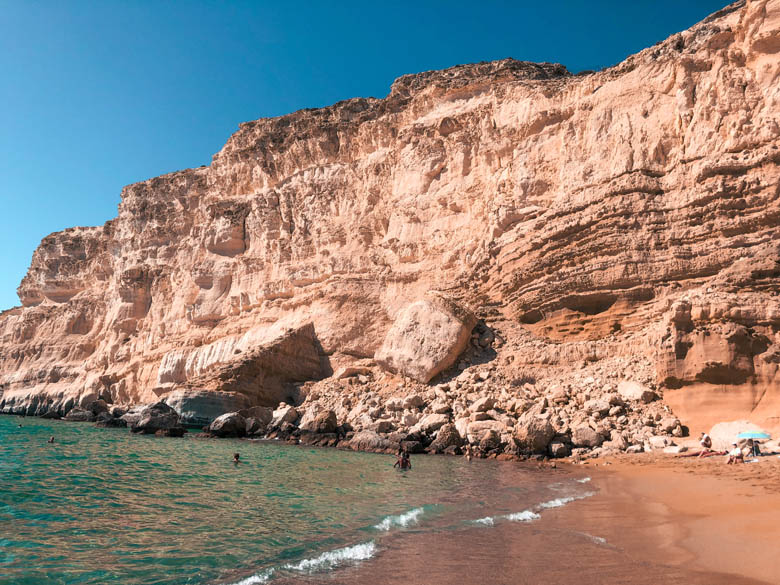 But there's more! Red beach is one of the best beaches to watch the sunset in south Crete. Plus, there's a high chance you'll see the local kri-kris (Cretan mountain goats) here too.
There are two things you need to know before visiting Red Beach though.
Tips For Visiting Red Beach near Matala
Firstly, you'll need to hike 45 to 50 minutes to get there (each way).
Secondly, but probably most importantly, you need to be comfortable with public nudity. Or otherwise known as 'FKK' ('freikörperkultur' or free body culture) if you're from Germany.
Yes, Red Beach is one of the most popular nudist beaches in Crete and is what it's most famous for. You don't need to go nude to visit Red Beach. But you need to be okay that others will be nude and respect that.
If it's your first time at a nudist beach, just remember 2 easy rules. Don't stare and be careful when taking photos. You don't want to accidentally capture any nude shots. And that's it!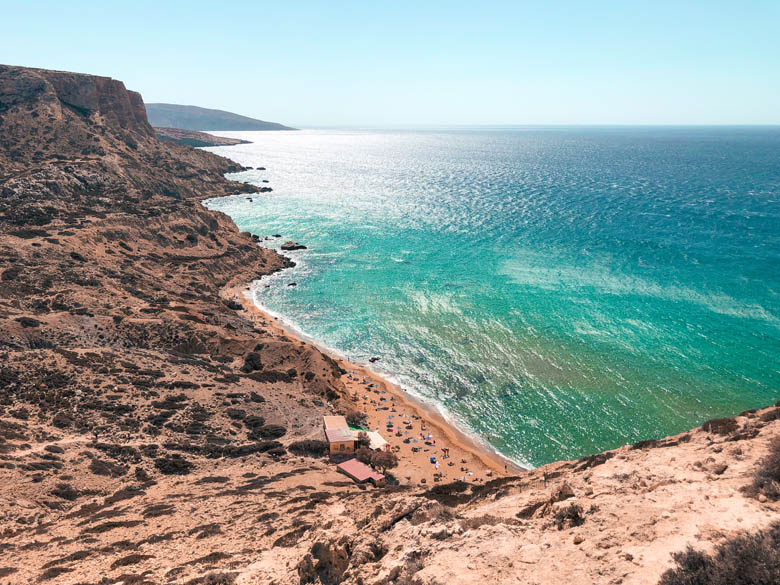 Unlike Matala Beach, there are no shops or cafes near Red Beach. So make sure you bring enough food and water for the day. You will find a mojito bar on Red Beach though.
Make sure to bring cash if you want to celebrate with some sundowners. The mojitos are €9 each.
Last tip! You may also want to bring an umbrella to Red Beach if you don't want to sit in the sun all day.
How To Get To Red Beach in Crete
The only way to get to Red Beach is to hike there from the town of Matala. So just follow the directions we've included on how to get to Matala beach and find parking.
From there, walk through Matala town and follow the signs that direct you to Red Beach. This will take you to the Red Beach trail.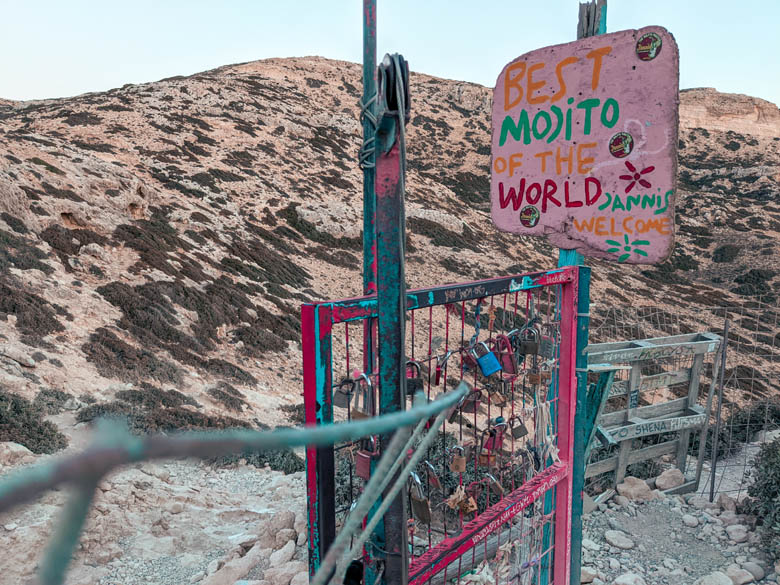 The Hike to Red Beach, Matala
The hike from Matala to Red Beach is, in our opinion, of a moderate difficulty level. Hiking shoes are a plus, but you could probably do it in flip-flops or sandals too.
You'll basically need to hike up over the mountain from Matala, then downhill to get to Red Beach. For the average person, it should take 45 to 50 minutes to get there.
Bonus Tip: Don't drink too many mojitos because you'll need to hike back up to Matala. You may find this funny, but we actually did bump into someone who had a bit too much to drink and struggled to get back.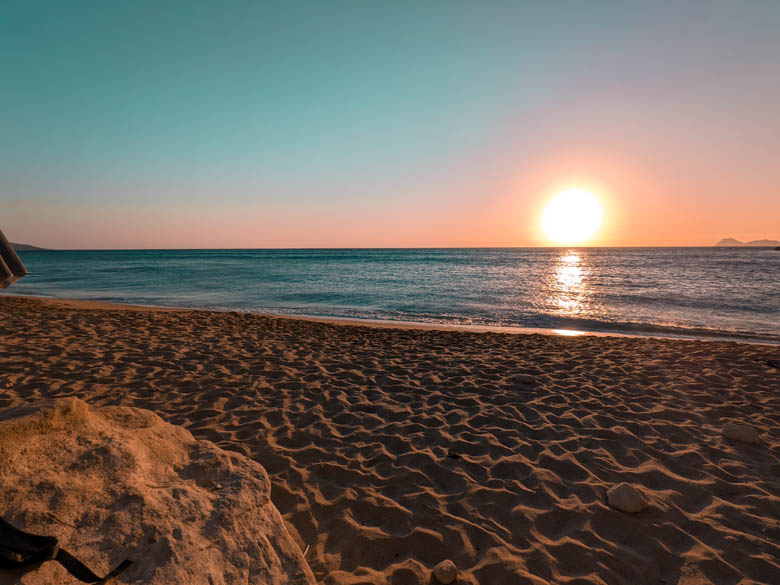 Bonus Travel Tip
With the ongoing COVID-pandemic, airport chaos, and who knows what else, it's better to be safe than sorry! Travel insurance will protect you against cancellations, illness, injury and even theft. Get a travel insurance quote for a stress-free vacation and enjoy the adventure without worries. Here are some recommendations:
4. Agiofarago Beach, South East Crete
If you're looking to discover the off the beaten track side of Crete, then you need to add Agiofarago beach to your south Crete travel itinerary!
Not only is Agiofarago (which means 'Gorge of Saints') a hidden gem. But it's also one of the most beautiful pebble beaches in south Crete, and our personal favorite after spending two weeks on the Greek island.
This magical beach is located on the southernmost tip of Crete island. Tucked away at the end of the island with two dramatic cliffs guarding it on either side.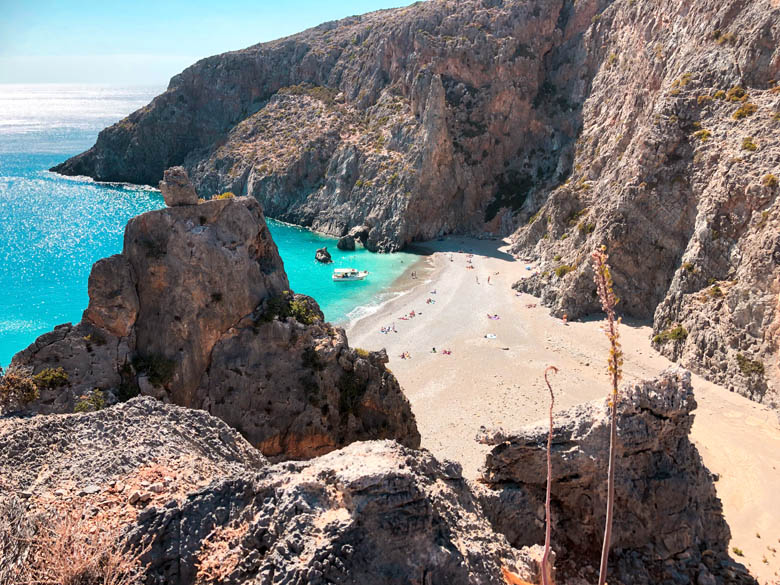 It's certainly not an easy beach to get to. But those who dare will be rewarded with some of the clearest water you can find in Crete!
And the cherry on top? It's probably THE quietest beach we visited on Crete. So if you're looking to share a slice of paradise with as few people as possible – THIS IS IT!
How To Get To Agiofarago Beach
It's an adventure getting to Agiofarago beach. But an absolute treasure of a find when you finally make it there.
There are two ways to get to Agiofarago. The Google Map way to Agiofaraggo Canyon Parking (which is harder) or the secret route we're going to share with you.
We recommend taking the secret route because the drive on treacherous, unpaved roads is much shorter. Plus, the hike to Agiofarago beach is also easier and more scenic this way.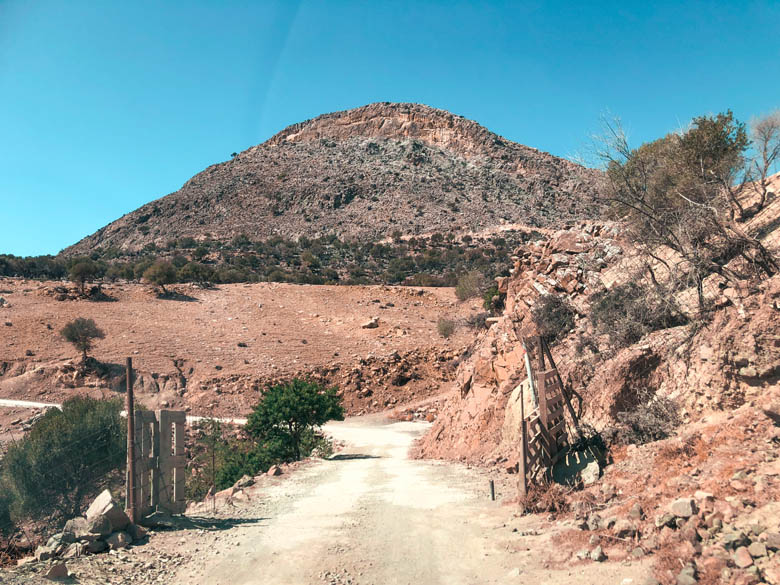 To take this secret route, open Google maps and head to this location via the village, Kaloi Limenes.
The drive to this location near Agiofarago takes around 45 minutes if you're coming from Matala. Or 1 hour and 30 minutes to 2 hours if you're coming from Heraklion or Rethymno.
The roads getting there are narrow and windy, but it's all paved and the views along the way make it worth it. It's the last 15 to 20-minute drive on the unpaved road which is the hardest.
So take it slow and steady and park your car when you reach our GPS location. From there, it's a 35 to 45-minute hike to get to magical Agiofarago beach.
The Hike to Agiofarago Beach
The hiking trail to Agiofarago may not be obvious at first. But just walk to this location on Google maps and look between the rocks for a big red dot.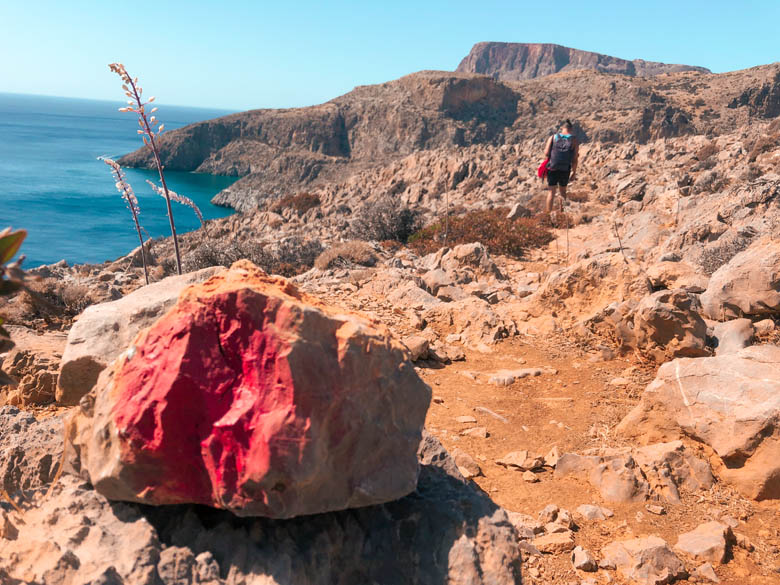 These red dots mark the hiking path to Agiofaraggo beach. So just follow the path around the curves of the mountain, and you'll arrive in paradise shortly.
Bonus Tip: There's no signal at Agiofarago beach. So make sure to download offline maps before heading there.
Agiofarago Lake (Vourvoulitis lake)
This is another hidden gem you must add to your South Crete itinerary – Agiofarago Lake.
It's a hidden, saltwater lake that is embedded in the striking, vertical cliffs to the east of Agiofarago beach.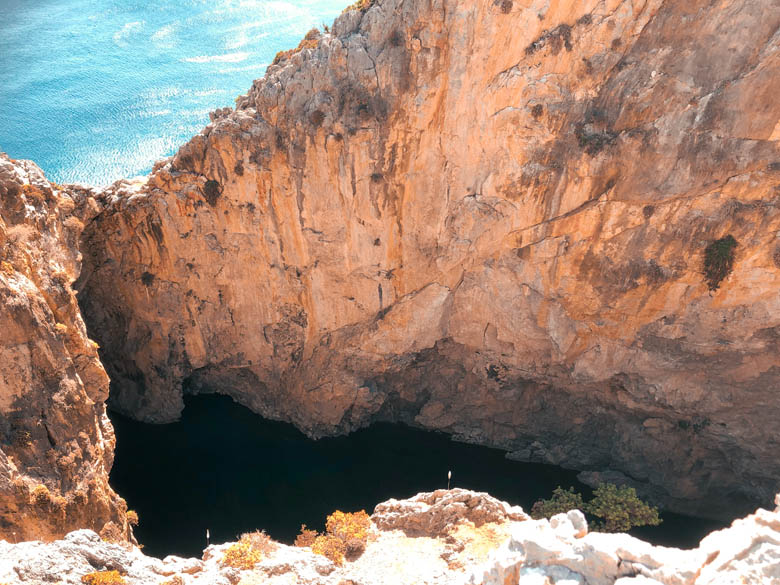 You'll see epic pictures on Google Maps of people floating on the surface of the lake. But we highly recommend that you do NOT attempt to climb in the lake unless you're an experienced rock climber. Otherwise, you could easily put your life in danger.
Just go to Agiofarago Lake for a quick look and some pictures, then make your way to Agiofarago beach to enjoy the rest of the day.
To get to the lake, head left instead of right when you see Saint Anthony monastery at the bottom of the hill. Be careful hiking to the lake as it's often very windy there and it's easy to lose your footing.
Tips For Visiting Agiofarrago Beach
Plan an entire day to visit Agiofarago beach and start your day early (i.e. 9 AM latest). You don't want to rush the drive there or drive in the dark on the narrow and windy roads when returning to your hotel or vacation rental.
The cliffs also block the sun rays from reaching the beach after a certain time. So the earlier you're there, the better.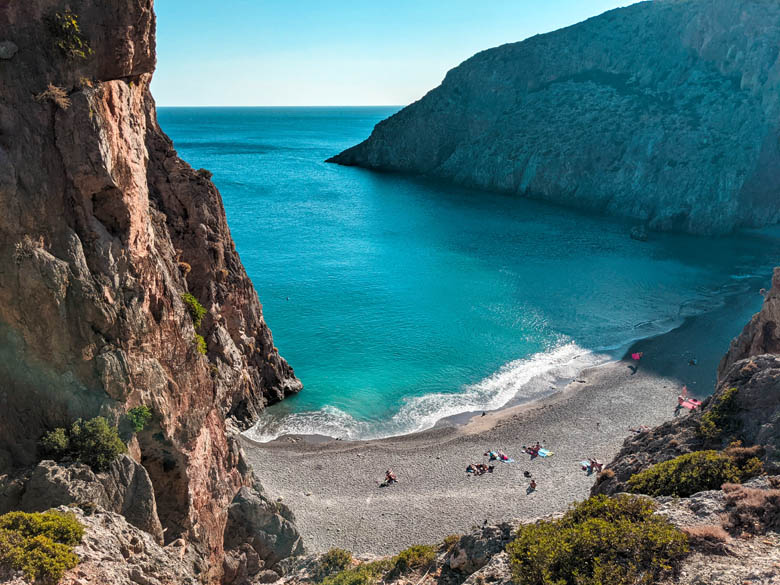 Bring your water shoes so you can walk comfortably on the pebble beach. You may also want to bring an umbrella if you don't want to sit in the sun all day. Like most beaches in Crete, there is little to no shade on Agiofarago beach.
Also, make sure to bring enough food and water because there are no shops or cafes nearby.
Where to Stay near Agiofarago Beach
The drive to Agiofarago Beach is not easy. We'd recommend staying overnight at a hotel or vacation apartment nearby so you can avoid driving on narrow and windy roads in the dark. Here are some places to stay near Agiofarago Gorge:
Looking for more? Compare hotel prices on Booking.com or read reviews on TripAdvisor for the best places to stay near Agiofarago Gorge.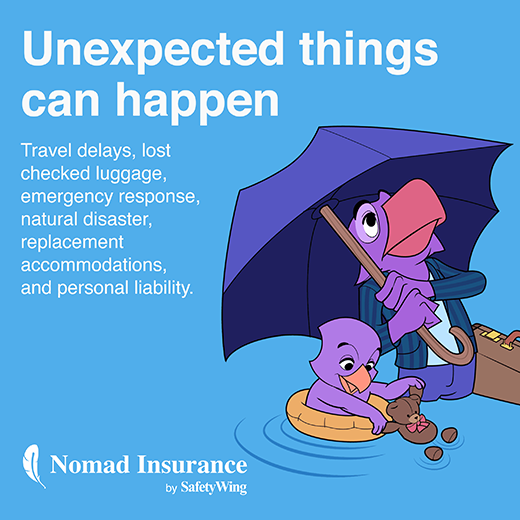 5. Chrissi Beach, South East Crete (Chrissi Island)
Chrissi Island is a teeny, tiny island located off the south east coast of Crete in Greece. It's often dubbed 'the Caribbean island of Europe' because it features some of the clearest water in Crete.
The highlights of Chrissi Island go beyond its crystal clear, sparkling waters though. Here, you'll find old cedar tree forests, beautiful dunes, and even volcanic rocks embedded with thousands of fossilized shells.
The most famous beach on Chrissi Island is Golden Beach. But you can easily avoid the crowds and go explore its other sandy beaches, like Chatzivolakas beach, Vougiou Mati beach, or Vages Beach.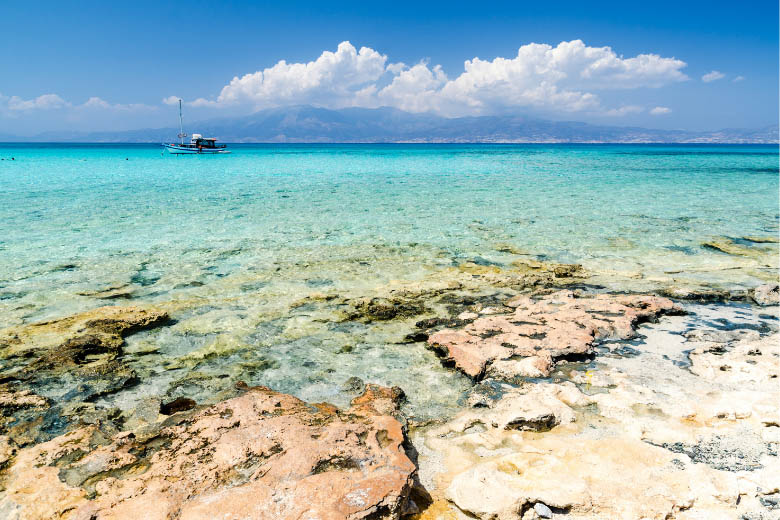 We recommend bringing water shoes for your visit to Chrissi Island. The sand can get pretty hot during summer. Plus, they'll be handy when you go for a swim because the first few meters on some beaches are a little rocky.
Bonus Tip: Bring snacks and enough water for the day. There's only one rustic beach bar, a small souvenir shop, and toilets on Chrissi Island. Please also take your trash back to the main island of Crete with you.
How To Get To Chrissi Island
There's only one way to get to Chrissi Island – by boat! Both the ferry and boat cruises depart from the small town of Ierapetra on the south east coast of Crete.
The ferry to Chrissi Island departs between 10:00 AM and 10:45 AM depending on which company you go with. And you'll sail for just under an hour before arriving on dreamy Chrissi Island.
Bonus Tip: Keep an eye out for the weather before you book your boat cruise or ferry. If it's too windy or raining, then you may need to postpone your trip to another day.
Crete Hotels in Ierapetra, Crete
We'd recommend staying overnight at Ierapetra after your full day tour to Chrissi Island. Here are some great options:
Looking for more? Compare hotel prices on Booking.com or read reviews on TripAdvisor for the best places to stay in Ierapetra.
Chrissi Island Boat Tickets
You can buy your Chrissi Island ferry tickets online with Blue Daily Cruises or Cretan Daily Cruises. The price for the boat tickets is €23 to €25 for adults.
These cruises may not have refund policies in the event the ferries are canceled due to bad weather. So we recommend booking your day trip to Chrissi Island with Get Your Guide.
GetYourGuide offers free cancellation policy if you cancel 24 hours before your trip. Plus, hotel transfers are included so you won't need to hire a car and drive there.
Here are GetYourGuide options to explore Chrissi Island:
Chrissi Island Private Boat Cruise
And for those who'd prefer to experience paradise without the crowds, you can rent a private boat cruise to Chrissi Island.
Each private boat cruise can sit up to 5 people. An experienced skipper will charter you to Chrissi Island so all you have to do is relax and enjoy your day trip.
Bonus Tip: Like Balos beach, there's an additional €1 entrance fee (local tax) to pay when visiting Chrissi Island.
Best South Crete Beaches to Visit in Greece
That's a whole lot of beaches to explore on the south part of Crete island in Greece, so here's a quick summary.
Preveli Beach
Matala Beach
Red Beach (Kokkini Ammos)
Agio Farago Beach
Chrissi Island
Related Guide: Visiting Crete for the first time? Then make sure you read our 21 Best Beaches in Crete travel guide. We've listed the beaches from most famous to off the beaten track hidden gems, as well as the best beaches for families and those that are most unique in Crete.
---
Thank You For Reading
If you enjoyed reading this guide, share it with your friends and family. Have a question or need advice? Contact us via Email, Messenger or WhatsApp. And if you'd like to leave a comment, tweet us. Oh, and don't forget to subscribe!
Buy Us A Coffee
Our content is free and always will be. But if this guide has saved you time, money or made your life easier, feel free to buy us a coffee. We'll really appreciate your support.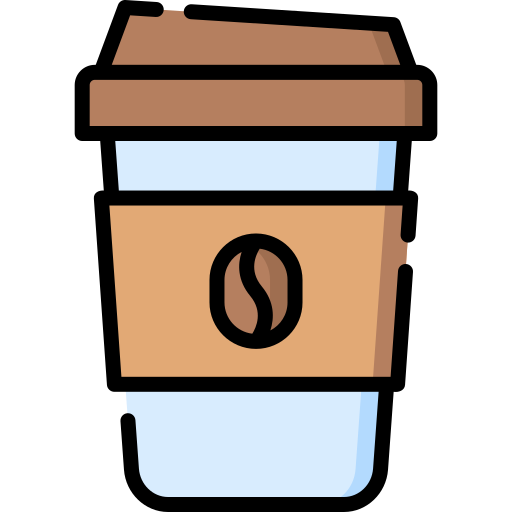 Support Our Work
Can't donate? No problem! You can still support us by buying products and services that we recommend. Check out our resource page for all offers and discount codes.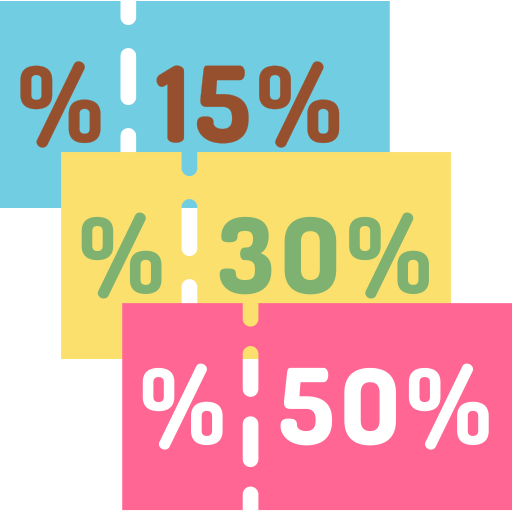 📣 This guide contains affiliate links. This means if you click on our links and buy something, we may earn a commission at no extra cost to you. This allows us to work on the website full time and keep Nomad And In Love alive and thriving.