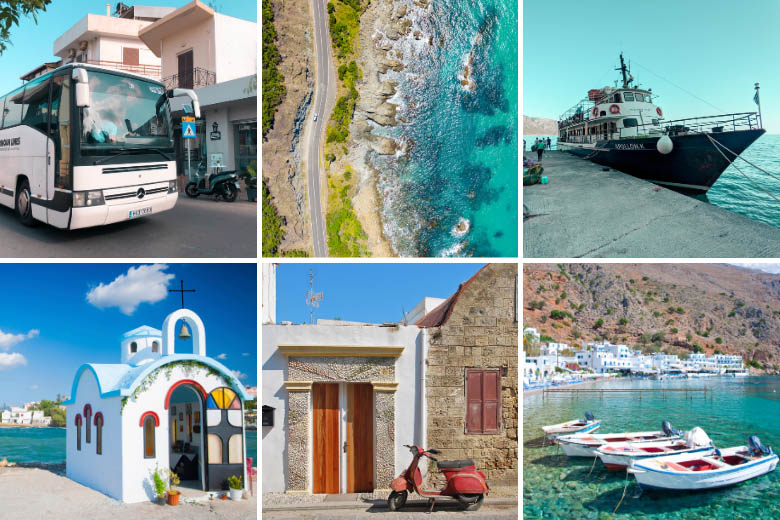 Getting around Crete is easy with this ridiculously detailed Greece travel guide. Find out how to get around Crete with or without a car and how much transportation costs.
Planning an epic vacation in Crete but not sure what's the best way to get around the island? You've come to the right place!
We've spent hours researching the best way to get around Crete. From whether to rent a car, scooter, or quadbike, to how public transport and ferries work.
So why let all those hours go to waste? Sharing is caring, right? This epic Crete Transportation Guide will help you skip all the guesswork!
Find out how to easily get around Crete with or without a car. Whether that's by public transport, guided bus tours, ferries, taxis, or renting a car, scooter, or quadbike – we've got you covered!
Make sure you bookmark, share or pin this travel guide so you can easily refer back to it later.
How Do You Get Around on Crete Island?
Before we jump straight into the different ways to get around the Greek island. Let us answer one of the most frequently asked questions travelers ask when visiting Crete for the first time. And that question is: 'How do you get around on the island?'
And it's a great question to ask, by the way!
You see, Crete is not only the largest island in Greece. But also the fifth largest island in the Mediterranean. To give a bit of context, that's around a third of the size of Hawaii and more than double the size of Mallorca.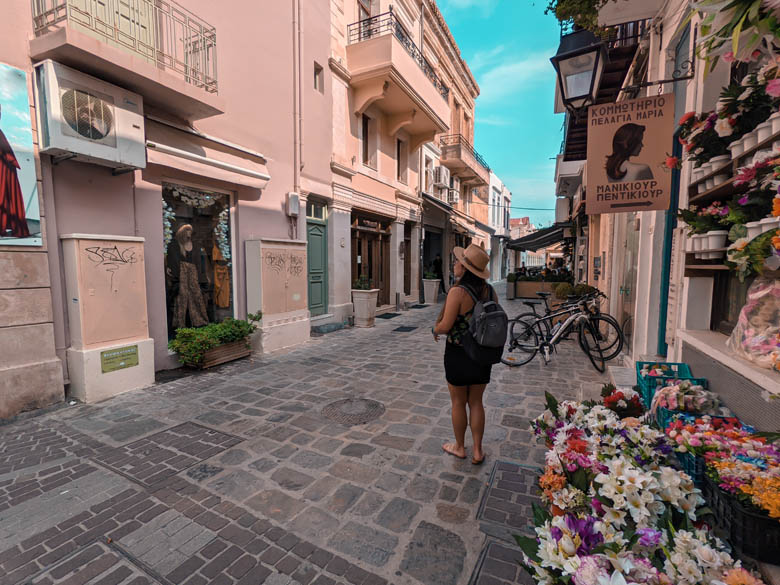 This means that unlike many of the smaller Greek islands, like Koufonisia or Antiparos, Crete is not walkable and it's impossible to explore the entire island without a car or some form of motor transport.
Luckily, there are many ways to get around Crete. Each mode of transportation has its pros and cons, of course. And we'll share what these are to help you plan the ultimate Greece vacation.
What Is The Best Way To Get Around Crete?
Is there a best way to get around Crete? The answer will depend on you and what type of vacation you want in Crete.
If your vacation goal is to relax on the beach and see a handful of famous beaches and attractions in Crete, then the best way to get around is by public transport or guided bus tours.
But if you plan on packing your travel itinerary with as many beautiful beaches, hikes, and attractions to see as humanly possible (like us), then the best option is renting a car.
Especially if you want to explore Crete off the beaten track, and discover hidden gems and beaches away from the crowds.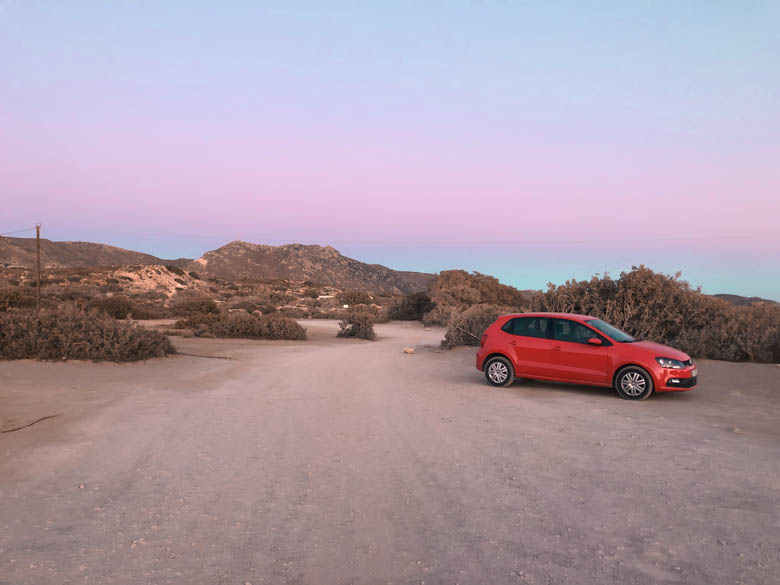 Renting a car may be the best way to get around, but it's also the most expensive option. Plus, driving in Crete is not easy if you go off the beaten path.
If you're not sure whether it's worth renting a car or not, we'd recommend reading our Crete Itinerary. This epic travel guide shows you what to see and do in Crete in 3, 4, 5, 7, 10, or 14 days, with or without a car.
Getting Around Crete By Car
Crete is one gorgeous island and one of our favorite travel destinations. But we won't lie – driving in Crete is not for the faint of heart.
Driving on the main highway in the north is easy. It's the other main roads and often, unpaved dirt paths that are difficult, if not borderline dangerous.
Not only will you have to prepare yourself to navigate around plenty of holes and hairpin turns. But also dodge cats, shrews, mountain goats, and other wildlife crossing the road at night with nothing but your headlights to guide you.
But don't worry, we drove over 2,000km in Crete and live to tell the tale.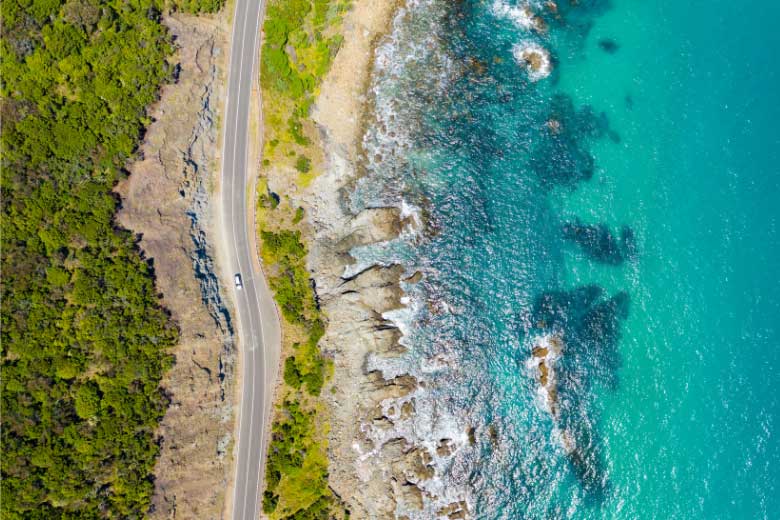 If you plan to rent a car, make sure to read our Driving in Crete guide. It includes a list of important road rules you need to know to have a safe road trip in Crete. Plus, we've also included useful car rental tips like what driving license you'll need, whether car insurance is necessary, and what type of car to hire.
How Expensive Is Car Rental in Crete
Renting a car is the most expensive way to get around Crete – but how expensive is it exactly?
Car rental can cost anywhere between €40 to €80 per day depending on the type of car you're renting and whether it's high or low peak season. This excludes fuel costs, parking fees, one-way fees, and sometimes even car insurance, by the way!
For our two-week vacation in Crete, we rented a car for 12 days and paid €496. This works out to spending €41 per day on car rental and includes comprehensive car insurance as well as one-way fees.
It was not ridiculously expensive, but it wasn't cheap either!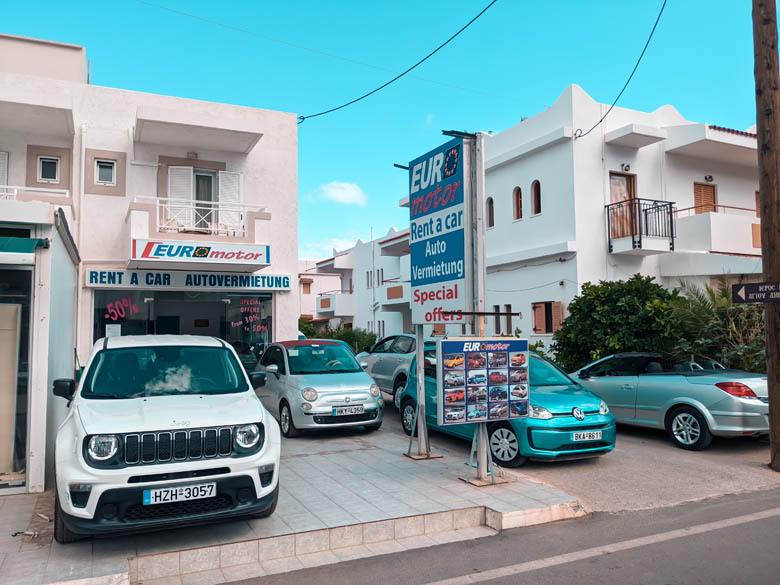 If you plan on traveling to Crete, we'd recommend booking car rental as early as possible to get the cheapest deal.
Don't make the mistake of renting a car when you're there. There may be tons of car rental companies on the island. But like in most countries, they'll charge you an arm and a leg if you book on the spot.
Compare car rental prices for Crete on DiscoverCars.com or RentalCars.com to find the cheapest deals.
Related Guide: How much does a trip to Greece cost? Get a detailed cost breakdown for flights, hotels, excursions, eating out, and more, in our How Expensive Is Crete guide.
Getting Around Crete Without A Car
Driving in Crete is not for everyone. But the good news is that you do not need a car to visit the most famous beaches, attractions, and sightseeing spots.
It's easy to get around the Greek island without a car. You can take public transport, ferries, guided bus tours, or even rent a scooter or quadbike (ATV) and make the journey as fun as the destination.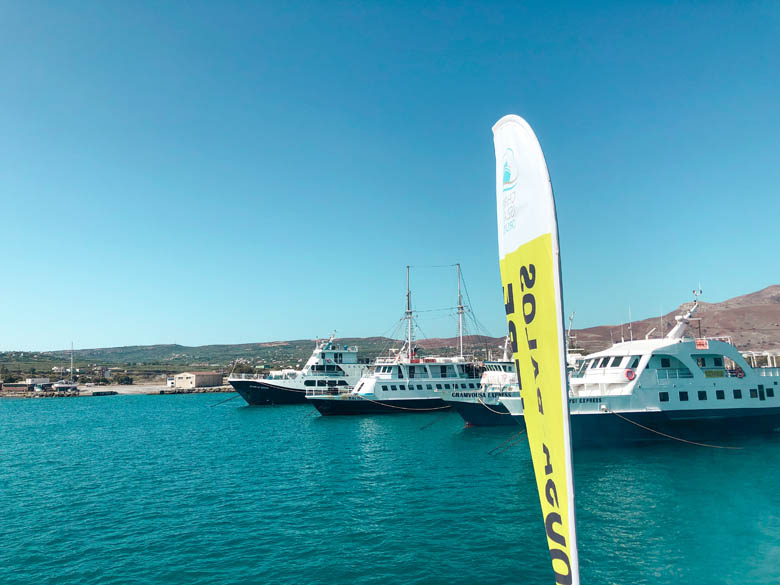 Depending on your travel itinerary, you'll most likely have to take a combination of these modes of transportation. But it's fairly easy as long as you're staying in a town that's within walking distance of public transport.
What are the best towns or places to stay in Crete without a car? We answer this exact question in our Where To Stay in Crete guide.
Public Transport
One of the most common questions travelers ask is whether there is public transportation on Crete. The answer?
Yes – public transport exists in Crete and it's fairly decent. But that's only true for the north part of the Greek island. Most towns in the south and east of Crete only offer bus service twice a day (if any).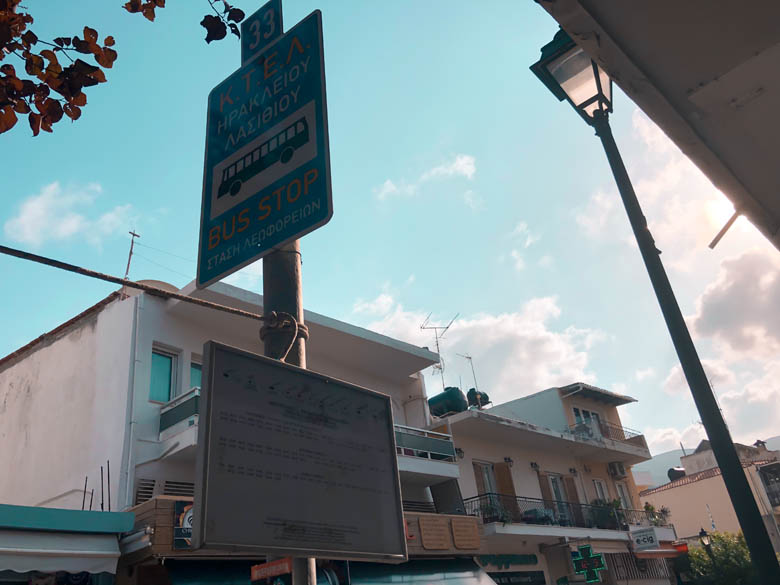 Getting around Crete by public bus definitely requires more planning. But the pros are that it's the cheapest way to get around the island and it's safe if you're traveling solo.
How To Get Around Crete by Bus
Getting around Crete is easy with the public bus service, KTEL. They provide regular bus service between the major towns in north Crete like Chania, Rethymno, Heraklion, and Agios Nikolaos.
You can also take public transport to some towns in the south and east of Crete like Matala, Sougia, Chora Sfakion (or Sfakia), and Sitia. But buses to these towns are not regular.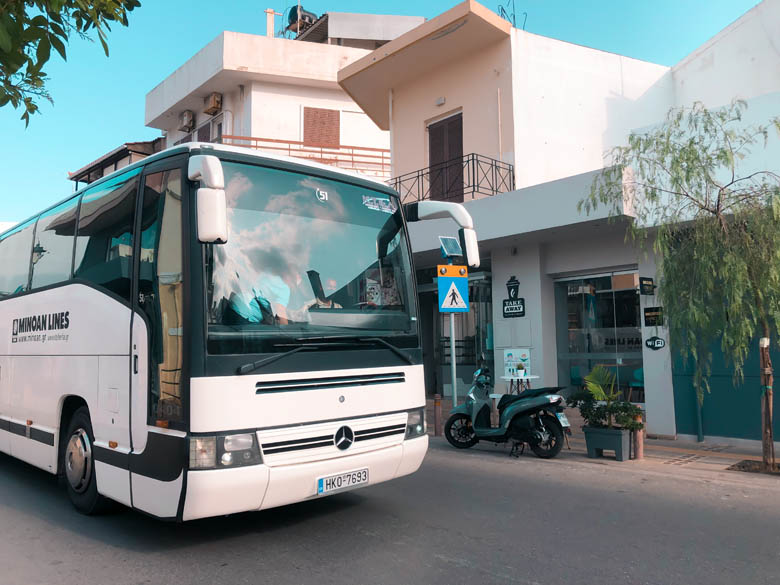 If you plan to explore south and east Crete without a car, you may need to stay overnight to catch the bus back to Chania, Rethymno, or Heraklion the next day.
Bonus Tip: You can easily spot public buses in Crete. They're usually either white or turquoise.
How Do You Buy Bus Tickets in Crete?
There are a few ways to buy bus tickets in Crete. The first method is buying it online.
We'd highly recommend you always buy online when you can. That way you know what time the bus departs and you won't need to worry about paying by cash.
To buy your bus tickets online, simply head to E-Ktel or Ktel Herlas. Insert the town you want to depart from and where you want to head to, as well as the date, and pay for your public transport ticket online.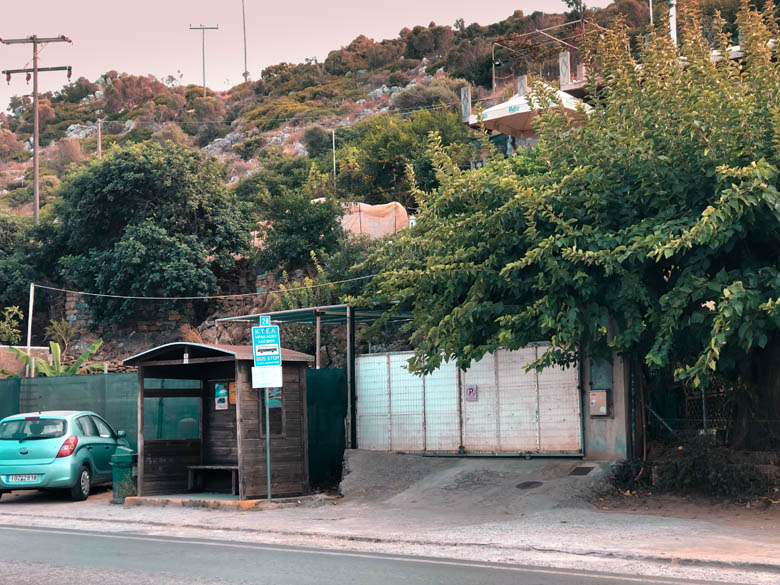 The second method is buying your tickets on the bus. We were able to do this when we took the bus from Malia to Stalida. But this wasn't possible when we took the bus from Sougia to Omalos.
We're not sure why. But our best guess is that you can only buy tickets on the bus on regular routes connecting the towns in the north. For the less regular routes, you'll have to pre-buy your bus tickets from a nearby cafe or shop.
Bus Prices
You can expect bus prices in Crete to be anywhere between €1.60 per person for a short trip, to €7 or more for long trips.
Here are the prices for the most popular bus routes on the island:
Bus from Chania to Heraklion: €13.80
Chania to Rethymnon by bus: €6.20
Bus from Heraklion to Sitia: €14.60
Heraklion to Rethymno: €7.60
You can find the bus schedule on the Ktel Herlas and Ktel websites. Ktel also has a bus map that you can download and use on your vacation.
Besides public transportation, you can also get around Crete without a car by taking guided bus tours.
Save Me For Later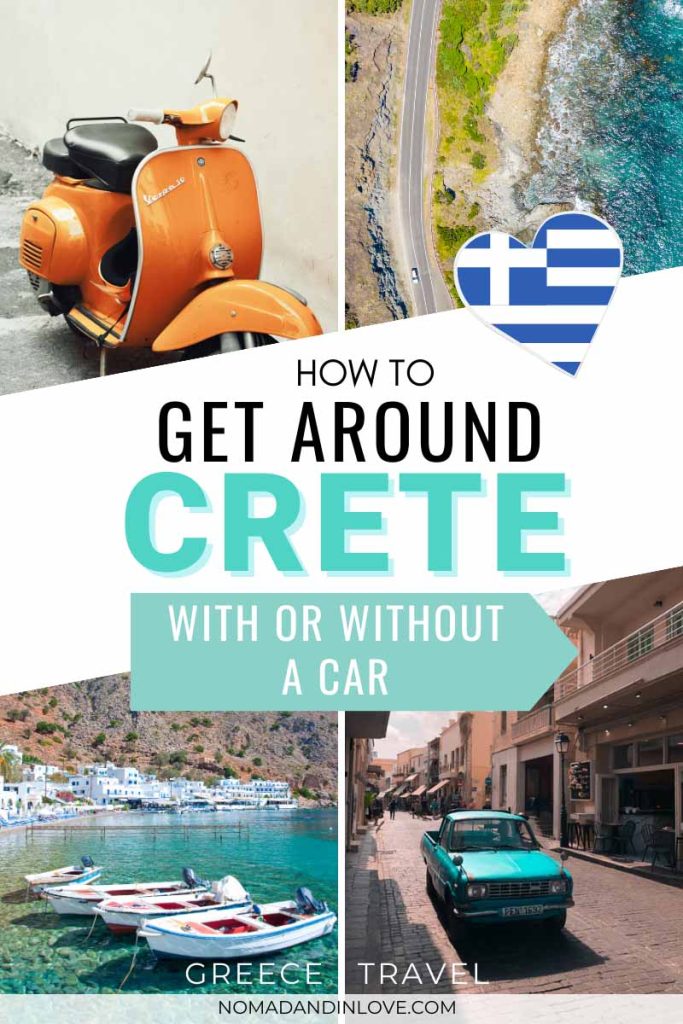 Guided Bus Tours in Crete
Taking guided bus tours is another great way to get around Crete without a car.
The famous Hop On Hop Off Bus may not go around the entire island (only Heraklion). But most bus tours include pick-up and drop-off so you won't need to worry about public transport at all.
You can easily get to most of the best beaches in Crete like Balos beach, Elafonissi beach, and even Seitan Limania via bus tours.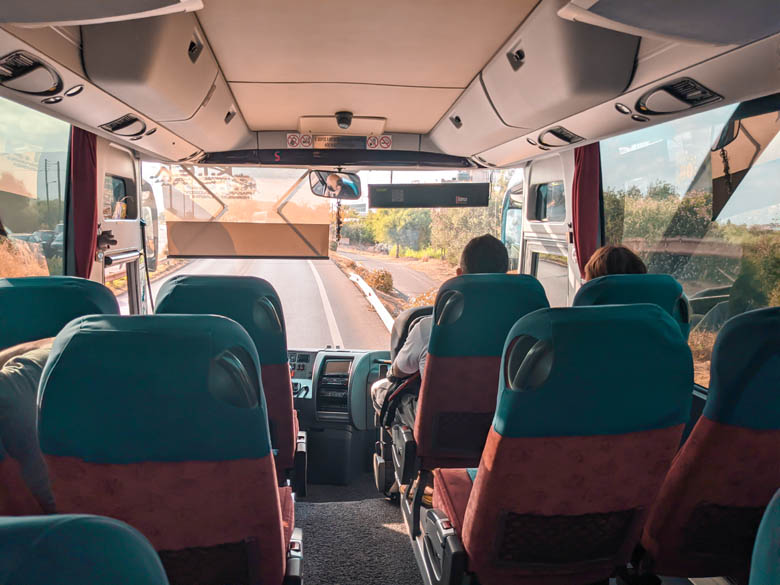 Guided tours won't go to hidden gems like Voulolimni rock pool and Kedrodasos beach. But you can always take a private roundtrip transfer there.
If you're traveling to Crete during peak season (between June and August), make sure to book your bus tours online to skip the long queues.
Related Guide: Find out which beaches you can visit by guided tour (without driving) in our 21 Best Beaches in Crete travel guide.
Taking Ferries in Crete
Another way to get around is to take the ferries.
It's the only way of traveling to the smaller islands off Crete like Spinalonga, Chrissi, and Gramvousa island. As well as the gorgeous, but inaccessible quaint coastal villages on the south part of the island like Loutro and Agia Roumeli.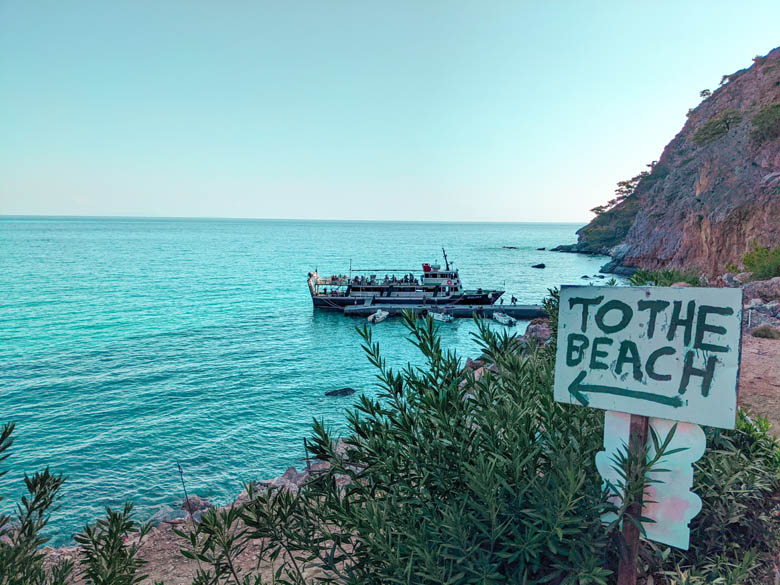 These routes are usually operated by smaller ferry services. Ticket prices vary from €7 to €25 per person, depending on the destination.
You'll likely need to combine taking public transport to get to the ferry ports, so make sure to plan ahead.
Remember to check the weather forecast. Nature will always have the final say when you're taking the ferry. If weather conditions are too rough, boat companies will have to cancel and travel another day.
Don't Forget Travel Insurance
Travel insurance will protect you against injury, illness, theft and even trip cancellation. It's comprehensive cover in case anything goes wrong. We never go on a trip without it as we've had to use it many times in the past. Here are our favourite companies that offer the best value and service:
Ferry Ports in Crete
There are many ferry ports in Crete. Here are the ports for some of the most popular routes:
You can always book your ferry tickets directly with the independent boat companies.
But we prefer to book with Get Your Guide. It's slightly more expensive but many of their bus tours include pick-up and drop-off. Plus they have a great cancellation policy.
If the weather takes a turn for the worse, you cancel 24 hours before your trip and get a full refund.
Taking A Taxi
Taking a taxi is another way to get around Crete. Ride-sharing services like Uber or Bolt don't exist on the island, so taking a regular taxi is the only option.
Taxi Prices: How Much Does It Cost
Taxi prices are cheap for getting around the main towns like Chania, Rethymno, and Heraklion. You could expect it to cost between €5 to €10 to travel within the town centers.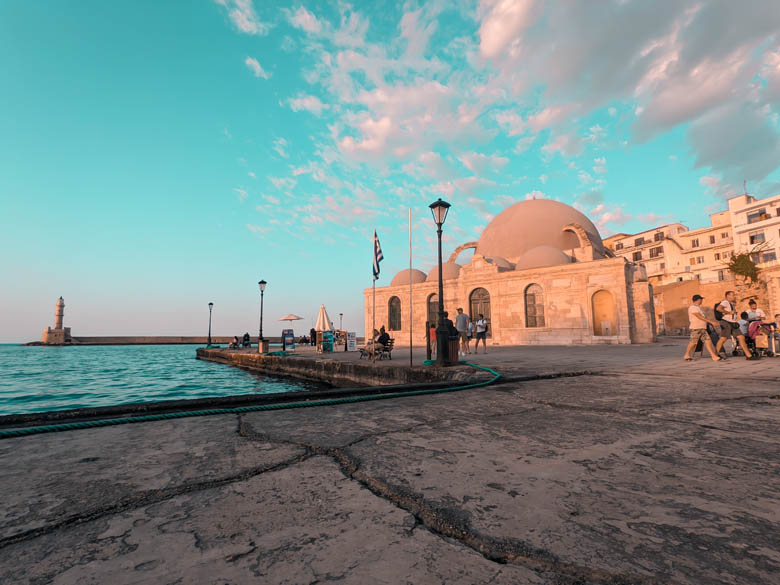 It's when you start taking longer taxi journeys that prices start getting a bit… abstract. That's why we don't recommend you use taxis as your main mode of transportation around Crete.
Like in many countries, taxi drivers will often double the price or switch to a higher tariff when you travel at night or want to travel outside the city limits.
That's why it's always better to negotiate the taxi fare BEFORE hopping on because Crete is no exception.
Is There Uber on Crete?
There is no Uber on Crete so you'll, unfortunately, have to play by the old rules when it comes to taking the taxi.
This means that you should always negotiate the taxi price beforehand. Don't rely on the taxi meter because sometimes the driver forgets to put it on. We'd also recommend writing down the full address of your destination so there's no confusion about where you're going.
And finally, it's not uncommon for taxi drivers to pick up other passengers en route. If you're not comfortable with that, make sure to let the taxi driver know that you'd prefer not to share the taxi.
Airport Transfers
If you need an airport transfer, we'd recommend booking a taxi with Crete Cab. We booked our taxi with them to get from Heraklion Airport to our hotel in Stalis for €34.
They're reliable, the driver was friendly and we got to our hotel without a hitch.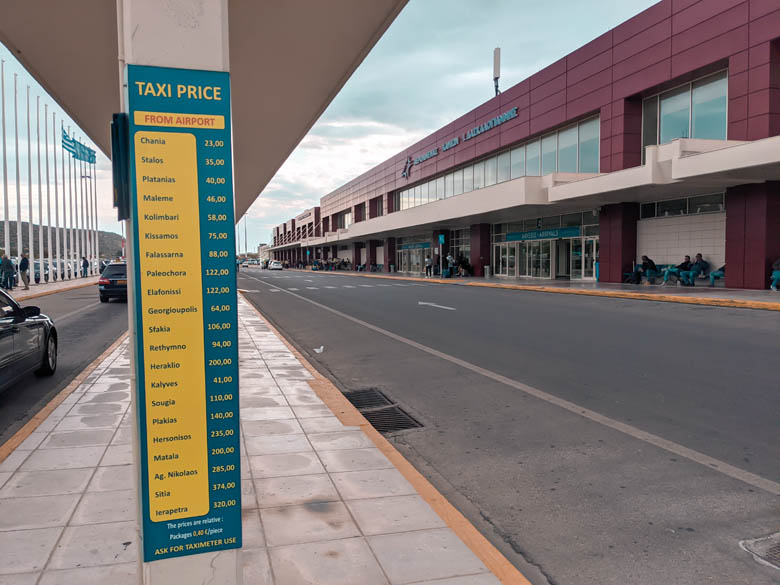 If you're traveling as a bigger group (5 people or more), we'd recommend booking a private transfer from Heraklion airport. This airport transfer can take you to any destination of your choice in Crete.
Renting A Scooter, ATV or Buggy
And finally, the last but most fun way of getting around Crete – renting a scooter, quadbike (ATV), or buggy!
This is a great option for couples or a small group of friends. It's a fun and affordable way to get around the island.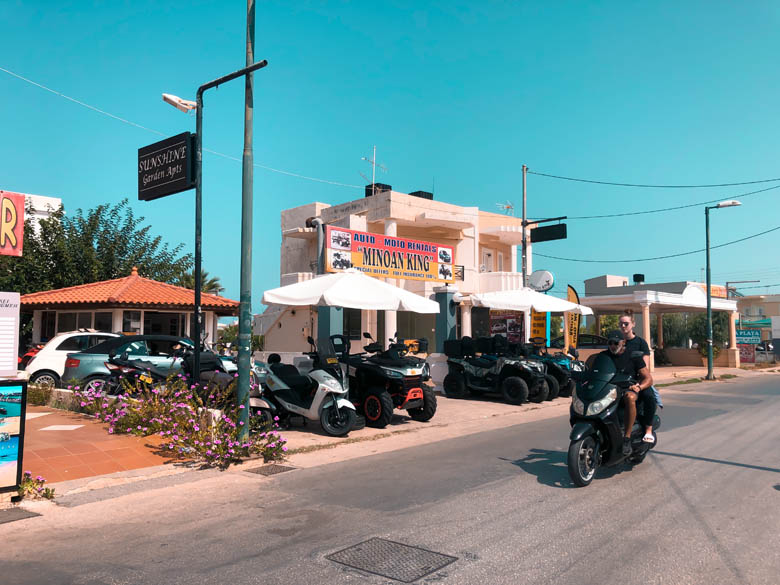 The prices to rent buggies and scooters may have changed since we were there last. But just to give you an idea so you can plan your travel budget.
The price was €50 to rent a buggy that fits 2 people for one day. If you rent for 2 days, you get 1 day free.
Alternatively, scooters cost €10 per day and quadbike rentals start from €15 per day depending on the motor power.
All you need is a driving license!
Scooters, quadbikes, or buggies are great options for traveling short distances in Crete (up to 20km to 30km one way). This is sufficient for exploring nearby towns.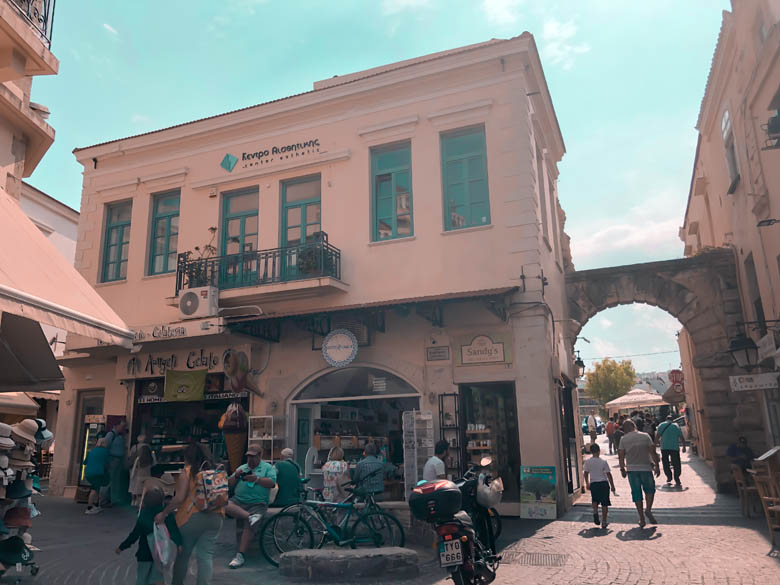 But we wouldn't recommend using this mode of transportation to cover long distances in Crete.
Besides the main highways, there are no street lights on most of the roads in Crete. Plus, the road conditions deteriorate the more off-the-beaten-track you go which can make a long trip uncomfortable.
Wrapping Things Up
Crete is the largest island in Greece so you'll definitely need some sort of motor transport to get around. Luckily, there are many modes of transportation on the island.
Renting a car is nice, but not a must. There are plenty of other ways to get around Crete without a car. There's public transport, ferries, taxis, and bus tours, or you could even rent a scooter, buggy, or quadbike.
The best way to get around Crete will depend on your travel itinerary and budget. You'll most likely need to use a combination of these transportation methods to explore the island. But hopefully this travel guide made it simple enough for you to get around the largest island of Greece.